20 Cool Things to Do in Door County in Winter by a Wisconsinite
Door County—famed for its 300 miles of stunning coastline, cherry orchards and pies, wineries, and boundless natural beauty. This idyllic part of Wisconsin is an awesome area to enjoy during winter!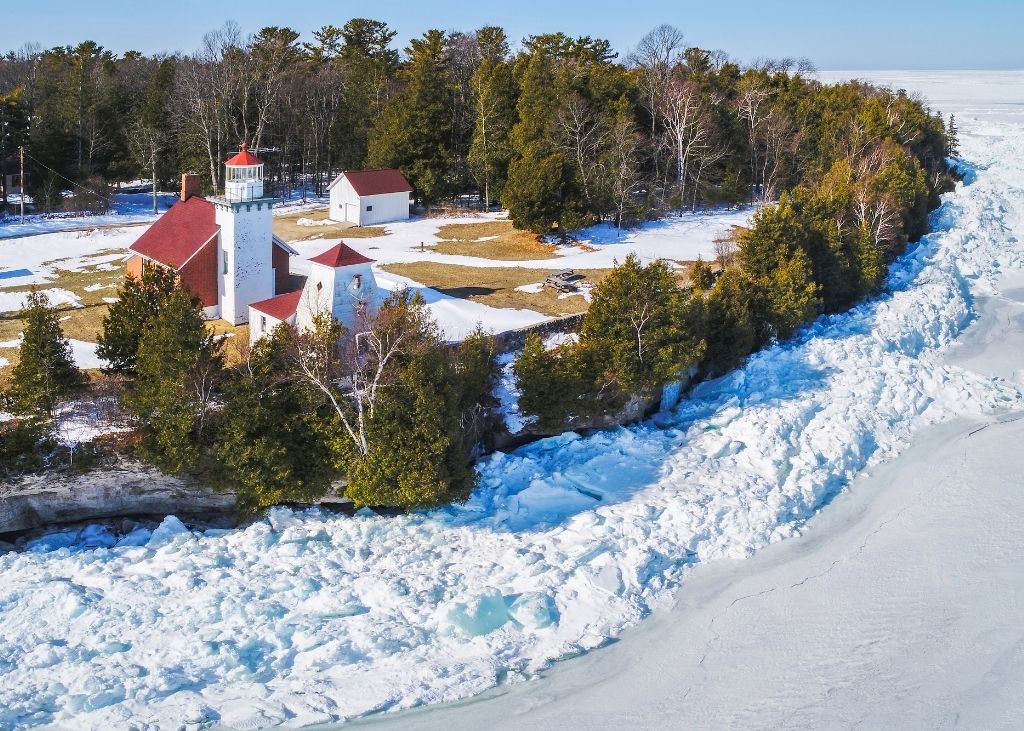 It's home to five state parks and its frozen waters provide unlimited outdoor adventures for the young and old. And don't worry, there are some great indoor activities too – if you aren't a fan of the cold!
This post starts with some awesome annual events in Door County and ends with fun things to do in Door County in winter (no matter which weekend you visit). Enjoy!
Fun Annual Events to Attend in Door County During Winter
Witness the Tree Lighting Ceremony in Fish Creek & The Tour of Lights
With things (almost) going back to normal, people are now looking forward to celebrating events and ceremonies that were missed last year. Take for instance Fish Creek's tree lighting ceremony which will be starting this year on December 4 at 5 p.m. outside the Alexander Noble Museum. The Gibraltar Historical Society eagerly welcomes visitors to witness the decade-long tradition, this time with warm cocoas, cookies, and Christmas carols.
If you missed the Tree Lighting Ceremony – you can still enjoy Fish Creek's gorgeous holiday light decorations with the town's Tour of Lights! The lights will be lit up nightly starting at the beginning of December through the beginning of February 2022. Grab a hot cocoa, your family/friends and enjoy a self-guided walk (or drive!) around town to see the lights!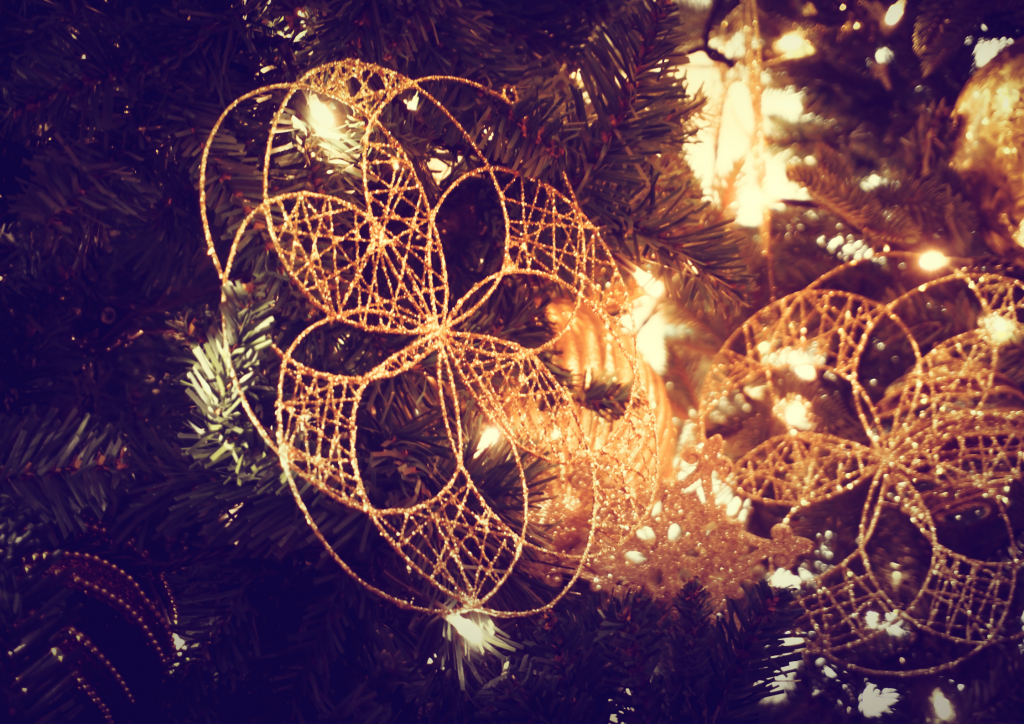 Enjoy the Merry-Time Festival of Trees in Sturgeon Bay
It just isn't the holidays without the iconic Christmas tree. Luckily, Sturgeon Bay puts on dozens of exquisitely decorated trees and festive displays in the Door County Maritime Museum for all to see. The trees, which are on display until January 2, are decorated by local organizations and residents and will be raffled off to lucky winners.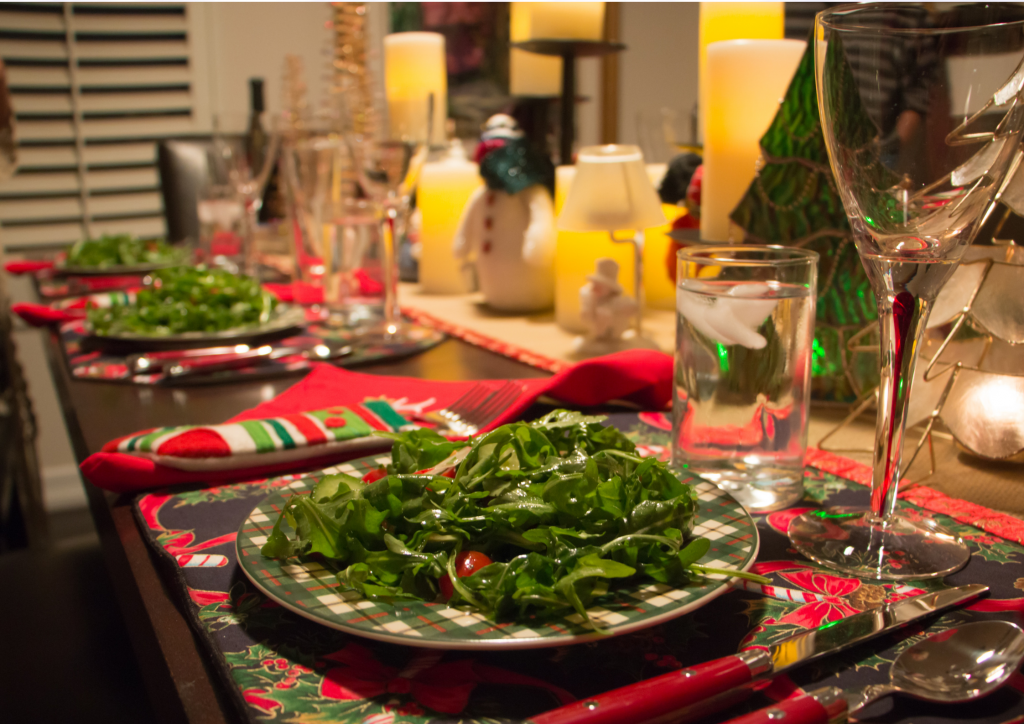 Enjoy a Full Course Holiday Dinner in Fish Creek
Each winter, The Thorp House Inn and White Gull Inn serve a memorable progressive holiday dinner paired with seasonal music and Friday night appetizers. Guests are welcome to stay at either inn, with the Thorp House having an old-world charm to it (built in 1902) while the White Gull Inn is the state's oldest running inn featuring a dreamy horse-drawn carriage ride.
Celebrate The New Year with a Sparkling Cherry Drop in Sister Bay
Similar to the Time's Square Ball Drop, Sister Bay has a more unique and sweeter version, the New Year's Eve Cherry Drop! The celebration kicks off at the Sports Complex with an early evening firework show, along with a bonfire, dining specials, and ice skating. Plus, spectators can tune into FM 106.9 playing some of the best tunes while waiting for the New Year countdown.
Join Egg Harbor's Quirky New Year's Day Parade
Egg Harbor's New Year's Day parade is a unique spectacle you don't want to miss. In here, everyone is invited, even your pets and old cars. Participants are encouraged to dress up in their most festive outfits… or dress up an old car or piece of heavy construction equipment! The parade begins at Stella Maris Parish all the way to County Hwy E. with lots of fun family-friendly entertainment afterward.
Take the Polar Bear Plunge in Jacksonport
Ring in the New Year with an icy dip in Lake Michigan for the annual Polar Bear Plunge. What started in 1986 with just one swimmer evolved into hundreds of swimmers joining every year to brave the frigid waters. Swim with fellow thrill-seekers or witness participants take the plunge at Jacksonport's Lakeside Park.
Join the Winter Candlelight Ski in Whitefish Dunes State Park
A ski with a twist! The candlelight ski lets joiners experience the winter sport at night in a unique and thrilling way. For instance, the trail in Whitefish Dunes State Park is all aglow with lanterns lending to a "flat light", a low light condition that affects the skiers' depth perception in that they have to feel around the slopes and change of topography. In addition, joiners can partake in bonfires and refreshments after. This year's event is on January 29, 2022.
Race to Win Fish Creek's Fruit Loop Fun Run
The Fruit Loop Fun Run is part of Fish Creek's annual Winterfest celebration where runners race through the scenic half-mile route in downtown Fish Creek and indulge in a post-race brunch of Fruit Loops. The Winter Fest also throws a chili cook-off, fireworks display, live music, games, concessions, and contests. (This year's event takes place February 5-6, 2022.)
Compete in Sturgeon Bay's Fire & Ice Festival
An annual affair where novice and professional ice sculptors carve it out to transform a 300-pound snow and ice block into extraordinary masterpieces. Outdoor activities like the Community Snowman Build and in-store specials like wine tasting and live music will also be available. This year's event takes place February 18 – 19, 2022.
Celebrate Harbor Holiday in Bailey's Harbor
Harbor Holiday is an annual parade and tree lighting ceremony in Bailey's Harbor. Before the festivities begin, the Door County Library gives grab-and-go craft bags for kids and then has joiners proceed to the Winter Farm Market at Town Hall. There's also hot cocoa and caroling with Santa and his friends.
Fun Things to Do in Winter in Door County (All Winter Long!)
Go Fat Tire Biking in Peninsula State Park
Summer biking may seem like the norm, but winter biking is enchanting, especially in the snow-covered wilderness. To try this adventure sport, you need a fat tire bike to ride seamlessly over rocks, roots, and snow. No place could be more scenic than Peninsula State Park as you ride through the Sunset Trail and Hidden Bluff Loop.
Take Snapshots of Door County's Beautiful Winter Light
Door County features some of the best sunsets and sunrises…and the views are even grander in winter. That's because the clean, crisp winter air makes for dazzling colors; there's less pollution and dust that scatter the light. Newport State Park, Cave Point County Park, Anclam Park, and Sturgeon Bay Ship Canal Pierhead Light are coveted spots for memorable winter light photos.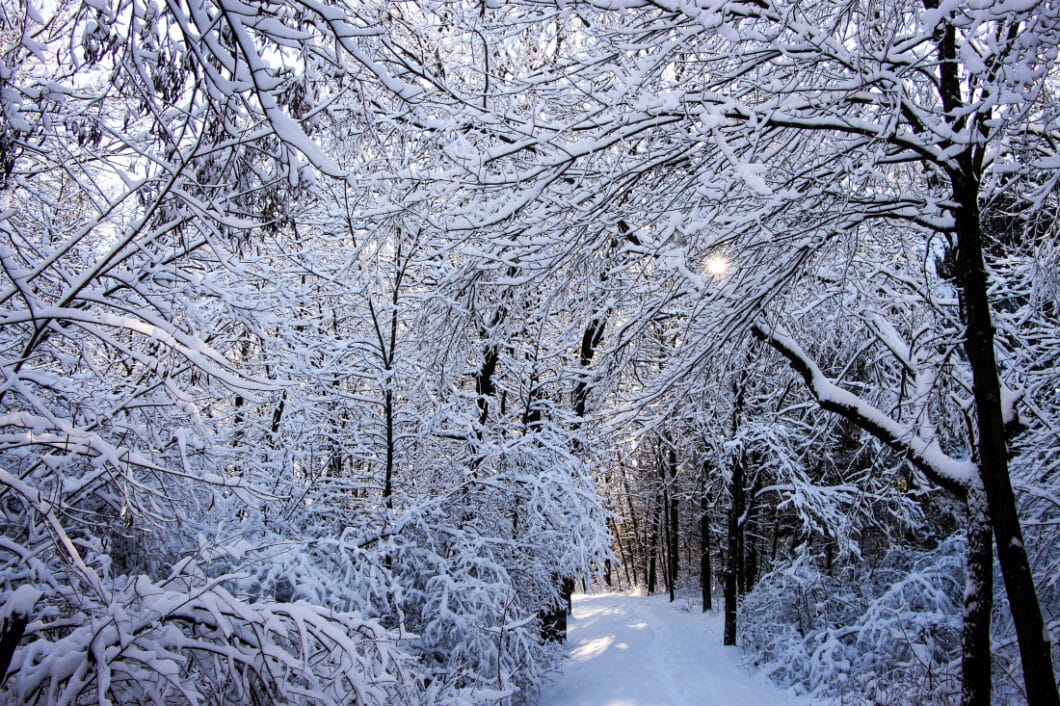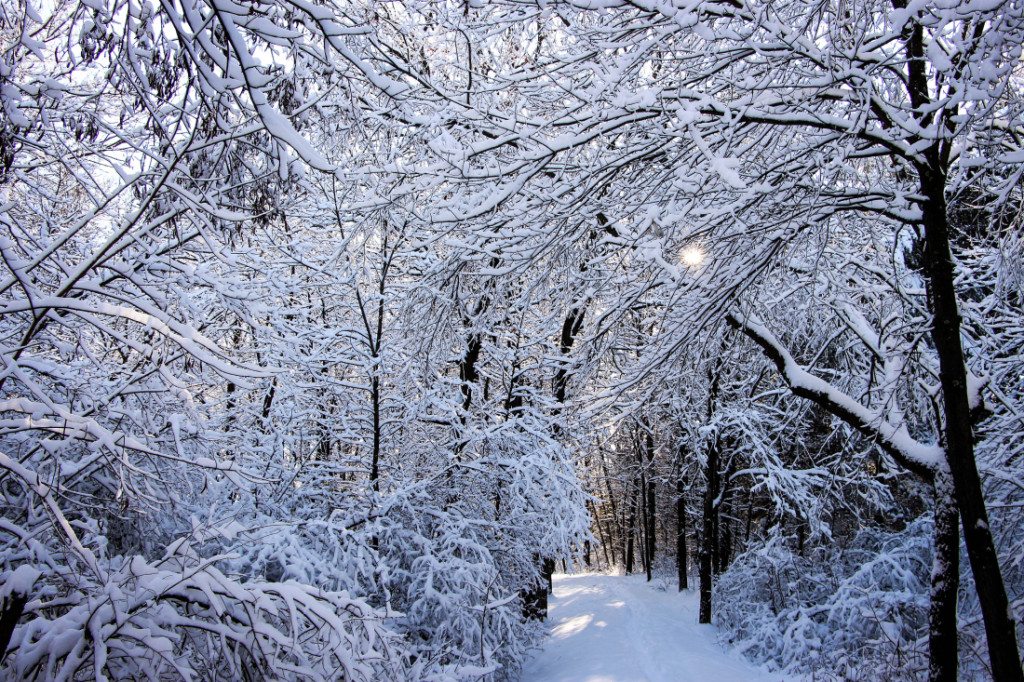 Hike the Great Door County Winter Trails
Hiking is a must in Door County even in winter, and these trails feature the most scenic hardwood forests, lakes, rivers, and bluffs: Newport State Park's Lynd Point-Fern Loop (shoreline views), Peninsula State Park's Nature Center (wildlife and snowshoe trails), Potawatomi State Park's Ancient Shores Nature Trail, and Whitefish Dunes State Park's Black Trail.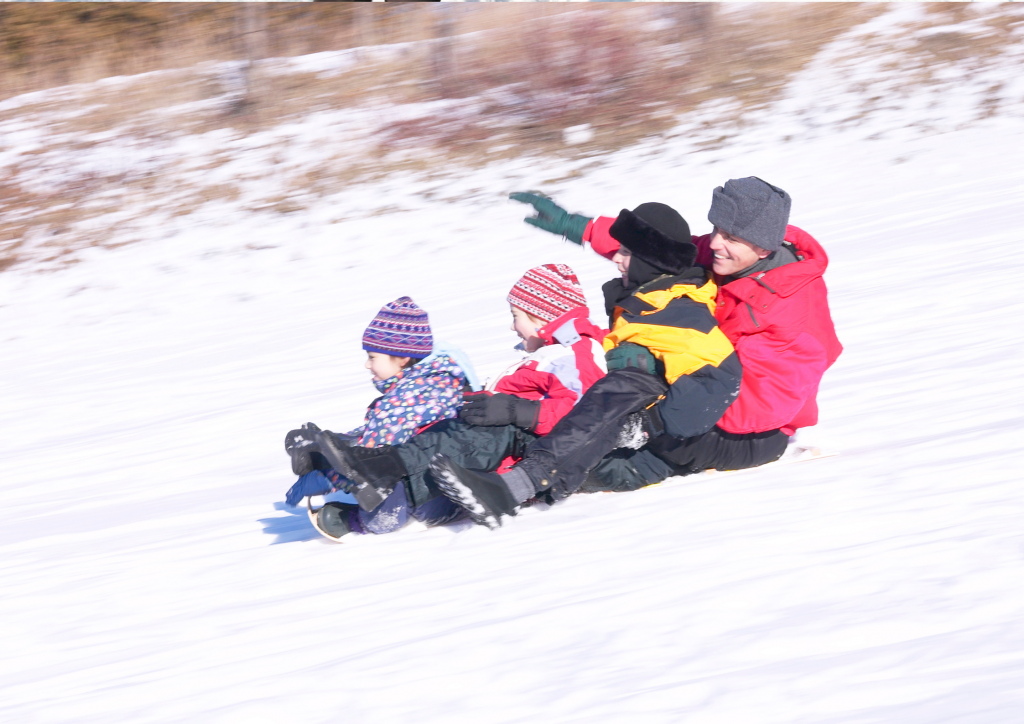 Have a Go at the Largest Sledding Hill in Door County
Pack your best sledding gear and head over to Peninsula State Park Golf Course's Hill 17 which is one of the steepest sledding hills in Door County. Every year, the green fairway is transformed to make room for everyone's favorite winter pastime: sledding! Open from 6 a.m. to 11 p.m. every day, the sled challenge is open to thrill-seeking kids and adults.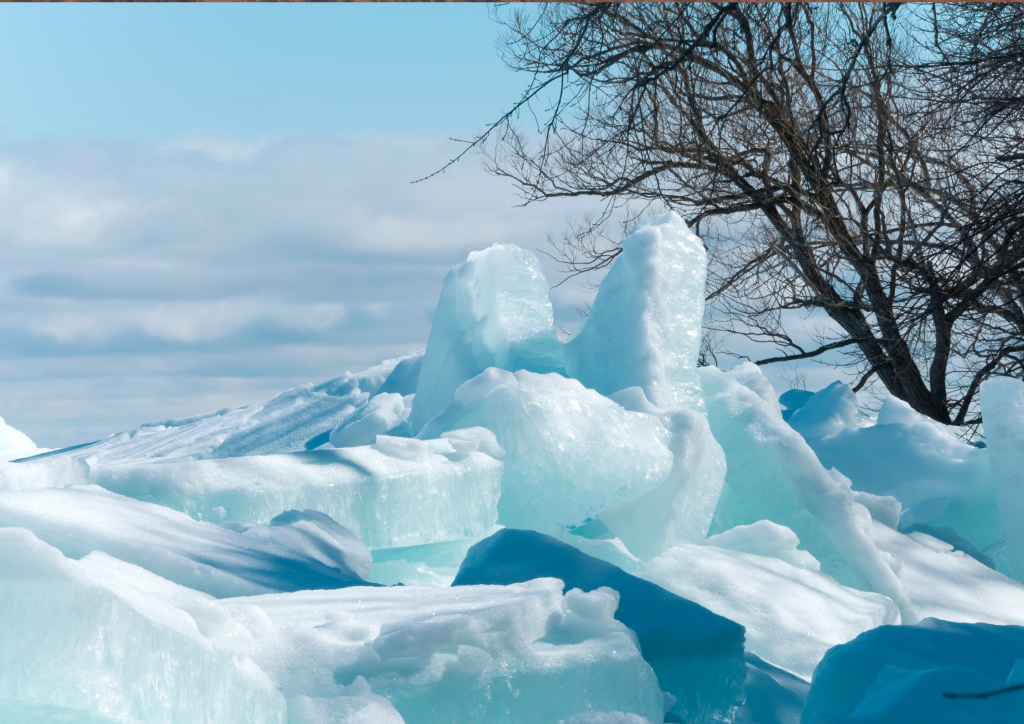 Photograph or Hunt for Ice Shoves
A natural phenomenon that takes place on the shores of the Great Lakes. The piles of ice or "ice shoves" are caused by strong water currents, winds, and changes in temperature. Visitors can climb up the jagged icy rocks and take photos (with utmost precaution) of these unique formations in Door Bluff Headlands Park and Cave Point County Park.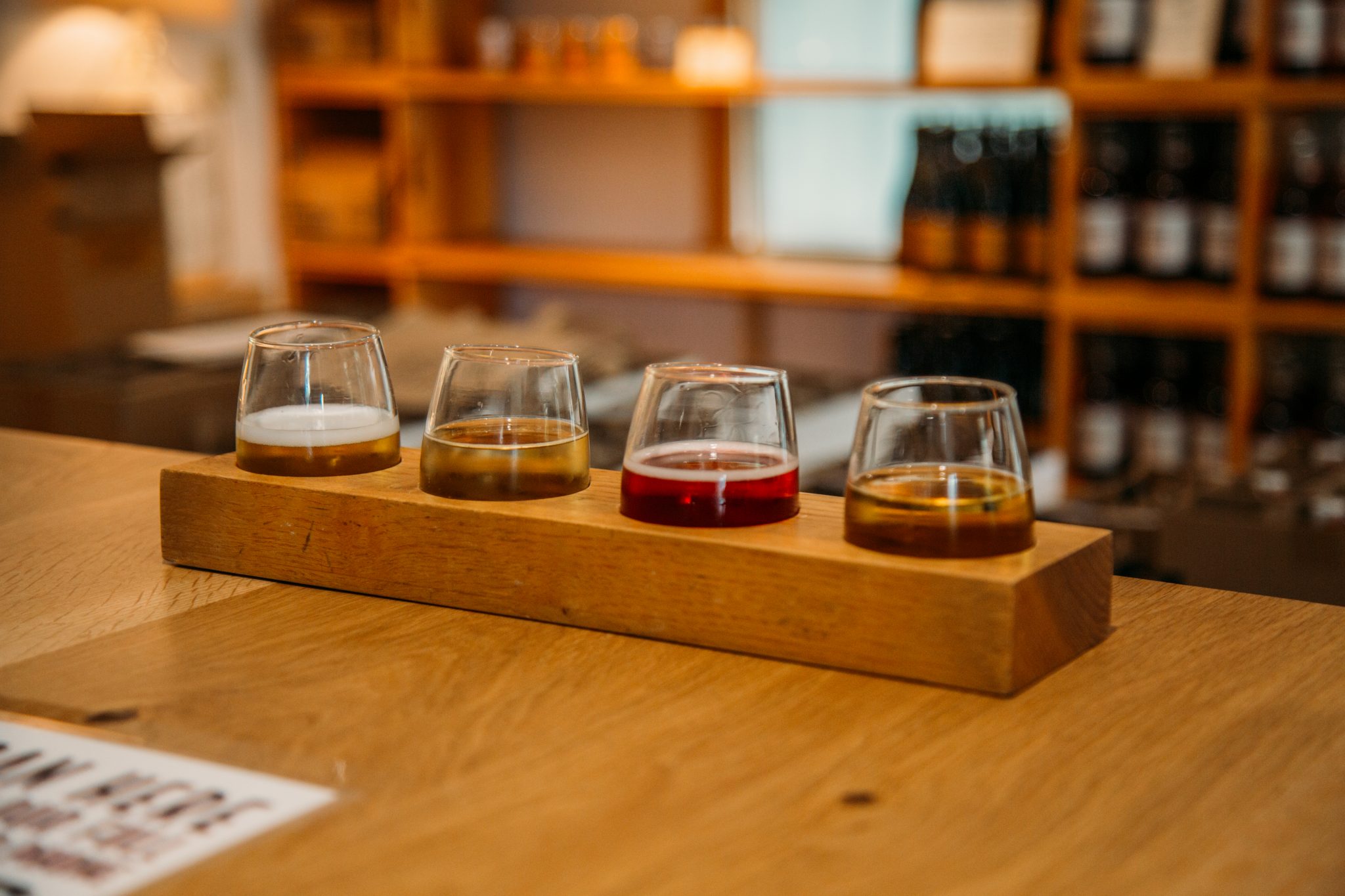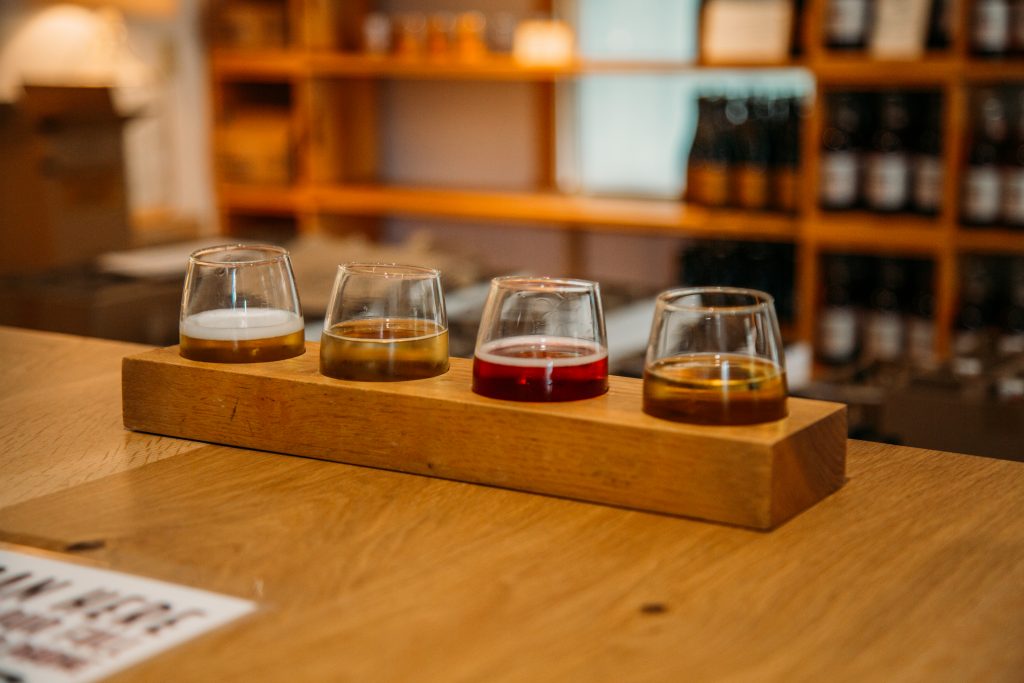 Sample Fine Wines and Ciders at a Tasting Room
Door County has solidified itself into one of the most respected wine regions in the country. In winter, it's best to warm up with some fine sampling of local cider, wine, and beer. Some of the region's best purveyors are Door County Brewery and Starboard Brewing Company when it comes to beer, the Island Orchard Cider for crisp ciders, and the Harbor Ridge Winery and Door Peninsula Winery for fine wines.
Cozy Up on a Sleigh Ride
An unforgettable winter memory in Door County! Cozy up on a horse-drawn carriage (Mayberry's Carriages) with warm blankets, and then get carted off into the open forest and orchards. When you return to the barn, kids and adults are treated to apple cider and wine refreshments. This fairy-tale-like experience is courtesy of Lautenbach's Orchard Country Winery; they also offer a private sleigh ride for $65 (otherwise group rides are $8 a person).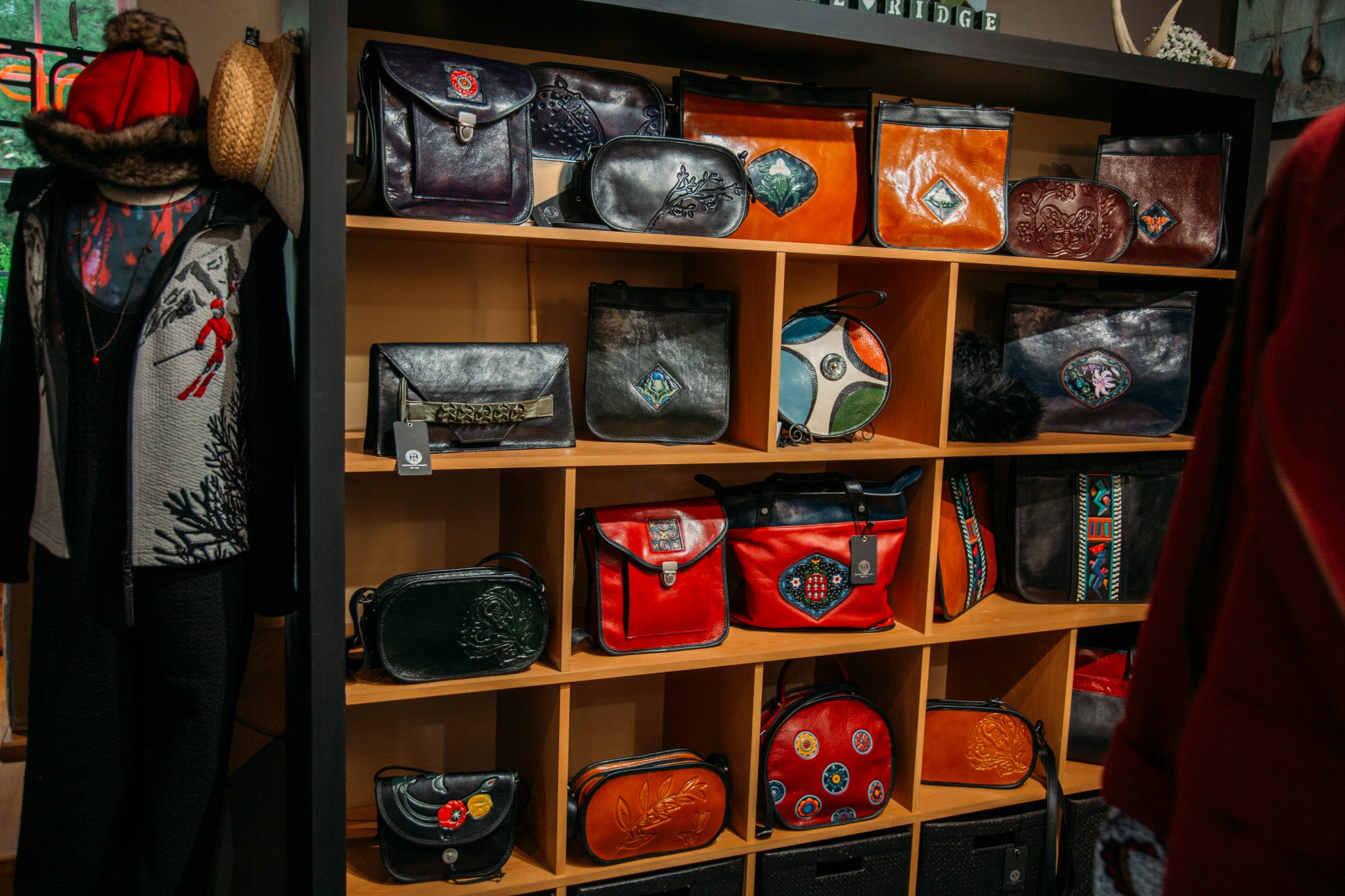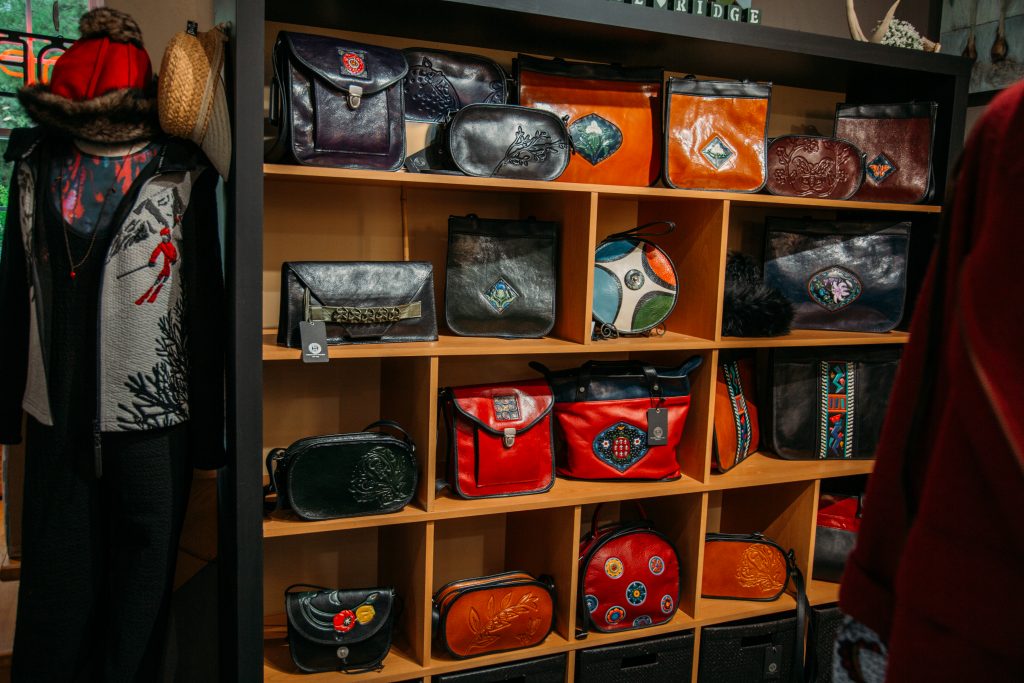 Get Creative with Art Camps at Turtle Ridge Gallery
Time to let your creative juices flow with some DIY projects at Turtle Ridge Gallery! This is an art studio in Ellison Bay that lets you work on leather, jewelry, and home decor projects by attending their art camps. There are also plenty of ideas in the studio to keep you inspired. Build beautiful mementos you can take home from your winter-inspired vacation in Door County. (I, personally, think the purse-making camps are awesome!)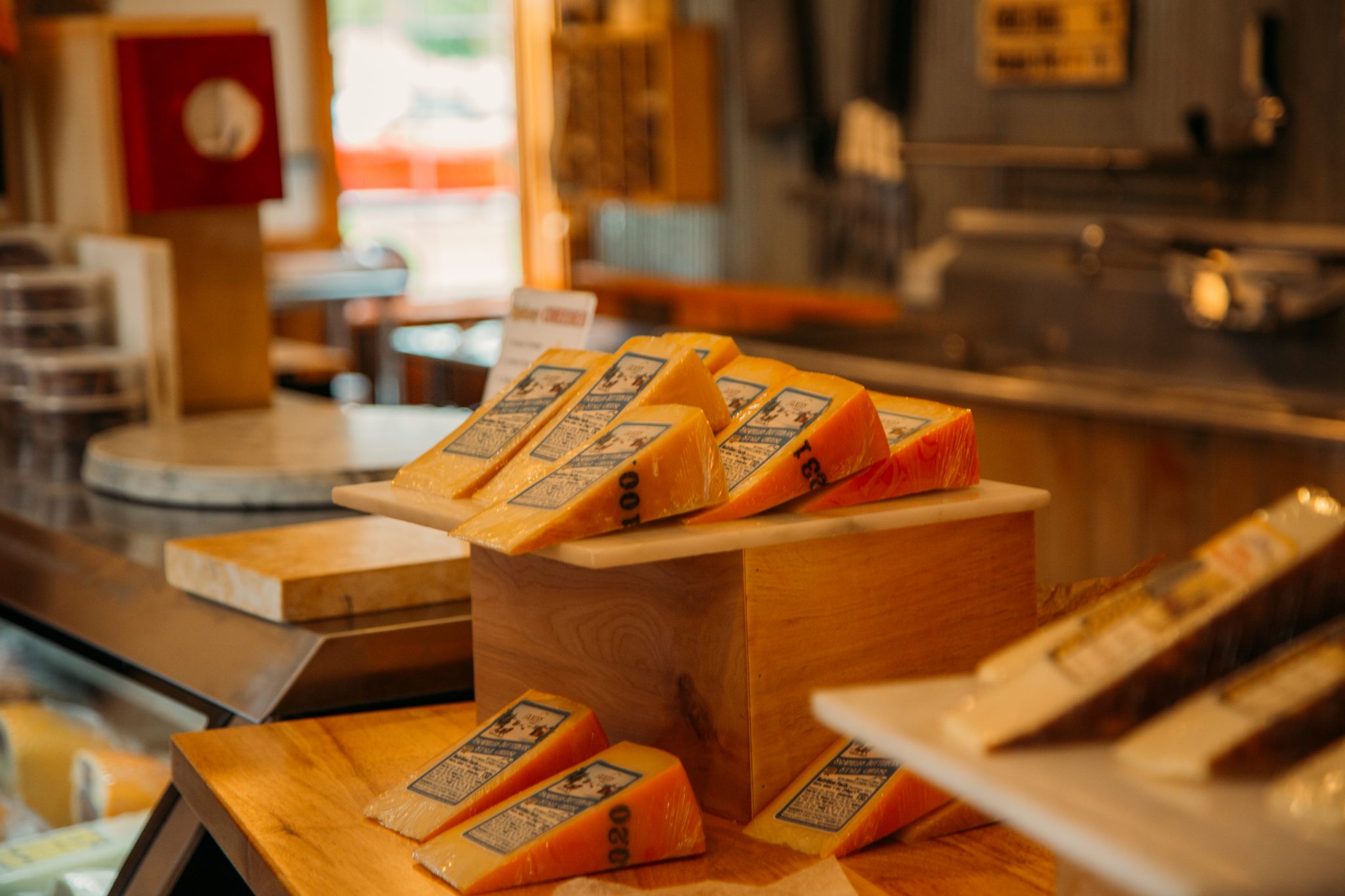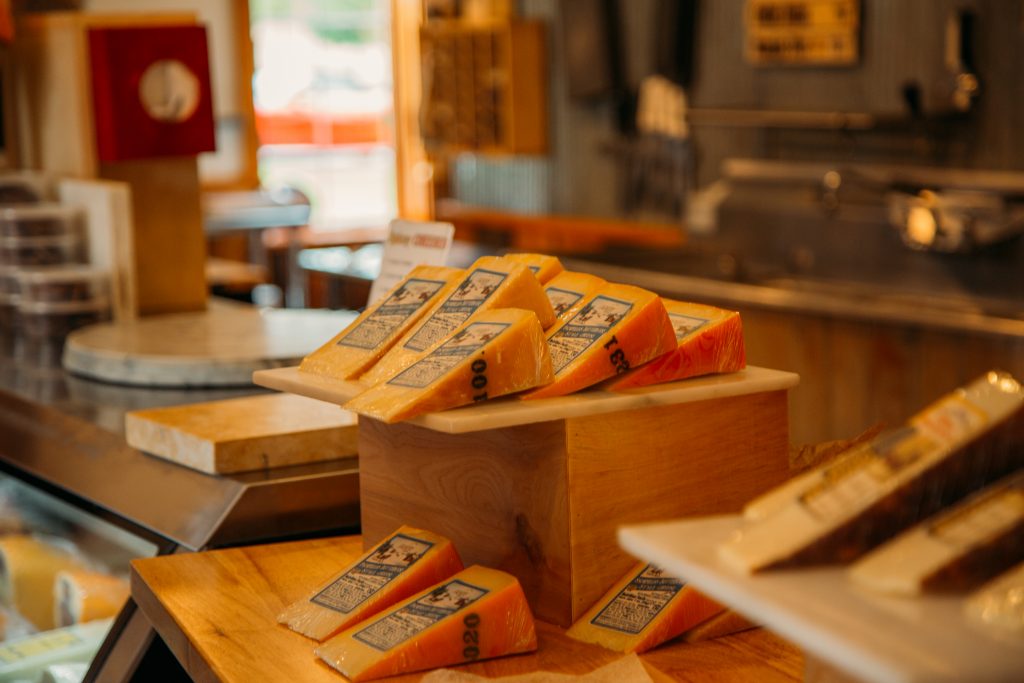 Shop for Door County Specialties
Shop for these local specialties Door County is known for: cheese, cherries, and lavender. Renard's Cheese, operating since 1961, is a must-try for visitors, as well as Wisconsin Cheese Masters where you can sample more than 600 kinds of cheese. Freshly harvested (during summer) and packaged cherry-related projects are available at Lautenbach's Orchard Country Winery & Market while the Island Lavender in Ephraim has aromatherapy products, syrups, and spices for gifts.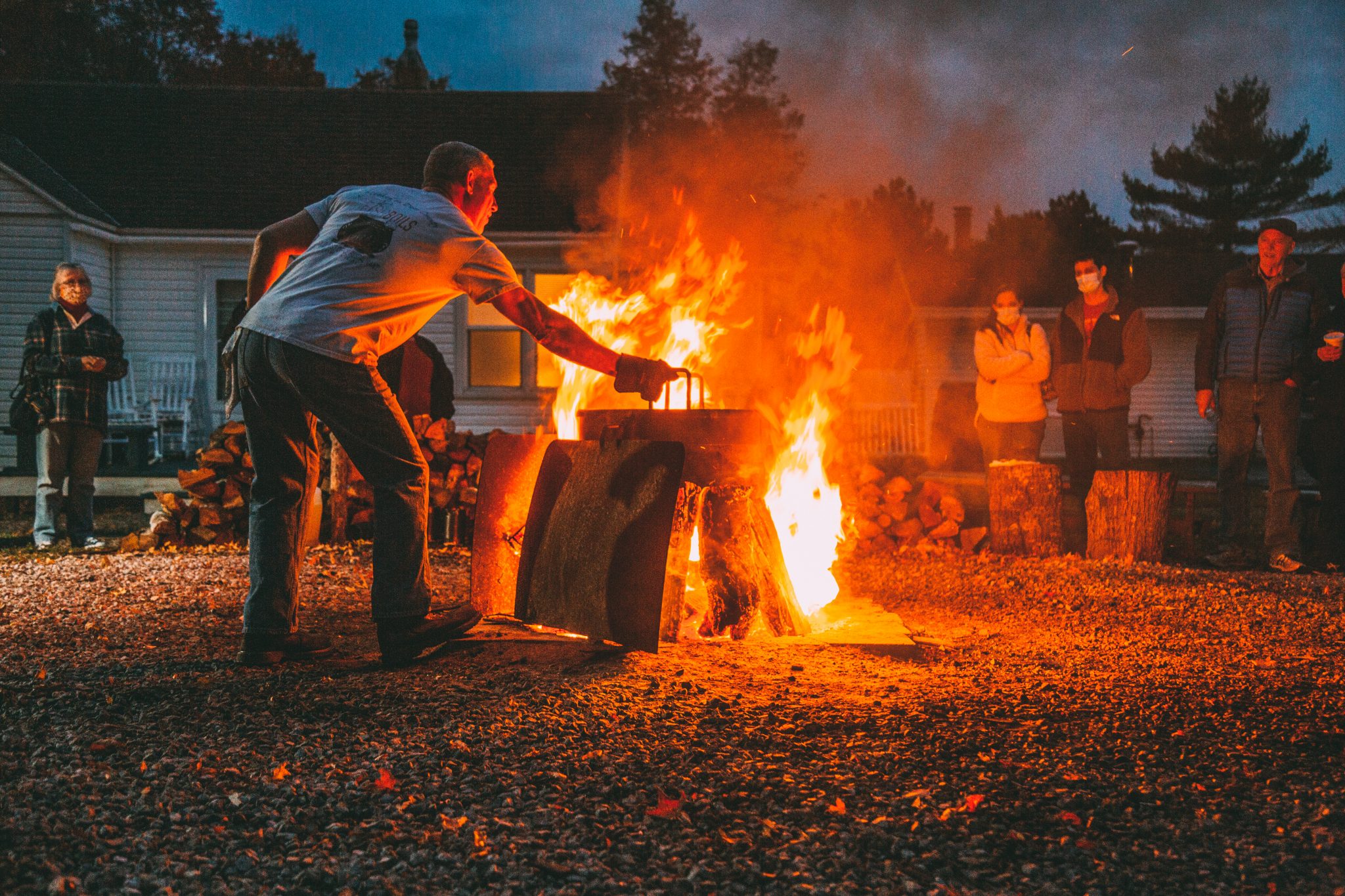 Try a Fish Boil!
Door County's famous tradition of fish boils came about as a cost-effective way to feed large groups of fishermen and lumberjacks. Locals have their own process of boiling freshly caught fish and potatoes and various veggies – and not only is it tasty, it's entertaining to watch when it's not too chilly out! The White Gull Inn is the go-to place during winter to try this cuisine.
What are some of your favorite things to do in Door County in winter? Let me know in the comments!