A First-Timer's Guide to Parasailing – What to Expect, What to Wear + When to Go
Parasailing is one thing I never thought I would talk myself into. Mainly because I didn't know what exactly it all entailed other than it combined two of my big fears – heights and the potential to drown, haha. (I'm not a very strong swimmer, so water makes me a bit nervous.)
Fortunately, I ended up having a very enjoyable experience for my first time parasailing. I was so glad that I took the parasailing trip! Follow these tips for first-time parasailing adventurers to make sure you have a great time too!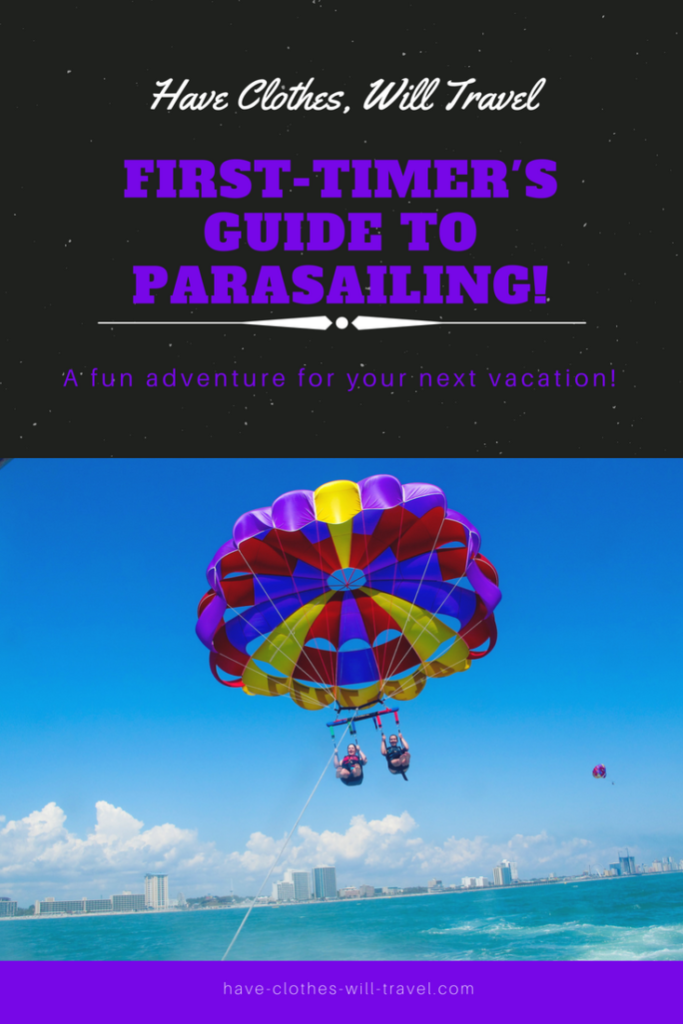 ​Tips for Your First Time Parasailing
This parasailing post will help clear up what to expect when you go parasailing for the first time and convince you to actually do it! I'm so glad my sister-in-law talked me into our parasailing adventure because we had a blast – despite my irrational fears, haha! (My family went as a group of five, and my sister-in-law and I went together.)
Here's what you need to know about parasailing: what to expect when you go, how to dress for parasailing, and when the best time of day to go parasailing is! If you visit a waterfront locale with a parasailing company, I encourage you to give it a try! Of the many water sports out there, parasailing was one of the easiest I've tried!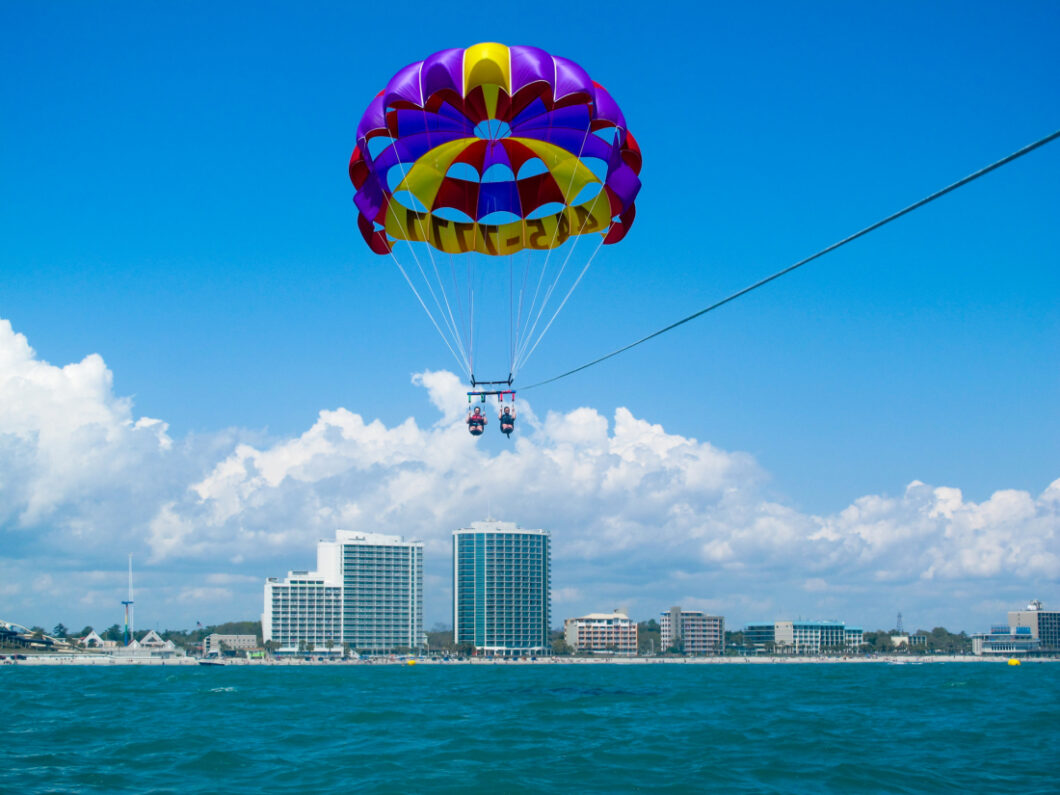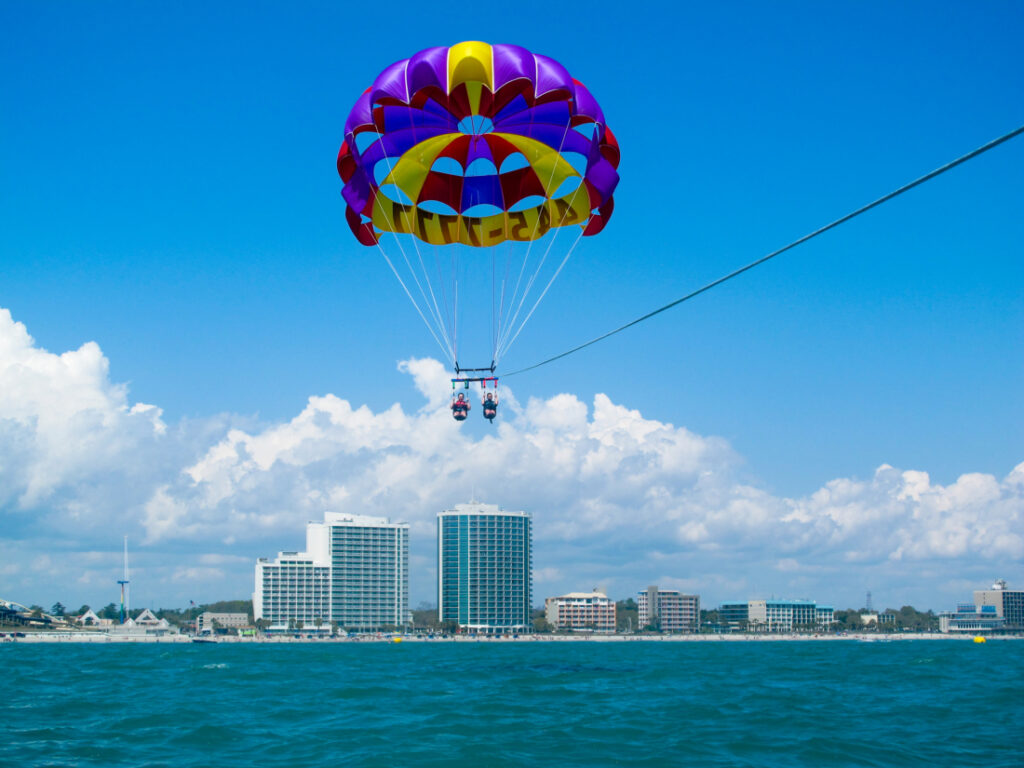 What is Parasailing?
A quick bit of background on parasailing: parasailing is an adventure sport where you're attached to an open parachute-like canopy while getting towed by a motorboat. The wind and speed created by the boat cause your parachute to open, lifting you up in the air. I'm sure every parasailing place has different heights they can take you, but we were told we were over 300 feet in the air when we were getting pulled.
Are there potential risks? Of course! However, reputable companies will follow all safety standards to ensure that you get the best experience and maximum enjoyment out of your parasailing ride.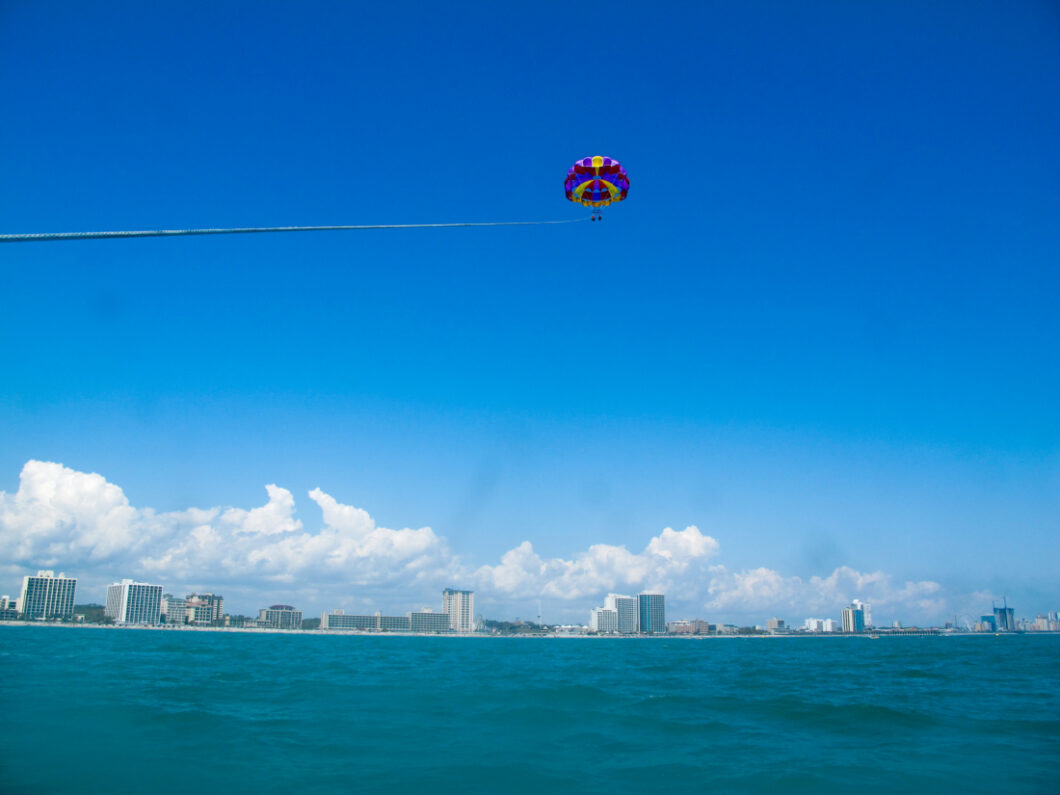 What Time of Day is Best for Parasailing?
The time of day you pick to go parasailing is really important. The weather conditions are the biggest concern when it comes to parasailing. Conditions need to be ideal to go out. Strong winds or stormy weather will result in a canceled trip. Keep the weather and time of day in mind when you book with parasailing operators. It's actually best if you can get an early morning time, as it will be less windy first thing in the morning (in most locations).
On the day of our parasailing trip, we had to push our time back due to heavy fog in the morning, and we didn't go out until nearly 1 p.m. However, it was still a good time! So, don't be discouraged if you can't get the earliest time.
A reputable parasailing operator will review the weather and water conditions. They'll make sure that wind conditions are optimal before they take you out. If you're visiting somewhere outside the United States, weather patterns might change quickly. So clear skies don't always mean that the weather will cooperate. Trust that you're in good hands, and be sure to explore online reviews and information about the company before you book (in case weather results in cancellations or other concerns).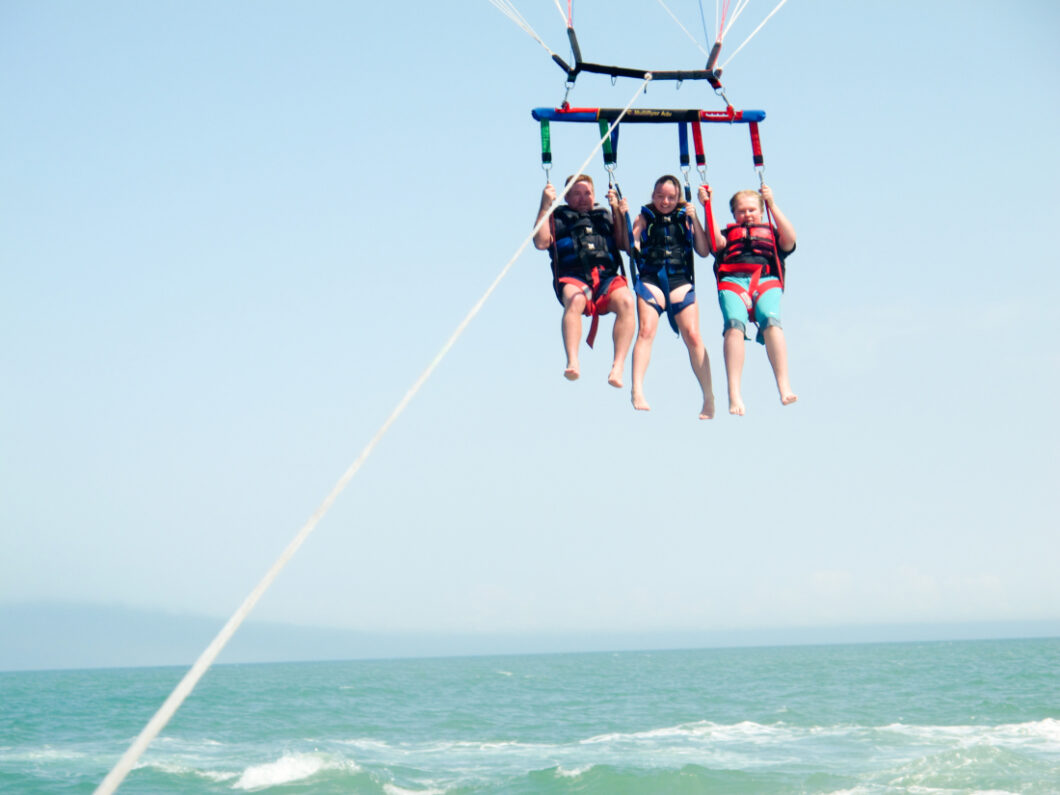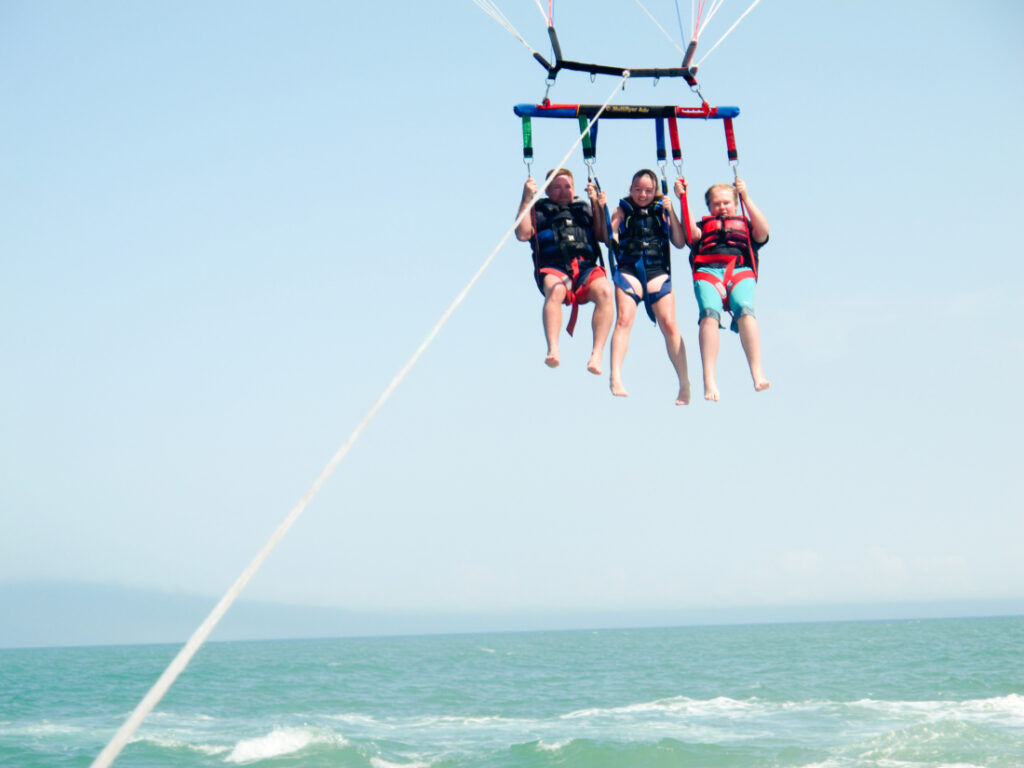 How Should I Prepare for Parasailing & What Should I Wear??
You have your time booked, and now you just have to wait for your parasailing adventure to take you on a bird's eye view tour of the beach! You don't need any experience to go parasailing, and you don't need to do anything special before you go. The place you book through should provide you with your own life jackets and harnesses (safety is the most important factor, so be sure that you feel good about the company).
Once you listen to your instructor and they let go of the harness straps, you're in for a once-in-a-lifetime experience—one that will give you a different perspective on the place you're visiting! Follow the simple tips from your instructor to avoid issues like motion sickness (the experience is relatively short, so it's usually not a problem—less motion than a roller coaster).
As for what to wear when parasailing, choose a comfortable bathing suit. I strongly recommend wearing swim bottoms that fit you very well. At least when we went, they dipped us in the water just before bringing us in, which could've been bad if we were wearing loose-fitting bottoms! Haha. (Below is the swimsuit I wore for parasailing.)
The guys just wore swim trunks that tied. And my father-in-law also wore a T-shirt, but that's it. Nothing too crazy! If you're parasailing in cooler climates, a rash guard is a popular option. At the slightly high-altitude, parasailing can get chilly, even in the summer months!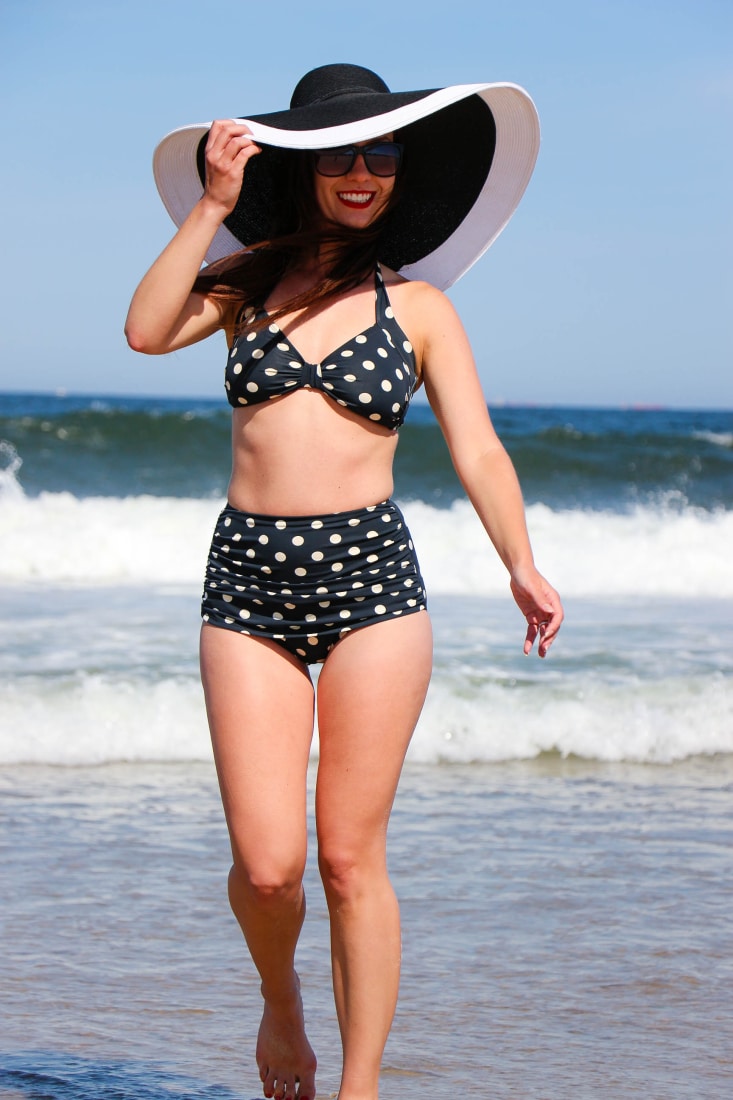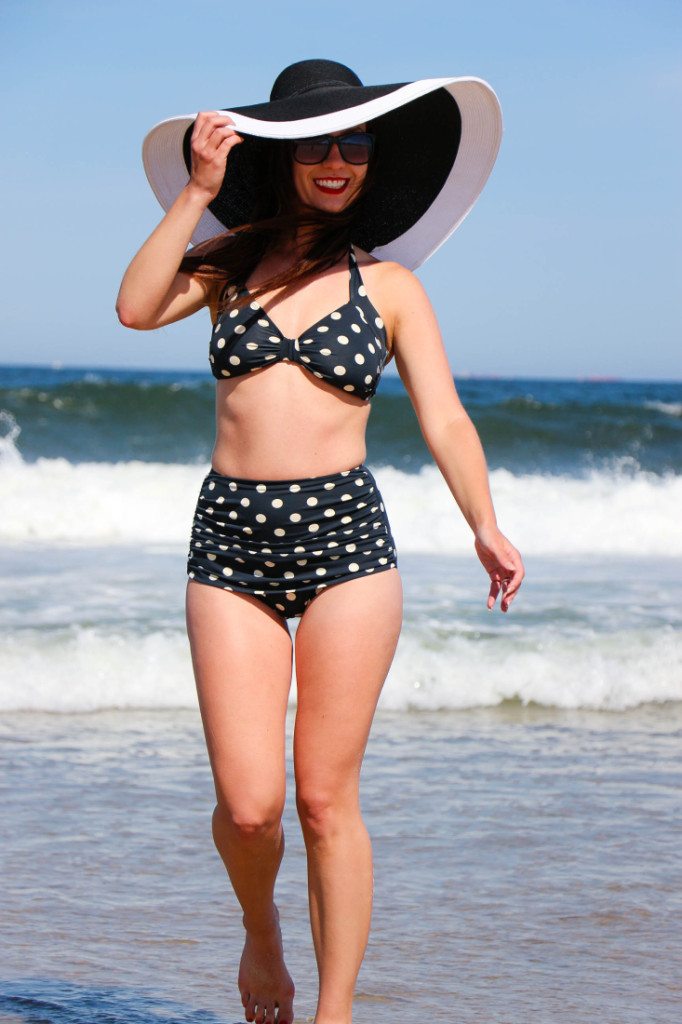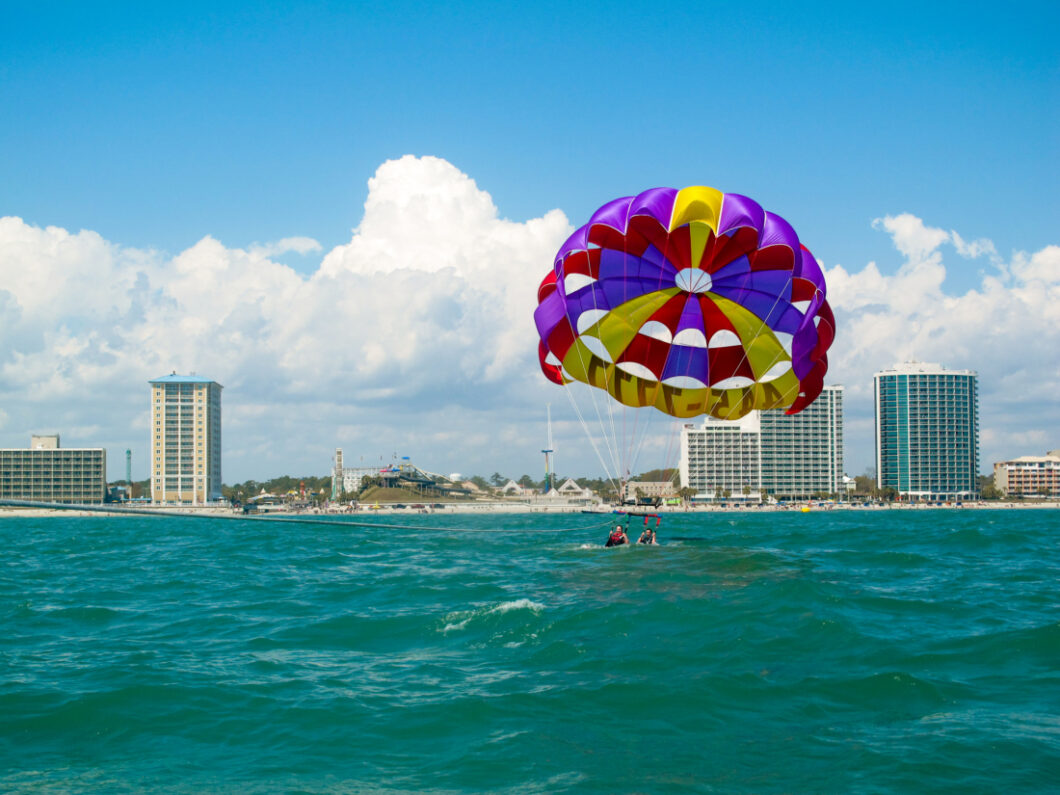 What to Expect When Parasailing
Alright, alright, the most important part of this post! If you don't have prior experience, what exactly should you expect when you go parasailing?
When you first arrive at the parasailing location, you'll get your lifejackets and wait on the beach to be transported to your motorboat.
Good parasailing companies are careful to take all safety measures during this unique experience. Listen to your parasailing guide and crew members carefully on your first parasailing experience. They may share hand signals and important tips about using the tow bar, tow rope, and other parasailing equipment. All legit companies will provide you with safety guidelines, inquire about medical conditions, and share weight limits and other crucial information.
I'm sure every place does this slightly differently, but we went when we were in Myrtle Beach and booked through Ocean Watersports. They took us to the motorboat via a banana boat, which was scarier for me than the actual parasailing part, haha. I thought for sure I was going to fall off that banana boat! But, once again, my fears were unfounded, and the crew got us there and back safely.
Once you're on the boat, you'll either sit down and wait your turn or get strapped into your harness right away (depending on how many people are in your group). If you're in a large group, you may be on the boat for a while (smaller groups may have less boat time).
One word of caution: your parasail harness will likely be loose fitting—don't panic! Haha. You'll be fine. From there, you follow the instructions of your guide and stand along the flight deck of the boat (usually along the back). When we went, they launched us right from a spot on the boat, which was a really easy way to take off!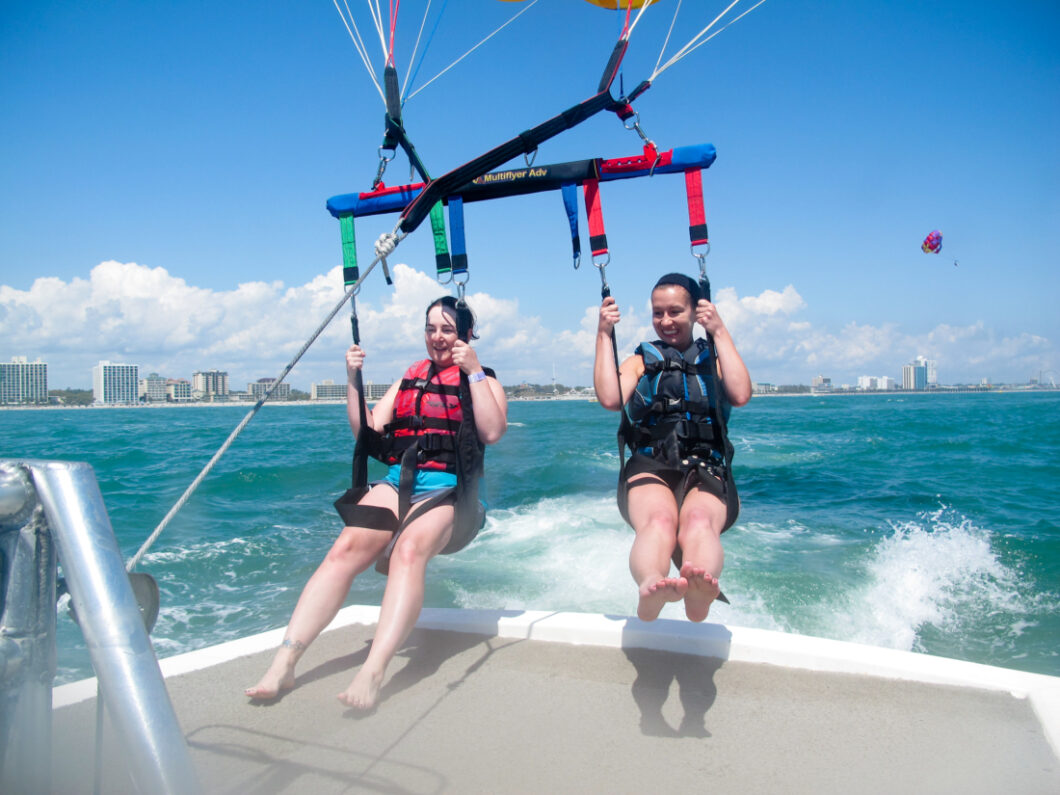 Enjoy the ride! Trust in the experience, and have fun! I promise you'll be hooked once you take off and get that bird's eye view! It's an adrenaline rush at first, but then it's just an extremely fun flight.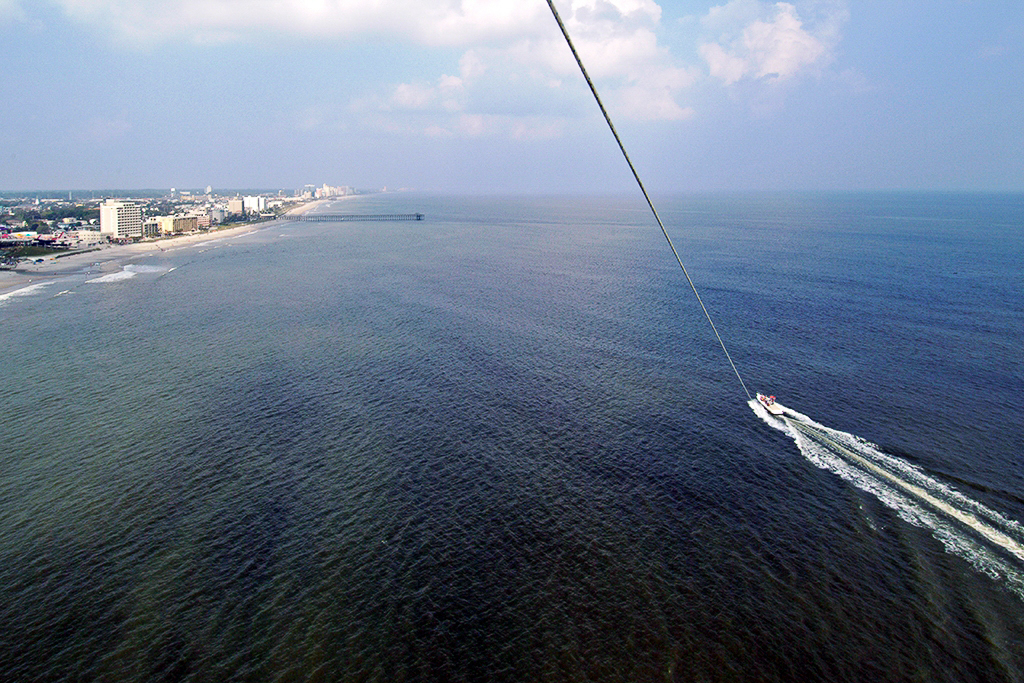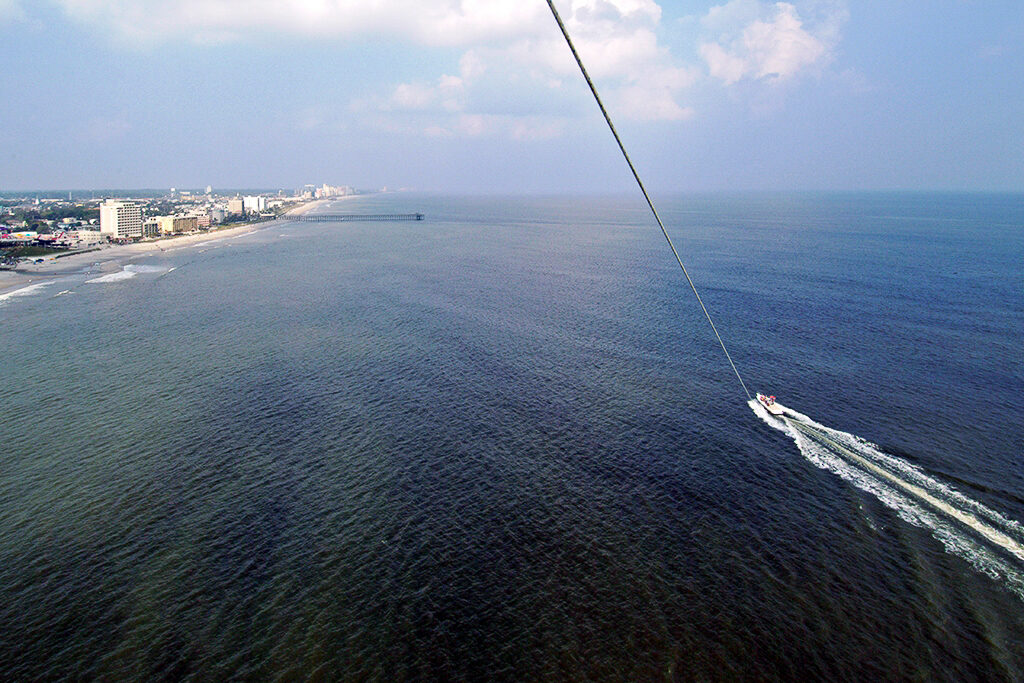 How long does parasailing last? I honestly couldn't tell you the exact time we were in the air, but it felt like we were up for around 10 minutes. We felt comfortable, the views were amazing, and although it was windy in the air, it was very exciting!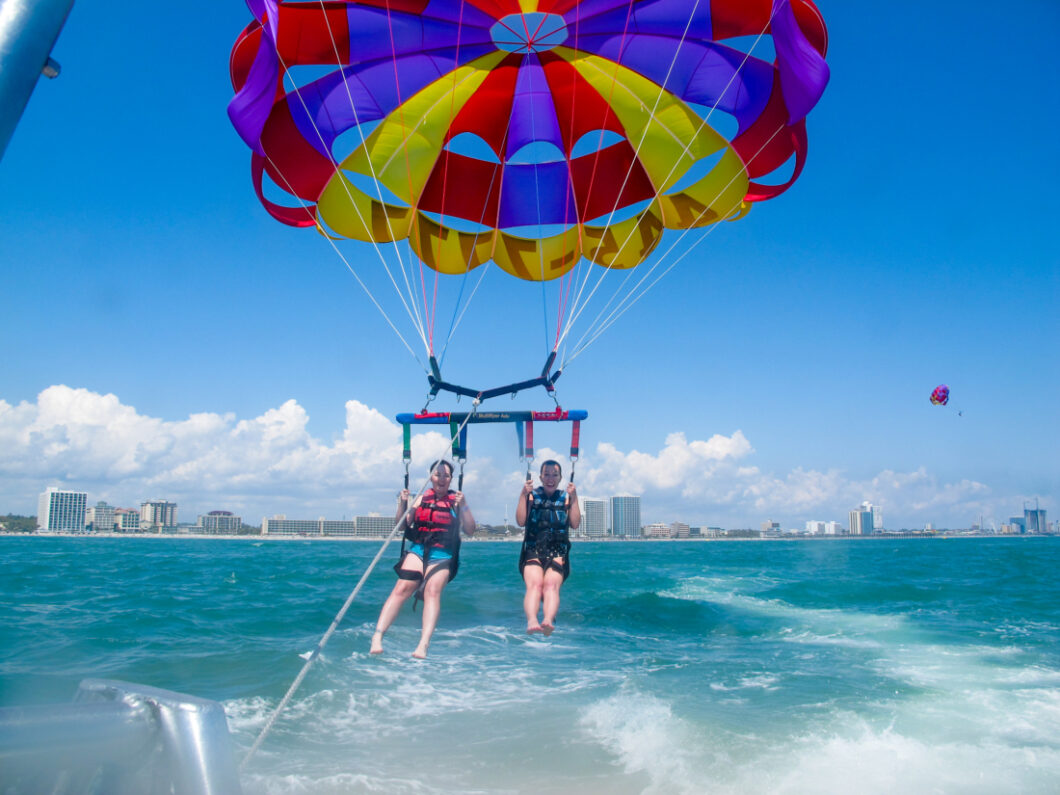 When you come back down to land, be sure to keep your legs straight out (as though you're going to sit on the boat—exactly like when you go skydiving). Your operator will instruct you on this and talk you through the landing, so no worries if you've never done it before. They'll make sure you have a gentle touchdown.
Ta-da! You survived parasailing, and I bet you had a wonderful time!
Honest Thoughts – Is Parasailing Scary?
I have been working to get over my fear of heights and have forced myself to go bungy jumping and jump out of an airplane at 15,000 feet and also walk along the edge of the Sydney Tower—these were all FAR more scary things to do than parasailing. My family and I all agreed; parasailing was a lot of fun and wasn't the least bit frightening. You also were able to see some great views of the surrounding area.
We also had a great experience with our parasailing company, Ocean Watersports; they were professional and safe for our entire experience.
Also, I was really happy we spent the 30-some-odd dollars on the photos of our experience! I wouldn't have been able to capture these myself. I'll include all the photos below so you can see how many we actually got for that price. (I was impressed!)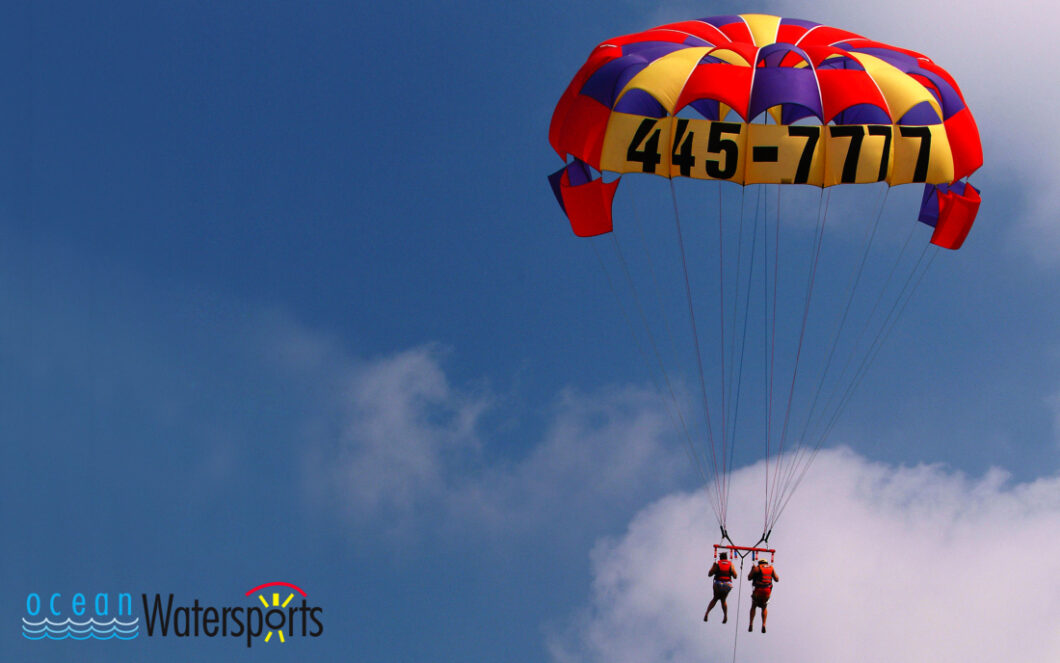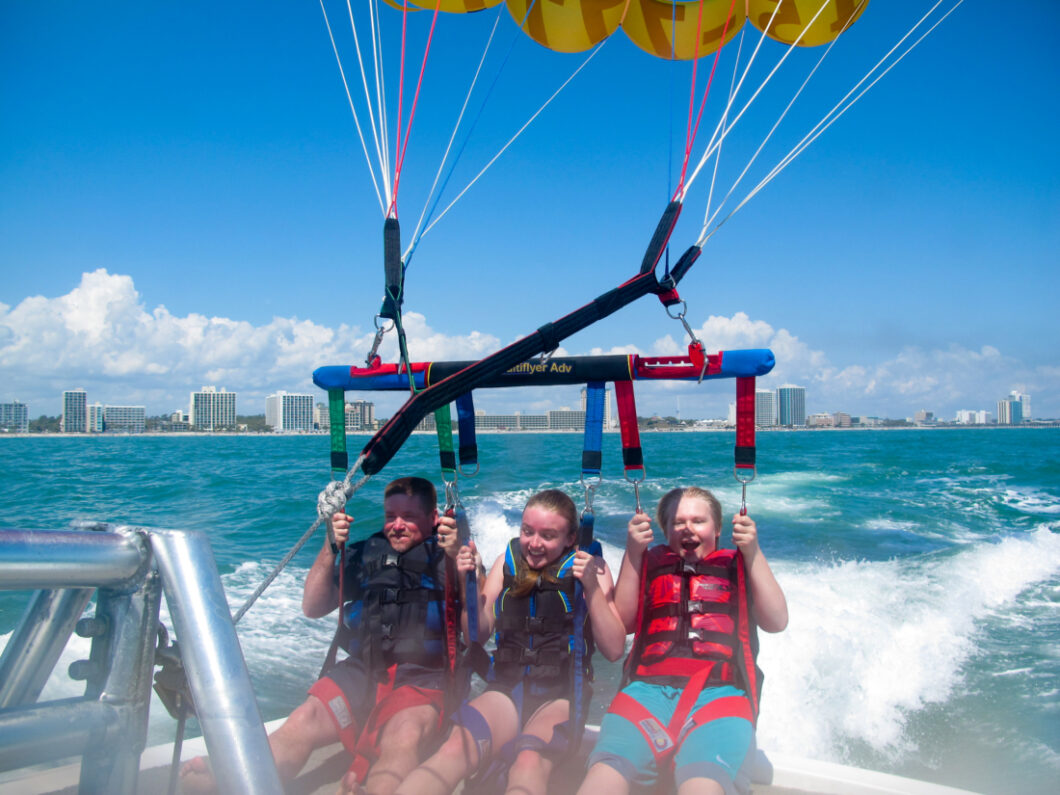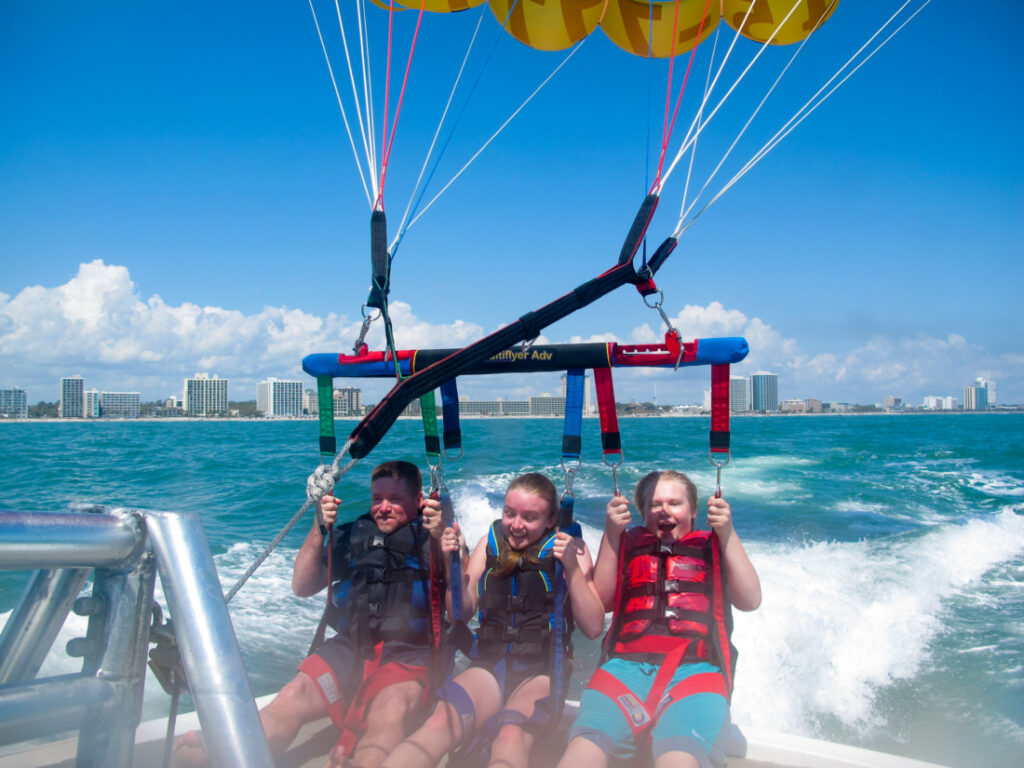 Now, I'm curious: have you ever gone parasailing? And if not, would you if you had the chance? Let me know in the comments!
*Click here to see all of my Myrtle Beach posts.
Helpful Tips for Travelers
Whether you're planning a trip in the United States or abroad, there are a few helpful tips that I always follow.
Use a VPN During Travel
What is a VPN? "VPN" is short for "virtual private network." A VPN company (like IPVanish) helps you set up a private connection between your device and the local network. This protects your information on your phone so no one can get your browsing data.
I highly recommend using a VPN anytime you are connected to public Wi-Fi, even if you're just away from home. If you're visiting a restaurant, resort, hotel, airport, or connected to a public network, you run the risk of a hacker grabbing your unencrypted data. Trust me—I speak from experience—data theft can put a real damper on your trip!
VPNs have the added benefit of helping you save money on domestic flights (no paying for expensive airline networks). Watch Netflix shows not available in the United States and get more out of your data. Read more: Why I Use a VPN When Traveling and at Home (And You Should Too).
Secure Travel Insurance
Many destinations require travel medical insurance to cover sudden illness. SquareMouth is an excellent option for finding insurance companies that cover all your travel needs. I, personally, use SquareMouth to find the best insurance policies for my travels (and I'm booking lots of future trips)! Forbes recommends the company. Check them out!