7 Spring Break Destinations in the South
Guest post by Janelica Johnson
Spring break season is finally here and you'll want to get your itinerary together sooner than later to lock in the best hotel and flight deals, buy tickets to local events and start shopping for vacation. Many regions in the southern part of the United States are perfect for a spring break getaway because you'll have easy access to the beaches and can enjoy a variety of warm-weather activities. If you're ready to say goodbye to winter and have some fun, here are seven spring break destinations in the South that need to be on your itinerary:
7 Spring Break Destinations in the South
1.) Charleston, South Carolina
The charming city of Charleston is the perfect destination for a relaxing spring break retreat with girlfriends or solo. You can enjoy the beautiful views along Waterfront Park, enjoy brunch at a traditional southern restaurant and enjoy art shows and events around the city during the spring months. Charleston is also home to a few luxury day spas so if you're in the mood for pampering, you'll find plenty of opportunities to unwind and relax.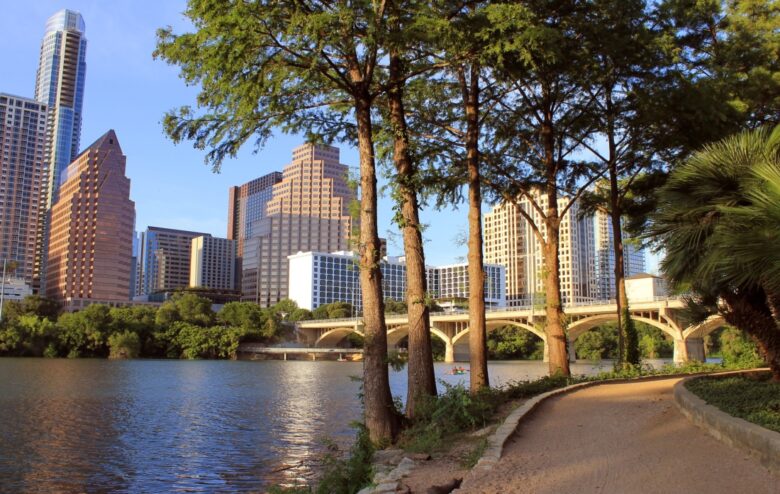 2.) Austin, Texas
The state capital of Texas isn't close to the beach but it's a popular destination for spring breakers who want to enjoy Austin's famous music scene and enjoy some time in nature. Austin is a pretty laid-back city but you'll want to pack a few outfits for a night on the town as you venture out to 6th Street for live entertainment and dinner.
3. Myrtle Beach, South Carolina
Enjoy the waters of the Atlantic and soak up the sun with the large crowds that gather in this beach town every spring. Thousands of students make their way to Myrtle Beach for spring break and the High-Tide Ultimate Frisbee tournament each year so you don't want to miss out on the fun.
You'll want to pack your bathing suit and a few resort clothes for your trip to Myrtle Beach. Think rompers and cute beach dresses to get you through those warmer days in style. A floral print romper with a pair of flats or thong sandals will keep you plenty comfortable and cute during your spring break adventures around the South Carolina coast.
4. Tybee Island, Georgia
You'll be surprised to know that Little Tybee Island is home to subtropical forests and miles of beaches ripe for exploring. You'll need to hop on a kayak or rent a boat to get to the island so getting there is half the fun. All you really need for the day is a water bottle, a bathing suit, sunscreen and a good pair of sunglasses. Pack a sleeveless dress to wear as a cover-up as the temperatures get cooler during the day. The island has an abundance of wildlife and places to just relax and enjoy nature. You can also set up camp at one of the campsites here for an extended stay over spring break.
5. Key West, Florida
If you're to soak up lots of sun, sand, good times and tropical weather, make your way down to the Florida Keys. It's not that far away from Miami so you can make a pitstop in Miami to enjoy South Beach and the entertainment scene before heading down to Key West.
Key West is where you'll find signs of Old Florida and historic sites, including The Ernest Hemingway House and the famous Duval Street with these shops, restaurants and bars. Make sure to stop by the Southernmost Point of the United States for a photo and enjoy the sunset from Mallory Square.
Since Key West is so laid back, you can pack light. You'll probably spend most of your days in a bathing suit and cover-ups but can throw on some shorts and a cute tee when visiting museums and other attractions around Key West.
6. New Orleans, Louisiana
New Orleans is a hub of activity year-round and spring break is no different. It's the place to soak up some Louisiana culture, try new foods and enjoy live entertainment every night. New Orleans is rich with history and you'll find dozens of unique cultural attractions and sites to explore. Take a tour of the grand mansions in the Garden District and stay up late to enjoy the nightlife scene on Bourbon Street.
You'll find plenty of dinner hotspots, live music and entertainment and fun outdoor activities to enjoy up into the early morning hours in The Big Easy. Get ready for some great Cajun food, live jazz performances and boutique shopping around the Arts/Warehouse District and Garden District in New Orleans. Hanging out in the French Quarter is a great reason to get dressed up for the night and enjoy the town. Be sure to pack a little black dress for the evening along with some casual dresses or rompers for your daytime travels.
7. Palm Beach, Florida
If you're looking to splurge this spring break, don't miss the opportunity to escape to Palm Beach. It's the playground for luxury travelers who want to enjoy upscale shopping and dining to their heart's delight. Spend the day on a yacht or enjoy a gourmet meal at an award-winning restaurant near the shopping district.
It's the place to be and be seen, so you'll want to pack some formal wear and fancier resort wear to make the most of the trip. Don't forget the swimsuits! You'll find plenty of pool and beach parties to join over spring break and you'll want to show off some of the latest swimsuit trends during your trip. Get to the coast early to explore the lineup of shops and boutiques around Palm Beach for the latest fashions.
From Austin to Key West, there's no shortage of fun spring break destinations in the southern United States. Get packing and enjoy a fun retreat at any of these popular beach towns and cities in the South.