What to Expect on Sydney Tower's "Skywalk"
Let me start this post off by saying, I am deathly afraid of heights and was pretty much in panic mode in every photo you see of me in this post. Obviously, I survived…so, there was no need to freak out. But I really hadn't realized what Sydney Tower's "Skywalk" all entailed when I signed up to do it with my husband.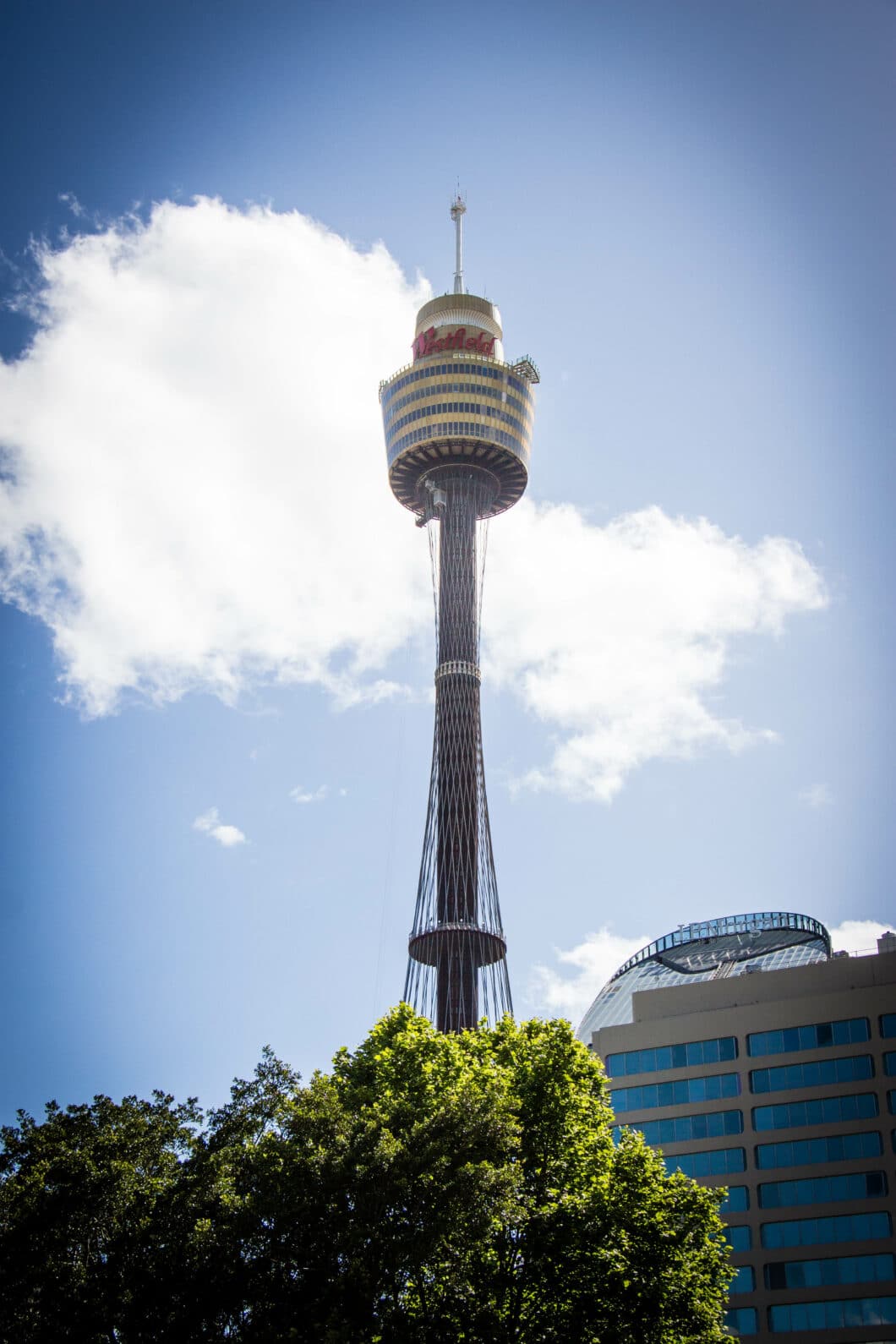 Sydney Tower is Sydney's tallest free-standing structure. It offers amazing views of Sydney (obviously) and is one of those touristy things you just have to do once. And when the guy at the ticket desk asked if we wanted to see the views from outside, my first thought was, "Of course! That's how I'll get better pictures!"
I had been thinking I would just step outside on a nice secure viewing area (you know, like The Empire State Building), but I didn't realize it was just a skinny little catwalk around the entire structure, and you had to be strapped to a harness that was secured to the building and dressed in rain/wind gear. Talk about going into to panic mode for me. Haha.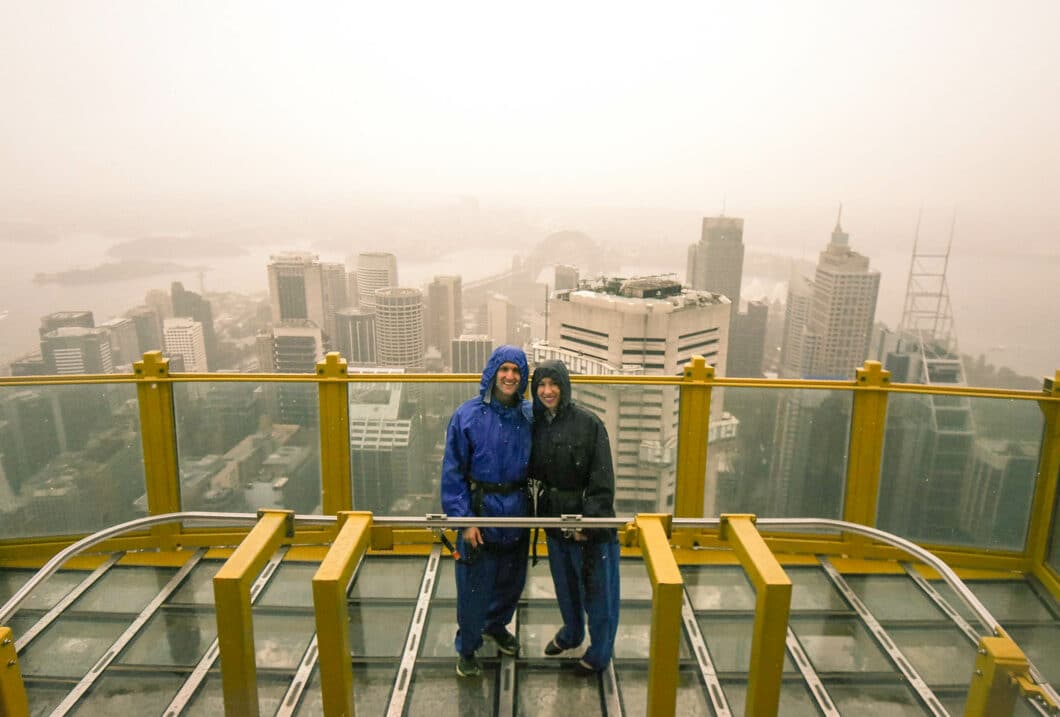 As you can see, the weather had also turned pretty nasty when we did the Skywalk. However, the lack of visibility I think may have actually have benefitted me! And the area they took this picture was an actual great big, glass viewing area (not the catwalk like the rest of it, so don't it let fool you). I still didn't love the feeling of standing on glass that high up either, though!
If you're not afraid of heights, though, this is actually a pretty cool way to see the city. There was a family with us who had a 7-year-old boy, and they all had a blast. (While I hyperventilated!)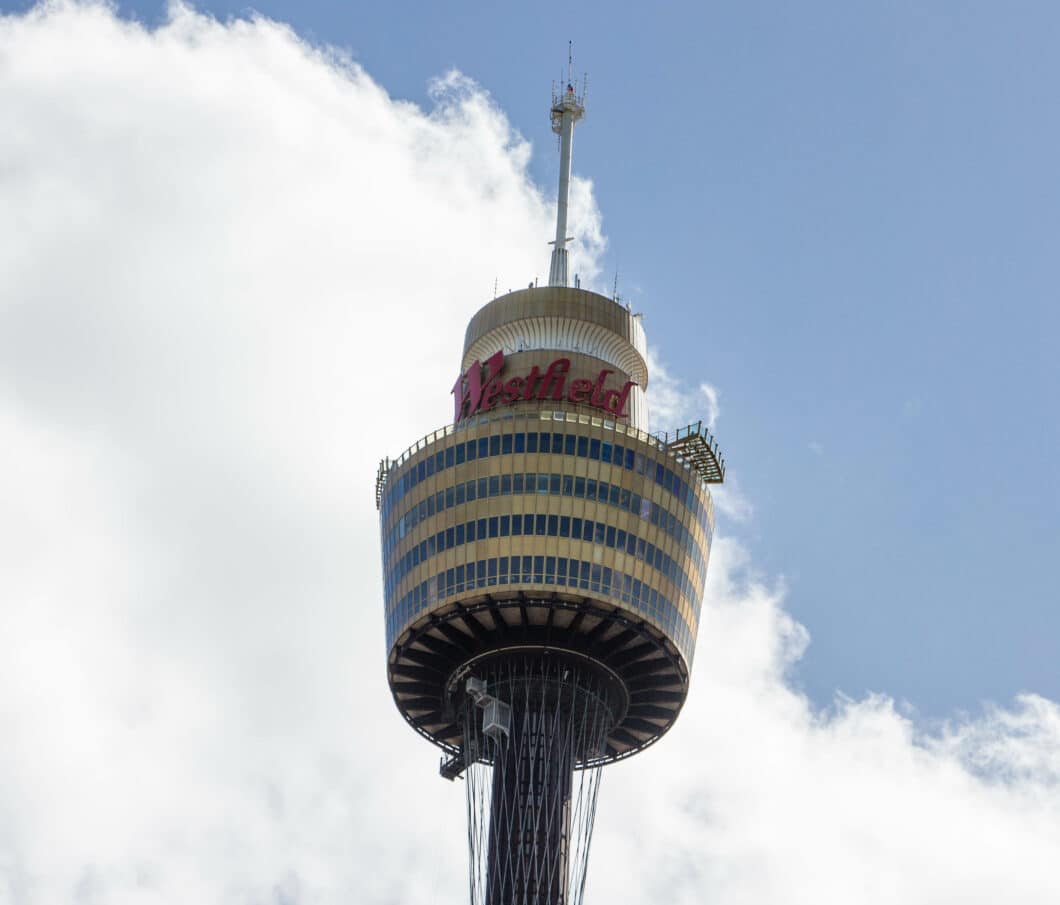 The joke was also on me because you can't bring anything outside with you. (Because it could fall and do some serious damage.) Therefore, my camera didn't make it with me.
So, all the photos I ended up taking were from the cozy, inside viewing area….actually at a later date, because the visibility went to zero after we were back inside. (The employees were kind enough to give us a free ticket to come back because of this! I thought that was very nice.)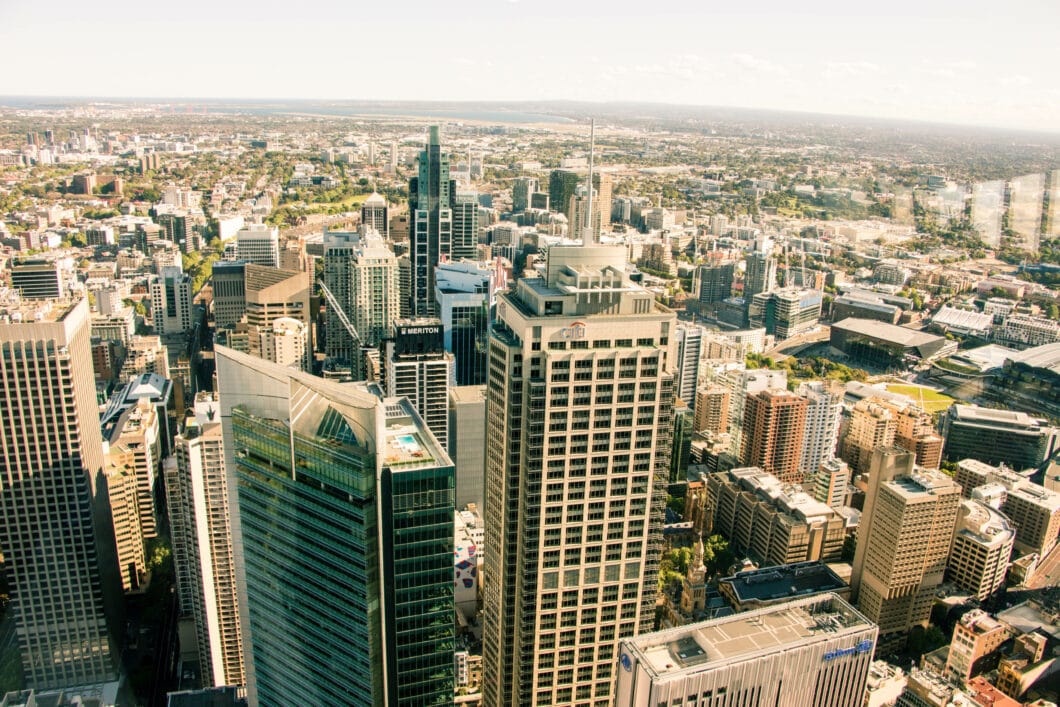 I also later found out that there is a bar underneath the observation area that rotates. It has a $20 drink minimum (and beer is apparently about $10 a glass), but the ticket to get to the viewing area was roughly that amount (click here for current ticket prices)…so, if I could redo it I would just go sit in the rotating bar and sip a couple $10 drinks! Haha. But oh well, I never would've done the scary "Skywalk" otherwise!
And while I thought I was a bit badass for doing the Skywalk…apparently Auckland, New Zealand has a similar setup…but instead of just walking around while a guide tells you *fun facts, you bungee jump off it. They call it the "SkyJump." Click here for more info on that.
*Take the "facts" in this tour with a grain of salt. This was the tour that tried to tell me the Opera House was designed after an orange peel. (Which according to the Opera House website and employees, is not even a little true.)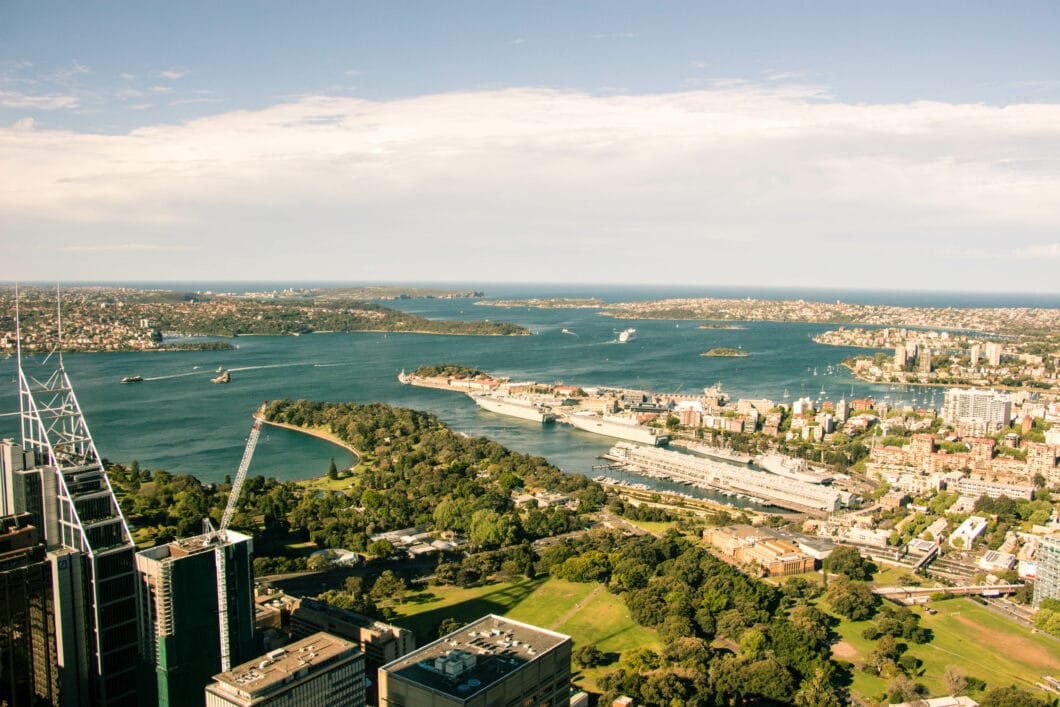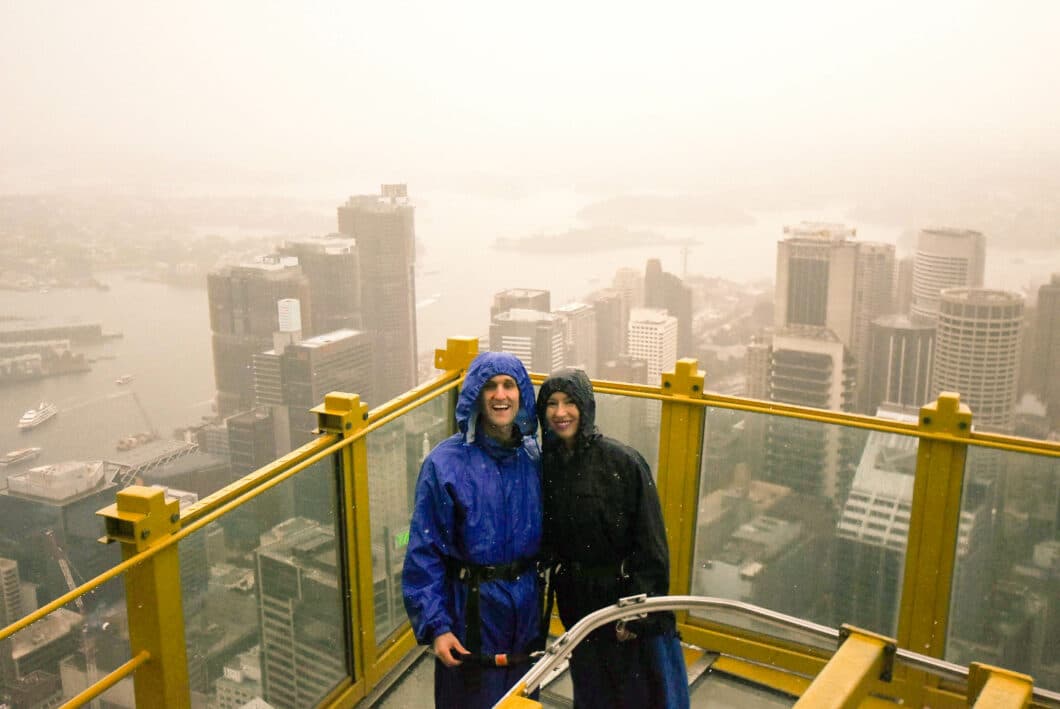 So, the moral of this story is, if you aren't afraid of heights…the Skywalk is pretty neat! And if you are afraid of heights, but want to get a good view of the city…plop yourself down at the bar and sip expensive cocktails instead! (*Tickets are also included in the Sydney Attraction Pass, click here for current prices.)
Click here for the Sydney Tower & Skywalk ticket website. And click here to learn more about the bar & dining portion.
Are you afraid of heights? Or would you enjoy doing something like the Skywalk? Let me know in the comments!

*Feel free to click on the photos to make them full-sized…and some have descriptions. And see of all of my posts from Australia, here.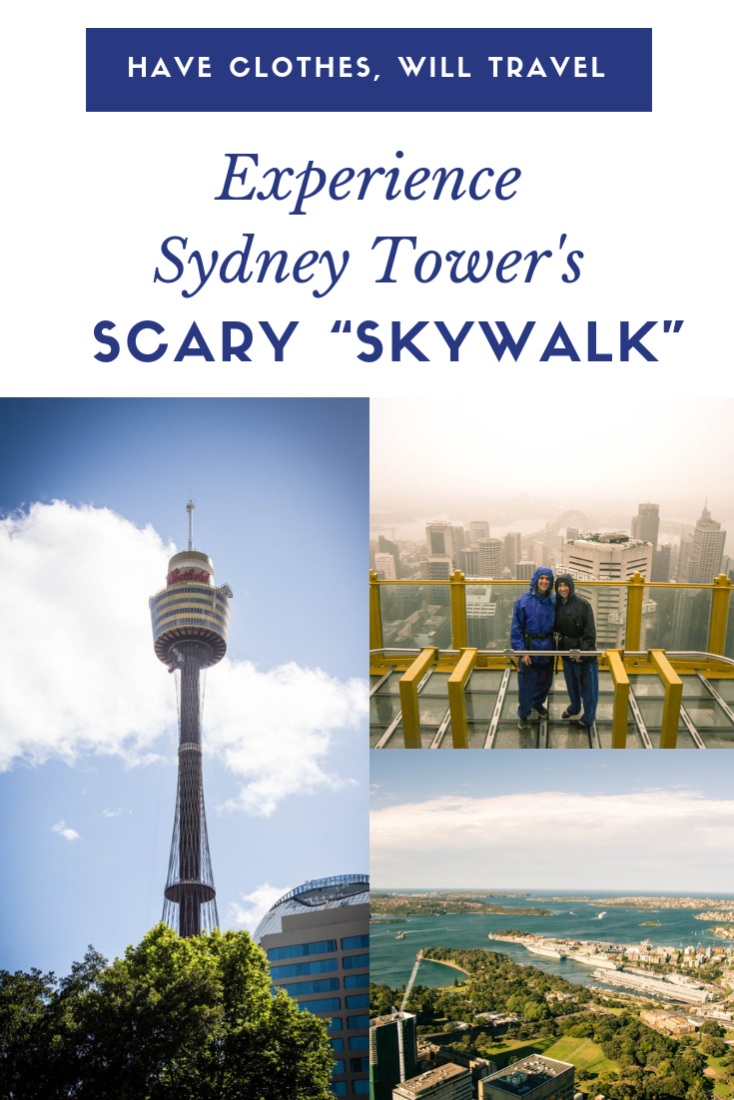 *Disclosure: some of these links are affiliate links. Meaning, if you click a link and make a purchase, Have Clothes, Will Travel gets a very small commission at no extra cost to you. Thank you for supporting the brands that make this blog possible! I am also a participant in the Amazon Services LLC Associates Program, an affiliate advertising program designed to provide a means for us to earn fees by linking to Amazon.com and affiliated sites.