Fun Things to Do in NYC in the Winter
Heading to New York City this winter? Check out this post for some fun, off the beaten path things to do in NYC in winter!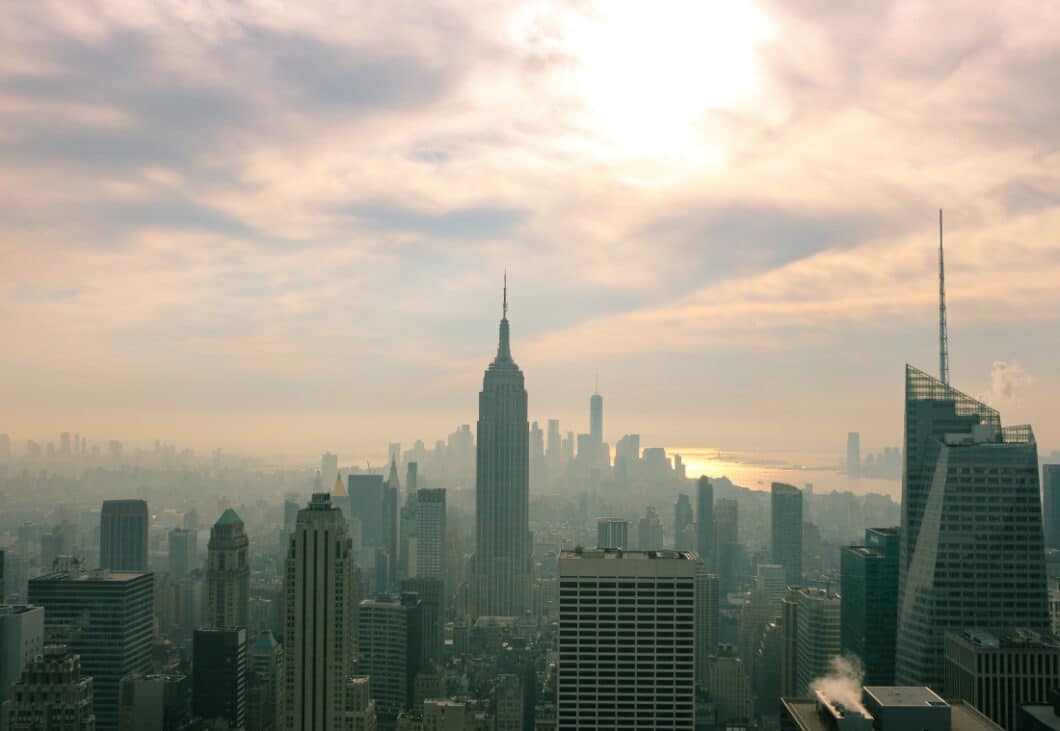 This weekend I said farewell to the Big Apple and am now packing my bags for our next adventure. I know the last time I moved I did a farewell post on the city I had been living in at the time (Stevens Point). While technically I don't live in NYC, I live in Princeton, New Jersey…I am really going to miss being close to NYC. And at the risk of offending someone, let's just say I won't be missing anything about New Jersey, other than its proximity to New York.
So, this post will be about what I did this weekend to wrap up our time in NYC and also a couple more fun suggestions for what to do in the winter! I was especially lucky because for this last weekend in the city, I had a group of friends in town and we had incredibly warm weather for the middle of December…and we were able to check out some rather unique NYC experiences! These are all fantastic ways to spend a winter weekend in NYC!
Fun Things to do in NYC in the Winter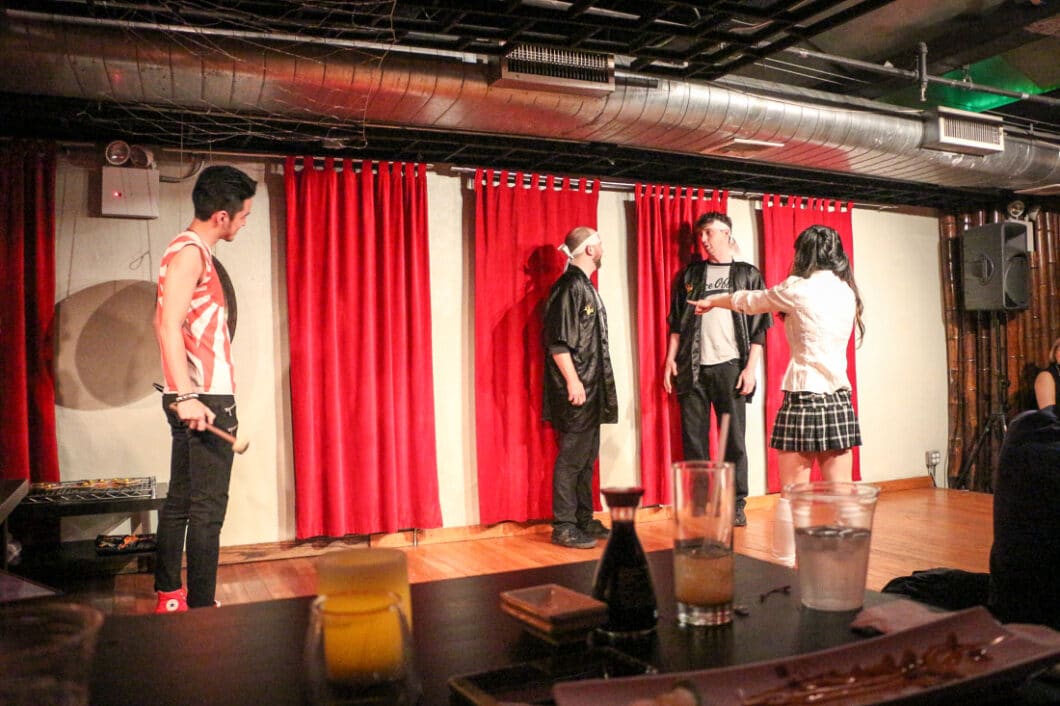 BATSU!
Want to get out of the cold and enjoy a unique show? Head to BATSU!
BATSU! is a live Japanese game show in the East Village that we went to on Thursday night. It was absolutely hilarious! And we actually were especially lucky that night, because the show was sold out (order your tickets online ahead of time!)…but no one had bought the VIP table. So, our group was chosen to sit at the VIP table for the show!
We had a great view of the 4 warriors as they competed in challenges that had a "Whose Line Is It Anyway?" vibe to it. However, when the comedians would mess up, they risked getting hit by paintballs, getting shocked by an electric collar, or having an egg smashed on their head..just to name a few.
And if you are feeling especially adventurous, you can even sign up to be a part of the show and compete in the competitions! Our group chickened out, but it was still fun to watch everyone else. In the pics below, the contestants can be seen eating sushi off one of the warriors (haha)…and one of them even had to suck soy sauce out of his belly button! Seriously, this show had us in stitches all night…and it also has a full food and bar menu. So, we were able to sip drinks and each sushi while we watched the games.
Click here for more info on BATSU! And click here to read TripAdvisor reviews on Batsu.
The Upright Citizens Brigade
Keeping with the comedy theme, we went to the UCB Theatre the next night, where we watched the "Stepfathers" performance. UCB is a comedy club that was started by Matt Besser, Amy Poehler, Ian Roberts and Matt Walsh. While the original 4 aren't currently on the lineup (but I do believe they stop by on occasion), there are shows 7 nights a week ranging from improv, stand-up, sketch, talk/variety…and more. "Stepfathers" was an improv show, that was awesome. I was dying laughing for the entire hour-long performance… and tickets only cost $5!
Click here for more info! And click here for TripAdvisor reviews on The Upright Citizens Brigade.
The Rockefeller Center Christmas Tree
Ah yes, it is Christmas in New York..even though it was in the upper 60s, lower 70s all weekend (seriously it was so freakishly warm). I was so excited to be able to see the Rockefeller Center tree in person, as well as the ice skating rink at Christmas! It was really cool too, one of my friends had actually witnessed an engagement happen on the rink while the rest of us had gone to the top of The Rock to take photos.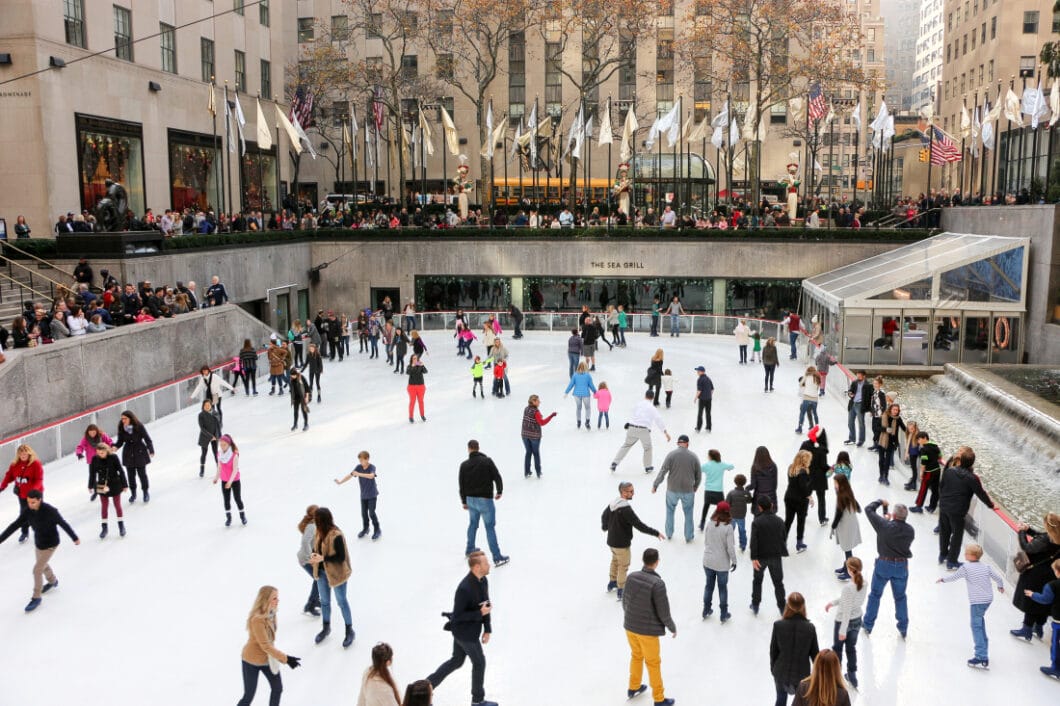 5th Ave. Store Windows
And what's Christmas in New York, if you don't see the store windows on 5th Ave? Saks and Bergdorf Goodman by far had the best window displays…I think Bergdorf Goodman's was actually the best. Seeing these at night is so much better than during the day, too. I do have to apologize, though, my camera's battery had died by that night and I had just been using my phone to take photos…which wasn't the best of quality. But you can still get the gist of how spectacular these displays are!
To see which store was which, just left-click on the photo for the caption and to make it full-sized.
The Views
Just because it's winter, doesn't mean you shouldn't take in the amazing NYC views! I had been to the top of the Empire State Building before, but never at night. Boy was that gorgeous! Definitely check it out at night if you get the chance. We also went to the top of The Rock during the day…and I must say, I think out of the two, The Rockefeller Center offers better views of the city (if you have to pick just one, that is). I was really happy with how the photos from the Top of the Rock turned out, and the Rockefeller Center also had quite a lot of room and different vantage points compared to the Empire State Building.
Click here for Top of The Rock tickets, and click here for Empire State Building tickets.
Sleep No More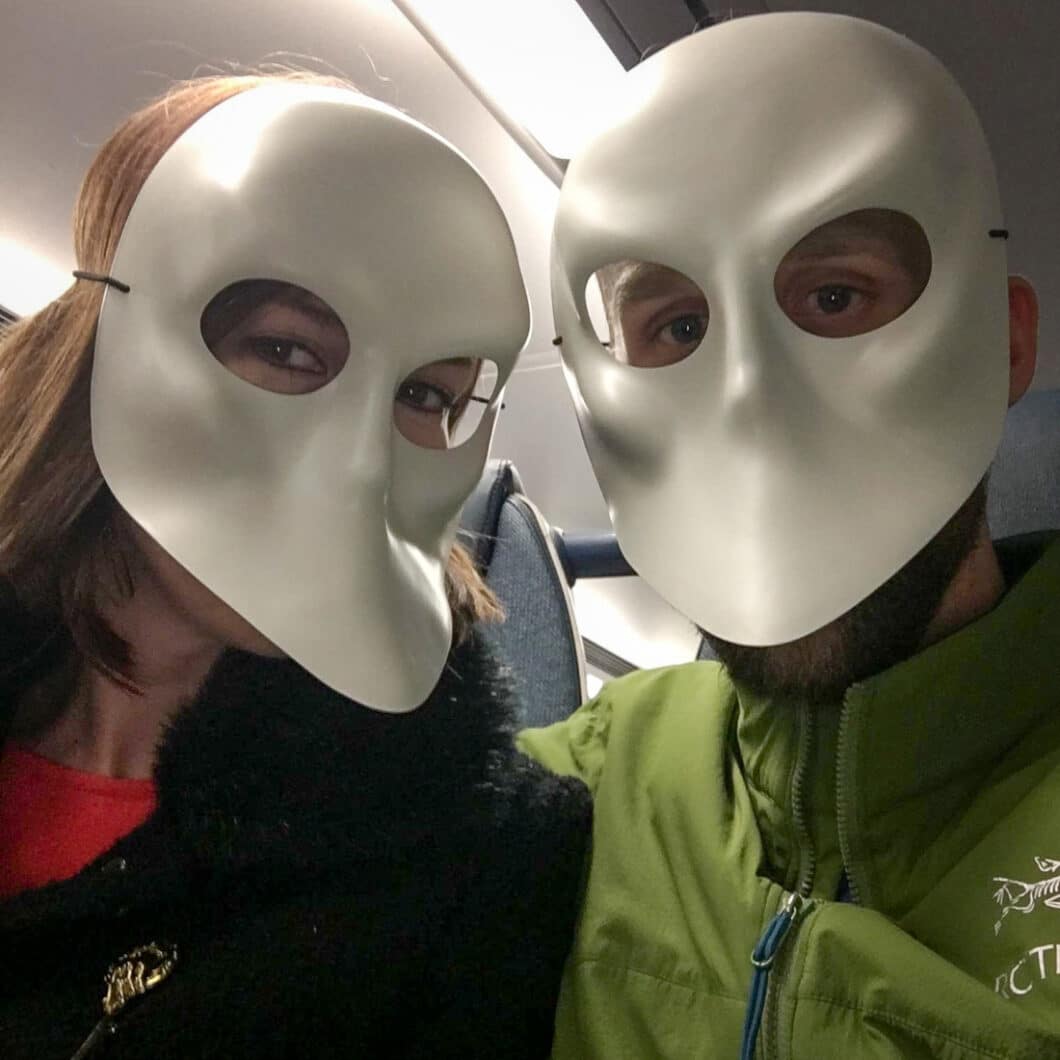 Another fun indoor activity is "Sleep No More." This is an interactive play in New York City that is honestly one of the coolest things I've ever done! It is primarily based on William Shakespeare's Macbeth (I highly recommend rereading this before you go). You're asked to put masks on before you go into the production, (pictured above) and then you're free to follow the characters that interest you as they dance and act out various scenes. You can see my full in-depth take on this experience by clicking here, and you can click here for the Sleep No More website.
I am so grateful I was able to do this all in for our last weekend in the city. I really feel as though I was able to get a fantastic New York experience in our 9 months here…from the normal tourist stops to places that are off the beaten path. New York has been a once-in-a-lifetime experience.
To see more on we all did in NYC, you can check out my other posts on the city! You can also book your next corporate retreat near NYC!
1.) The City That Never Sleeps (And Neither Did I)
2.) A Day at the Met
3.) Stormtrooper & the City
4.) Halloween in NYC
5.) Star Wars & the Power of Costume
6.) Sleep No More
7.) NYFW: Angel Sanchez S/S 2016 Show
Now, it's off to Wisconsin for the holidays for me! I'll be getting more info on what's to come after Wisconsin within the next couple weeks…thanks for bearing with me while I wait for that info!
I'll end this post with a few more photos I took of the city…
And I'm curious, what was one of your favorite experiences in NYC? Or what would you like to see, if you haven't been yet? Let me know in the comments!
*If you like this post featuring fun things to do in NYC in winter, it is now available on iTunes as a self-guided walking tour! Click here to download it.