Star Wars and the Power of Costume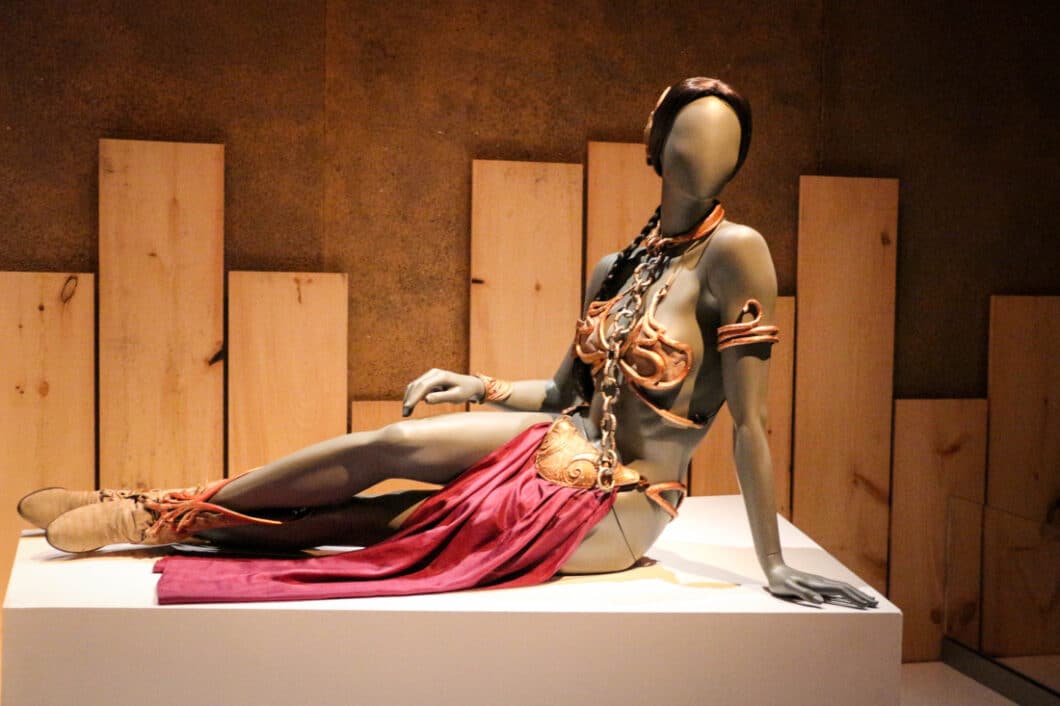 If you happen to be a fan of Star Wars – oh boy, do I have an awesome exhibit to tell you about! "Star Wars and the Power of Costume" just opened up in the Discovery building in Times Square NYC, and it seriously is the stuff that Star Wars fans' dreams are made of. (Click here to see where this exhibit is headed next.)
I happened to be on 44th St. for a matinee showing of Phantom of the Opera (click here for more on that), when just across the way my husband and I noticed this new Star Wars exhibit. As we were standing there contemplating the flyers, a very nice gentleman came up to us and said, "Just do it – the exhibit is so cool, and it just opened this morning!!" And I would like to thank that very kind stranger for his words of wisdom because this was indeed the coolest exhibit ever! May the force be with you, kind sir!
There are 70 actual costumes worn in the Star Wars movies in this exhibit! I am still trying to process seeing this all in-person! Seeing the actual Princess Leia bikini from Return of the Jedi? And R2D2 and C-3PO from the original trilogy?!? It really doesn't get any more incredible.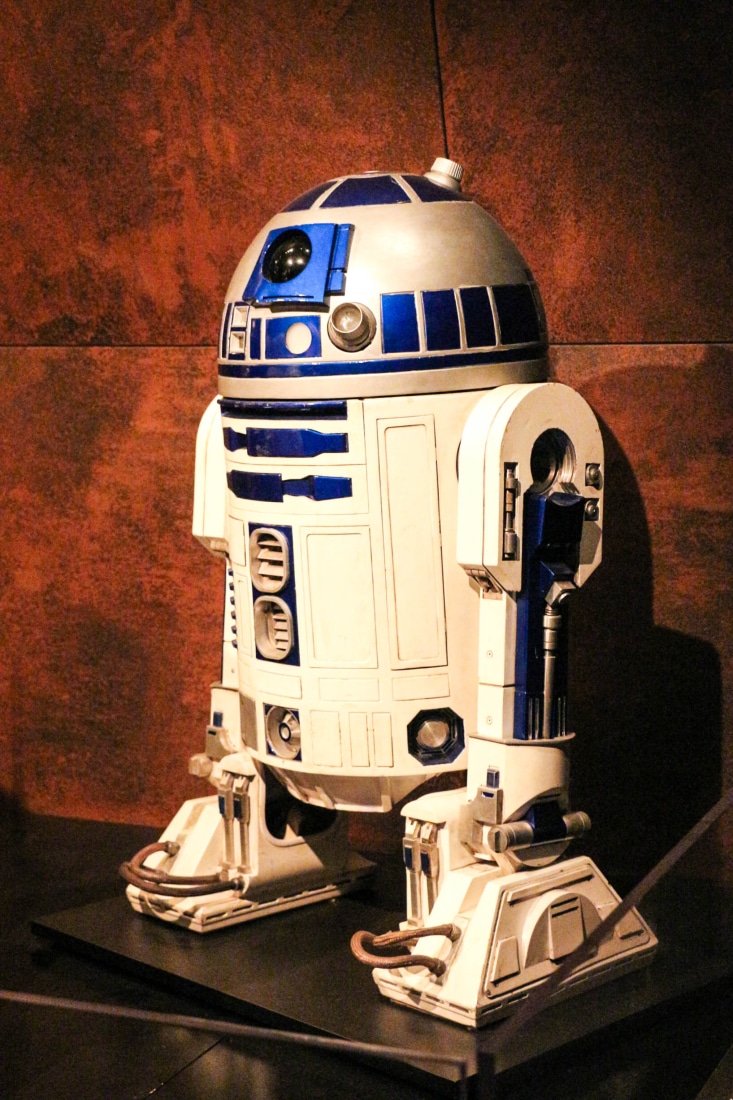 I have loved Star Wars my entire life, and I can say that never once did I think I would ever get the chance to see anything like this in my lifetime! For a Star Wars fan, this is honestly the best thing ever (unless George Lucas had been there to guide the tours…and Han Solo had actually been in his costume. That's the only way this would've been better. Haha.)
However, I have to be honest before we get too far into this post… I really don't like the Star Wars prequels. There. I said it. I haven't even been able to finish an entire movie from the prequels (sorry!). However, there are a ton of costumes from the prequels, which I diligently took photos of…but I may not be able to talk about them as much (and thank god Jar Jar Binks was computer generated, and won't be found in this exhibit). This post is mainly going to be centered around my extreme excitement over the original trilogy costumes and a few costumes from the new Star Wars movie (that I do have high hopes for!).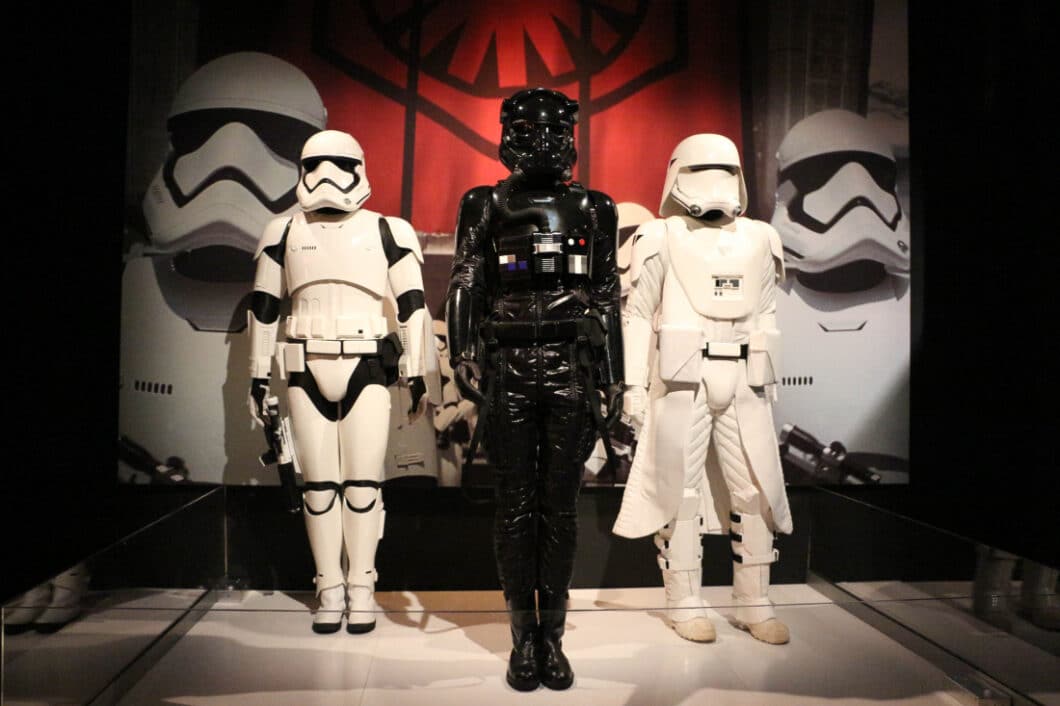 The photo above is of the new stormtroopers called the "First Order." You'll see these guys in the new Force Awakens! (Sorry, for my overuse of exclamation points, but honestly, if you were having a conversation with me about this…this is really how I would be talking about the exhibit.)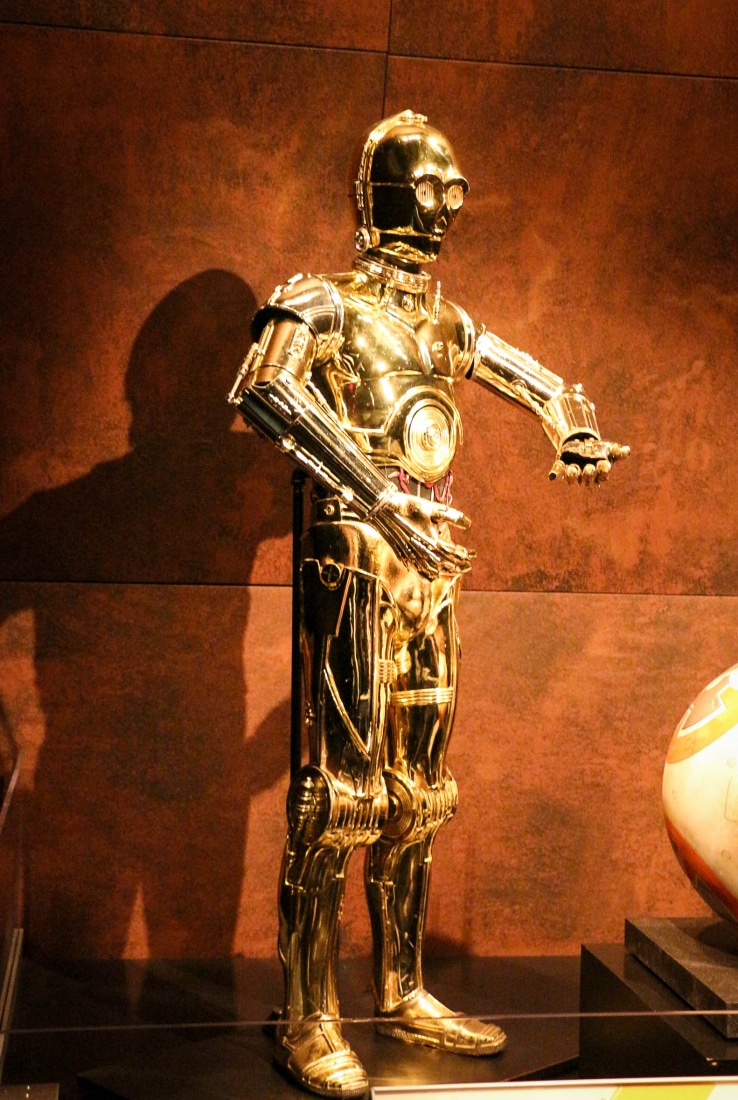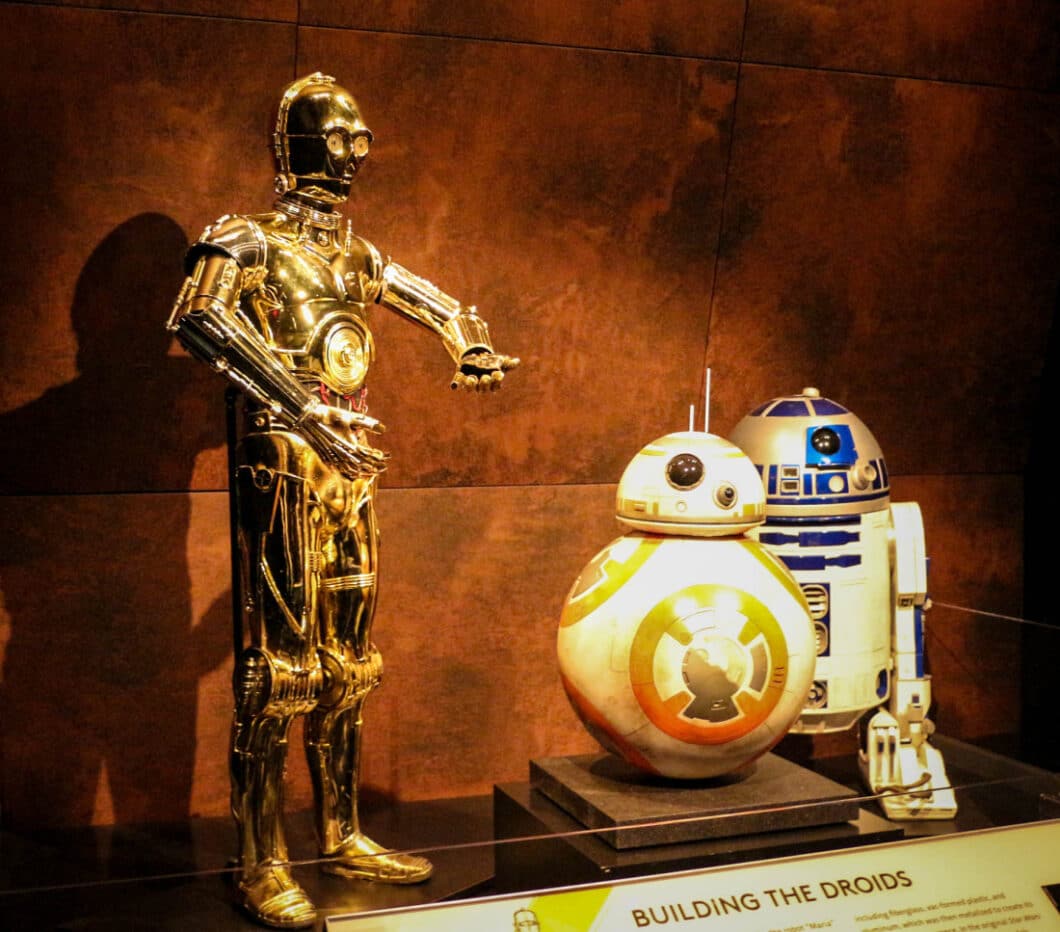 The only negative I have to say about The Power of Costume exhibit is that I didn't love how they mixed the orignals with the prequels. I would've rather have had the two separate (and this is probably entirely because I'm not a fan of the prequels). It just felt weird seeing Padme's costumes next to Princess Leia's.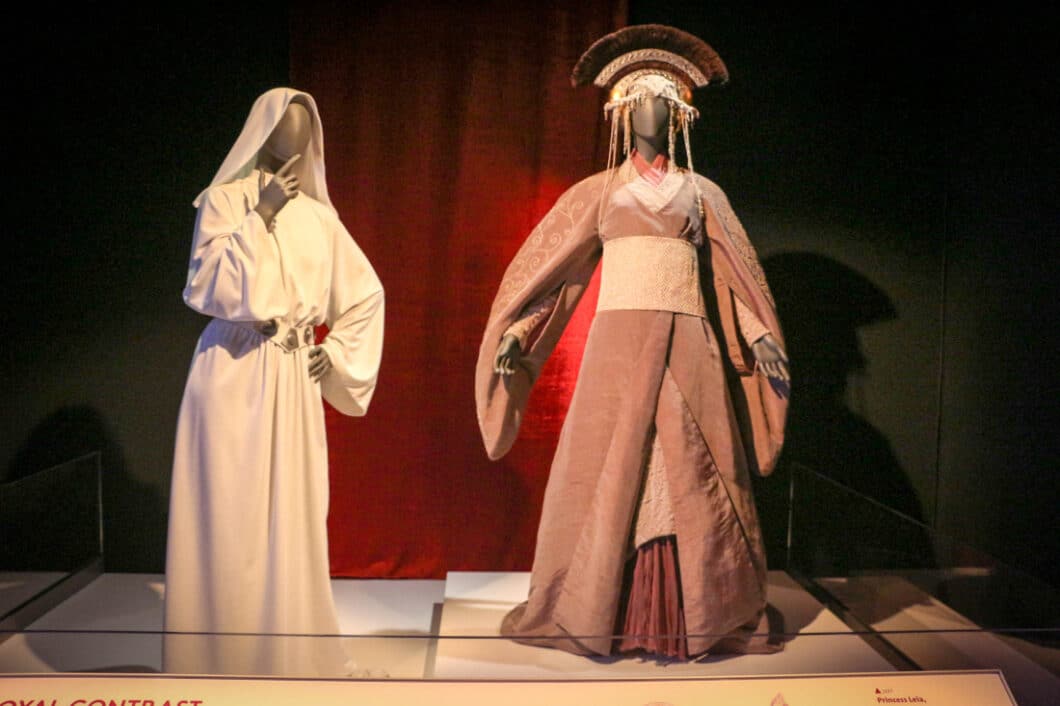 That being said, though, Padme did have some incredible costumes. Her character had by far the most space in the exhibit, and for good reason. There are some truly beautiful gowns that would rival some of the ones I had just seen at China: Through the Looking Glass!
I personally loved seeing the Ewok exhibit. The Ewoks will always have a special place in my heart, and getting to be face-to-face with an Ewok is seriously an experience like no other!
One thing to remember when you are having the time of your life admiring the exhibits.. there are alarms and they will sound if you lean in too close…and you will get scolded like a kindergartner. Be sure to keep a safe distance from the exhibits if you don't want to be that person.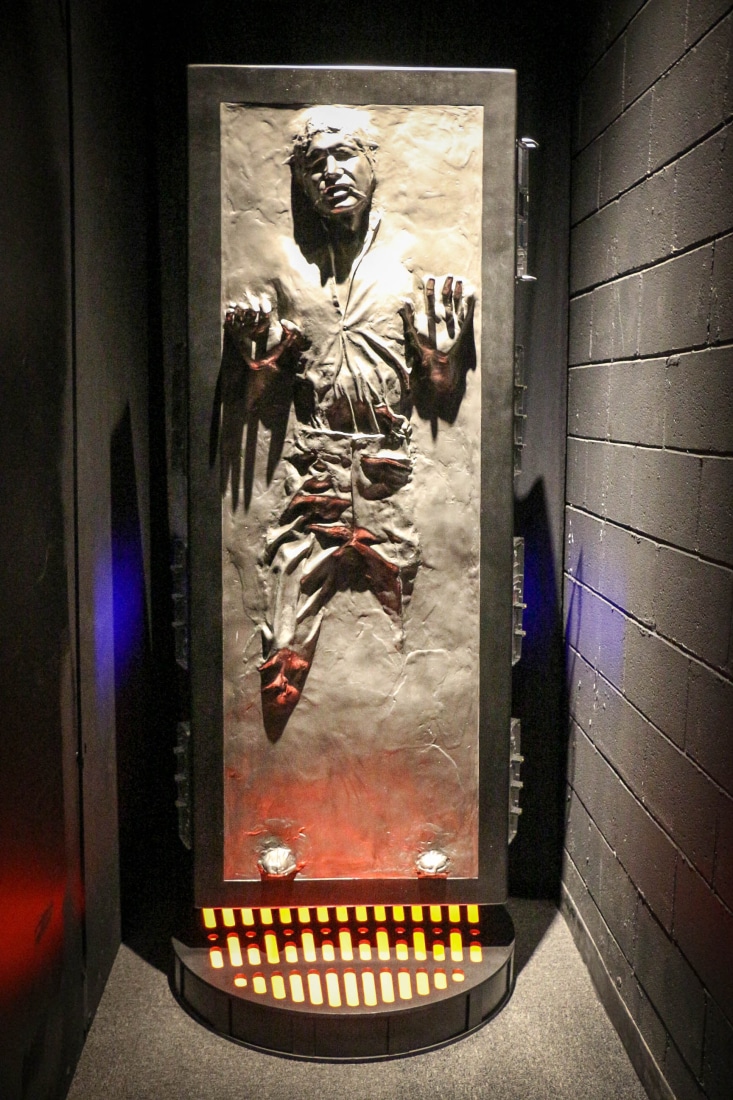 Han Solo frozen in carbonite was an exhibit that also made me just about lose my mind. Haha. Until my husband pointed out the tiny words under the plaque, that said "official replica." Darn it! I paid really close attention to the name pieces after that, and am happy to report that was the only replica I noticed.
And what's a Star Wars exhibit without the Darth Vader costume? I thought his display looked pretty awesome (even if it was a bit tricky to photograph.)
I also have to mention, that the Senate costumes from the prequels were absolutely exquisite. Even if you aren't a die hard Star Wars fan, but appreciate fashion, you would find parts of this exhibit fascinating. The prequels seriously had some beautiful costumes.
Yoda had a whole room dedicated to just him and his legendary quotes. It was so awesome!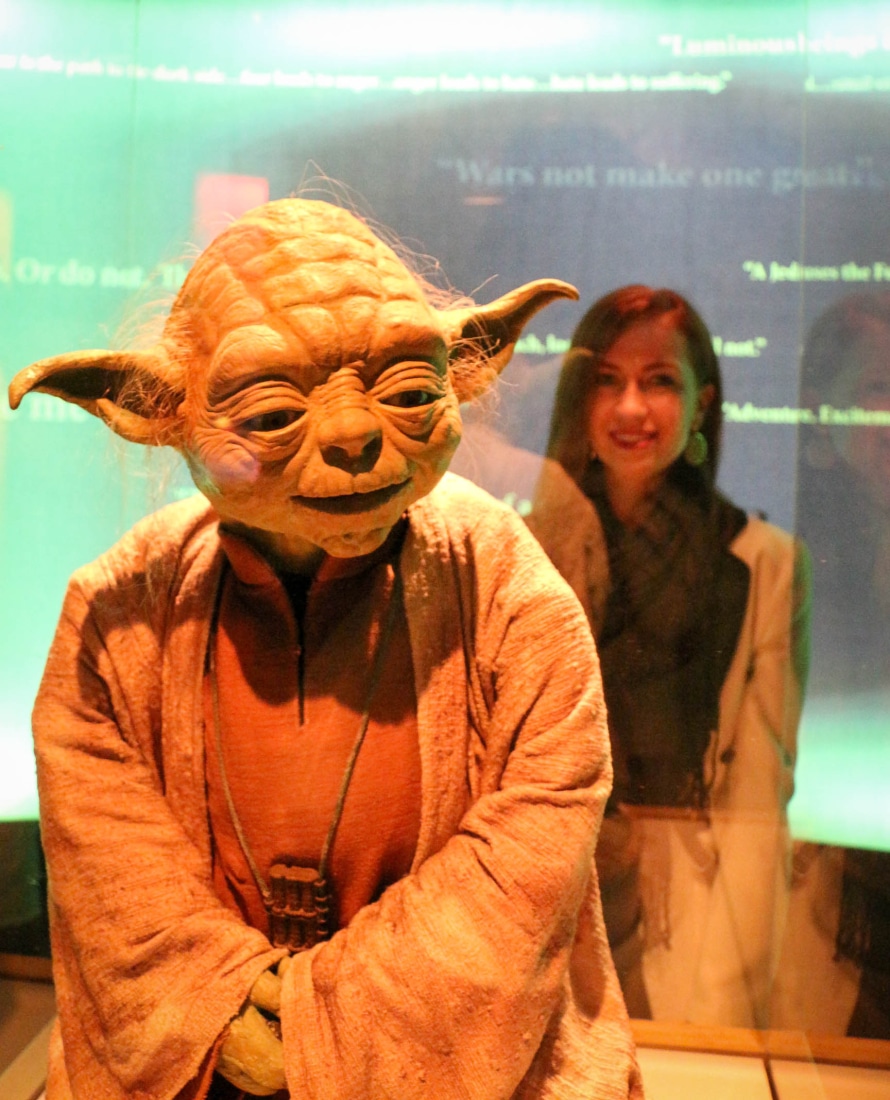 Let's recap. By going to Star Wars and the Power of Costume, you will get to see Yoda, the Princess Leia bikini, Ewoks, Chewbacca, R2D2, C-3PO, Darth Vader, and many, many more costumes. Seriously, I can die happy now!
Star Wars and the Power of Costume will be in Times Square until September of 2016. So, if you are planning a trip to NYC within the next year – be sure to check this out! Tickets were only $30 when we went and you can also order them online (so, you don't have to wait around in line) by clicking here. I'll end this post with some more photos from Star Wars and the Power of Costume.
Is anyone out there planning on seeing Star Wars and the Power of Costume within the next year? Let me know in the comments! (I can also answer any questions you might have about it, too.)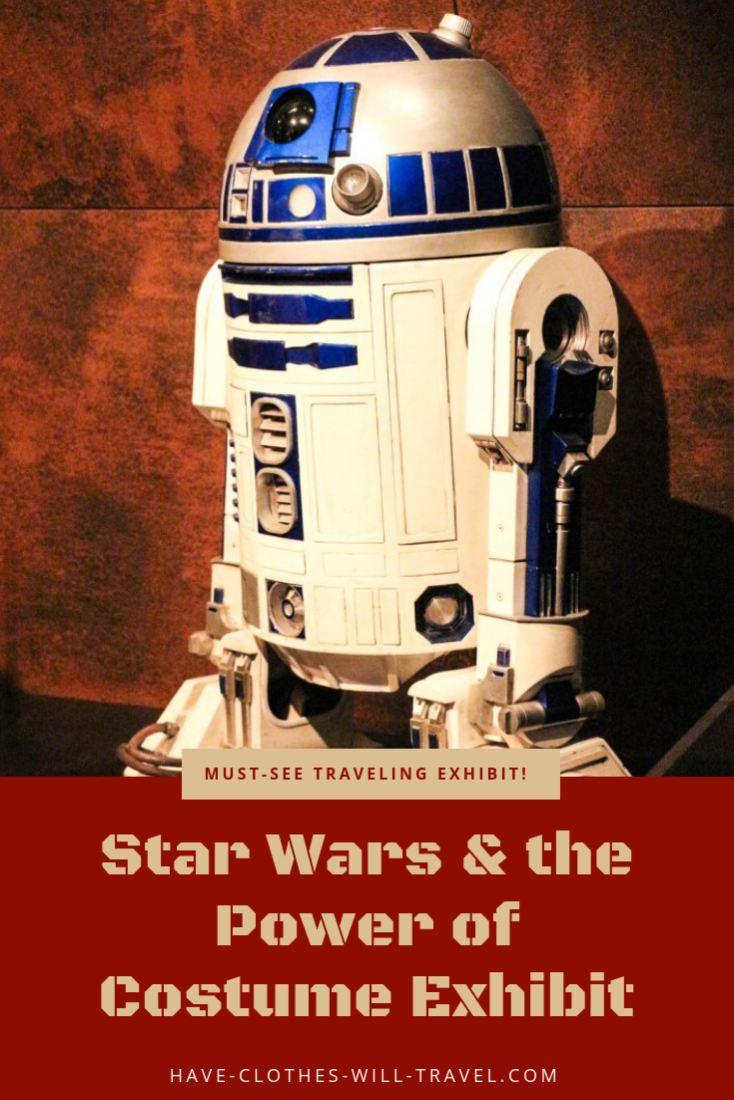 Click here to see my Stormtrooper outfit post from that day.