Stormtrooper and the City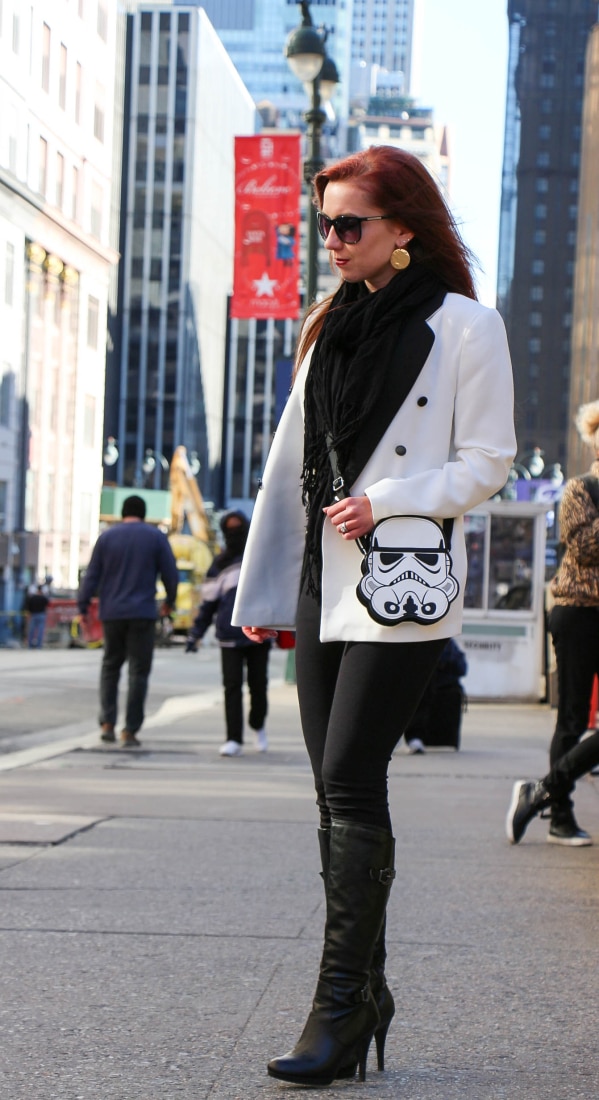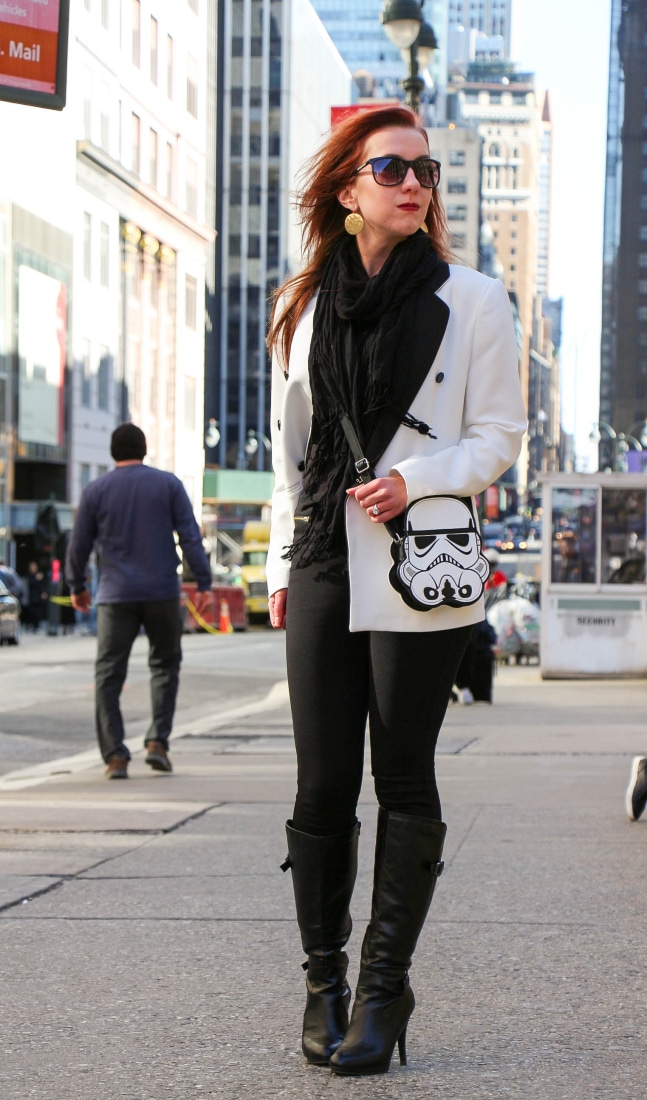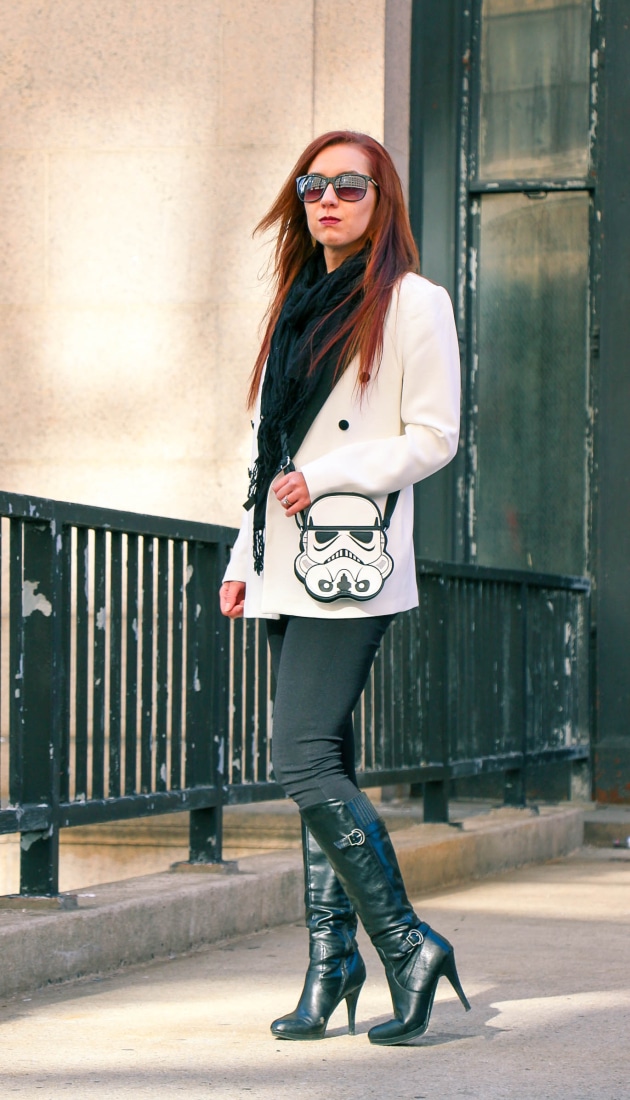 Shop the look:

This was a day of happy accidents. I did not intend to resemble a Stormtrooper when I left home that morning for NYC, or that I would end up seeing the coolest Star Wars exhibit of all time while I was in the city (more on that in second). I had just wanted to wear this Blaque Label blazer from the #ifchic24 event, because it was finally cold enough to wear it.
I was really surprised by how warm this blazer is! It was in the low 40s and quite windy this weekend, so I was thinking I should almost wear a coat over the blazer when we were out walking around. However, the blazer held up just fine on its own. I like everything about this blazer, except for the way it buttons…and therefore fits. It's super big through the middle on me. I know it's supposed to be an over-sized men's inspired jacket, but it is just so big through the midsection (which is why I don't button it, I feel like it looks a little more flattering that way). I had originally thought I ordered the wrong size, but it fits fine through my shoulders and arms..so, I think it's just supposed to be this big! But I spent less then $20 on it with shipping (you have to love those #ifchic24 events!), so, I am not too upset about a slightly weird fit.
The best part about this blazer, though, is that it matches wonderfully with my new Stormtrooper purse! This purse went on clearance on ModCloth for $24, and I don't think I had ever hit the buy button so fast in my life. Haha. It's super high quality, and it's made out of vegan faux leather…but it doesn't feel plastic-like at all. It honestly feels like real leather, and I have a feeling it's going to last for a really long time.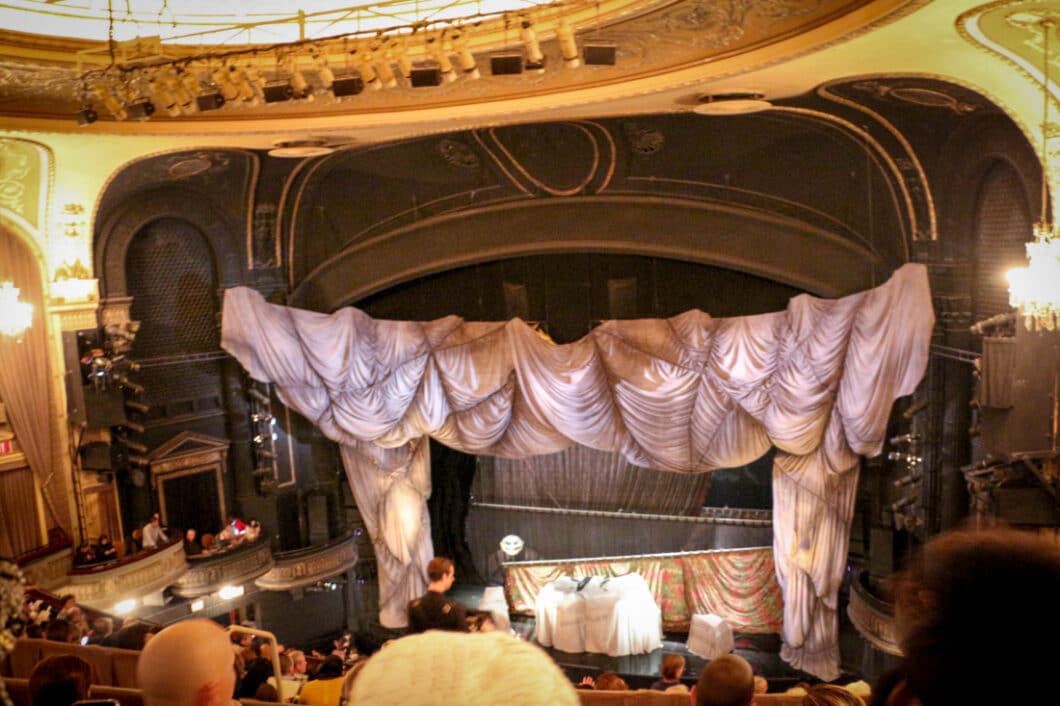 The reason for my journey into NYC, though, was to see Phantom of the Opera on Broadway. My husband and I had yet to see a show on Broadway, and our time near NYC is coming to an end. So, we are frantically going through our bucket list of things to do in the city before we leave. Haha.
We both really enjoyed the show! It was fantastic! Our only thought was if we did it again, we would splurge on better tickets…because we had gotten the cheaper seats up in the mezzanine (not really knowing what to expect), and it was a bit disappointing. There were people constantly moving and getting up and blocking our view and people talking. You also can't see the Phantom's face when he takes off his mask from that far away. That being said, though, we did both really enjoy the performance. We just know now, that if we want the full experience, we'll have to pay a bit more.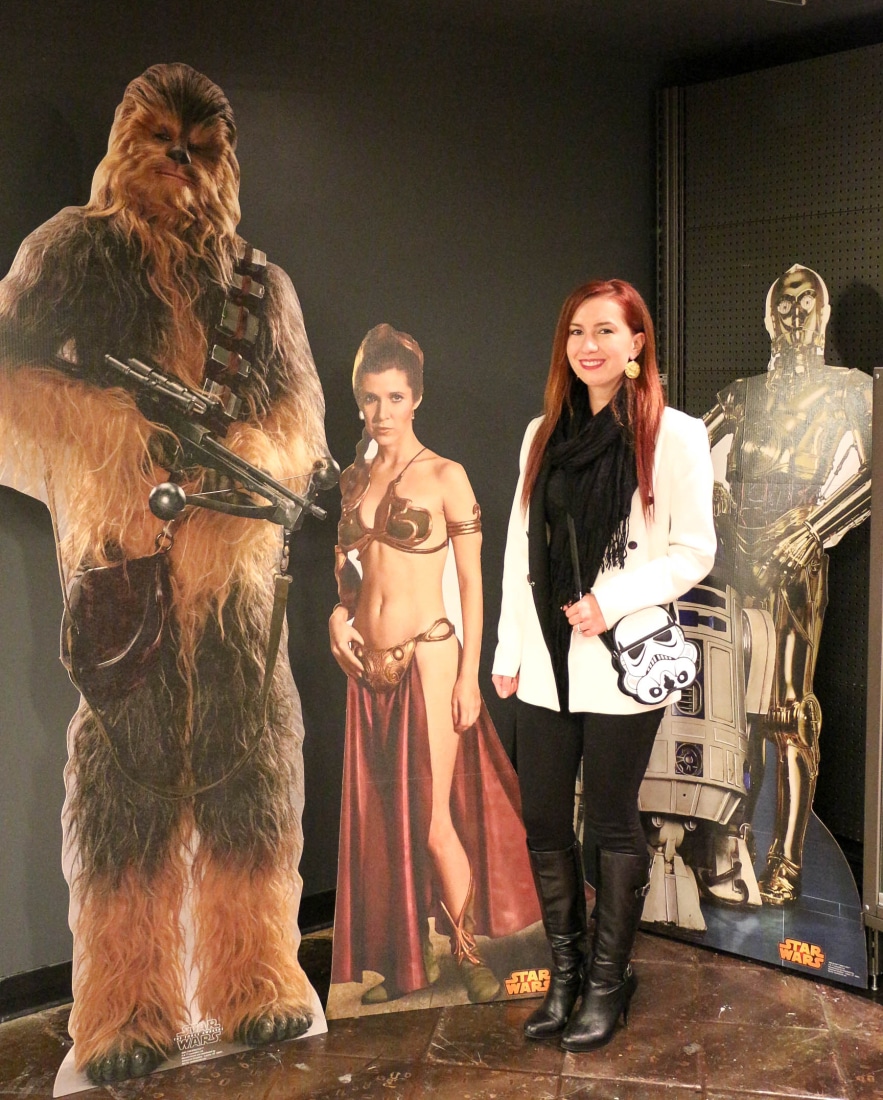 And after the show got out, my husband and I stumbled on the most incredible Star Wars exhibit ever! It was so cool!! It worked out pretty well that I already resembled a Stormtrooper, haha. (And my purse was a big hit at this exhibit, haha.) But I have so much to say and so many picture from this exhibit…I'm going to share them all in a separate blog post tomorrow. So, I'll be leaving you guys hanging for now (sorry!). If you are a Star Wars fan, though, be sure to check back tomorrow!
Has anyone else been to Phantom of the Opera or a show on Broadway? What was your experience like? Let me know in the comments!
Where to find it:
Blazer: #ifchic24 event (Blaque Label)
Stormtrooper purse: Amazon
Boots: DSW
Pants: ModCloth
Scarf: Express (Similar)
Earrings: Express (No longer available.)