NYFW: Angel Sanchez s/s 2016 Show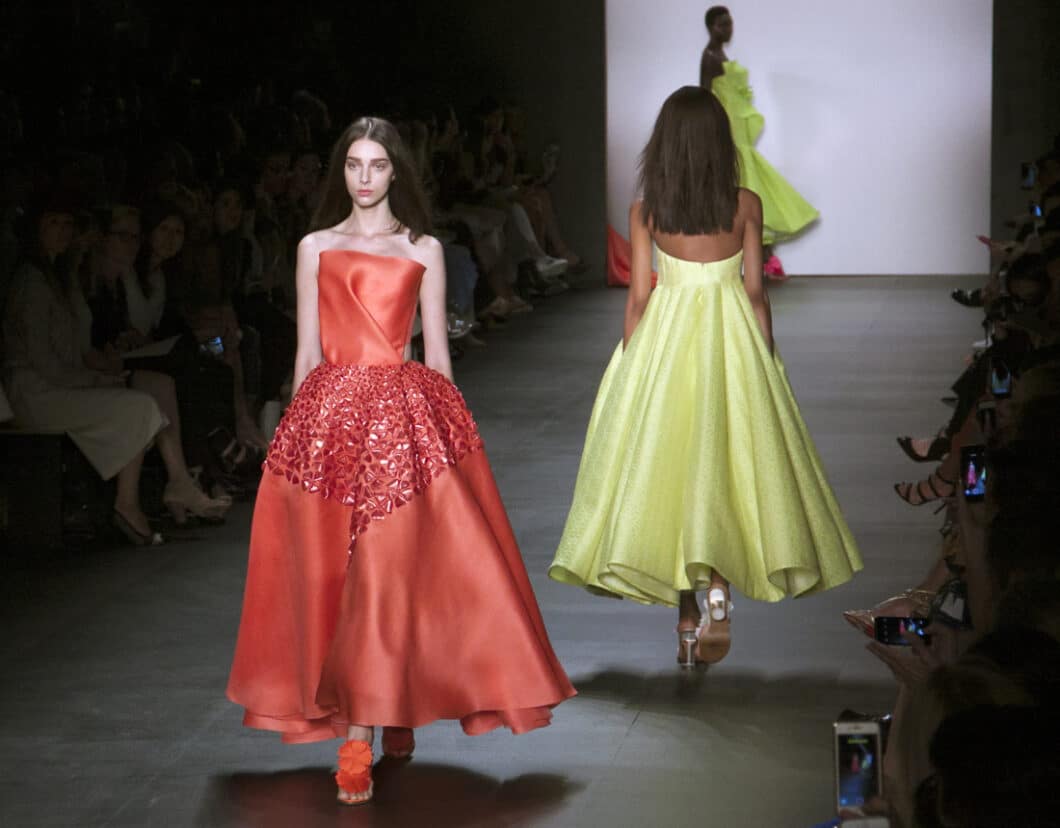 My first New York Fashion Week show is in the books! I had the opportunity to see the Angel Sanchez spring/summer 2016 collection, and it was absolutely amazing. I'm not even going to try and play it cool – I was in heaven and so excited I was able to get to see NYFW in person! (I'll be on cloud nine for a while if you need me.)
I'll do my best to try and talk designers and fashion with you all. As I mentioned in my previous post, I'm not generally up on the latest trends, and just wear whatever I happen to like. However, you don't have to have your finger on the pulse of the fashion world to appreciate the beauty of these clothes!
I'm sharing a photo gallery of all the beautiful clothing, plus a video from YouTube of the entire fashion show at the end of the post. However, first, I am going to take you through the experience of what it was like to go to my very first NYFW show!
The photo above was my first glimpse of NYFW. I was running a bit later than I would've liked. (My train ride took a half hour longer than usual. I have no idea how that happens.) So, I didn't fully enjoy the fact I was able to walk in this grand entrance (doh!). I just rushed up there and gave them my invitation, and then proceeded to stand around inside for about 15 minutes.
We were then allowed to enter The Dock, the area where the Angel Sanchez show was taking place. Most of the people at the show knew each other it seemed..so there was a lot of standing around and talking. I, however, went to find my seat immediately and sat down to people watch.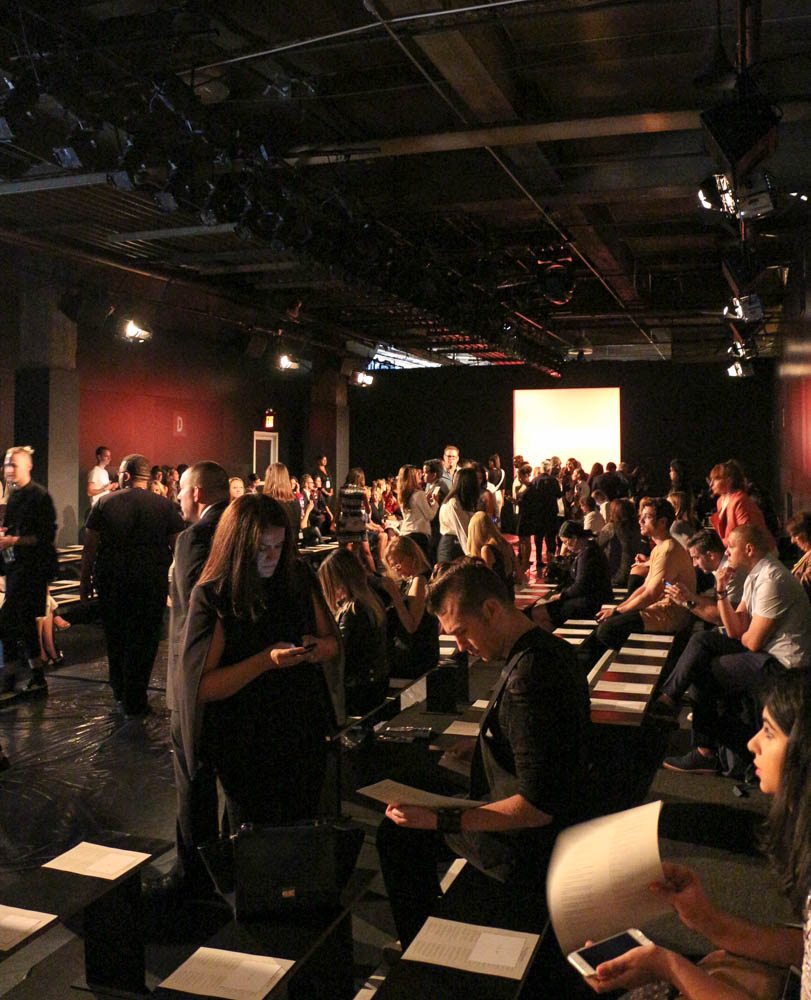 It's quite the scene to see so many fashionable people in one area! I definitely didn't feel overdressed for the first time in my life. Haha.
The show was set to start at 1 p.m. However, it started a bit later, which I'm told is quite normal. (Fashionably late perhaps?) Once the lights were dimmed, everyone knew to find their seats, and wait for the music and fashion to start.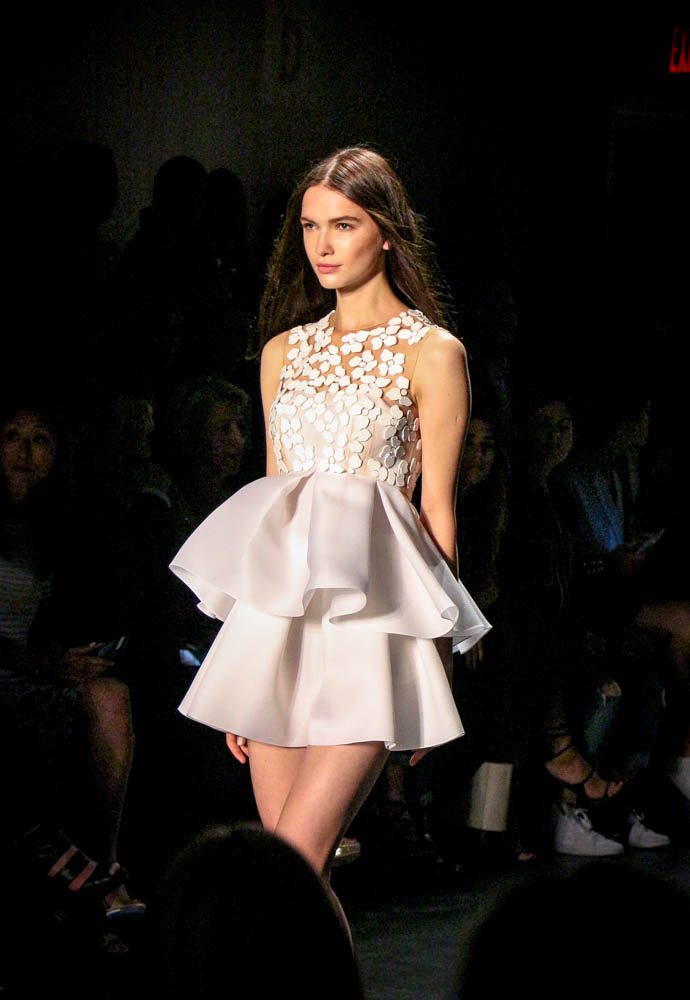 There were four rows for this show, and I was in the fourth row (which is why there are heads of people in my shots, haha). This was nice for me because I was able to stand up and not obstruct anyone's view…so, I could snap some photos.
I honestly didn't go into the Angel Sanchez show thinking I would fully appreciate the beauty of the clothes. For example, I have a hard time seeing the beauty in the new Yeezy Season 2 collection by Kanye West, it confuses me a bit, and I can say that it is probably not something I would be looking for on the shelves this spring (sorry!). But the press is going crazy over that show, so what do I know?
But back to the Angel Sanchez show…I literally wanted to wear every piece that came down that runway! I loved the shapes of the dresses (especially the peplum-like bottoms), and the floral details and bright colors, contrasted by stark white outfits – I absolutely loved it! (Did I sort of sound like I knew what I was talking about? Haha.)
I was also so impressed with the models' abilities to look incredible the entire time they were on the runway. I don't think any of them even blinked! (How do they do that?) As someone who has to have her picture taken frequently for this here blog, I am here to tell you that what those models are able to do is pretty cool (especially if you could see the other 99 percent of my photos that don't get used on the blog. Haha.).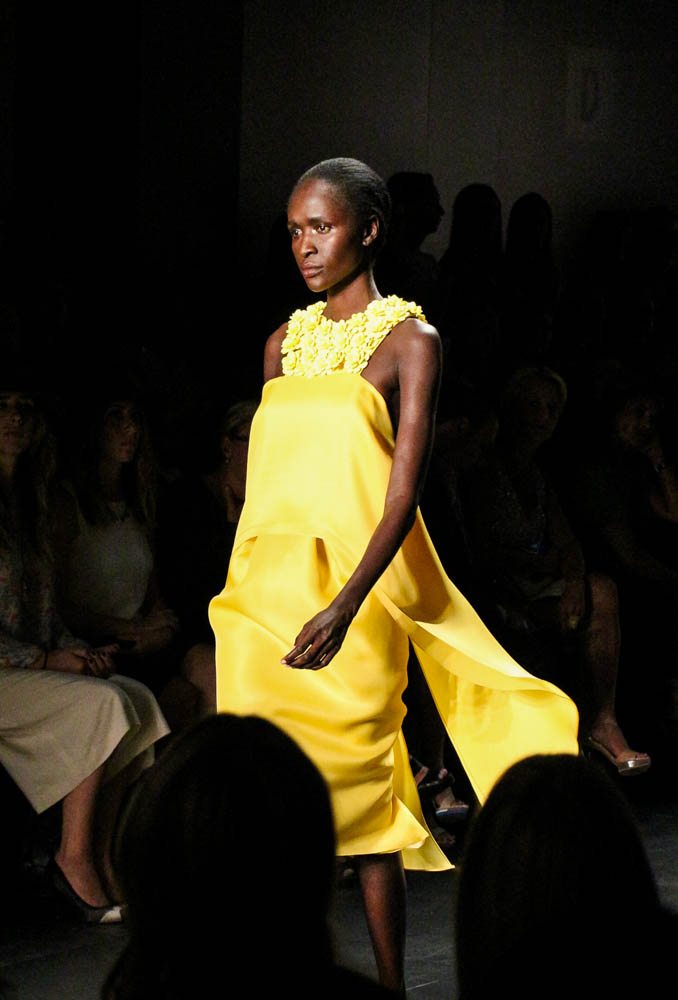 And I'm thinking by now you may be wondering what exactly was I doing there..especially given my limited knowledge of fashion? Well, the lovely Mariana a.k.a. Ms. FABulous was kind enough to invite me along for the show, because we had a little photo shoot planned for afterwards featuring the Machi Footwear heels I wore for the show. I'll be sharing photos from that, plus my outfit photos of the day, in a separate post. (I have a lot to say about my NYFW outfit.. it's going to need its own post. Haha.)
Mariana was there to take photos for the Angel Sanchez show (she was actually kind enough to let me use the first photo in this post by her). Mariana is a NYFW extraordinaire and has been bouncing from show to show all week! So, if you want to get some inside peeks into a wide variety of fashion shows, definitely check out her blog Ms. FABulous.
I will end this post with a photo gallery from the Angel Sanchez s/s 2016 show, plus a YouTube video of the show in its entirety (if you're interested). My next post will feature my NYFW outfit!
I'm curious what do you think of the Angel Sanchez s/s 2016 collection? Let me know in the comments!
Angel Sanchez s/s 2016 Photo Gallery
video from Fashion Fatale