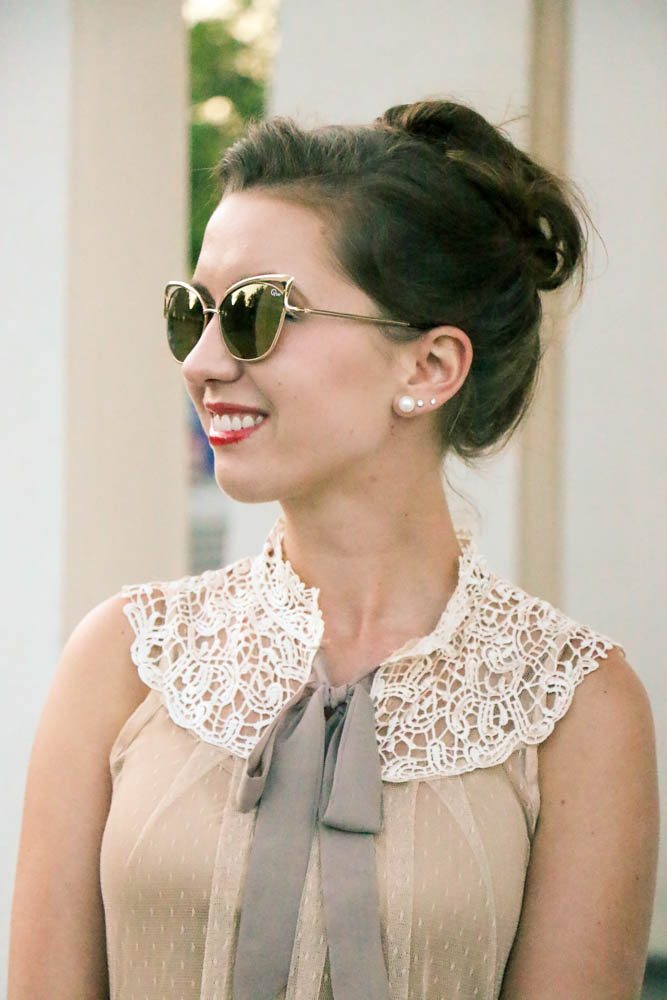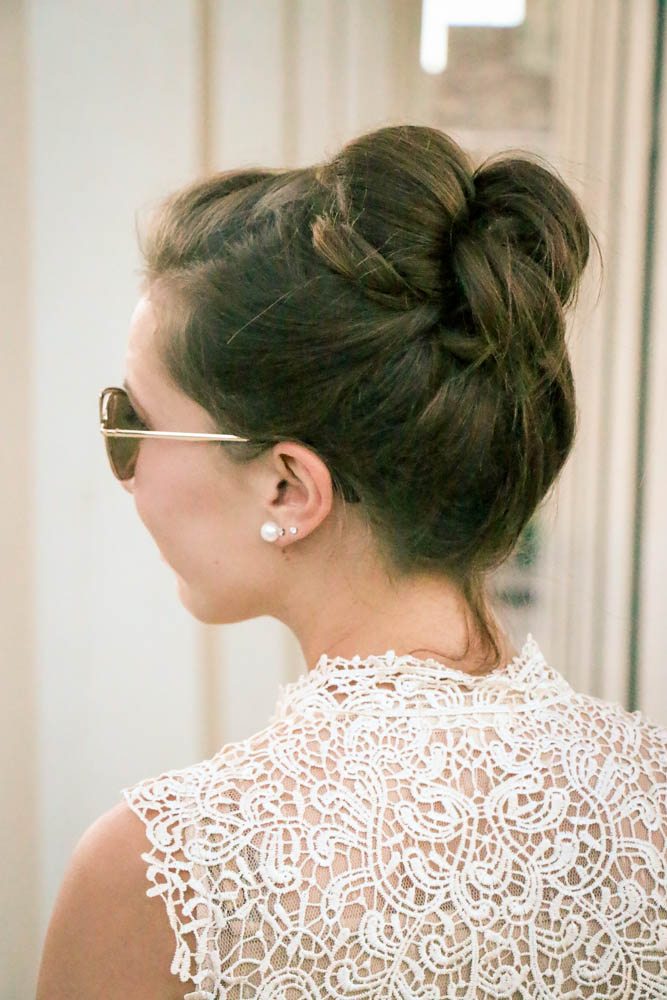 Shop the look:

Deciding what to wear to my first New York Fashion Week stressed me out for a moment, to be honest. I worried I wouldn't be "trendy" enough for the uber fashionable crowd, and that my dresses wouldn't be the right style for such an event. It kind of felt like the first day at a new school, where you know no one… and chances are everyone will be sizing you up and judging you.
So, I texted my very stylish friend, Shannon (from the #ifchic24 Reader Review post), "WHAT DO I WEAR?!" And she gave me the best advice I could've asked for, "Why not just wear what you wear for your blog posts? That's why you're going to this event in the first place." Duh. Why didn't I think of that?
I knew which shoes I wanted to wear to NYFW, which is new for me. I don't usually base my outfit around my shoes, but I'm really loving the floral printed heels Machi Footwear had sent me. They were a good choice too because I received TONS of compliments on them at the show! I was also meeting up with Machi Footwear after the show, but I'll talk about that in a little bit.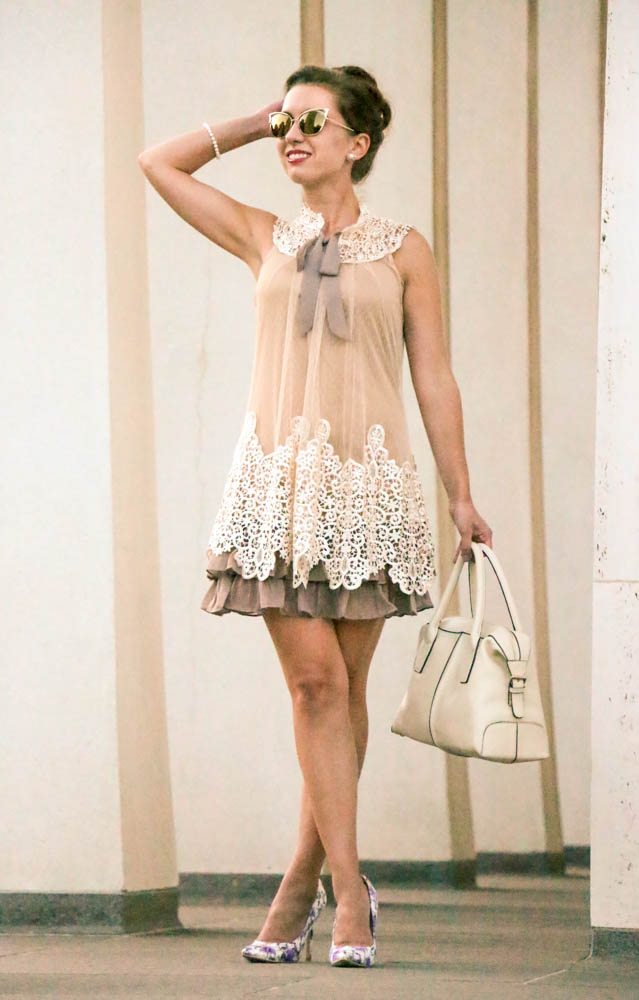 The style gods were on my side the day I was deciding what to wear. Because after digging through my closet and still deciding I had no dresses to wear, I went to my ModCloth Wishlist (because let's face it, on the blog, I'm usually wearing ModCloth dresses). And luckily a dress by Ryu, I had been eyeing up for a wedding, went on clearance! It went into my shopping bag without a second thought.
I LOVE this dress. My husband had actually been the one to show this dress to me, he thought it was something I would look cute in (he has good taste, that man). However, I was a bit worried about ordering it (hence, why it was sitting on my wishlist). A lot of reviews said it looked "cheap" and "costume-like" in person. Just to be safe, I ordered a couple other dresses that looked similar to this one. (I don't advise bulk-ordering from ModCloth – because now I want to keep ALL the dresses. Haha. It's a very dangerous practice!) But luckily, this dress was even more beautiful in person, and is a very me dress. And interestingly enough, it's actually two separate pieces, which surprised me a bit when I tried it on. However, I think it works out nicely. I received so many compliments on this dress while at NYFW (I apparently had nothing to worry about!). I even had random people at the show, and on the street afterwards, asking me if they could photograph it! (Totally felt like a celebrity, not going to lie.)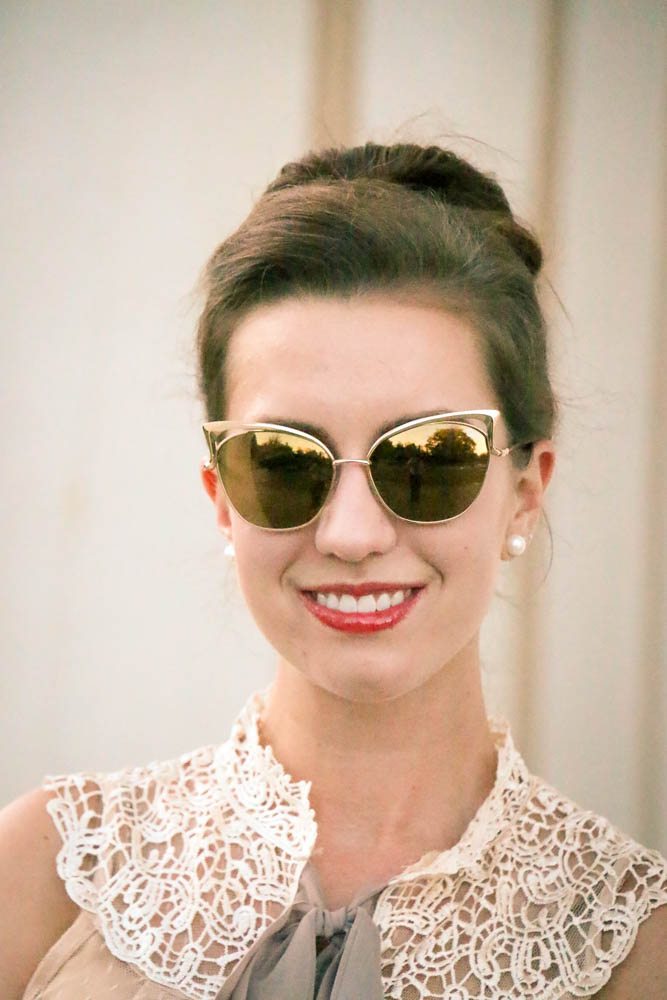 I also did an impulse buy of some Quay sunglasses, after my favorite pair of sunnies met their demise earlier in the week. I hadn't bought sunglasses in probably 4 years, and I usually only buy really inexpensive sunglasses (because sitting on them, throwing them in my purse and forgetting about them, etc. seems to happen far too often.) However, I am so happy with these sunglasses! They are so unique and make me feel so fancy when I wear them. Haha. And again, I had random people stopping and asking to take photos just of the sunglasses! Cool beans.
I do have one negative to say about the sunglasses, though. Despite me being really careful with them, they seem to smudge incredibly easy. There are all kinds of marks on them after just one day of wear. I'll have to get in the habit of cleaning them off at the end of the day (sigh). I also have a bit of a warning about ModCloth's "overnight" shipping. I had placed this order early on a Thursday morning, selected the overnight shipping option, and did not receive my shipment until late Monday afternoon. That is not overnight shipping – sorry! And my event was that Tuesday, so I had a bit of a heart attack. Definitely something to be aware of if you are in a time crunch when ordering from ModCloth (but I still love them!).

After the show, I met up with Mariana (a.k.a. Ms. FABulous) of Machi Footwear to talk about the show and snap some photos of my outfit and Machi Footwear heels! It was too funny, because once Mariana started taking photos of me, suddenly other people thought I was photograph worthy.. and pulled out their phones to take photos. Haha.
And I am actually featured on Machi Footwear's site right now in a Blogger Spotlight! You can click here to read my Q&A with Machi Footwear, and learn a little more about me and what I thought about NYFW. (If you missed my previous post about NYFW, you can click here.)
I'm curious, what kind of outfit would you wear to NYFW? Let me know in the comments!
Where to find it:
Heels: c/o* Machi Footwear
Dress: Ryu (Sorry, the cream color is sold out.)
Sunglasses: Quay
Purse: c/o* ifchic
*c/o = courtesy of, meaning the company gave me this item to be used on my blog, and I did not pay for it. All opinions are my own, and I am not being compensated for a positive review of the product.