Going Inside the Sydney Opera House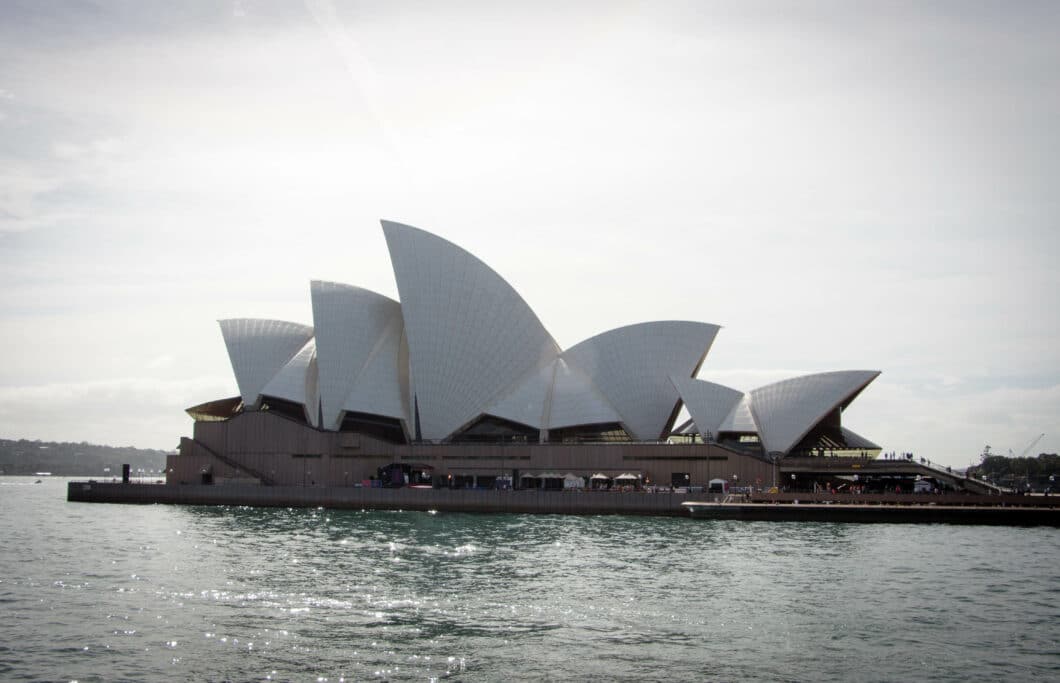 The Sydney Opera House is one of the first images that comes to mind when I think of Sydney… or even Australia. It's an iconic building that is recognized worldwide (and is even a World Heritage site, now). So, needless to say, this was one of the first things we wanted to see when we arrived in Sydney…and we did check it out, but just the outside views.
This past weekend was the first time we actually went to a show at the Opera House and also got a look inside! We saw "A Midsummer Night's Dream" in the drama theatre. We both loved it! It was a slightly surprising and provocative take on Shakespeare, but it stayed true to the original comedy.
I apologize for the quality of the photo above, but due to copyright laws, we weren't able to photograph the stage of the theatre we were in (so I didn't bring my camera). Which, actually, it was a pretty boring stage, to be honest. The magic came all from the production!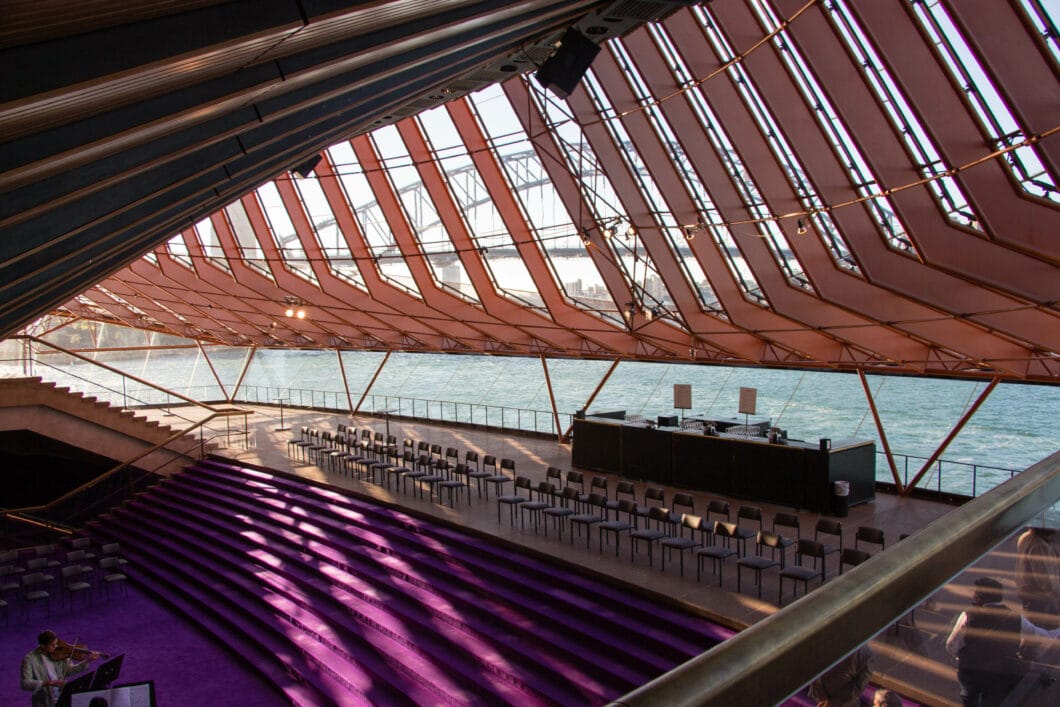 However, we went back the next day to take a tour of the Opera House and see the other theaters that were there. It was really incredible to see!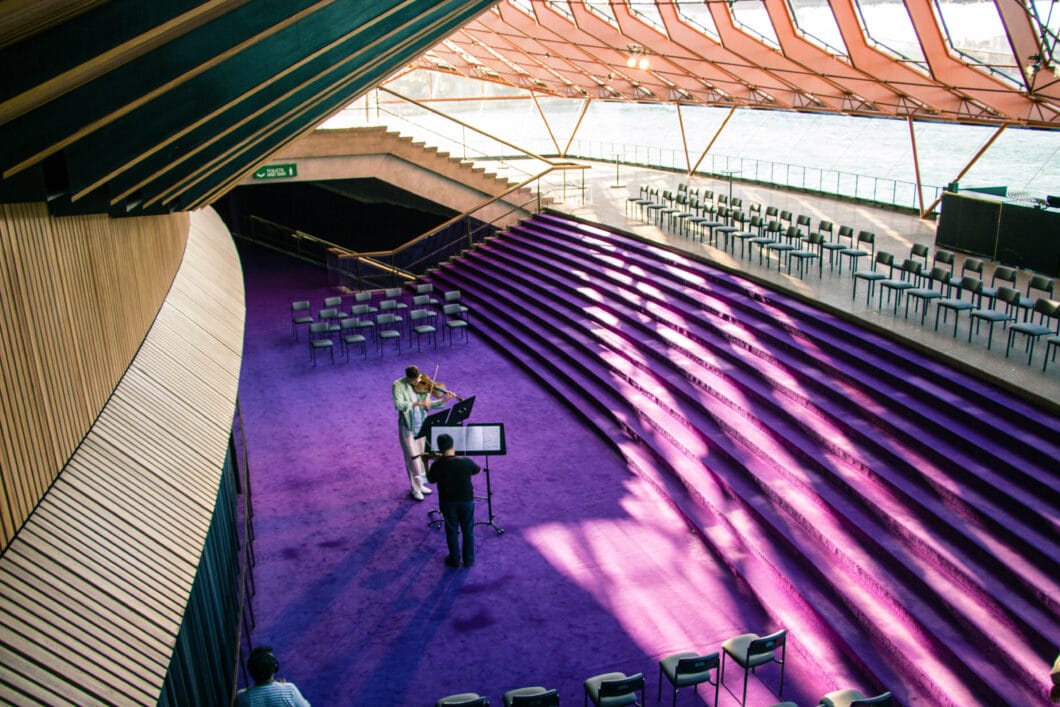 The tour was great to get an inside look at the theatres…especially if you're not going to have time to go to productions in each one. Our tour guide was having a bit of a bad day, though, her headset and mic were not working correctly, and she was a bit flustered and uncomfortable for the duration of the tour. (Which was a bit disappointing, as the tour was rather pricey at $37 AUD a ticket.)
With that being said, though, literally, every single person I've talked to who has done this tour has had an absolutely wonderful time. So, our experience was definitely not the norm!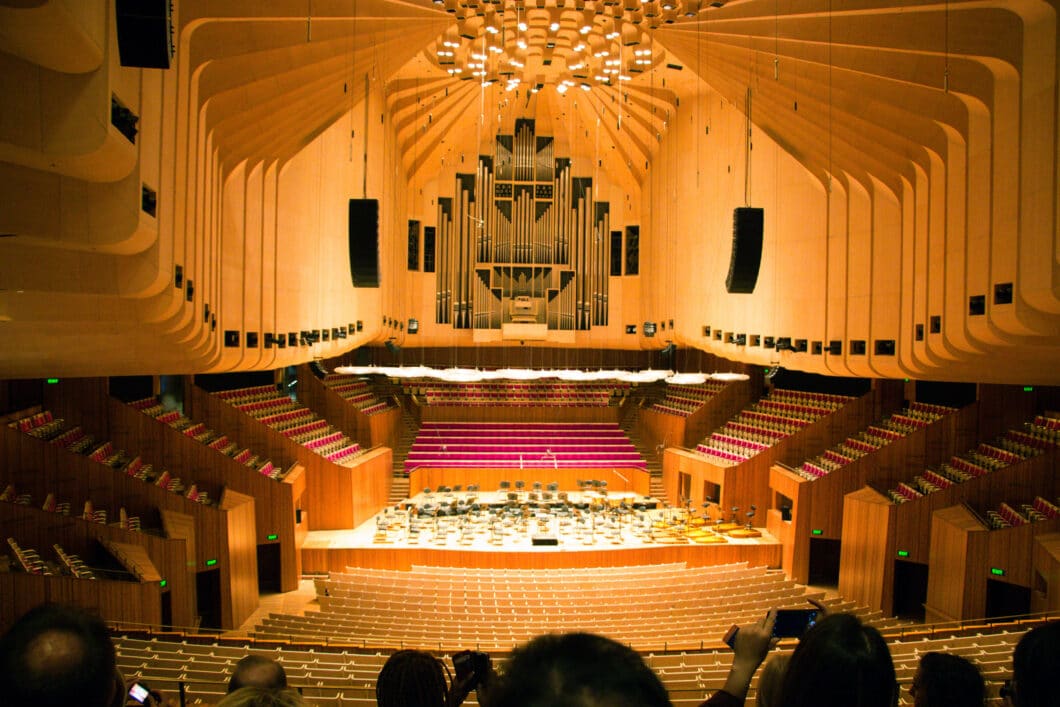 And look how beautiful the inside of the Orchestra Theatre is! It was absolutely breathtaking! (We also toured the inside of the Opera Theatre, but couldn't take photos in there due to copyright laws too.)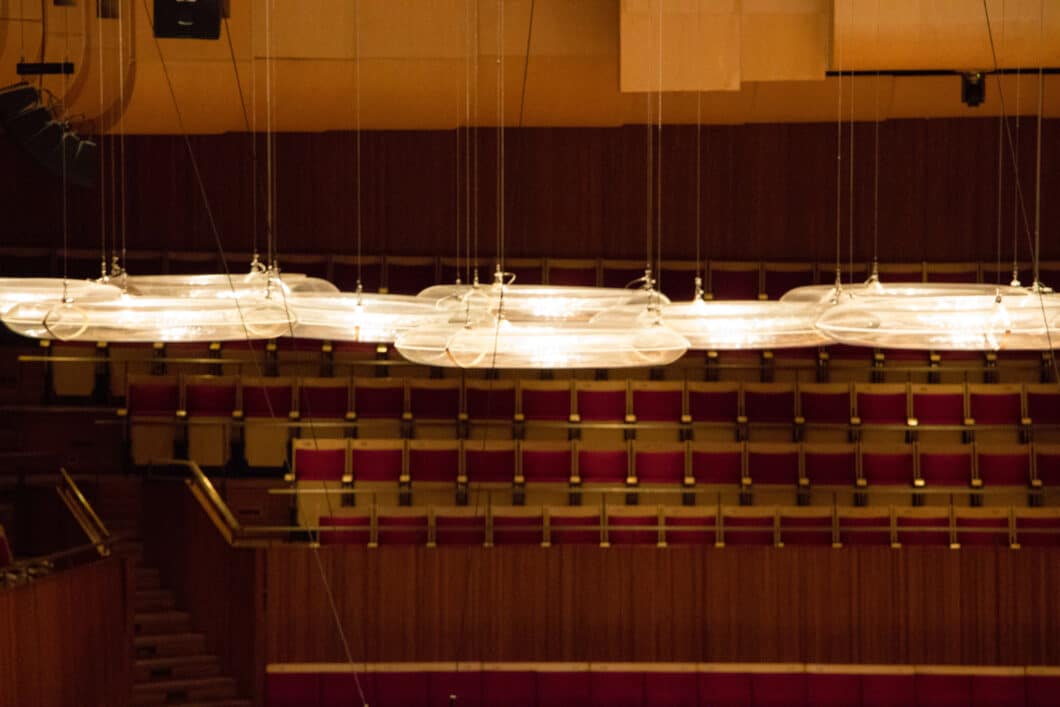 I can't remember what the technical term is for these, but they are essentially sound catchers. They make the sound bounce back down to the orchestra players' ears, so they can actually hear the music they are playing. I thought that was interesting!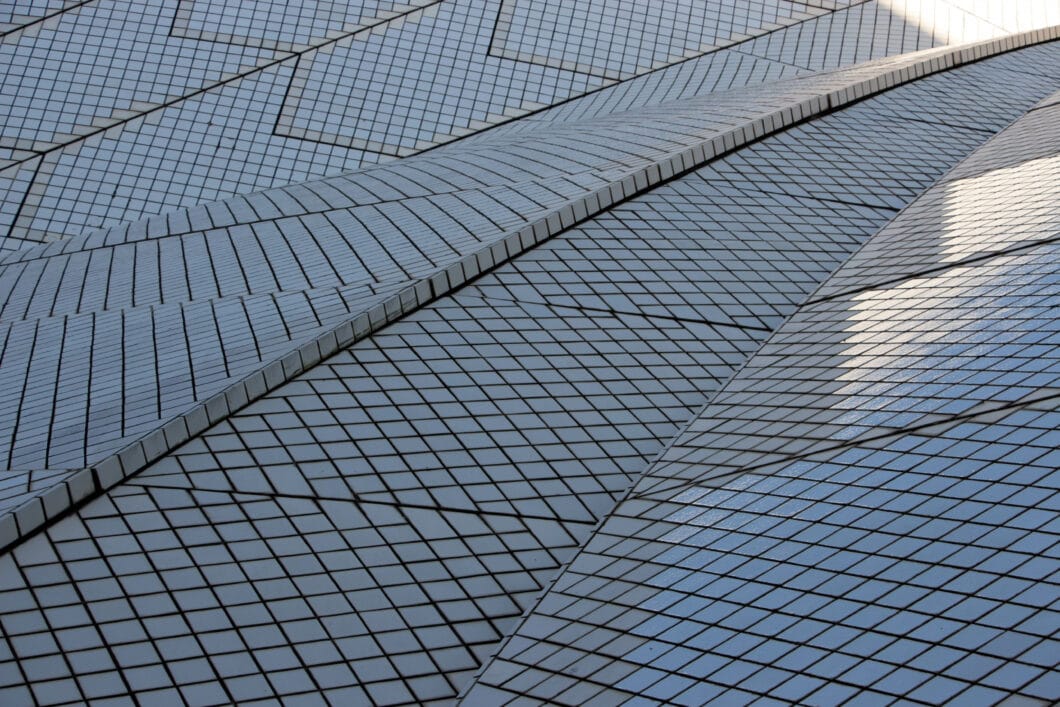 I also thought it was interesting that the Opera House is actually self-cleaning. The way it is designed, the rainwater washes it off and drains back into the Sydney Harbour. Also, although it looks white in photos, the Opera Hosue is actually kind of a creamy, almost beige color. (So, it isn't blinding when the sun shines on it.)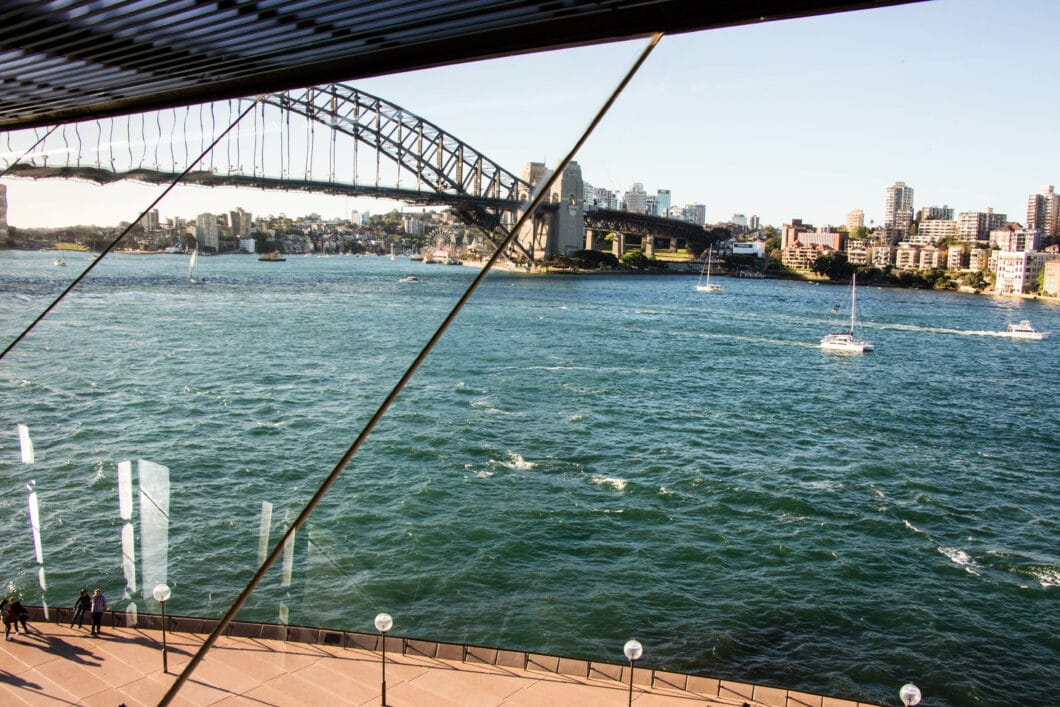 The inside also has some wonderful views of the Sydney Harbour!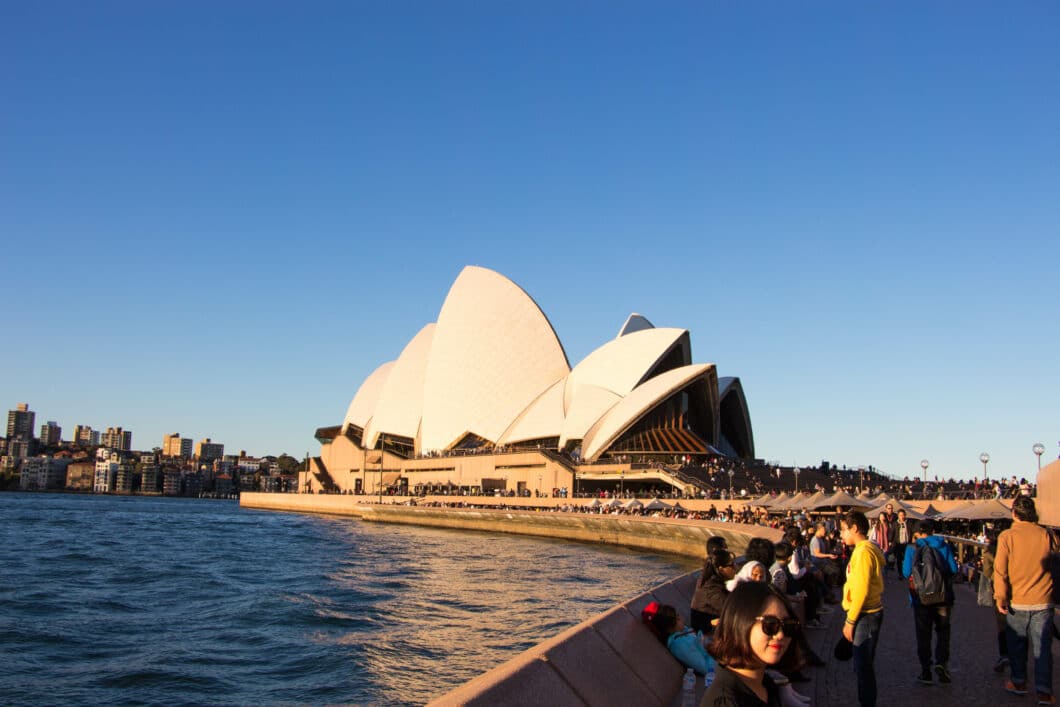 Another fun fact is the "shells" of the Opera House were inspired by sails of boats that can be seen in the Sydney Harbour. Jørn Utzon is the architect who designed the Opera House. His design for the 'International competition for a national opera house at Bennelong Point, Sydney' ended up winning back in 1957.
And don't let any tour guides tell you that he was inspired by an orange peel. Haha. We did have a separate tour guide tell us that when we first arrived. But the official Opera House tour and website assure me that it was inspired by the sailboats.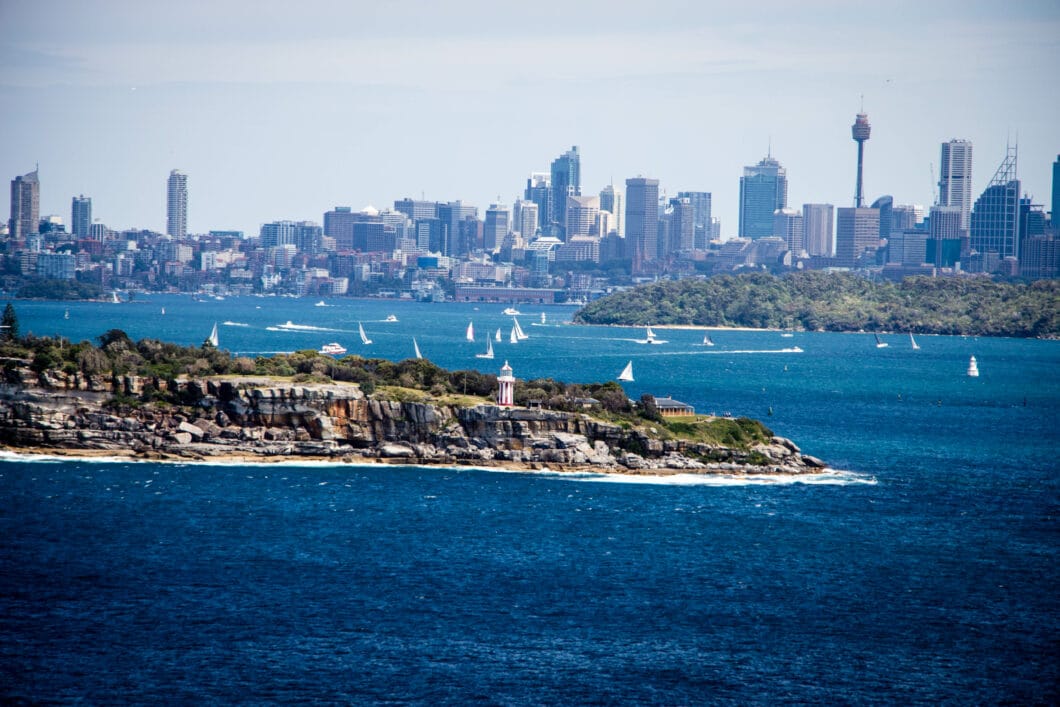 We ended our day with having dinner at the Opera House Kitchen, which again, has wonderful views of the Sydney Harbour. If you can, be sure to book a table if you eat here. It's on a first come first serve basis, and you order at a counter and then have to push people over so you actually have a place to sit. They do, however, accept reservations for a small number of tables…and if I ever come back here, I will definitely be taking advantage of that!
Click here for more information on the tour.
I wish I could've shared more photos of the inside. But if you do make it to Sydney, this tour is a great way to get an inside peek! What did you think of the inside? And are there any other "A Midsummer Night's Dream" fans out there? Let me know in the comments!
*Click here to see all of my blog posts from Australia.
*Click here to read my post, "How to Spend 3 Days in Sydney."
Disclosure: some of the links in this post are affiliate links. Meaning, if you click a link and make a purchase, Have Clothes, Will Travel gets a very small commission. Thank you for supporting the brands that make this blog possible!