My Experience Lunching at the Bondi Icebergs Dining Room & Bar in Sydney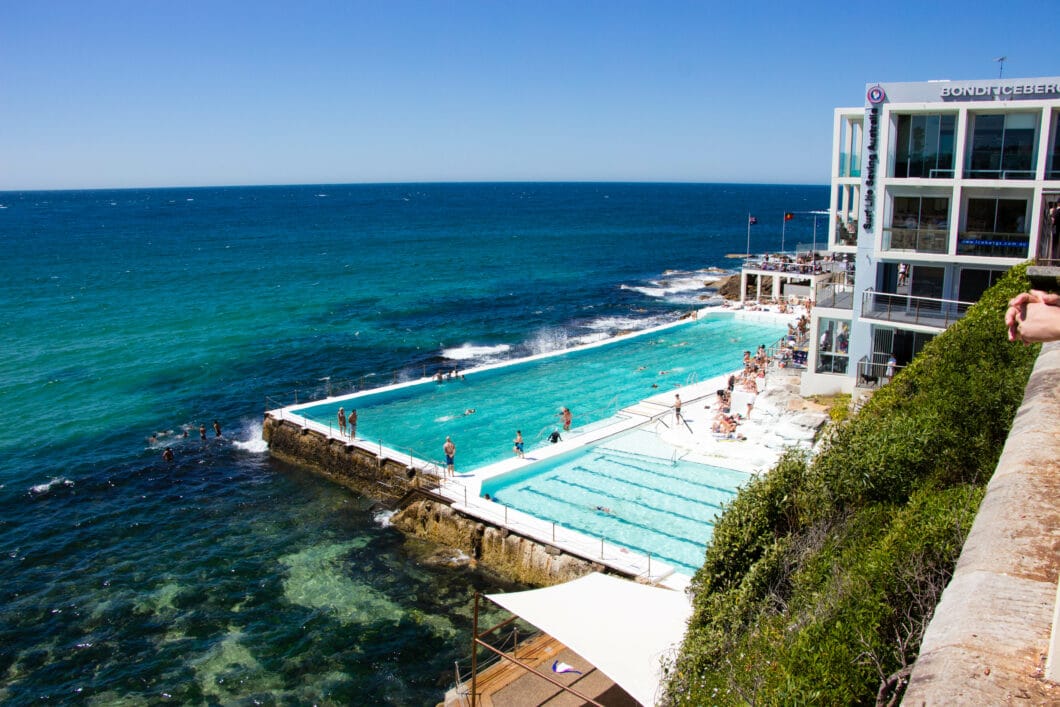 You might not have heard of Bondi Icebergs Dining Room & Bar until now, but chances are you've seen photos of their iconic oceanside swimming pool. And to say they have some of the best dining views in Sydney, would be an understatement!
I decided to dedicate an entire post to Icebergs Dining Room & Bar because it was one of the questions I was asked most when I was home in the US for the holidays. "Have you been to that restaurant in Sydney with the oceanside pool? That looks awesome!" To which I would have to reply…"No, but I've walked past it a whole bunch! Does that count?" So, now that I'm back living in Sydney, my goal was to finally check out the famous Icebergs and see if it lived up to the hype.
This post will share my honest experience dining at Icebergs Dining Room & Bar – from the views to the food and prices and dress code. I'm also sharing a less expensive dining option, where you can get nearly the same views, at the end of this post.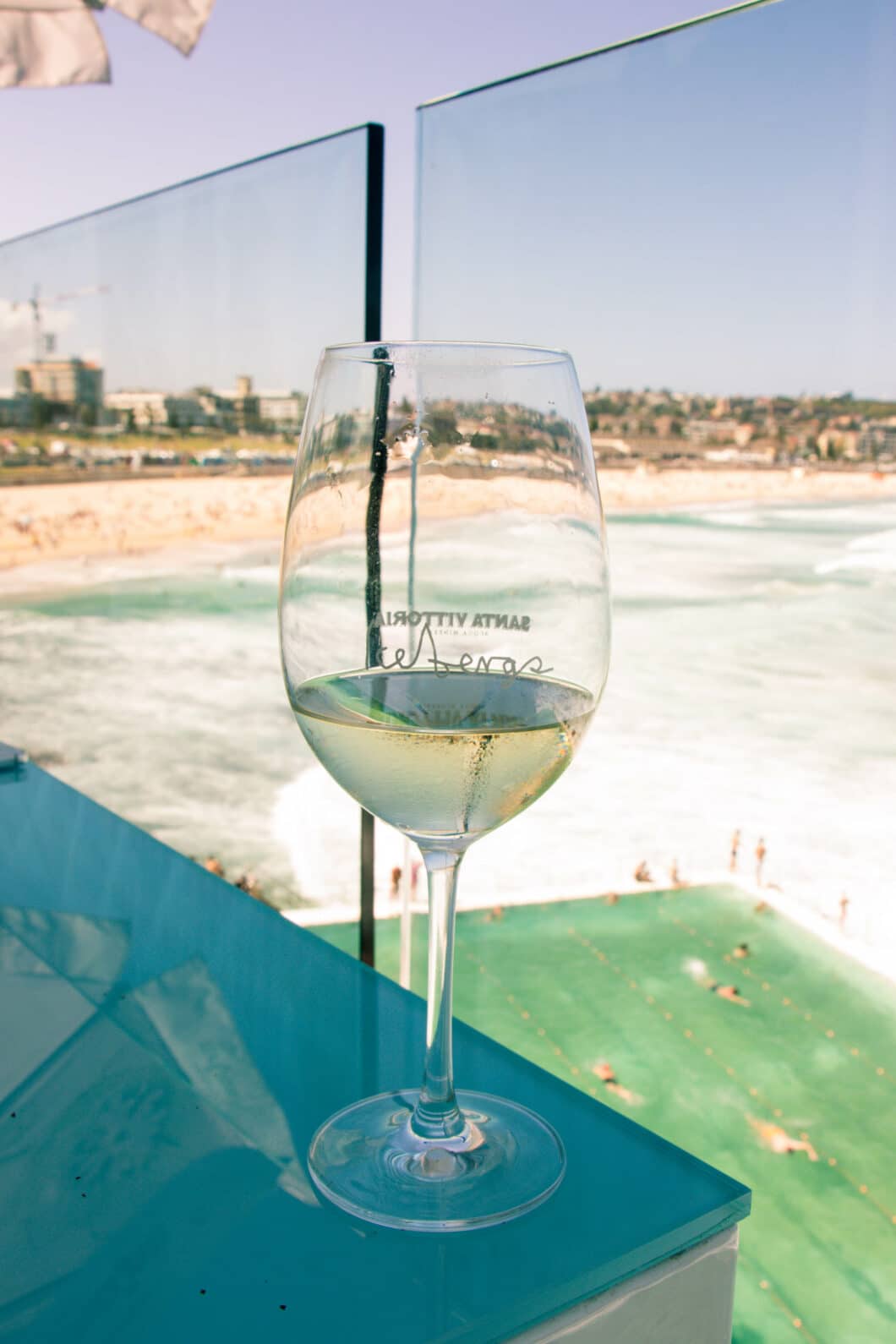 What Time Should You Visit Icebergs Dining Room & Bar?
After asking around and doing a little research it sounded like Icebergs was a good spot to go for lunch or Sunday morning brunch. They have quite a long list of celebrities who like to lunch here while they're in town. (Such as Oprah, Beyonce, the Kardashians, etc. I don't believe there was anyone like that when we were there, though!)
So, I ended up booking a table for a late lunch on a Saturday. This is a busy place on the weekend, and making a reservation to eat here is a good idea. I had really wanted to sit at one of the outdoor tables, which I had mentioned when I booked…but the message was never relayed, and we were seated inside. After talking to the waitstaff, though, we were able to get an outdoor table. Phew!
Planning your visit around watching the sunset from Icebergs is also a great idea – as the sunsets here can be breathtaking!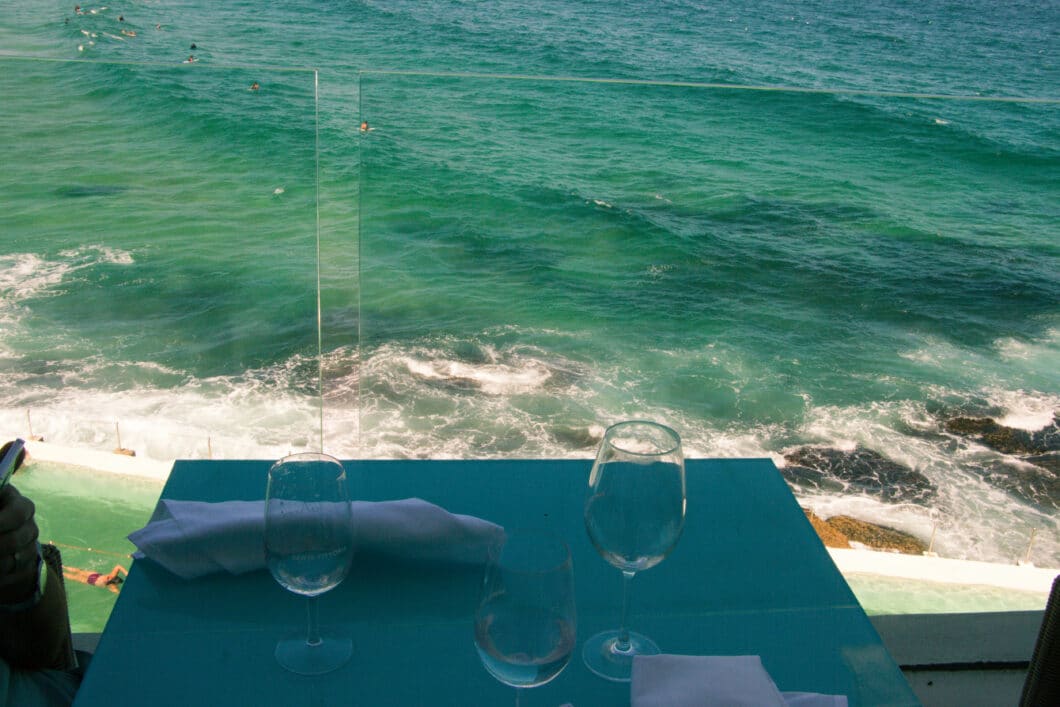 Anyways! The views were awesome! And so worth the little extra hassle to sit outside. I loved being able to watch the surfers catch some waves while we enjoyed our lunch.
What to Order: The Food at Icebergs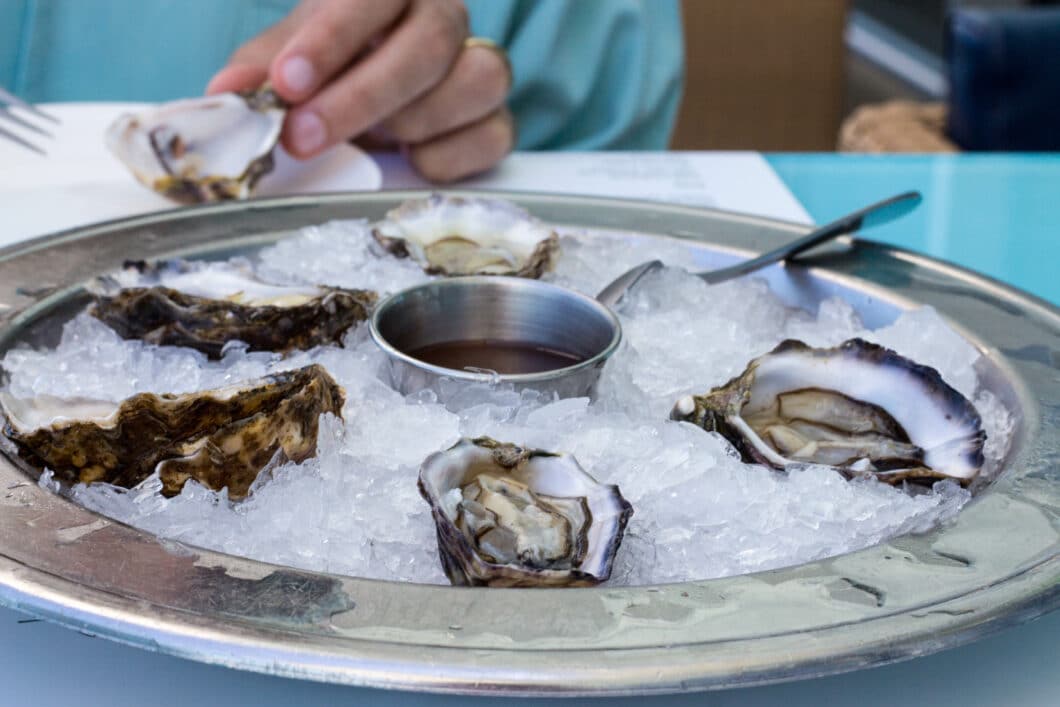 Icebergs is known for its modern Italian cuisine. They also have great oysters.
Oysters
We started off by ordering a couple of different types of oysters. I personally think oysters are akin to eating a giant booger. And I've tried them multiple times in my life and have gagged every time. However, this was the first time I actually thought they tasted pretty darn good! My husband liked them too! (Maybe it was the lemon dressing they came with?)
Main Course: Fish & Pasta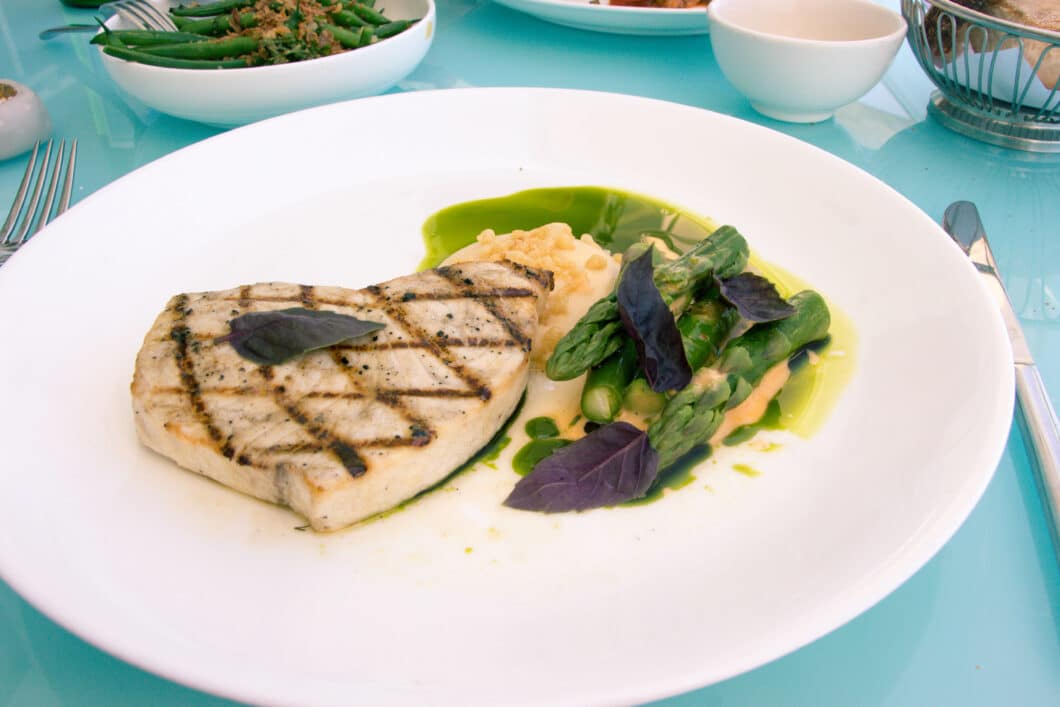 For our main course, I had the fish of the day and my husband had the spaghetti al nero e granchio (ink spaghetti). Both dishes were quite good. But I wouldn't say it was the most amazing meal I've ever tasted in my life, nor do I think it was worth the price. (Our food was nearly $150 for both of us – not including drinks.) However, as far as prices go, it really wasn't all that much more expensive than any other fine-dining restaurant in Sydney. (Sydney dining = stupid expensive & generally mediocre service at best, FYI. So, I usually don't think the price is worth it when I dine out in Sydney.)
How is the Service at Bondi Icebergs Restaurant?
Our waitress was very nice and accommodating, though. She was patient and helpful with my husband and me as we both struggled to make decisions on our food and drinks and where we wanted to sit. (Decent service is also not the norm in Sydney – FYI. So, this was a nice change of pace!) Overall, it was a really nice afternoon!
Dress Code for Bondi Icebergs Dining Room & Bar
There isn't exactly a dress code at Icebergs Dining Room & Bar. However, I would say this is a "smart casual" type of place. Their website does suggest to wear "clean and tidy clothing and shoes are a must" but "no slippers, Uggs or dirty flip flops." I don't believe they would refuse you service if you weren't wearing the right attire, but you might stick out a bit if you aren't wearing a smart-casual type of outfit.
Dress Code for Men
Wearing a nice shirt and pants is fine for guys. My husband wore a comfy, pressed button-up shirt with comfortable Chino shorts. (If you're going at dinnertime, though, I would opt for dressier Chino pants like these.) He also wore a comfy pair of boat shoes, and that was more than adequate for shoes for men.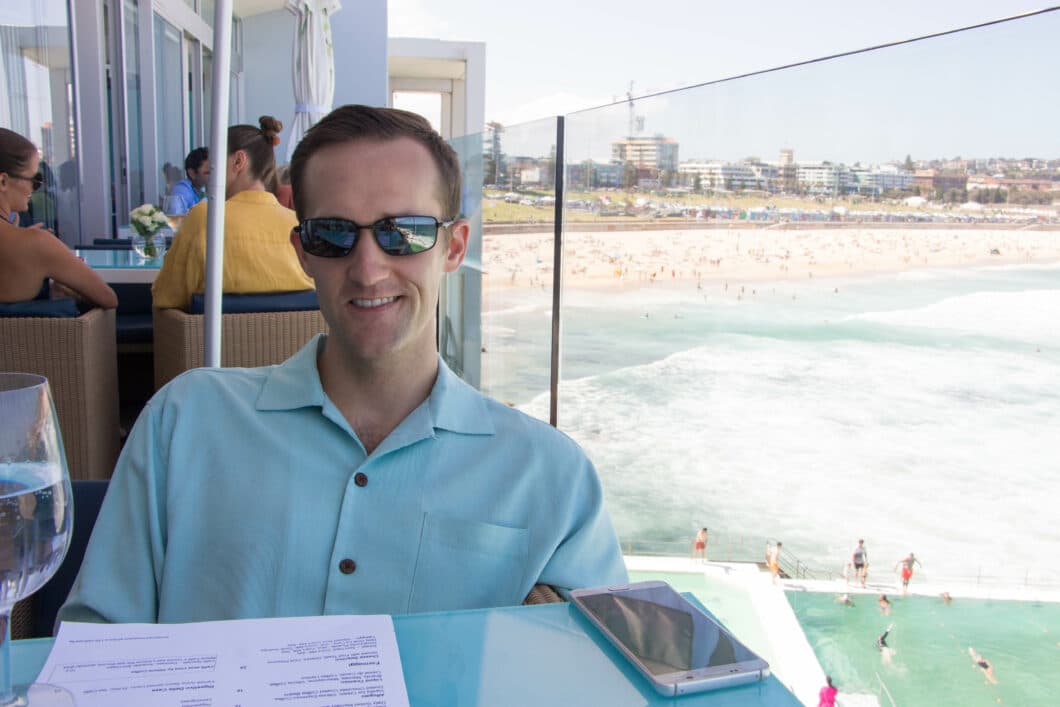 Dress Code for Women
Most women were wearing cute sundresses or nice blouses paired with skirts. I opted for a sleeveless blouse and striped skirt and paired it with black flats. For lunchtime, I was almost overdressed. (A more casual sundress and wedges probably would have sufficed, but I'm never one to underdress for an outing!)
Check out my full outfit post from Icebergs Dining Room & Bar.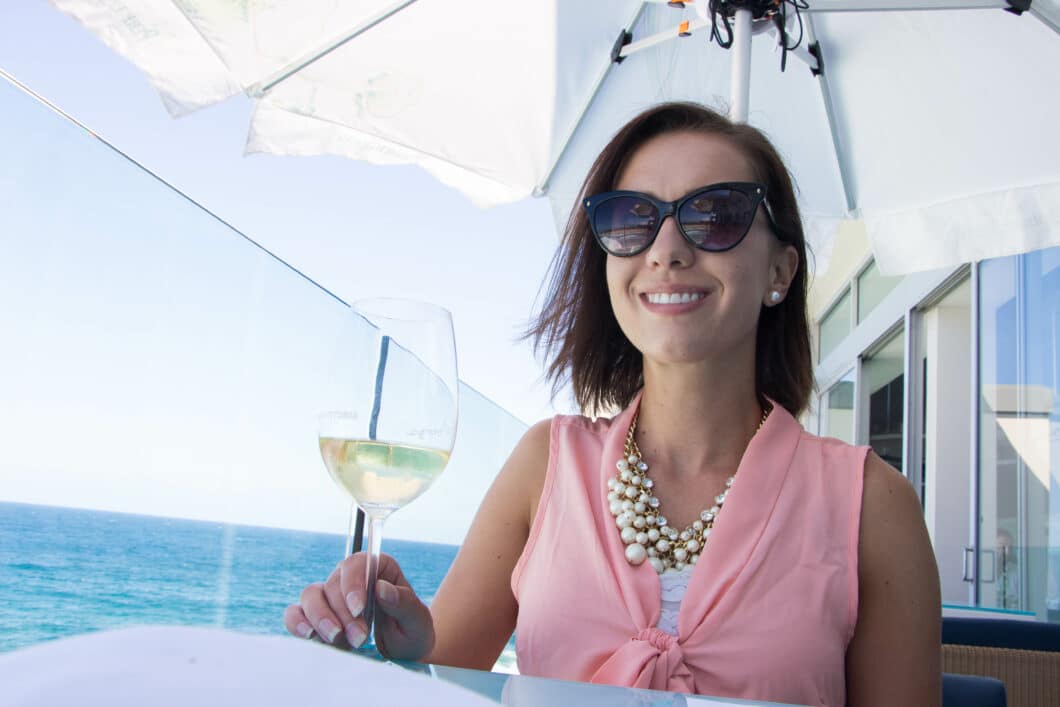 Should You Eat at Icebergs on Your Sydney Trip?
So, the moral of this story is, Icebergs had absolutely incredible views, a nice waitstaff, a relaxed lunchtime atmosphere…and was quite expensive, with food that was pretty good (but not out of this world amazing). The views are really what make this restaurant, though, in my opinion. And if you're visiting Sydney on vacation, it is worth making a reservation to dine here – whether it be for a glamorous lunch or a romantic sunset dinner!
Make reservations, check out the menu, and browse images on the Bondi Icebergs Dining Room & Bar website!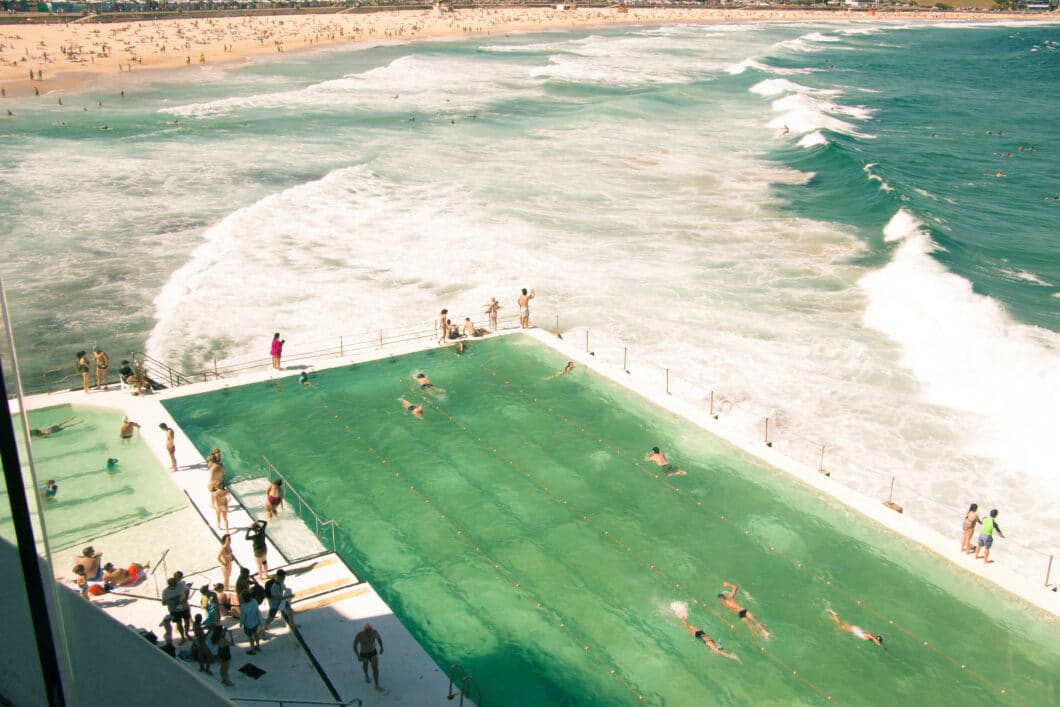 How to Get a View of the Bondi Swimming Pool at Icebergs
But with that being said, you don't have to eat at Icebergs to get some good views. You could go for a swim in the infamous oceanside pool, which will only cost you $6.50 to enter. (I'm a terrible swimmer, though.)
Or you could grab a burger or fish & chips at the Bondi Icebergs Club for a casual dining experience (this is located below Icebergs' dining room and is a seat-yourself, cafeteria-style place). I'm really glad we finally had the Icebergs experience, but if I were to do it again, I would be more interested in checking out the Icebergs Club and just getting a sandwich and beer.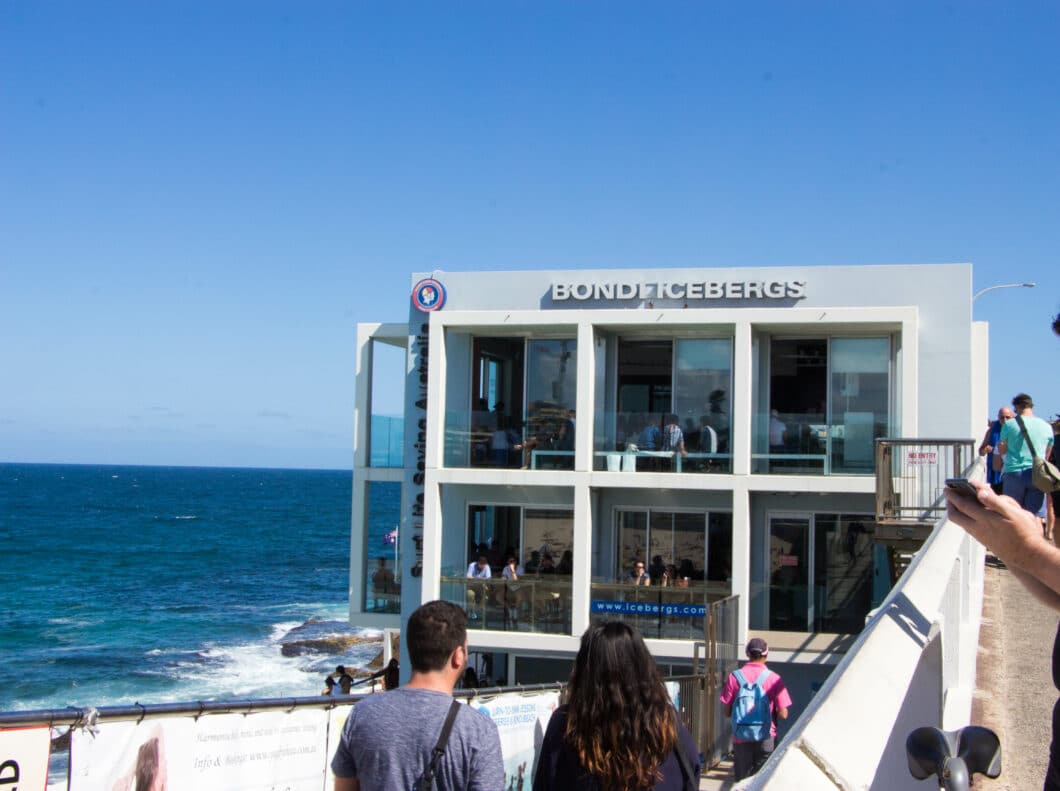 Looking for accommodations near Bondi Icebergs in Sydney? Browse a full list of accommodation options near Icebergs and the famous Bondi Beach!
Had you heard of Icebergs before this post? And would you prefer to dine at the restaurant or take a dip in the pool? Let me know in the comments!
If you like this post, it is now available as a self-guided walking tour via GPSmyCITY. Download it now from GPS My City!