How to Spend 3 Days in Sydney – The Ultimate Itinerary by a Resident
Wondering how to spend 3 days in Sydney, Australia? This post is sharing my ultimate 3-day itinerary for Sydney – and I've been living here for 6 months now!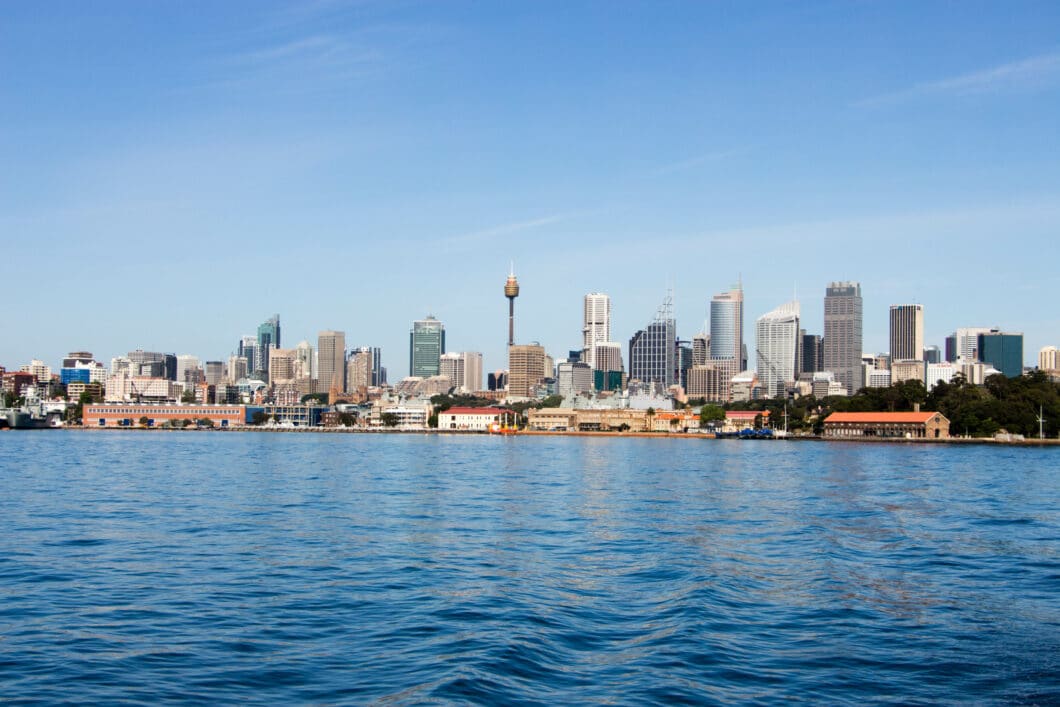 *If you like this post, it is now available as a self-guided walking tour! Click here to download it.
Sydney is a city with some very unique activities and sights to take in. I mean, how many city's activities include scaling a bridge to relaxing on a beach to seeing a show at the famous Opera House and even petting a koala? Needless to say, Sydney has a little bit of everything! Now, 3 days will mean you won't be able to see EVERYTHING Sydney has to offer, but you will have plenty of time to see most of the highlights.
This post is going to take a look at some of my suggestions for what to do in Sydney, how to get there, where to stay & some restaurants and bars with great views. I'll be showing this in the time frame of 3 days, but I'll also offer some suggestions if you have a little more time to spare while you visit!
Where to Stay in Sydney:
First up, you're going to need a place to stay. If you only have 3 days in Sydney, staying within the CBD or more specifically, Circular Quay, is a good idea because you will be centrally located to all the main attractions of Sydney.
However, if you don't mind a bit of a commute into the city, then check out these awesome Airbnbs in Sydney for a truly unique stay!
Transportation in Sydney:
*Try Skyscanner to get an inexpensive flight into Sydney! Skyscanner allows you to search for flights over an entire month and is a great way to find some really cheap flights if you don't have an exact date picked out for your trip.
*Get an Opal Card for Public Transport within Sydney. You can find them at any convenience store in the city. Your Opal card will work with any other form of public transportation. Bonus: if you travel on Sunday your total cost will only be $2.50 no matter how many forms of public transport you take! Opal Sundays mean you can travel using any form of public transport for just $2.50 total! (Excludes the airport train.)
*Rent a car (not necessary for transport within the city, but worth looking into once you get to day 2 of this trip itinerary).
*Uber: Uber works in Sydney!
How to Spend 3 Days in Sydney Itinerary
Day 1
Circular Quay & surrounding area
My personal suggestion would be to do your main tourist stops of Sydney on your first day. You can easily hit all the major sights within one day, as most are located in the Circular Quay area and are within walking distance of each other. (Fun tip: "Quay" is pronounced key.)
The Sydney Opera House
You can't come to Sydney and not visit the Sydney Opera House! As one of the most iconic images of Sydney, and probably even Australia, seeing the Opera House is a must. You can simply spend a half-hour admiring the outside architecture and taking photos, or you can make a day of it (more on that in a second).
*If your main goal is to get a good photo of the Opera house, here are my two favorite photo spots
1.) The Royal Botanic Gardens there are several great viewpoints from the gardens to take photos. The one pictured below is on the peninsula just before you reach Mrs. Macquaries Chair in the gardens. (Click here for coordinates.)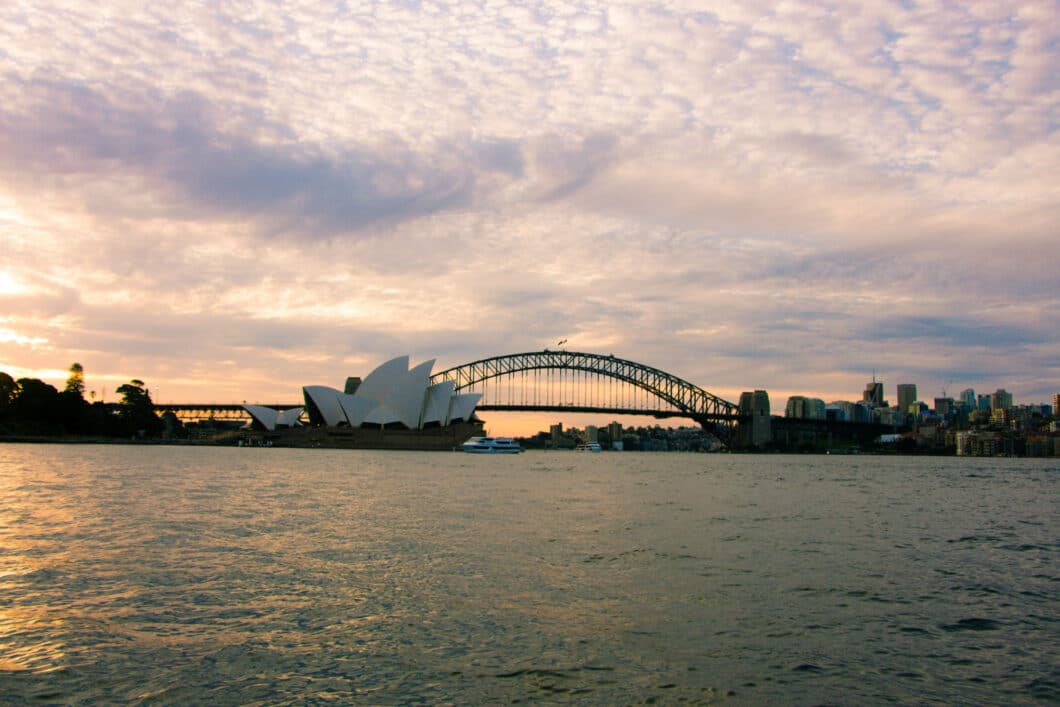 2.) The viewing tower next to the Overseas Passenger Terminal in Circular Quay also offers a prime view of the Opera House & the Harbour Bridge. (Click here for coordinates, the tower is on the side of the terminal closest to the Harbour Bridge, on the second level.)
If you would like to make the most of the Sydney Opera House, I would recommend doing a tour of the inside and seeing a show! I have an entire blog post dedicated to this. If you would like to read it, click here.
Royal Botanic Gardens
Located right next to the Opera House, wandering through the gardens will not only offer spectacular views of the city, but the gardens themselves are absolutely beautiful! There are also wild cockatoos and Australian White Ibis living in the gardens, which I thought were fabulous to see. Oh, and be sure to take your photo over on Mrs. Macquaries Chair!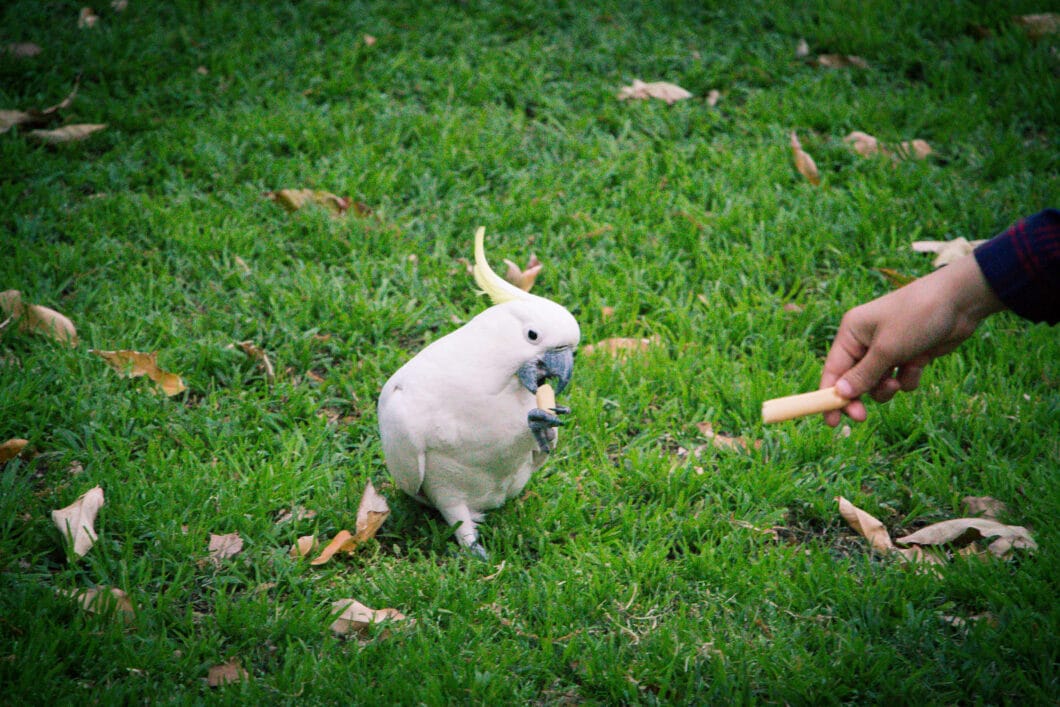 The Harbour Bridge
Again, this is something that can easily be photographed from the same locations as I mentioned in the Opera House section, or you can take your Harbour Bridge experience to the next level!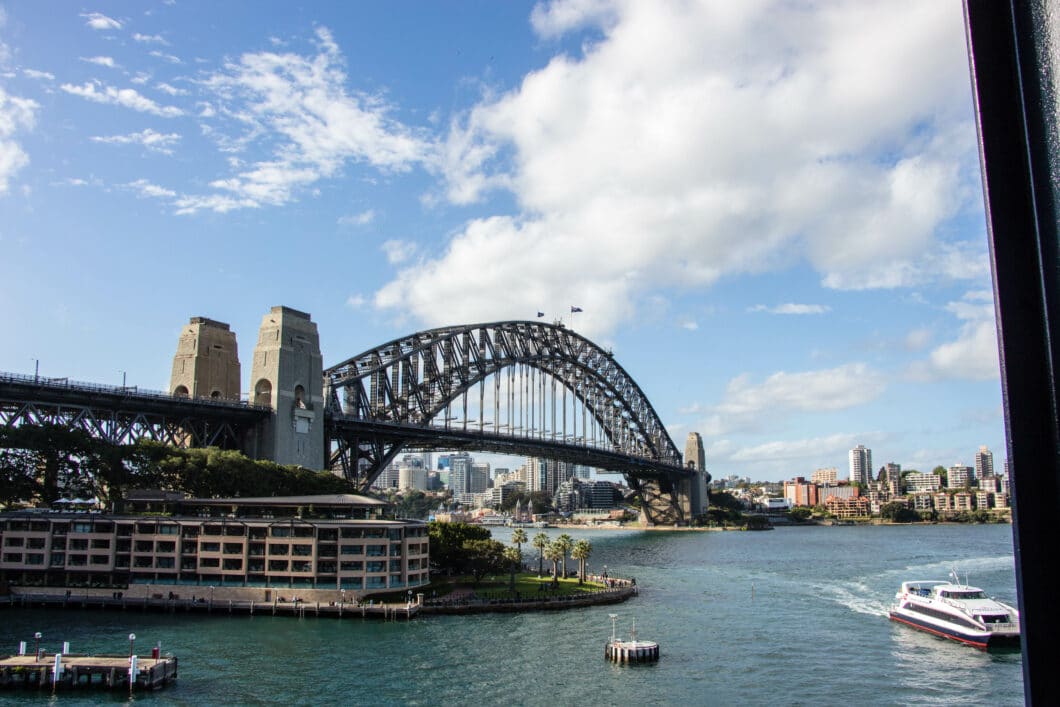 *A fan favorite is the BridgeClimb Sydney. You literally climb the bridge for spectacular views of the city. There are 2 options for this, a sampler tour (takes 1 hour) or the full climb which takes 3 hours. Click here for more information on the BridgeClimb Sydney.
*If the BridgeClimb Sydney is out of your vacation budget (or you simply don't enjoy heights that much!), you can also walk across the bridge's footpath. Click here for more info on the different ways to access it.
*Another option is to visit the Pylon Lookout and Sydney Harbour Bridge museum. The cost is just $13 (much cheaper than the climb!) and you will be rewarded with beautiful views of the city + interesting facts about the bridge.
The Rocks
The Rocks is a historic district in Sydney and is certainly worth spending a little time wandering through. Whether you choose to do the wandering yourself or do a tour, you're bound to find some of the oldest pubs in Sydney along with many fantastic restaurants! (Definitely come to this area for dinner and drinks!)
If you're interested in doing a tour, I would recommend doing the I'm Free Walking Tour of The Rocks. The tour is about 1 hour long and starts at 6 p.m. You aren't charged anything to do it, you're just asked to tip your tour guide what you think it was worth at the end of the tour. Pretty neat, right?
Day 2
Featherdale Wildlife Park & The Blue Mountains*
*If you don't want to leave the Central Business District, I have included another option for this day.
Featherdale Wildlife Park
Once you've satisfied yourself with the views of the city head to the outskirts of the city limits for one of the best spots to see Australian wildlife up close and personal – Featherdale Wildlife Park! You'll get the chance to hand-feed wallabies, pet kangaroos and koalas and see an incredible amount of animals native to Australia! Featherdale has been one of my favorite experiences in Sydney.
*Tip: Get there the moment they open and head straight for the koalas. These little guys are very popular, so getting in line right away to pat them will save you a lot of time!
How to get there:
1.) Public transport. Now, getting to Featherdale is not the easiest via public transport. You could take a couple trains and then a bus to Featherdale from Circular Quay, which will take around 1 hour and 20 minutes.
2.) Take a day trip bus tour. Another way would be to take a bus tour from CBD to Featherdale and then head to The Blue Mountains. I personally have done this tour and really enjoyed it! You can click here for more info.
3.) Rent a car and drive yourself. If you're comfortable driving on the left side of the road and happen to have a few people along with you, renting a car for the day would be an easy and affordable way to get to Featherdale, you could also continue on and do your own tour of the Blue Mountains as well.
The Blue Mountains
The scenery in the Blue Mountains is absolutely breathtaking! You can take in all of these beautiful views via the tour I mentioned previously, or you can drive to a few of the lookout points yourself. (I would advise starting at Featherdale in the morning to beat the crowds and then head to the Blue Mountains – specifically the Katoomba area.)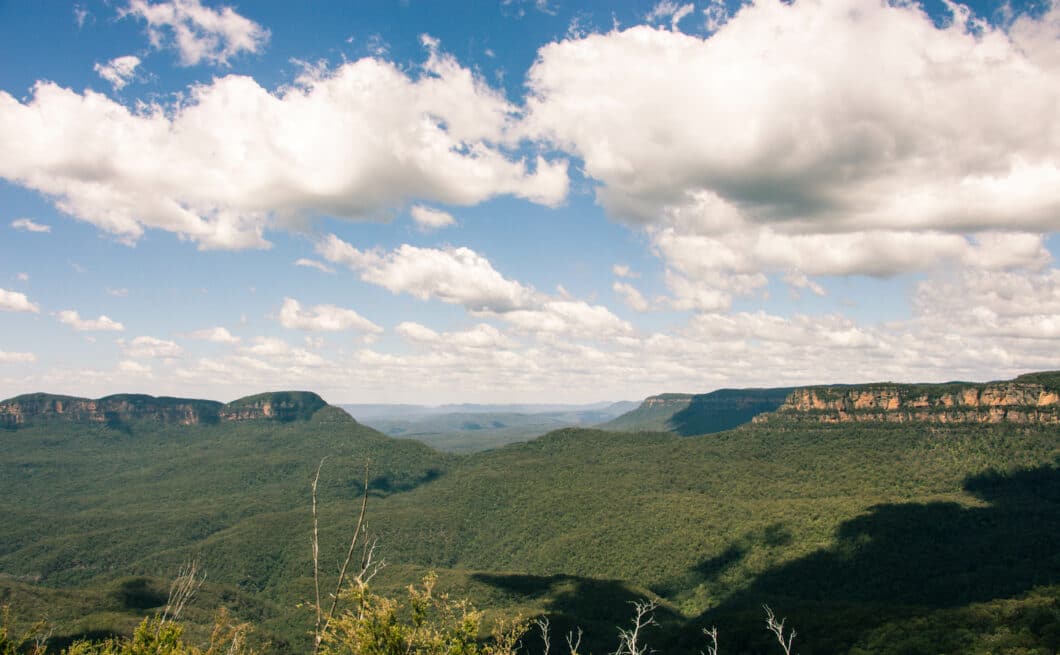 The three main lookout points are:
1.) Echo Point
2.) Sublime Lookout Point
3.) Evans Lookout
If your schedule allows, hiking around The Blue Mountains is a wonderful experience too!
*As an alternative, if you do not want to leave the Central Business District (CBD) in Sydney, you could get a city pass and visit The Sydney Wildlife Zoo, Aquarium, Sydney Tower, Madame Tussauds & do a harbour cruise!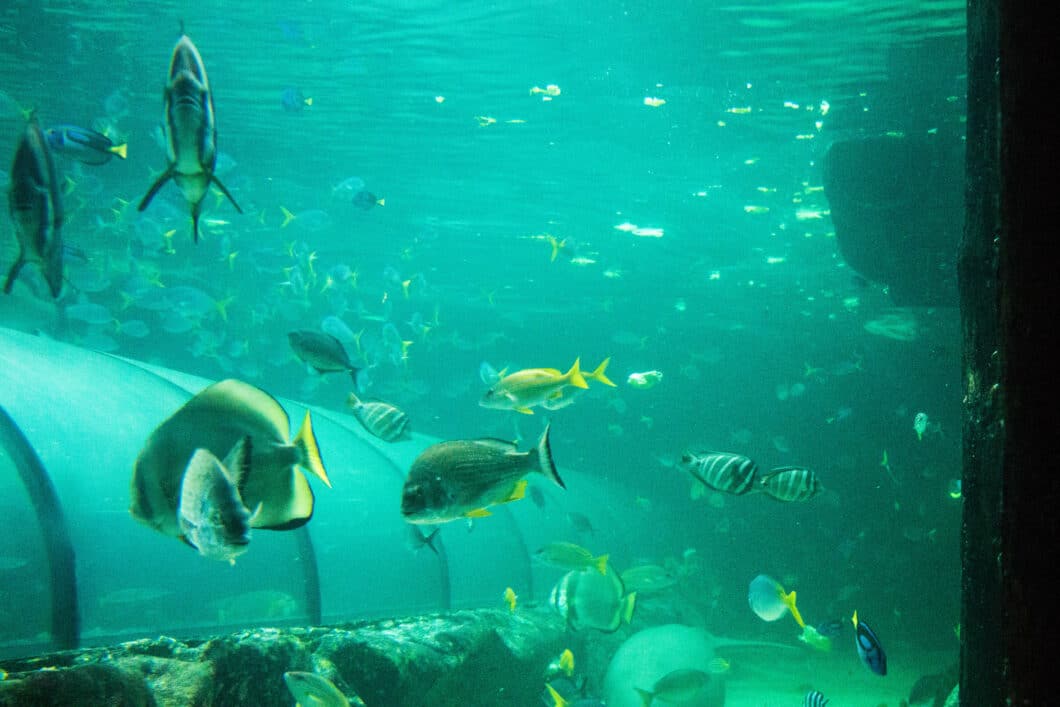 Day 3
Go to the beach!
If the first thing that comes to your mind when you think of Sydney is the Opera House, the second is probably a beach! Sydney has an extraordinary amount of beautiful beaches from its most popular ones, Bondi and Manly to some lesser-known but quiet beaches (such as Shark Beach or Little Bay Beach), there?s something for everyone.
Manly Beach
This beach is best known for its surfing and also has a national park near the beach that offers some interesting hikes and spectacular views of the ocean and the city! There are many great restaurants and cafes in the Manly Beach area too.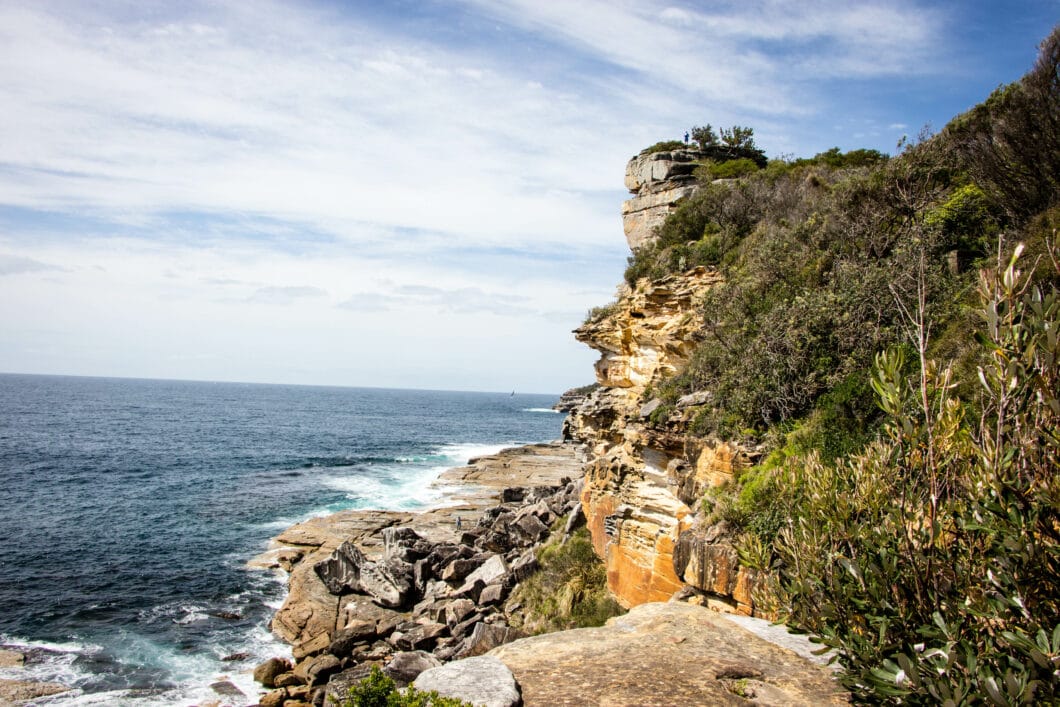 How to get there:
The best way to get to Manly from Circular Quay is by taking the ferry. It's about a half-hour long and offers beautiful views along the way! You will just need to purchase an Opal card at any convenience store (or right next to the ferry terminal there's a shop). Your Opal card will also work with any other form of public transportation.
*Bonus: if you travel on Sunday your ferry rides will only cost $2.50! Opal Sundays mean you can travel using any form of public transport, including the ferry, and only be charged $2.50 total all day! (A round trip ferry ride otherwise is just over $14.)
Bondi Beach
Another popular surfing beach, Bondi is a tourist favorite. Wanna learn to surf? Bondi has some great surf schools for beginners!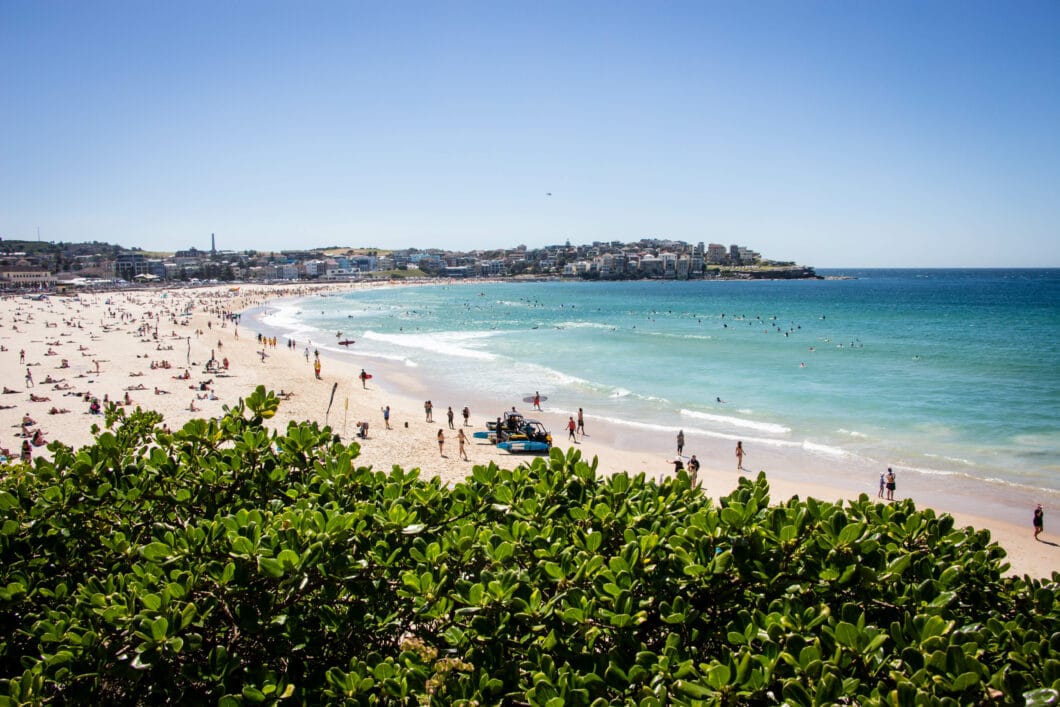 And you don't have to just hang out on the beach or surf when you visit Bondi, you could also do the Bondi to Coogee walk to take in views of the ocean and check out a few other beaches along the way (as well as the rather famous Bondi Iceberg Oceanside pool).
How to get there:
Grab the 333 bus from whichever stop is closest to your hotel and it's a direct ride to Bondi. (About 40-45 minute ride.)
You can also take a train to Bondi Junction (if you're in the CBD the train stations closest to your hotel will either be Martin Place or Town Hall) and then take a bus to the beach (just follow the sign for "bus" when you exit the train at Bondi Junction).
Restaurants & Bars with a view
While you're eating your dinner or sipping your cocktails at night, why not have a view of the city or harbours?
This restaurant/bar is located in Sydney Tower and literally offers 360-degree views of the city. (Sydney Tower is the tallest free-standing building in Sydney – FYI.)
Also offers 360-degree views of the city from the 47th floor of an office building – I think. This restaurant will be a bit shorter of a walk from Circular Quay if that's where you are staying.
*The Opera House Bar & Kitchen
Located right next to the Opera House, both the bar and kitchen have lovely views of the harbour (and of course, Harbour Bridge). It is set up as first come first serve and you order for yourself at the counter – just an FYI. There are a couple of tables in the Opera House Kitchen area that you are able to book in advance, though. (I highly recommend doing this as this place is always busy.)
If you have any questions or comments about these suggestions at all, please feel free to ask or comment in the comments section below!