Awesome Cabins to Rent in Wisconsin for Your Next Getaway
This list of awesome cabins to rent in Wisconsin ranges from luxury 15 bedroom cabins complete with hot tubs and fireplaces to cozy "tiny home" cabins. These cabins also can be great places to simply relax next to a fire or to take advantage of Wisconsin's abundance of outdoor activities – whether you enjoy hiking, fishing, boating or biking!
I'd love to hear which is your favorite cabin in the comments!
Awesome Cabins to Rent in Wisconsin
*Disclosure: some of these links are affiliate links. Meaning, if you click a link and make a purchase, Have Clothes, Will Travel gets a very small commission at no extra cost to you. Thank you for supporting the brands that make this blog possible!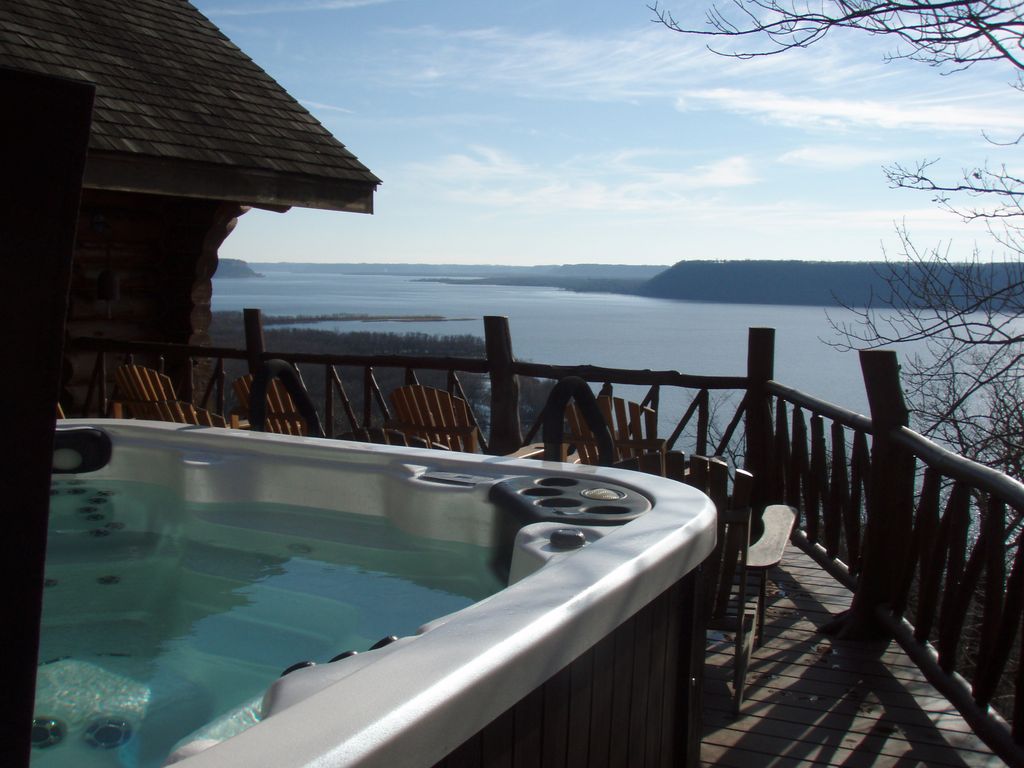 40 Acre Wooded Retreat Overlooking Lake Pepin – Maiden Rock, Wisconsin
Located in the heart of the Rush River Valley, along the scenic Mississippi corridor this cabin features a brand new large hot tub and expanded deck with unparalleled views of Lake Pepin and the surrounding majestic bluffs. It's a stunning log home that has been featured in Log Home Living Magazine.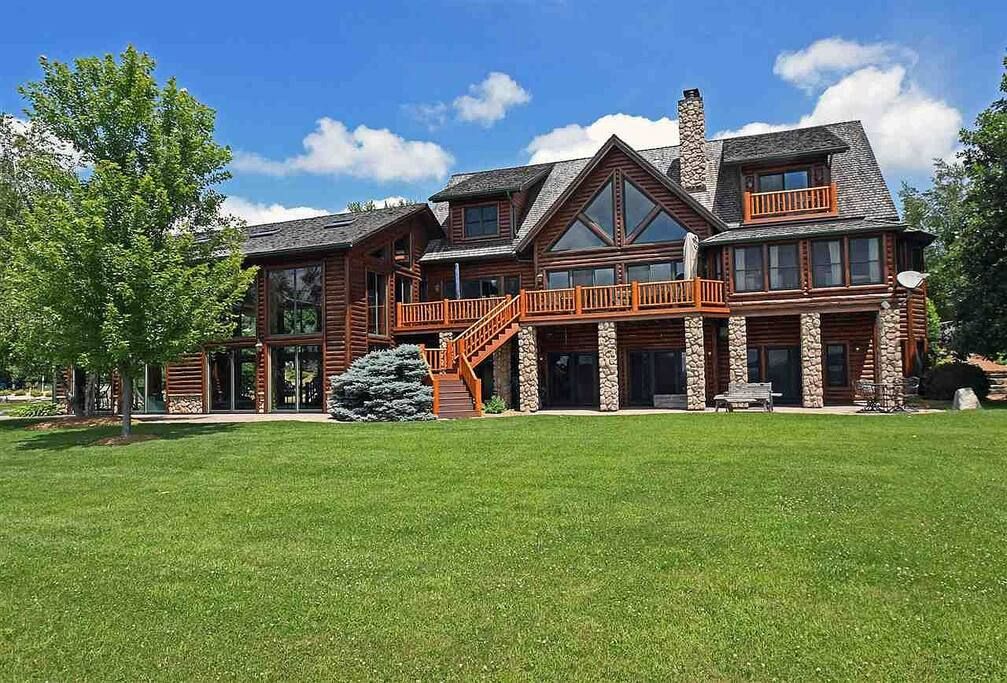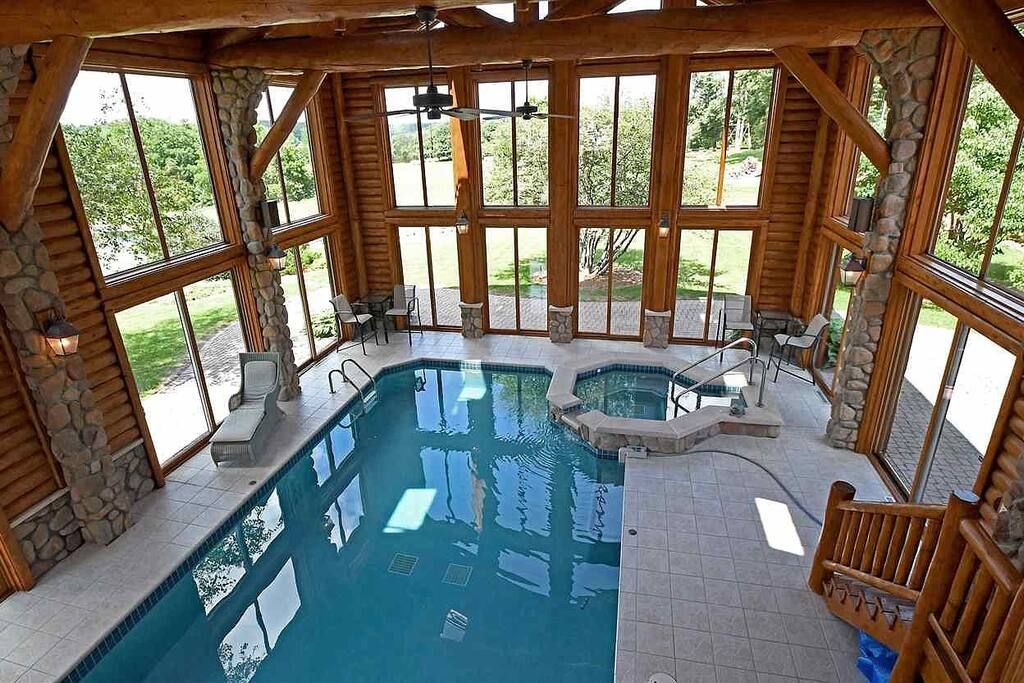 Great River Ranch – Potosi, Wisconsin
Great River Ranch is a private, 175-acre property located high on the bluffs of the Mississippi River. The property boasts a main cabin featuring a chef's kitchen, bar, indoor salt pool/spa, 20 seat theater room, a separate bunkhouse with bar and game room and multiple fireplaces and fire pits. There is access to the Mississippi River as well as your own private stocked pond. Miles of private hiking trails will lead you to Native American burial mounds and stunning views of the river.
10,000 sq ft Log Home on the Bay of Green Bay – Suamico, Wisconsin
This massive log home has every amenity, including its own lazy river overlooking the Bay! It's a great place for a family getaway where you can enjoy your own theater room and sports bar. Not only does the bar have 3 TVs, pool & foosball tables, but even two gambling poker machines! If 6 fireplaces inside aren't enough, there is also an exterior fireplace, fire pit, fire table and two patio heaters! Enjoy the views of the bay while you relax in the Lazy River or fire up the Sauna.
Pirate Ship Adventure cabin – Lyndon Station, Wisconsin
This pirate ship sleeps up to 6 people and is decked out in the coolest pirate-themed decor! (Your kids will love it.) Plus, it not far from Wisconsin Dells.
Indian Point Manor – Eagle River, Wisconsin
Indian Point Manor is a massive 9 bedroom house with modern updates and a rich history. Two additional carriage houses are available on the property's vast 6-acre estate. The grounds include a boathouse with an upper-level game room, a private lookout over the lake and a full sized tennis court. An outdoor fire pit and grilling area are also located next to the main house among the meticulously groomed yard. There is also a hot tub.
Cranberry Castle – Eagle River, Wisconsin
With 8,500 square feet, this massive luxurious log and stone cabin is ready to make memories and has been featured on Travel Wisconsin, Discover Wisconsin and in the USA Today! The "Castle" is truly high-end with no expense spared. This home also has a state-of-the-art home theater with comfortable seating for ten, an Infinity surround sound system with a 300-watt subwoofer and a popcorn machine (pre-measured packets provided).
Timber Shores – St. Germain, Wisconsin
Timber Shores immediately impresses guests with high, cathedral ceilings and an open concept floor plan. Giant wood beams sweep across the high ceilings adding a sophisticated alure to the bright, natural warmth of the home. The kitchen is state of the art with new appliances, granite countertops and everything you could need to entertain your guests while vacationing. The property has a private pier on Big Saint Germain Lake with plenty of space for watercraft of all kinds.
New Mid Century Modern Cabin on Lake Lucerne – Crandon, Wisconsin
Newly built home on crystal clear Lake Lucerne. Spacious open floor plan with 4 bedrooms and 2 full bathrooms. A huge living room with three seating areas allows for TV watching, board game playing and conversation simultaneously! Sleeps up to 16 people.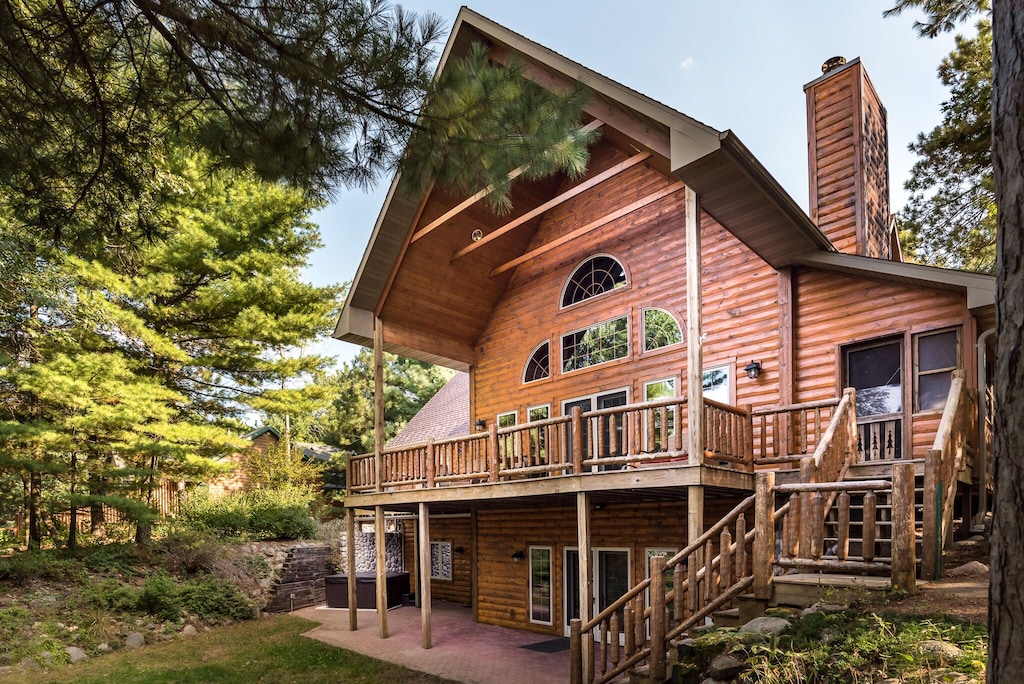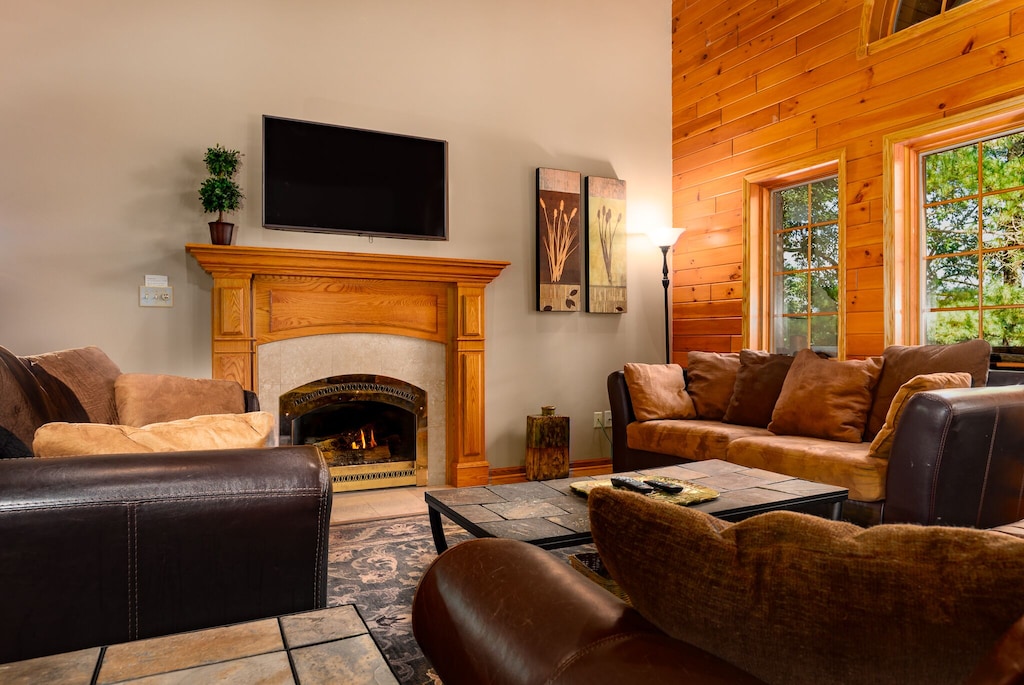 Lakefront log cabin with hot tub and 3 fireplaces – Wild Rose, Wisconsin
This gorgeous lakefront log home has a walkout to a sandy clear beach on Kusel Lake. Complete with a two-story great room and gas fireplace, plus a game room with a wet bar/foosball table and wood-burning fireplace! It also has a fire pit and outdoor hot tub…and sleeps up to 24 people.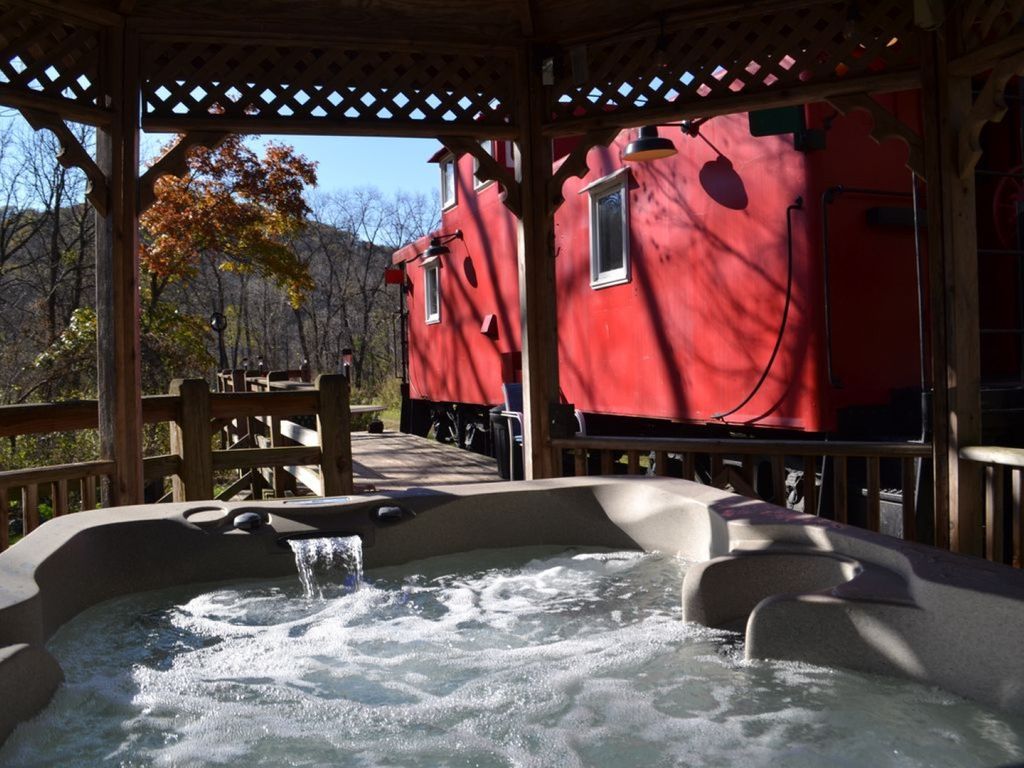 Newly Remodeled 1954 Rail Road Caboose with Relaxing Hot Tub – Ferryville, Wisconsin
The 1954 Red Railroad Caboose provides seclusion on five wooded acres located four miles from the Mississippi River. The Caboose Cabin features a conversation area, an updated kitchen, new bath and gas fireplace. A double size futon and set of bunk beds provide sleeping for up to four people. Relax on the outside deck or in the hot tub while surrounded by nature at it's best.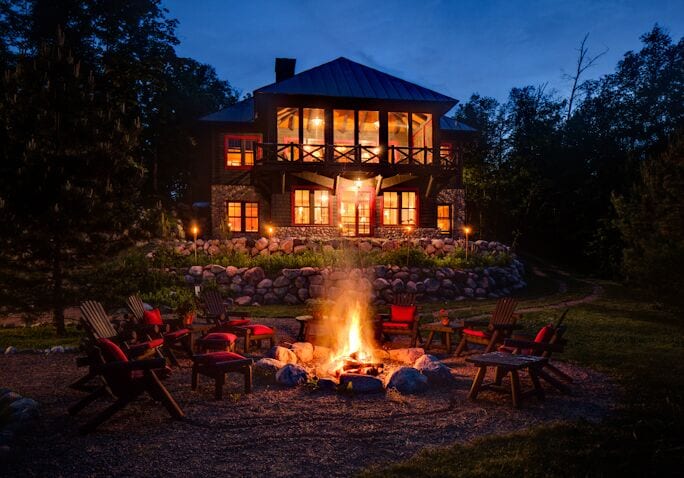 Oak Cabin and Fern Cabin – Star Lake, Wisconsin
Located on beautiful Star Lake, one of the most desirable lakes in northern Wisconsin, the Star Camp Compound includes Oak and Fern Cabins. These year-round homes have rustic north woods charm for the perfect vacation. This rental comes with a private pier, outdoor fire pit with wooden outdoor Adirondack furniture to sit, two bars with barware, two screened-in porches, two cooking porches with two gas grills, two sets of washer/dryers, three dishwashers, two full kitchens with double ovens (house) and single over (cabin), nature trails. Plus, Star Lake is 90% state-owned, not on a chain of lakes, so it's quieter and more peaceful than other Wisconsin lakes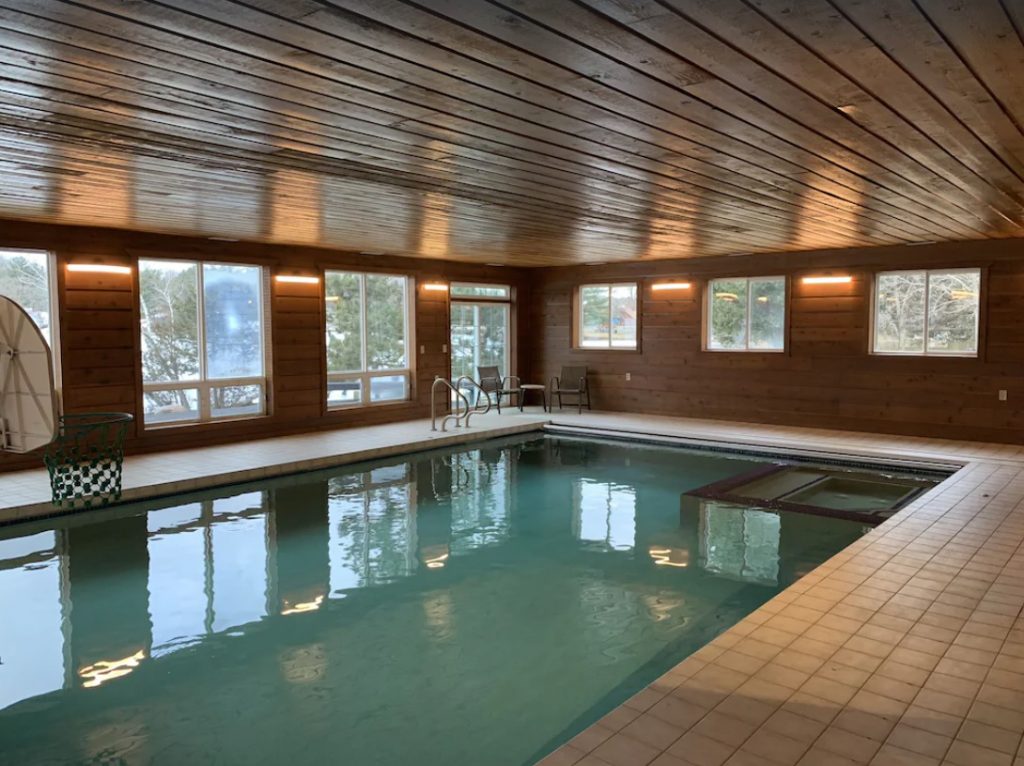 The Pool House – Lake Delton, Wisconsin
This place has it all! It's located on Lake Delton and features an indoor pool , a basketball court that you could play during daylight and relax in the pool at night, 2 kitchens, 5 bedrooms with 5 king beds, 2 single beds… plus, multiple arcades and games. It features an open floor plan and a HUGE deck overlooking the lake!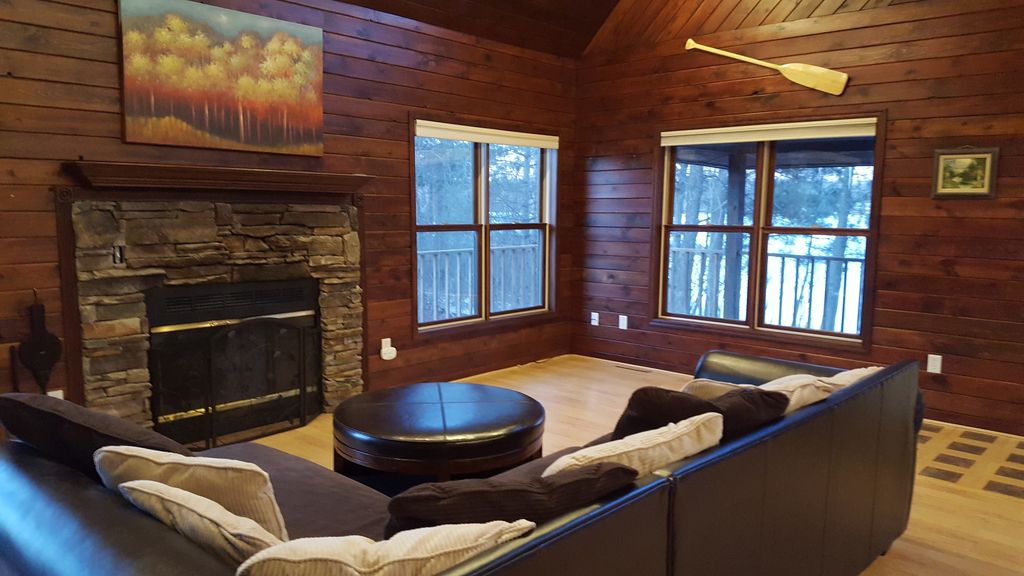 Gorgeous Cabin on Premier Lake with Wooded Lot, Spa, Play House/Swings – Turtle Lake, Wisconsin
This cabin is a lovely, open concept chalet-style cabin which allows family/friend time together, but is plenty large to get away from each other. It is situated on a quiet cove of Upper Turtle Lake, a premier recreational/fishing lake. It has a 1 acre moderately wooded lot with gorgeous gardens, a large grassy area for playing and a picnic, a canoe and 2 kayaks, a play structure, a swing set, and a replica kids playhouse. At night, you can be serenaded by the loons and owls while soaking in the hot tub!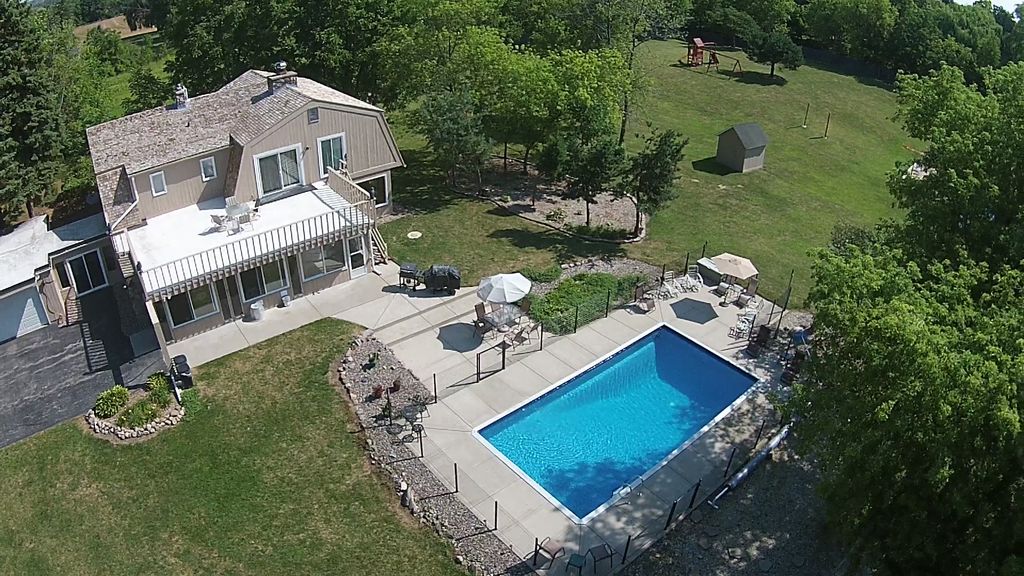 "The Retreat" 7 1/2 Acre Private Estate – Caledonia, Wisconsin
This unique "cabin" is on 7 1/2 acres and offers a 3 bedroom, 3 bathroom stay. It sleeps 16 and has room for more. The interior is beautiful, plus it has a 1/2 acre fishing pond.
Hygge House – Cable, Wisconsin
In Danish, hygge (HUE-gah) is described in many ways, but it is simply the Danish ritual of enjoying life's simple pleasures. Friends, family, graciousness. The Hygge House encapsulates this definition by arming itself with a slow and peaceful way of living. No television, Chemex coffee system, gas fireplace, blankets to snuggle, outside deck for enjoying the peace, yet only 2 miles from town if you're craving some local action.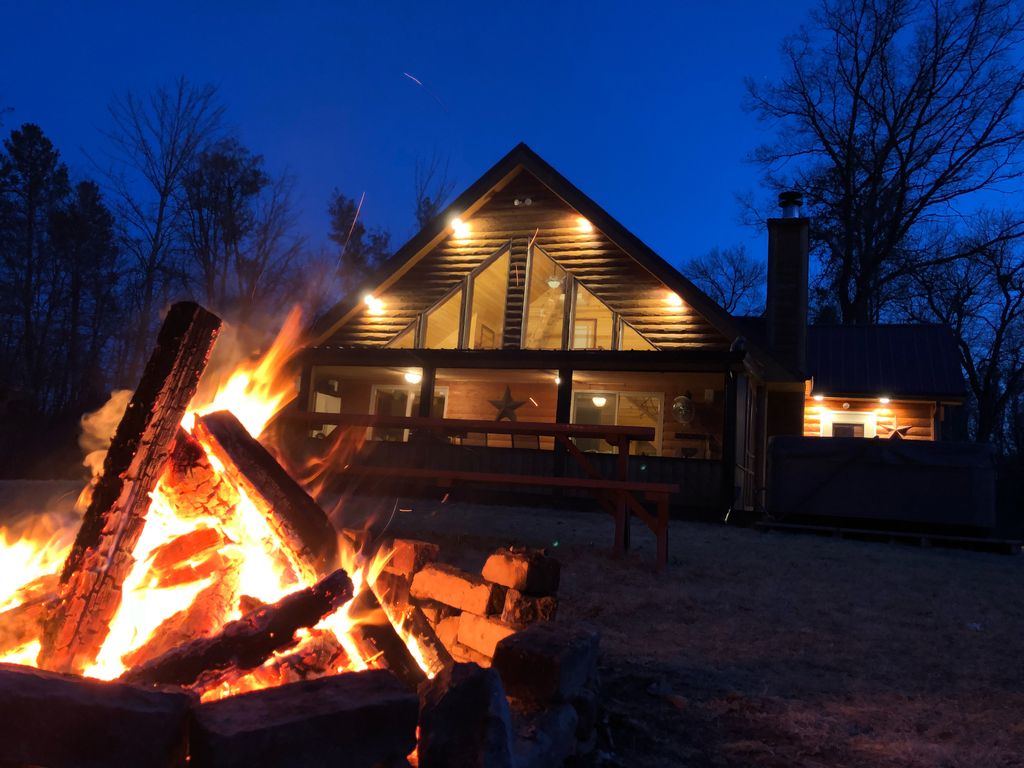 Northwoods Getaway with Private swimming pond, hot tub, & 70 acres of woods – New Lisbon, Wisconsin
Leave your troubles at the end of the 1/4 mile driveway and journey into the woods to this private log cabin complete with all the modern amenities. This cabin is located on 70 acres of woods with a small stream running through it and an outdoor hot tub, private swimming pond complete with a sandy bottom.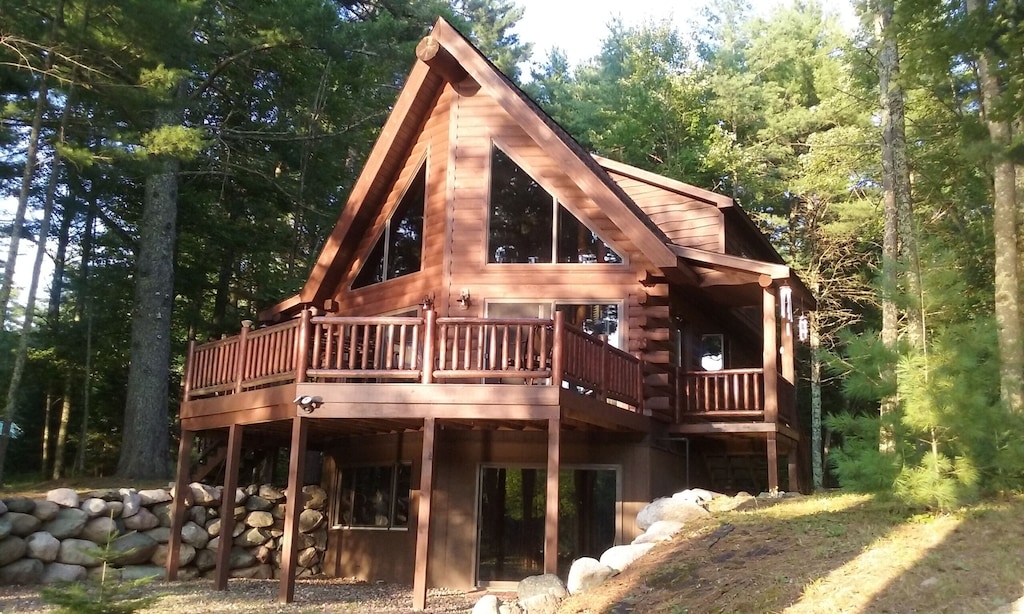 Log Cabin Loaded with Amenities – Park Falls, Wisconsin
This home is newly constructed and fully loaded with amenities to make your stay one you will never forget! There are 2+ beautifully decorated bedrooms, 1 office, 1 luxury bath, a cozy living room with a fireplace, a kitchen for any chef, creating a secluded and peaceful atmosphere in the middle of the wilderness. There's a front porch and large deck on both sides of the home overlooking the riverfront.
Fancy Fireflies Charming Studio Cabin – Hayward, Wisconsin
Surrounded by trees, settled right on Lake Hayward sits this charming & cozy cabin in a little cabin community less than half a mile from downtown Hayward. Launch your canoe just steps from the cabin's entrance, bike into town for lunch, or go hiking or skiing on the nearby trails, this cabin is nestled in the perfect location!
17 Acres of Northwoods Beauty with Direct Access to Trails – Suring, Wisconsin
This cabin sits high atop the hill across the road from beautiful Anderson Lake. This property is all about fun, recreation and relaxation for large groups of family and friends to enjoy together.
Now, I'm curious, which of these cabins is your favorite? Let me know in the comments!
Using a VPN When Traveling
---
VPN is short for "virtual private network." A VPN (like IPVanish) sets up a private connection between your device and whatever network you are connected to – so, no one can see your browsing data. It is important to use a VPN anytime you are connected to public Wifi (such as at a restaurant, resort, hotel, cafe, airport, etc.). This is because when you connect to a public network no matter where you are, you run the risk of a hacker grabbing your unencrypted data. Trust me, speaking from experience here…this can put a real damper on your trip if your banking, phone or email get hacked while you're traveling!
VPNs can also help you save on domestic flights, help you watch Netflix shows not available in the US and more! You can read more about using a VPN in my post "Why I Use a VPN When Traveling and at Home (And You Should Too)."
Travel Insurance
---
As of 2021, many destinations require having travel medical insurance that covers COVID-19. Squaremouth is the only site that currently lets you filter travel insurance policies for COVID-19 coverage. I, personally, use Squaremouth for finding the best insurance policies for my travels, and I have already used them for trips planned in 2021. They're also recommended by Forbes! You can click here to get your free travel insurance quote or enter your information via the widget below.
!function(t){var e=document.createElement("script");e.type="text/javascript",e.className="js-sqm-affiliate-search-widget",e.setAttribute("data-widget-settings",JSON.stringify(t)),e.src="https://www.squaremouth.com/affiliates/22565/affiliate_search_widget_loader.js",document.write(e.outerHTML)}({
"carrier": "",
"filters": {},
"background-color": "",
"background-image": "",
"border-color": "",
"border-top-color": "",
"button-color": "",
"slope-bottom-color": "",
"slope-top-color": "",
"style": "compact",
"text-color": ""
});