The Coolest VRBO Rentals in Wisconsin Dells Featuring Waterparks, Cabins, Lake Delton & More!
Searching for the best VRBO rentals in Wisconsin Dells? Look no further! This post features the best VRBOs with pools and waterparks and some of the most incredible cabins on Lake Delton and near the waterparks.
I know I'm always going on and on about how much I love vacationing in Door County. However, Wisconsin Dells is even more popular of a vacation destination in Wisconsin, especially for families! This is thanks to its numerous waterparks and theme parks. Some of these waterparks are also indoors, making Wisconsin Dells a great year-round getaway! (I mean, it IS the Waterpark Capital of the World!)
Whether you're searching for condos with waterpark access or luxurious cabins on Lake Delton – this post has a VRBO rental for everyone! I would love to hear which is your favorite VRBO in Wisconsin Dells at the end of this post!
What is VRBO?
VRBO is almost identical to Airbnb. It's an online marketplace for vacation rentals. VRBO lists over 2 million properties in 190 countries! We love using them to book our Wisconsin getaways!
---
The Coolest VRBO Rentals in Wisconsin Dells
---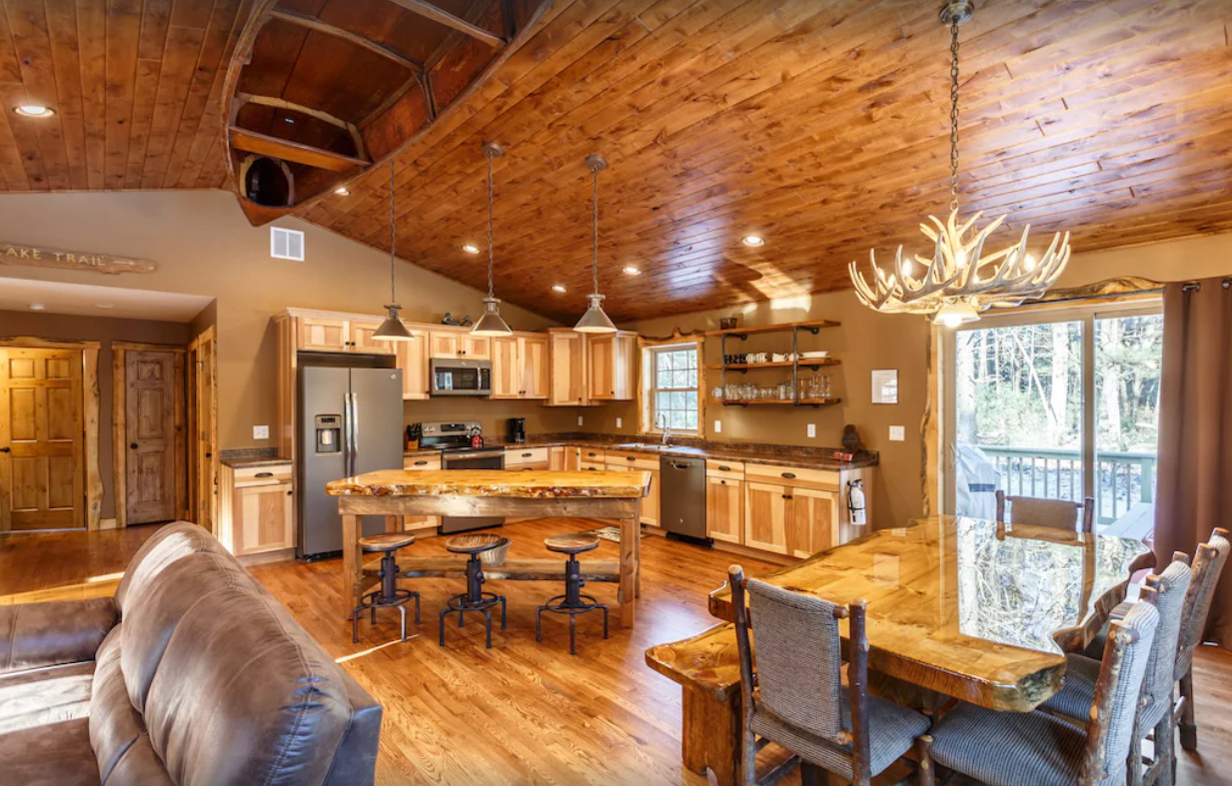 Lakefront Whitetail Ridge, Luxury Family Cabin
A new luxury cabin with a private yard, fire pit area, porch, and a large deck. It's also spacious enough to hole up and stay in for some family fun and adventure. Aside from comfortable beds that sleep up to 12, it has two full baths, a whirlpool tub, and a pool table. The cabin is also close to spa centers, including Sundara Spa, Spa del Sol, Delton Grand Resort and Spa, and Sun Mountain Spa, and waterparks, including Noah's Ark, Chula Vista, Kalahari, and Mt Olympus.
---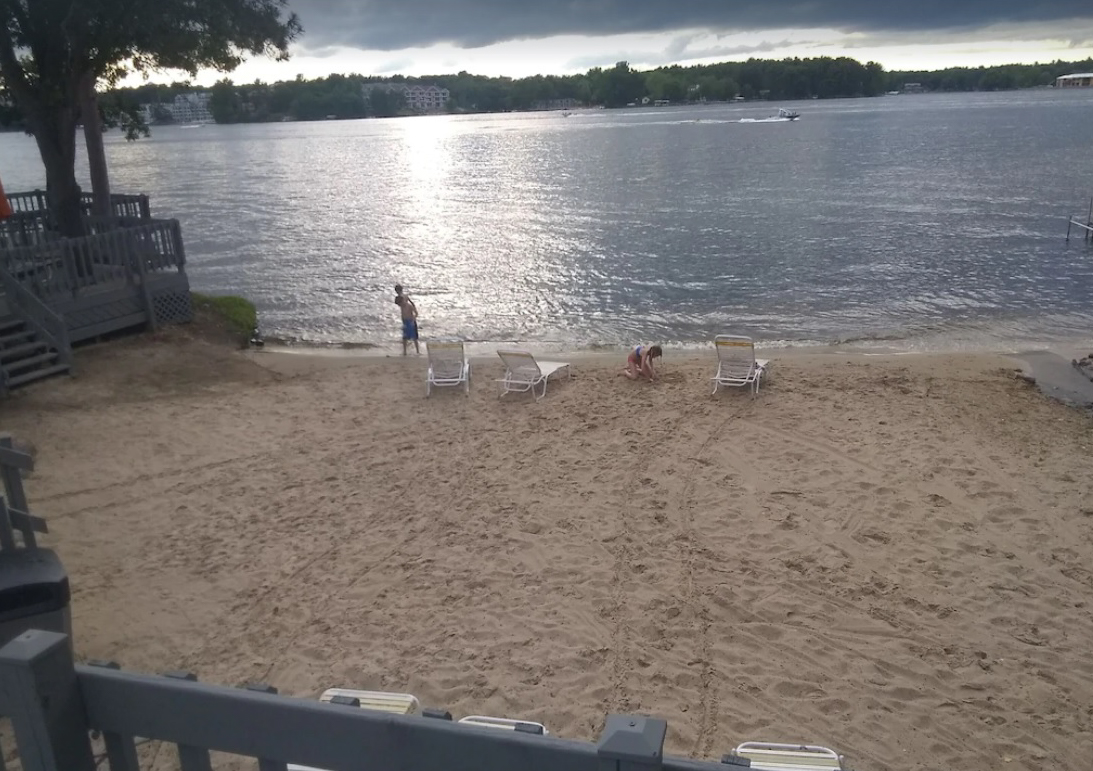 Condo on Lake Delton with Outdoor/Indoor Pools, Lakefront Condo
A comfortable 2-bedroom condo with full amenities for families and couples to enjoy a memorable weekend getaway. With a beautiful view and great location, fish from one of the piers or relax in the property's private wraparound balcony. Destress in the hot tub or swim with the kids on the lake or in the indoor/outdoor swimming pool with a waterslide and waterfall!
---
Condo Loft Villa at Coldwater Canyon Golf Course
A terrific stay awaits guests at this condo loft villa located right on the Coldwater Canyon Golf Course at Chula Vista Resort. The property is scenic and quiet but is just next to the waterpark action. The loft offers luxurious accommodations for up to eight people, including a full kitchen, a heated pool, and an indoor/communal pool.
---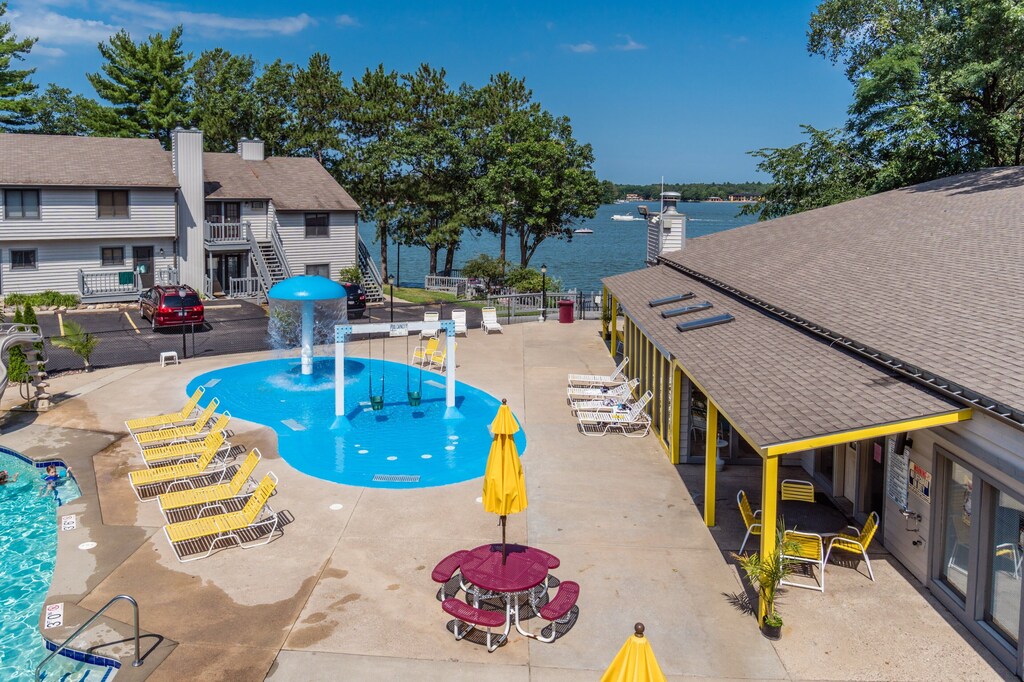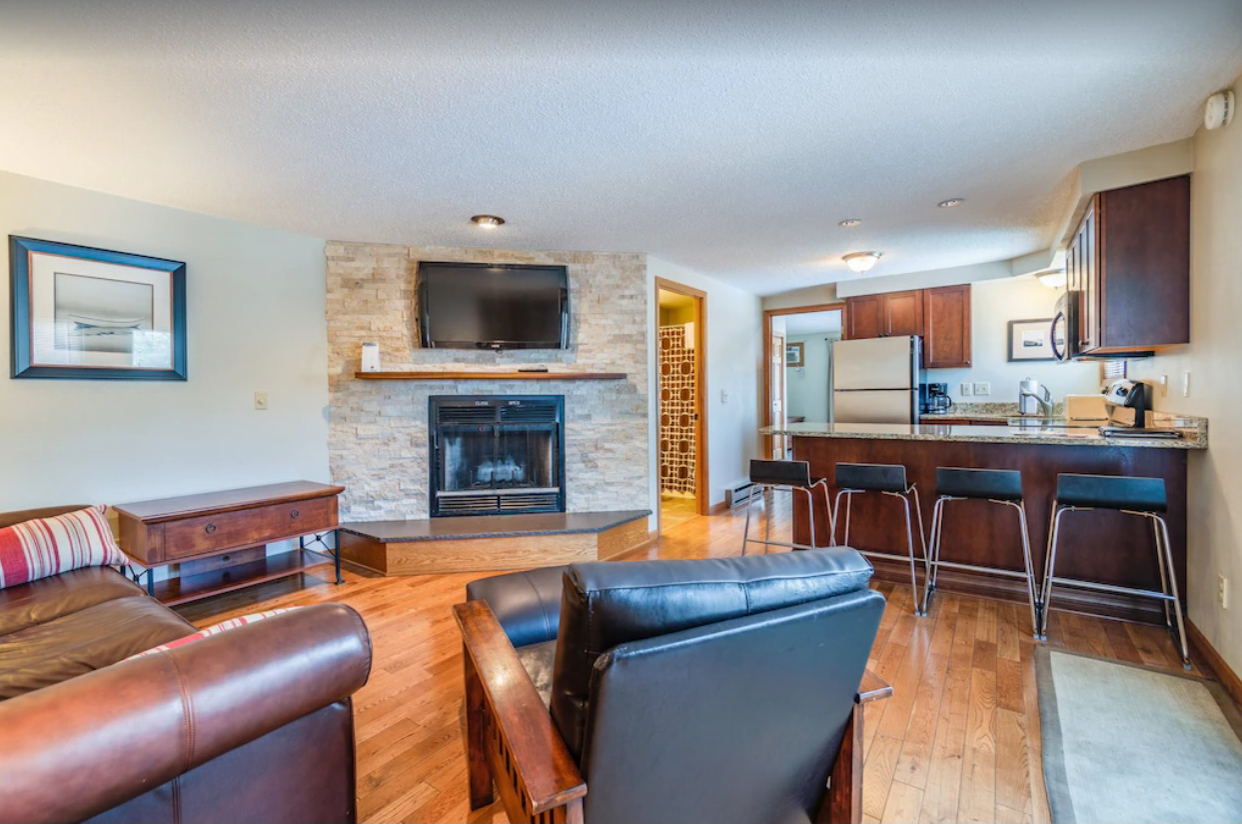 Brand New Pool Side Rental Condos with Lake Delton Views
A prime location for families or couples looking for good entertainment and to experience adventure sports. The property is right next to the pool overlooking the beautiful views of Lake Delton. Plus, the resort's beautiful white sandy beachfront is only steps away from the condo. Enjoy lunch or dinner at the spacious deck or have the best time in the indoor/outdoor pool, sauna, whirlpool, and zero-depth outdoor pool for the kids.
---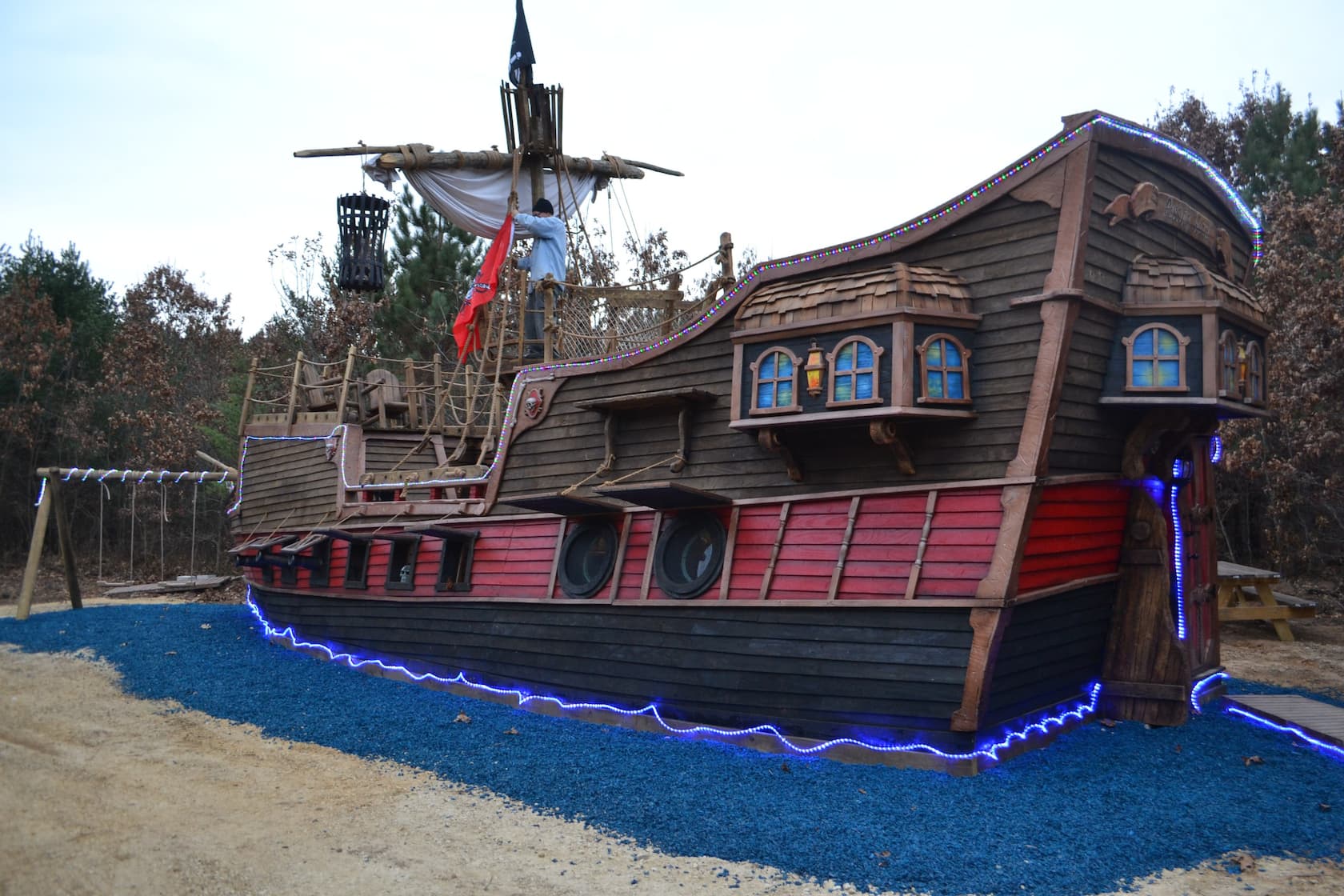 Wisconsin Dells Pirate Ship Cabin Rental (Near the Dells in Lyndon Station)
Come aboard the "Passing Wind" and sail into a unique escapade, as this pirate ship cabin is the only one of its kind in the area. It's the place to be to fulfill a lifelong pirate fantasy for kids and adults alike. The ship sleeps up to 6 persons and includes a swing set, slide, full kitchen, and spacious deck for fun activities.
---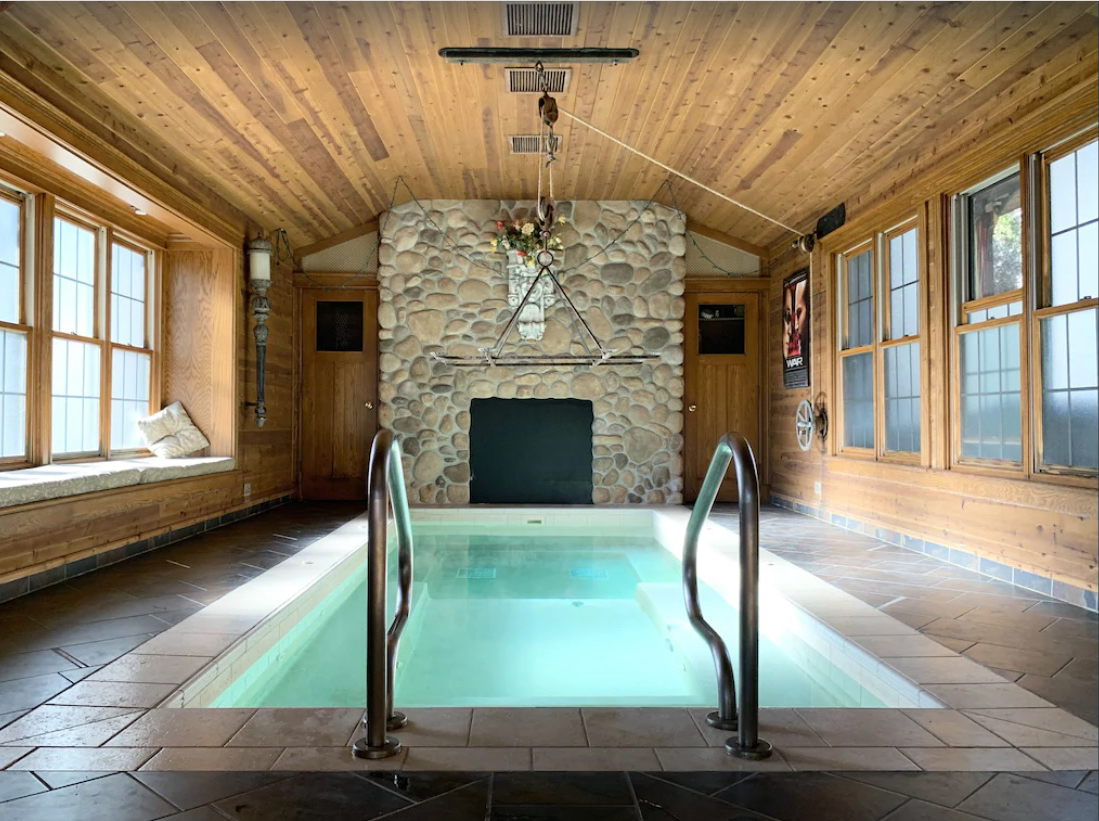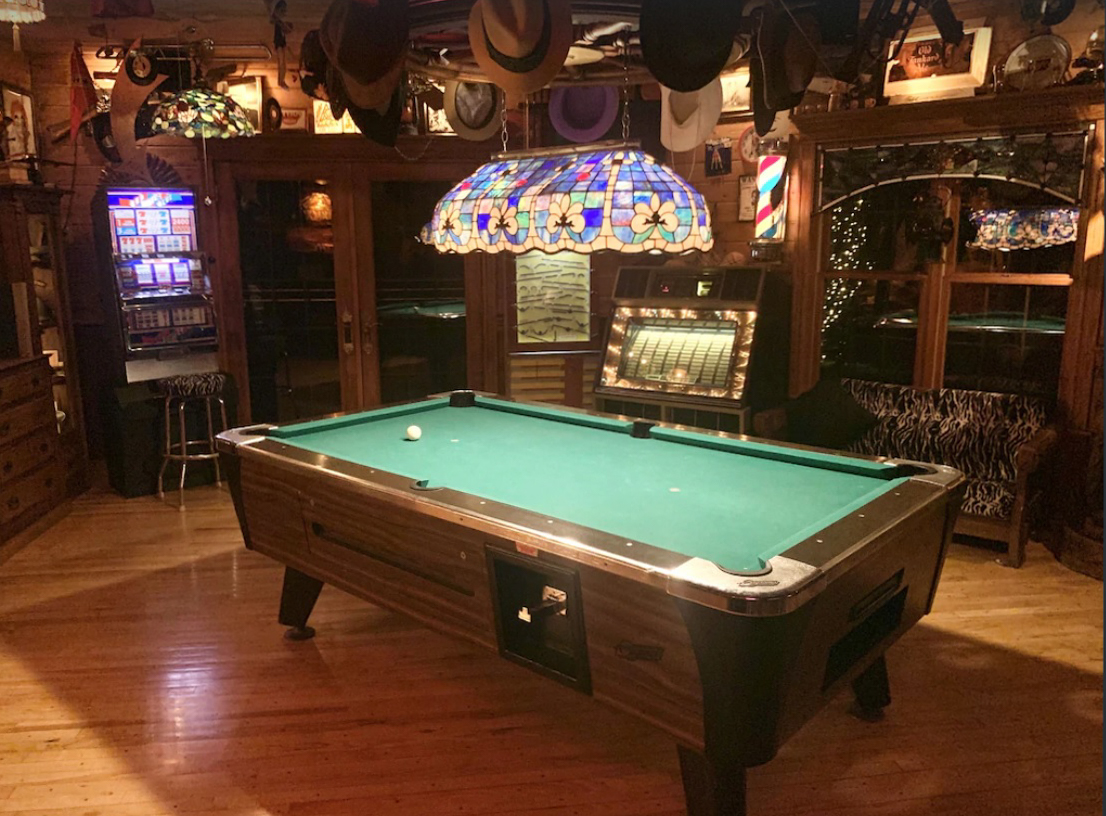 Cozy Wisconsin Dells Lakefront Cabin with a Hot Tub, Bar, and Pool Table
This spacious and cozy 6-bedroom cabin rental is great for friends and families looking for a unique and refreshing property for a quick weekend getaway. Each of the cabin's bedrooms has private access to the wrap-around porch. The cabin has a fully equipped kitchen, two separate dining areas, and a BBQ patio with a hot tub, pool table, piano, pinball machine, slot machine, a 20-foot bar, and a huge cozy wood-burning stone fireplace.
---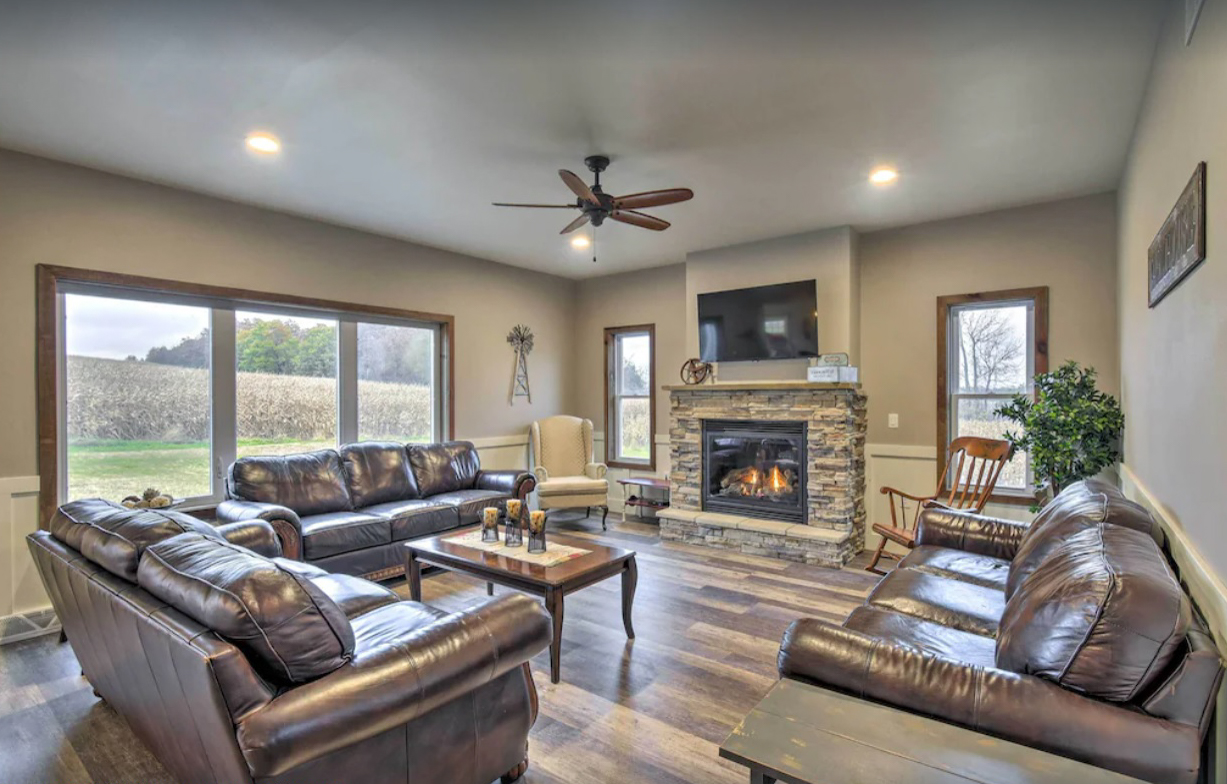 Luxe Lakefront Wisconsin Dells Home w/ Private Dock & Movie Theater!
Boasting a state-of-the-art movie theater, game room, and sleeping arrangements for 16, this craftsman-style farmhouse is the ideal getaway for large groups ready for some fun. Spend your downtime taking advantage of the private dock, kayaks, and fire pit at Mason Lake 1-mile away, or head 10 minutes into Wisconsin Dells brimming with family-friendly attractions!
---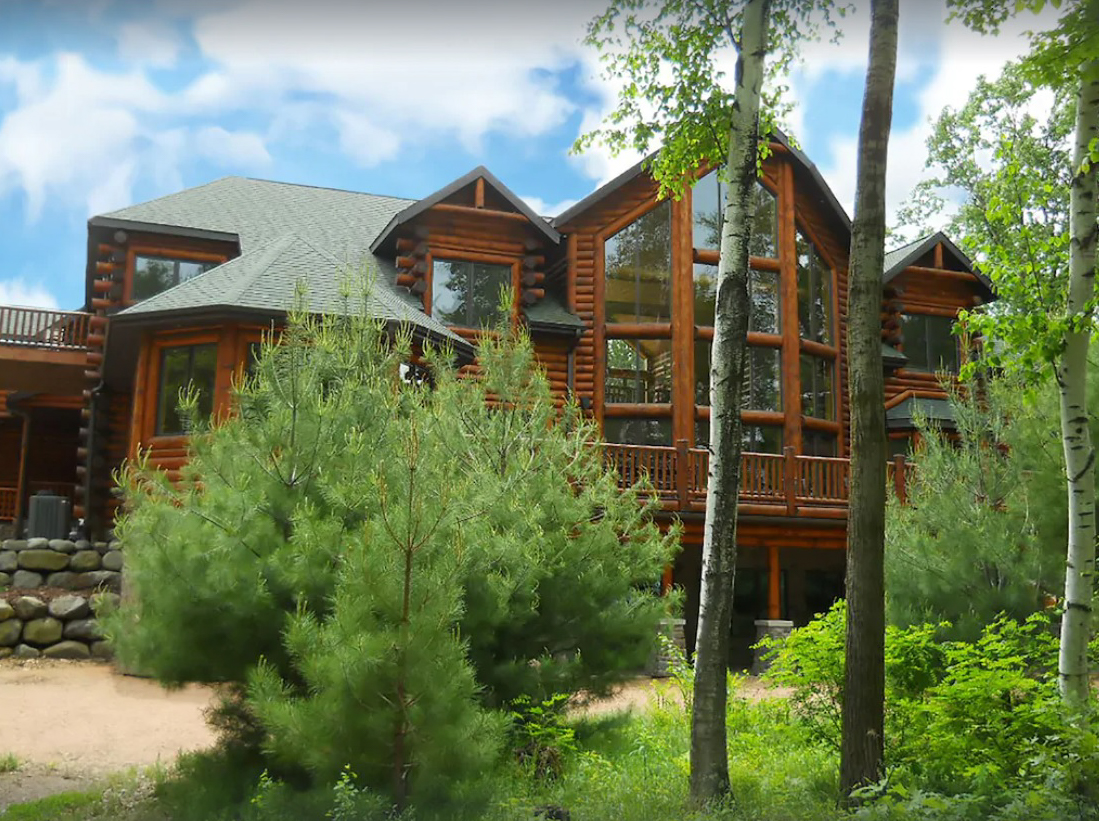 9,500 Square Foot, Ultra-Comfortable Lakefront Home (Near the Dells in Mauston)
A modernized and custom-designed rental property for large family gatherings as it sleeps up to 30 persons, be it reunions or weddings. The property is only steps away from the wonderful sandy beach and is also primed with 8 spacious baths with custom showers and a jacuzzi.
---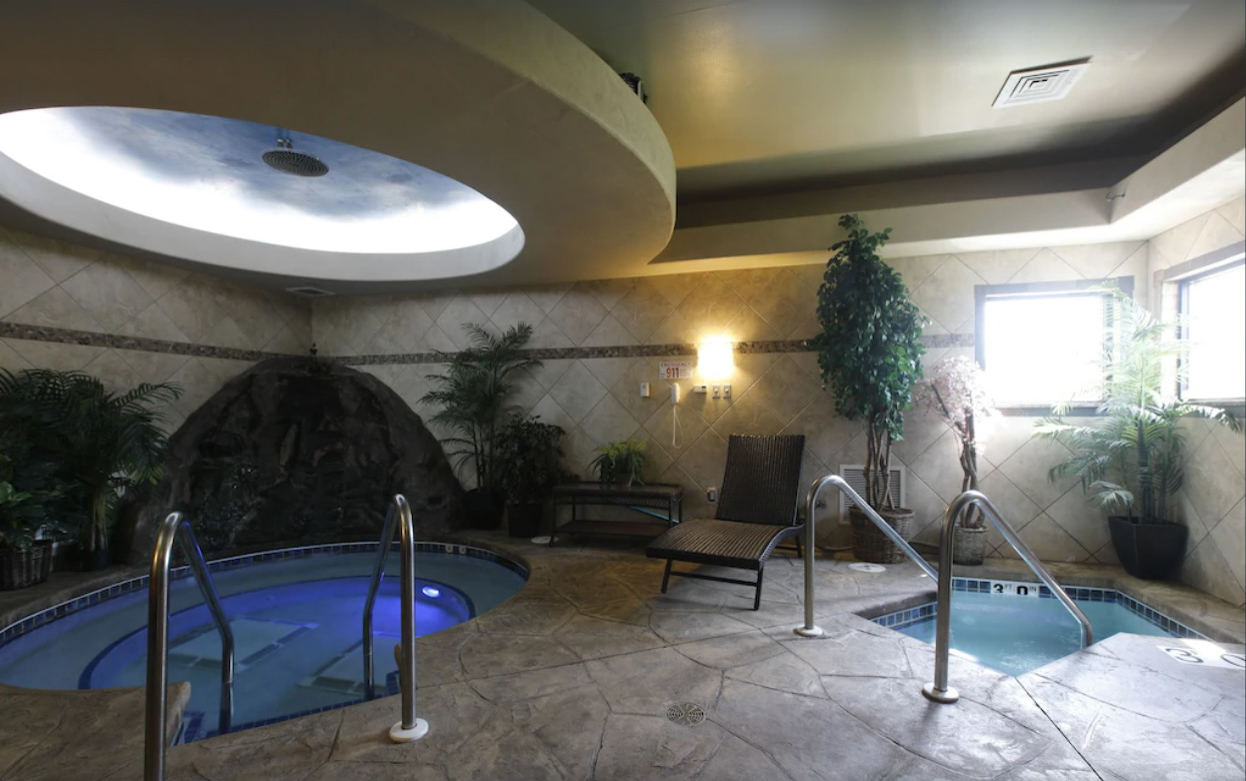 Luxury Lakefront Condo with Hot Tub and Steam Suite (Near the Dells in Mauston)
With more than a six-mile view of beautiful Castle Rock Lake, this luxury condo is idyllic to couples and guests looking for an opulent and relaxing stay-in during weekends. This private condo has all the day spa amenities built right in, including a massage room, facial room, exfoliating shower, private indoor hot tub, and a eucalyptus steam suite.
---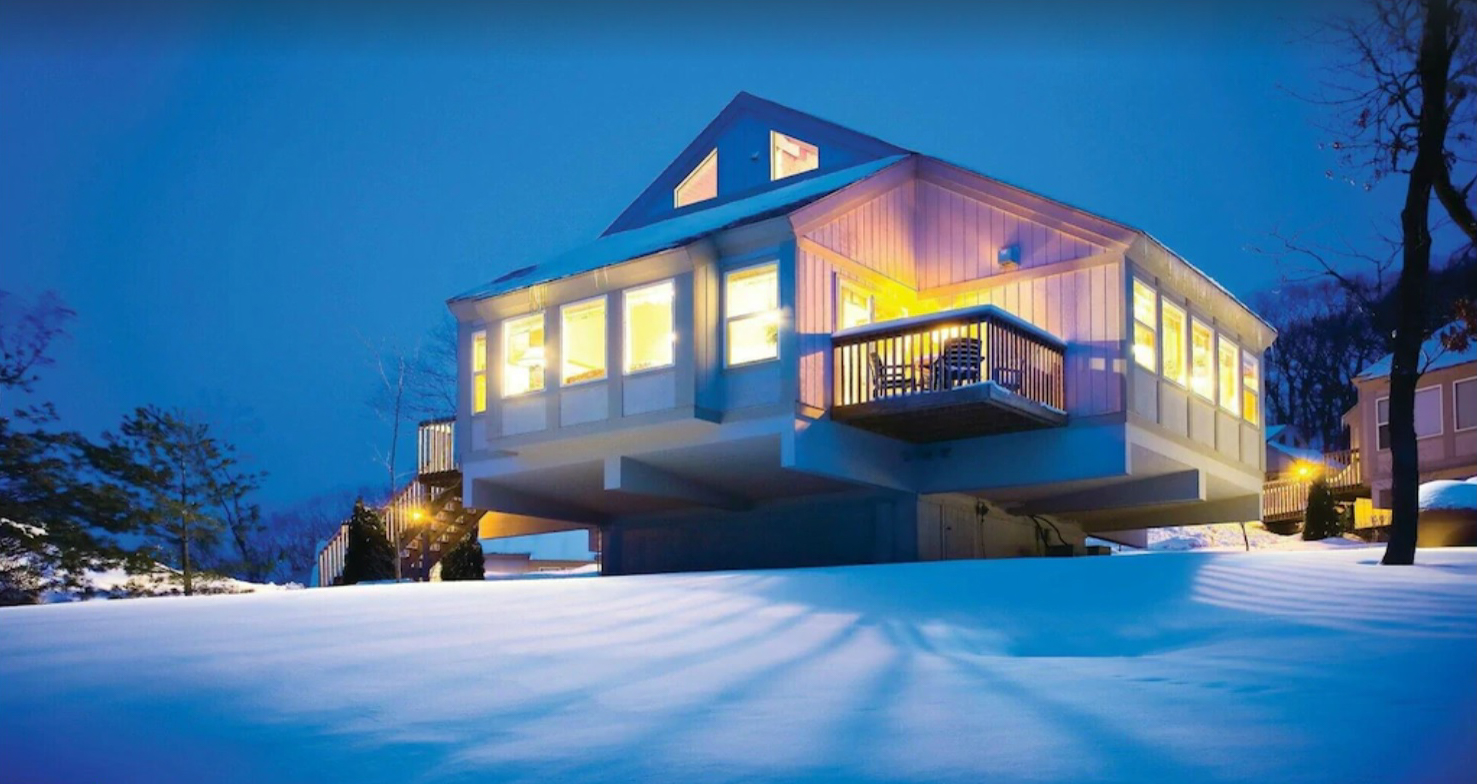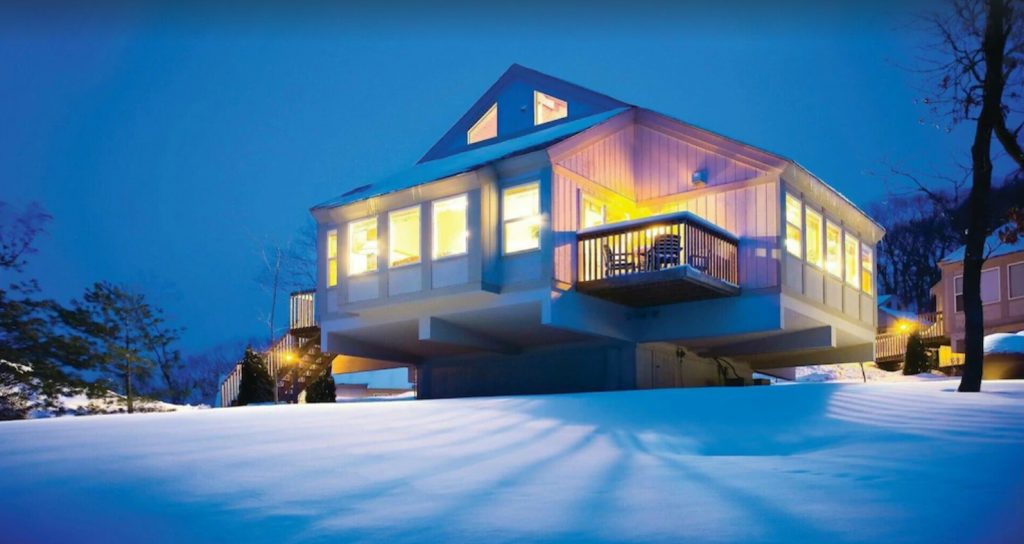 Cozy Townhouse with Pool and Hot Tub in Christmas Mountain Village
My brother and sister and law just took their kiddos to stay here, and they highly recommend it for anyone traveling with young kids, as the pool area is perfect for them! My niece and nephew are 4 years old and 9 months old.
A relaxing vacation awaits guests in this 2-bedroom townhouse, complete with picturesque views of pines and farmland. The property features 2 bedrooms and 2 bathrooms, a full kitchen, a balcony/porch, and modern amenities. It also has tennis/basketball courts, canoes for kayaking, indoor/outdoor pools, a hot tub, a children's pool, a fitness room, an activity center, and a miniature golf area.
---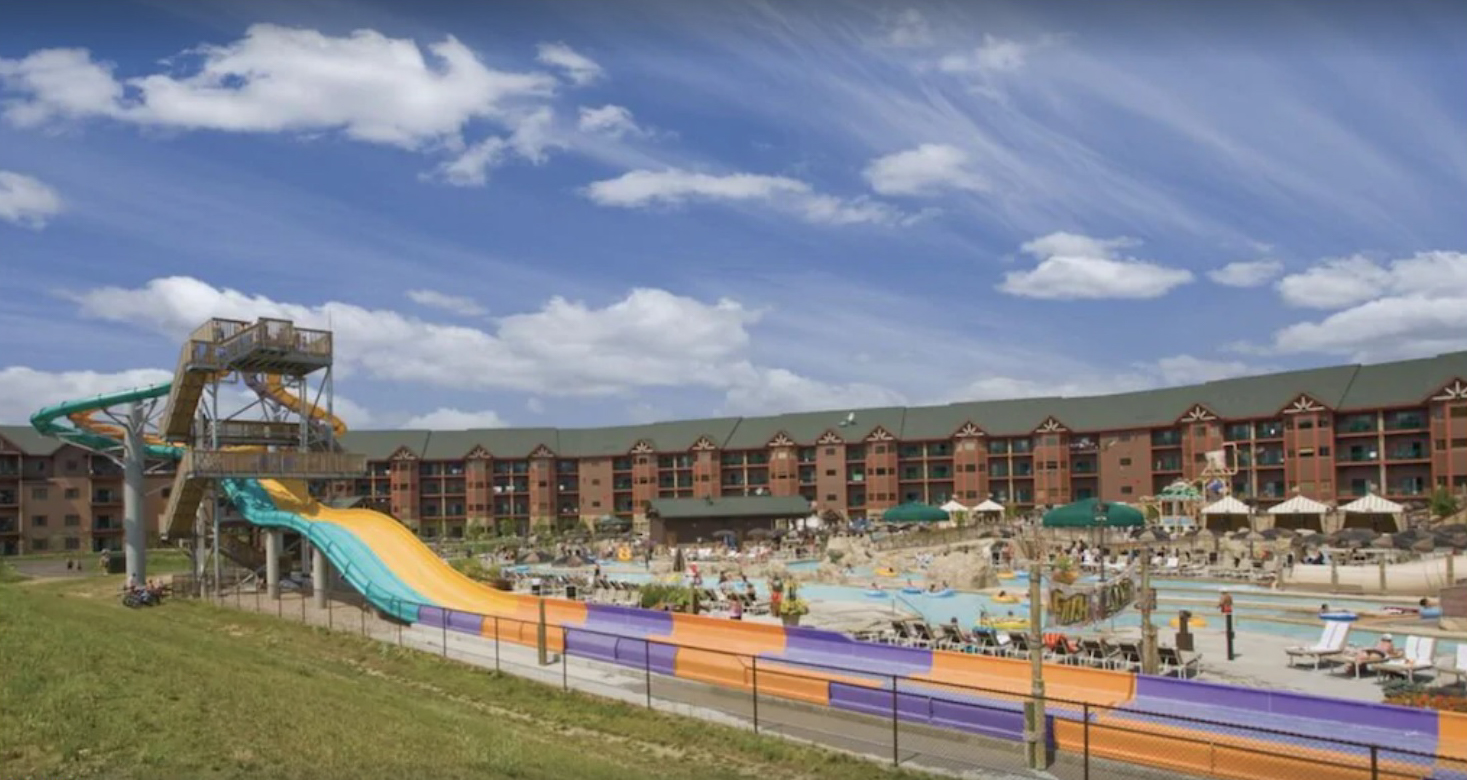 Wyndham Glacier Canyon 2 Bedroom Rentals
This 2-bedroom timber lodge house is primed to let families in on an unforgettable waterpark experience. The property features an onsite waterpark, a 9-hole golf course, massage services, a full kitchen, and spacious living areas for ultimate comfort after a full day of water fun. The lodge sleeps up to eight persons and is also surrounded by family-friendly nightlife scenes.
---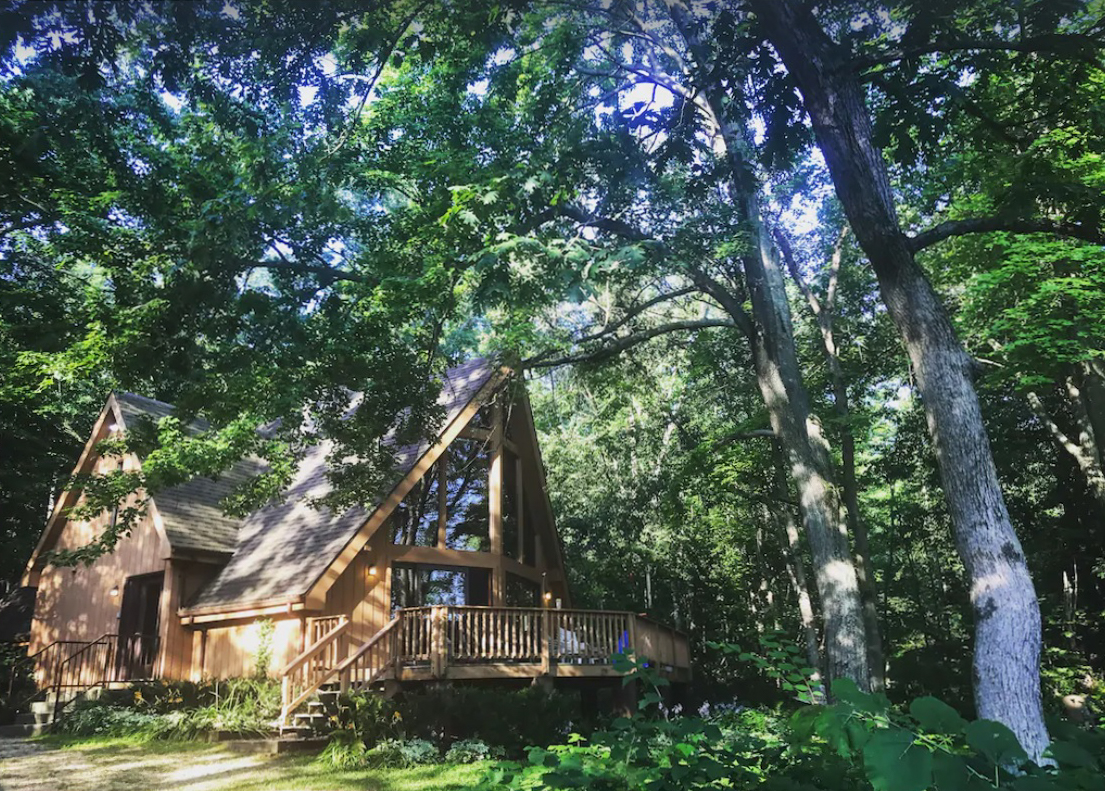 Relaxing Getaway on 36 Private Acres Just 5 Minutes East of Downtown Dells
If you're looking for a private place to relax that's large enough to fit your entire family, then look no further. This property boasts two separate dwellings, private woods, a pond, walking trails, a tennis court, a children's play area, and a wrap-around porch that overlooks the property, where you can sip your coffee and enjoy all nature has to offer.
---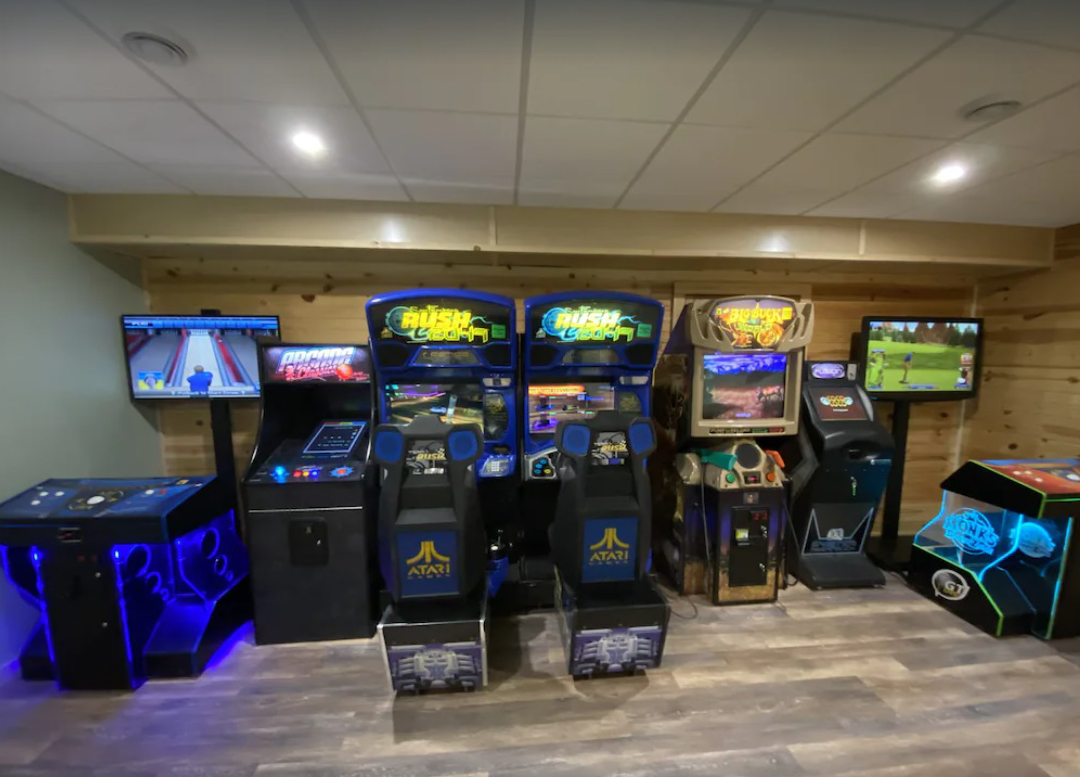 19-Person Wisconsin Dells Rental Home with an Arcade
This is a new 19-person home in Wisconsin Dells at Spring Brook. At over 4000 SQ FT and 6 bedrooms, it's ideal for large groups/holidays/sports groups. It also includes a fire pit, 4 season room with large windows, a basement with TVs, a wet bar, a card table, a foosball table, and a large backyard.
---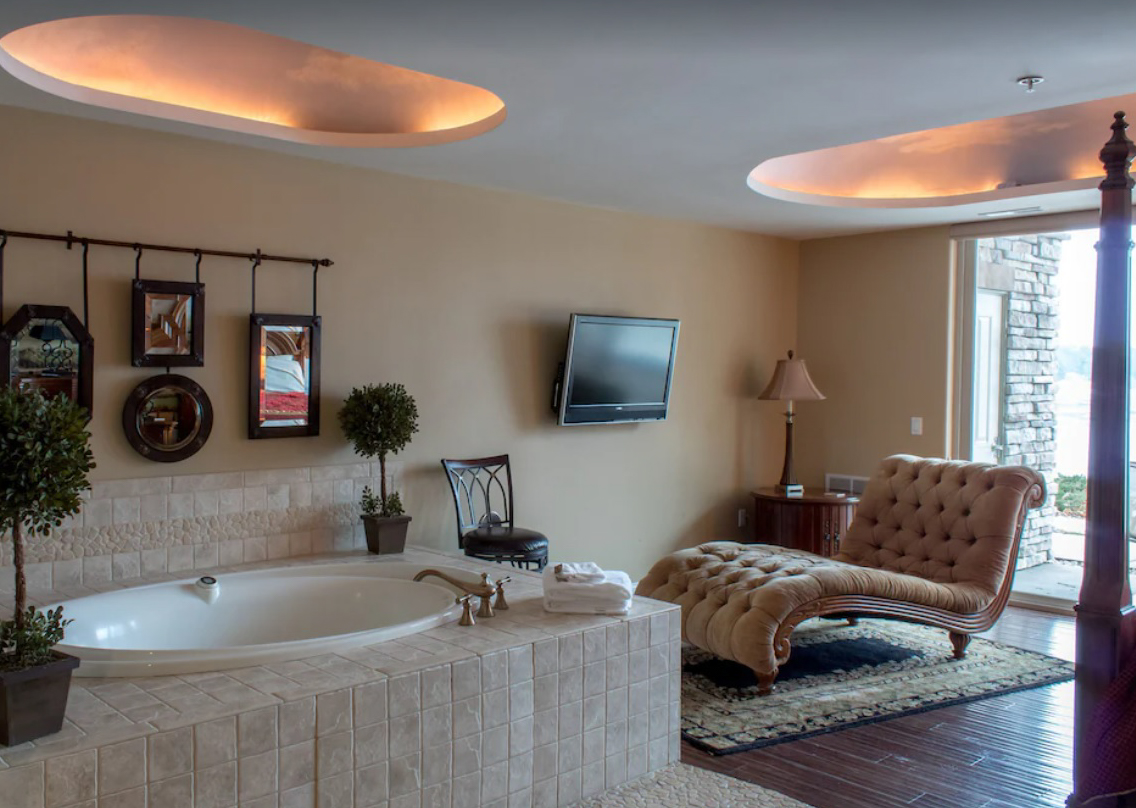 Relaxing Wisconsin Dells Lakefront Condo
A cozy and comfy lakefront condominium with a hot tub to relax in after long hikes in the state parks. There's also a pool and sauna, as well as a full kitchen where guests can cook hearty meals. The property sleeps up to 4 guests and is the ideal location to everything one needs in the Dells area.
---
Classy Lakefront Condominium Rentals Overlooking Lake Delton
Wake up to spectacular lakefront views that can't be beaten, or simply relax in the private deck of this classy 1-bedroom condominium directly on Lake Delton. The unit features a full kitchen, an indoor/outdoor pool, a hot tub, and a sauna to relax in after a long day of adventure.
Lakefront Vacation Condo Rentals in the Wisconsin Dells
A comfortable and inviting 2-bedroom vacation condo rental just one block from Sundara Spa and is also centrally located to all major attractions. The property offers indoor/outdoor pools, a kiddie pool, picnic grilling areas, an indoor Jacuzzi, a sauna, a kids' game room, and spacious areas for family gatherings, including a wrap-around deck.
---
Which of these VRBOS in Wisconsin Dells is your favorite? Let me know in the comments!