HONEST Sundara Inn & Spa Review – Is This Wisconsin Dells Resort Actually Worth It?
Wondering if Sundara Inn & Spa in Wisconsin Dells is actually worth its hefty price tags? This post is my HONEST Sundara Inn & Spa review of their services and amenities. I am also discussing whether I think it is worth spending the night here.
Sundara Inn & Spa is a top-rated, adults-only spa resort in Wisconsin Dells – which is just a couple of hours away from where I live in Wisconsin. This resort is a wildly different experience from the other waterpark resorts that are in Wisconsin Dells. The whole experience while you are here is meant to be tranquil, quiet, and peaceful.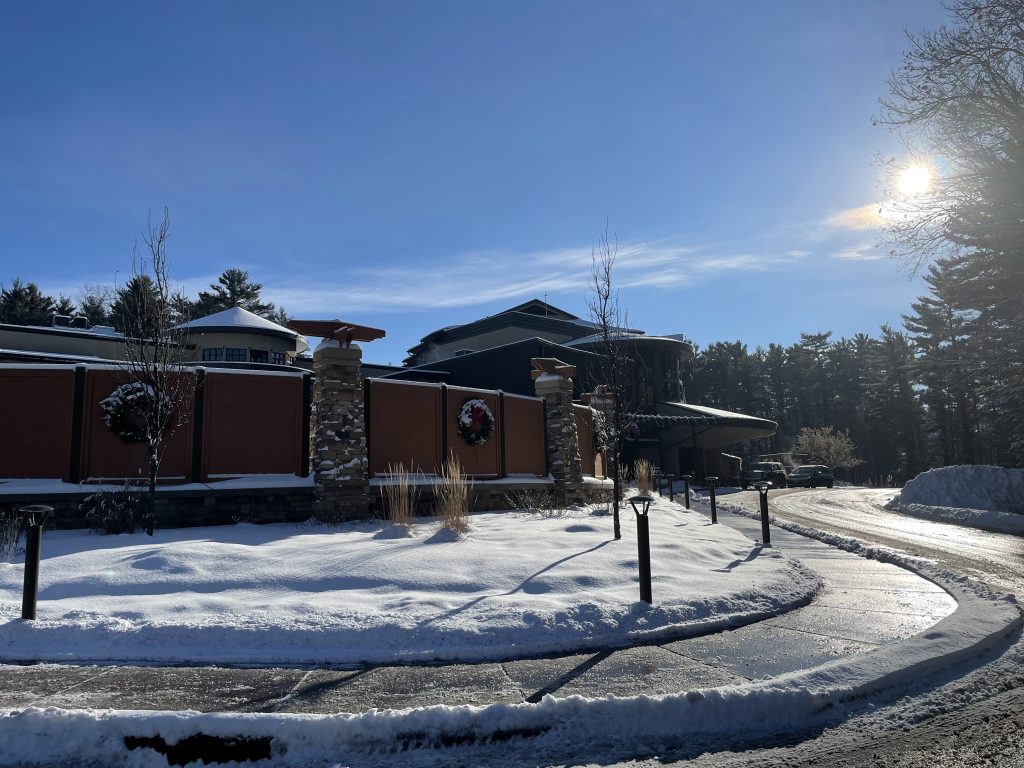 They actually have "a quiet policy" that you have to sign when you check-in, which says cellphones and other electronics are not to be used outside the guest rooms. So, it is a technology-free place. They also encourage "quiet conversation that is soothing to everyone around you."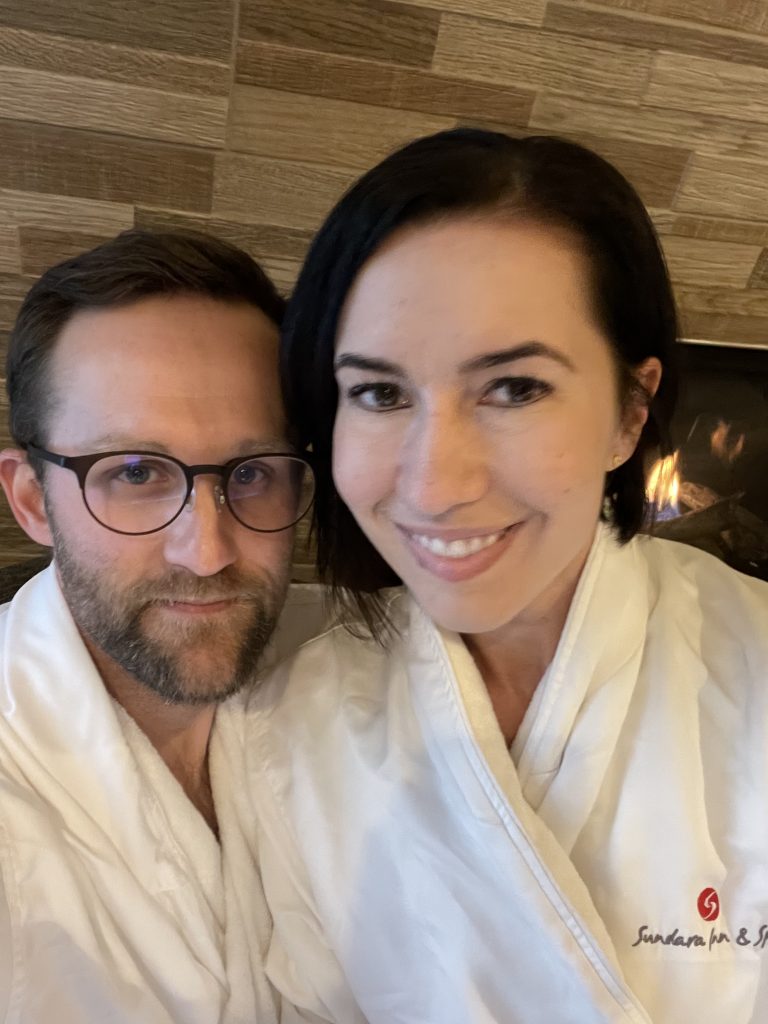 My husband and I stayed here shortly after Christmas. This was our Christmas and wedding anniversary gift to each other this year. It seemed like a good way to unwind after the holidays! (This post is in NO way sponsored by Sundara – I paid for this trip myself and am writing this review to help my readers.)
This post is going to break down my thoughts on staying overnight here, the Sundara Spa and amenities, as well as their onsite restaurant. I also made my very first V-Log for this post!! You can watch that below if you'd rather not read this post in its entirety. (I've been saying I'm going to start making YouTube videos for the last 5 years, but 2022 is the year this is FINALLY happening. You can subscribe to my channel, here.)
Staying Overnight at Sundara Inn & Spa – My Review of the Sundara Rooms
We stayed in one of Sundara's Woodland Suites. This room was $450 a night in the off-season (weekday/winter) – it's actually considerably MORE during their busy season, which is during the summer months and weekends.
The Kohler Shower was cool – you can control the temperature of your shower to the degree, and it had several different shower heads that resembled a car wash. I also liked that it had a fireplace in the room – but those were really the only exciting aspects of the room. (The video above illustrates this better than my photos below.)
We did NOT have a good experience staying here. The walls in this room are paper thin – we could hear our neighbors talking loudly during the night, they were having a party even one night, AND there was construction taking place next to our room during the day. It was NOT a tranquil experience by any means.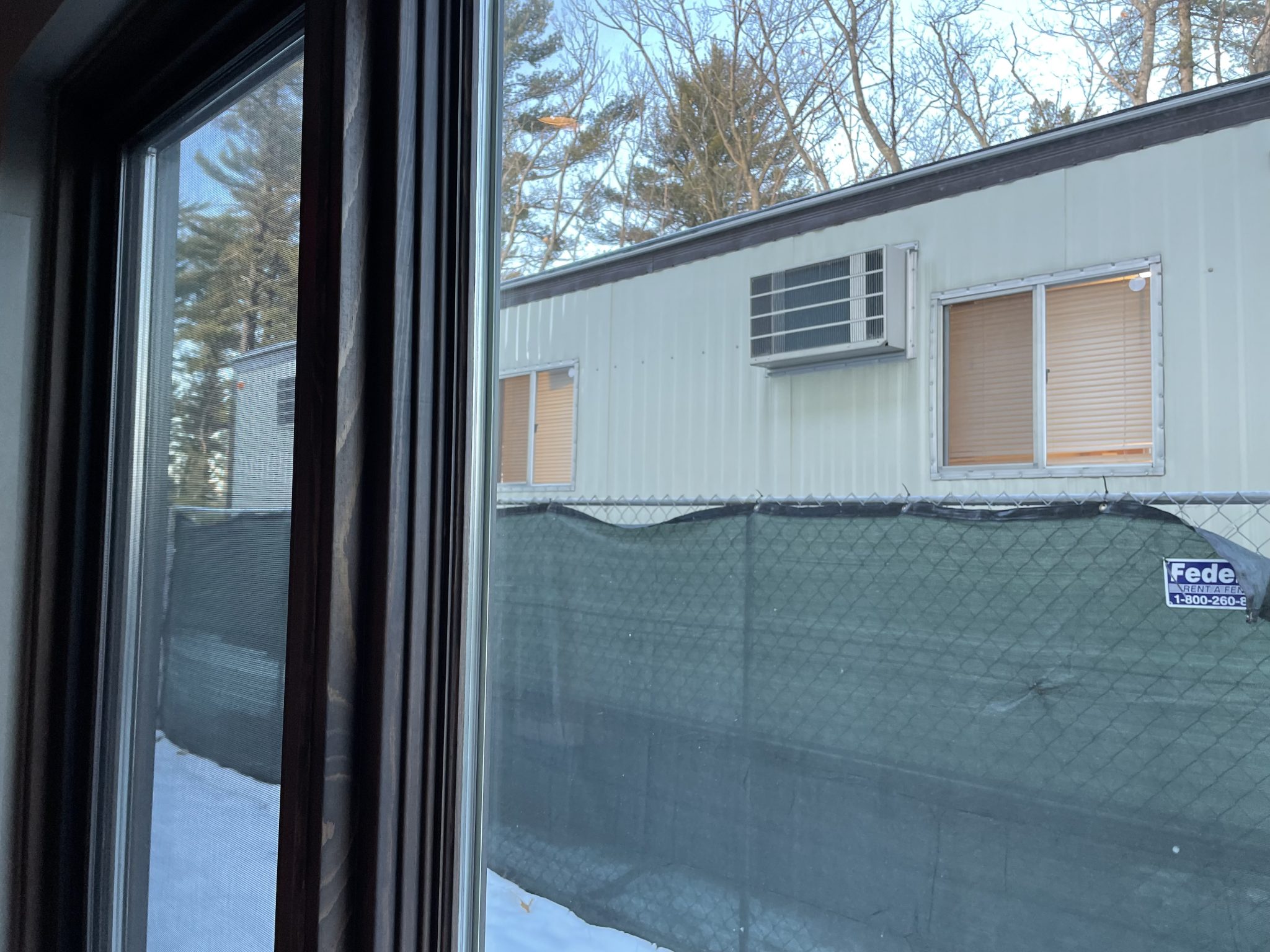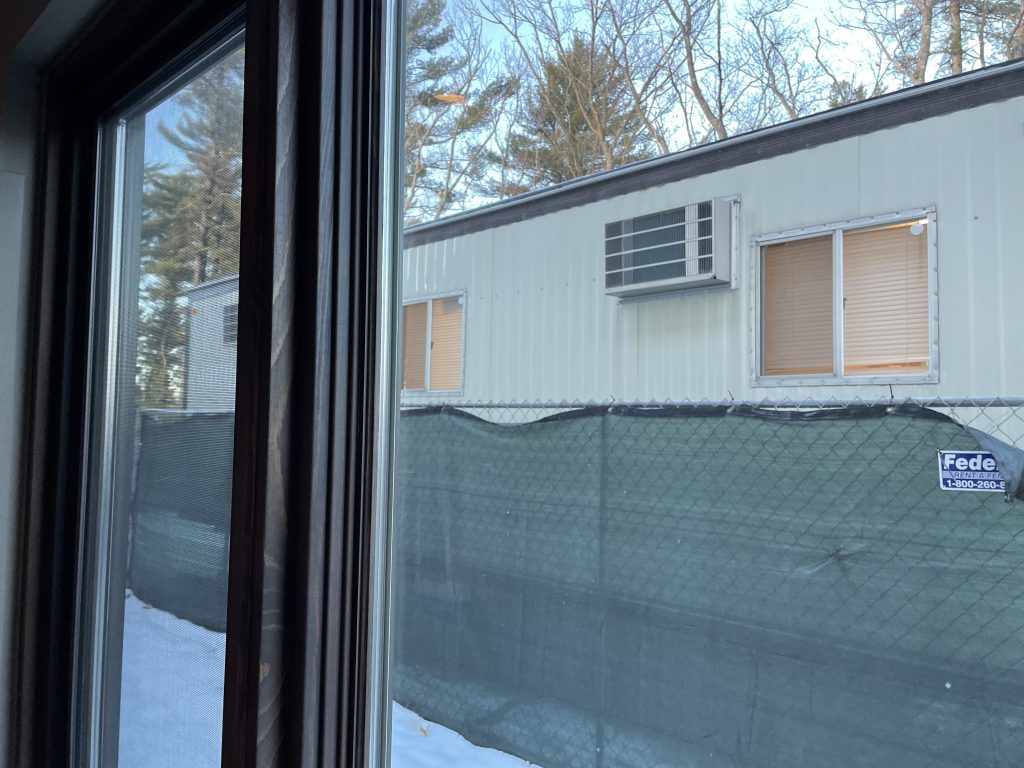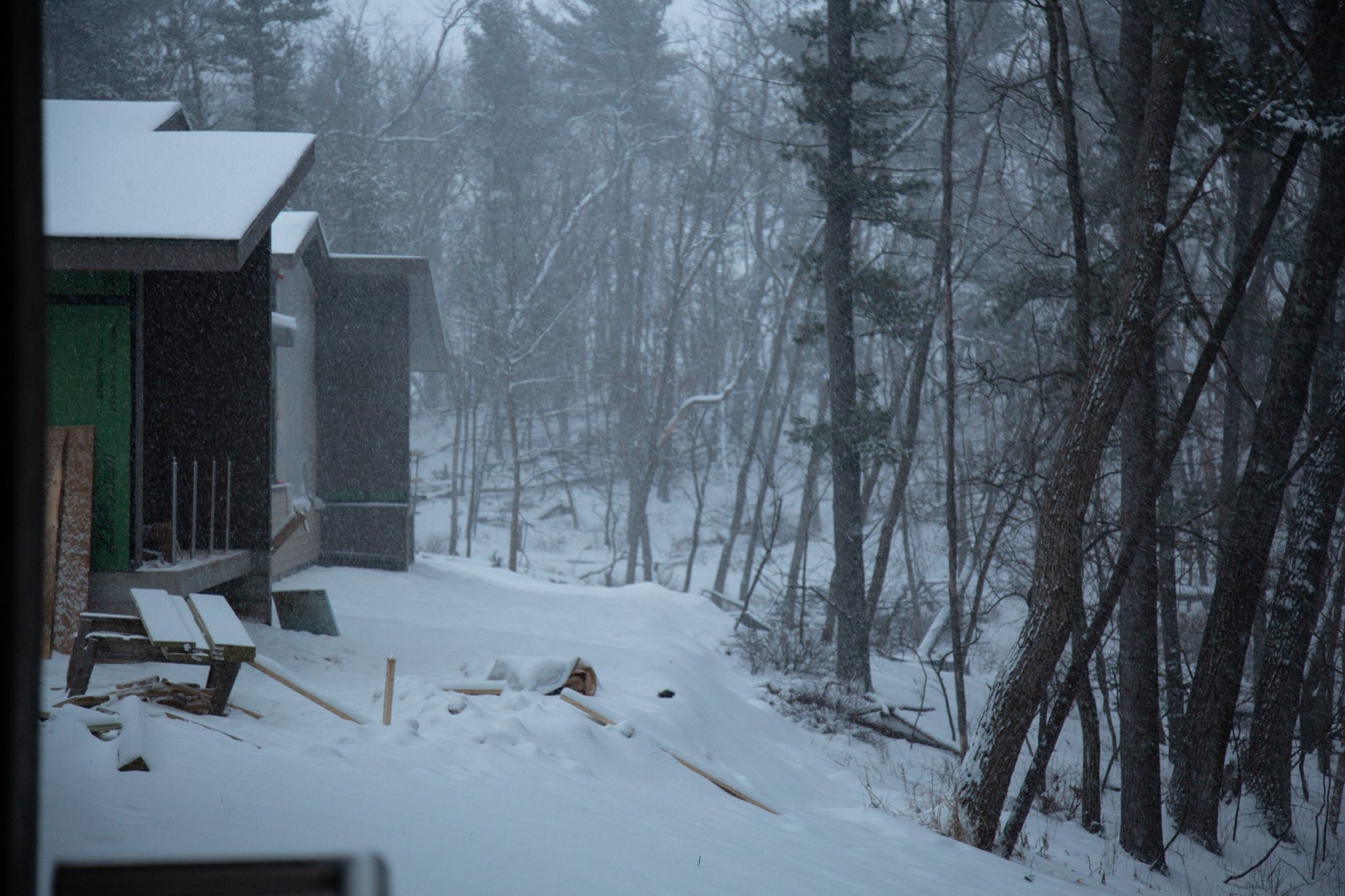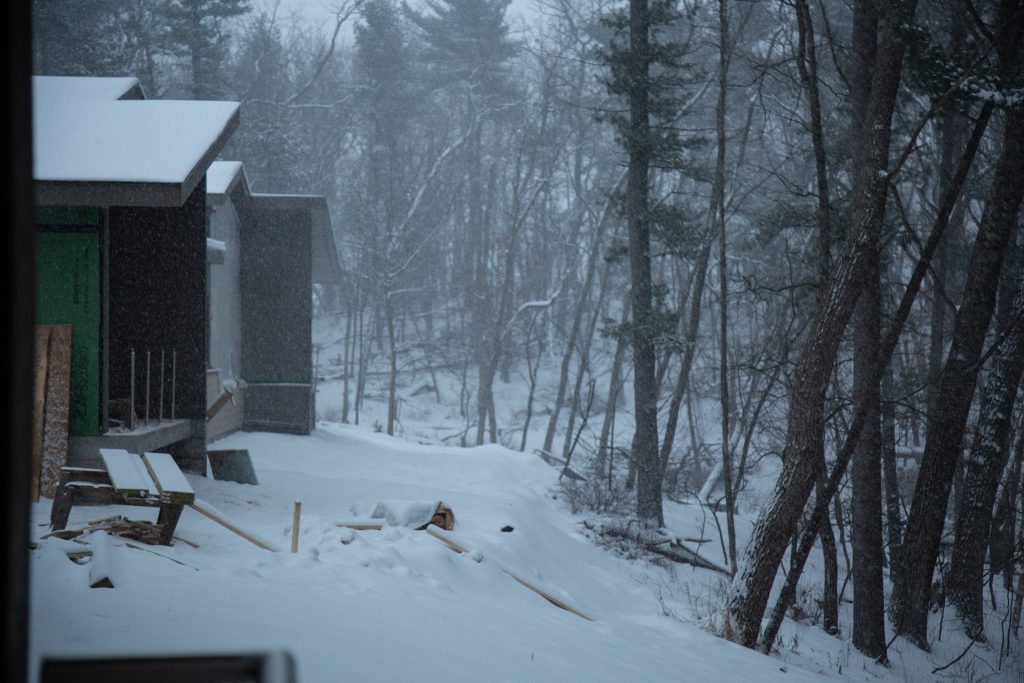 The construction going on at Sundara isn't to repair a problem either, it is to build new rooms for the resort. So, it's crazy (in my opinion) that they were still renting these Woodland Suites (for very expensive rates) without informing guests prior to booking!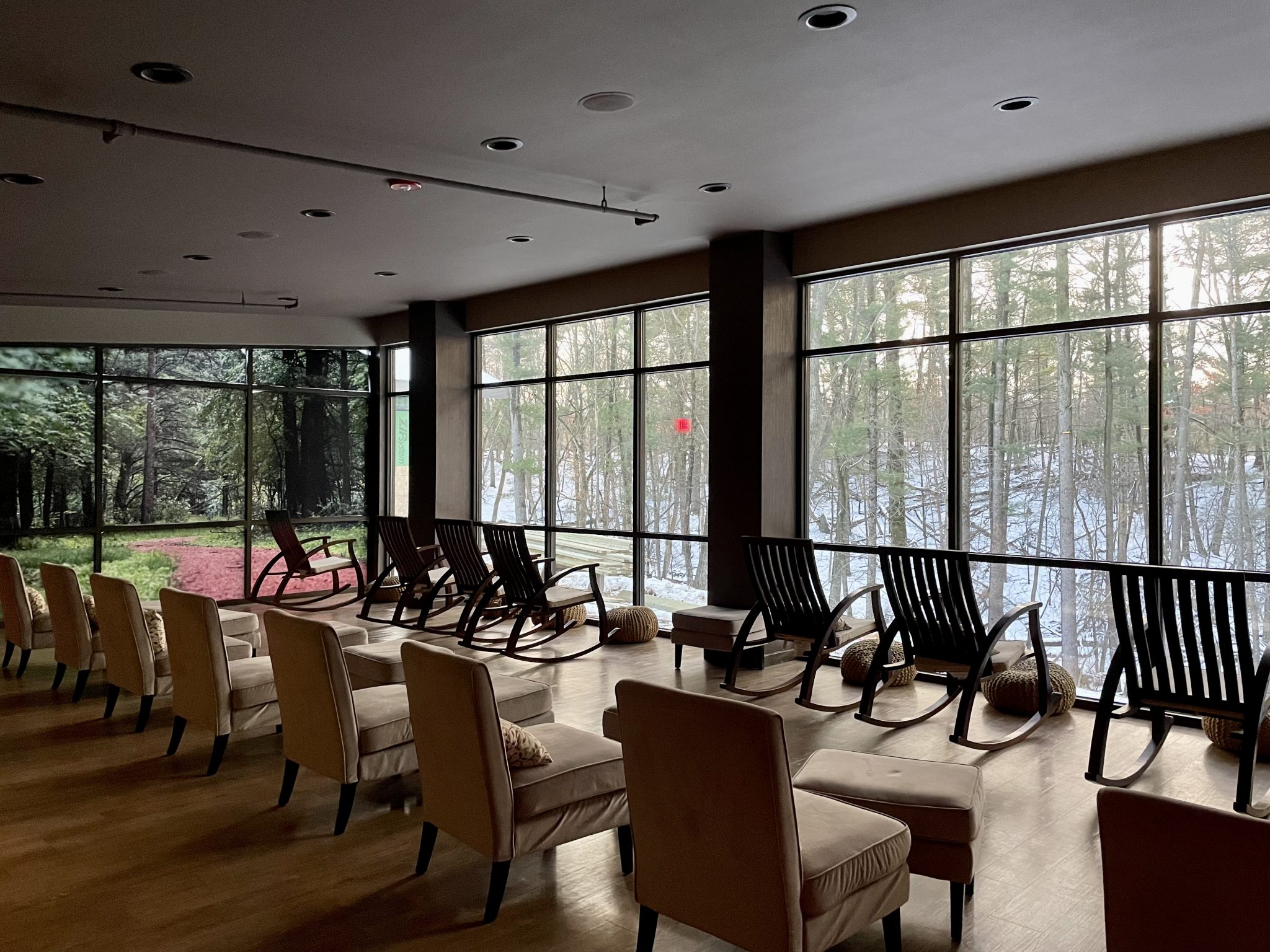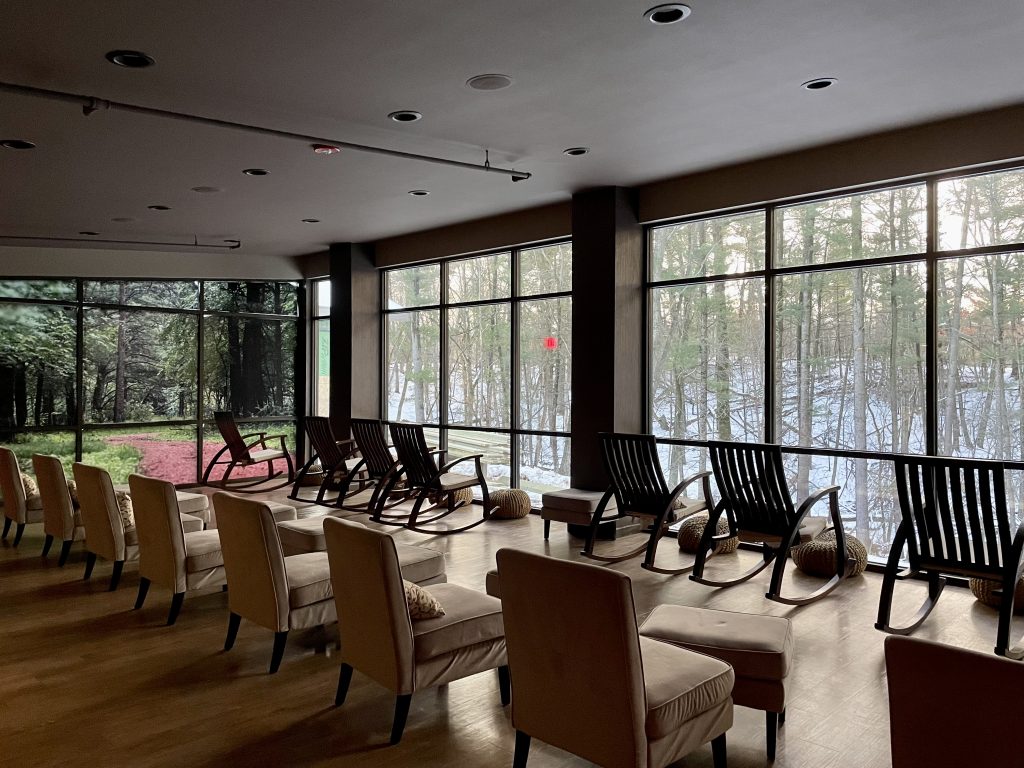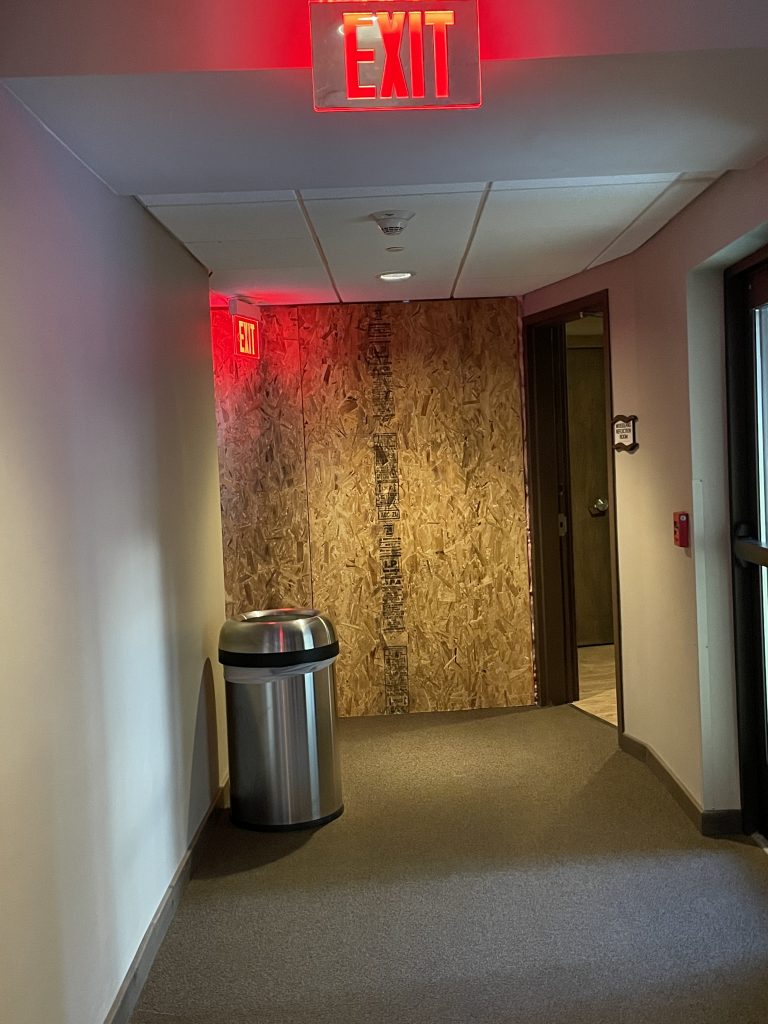 Our room was also next to the "Woodland Reflection Room" (pictured above) – which is supposed to be a no-talking, peaceful room to read and meditate… and there was freaking construction happening right on top of it!
We did contact the resort to let them know of these issues – and they refunded us one of the 2 nights we stayed there and also invited us to come back at a later date to try the resort again. I appreciated this – but it seems crazy that it needed to be done at all?! Given how bad our experience was, my husband has also told me he won't go back here – even if they aren't charging us for a room.
A resort that is charging these kinds of prices should not have these types of issues, in my opinion. This experience should have been outstanding for $450 a night! And that rate is not all-inclusive or anything… you're still paying for your spa services, food, drinks, (plus, they automatically add a 20% tip to all services), etc. – the perk is getting to use the pools and relaxation rooms at Sundara.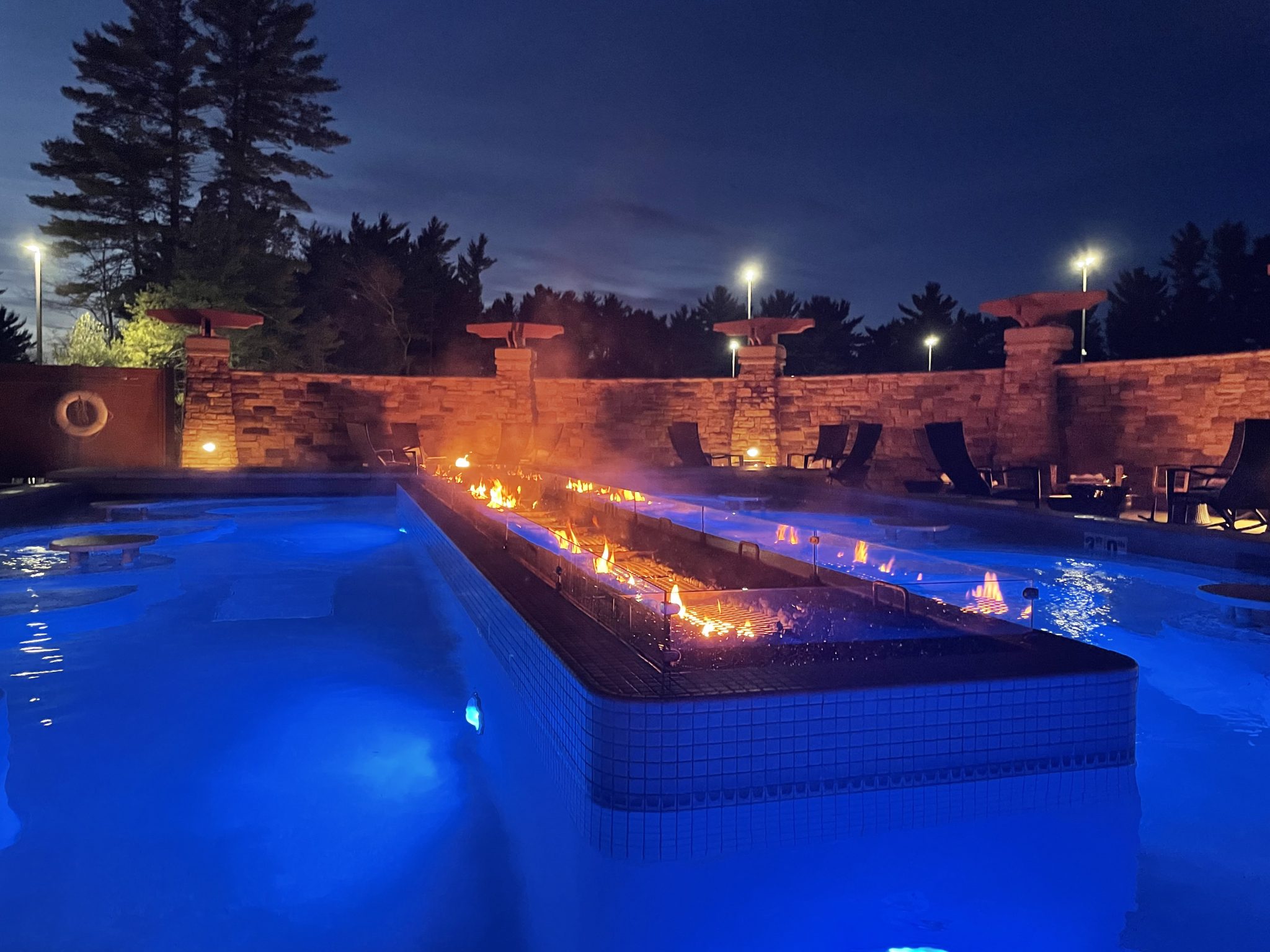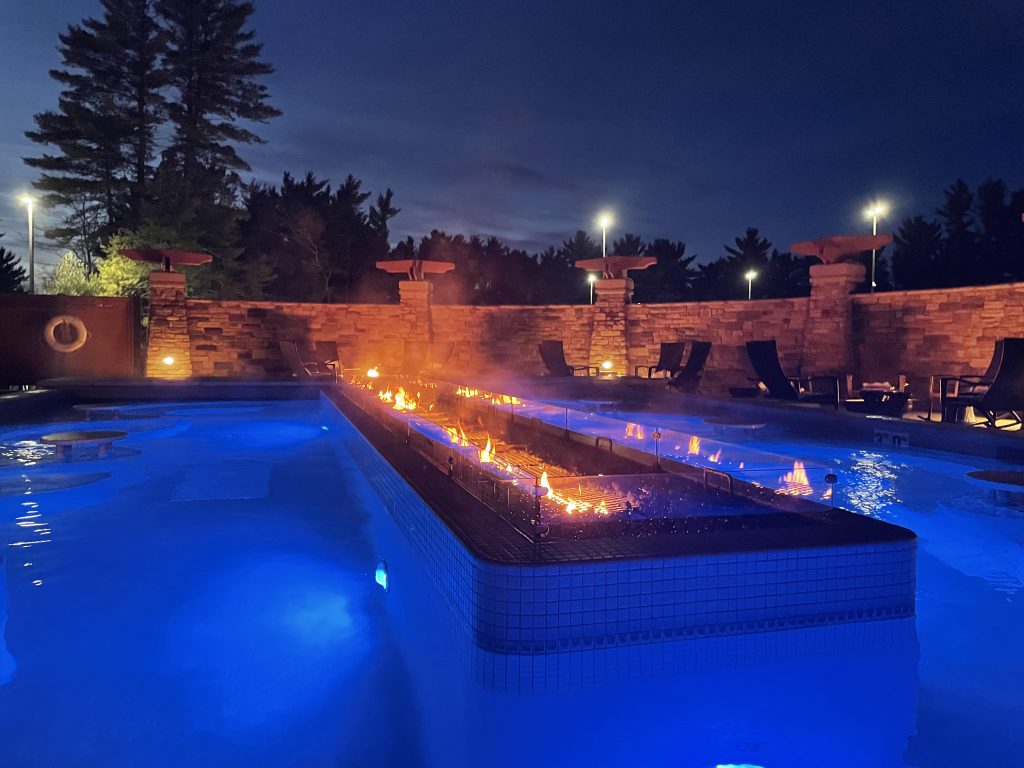 Sundara Spa Amenities and Services
That being said, the pools and amenities are FABULOUS at Sundara, as were the spa services. This is what you have access to when you book a day pass or stay overnight at Sundara:
Indoor/outdoor Swim-up Pool Bar with fire feature
Saltwater seasonal pool that is open May-October
Indoor Hot Tub
Cambrian Oasis indoor space with conversation coves and relaxing rocking chairs
Infinity Edge Pool heated year-round
Outdoor Hot Soak on Infinity Pool Deck
Suvela Silent Room
Chakra Meditation Trail
Radiance Room
Relaxation Room
Woodland Reflection Room
Purifying Bath Ritual
Savanna Patio adjacent to Nava Restaurant featuring six fire pits and water feature
Fitness Center
Trek Bicycles (seasonal)
Hammock Retreat (seasonal)
Daily Wellness Activities
I took a quick snap of one of the outdoor pools (above & below) because no one was out there, otherwise, you are not supposed to have electronics out. That being said… this policy really wasn't being enforced.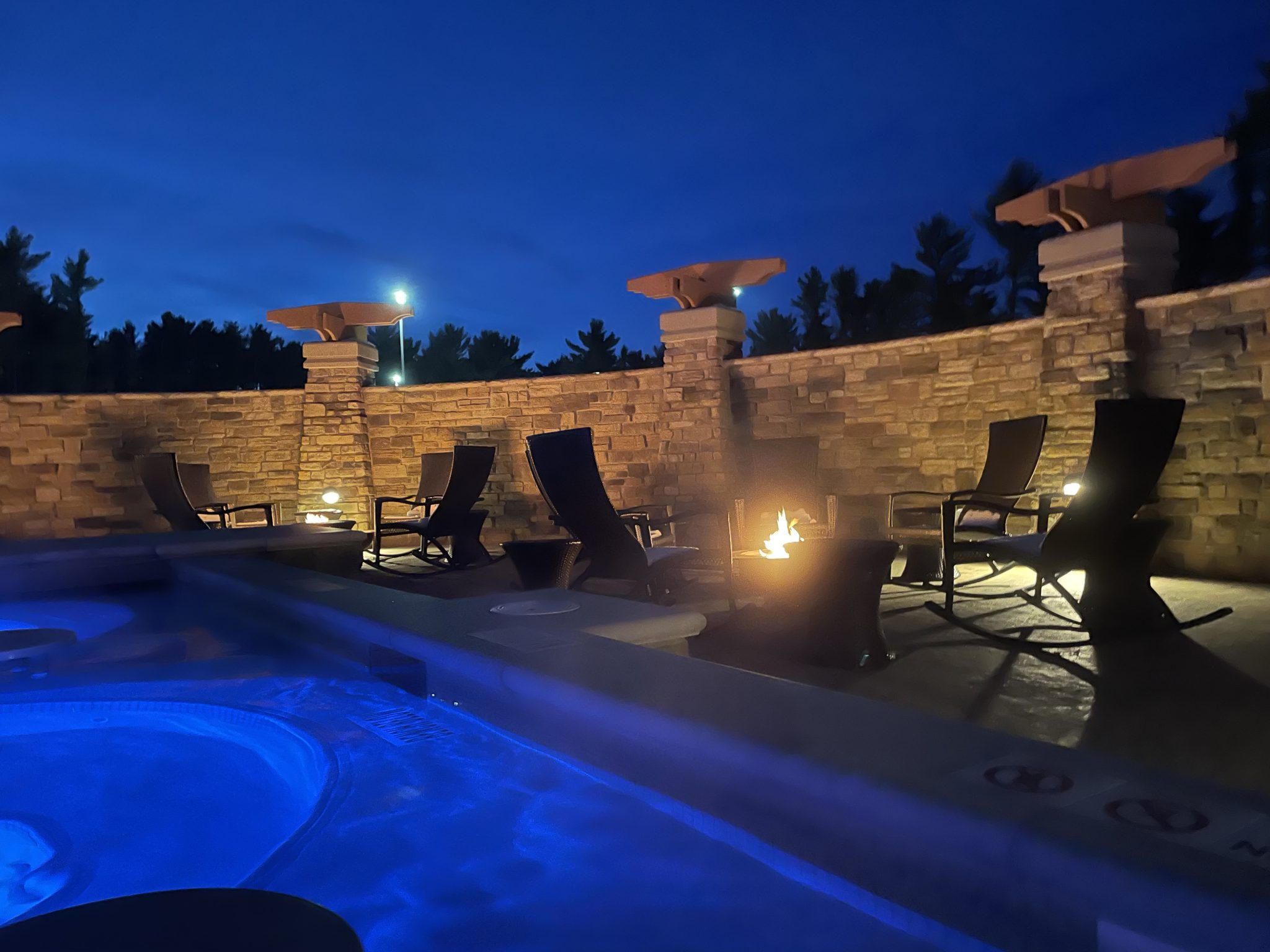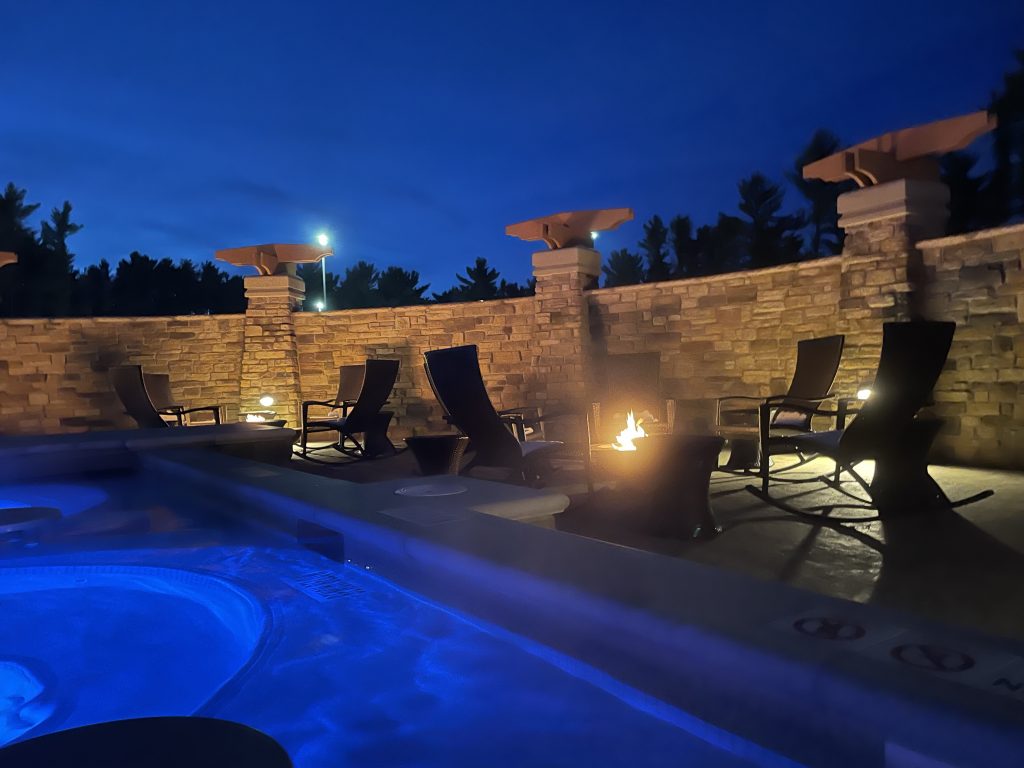 These amenities were all really amazing! Obviously, you're not going to get to experience all of them in the winter months, but it was still nice, nonetheless.
Sundara Spa Services are AMAZING
Sundara's massages and facials were divine! I highly recommend booking a facial and/or massage at Sundara Spa! I am not typically a fan of massages, but my masseuse at Sundara was incredible and listened to my preferences to the tee – it's one of the best massages I've ever had. My husband was also very happy with his massages at Sundara.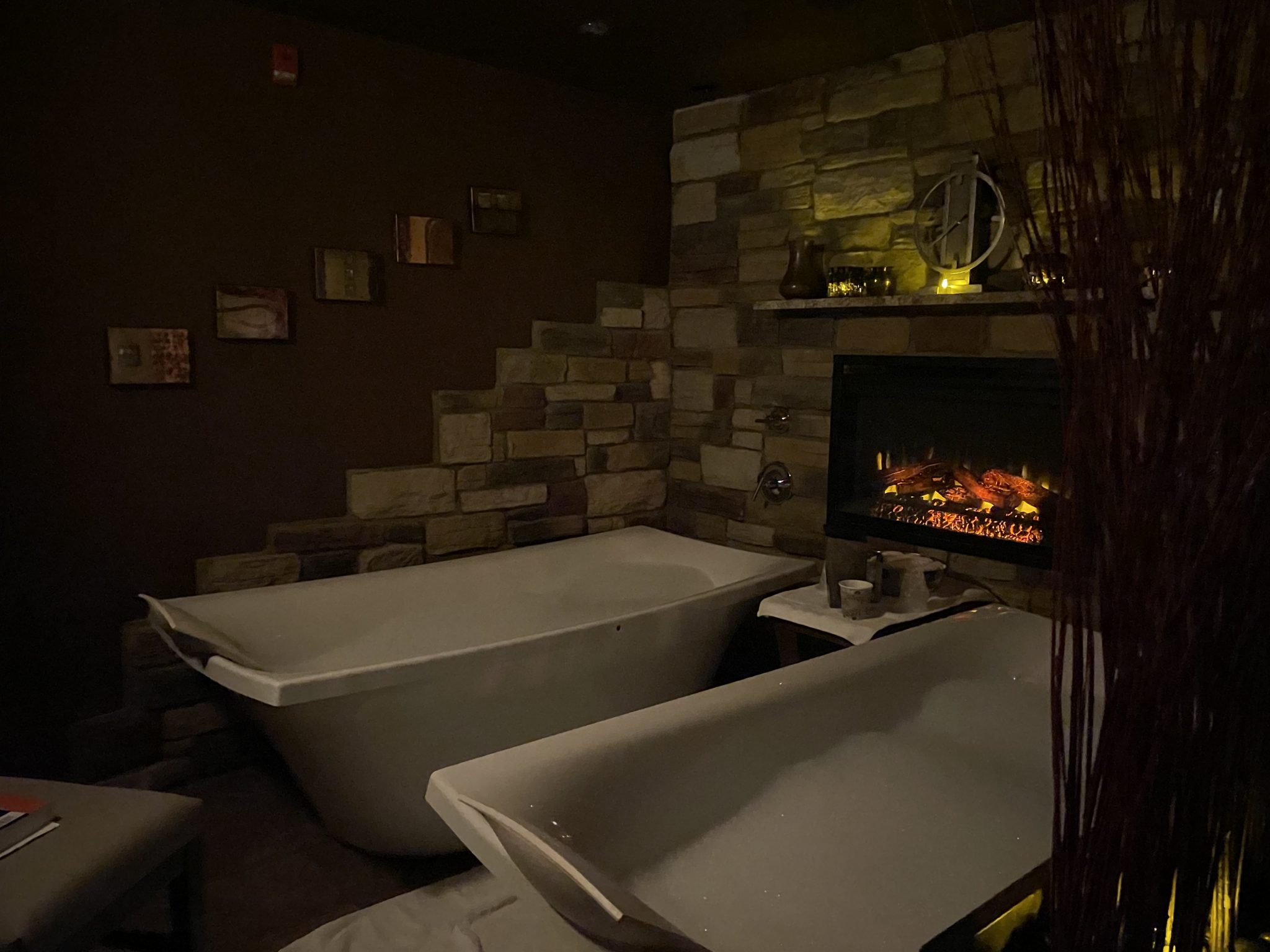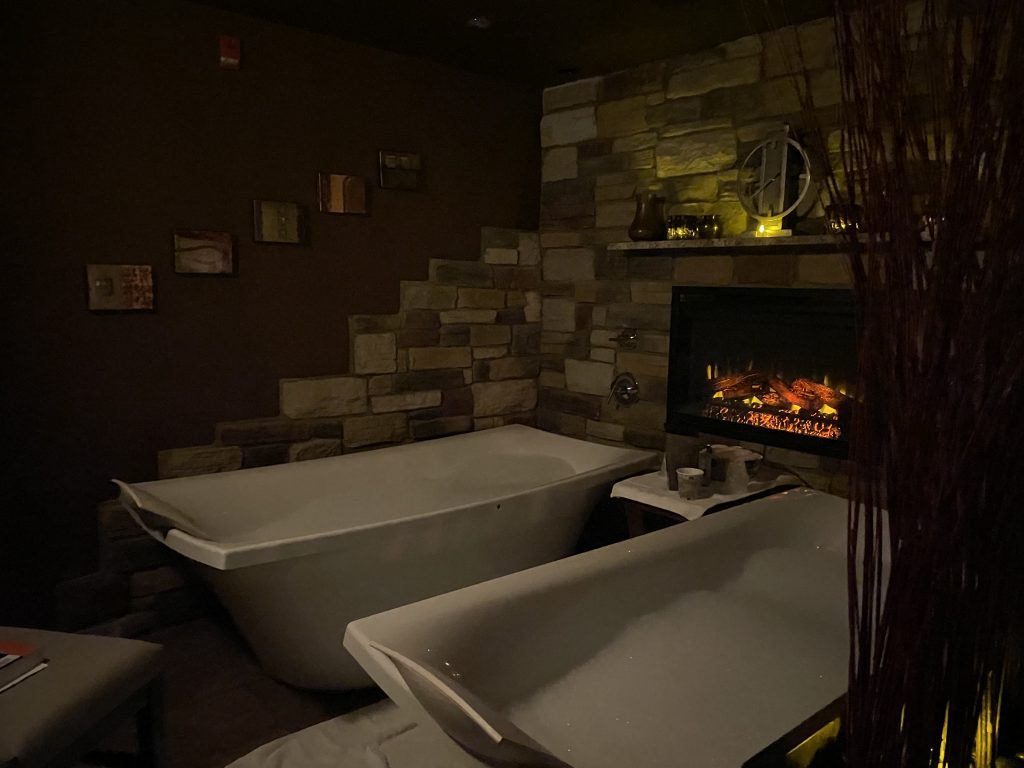 Sundara's Onsite Restaurant, Nava, is Fantastic Too!
I also loved the onsite restaurant, Nava. All of the food was delicious and the waitstaff was incredibly kind and accommodating every time we dined there. The waitstaff was actually one of the few places that were enforcing the quiet policy too – the staff was very kind about it, but they were asking people who were getting loud to "use their spa voices." (I appreciate this.)
Bottom line, is Sundara Inn & Spa Worth It?
So, if you landed on this post because you are thinking about booking a night at Sundara Spa in Wisconsin Dells, my recommendation is to purchase a day pass to the spa (you have to call to inquire about current day pass rates) or book their spa services, but stay somewhere nearby in Wisconsin Dells… there are TONS of different places to stay in Wisconsin Dells that will likely be much cheaper (or at least quieter!).
Verdict: I would say, don't waste your money staying overnight at Sundara Inn and Spa. Their room rates are NOT worth it. However, their amenities and spa services are fantastic – I do think they are worth splurging on.
If anyone has any questions about this Sundara Inn & Spa review – please reach out in the comments at the end of this post.