28 AMAZING Things to Do in Wisconsin Dells by a Wisconsinite
Searching for fun things to do in Wisconsin Dells? This is the post for you! As someone who grew up going to "The Dells" with friends and family, and still visits as an adult, I've rounded up some of my favorite things to do in Wisconsin Dells.
From its beautiful lakes, scenic hiking trails, wineries, and best of all, its world-class waterparks – there's a little something for everyone in Wisconsin Dells! This wonderful city in southern Wisconsin attracts millions of visitors each year, thanks to it being "the waterpark capital of the world." It gets that title by having the largest concentration of waterparks in the world!
Whether traveling to Wisconsin Dells for a quick visit or a week-long getaway, you can easily explore unmissable sights found not just in waterparks but through its farms, restaurants, theatres, and natural landscapes. You can hit all of these attractions with a well-thought-out plan, and lucky for you, I've rounded up the best things Wisconsin Dells is known for. Let me know what your favorite things to do in Wisconsin Dells are in the comments section at the end of this post!
*Disclosure: some of these links are affiliate links. Meaning, if you click a link and make a purchase, Have Clothes, Will Travel gets a very small commission at no extra cost to you. Thank you for supporting the brands that make this blog possible!
Awesome Things to Do in Wisconsin Dells
1.) Feed and pet the deer at the Wisconsin Deer Park in Wisconsin Dells
The Wisconsin Dells Deer Park has been around for over 50 years. It gives visitors the opportunity to feed over 100 deer and wildlife. (I have many fond memories of my mom and dad taking us here when we were kids!) While the tame whitetail deer are the main attraction – the park also has other animals including goats, llamas, pigs, emus, elk, bison, and horses. You can take a guided walk through the park, which includes feeding + photographing the animals up close and personal.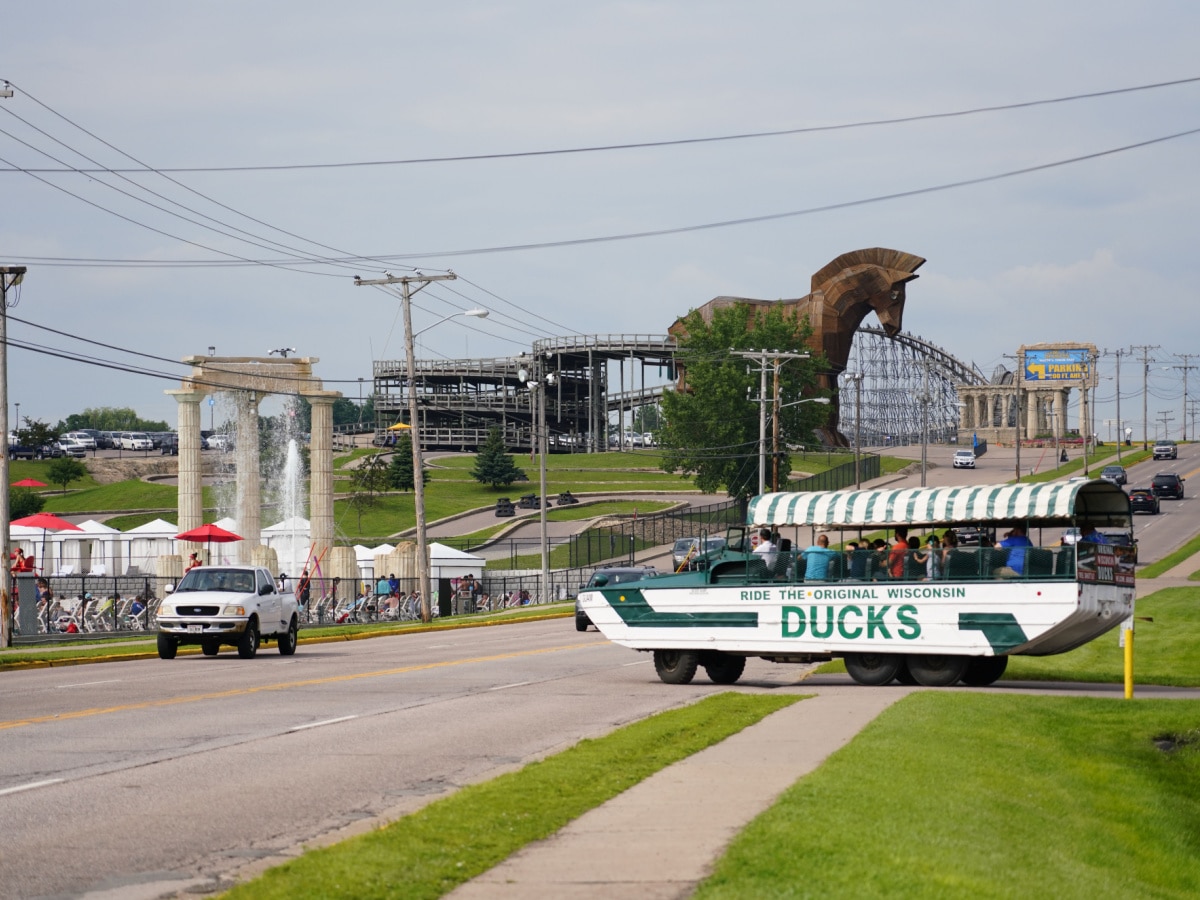 2.) Take a Dells Duck Tours
Duck boats are amphibious vehicles that can function both on land and on the water. You'll get to explore the Lower Dells Glacier Park by land and water on these unique tours in the Dells! You'll drive along scenic trails before splashing into Lake Delton and the Wisconsin River – where you'll see 14,000-year-old rock formations.
3.) …Or Take a Jet Boat Tour!
Another great option to experience Wisconsin Dells' unique history and natural beauty is through a guided Jet Boat Tour. Cruise along the Wisconsin River surrounded by pine-crowned cliffs and view the iconic Chimney Rock, Romance Cliff, and the sandstone formations of Blackhawk's Profile. The V8 engines of the jet boat will mean you can also expect Power Stops, 360°-spins, and sprays of water that splash over the front of the boat. Be prepared for a thrilling experience!
4.) Experience the Lost Canyon Tour on a Horse Drawn Carriage
Tour the longest and deepest land canyon in Wisconsin that's deemed a national treasure. Explore the narrow passages and over a mile of cliff-walled gorges with sandstone walls that haven't been touched by the sun for over 50,000 years. The best part is, that you can experience all of this through a horse-drawn carriage ride which was started back by Dr. R.O. Ebert in 1956. (My family recently did this tour and absolutely loved it!)
5.) Taste Your Way Through the Grateful Shed
If you like street food and fun, then you'll love the Grateful Shed! It's a casual carefree vibe "where every hour is happy hour." This indoor food truck experience features live music, plenty of TVs to watch your favorite sports… and of course, tons of delicious eats!!
6.) Play and Swim at Noah's Ark Waterpark
Noah's Ark is considered America's largest waterpark! This 70-acre park features long water slides, large pools, giant wave pools, and endless water play areas both kids and adults will love. This is consistently ranked as one of the best things to do in Wisconsin Dells!
7.) Race at Big Chief Go-Karts
Guaranteed to get your heart racing is Big Chief's Go-Karts. It is conveniently located next to Noah's Ark Water Park too. Big Chief provides great value for visitors as the rides are priced starting at $3. For $10.00, however, you can already enjoy up to four rides.

8.) Explore the Tommy Bartlett Exploratory
Journey through a science and space expedition at the Tommy Bartlett Exploratory, a science center with more than 175 interactive activities and updated exhibits featuring the wonders of science and technology.
It's an iconic Dells attraction, too, as it's the only exploratory on earth where you can see and feel up close the authentic Russian Space Station MIR core module – this is something I think is especially cool after visiting The Museum of Cosmonautics in Moscow. It's crazy to see we have a part of the Russian space program right in Wisconsin! Be sure to also try the VR adventures, holograms, and puzzles, and ride the world's thinnest bike trail (a one-inch cable suspended 12 feet in the air).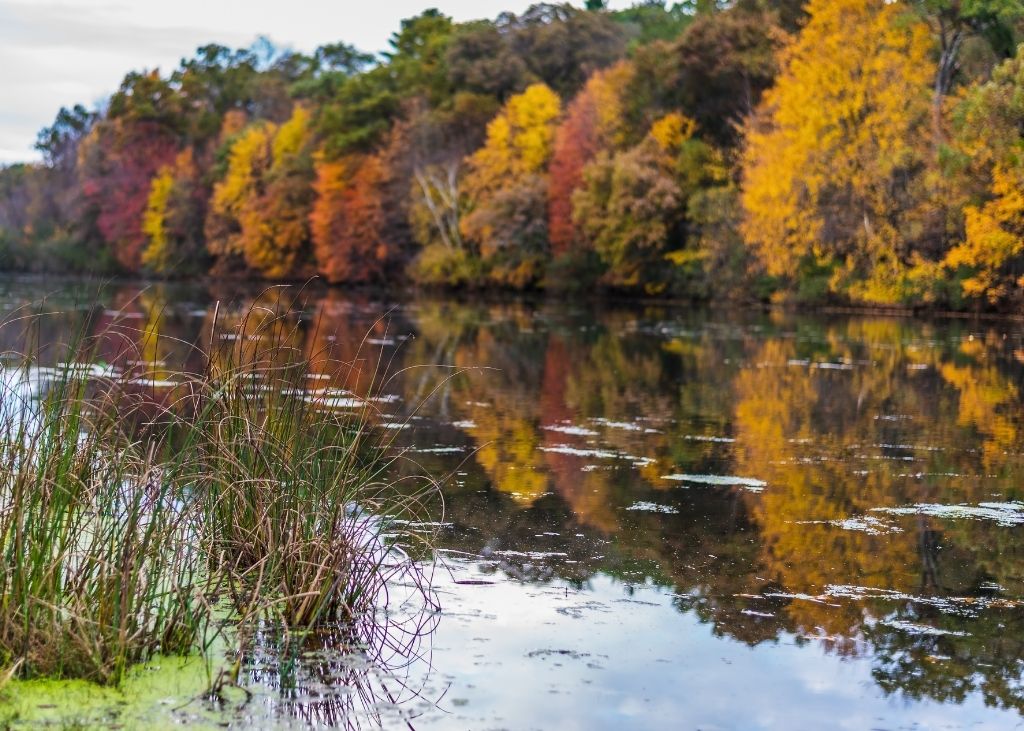 9.) Experience Mirror Lake State Park
A 2,179-acre Wisconsin state park with the grand Mirror Lake as its centerpiece. The lake is known for its calm and often undisturbed state that no ripple often marks its surface. Add to it the breathtaking reflection of surrounding woodlands and shorelines with cliffs up to 50 feet high. Wooded campsites, boats, bikes, and canoe rentals are available for guests as well.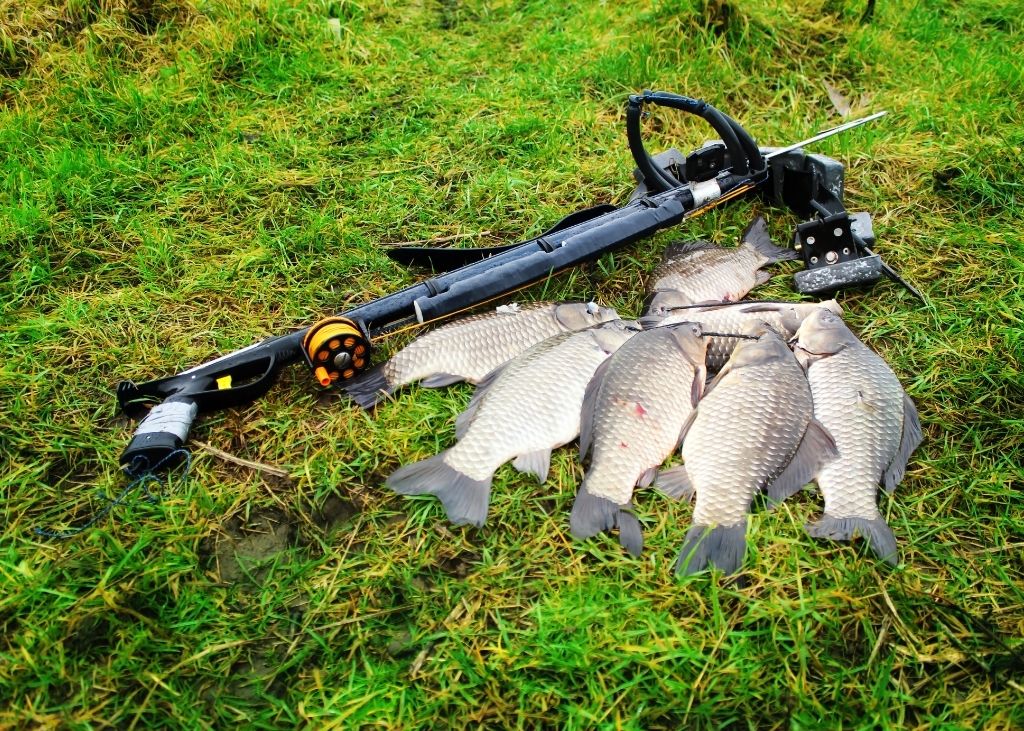 10.) Take a Redbeard Bowfishing Tour
A unique twist when it comes to fishing, the Redbeard Bowfishing Tours will have you using bows to hunt for fish on the Wisconsin River. There are tours available by day or night – the nighttime fishing uses high-power LED lights to light the river up. Fish you can shoot include Common Carp, Buffalo Fish, Quillback, Suckers, Sheepshead, Bowfin, Channel Catfish, and Flathead Catfish.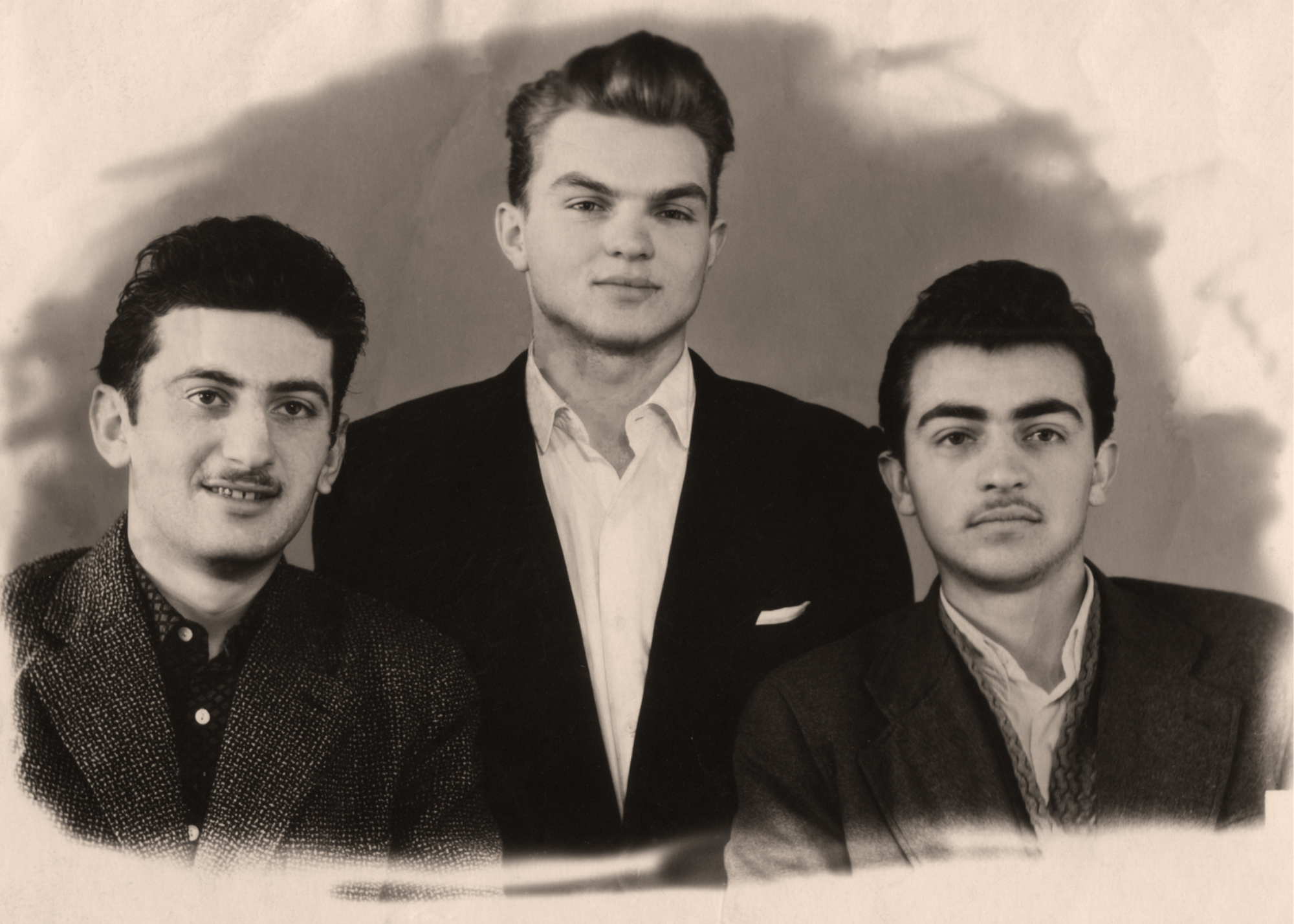 11.) Get Your Portrait Taken at Old Abe's Old-Time Portraits
A specialty shop you don't want to miss out on, as it lets you journey back in time and lets you keep a souvenir while doing so. Old Abe's Old-Time Portraits has been in the photography business for over 40 years specializing in capturing modern visitors in quirky and historical poses. Take your pick from the 16 unique sets and 50 themes available in the studio—from Wild West to Titanic theme—and have the photo souvenir ready in 15 minutes. (I haven't personally done this yet, but I've seen a lot of my friend's photos – it looks super fun!)
12.) Play Mini-Golf at Pirate's Cove Adventure Golf
A family-centered attraction where everyone can relax and play a fun round of golf surrounded by scenic landscapes, flowers, and waterfalls. Pirate's Cove Adventure Golf has several courses ranging from easy to difficult and has 91 holes in total. There's also a picnic shelter complete with amenities including barbecue grills, a restroom, electricity, and a serving counter for a cookout. (This is my favorite mini-golf course in the Dells.)
13.) See Ripley's Believe It or Not!
Over three floors of the world's best oddities can be seen in Ripley's Believe It or Not! Museum. There are more than 200 unique artifacts dispersed throughout the museum's 11 galleries. You can even put your mental skills to the test with mind-bending puzzles and illusions or learn more about the weird but wonderful story of the two-headed sheep and shrunken heads.
14.) Eat Breakfast at Paul Bunyan Restaurant
For that homemade family-style meal, your Wisconsin Dells trip wouldn't be complete without stopping by Paul Bunyan Restaurant to try their famous lumberjack meal and buttermilk donuts. It's one of the longest-running (over 60 years) cabin-themed American restaurants serving only the freshest breakfast-to-dinner meals for dine-in or takeaway.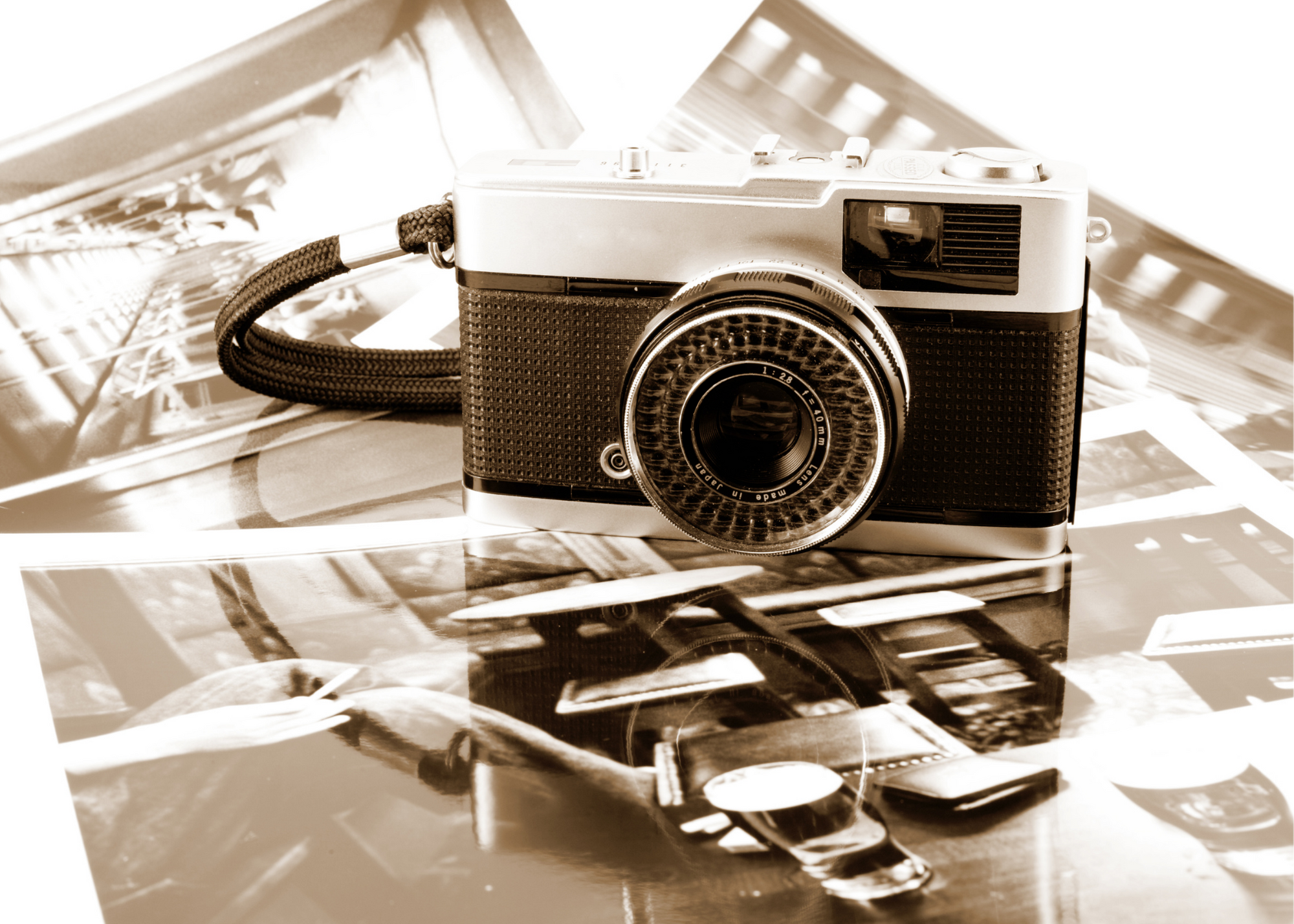 15.) Visit H.H. Bennett Studio & Museum
Built by Canadian-born photographer H.H. Bennett in 1875, the museum is currently listed on the National Register of Historic Places and is one of the oldest photographic studios in the country. The museum still features the inventor's old photography lab, cameras, and darkroom equipment—all instrumental to developing stop-action photography. His famous revolving solar darkroom is displayed at the Smithsonian Institution.
16.) Experience Mt. Olympus Resorts
One of the flagship resorts in the water capital of the world, Mt. Olympus Water and Theme Park Resort has over 44 indoor and outdoor water slides, four children's water play areas, a surf pool with 9 ft. waves, and a wave pool with a giant water fortress. If not swimming, visitors can try the outdoor Go-Kart tracks and ride the roller coasters which the resort also has plenty of to keep the entire family entertained. (This is where I first road a roller coaster!)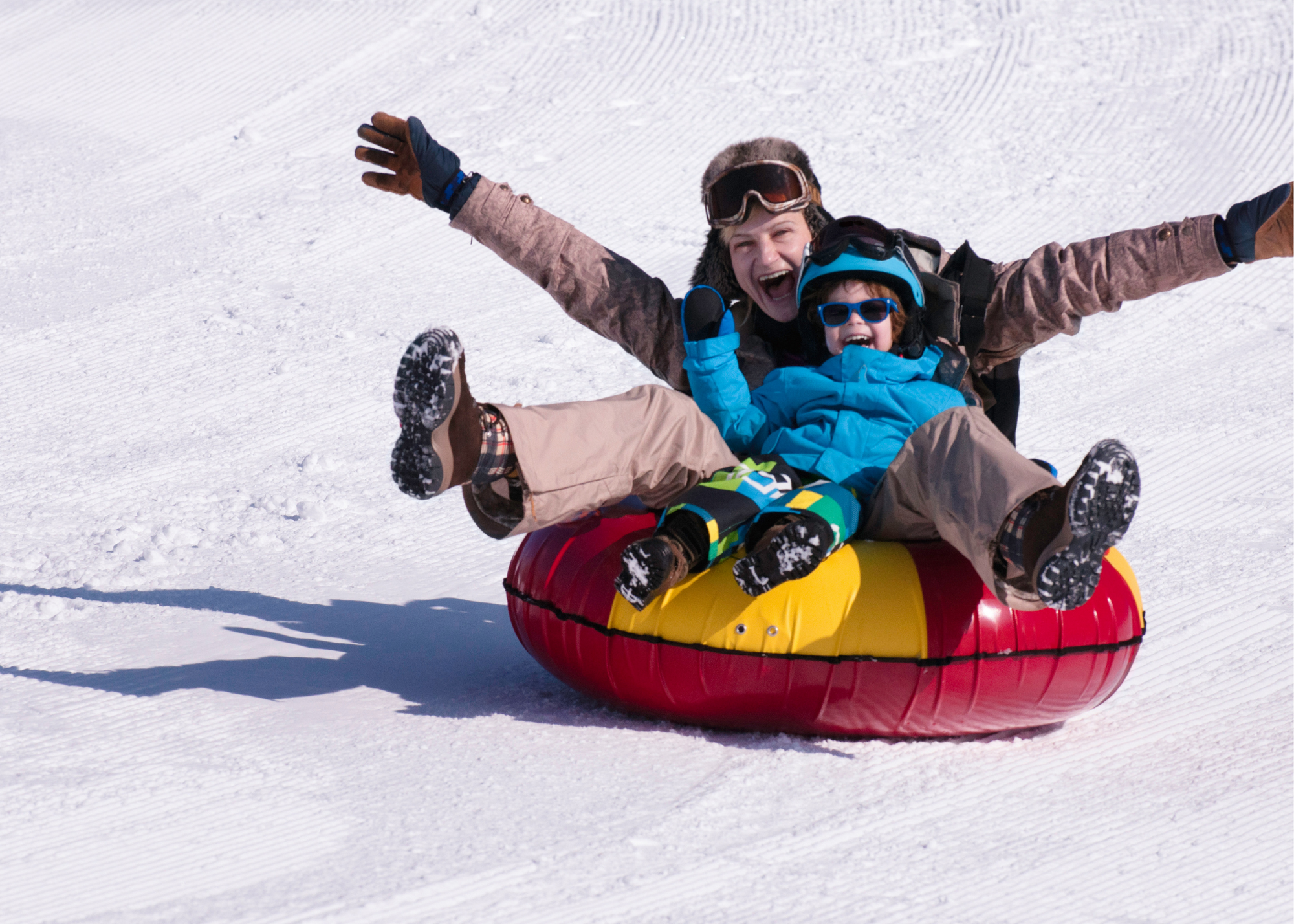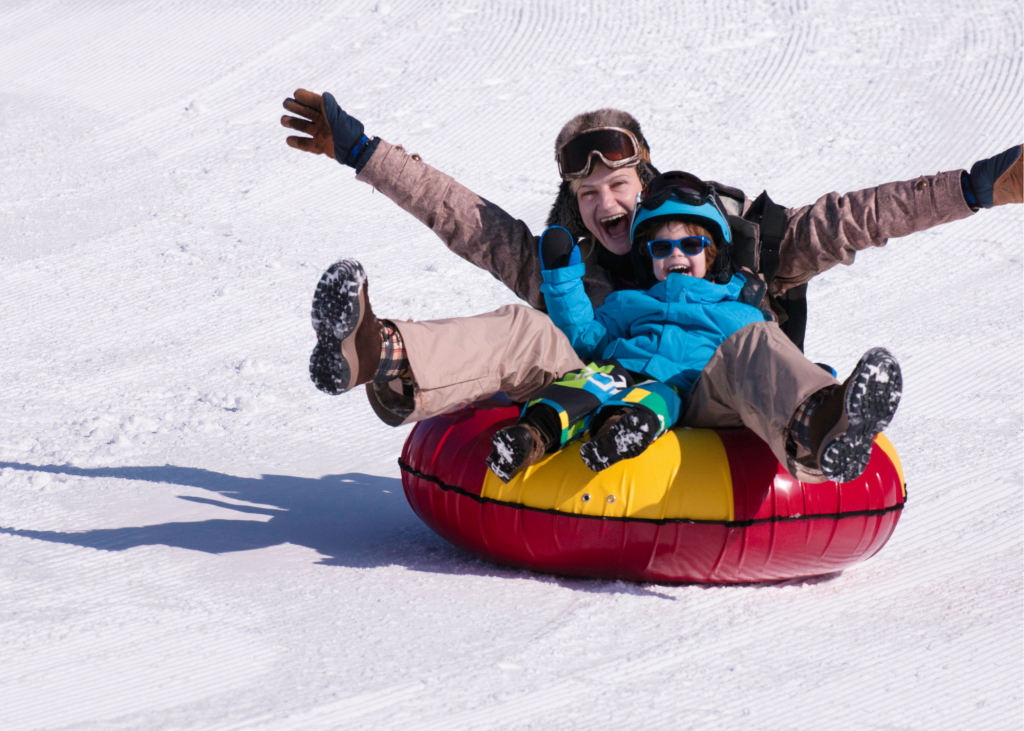 17.) Go Snow Tubing, Skiing, or Snowboarding in Cascade Mountain
For the adventurous at heart, Cascade Mountain's 47 scenic trails and four terrain parks are haven for skiing and snowboarding that caters to both beginners and experts. Perhaps the most thrilling activity is snow tubing as you get to ride on a tube and slide down an 800-foot-long chute—definitely a must-try during winter.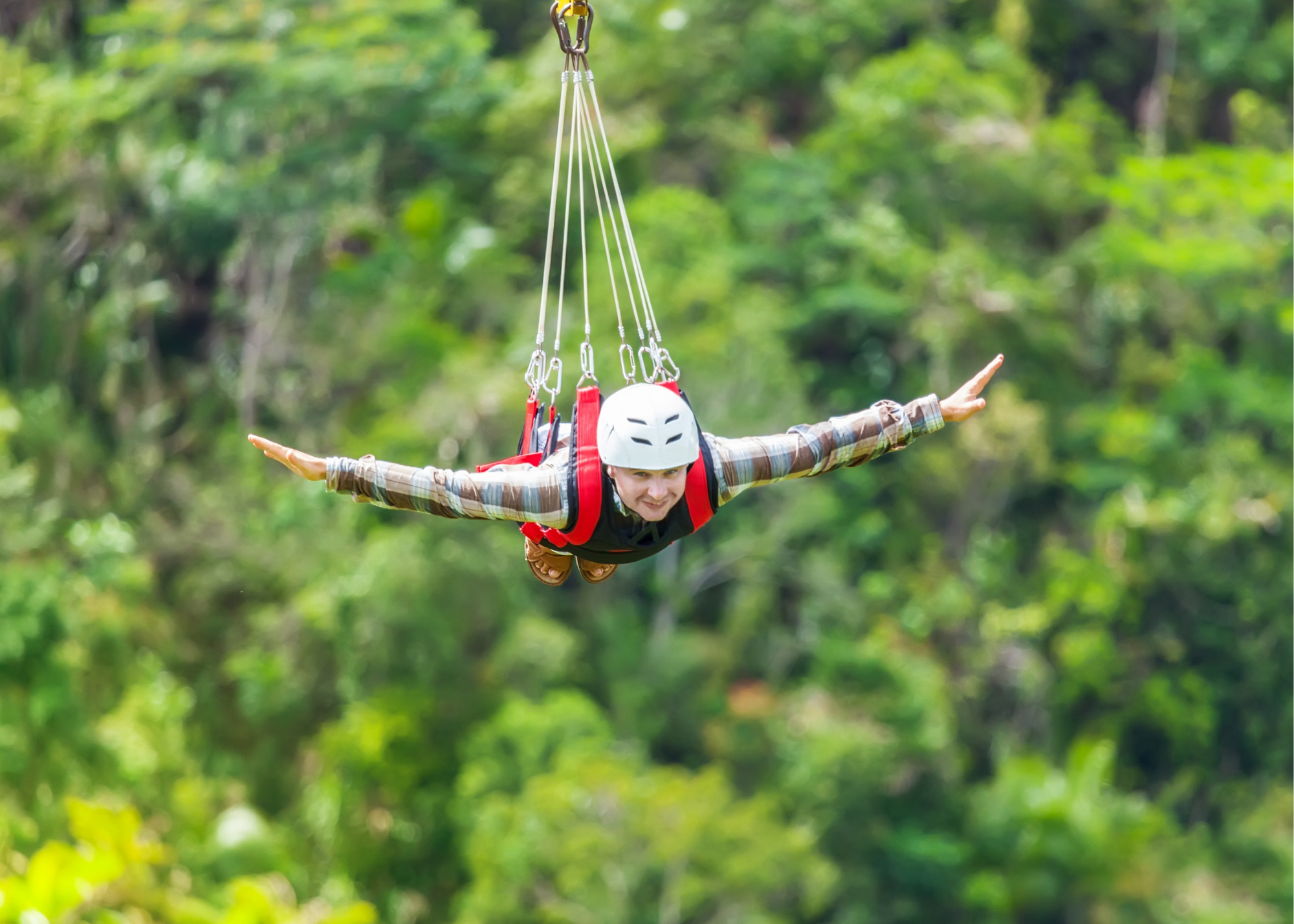 18.) Zipline With Bigfoot Zipline Tours
If the weather's nice and you feel a bit daring, you can zipline from tower to tower and enjoy the scenic woodland views of Majestic Oaks and Northwood Pines. There are over seven zipline courses that will have you soaring at up to 40 miles per hour, with each tower featuring a different height so every station is a new experience. The lengths of the ziplines vary between 462 feet and 1,397 feet.
19.) Sip and Shop at Fawn Creek Winery
A family-owned winery that's tucked in the forests of Dell Prairie, Fawn Creek Winery provides a fun experience to visitors wanting to know more about winemaking and the best foods to partner these with. Since its opening in 2011, the winery has expanded into three buildings with three decks and six tasting bars. Over the years, it's also become a lively music venue in Southwest Wisconsin.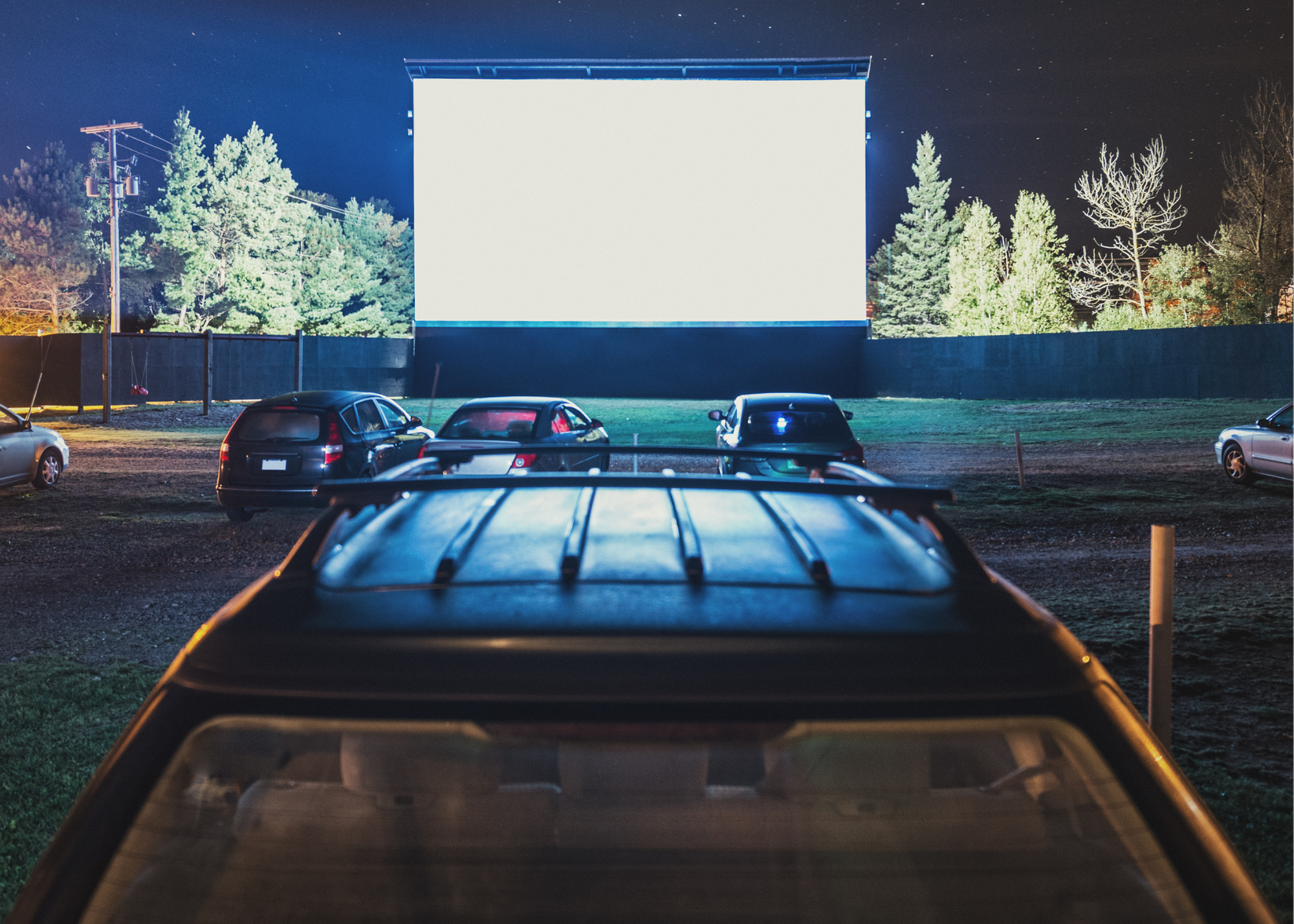 20.) See a Movie at Big Sky Drive-In Theatre
One of the "new norms," now, is that you can watch a movie safely in the comforts of your own car. The Big Sky Drive-In Theater, which is a twin-screen drive-in offering first-run features, is one of the last drive-in theaters in Wisconsin. You get to enjoy two movies for the price of one, plus a concession stand serving a variety of food and snacks.
21.) Admire New Life Lavender and Cherry Farm
Breathe in and let the calming scent of the lavender fields recharge you. The New Life Lavender and Cherry Farm nestled in the Baraboo Bluffs features a farm-to-table wagon tour letting visitors in on how sustainable agriculture works. There are lavender and cherry treats made fresh in the farm's commercial kitchen you can try and homemade delights you can take home.
22.) Walk the Wisconsin Dells River Walk
The Wisconsin Dells River Walk is 1/2 mile stretch of paved recreational path. It offers the best views of the Dells' unique scenery, including the river's vistas, sandstone bluffs, and lush forested landscape. It has comfortable game tables and benches placed along the trail for when you just want to sit and relax. Meanwhile, its smooth, paved path is perfect for running, walking, or biking.
23.) Visit Timbavati Wildlife Park
An animal park that houses over 350 animals from 70+ species. The tour grants supervised interaction with multiple species throughout the park. Guests have the option to ride the Safari Train or a trained camel while exploring the wonders of Timbavati Wildlife Park. Feed the giraffes, monkeys, and more at the petting zoo area for an experience you'll never forget.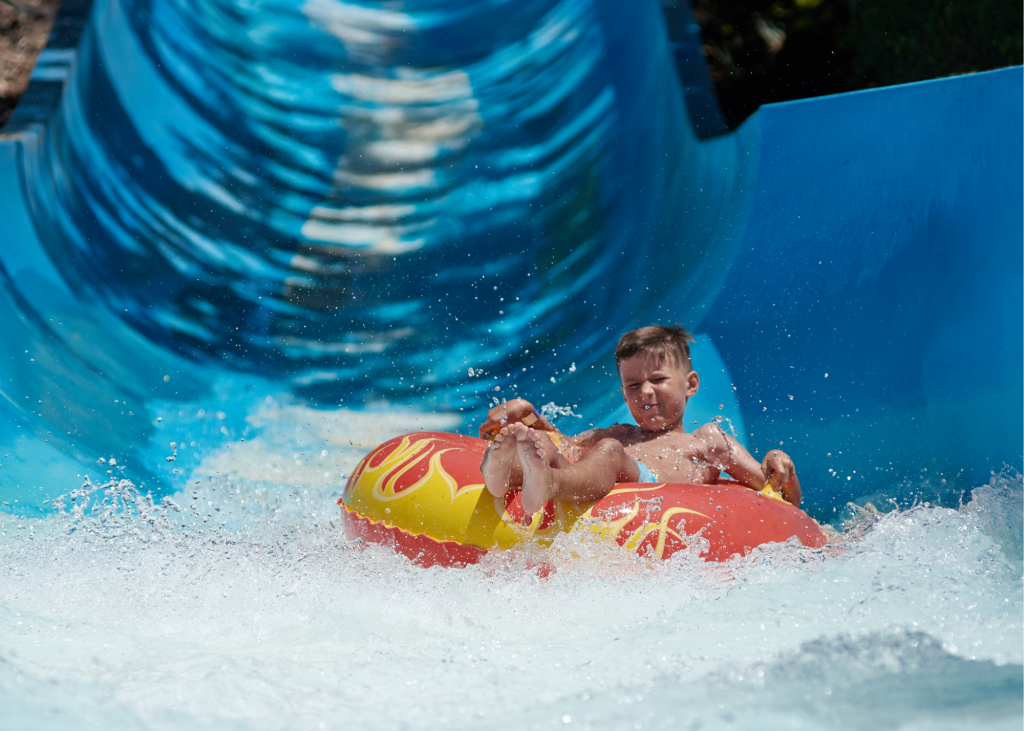 24.) Stay at Kalahari Waterparks
An African-themed waterpark resort that's also one of Wisconsin Dells' best attractions. It features the largest indoor waterpark spanning 125,000 sq. ft and an indoor theme park at 100,000 sq. ft. There are lots of activities in Kalahari Waterparks to keep the whole family entertained including raising waterslides, play areas, spas, and great dining options. (This has been my favorite waterpark to stay onsite at.)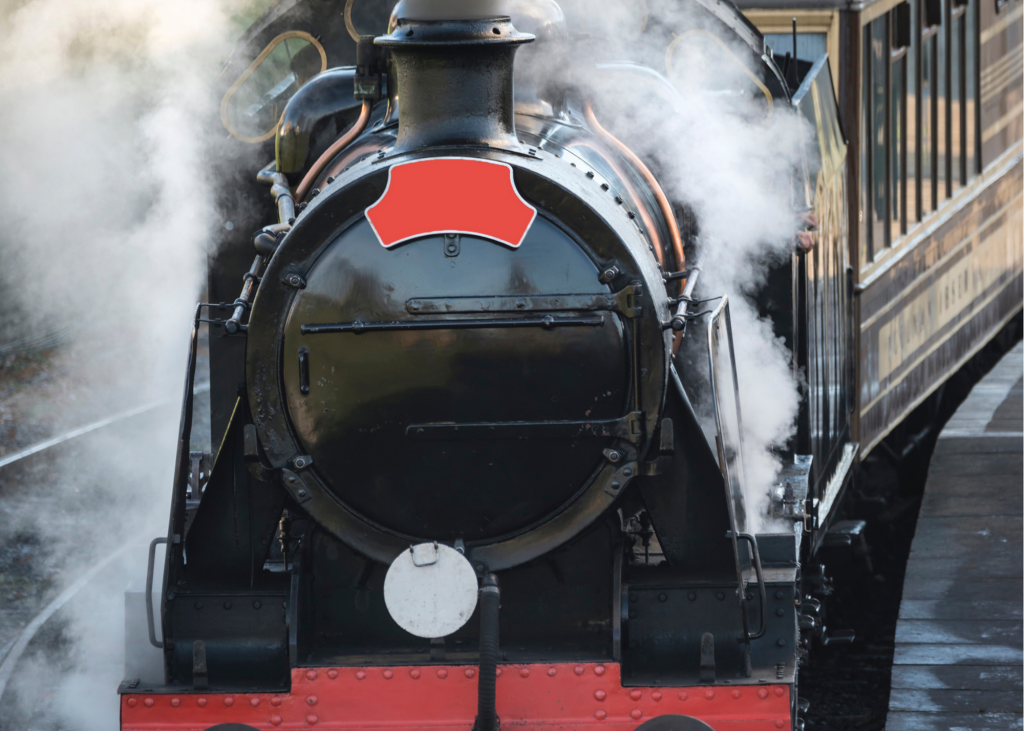 25.) Ride a Train at Riverside and Great Northern Railway
A scenic train ride through the Wisconsin Dells countryside awaits you at the Riverside and Great Northern Railway, a 15-inch gauge mini railway and heritage railroad that is part of the city's rich culture. The 3-mile roadbed winds through scenic canyons, wooded areas, and rock cuts that are unique to the Dells area. There's also a museum and learning center you can visit after the tour.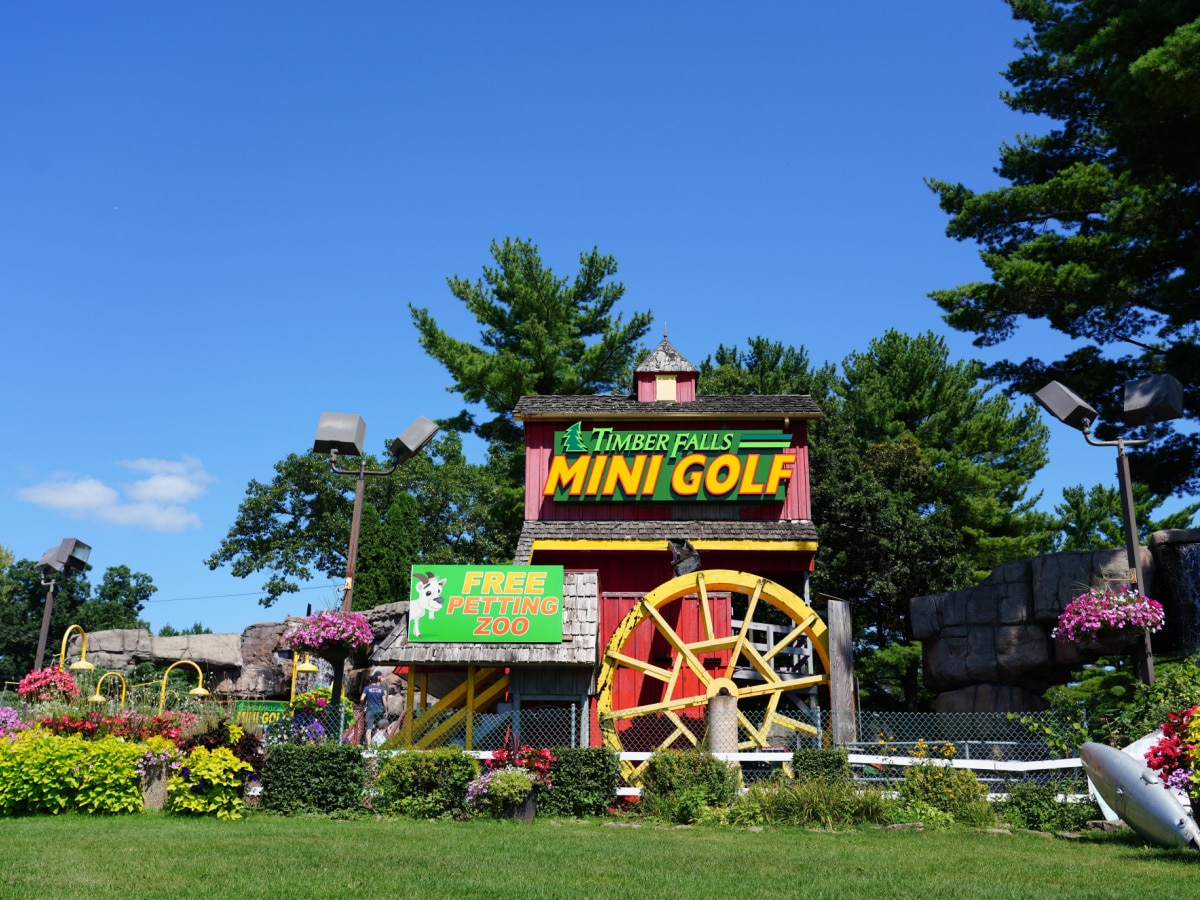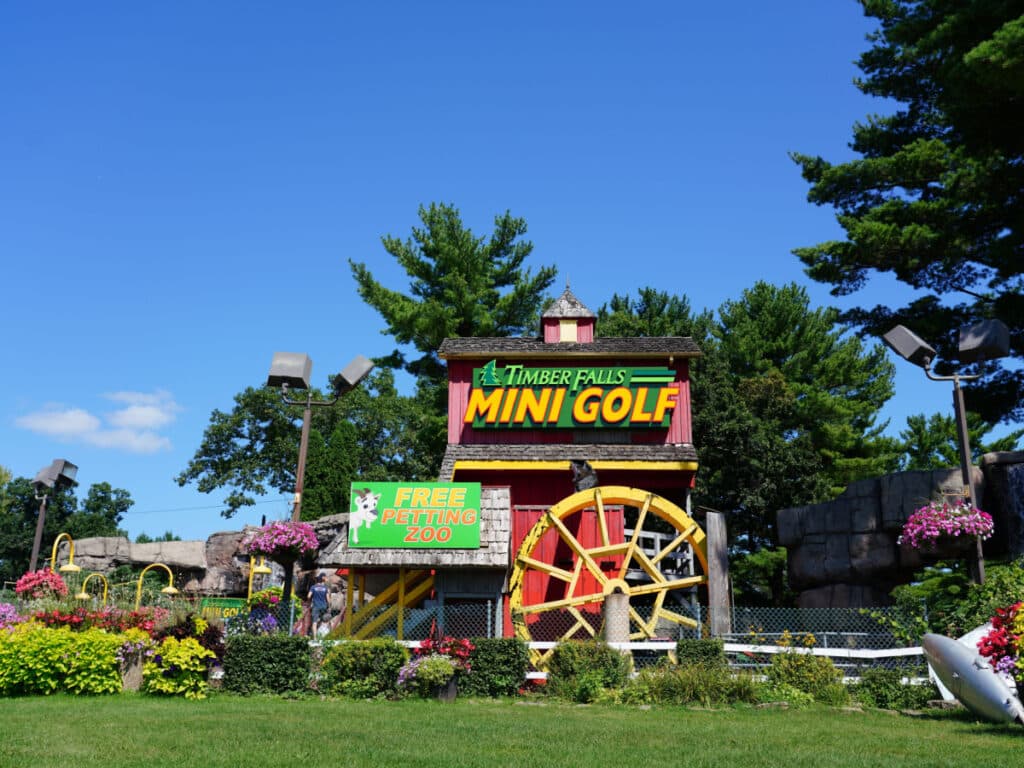 26.) Play at Timber Falls Adventure Golf
An exciting golf course park children and adults will love. Ace your mini-golf game on over four courses or catch a log ride through the park's thundering waterfalls and spooky caves. There's also a small petting zoo for kids to try and a large picnic pavilion overlooking the park for outdoor dining and celebrating family events.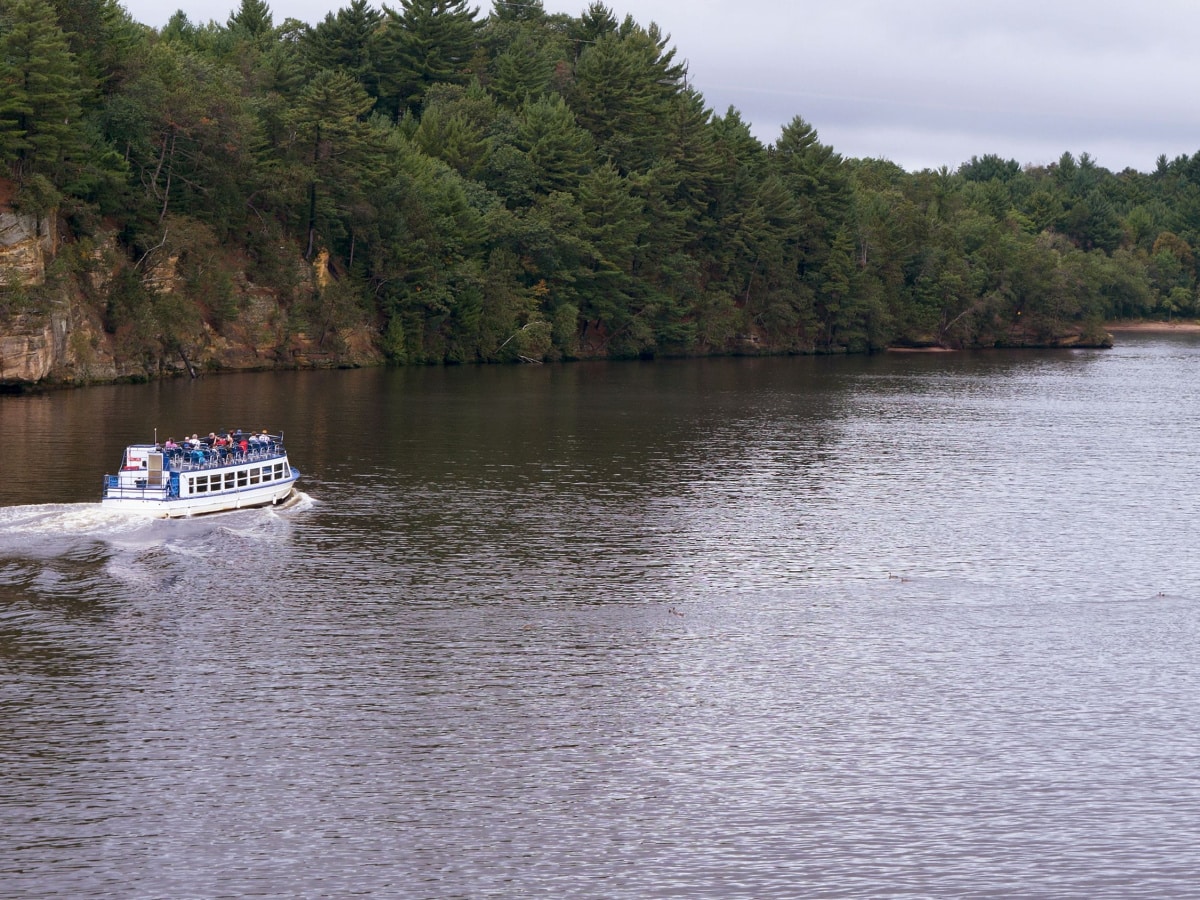 27.) Dine on a Dells Boat Tours Sunset Dinner Cruise
Looking for a unique dining experience while you're in the Dells? Take a sunset dinner cruise with Dells Boat Tours! Not only will you be treated to delicious food, but also gorgeous scenery, live music, and "a romantic torchlit stroll through Witches Gulch"!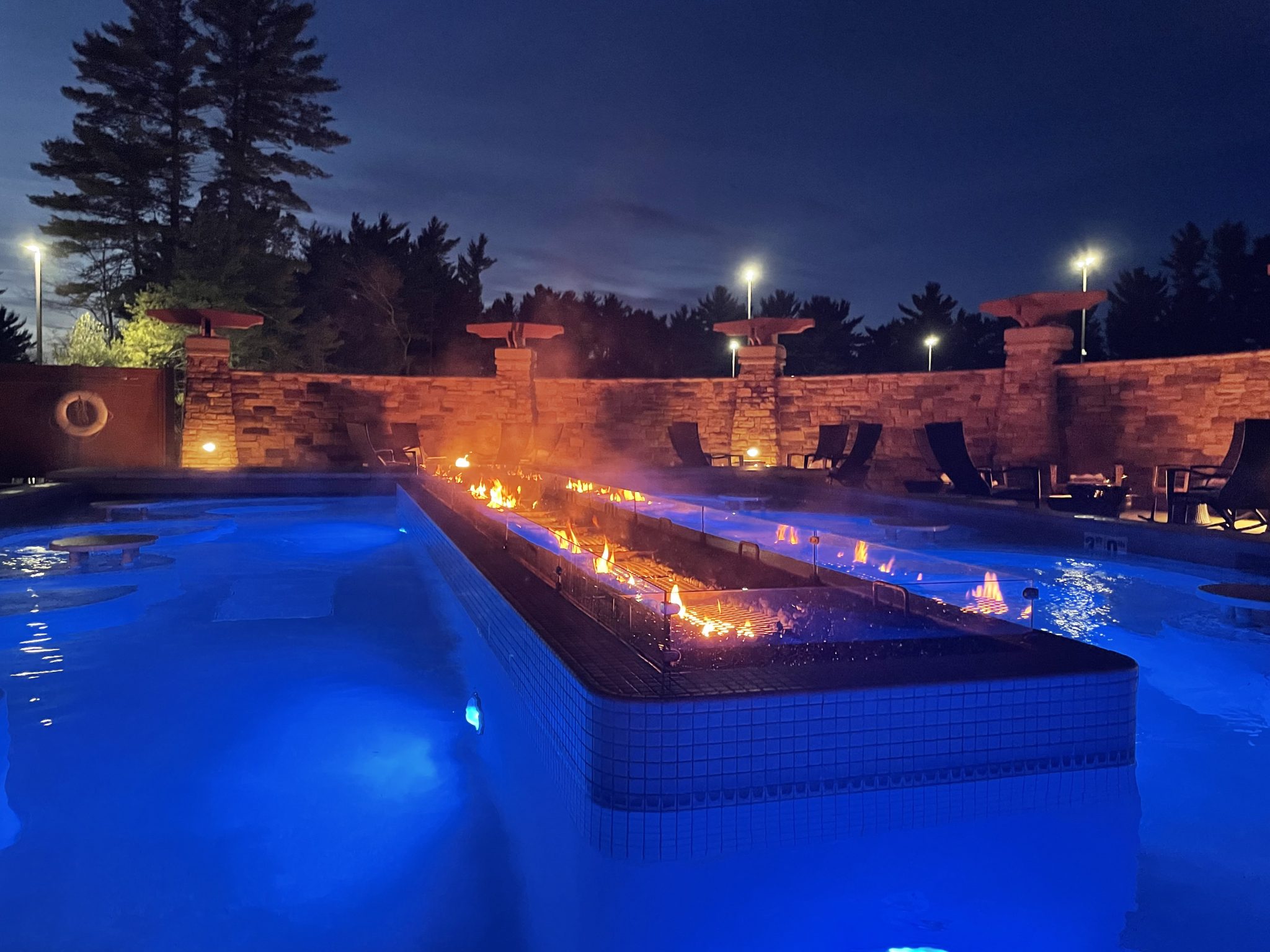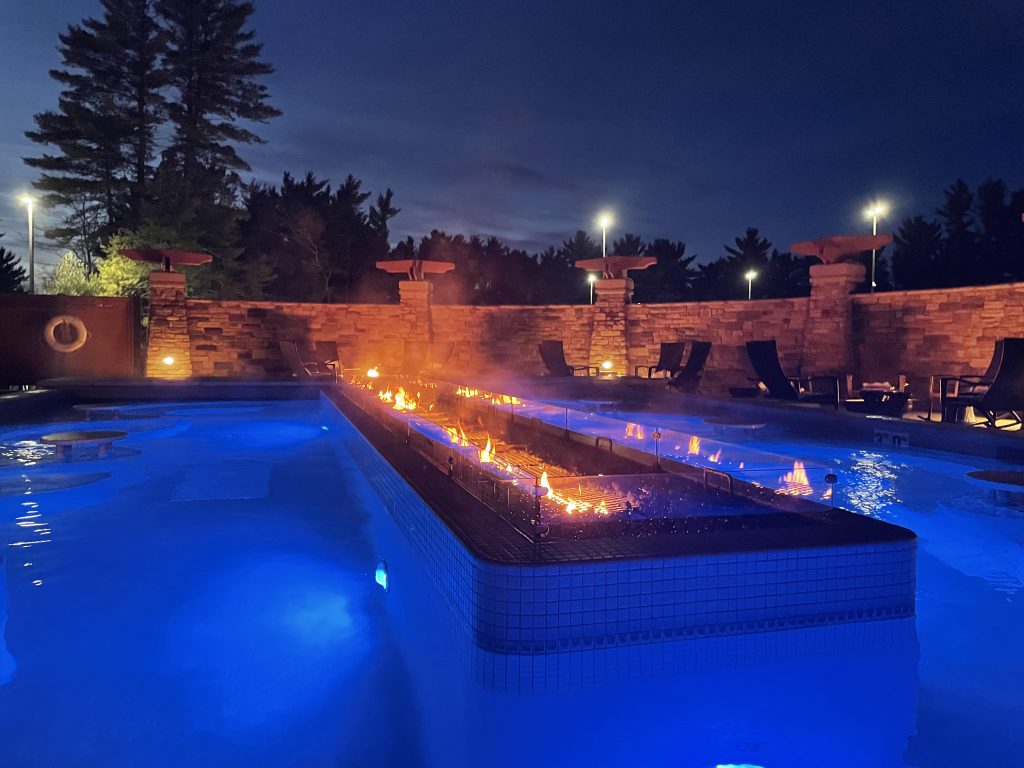 28.) Get a Day Pass to Sundara Inn & Spa
Sundara Spa is a fancy, adults-only spa in Wisconsin Dells that features divine spa services. You can lounge in the heated outdoor infinity pool or try one of the relaxation treatments offered in the spa, like the purifying bath ritual. This can be a great rainy day in the Dells activity for adults! (I recommend buying a day pass for the spa – don't waste your money staying overnight, though!)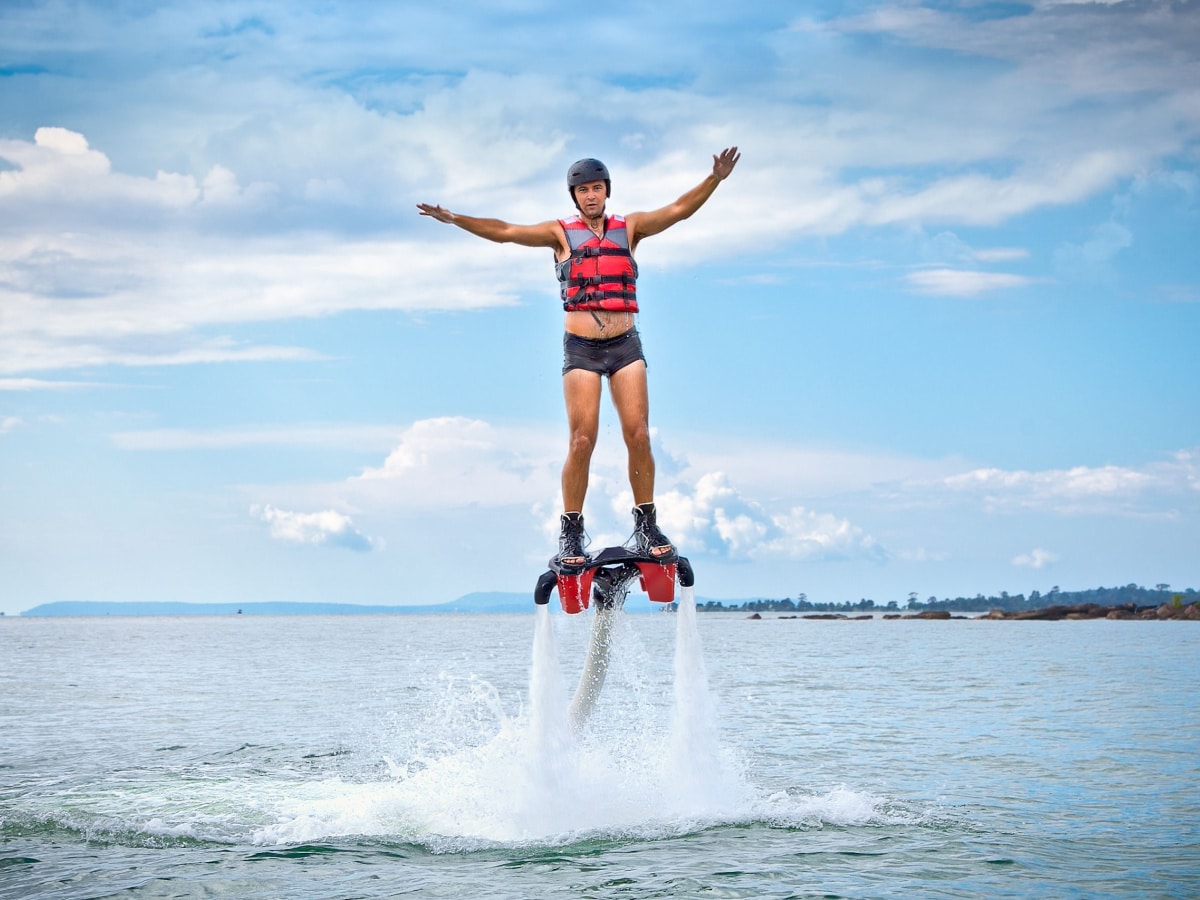 New Addition: Try Flyboarding on Lake Delton
This is currently the only place you can Flyboard in Wisconsin. Flyboarding is a new(ish) water sport that involves wearing a specialized water-propelled device called a flyboard. The flyboard is powered by water jets, allowing you to soar above the water and perform various tricks and maneuvers!
You can get your very own Flyboard lesson right in Wisconsin Dells. Lessons are available for ages 12 and up. If you're not up for taking a lesson, you can also watch the fun from the Ravina Bay Bar and Grill deck.
Need a house sitter while you are gone?
---
I, personally, recommend TrustedHouseSitters if you need to find a housesitter/someone to watch your pets while you are away.
How TrustedHousesitters works is they connect home and pet owners with trustworthy, verified sitters who won't charge to look after your pets, in exchange for a unique place to stay. They have sitters and homes all over the world!
It's a fantastic way to find trustworthy people to watch your home and pets while you are away. (And on the flip side, it's a cool way to stay in different areas of the country and world without having to pay for accommodation! I have a friend who literally didn't own or rent a home for years, and only used TrustedHouseSitters to find the next spot she was going to stay.)
need a place to stay in Wisconsin Dells?
Click below to see the top resorts and hotels!
*What are your favorite things to do in Wisconsin Dells? Let me know in the comments!