Honest Review of The Osthoff Resort in Elkhart Lake, Wisconsin
In today's post, I'm explaining everything you ever wanted to know about staying at The Osthoff Resort in Elkhart Lake, Wisconsin, as well as the Aspira Spa, which is located within the resort.
What is The Osthoff Resort?
The Osthoff is a highly rated resort in Elkhart Lake that features large one to three-bedroom rooms, as well as onsite restaurants and bars, a gym, and even a high-end spa that has a complete range of treatments, as well indoor and outdoor whirlpools, a sauna, and more. A lot of events are also held here, thanks to its large banquet area and many meeting rooms.
The Osthoff Resort is a popular place to stay for both families with children and couples. I think families will appreciate the indoor and outdoor pools and hot tubs, as well as the kid-friendly game room and cute gift store that is well stocked with goodies. (Check out my YouTube video to see inside the resort.)
Couples can enjoy romantic spa packages and rooms that feature two-person whirlpool baths and cozy fireplaces. The Osthoff is almost always hosting some sort of a fun event or activity on the weekends as well – these events range from an annual Christmas Market to live music events and more.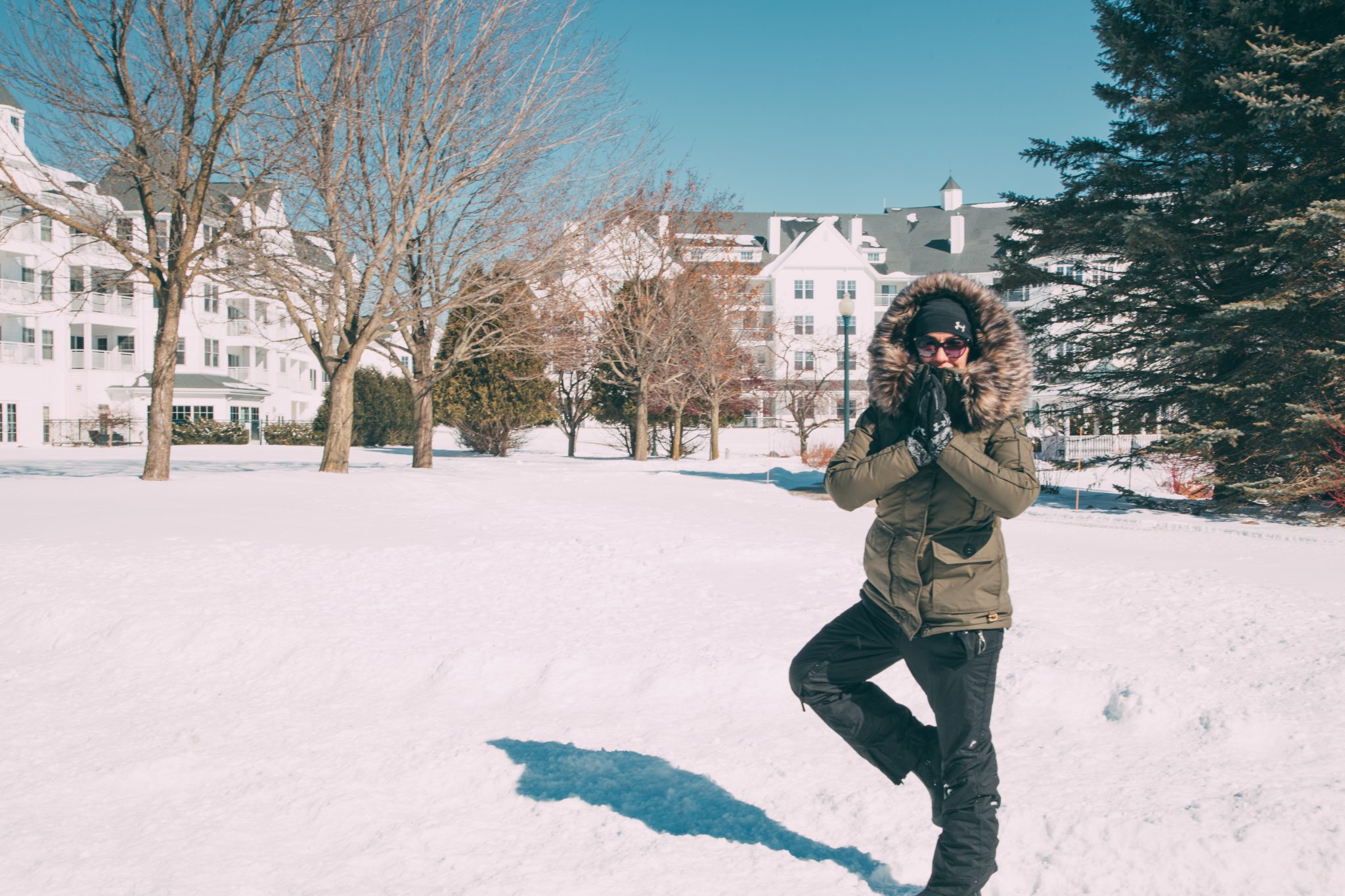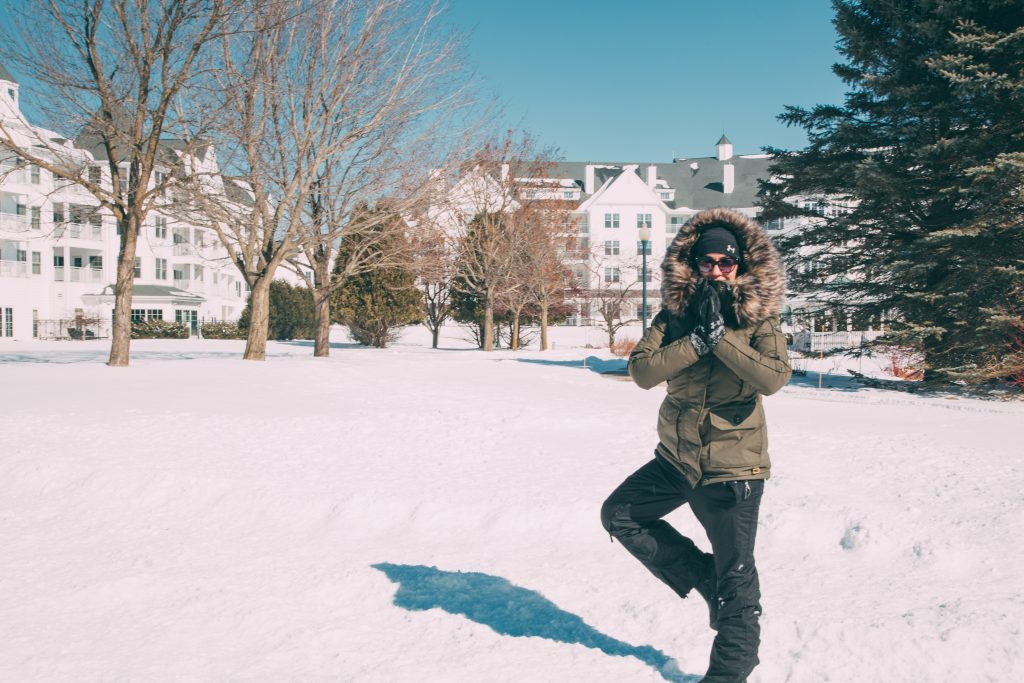 My Review of The Osthoff Resort in Elkhart Lake
My husband and I spent two nights here the last weekend in February, which is one of the resort's busier weekends…. as they have some great specials during this weekend. This is Elkhart Lake's Chill-Out Winter Weekend also takes place the last weekend in February. This is a fun annual event that features everything from "Snowga" to snowshoeing and sledding, to guided local tours, as well as live music.
We had stayed in one of The Osthoff's one-bedroom deluxe suites which feature:
A king-size bed
A two-person whirlpool bath and fireplace
A kitchenette that has a stove top, refrigerator, dishwasher, and microwave plus all the utensils you would need
I thought this room was really nice! We were super comfortable here and this is a room that we could have lived in for an extended period of time and been very happy. My husband and I both agreed that this room was way nicer than some of the serviced apartments we've lived in over the years! (See inside the resort in my YouTube video below.)
Osthoff Resort Rates
Now, during the winter this room, while we were there, cost $295. However, in summer this is going to go up and can be more than $400 a night for this same room at times. BUT The Osthoff does run packages throughout the year that offer discounted room rates, or money off at the restaurants or spa.
So, just be sure to check their website for any deals before making your booking. They run some especially nice packages during the winter months.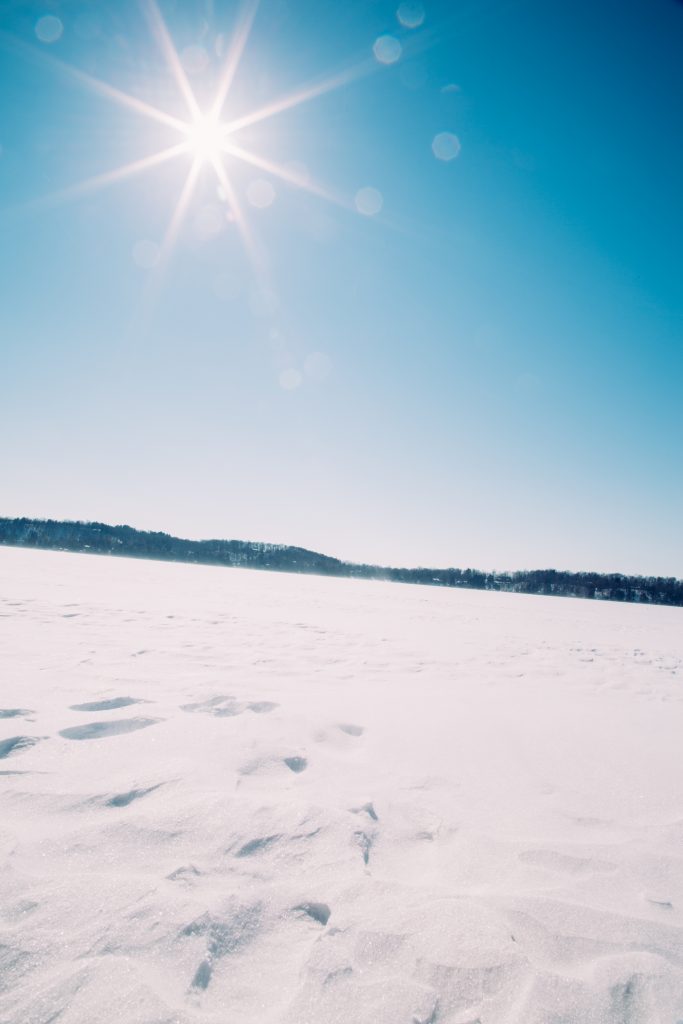 Now, I know those prices can sound a little steep for accommodation in Wisconsin, BUT there are a lot of cool things to do at the Osthoff Resort, you really wouldn't have to leave the resort if you didn't want to. There are also a lot of great things to do in Elkhart Lake no matter what time of year you visit.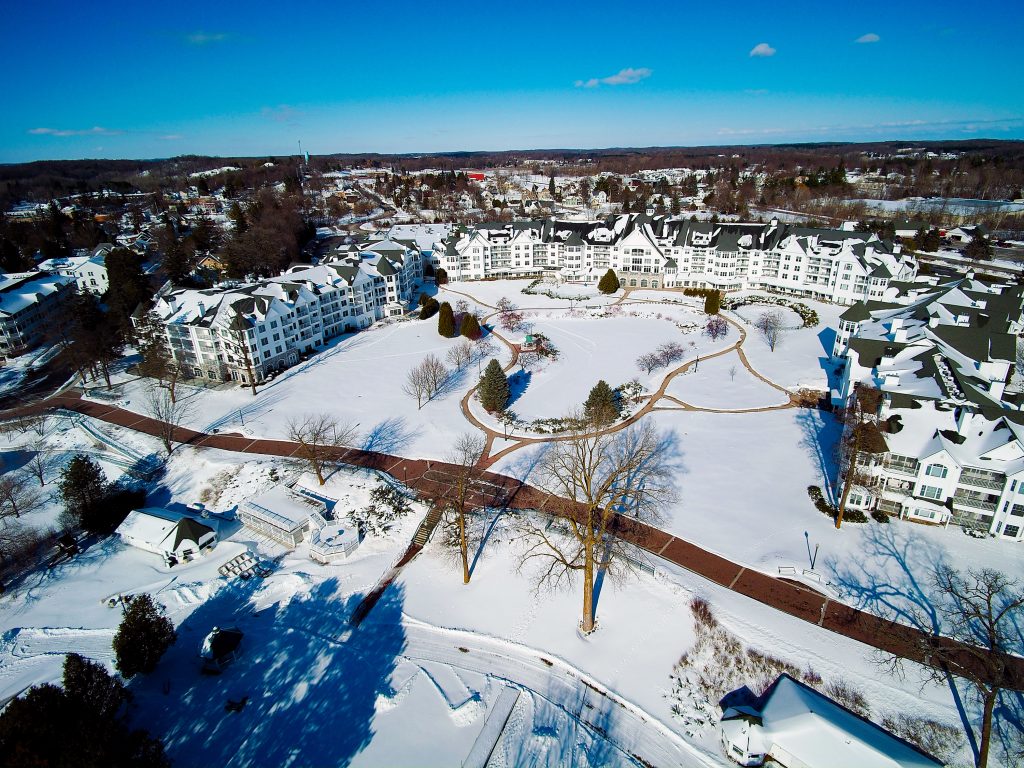 This drone photo can give a better idea of just how large the resort is, but I don't even think that does it justice until you've experienced this resort firsthand. I mean could NOT get over how big this resort is. You will likely get lost if you've never stayed here before, so be sure to grab a map from the front desk.
Restaurants + Bars at The Osthoff Resort
As I mentioned earlier, they also have onsite dining which includes Ottos Restaurant, this is a family-friendly dining area that has both indoor and outdoor seating during the summer. We didn't get a chance to dine here during our stay – but it looked great!
There is also The Concourse Restaurant and Lounge which features gorgeous views of Elkhart Lake and some great dining. I had the scallops and my husband had a steak here (pictured above) – and we loved both of our dishes. I would say this was a little more high-end of a dining experience but still kid-friendly. There were plenty of families dining with their kiddos while we were here and everyone seemed to be enjoying it.
The Osthoff also has The Elk Room. The Elk Room has floor-to-ceiling windows that overlook Elkhart Lake and a cozy fireplace. This is a great place to grab a drink at night and listen to live music, they make really good mixed drinks and mocktails at the bar here. They also have an appetizer and pizza menu in The Elk Room if you need something to nibble on. (See The Elk Room in my YouTube video.)
Now, I didn't get to experience this because I was here during winter… but during the summer The Osthoff also has Poolside Dining and The Osthoff Lake Deck – which these outdoor dining options have a variety of food and beverages as well.
Needless to say, there are plenty of dining options here!
The Osthoff Resort Spa Review – Aspira Spa
Now, The Aspira Spa is what I was most excited about at the Osthoff Resort. I had recently stayed at Sundara Inn and Spa in Wisconsin Dells and just didn't have the best experience there, so I was hoping that The Aspira Spa would be a better experience than Sundara was for me.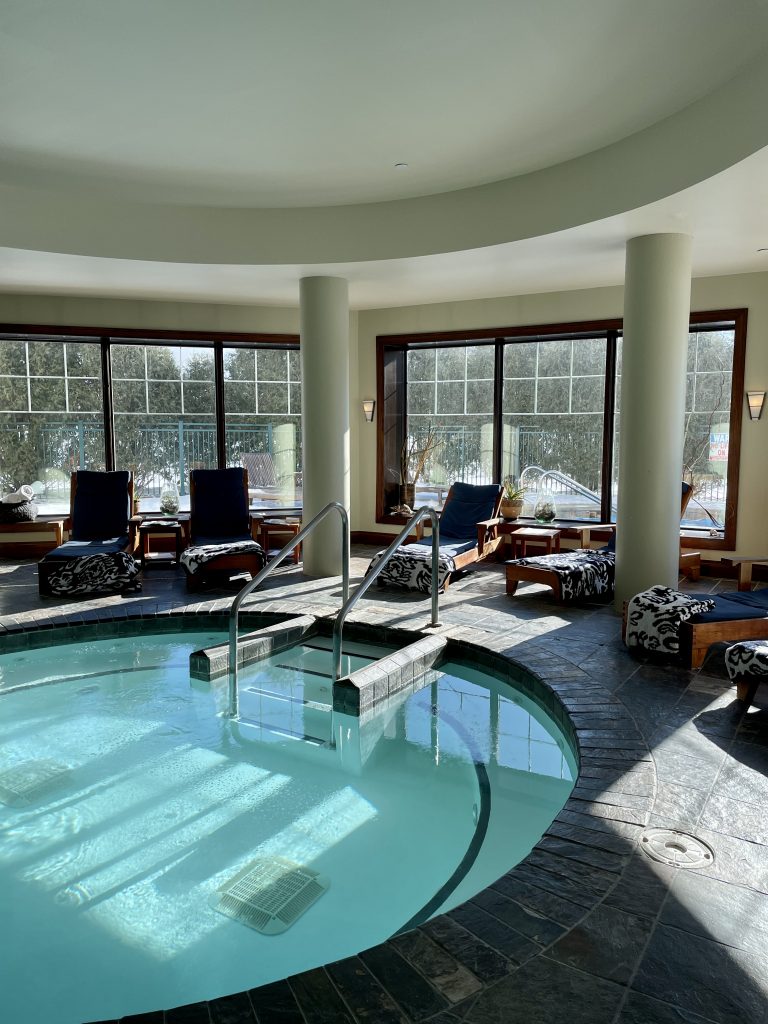 I had booked the Cedars Massage, which is one of their more popular massages and is 80 minutes long. And this was hands down the best massage I've ever had. My therapist focused on trouble areas that I didn't even realize I had. This massage also really focuses on massaging your head and neck, which is something I really needed. I felt AMAZING after I was done, and I am heading back here to get a massage again as soon as I can.
The Aspira Spa also has a really nice meditation area for you before you head in for your services, I loved the running water feature. The locker room was great too and had everything you could possibly need to freshen up after your spa services. (See inside the spa in my YouTube video below.)
If you're getting a service, you'll also have access to the spa's whirlpools and sauna – which I thought were great as well. If you're not getting a service here, you can purchase a day pass at the spa to get access to its amenities, which is currently $45.
The spa also has a no electronics policy, which I was happy to see that guests were abiding by. I had gone early to my appointment and grabbed the footage above before the spa opened for the day – so don't worry, I wasn't breaking the rules!
Overall, my experience at The Aspira Spa was amazing and I really want to go back soon to get another massage and try a facial!
Were There Any Negatives to staying at The Osthoff Resort?
The only negative that we would have, I would say, is we had such a hard time finding parking! Granted, we were there on a very busy weekend for the resort. And they do have tons of parking spaces, but they also have tons of rooms… so finding parking was quite the experience. We got lucky and did get a spot every time, but some people were not so lucky and they were parking on the street.
Bottom Line – Do I Recommend The Osthoff?
Bottom line, though, I loved The Osthoff Resort and will absolutely be coming back here. It was a nice little romantic getaway for my husband and me and a great way to break up the long winter in Wisconsin! The amenities here are top-notch, and I LOVED the spa. I also think this is a great alternative to Wisconsin Dells for families who want to get away during the winter or summer but want to have a more relaxing experience than what the Dells offers.
Not to knock the Dells, but the waterparks and restaurants are a little more ah, high-energy than what you'll find in Elkhart Lake.
Overall, my stay in Elkhart Lake was amazing and I highly recommend the Osthoff Resort.
Thank you so much for reading! If you have any questions at all about The Osthoff Resort in Elkhart Lake, Wisconsin – please reach out in the comments at the end of this post.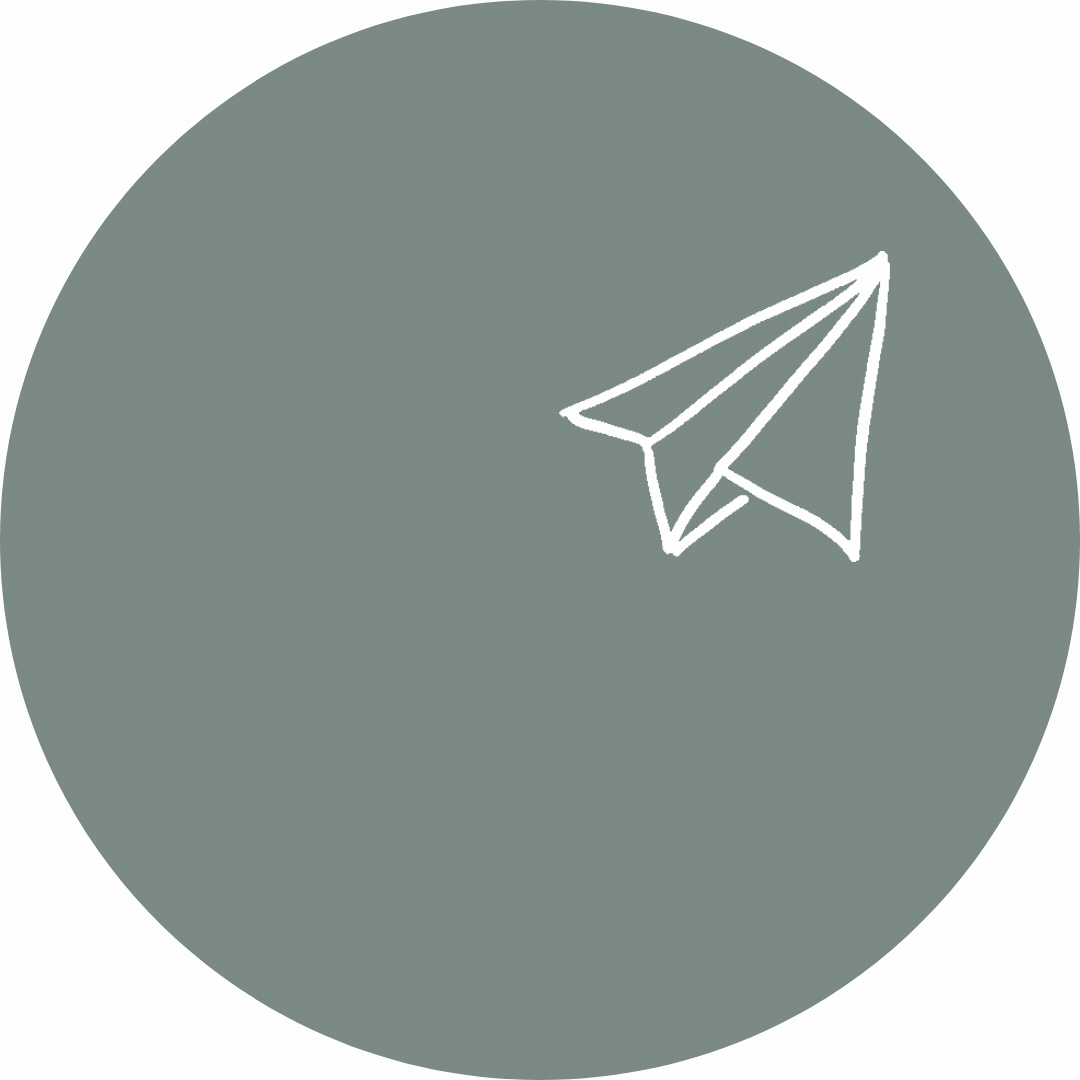 Thank you to the Elkhart Lake Tourism department for hosting me for the Chill-Out Winter Weekend in Elkhart Lake. All opinions are my own, and I am never compensated for a positive review.