Styling Minnetonka Moccasins from Daily Wear to a Travel Outfit
Minnetonka Moccasins is a shoe company I've been a fan of ever since I was a little girl. I'll never forget when my mom bought me my first pair of Minnetonka Moccasins…I was around 7 or 8 years old. She had taken me to a family-owned shoe store in Minocqua, Wisconsin just before school started, so I could pick out a pair for the new school year.
I was so excited! I wore those moccasins everywhere! And when I wore them to school I could not stop looking at them and admiring them. I looked at them so frequently, my classmate, Chad, actually asked me, "Lindsey, WHY do you keep looking at your shoes?!" (I was SO embarrassed, as this was a boy I liked too! Haha.)
And now, over 20 years later, I'm still wearing Minnetonka Moccasins. I was beyond excited when Minnetonka reached out to me about trying out their Classic Driver Moccasin. It looked like the perfect shoe to wear for everyday attire and on an airplane! So, for this post, I'll be showing how I wore them both ways and my thoughts on how it performed for both scenarios.
Daily Wear + Minnetonka Moccasins
This is an outfit I wear for a variety of occasions. From going out to eat with my husband to grabbing cocktails with friends to just running errands around Moscow.
These moccasins are perfectly comfortable to wear for walking around the city and look dressy enough to pair with a skirt or dress. I also like how well they fit my wide feet. I'm wearing my normal size 8 in them, and I could easily wear them with a pair of socks as well. (If you have narrow feet, you may want to size down a half size, though.)
I know I usually wear this map skirt on the blog when I have a moving announcement, but today I don't have anything like that to share. We're not planning to have any big announcements after our time in Russia is up. Our current plan is to head back home to the United States at the end of September. (But, who knows, these things change quickly!)
Where to find it:
Moccasins c/o* | Skirt (Sold out. Similar here and here.) | Blouse (Similar) | Earrings | Watch c/o*
Travel Outfit + Minnetonka Moccasins
I had tested this outfit out over the weekend with my flight from Moscow back to Wisconsin. It's over an 18-hour journey, so comfort is key. These moccasins were super comfortable for the flight and for walking through the airports. (And if you don't have TSA pre, they would be easy enough to slip off to go through security.)
They also breathe well. My feet don't get sweaty and smelly when I wear them – even for this 18-hour journey. That is really exciting for me, as I'm usually disgusting after this flight, so at least not having smelly feet is a plus! Haha.
*Also, now that I've tested out my travel jeans for two 18+ hour flights now, I can say this gray pair is SUPER comfortable too for travel, and they don't stretch out! You can read the full review of them, here.
Where to find it:
Jeans c/o* | Moccasins c/o* | Shirt (Similar) | Cami | Watch c/o* | Luggage c/o*
What are your thoughts on Minnetonka Moccasins? Have you ever owned a pair? Let me know in the comments?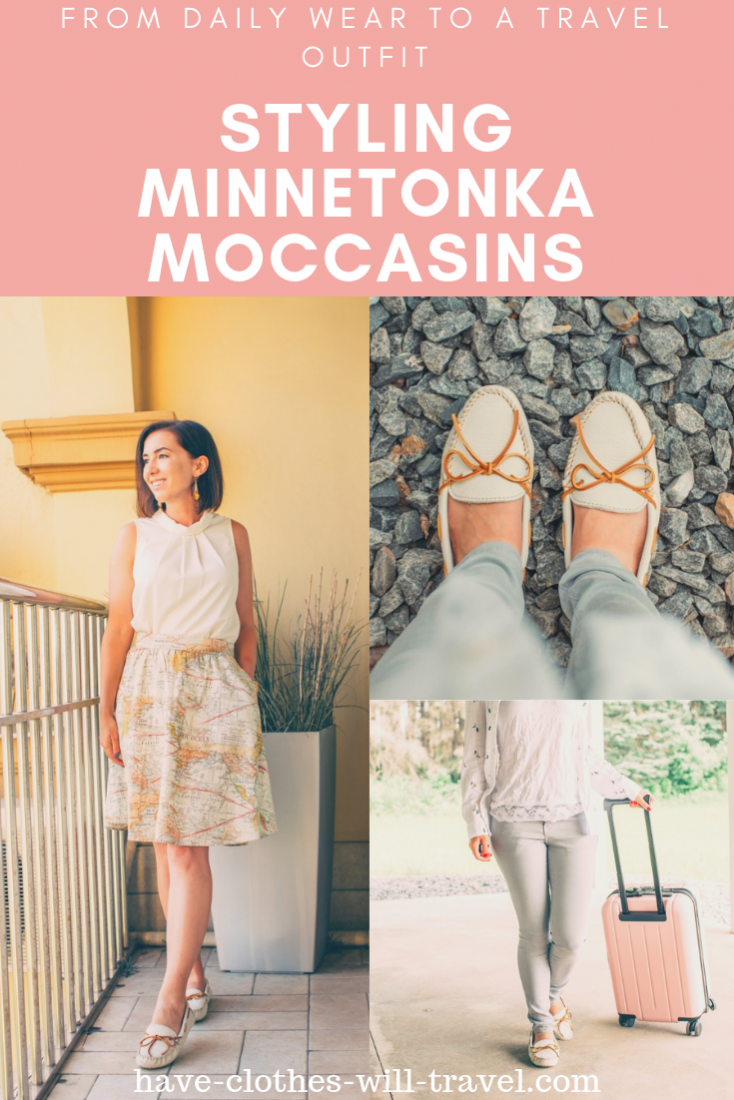 *Disclosure: some of these links are affiliate links. Meaning, if you click a link and make a purchase, Have Clothes, Will Travel gets a very small commission at no extra cost to you. Thank you for supporting the brands that make this blog possible! I am also a participant in the Amazon Services LLC Associates Program, an affiliate advertising program designed to provide a means for us to earn fees by linking to Amazon.com and affiliated sites.
*c/o = courtesy of, meaning the company gave me the product to be used on my blog, and I did not pay for it. All opinions are my own, and I am not being compensated for a positive review.