Standard's Carry-on Backpack Review
My husband and I travel A LOT. We both have different ideas of what makes a good piece of luggage, though. So, when I had the opportunity to check out Standard's Carry-on backpack, I thought it would be a good idea to have both of us try it out and really give a thorough review of this carry-on luggage!
This may not mean much to those of you who don't know him personally…but my husband is also the pickiest, most critical product reviewer that there is. He generally finds flaws with products, that most people will never notice. This is especially true for his carry-on luggage. (Anyone who knows him personally is probably surprised I even let him in on this product review, haha.)
Our Differences as Travelers
Me
Typically, when I'm traveling with my carry-on luggage, my biggest concern is how to protect my camera equipment and bring along my 17-inch laptop for photo editing…and of course, having enough space for my clothing. Bonus points if it looks stylish as well! I'm usually using it for long international journeys, and want to be able to fit as much stuff in it as possible. I'm not terribly picky about my luggage.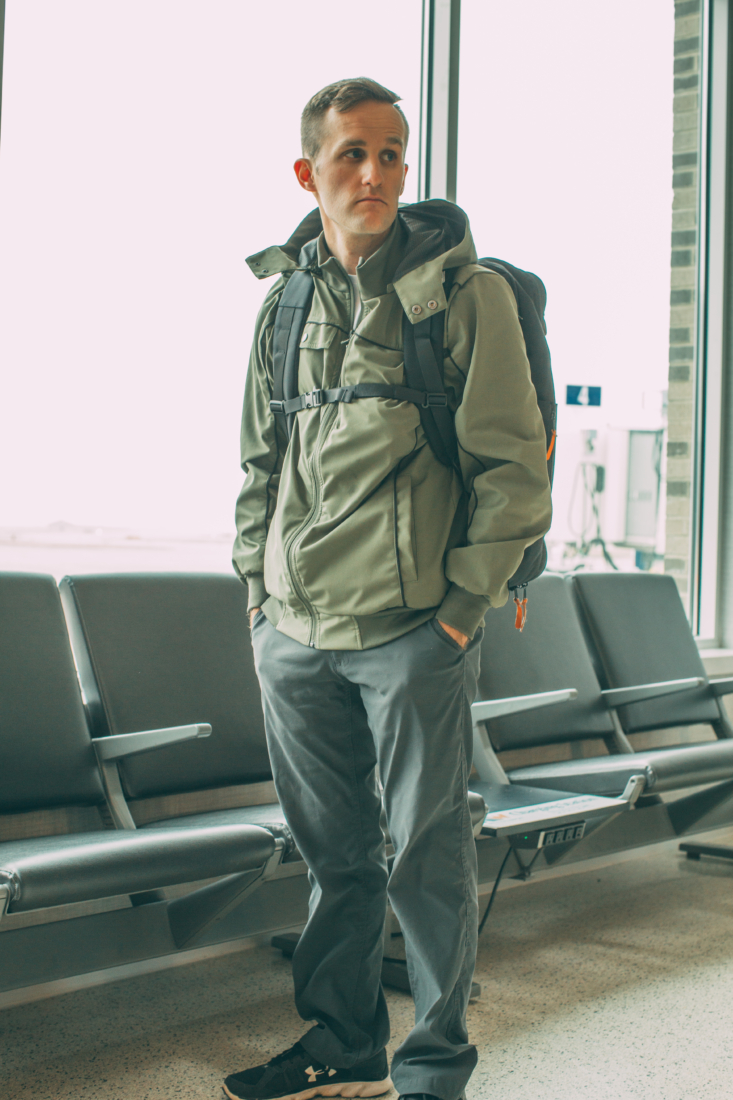 My husband
However, my husband is a business traveler. Before we moved to Moscow, he was jumping on a plane early Monday morning to get to work and then flying out late Thursday to come back home. His biggest concern is being as organized as possible (he wants all the pockets and organization compartments to make him as efficient as possible). It's also really important for him to not have to gate check his bag. When we fly out of our regional airport in Appleton, a typical carry-on bag gets gate checked because it won't fit in the overhead compartment. You may wait 10 more minutes to get your bag when you reach Chicago, then – this could make or break my husband's Monday morning connection flight. Therefore, he needs a bag that can fit in the overhead compartment on the small, regional planes. He is VERY picky about his luggage.
*Side note – we did totally match on this travel day. Dork alert!
What's So Special About Standard's Carry-on Backpack?
Before we get into what my husband and I think of this bag, the video above does a great job of explaining what sets this Standard Luggage bag apart from other carry-on bags out there. (It's a quick and to the point video – don't worry!) This bag really has all of the bells and whistles! (+ it's available on Amazon, too.)
It's a 3-in-1 travel backpack, suitcase, and shoulder bag. It has hideaway backpack straps, a full perimeter zip, hip-belt, and a dedicated laptop sleeve. You can even change the orange zip pulls on the bags to blue. It also has a roll-aboard strap, water bottle pocket, lockable zips, smart organization compartments….plus, it comes with a safety whistle and rain cover.
Our Review of Standard's Carry-on Backpack
The day these pictures were taken for this post, we were traveling between our home in Wisconsin and our temporary home in Moscow, Russia. This is an 18-hour journey on average for us. My husband was the one who packed the bag this day and carried it through all the airports. (Appleton, Wisconsin to Chicago to Frankfurt, Germany to Moscow, Russia.)
I took my turn with it when I went to St. Petersburg via the bullet train for a long weekend with my college roommate! (She came to visit us right after we got back to Moscow. That's why things have been so quiet around here. We were busy touring St. Petersburg and Moscow together.)
*We both preferred using it as a backpack for these trips.
My Thoughts on the Bag
Wow! This is the first bag that I've ever needed to read the instruction manual in order to use it! Haha. There are so many different features – it's incredible!
Pros:
*The Organization – I am a really disorganized person (just ask my husband). However, this bag forces me to put some thought into my packing vs. just shoving it all in the bag and calling it good. There's a compartment and slot for everything!
*The Ergonomics – The older you get, the more you care about this one! Hauling a bag for a day of traveling in my 30s has to be comfortable. And I was shocked by how comfortable this bag was to carry – even with all my clothing, toiletries & my bulky laptop! It's just as good as our hiking backpacks.
*The Details – There is so much thought put into this bag, it's unreal. I can even change out the colors on the bag to better suit my style! (My husband prefers the orange, and I prefer the blue bag tags.)
*It Fits My 17-inch Laptop – When I bought my laptop over 3 years ago, I had initially thought I would be doing more video editing than I actually do. So, I got a great big gaming laptop – that works wonderfully, but it is an absolute PAIN to travel with. Fortunately, this bag fits it comfortably, and it even has a nice little sleeve to protect it!
Cons:
I honestly don't have anything negative to say about the bag itself. However, I do have a few points to bring up just from my personal preferences – which I understand are not a problem for the average traveler.
*Camera equipment – Don't get me wrong, I understand that I am getting really nitpicky here. But, when I'm traveling, I'm usually traveling somewhere to take photos, and I need to bring my camera and 2-3 heavy lenses. I can fit my camera in this bag, but it's not the ideal situation. I carried a separate bag with my camera + lenses in it. So, it's difficult for this to be the only bag I take for an international journey.
*Backpacks can get warm – I am a sweaty disgusting person when I'm traveling. Backpacks tend to exasperate this. I have to say, though, this backpack does breathe REALLY well in comparison to any I've used in the past, but I do still get a little warm while using. (But I get warm rolling my luggage on wheels too…so, there's that.)

My Husband's Thoughts on the Bag
Seriously, when he started packing this bag and realizing all of the features it had…he hollered to me from the bedroom, "This bag is so F'ing COOL!" I then proceeded to drop my coffee cup and faint. Alright, I might be exaggerating on that last part…but my husband's reaction is true! And again, in the 6+ years we have been married, I can only recall a few instances where he was genuinely excited about a product.
Pros
All of the Options! My husband LOVES that this bag comes with so many different options and things to try. He really loves that he can use it as a backpack for running through the airport, and then easily convert it into a shoulder bag once he gets to the office. (He typically goes straight from the airport to the office Monday mornings.)
It Fits on a Regional Jet – He doesn't have to gate check this bag when using it. And because it's a backpack, no one ever questions him about taking it on a regional jet. (Note – if you pack this bag full and use its expansion zipper, it won't fit then. This is something I tend to do, though…not my husband!) This will likely come in handy, too, when we're traveling with airlines that make you weigh your carry-on bags – our experience with this is your backpacks never get weighed. So, pack that baby full!
ORGANIZATION – Again, my husband loves to be organized. And this bag more than satisfies his need for everything to have its place!
Quality – He is constantly remarking how well-made this bag is. This is incredible, as I can't remember the last time he told me he thought something was well-made.
Comfort – My husband's journey with this bag was a lot longer than mine, and he was still pleased with how comfortable this bag is…even after an 18-hour journey with it.
The Rain Cover – Not that it's even really needed, as this bag is water resistant…but my husband was very impressed that this bag also came with a rain cover. (He's all about being prepared for the worst-case scenarios!)
Cons
NONE. You read that right. NONE. I even have written proof of me confirming that he had nothing negative to say about this bag… if anyone wants to see it! Again, I realize this will mean more to people who know my husband personally. However, I hope I've emphasized how picky my husband is about products – especially travel products – so, for it to have his seal of approval is a big deal! He's already dropping hints that he wants to use it when we go to Egypt and Jordan in a couple weeks…and he's already asked if he can use it once he has to go back to his Monday-Thursday travel schedule for work. He really loves how well-suited this bag is for a business traveler.
*Click here to check out the Standard Luggage website, and click here to shop their carry-on backpack. You can also click here to shop this bag on Amazon.
I'm curious, would you ever be interested in a carry-on bag like this? And for those of you who know my husband, how shocked are you that he has NOTHING negative to say about this bag? Let me know in the comments!
*Thank you to Standard Luggage for sponsoring this blog post. As always, all opinions are my own, and I am never compensated for a positive review.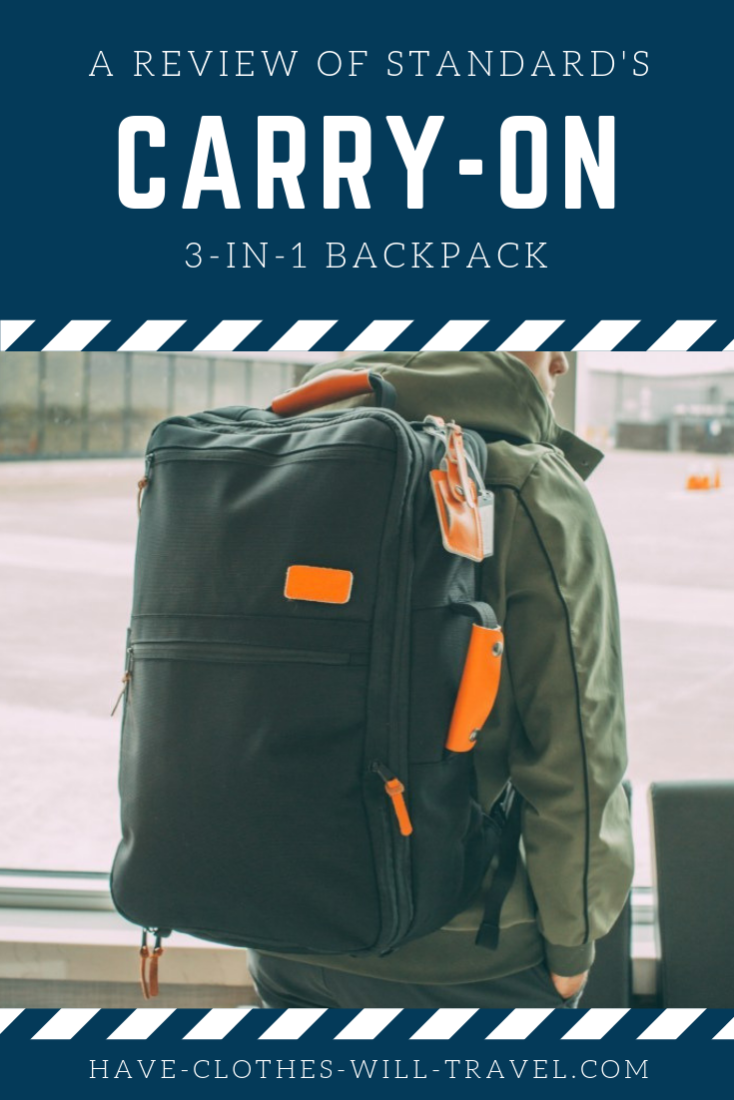 *Disclosure: some of these links are affiliate links. Meaning, if you click a link and make a purchase, Have Clothes, Will Travel gets a very small commission at no extra cost to you. Thank you for supporting the brands that make this blog possible! I am also a participant in the Amazon Services LLC Associates Program, an affiliate advertising program designed to provide a means for us to earn fees by linking to Amazon.com and affiliated sites.
*c/o = courtesy of, meaning the company gave me the product to be used on my blog, and I did not pay for it. All opinions are my own, and I am not being compensated for a positive review.