CHESTER Minima Carry-On Review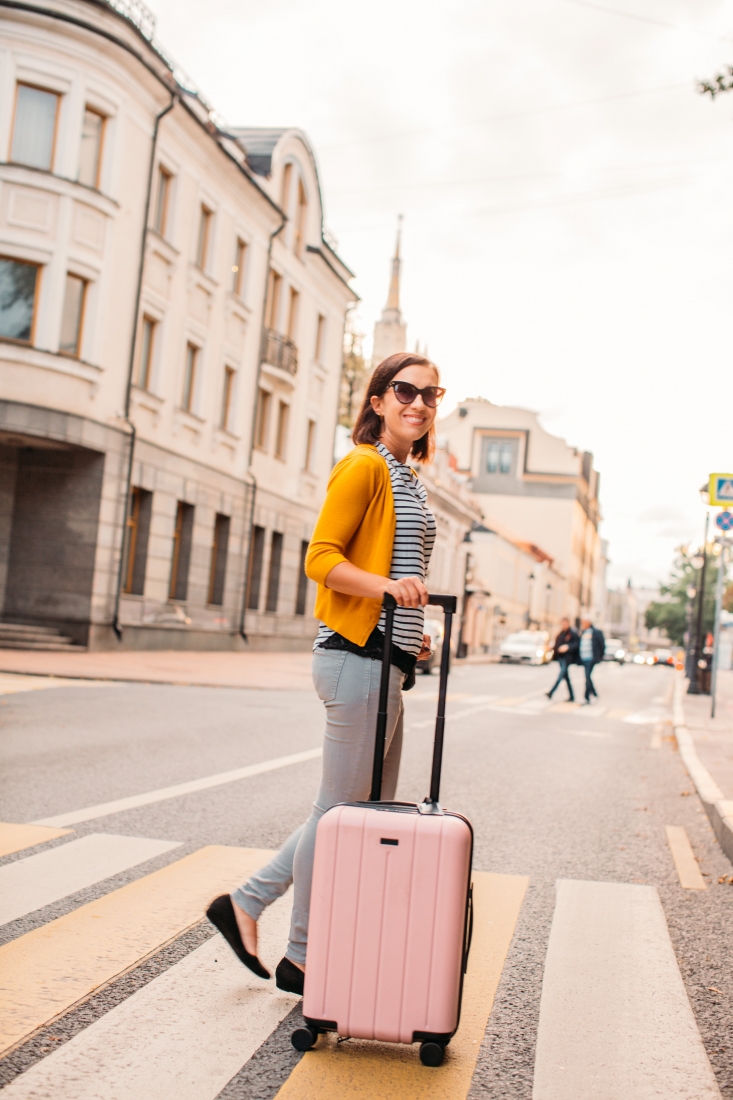 I'm reviewing the CHESTER Minima Carry-On today…I recently had the chance to use this carry-on bag on my flight between Wisconsin and Moscow, Russia. This flight isn't the worst flight I've ever had (that was between Wisconsin and Argentina), however, it's not the best either. It's 18+ hours with 3 different segments…which means there is a lot of running around at airports involved! It's a good test for a piece of carry-on luggage!
CHESTER Minima Carry-On Specs
Here's what to know about this carry-on before we get into the review…
It's lightweight. It weighs only 7 lbs. (I did confirm this with my luggage scale.)
It's water-resistant and made of 100% Makrolon polycarbonate hardshell.
Measurements are 21.5" x 13.5" x 8.5″ – so, it will fit in an overhead bin. (Except on regional flights.)
Has 360° spinner wheels.
Currently comes in 7 different colors (including pink)!
It comes with a nice little laundry bag.
Satisfaction Guaranteed. Has a 100-day trial & free returns. So, if you're not in love with it, you CAN return it.
**USE code HCWT10 for 10% off your CHESTER purchase.
CHESTER Minima Carry-On Spinner Suitcase Review
Appearance
Ok, I'm a travel AND style blogger, so having a cute piece of luggage is something I do think about. I LOVE how stylish this carry-on is and the shade of pink I have it in. This bag does come in 6 other colors, but I've always wanted a pink bag. (I mean, my website is pink for crying out loud!)
Its Wheels
Out of every piece of luggage my husband and I have owned (which has gone into double digits now), we both agree, this is the best rolling suitcase we've ever had. It rolls smoothly across the airport – even those darn carpet areas!
*I also thought that because it was pink, my husband would be less inclined to try it. I was wrong! He did take it for our connection in Germany to test it out. He agrees it's the best rolling bag we have! He doesn't know I snapped the photo of him below, though…Haha.
Its Shell
Now, we've only had the chance to use it for one trip (and I'm using it for a weekend trip to St. Petersburg next weekend)…so, I can't attest too much to its durability yet. However, again, out of all of our luggage, this one feels like it will offer the most protection.
This is important for me because I live in the middle of nowhere Wisconsin…so, when I travel my first (or last) segment means I always have to gate check my roller luggage, no matter how small it is. (I can hardly fit my backpack in those regional jet overhead compartments.)
So, having a carry-on that is still protective of my things is important to me! This one seems like it will hold up well too. My husband also agreed that this is a well-made and very protective piece of luggage. (He's very critical of luggage if you're new to our luggage reviews!)
TSA Approved Lock
It does have a TSA approved lock. Now, this is not necessarily a gamechanger, but it is a nice option to have – especially if you're gate checking your bag or actually checking it.
The Interior
So, my other (old) carry on bag (from American Tourister) that I used before this one is slightly bigger. (It was used in this post.) It also had the option to expand it. (I also used it as a checked bag at times.) Which means, it likely wasn't approved to fit in most overhead compartments. We were lucky and never had an issue, but why continue to risk it?
This one by CHESTER does fit in those little "check your bag" things at the gates, and I never had any issues putting it in the overhead compartment.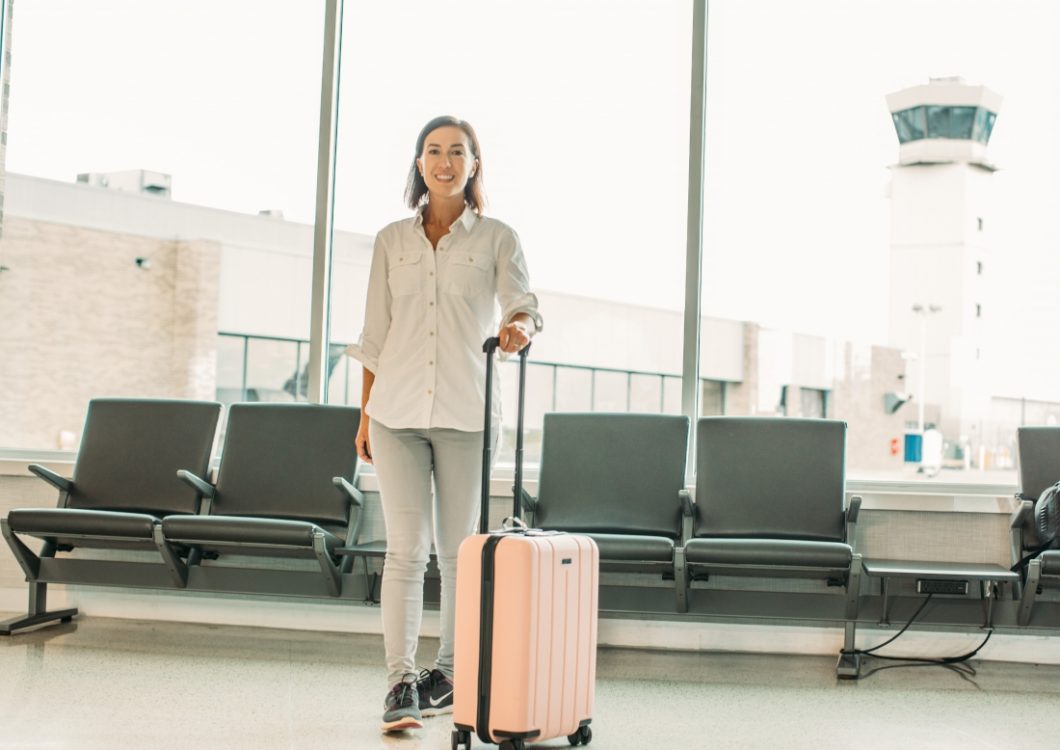 It did, however, take some getting used to for packing because I can't pack quite as much crap into it as I'm used to. (Having such a large bag in the past means I've developed some bad habits!)
I, personally, like that it also has the bare minimum for pockets, as these can take up unnecessary amounts of room in a roller bag. (And that's why there are packing cubes…not that I use them. #unorganized) It's different too (for me at least), because it has zipper enclosures on both sides of the bag – not just one. This forces me to pack a little nicer and not stuff everything in a big ball and then try to close it!
For this last trip, I packed inside my CHESTER carry-on my huge Tory Burch tote and another smaller purse, a pair of shoes, 2 books, 2 dresses, 1 pair of pants and a shirt and 3 days worth of undergarments. I also had a small toiletry bag, and my husband stuck his work laptop in here too. I still had room leftover too. So, there is PLENTY of room inside this bag for a weekend getaway and as a carry-on.
Handles!
I LOVE the handles on this bag. My previous carry-on did not have a side handle, which could get annoying if it was heavy and I was trying to hoist it up. (It also annoyed the check-in counter people when I'd check it because they didn't have a side handle to put the bag tag on.) So, having a top and side handle is a big plus for me.
The extendable handle also works very well. It glides easily up and down and doesn't get stuck. It's crazy how often that's a problem with luggage!
Final Verdict on the CHESTER Minima Carry-On
So, from my husband's standpoint, he would not want this particular carry-on as a business traveler. This is because he's trying to avoid having to gate check his bag at regional airports, as he generally has tight connections on Monday mornings. (He's in favor of using a backpack as a carry-on for this reason.) He stays away from carry-ons that aren't crushable.
However, if you're a business traveler who doesn't need to worry about small regional jets, then the other thing to consider is you'd likely want to bring a briefcase or tote for your laptop. This is because there isn't an easily accessible spot for that in this luggage.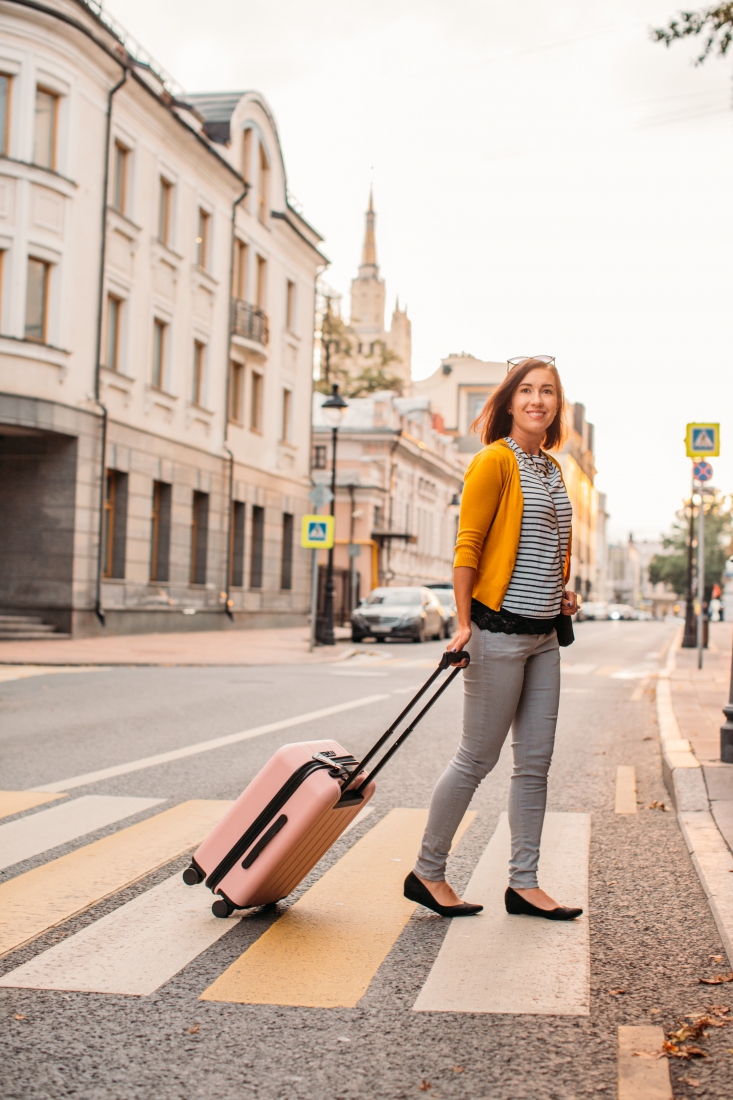 I am not worried about either of these things as I always bring a backpack for my camera equipment anyways – and I'm not flying out every Monday morning from our small regional airport.
For me, this carry-on is exactly what I need. It's cute and functional, AND it's the appropriate size for almost all airlines. It was something that I was desperately in need of but didn't realize. Having tested out quite a bit of luggage at varying price points too, I know this one is on the higher end of the price spectrum, but I do think it's worth its price given its quality, and that it comes with a 10-year limited warranty.
**USE code HCWT10 for 10% off your CHESTER purchase.
*Click here to shop CHESTER's website, and click here to shop this bag on Amazon.
I'm curious, would you be interested in this bag? Or do you already have a carry-on you love – and if so, which bag is it? Let me know in the comments!
*I'm wearing my snazzy new travel jeans in this post too! Click here to read more about those, and click here for the rest of my outfit.
*Thank you to CHESTER for sponsoring this blog post. As always, all opinions are my own, and I am never compensated for a positive review.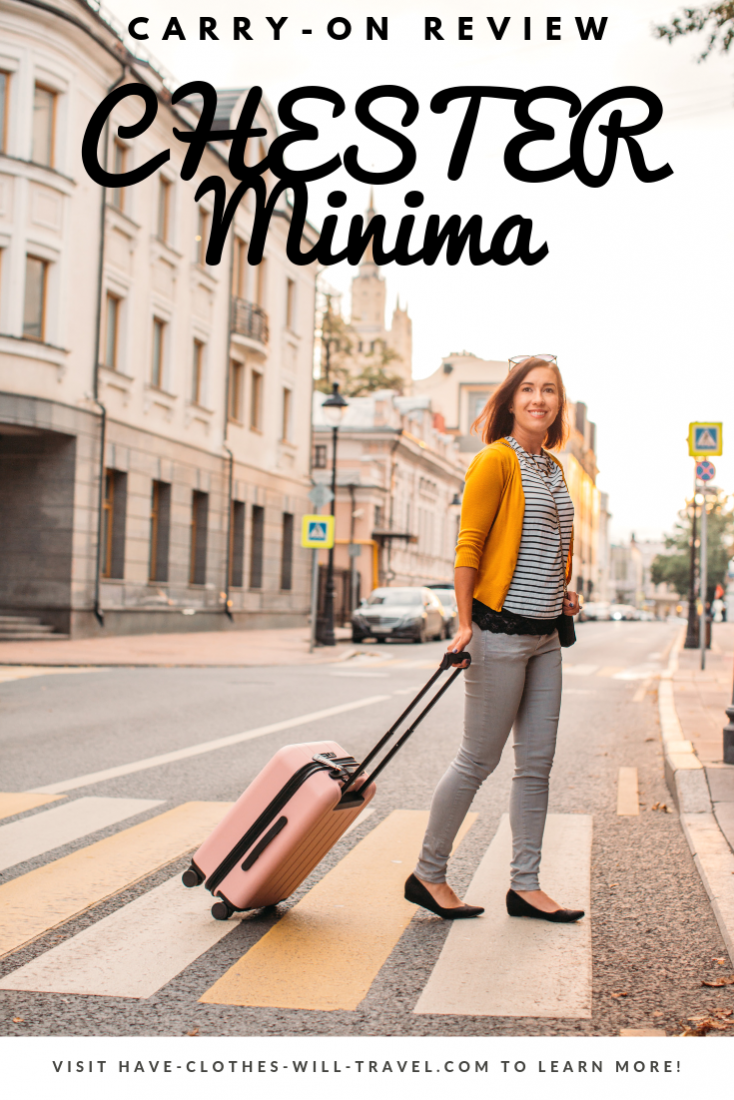 *Disclosure: some of these links are affiliate links. Meaning, if you click a link and make a purchase, Have Clothes, Will Travel gets a very small commission at no extra cost to you. Thank you for supporting the brands that make this blog possible! I am also a participant in the Amazon Services LLC Associates Program, an affiliate advertising program designed to provide a means for us to earn fees by linking to Amazon.com and affiliated sites.
*c/o = courtesy of, meaning the company gave me the product to be used on my blog, and I did not pay for it. All opinions are my own, and I am not being compensated for a positive review.