My Travel Outfit for 30+ Hours of Traveling
Yes, you read that right… a travel outfit for 30+ hours of travel! My current journey between Rosario, Argentina (where I live), and Appleton, Wisconsin (where my family lives) takes roughly 30 hours. Some days it's a little less and some days it can be even more. I'll spare you the gory details of it all, but let's just say there is not a direct path between those two locations and there's lots of driving and flying and several layovers, haha. (But thankfully I don't have to deal with jet lag – as it's only a two-hour difference!) Anyways, the point of this post is to show off one of my favorite outfits for these ungodly long journies. Obviously, comfort is key, but I don't want to look like a complete slob. So, this has become one of my favorite my travel outfit as of lately!
The Bottoms
I've always fallen firmly in the "I won't wear leggings as pants" category. However, that was until I found this particular pair of leggings from my friends over at Eleanora Grace Boutique…they're out of Wisconsin! (If you missed my post on this boutique, click here.) They aren't see-through, they leave plenty to the, ah, imagination (shall we say?), and they are SO soft and, most importantly… COMFORTABLE. (My mom even bought several pairs after she saw how comfortable they are.)
These leggings also breathe well and keep me warm. I go through roughly 30 different temperatures changes when I'm traveling. I usually start out very warm and sweaty and end up freezing by the time I'm on the plane. So, dressing in clothing that can keep me comfortable through all this is a big deal. (I also keep a sweatshirt and coat in my carry on for when I'm really cold.)
The Shoes
Comfortable shoes are SO important for these journeys too. Like I said, I go through a lot of temperature changes and my feet also get a bit swollen from all the sitting and inevitable dehydration (despite my best efforts). I've found TOMS to be my favorite shoes for traveling. They're unbelievably comfortable and are easy to slide on off for security or when I'd rather put a pair of socks on and fall asleep on the plane. Oh, and I'm able to sprint in them through airports if necessary!
The Top
I also like being able to pair leggings with a longer shirt. I don't love having my rear end on display in leggings (even if they are looser fitting, like these), but fortunately, there are tons of longer shirt options these days! I've personally been loving the knot tops too.
This shirt is also a good travel shirt for me because it is baggier and breathes really well. As I mentioned, I get really warm and sweaty and then end up freezing…so, tight tops are not ideal for these situations!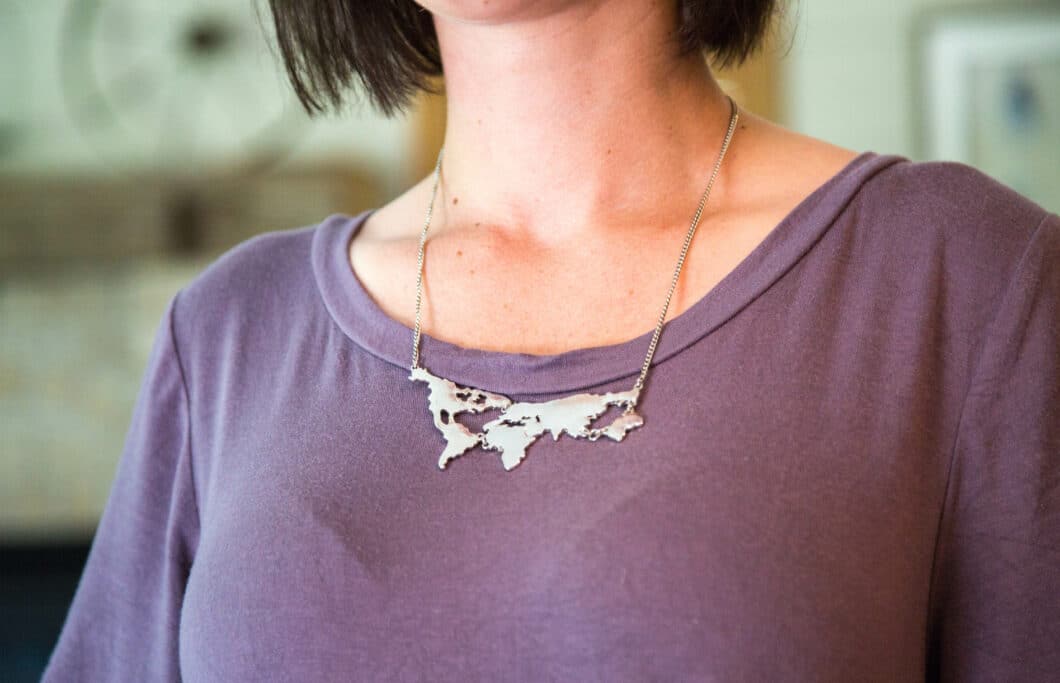 The Accessories
To be honest, other than my wood watch, wedding ring and a pair of sunglasses for when I'm in the car, I don't usually wear any other accessories when I'm going to be on a plane. They can sometimes slow you up if you're on a tight schedule through airport security. However, for this last trip back to Rosario, I knew I had enough time to wear a necklace (the airport I flew out of in Wisconsin just has me flip it to my back when going through the scanner).
I really love this map necklace and it always gets compliments when I'm out and about! (Sorry, it does only come in gold now, though.)
The Whole Travel Outfit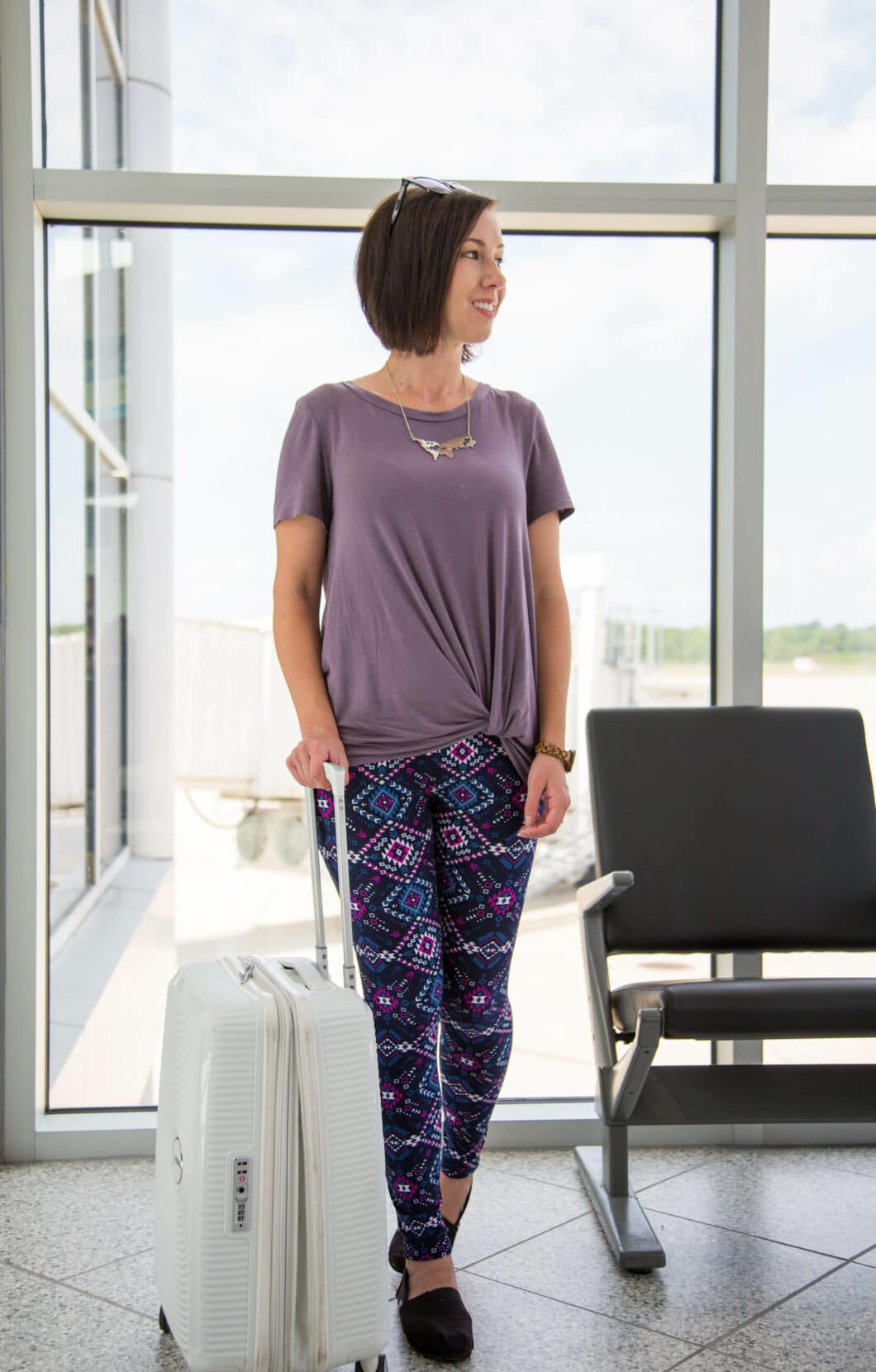 While not the most glamorous outfit in the world, it is certainly a good one for a long day and half of traveling! I do have a couple more travel outfit posts I'll share as I do a little more traveling over the next month (next stop Peru and then Atlanta and then back to Argentina!).

What is your favorite travel outfit for long journies? Let me know in the comments!
I do apologize, this travel outfit from Eleanora Grace Boutique is currently sold out! I recommend signing up for their mailing list, so you are notified when their new stock arrives. I've also linked to some very similar products, below.
Where to find it:
Top: c/o* Eleanora Grace Boutique (Currently sold out. Similar here & here.)
Leggings: c/o* Eleanora Grace Boutique (Currently sold out. Similar here.)
Sunglasses: c/o* Polette
Watch: c/o* JORD
Map Necklace: ModCloth
Shoes: Toms
Carry on luggage: American Tourister
Or click to shop similar items, below: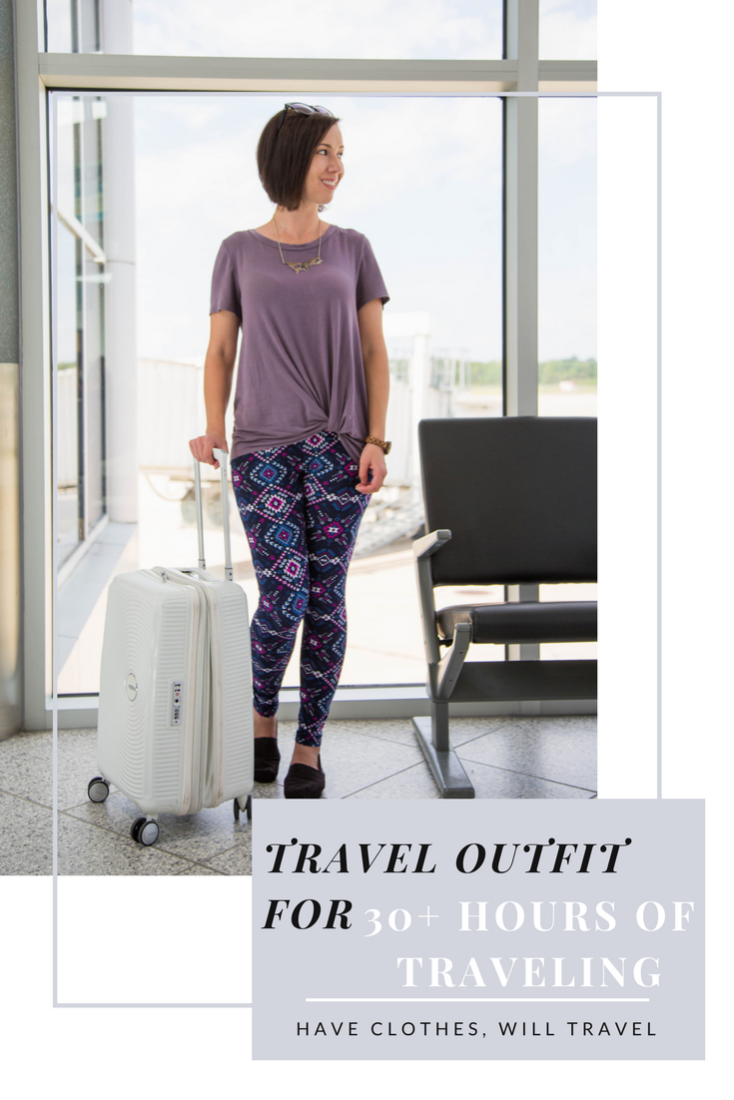 *Disclosure: some of these links are affiliate links. Meaning, if you click a link and make a purchase, Have Clothes, Will Travel gets a very small commission at no extra cost to you. Thank you for supporting the brands that make this blog possible! I am also a participant in the Amazon Services LLC Associates Program, an affiliate advertising program designed to provide a means for us to earn fees by linking to Amazon.com and affiliated sites.
*c/o = courtesy of, meaning the company gave me the product to be used on my blog, and I did not pay for it. All opinions are my own, and I am not being compensated for a positive review.