10 Awesome Sustainable Travel Clothing Brands for Women & Men
If you're searching for the best sustainable travel clothing brands out there for both men and women – this is the post for you! Plus, these are brands that are being tested and worn by actual travelers on adventures (my husband, Zac, and me – the voice behind Have Clothes, Will Travel!)…and not just a random roundup featuring product photos from a mysterious writer.
Some of these brands we've been using for years and have worn on adventures ranging from horseback riding through the Andes to winter in Russia and more. Some are more recent finds and were used on our recent hiking trip around Washington State as well as in Northern Wisconsin.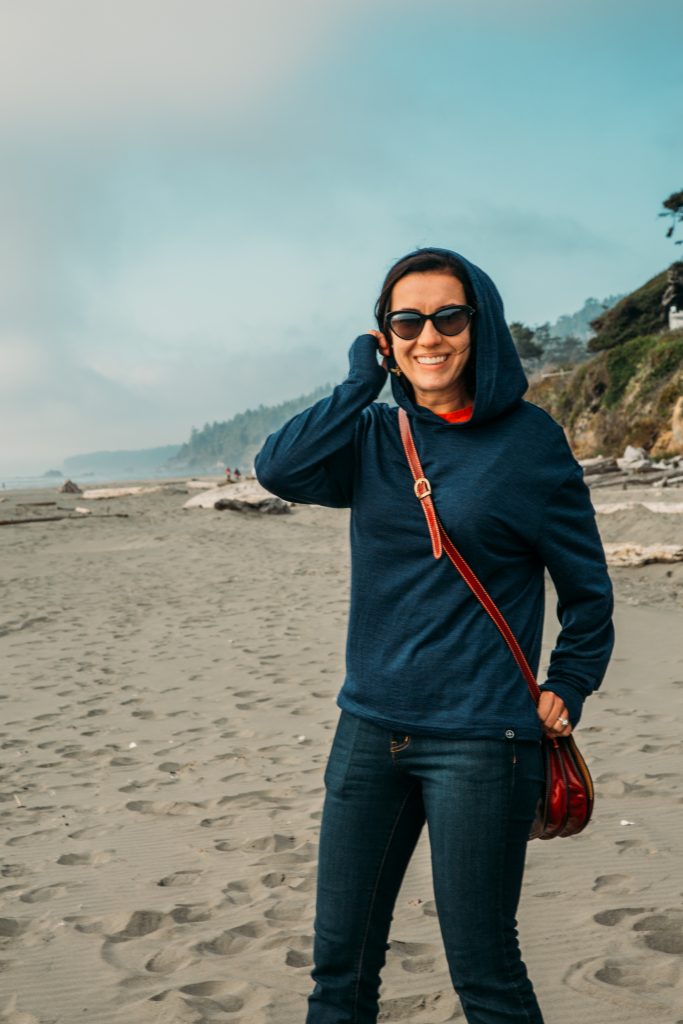 But what exactly is sustainable travel clothing?
Now, sustainable clothing is going to be made from fabrics that are not detrimental to the environment, such as organic cotton, bamboo, wool, hemp, recycled polyester, soy cashmere, and TENCEL. The companies also opt for renewable energy sources when possible.
Sustainable and "fair trade" fashion tend to go hand and hand as well – this is when the people who grow the raw materials for the clothing, and also those who make the clothing, are paid a living wage and work in healthy working conditions.
Read next: How to Shop for Sustainable & Ethical Fashion – Expert Tips
*Note: I know there are more amazing sustainable travel clothing brands out there, but I am only sharing the ones we have personally worn and tried.
*Disclosure: some of these links are affiliate links. Meaning, if you click a link and make a purchase, Have Clothes, Will Travel gets a very small commission at no extra cost to you. Thank you for supporting the brands that make this blog possible!
10 Awesome Eco-Friendly Travel Clothing Brands for Women & Men
1.) Wama Underwear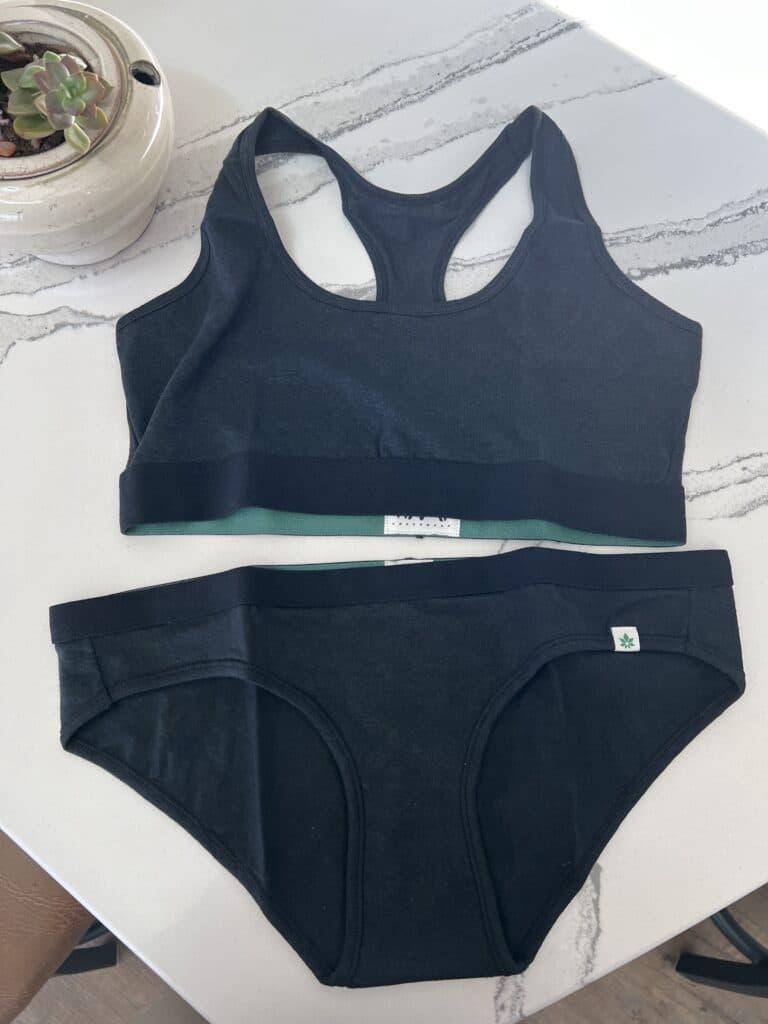 "Hemp fabric is #1 in Sustainability. WAMA is #1 in Hemp Underwear. Organic Underwear that is good for you and the planet." – Wama Underwear
I am beyond excited that Wama Underwear exists, and that they are committed to sustainability. I am REALLY picky about my undergarments, especially while traveling. There is nothing worse than sitting in an already uncomfortable airplane seat for hours, and also wearing uncomfortable undies. Wama Underwear is by far the most comfortable underwear that I own. They are SO soft and also very breathable. (Sorry, only sharing flat lay pics of the undergarments, though, I am not an underwear model!)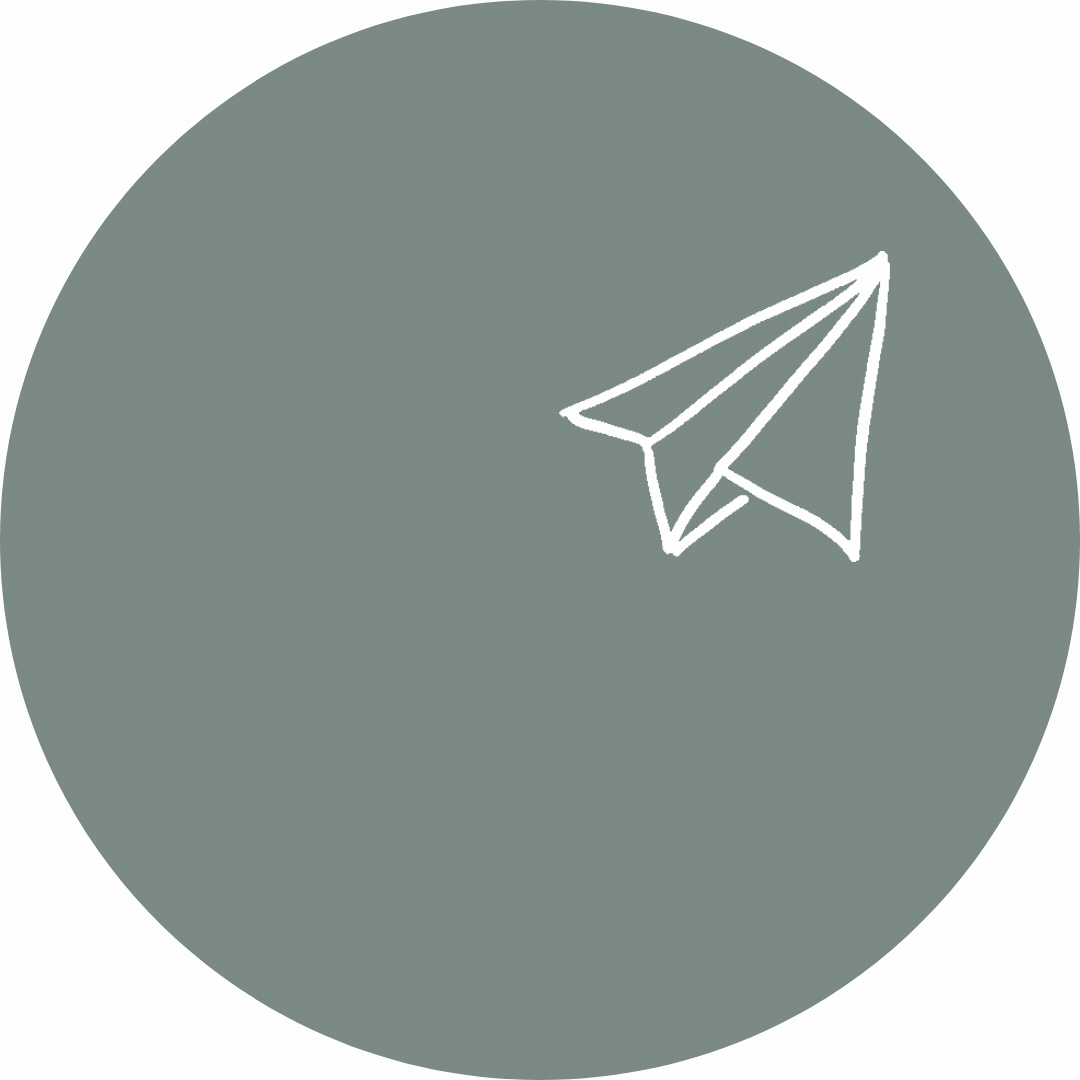 Note: Be sure to size up in their underwear for a comfortable fit. I am a true medium in underwear, but I wear a large in Wama Underwear.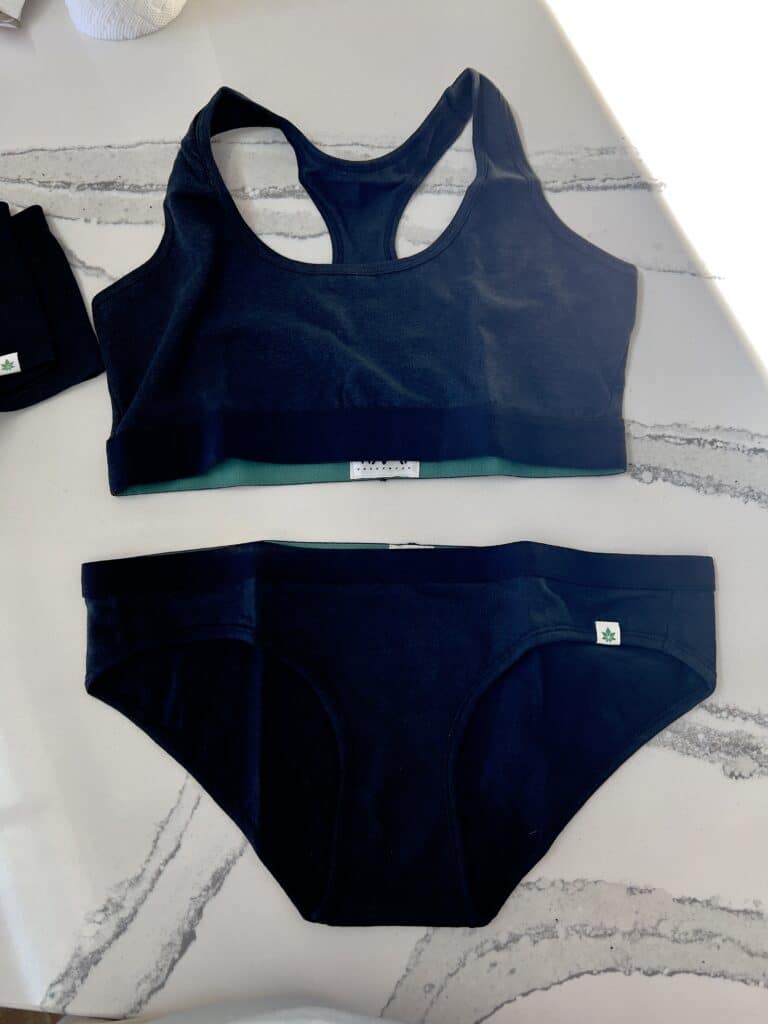 Personally, I like their bikini underwear the best. I also have their hipster undies, which are great too, but the bikini is just more comfortable for me.
Their bralette is very comfortable as well, but this is a very low-impact bra. This means it doesn't have a ton of support (don't wear it running or to jump around), but it is good for long plane rides or for a day of leisurely hiking.
They do also have men's undies, but my husband has not yet bought them.
2.) prAna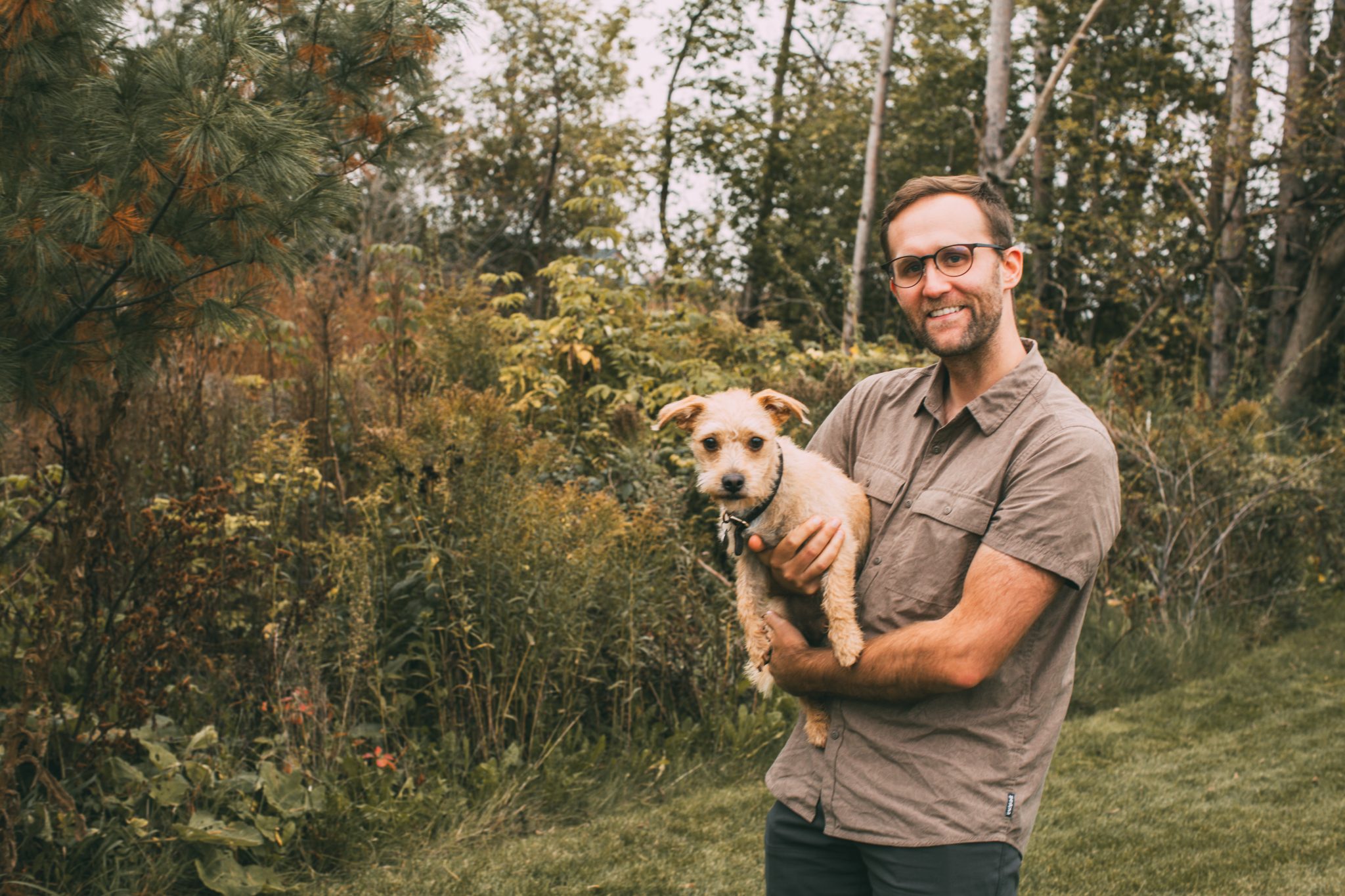 "From the fields where our organic cotton and hemp are grown, to the factories where our clothing is assembled. From the chemicals that need to be carefully managed, to the way we package and ship each style – everything we do is for the planet and its people. Sustainability has been part of our prAna DNA from day one -and doing things right is just what we do." – prAna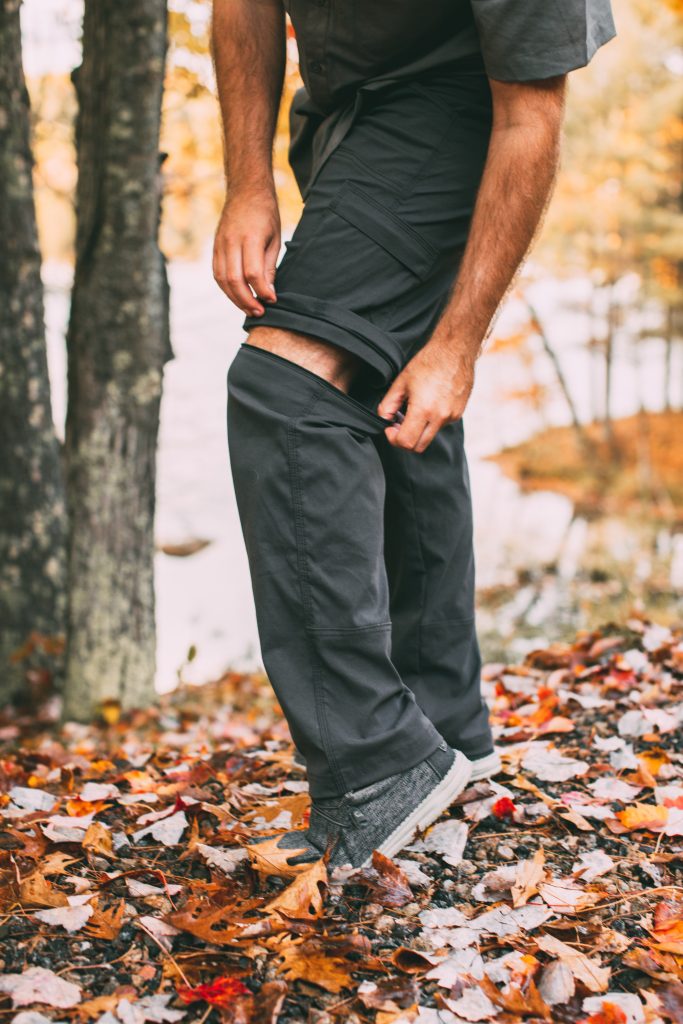 prAna's commitment to sustainability is unrivaled. (Read all about it here.) My husband and I are HUGE fans of prAna's clothing. We have a complete wardrobe from them and wear their clothing for everything from hiking and camping and the gym, to work and going out to dinner. Some of their items I've had for years, like my hemp hat pictured below, and some things are relatively new, like our hiking pants. These hiking pants are now my favorites too!
Their clothing is super versatile and incredibly well-made. I had a hard time narrowing it down to just a few snapshots of our prAna wardrobe to feature in this post. (I really need to do a full post dedicated to prAna one day.) Needless to say, we highly recommend prAna as a sustainable travel clothing brand – and a clothing brand for daily use as well!
3.) NxTSTOP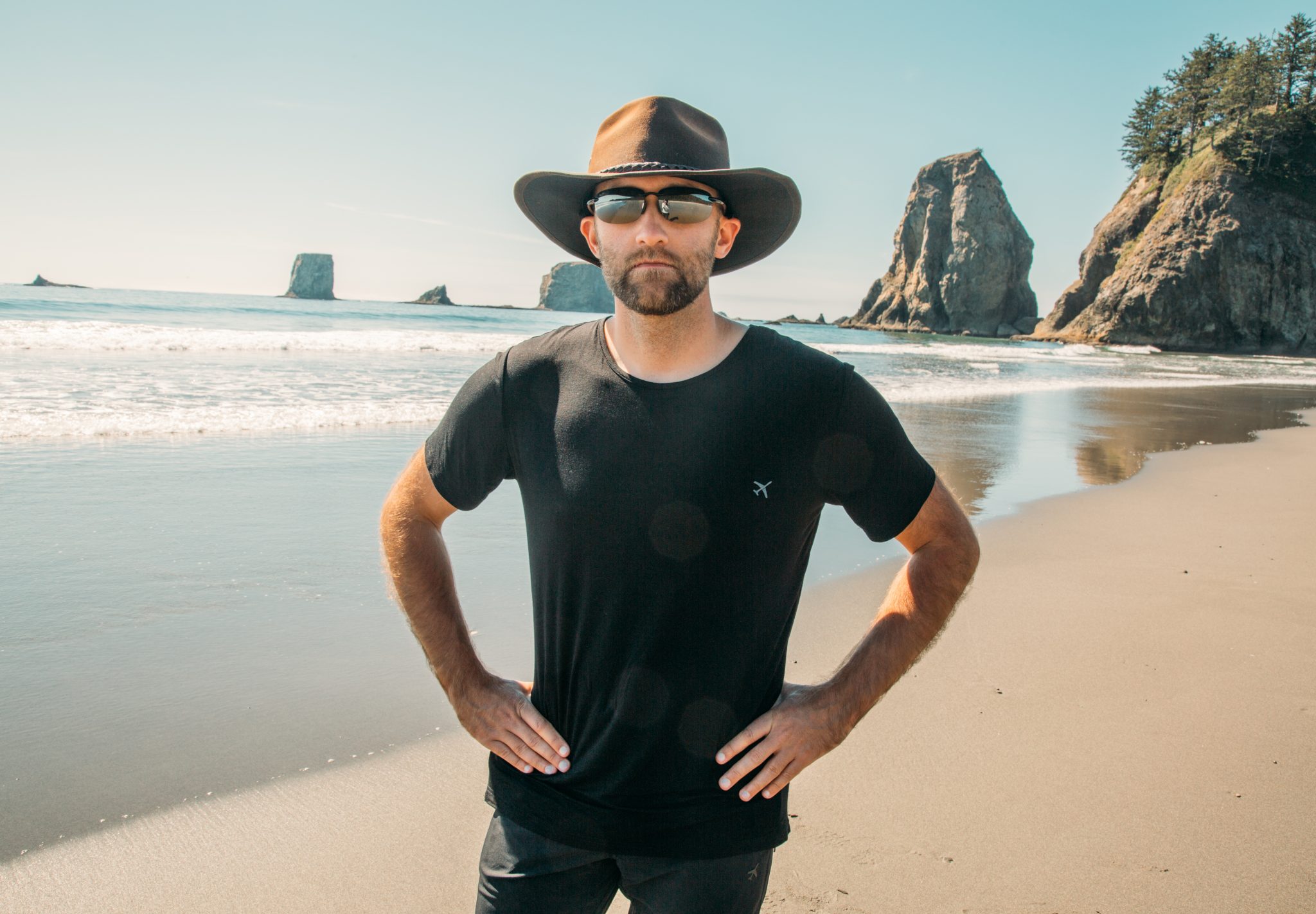 "We travelers have an obligation to protect the world that is our playground. Apparel can be, and MUST be, a force for positive change – ecologically, socially, economically. That is why NxTSTOP has committed to sustainable practices. By leading and promoting the power of eco-friendly innovation, we can influence the world in a positive way to ensure the future of our planet." – NxTSTOP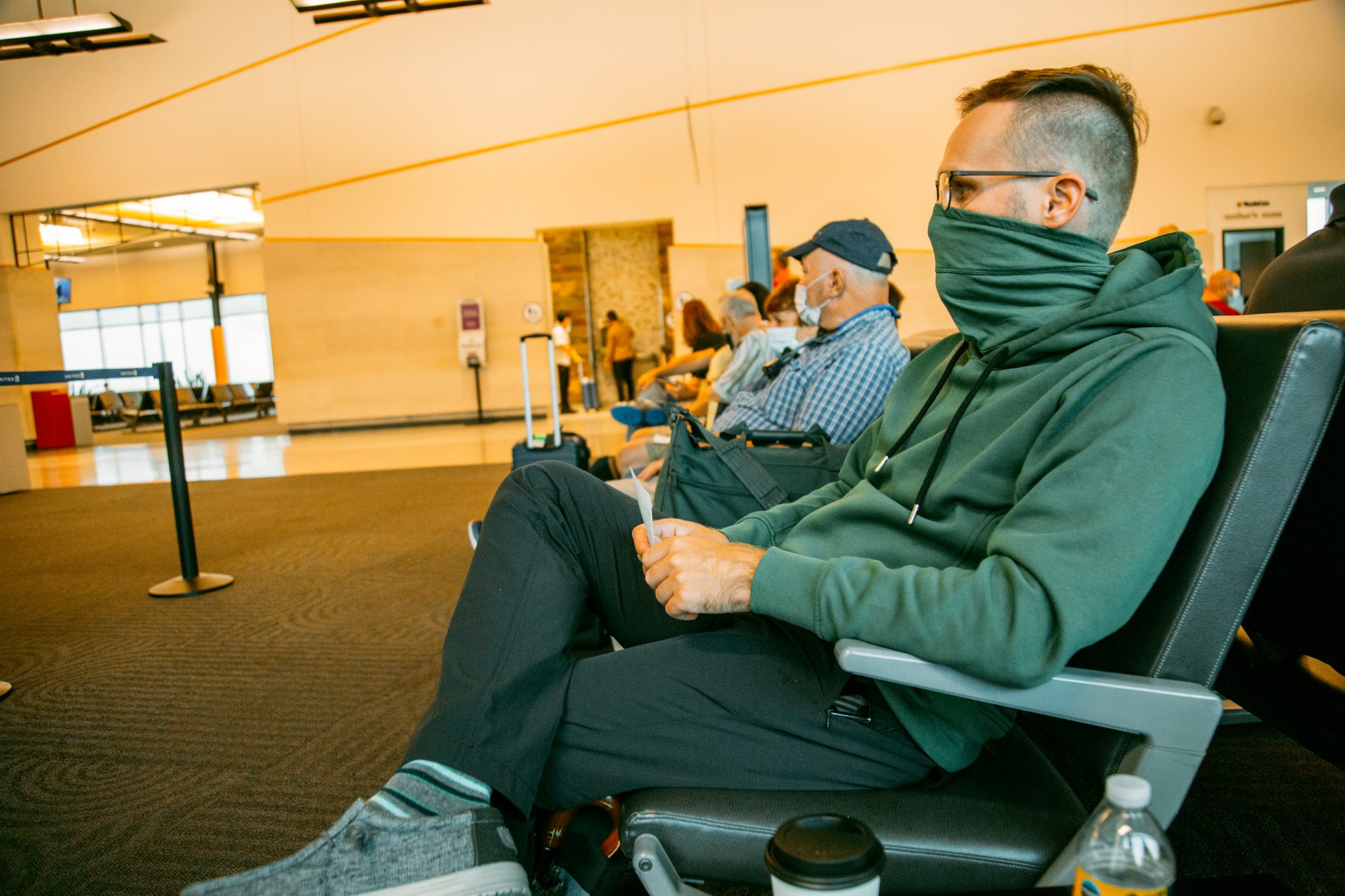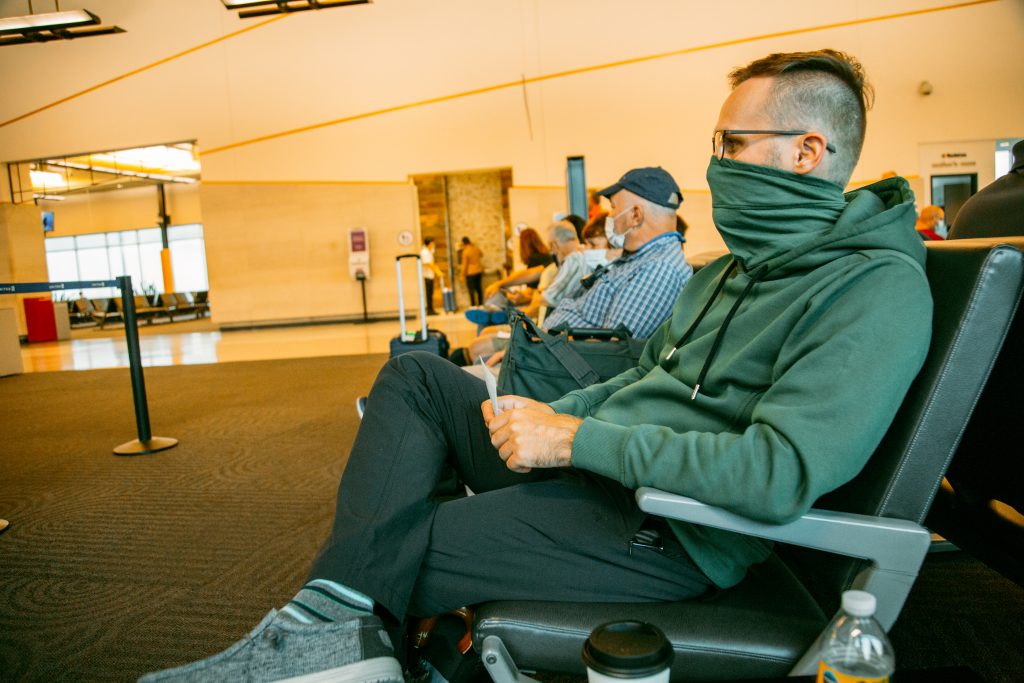 NxTSTOP is a fairly new company, they just launched in March of 2020. They produce travel clothing made from eco-friendly materials, with ethical, and efficient production, as well as compostable packaging. You can read all about their sustainability practices here.
I recently did an entire review post on NxTSTOP, too.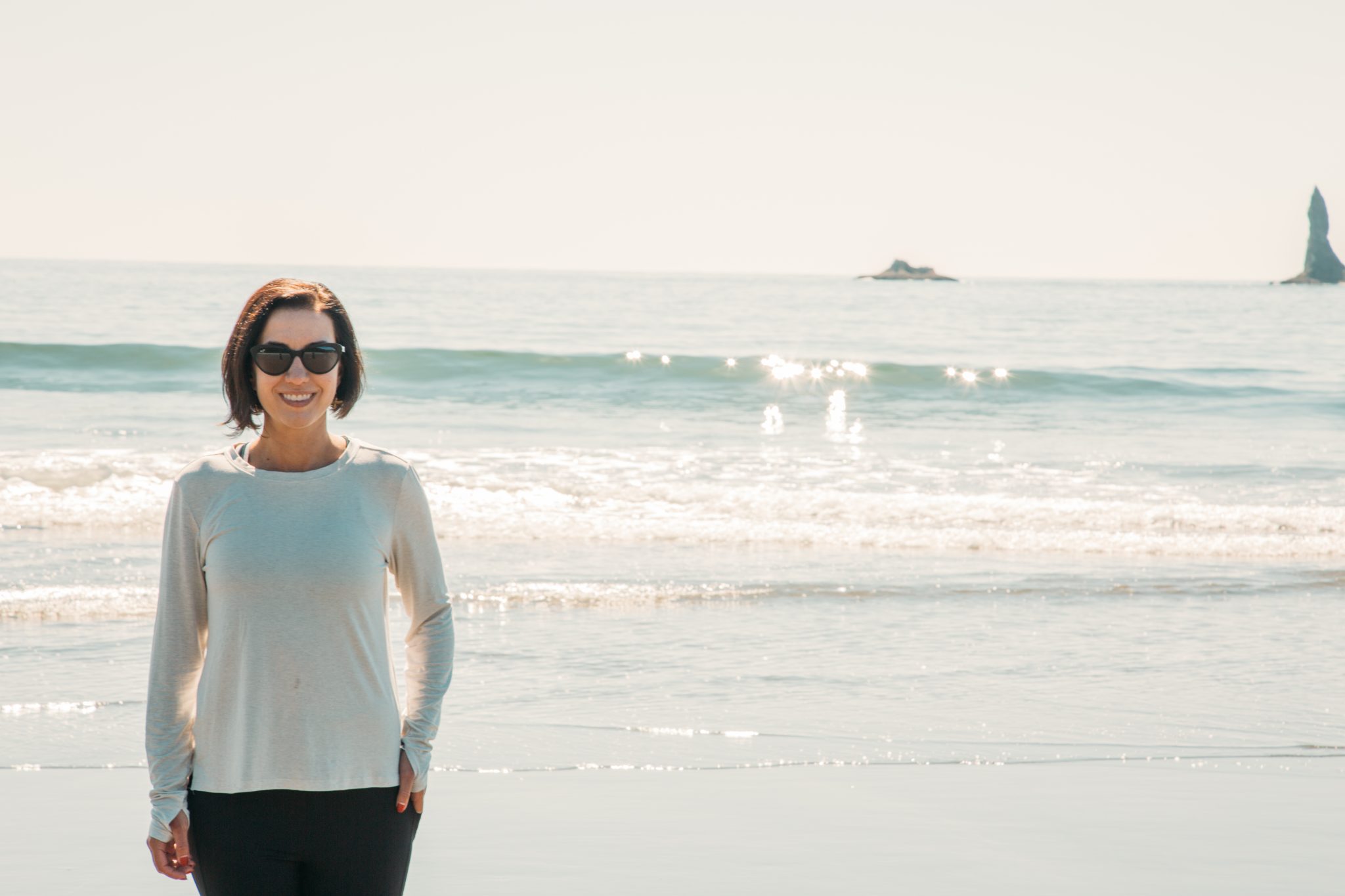 Right now, they feature more men's clothing than women's, but I anticipate that will change as travel begins to pick up again. My husband has pants, shirts, and a sweatshirt (with a built-in mask) that he really likes. I have the long-sleeved shirt pictured above. I have been living in this shirt and can't wait to see what other sustainable products they create going forward!
Read next: Honest NxTSTOP Review of Their Travel Clothing for Men & Women
4.) Hereafter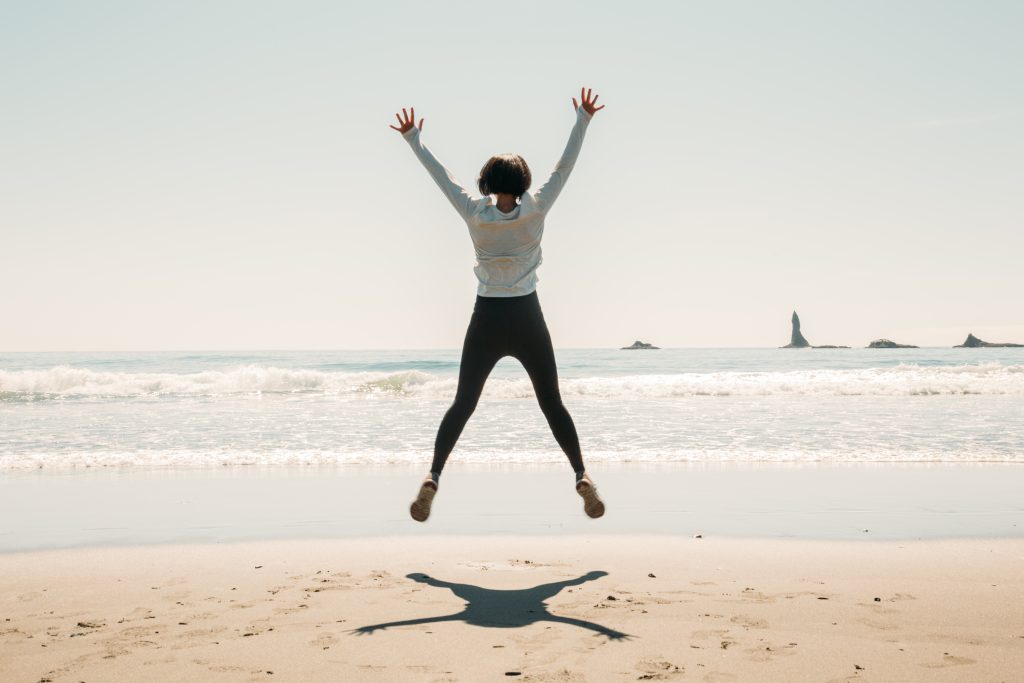 "We design hyper-sustainable movement wear for Life on Earth. Fabrics infused w/ Earth's most potent technologies. For every 1KG of CO2 we emit in our supply chain, we capture 2x by investing in Carbon Capture technology projects." – Hereafter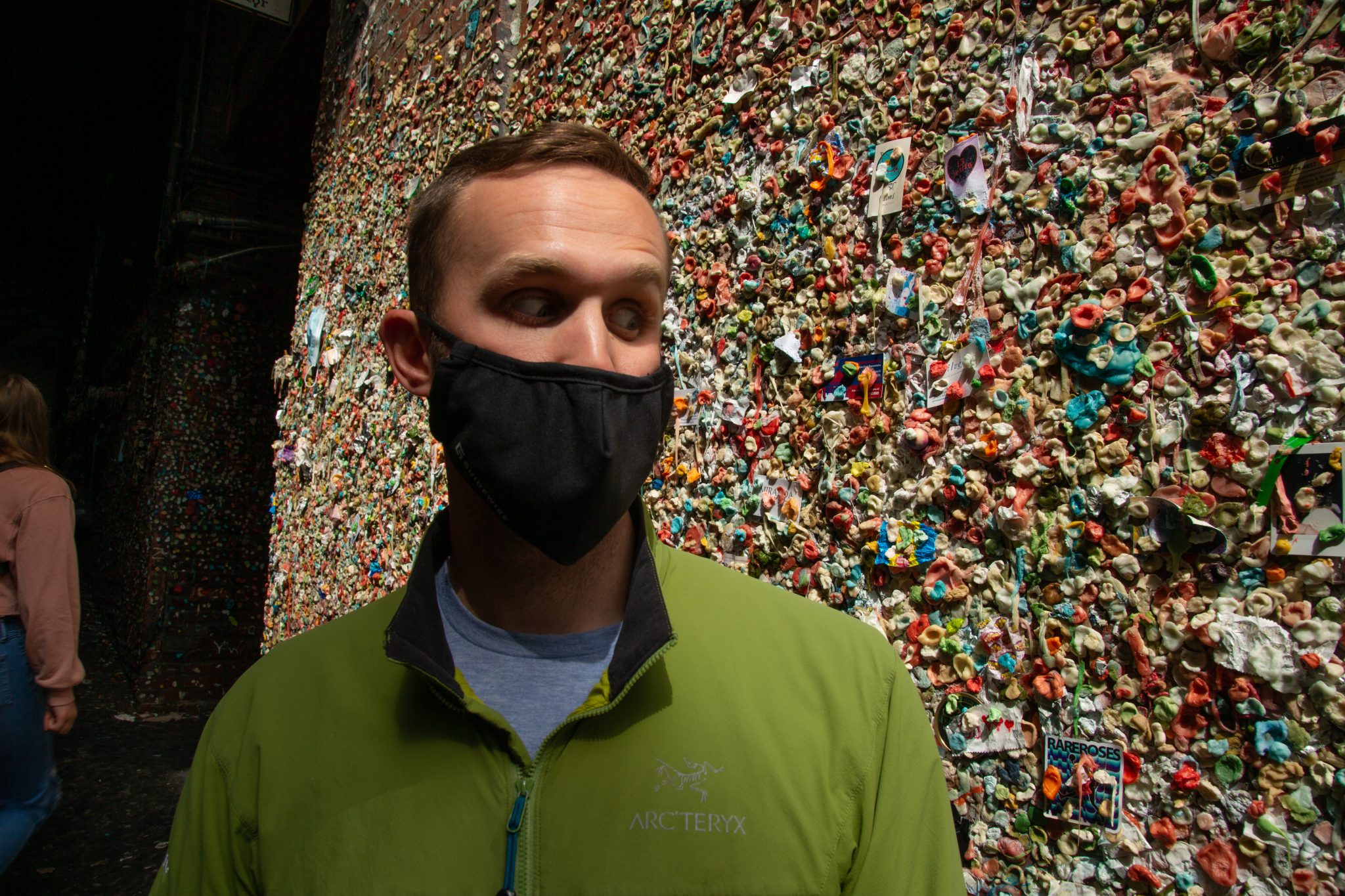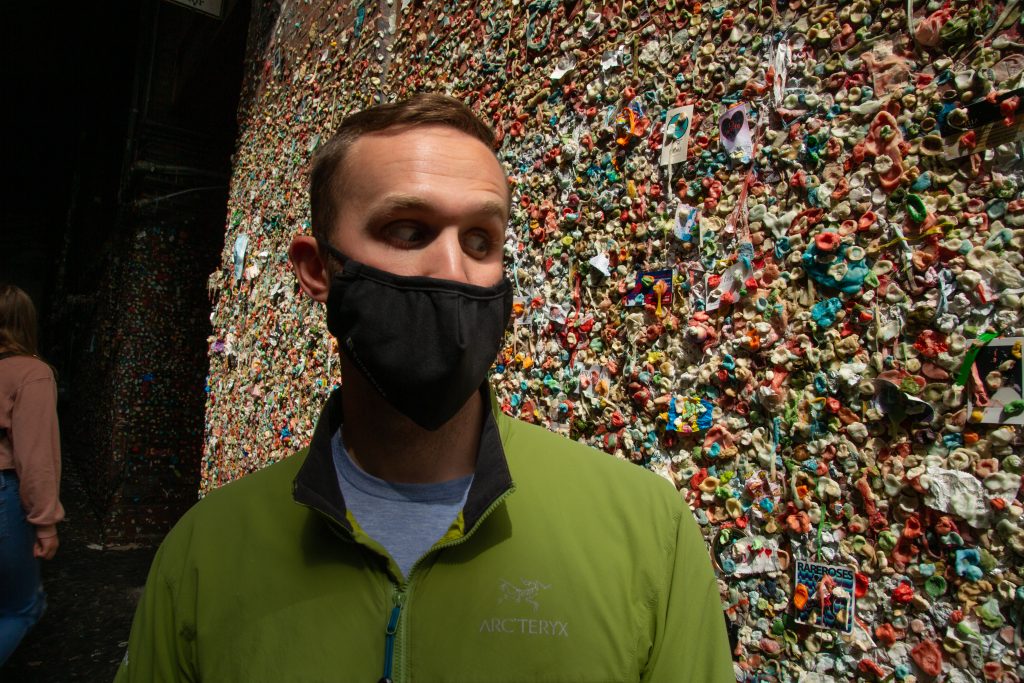 Hereafter is also a relatively new sustainable company that specializes in sustainable activewear – which is also great for travel! I have their leggings, bike shorts, masks, and also a sports bra.
They have a great return policy too. They let you try their items for 30 days, and if you don't love them for any reason, you can return or exchange them for free, no questions asked.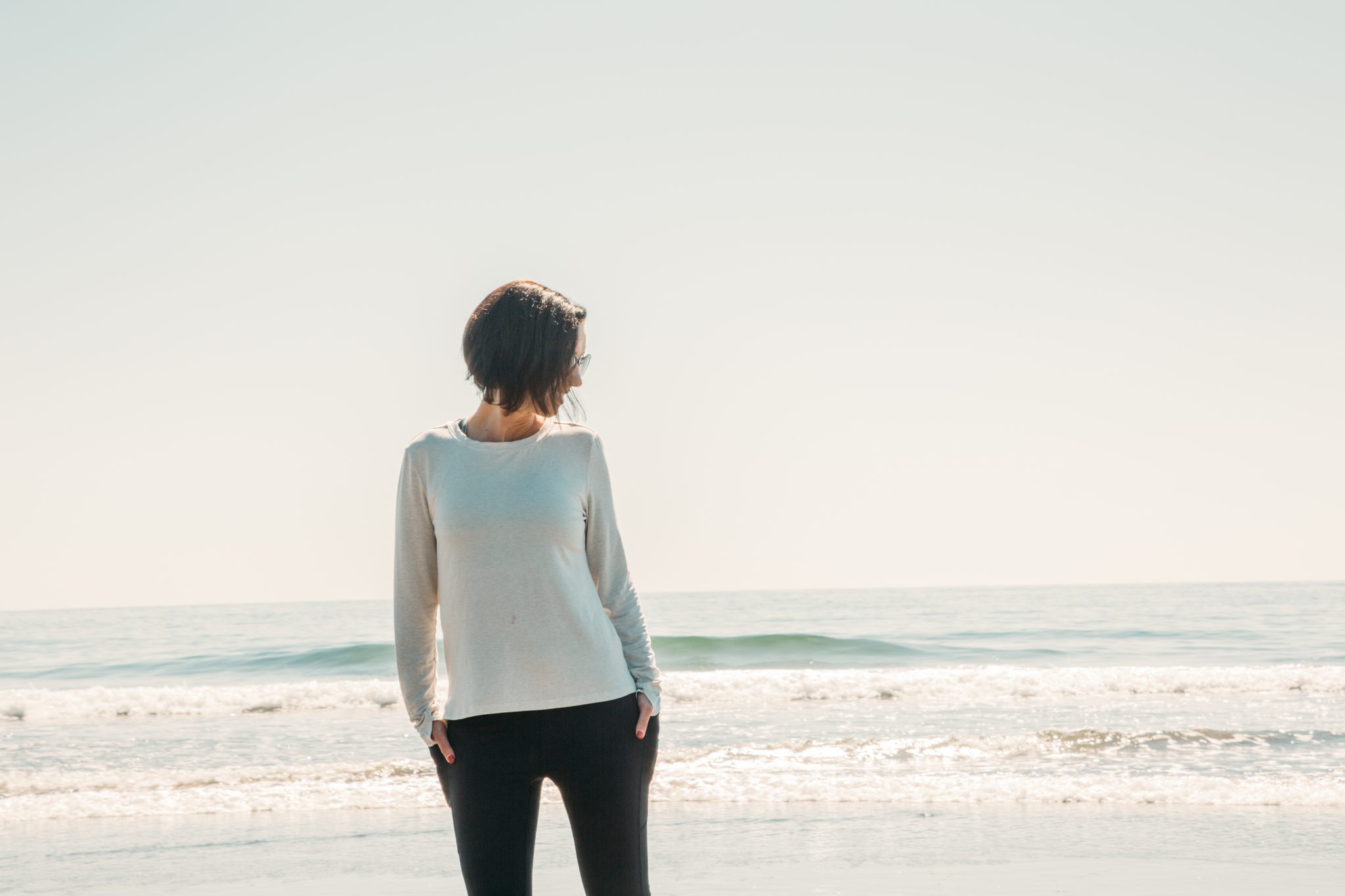 I had to exchange my leggings and shorts, as they were too small. Their sizes run small in my opinion. I am a medium by their size chart, but a large fits me comfortably. They have the smoothest return policy I have ever experienced. I just took my items to my local World Market (a shipping partner) who packaged and returned them… and Hereafter had shipped my exchange by the time I walked out of World Market!
I especially love their leggings (above). They are super comfortable for travel and exercise, plus they have usable pockets. This is also true of their bike shorts. I just am not as big of a fan of bike shorts, personally. But I do wear them for the gym and also under any dresses I'm worried will expose me!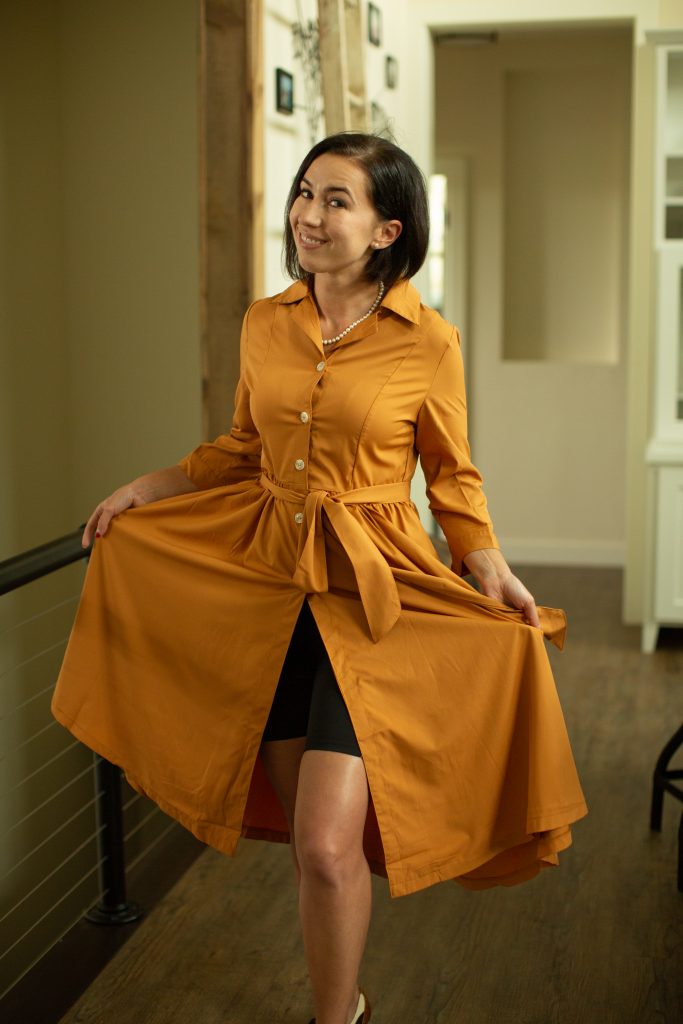 I don't have a photo of it yet, but their sports bra also works well too. This one I had sized down in, though, so I could use it for high-impact activities, like running. It's a bit tough to get in and out of, but it keeps everything in place and supported during a long run or hike!
At this time, though,(besides their masks) they only feature activewear for women.
5.) United by Blue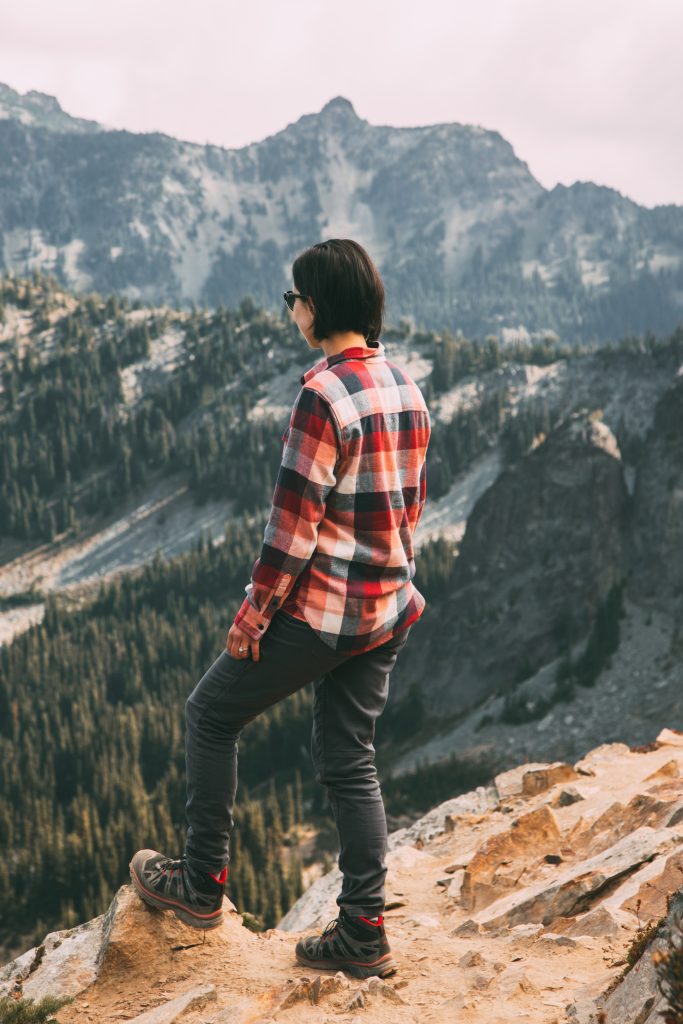 "Our products are made in GOTS-certified factories from sustainably-sourced materials. We create them to last, because the best way to be a conscious consumer is to ultimately consume less.
For every product purchased, United by Blue removes one pound of trash from oceans and waterways. Behind the more than 3.5 million pounds of trash we've removed so far, there are countless cleanups, volunteers, partners, and initiatives that got us there. We publish an impact report at the end of each year so you can read how it all went down." – United by Blue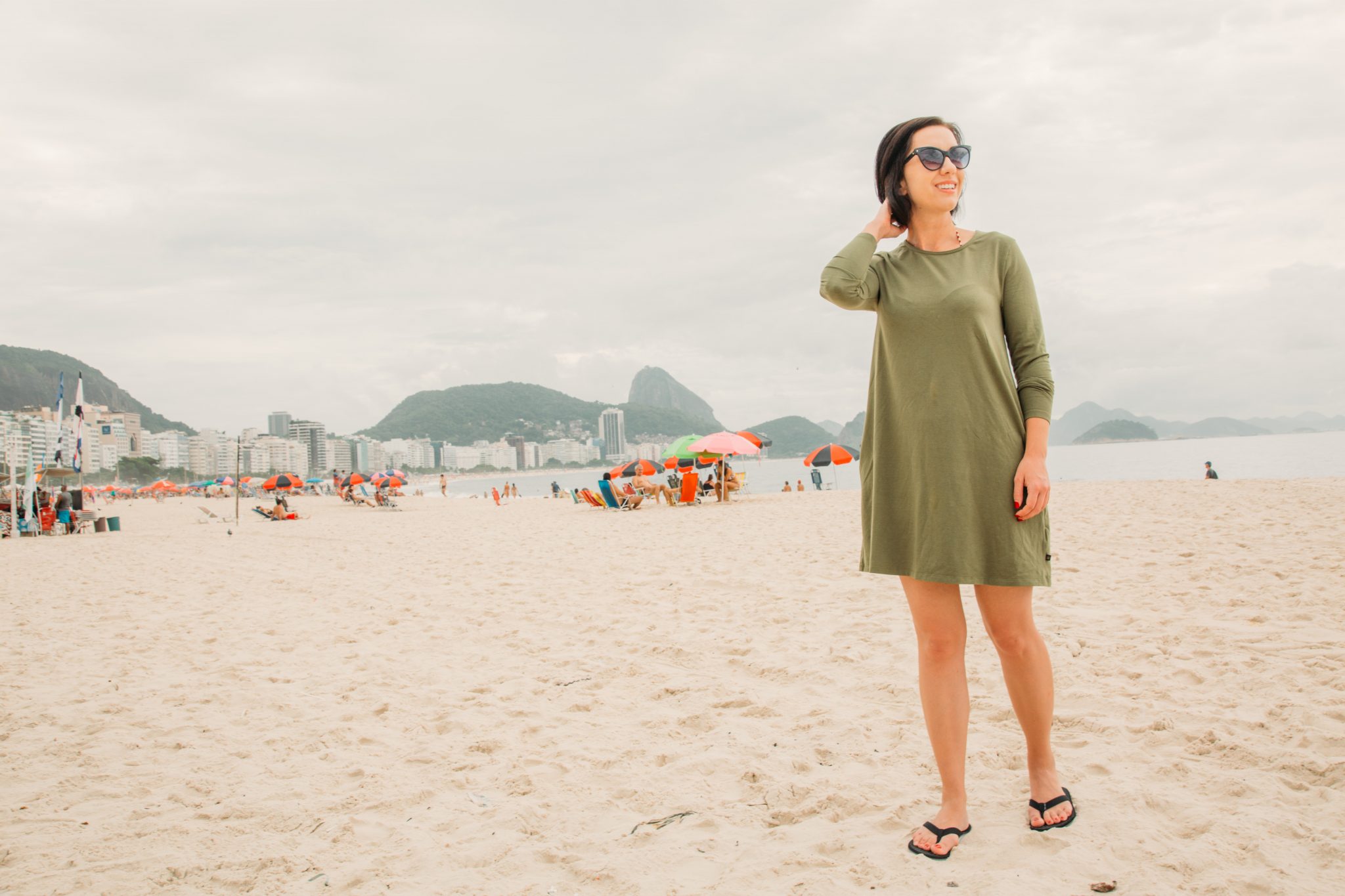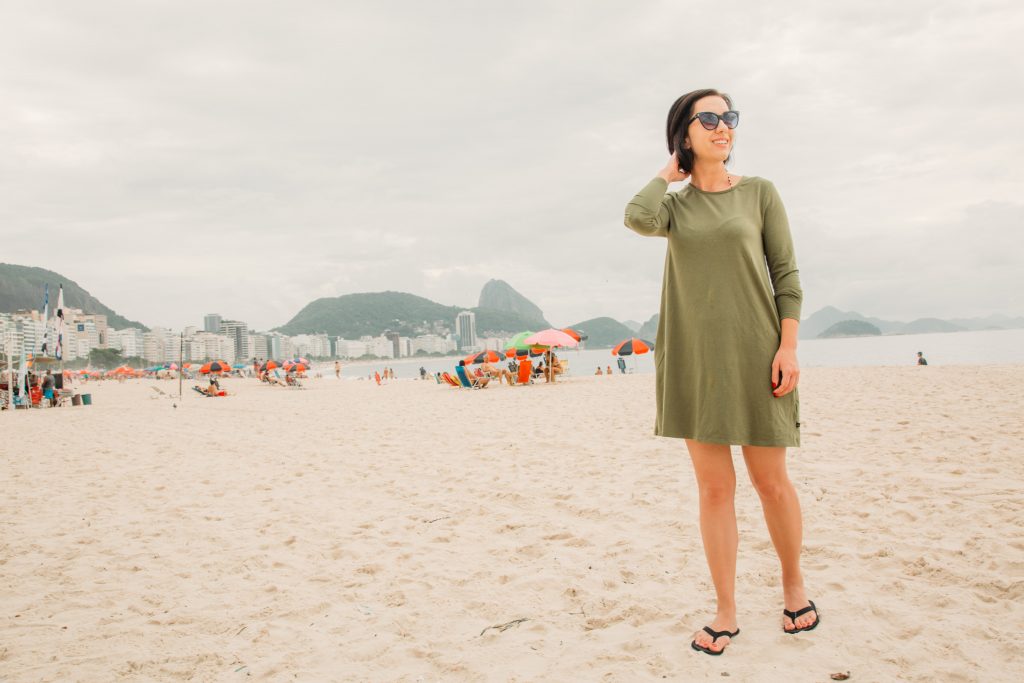 United by Blue is an incredible sustainable company that I have been a fan of for the last few years. I have an entire wardrobe from this company as well – ranging from sweatpants to my winter jacket to hiking gear and a travel dress. Every item I own is of impeccable quality and very comfortable to wear while traveling. (Sorry, I'm not linking to each of the items I own, as many of them I had gotten years ago, and they are no longer in stock.)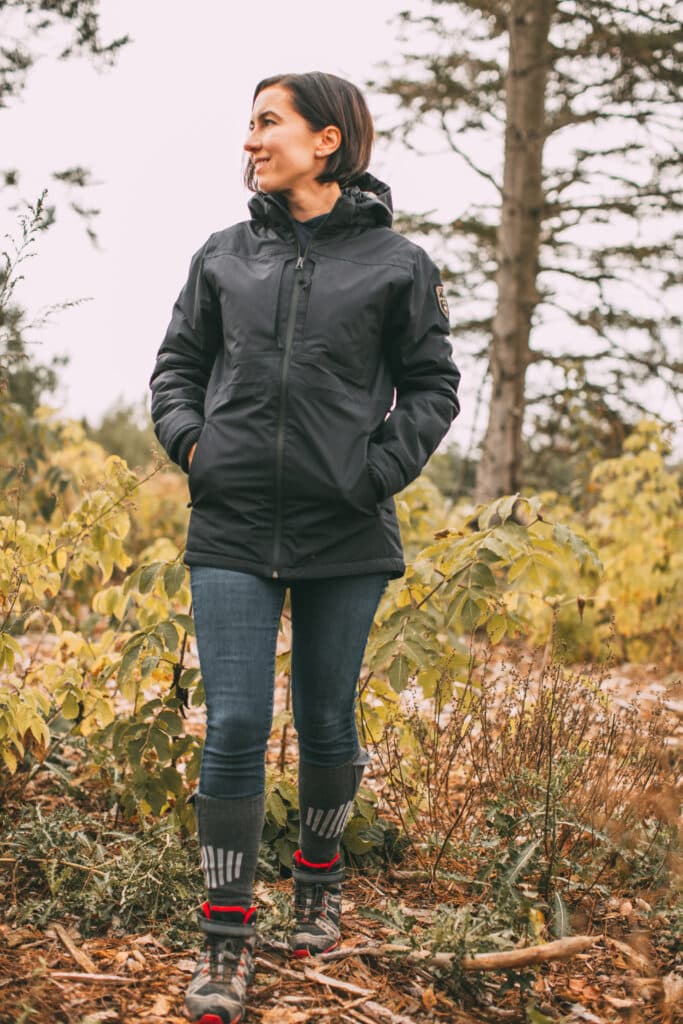 My husband is pestering me to get him some clothing from United by Blue for Christmas, though, so stay tuned for his take on their men's line. (Will be updating this after Christmas!)
6.) Arc'teryx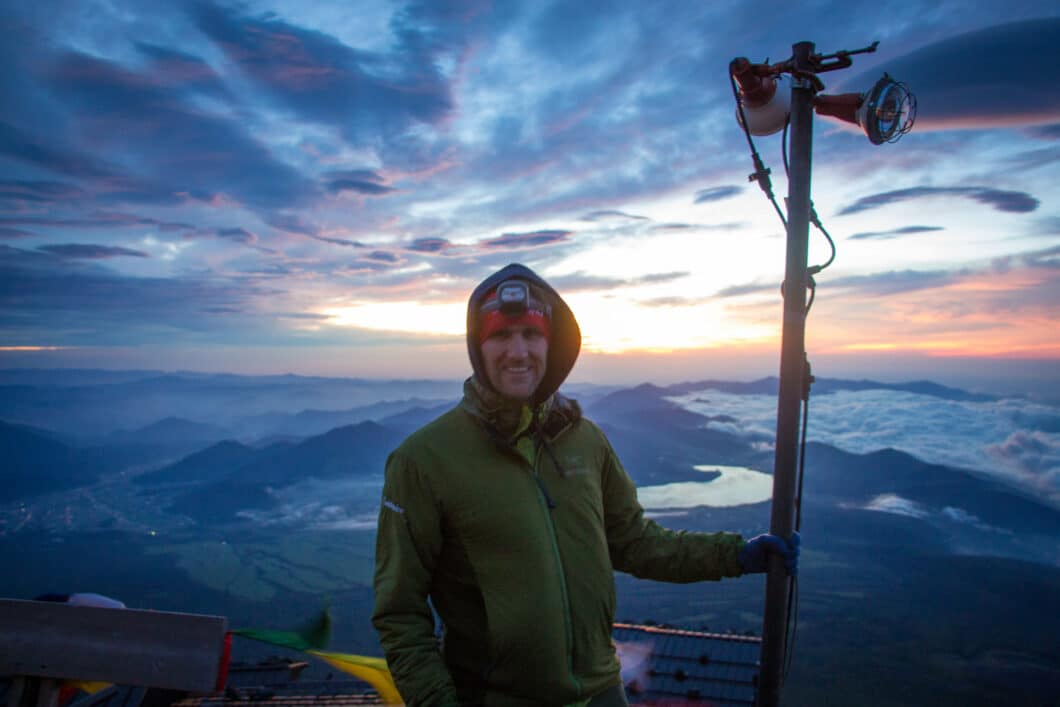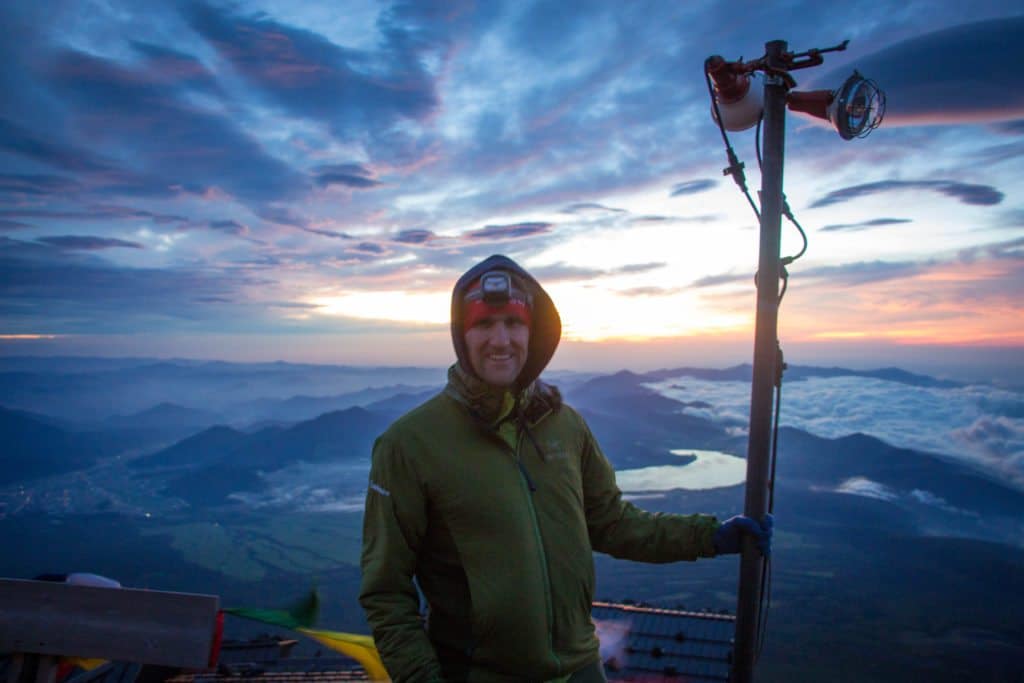 "Our product philosophy is the foundation of our approach to sustainability. We believe that building products to last is the most powerful lever for minimizing our impact.
We have also adopted the Bluesign® system Restricted Substances List (RSL) that outlines a broad range of materials that require careful management due to negative impacts on the environment, health, or occupational safety. We work directly with our material suppliers to ensure that we adhere to the RSL standards throughout our supply chain."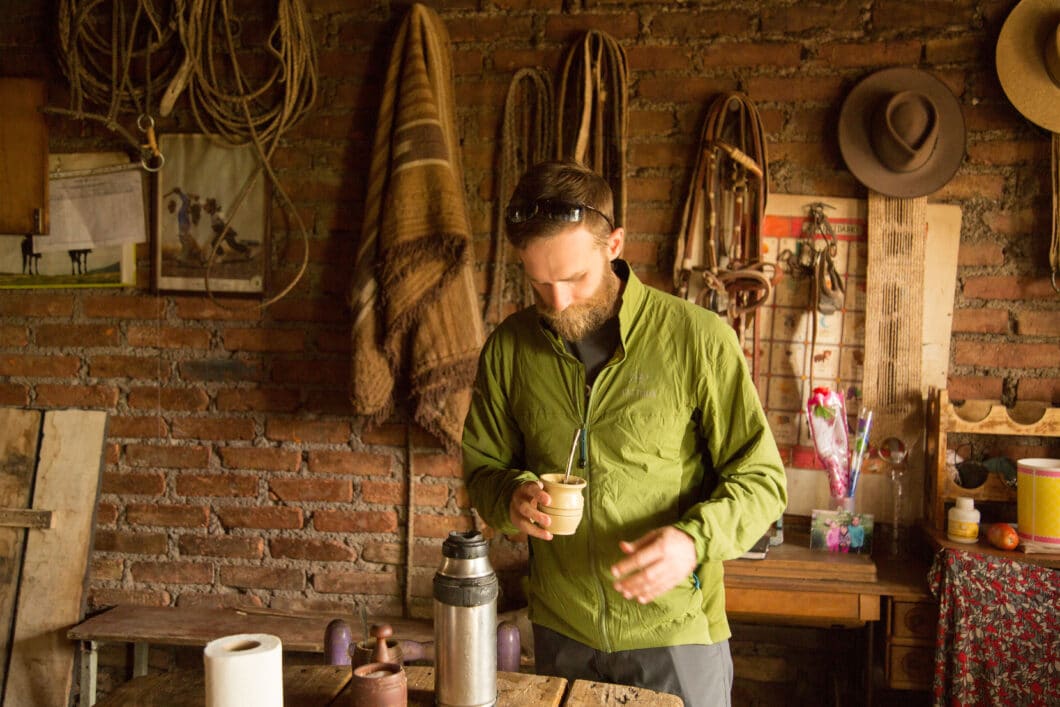 Zac has been a fan of Arc'teryx jackets since we started traveling around the world more than 8 years ago. He has had that green Arc'teryx jacket for almost 10 years now and wears it constantly. He can fully attest to this jacket meeting Arc'teryx's claim that their clothing is built to last!
Arc'teryx makes very lightweight yet warm jackets that withstand a variety of elements. Zac only wears Arc'teryx outerwear – from winters in Wisconsin and Russia to hiking in Peru and up Mount Fuji. (I joke that he's an Arc'teryx snob.)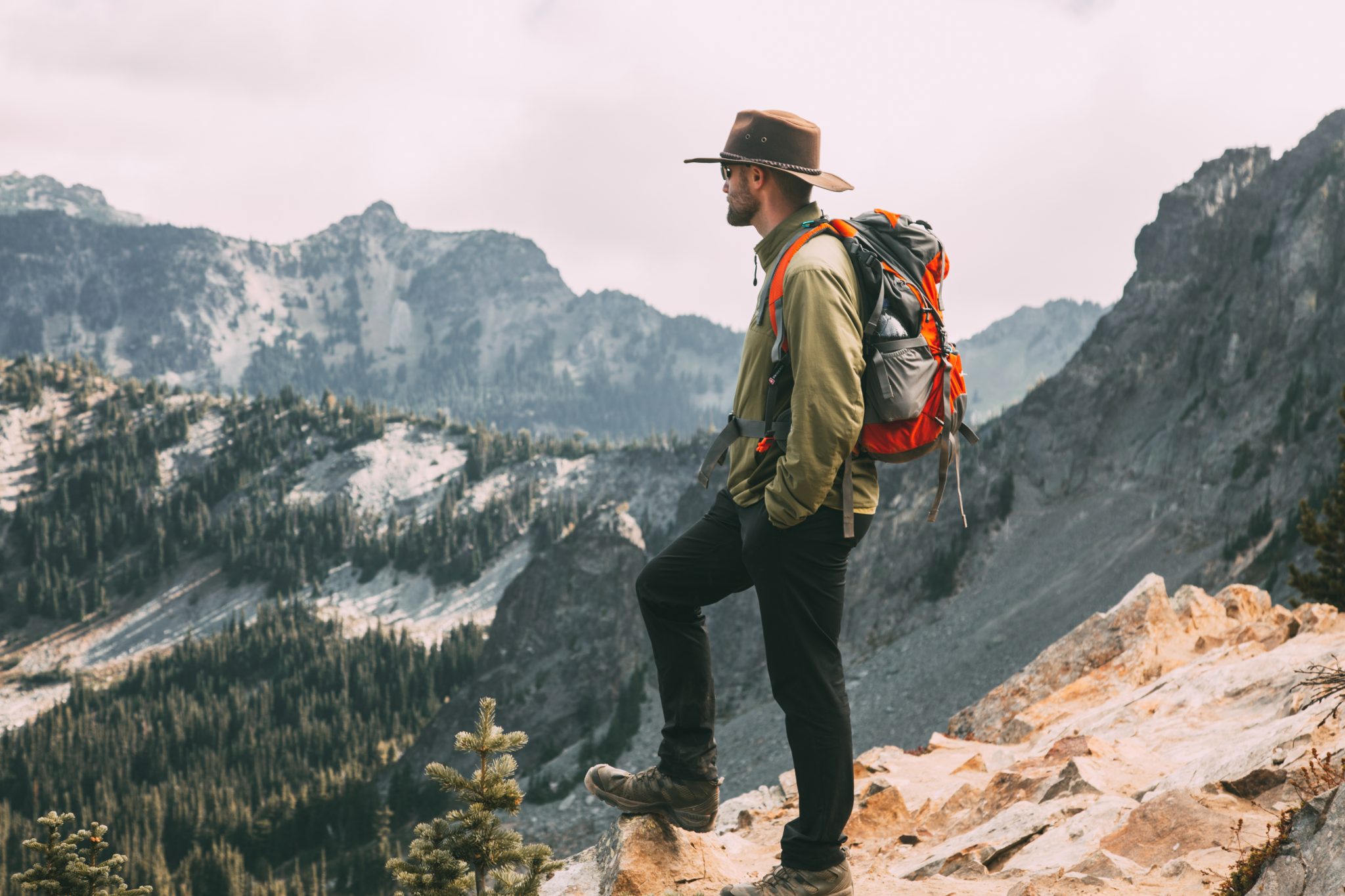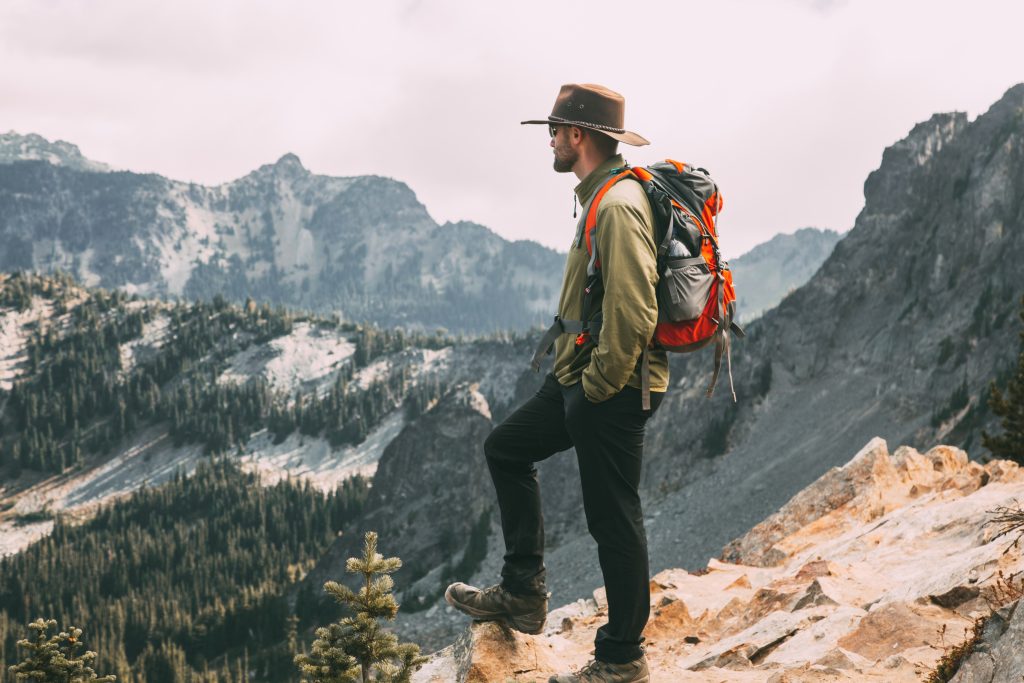 He likes them for travel, though, because they are easy to roll into a tiny ball and throw in a bag, plus they breathe well and are insanely comfortable. I steal these jackets on him every once in a while and completely understand his obsession with them!
7.) Aviator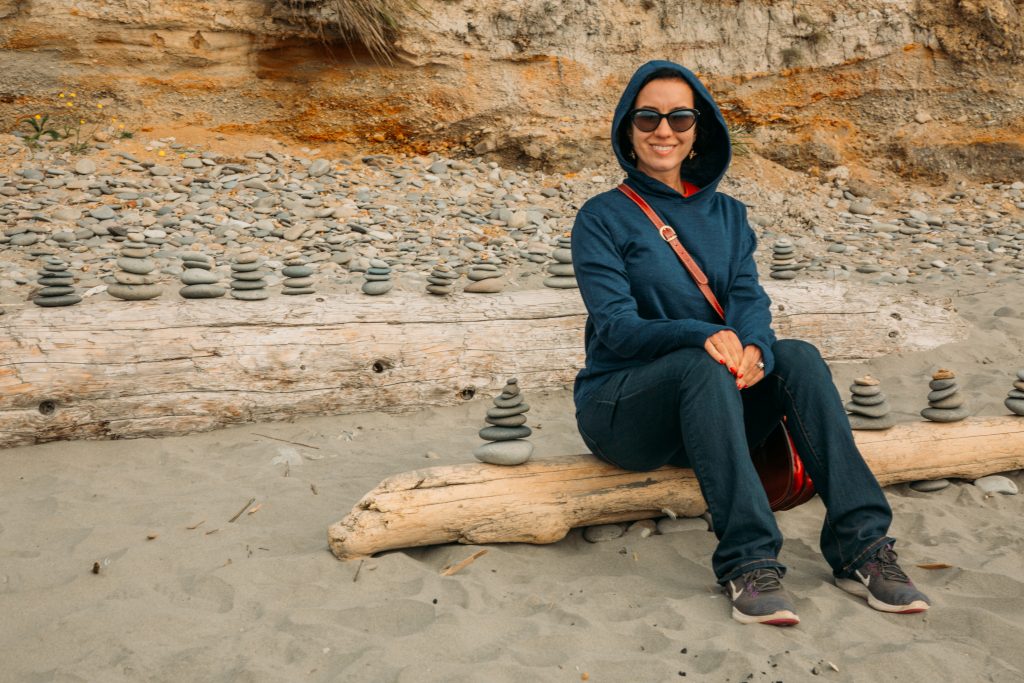 "Fair labor, sustainability, and efficiency are at the center of how we operate. Our hoodies and tops are made with 100% Merino Wool because it's the best fabric for travel. We source our Merino Wool from New Zealand because they maintain strict laws protecting their sheep. New Zealand Merino's are treated ethically and are carefully sheered each spring. " – Aviator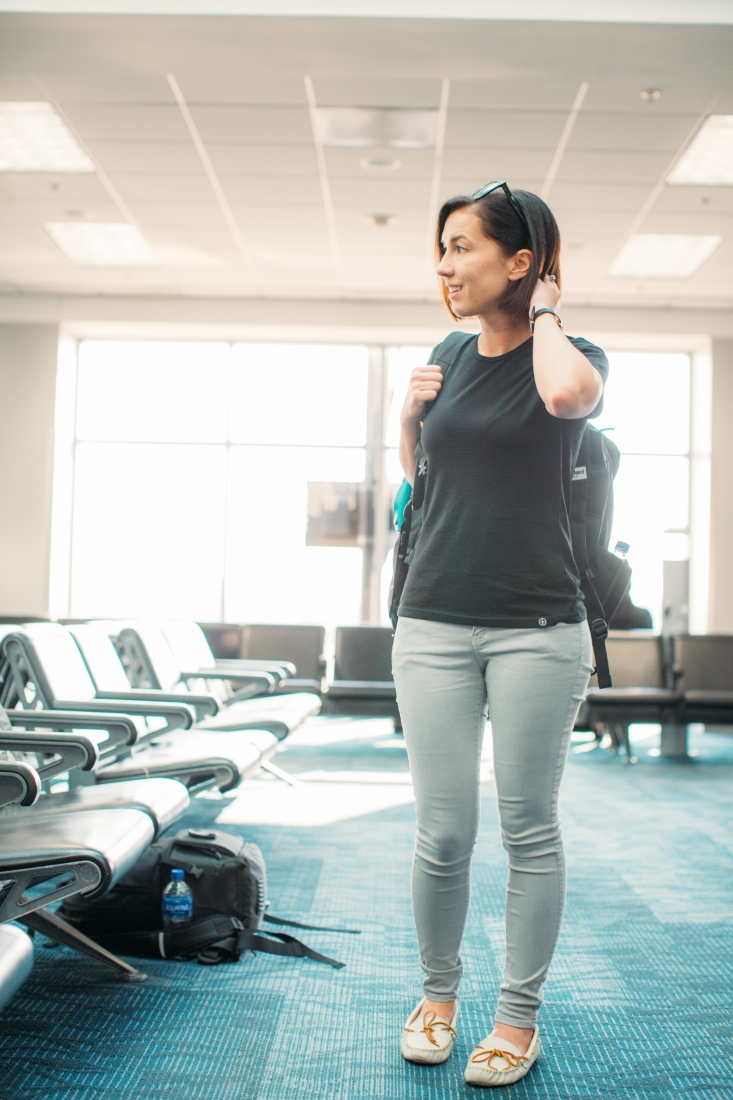 Aviator is a travel clothing brand I first was introduced to because of their high-quality travel jeans. (Their jeans are not entirely made of natural fibers, though.) I do love their jeans and have been wearing them on adventures for years.
However, Aviator's hoodies and tops are what is putting them in the sustainable travel clothing game. Their tops are 100% merino wool, which makes them sustainable and also very comfortable and breathable. They are fantastic quality and don't need to be washed as frequently, due to Merino wool being antimicrobial and therefore not getting as stinky as other fabrics.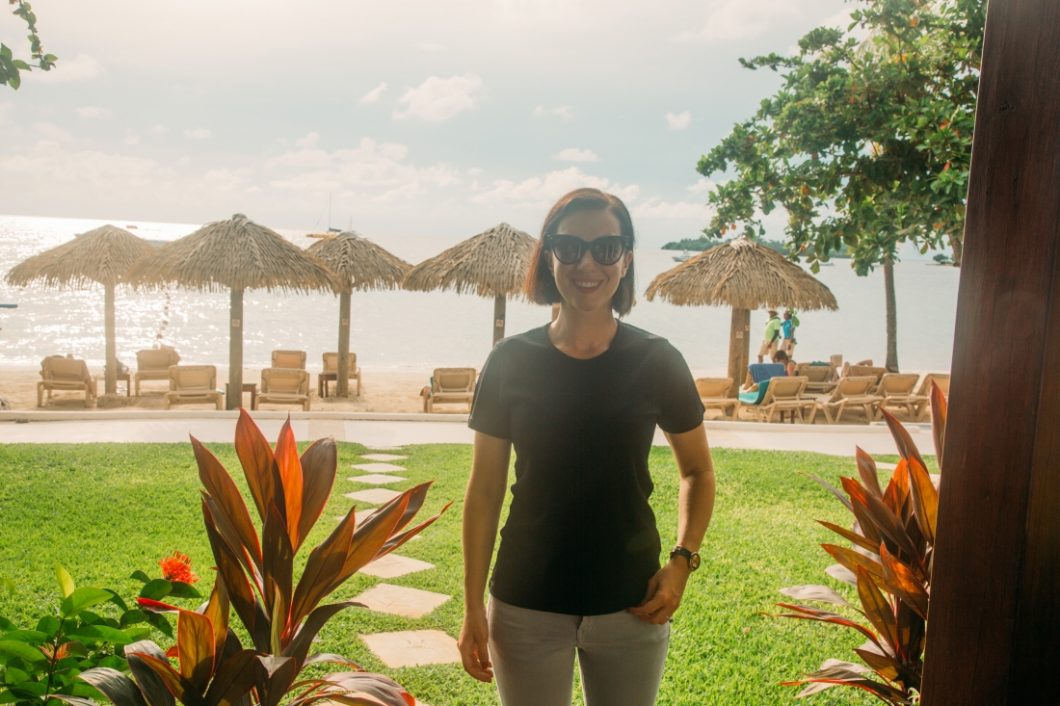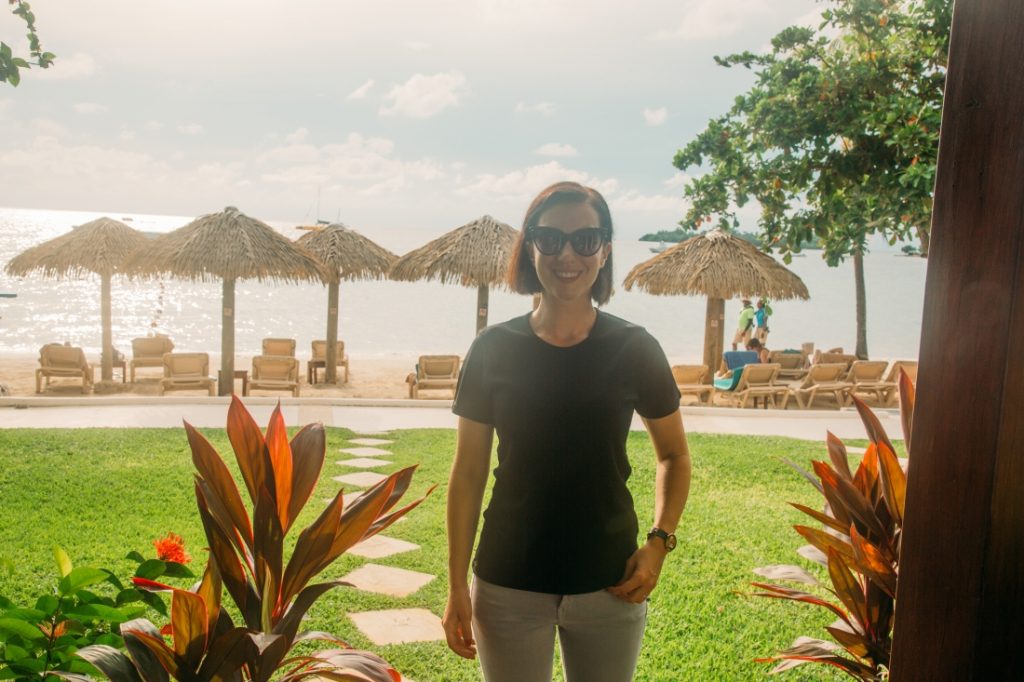 They do have men's Merino wool hoodies and shirts too. The hoodie Zac get for Christmas last year and he lives in the darn thing. He absolutely loves it. (He says it's what all the cool tech guys in Silicon Valley are wearing these days too, which is where his office is.)
Read next: Honest Review of the Aviator Merino Wool Travel T-Shirt
8.) Passion Lilie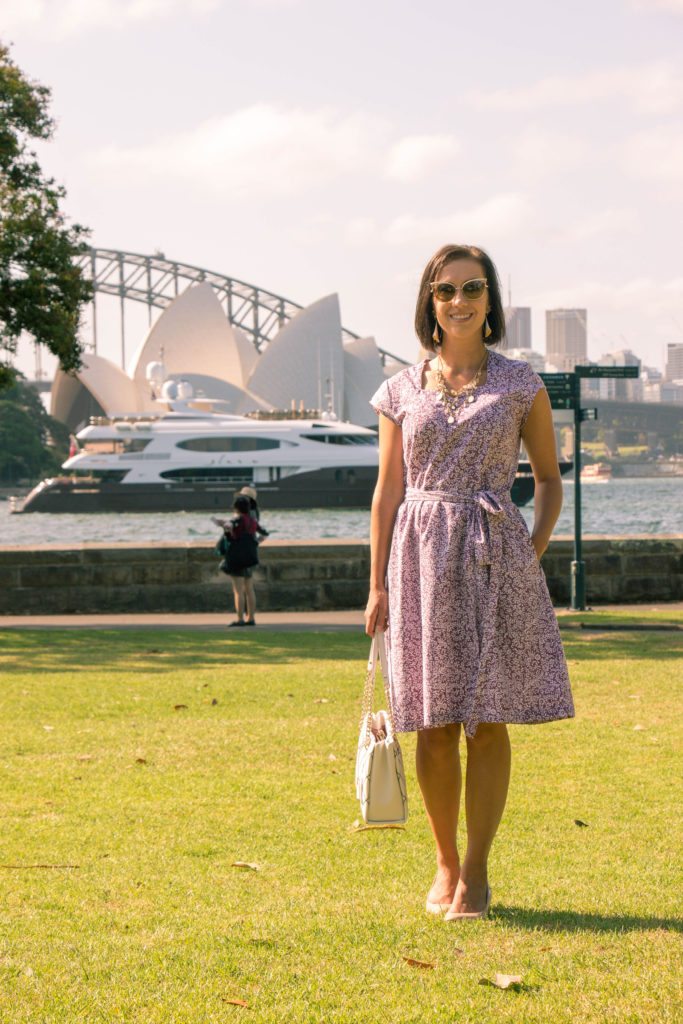 "At Passion Lilie, we believe in making things the right way. We care deeply about doing our part to build a more sustainable world, one built on honesty and respect. From the way we design to the way we create each fair trade collection, sustainability is at the core of every aspect of our business." – Passion Lilie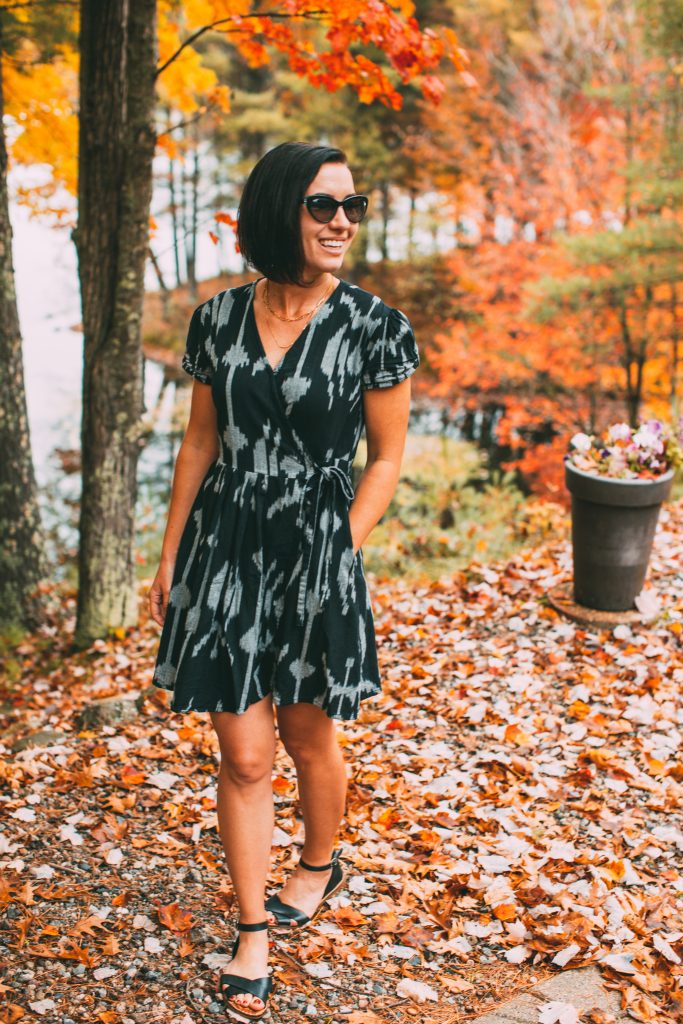 So, Passion Lilie isn't a "travel" clothing brand per se. They don't market themselves this way. However, their dresses are ones that I have worn for more than 5 years now on adventures all over the world, and they are made of entirely sustainable fabrics and dyes in a fair trade working environment.
I think this brand deserves a shoutout as a sustainable travel clothing brand – because not every travel adventure involves camping and hiking, and Passion Lilie's sustainable clothing is perfect for those trips!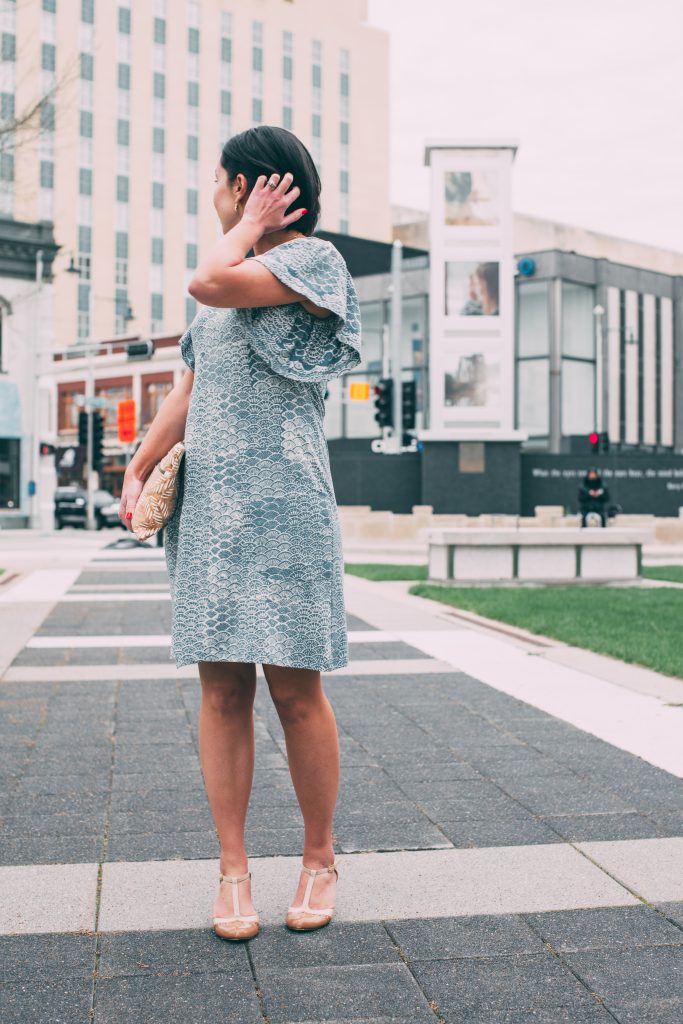 Passion Lilie also has started carrying some men's clothing, but they are primarily a women's clothing boutique at this time.
Passion Lilie is also a brand I partner with from time to time, if you would like 15% off your order, use code HAVECLOTHESWILLTRAVEL.
Read next: Honest Review of Passion Lilie's Fair Trade & Sustainable Dresses
9.) Carry Courage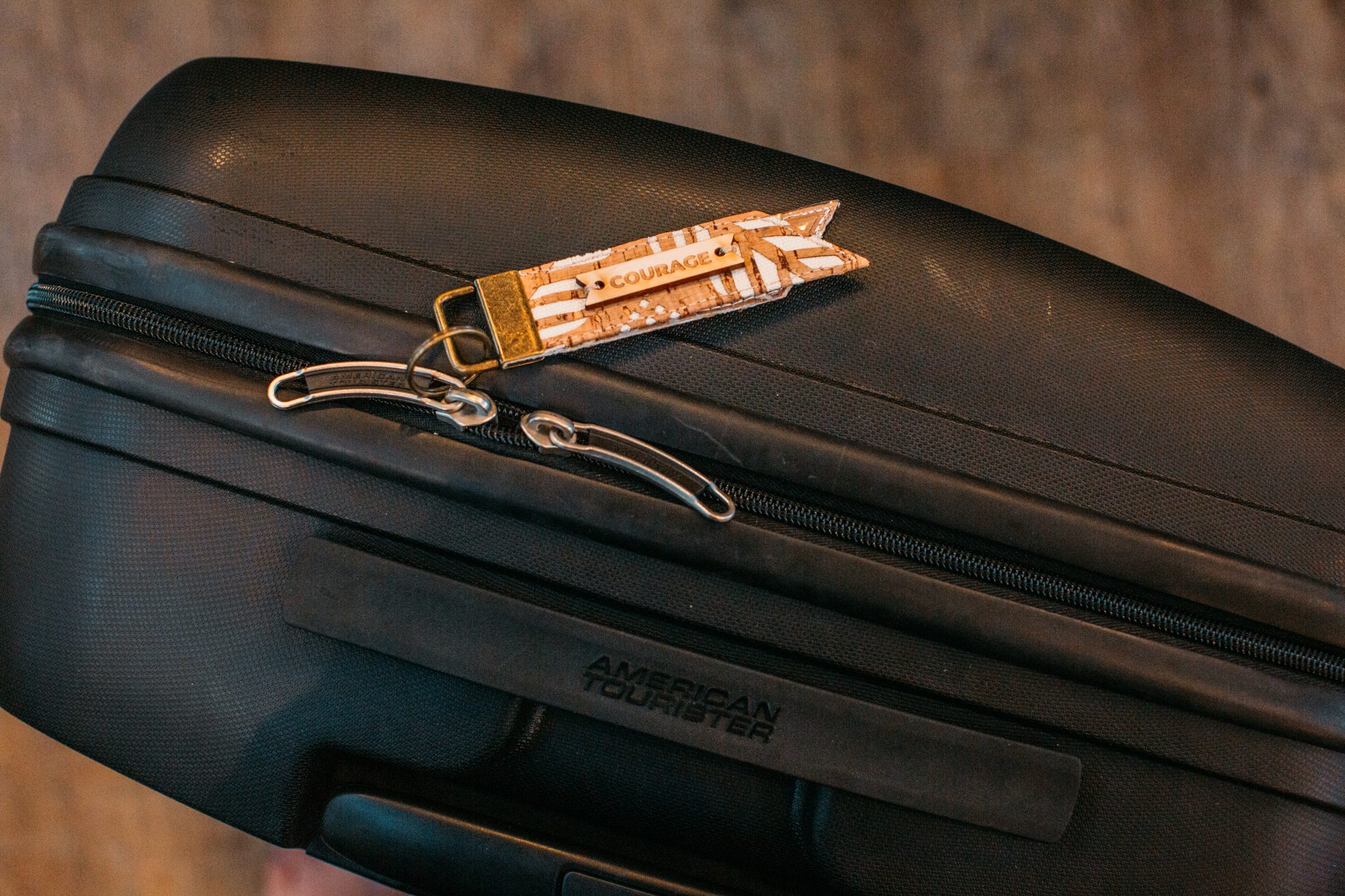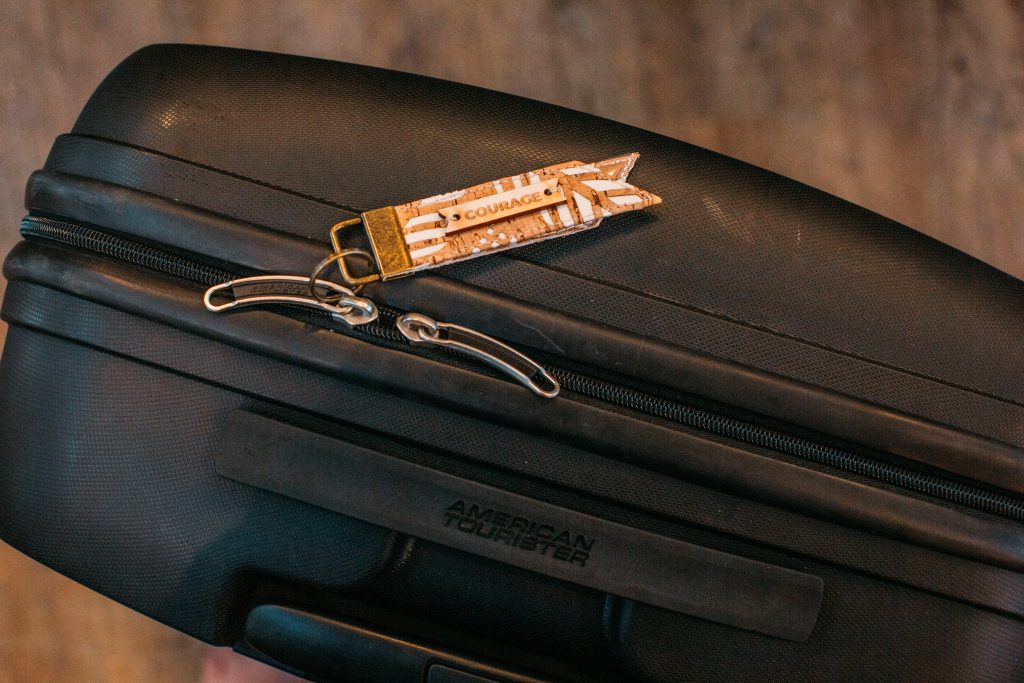 "Carry Courage strives to be a brand committed to transparency in all areas. We care about making our Earth a better place for the next generation and celebrate every material we can source that sustains this purpose.
Cork fabric is harvested from the cork oak tree, and ours comes from sustainable forests with strict harvesting regulations to protect this resource and regulate its quality." – Carry Courage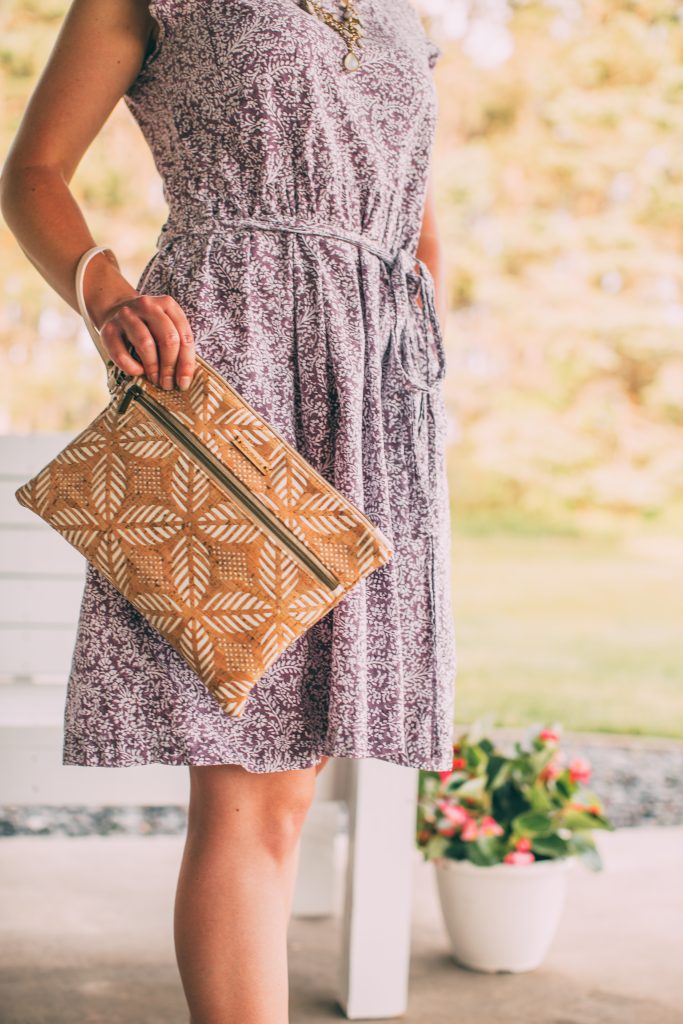 Carry Courage is a sustainable accessories shop geared toward travelers who like to be stylish and organized. They feature beautiful sustainable cork luggage tags, bags, cosmetic cases, and wallets.
I, personally, have their INVENTOR clutch, cosmetics bag, and luggage tag. I love them all, but the makeup bag (below) has been my favorite addition to my travel gear. It keeps my cosmetics organized and upright, so I can see what the heck I packed. Plus, it's easy to wipe clean.
Their products are handmade and very high-quality. They make great gifts for those hard-to-shop-for travelers in your life too!
Read next: Honest Review of Carry Courage – Sustainable Travel Bags & Luggage Tags
10.) Colorful Standard
"All our garments are made from 100% organic cotton, which means cotton that is grown without genetically modified seeds. All our accessories are made from 100% Italian Extra Fine Merino Wool." – Colorful Standard
Colorful Standard is a new-to-me company that I just recently had the pleasure of trying. I haven't had a chance to photograph their clothing on an adventure yet, but I have been wearing my organic cotton Tee and hoodie for work and for going to the gym.
My initial impression is that their clothing is well-made and comfortable and it deserves a spot on this list. They have a great selection of unisex basics. But note, the sizing runs large. I advise sizing down unless you prefer a baggy look and fit.
What is your favorite sustainable travel clothing brand? I'm always looking for new brands to feature! Let me know in the comments!