Honest Review of Carry Courage – Sustainable Travel Bags & Luggage Tags
Carry Courage is a small US-based company that creates sustainable travel bags & luggage tags made from vegan materials, such as cork fabric and linen. All of their products are hand-sewn in their Portland, Oregon studio too – so you know you aren't receiving a mass-produced item when you order from them.
This is the first time I've featured Carry Courage on my blog, but I now have 3 of their products in my arsenal! Given everything that has happened in the last few months, though, I haven't had a chance to try them out on a big international trip (and I'm not sure when we'll begin traveling again). I have been using them in my home and when running errands locally, though.
This post is my honest review of each of my Carry Courage products, from their overall quality, price and versatility. I will also be updating this post (as I do with all my review posts) every few months as I use the products more and more.
Click here to check out the Carry Courage website.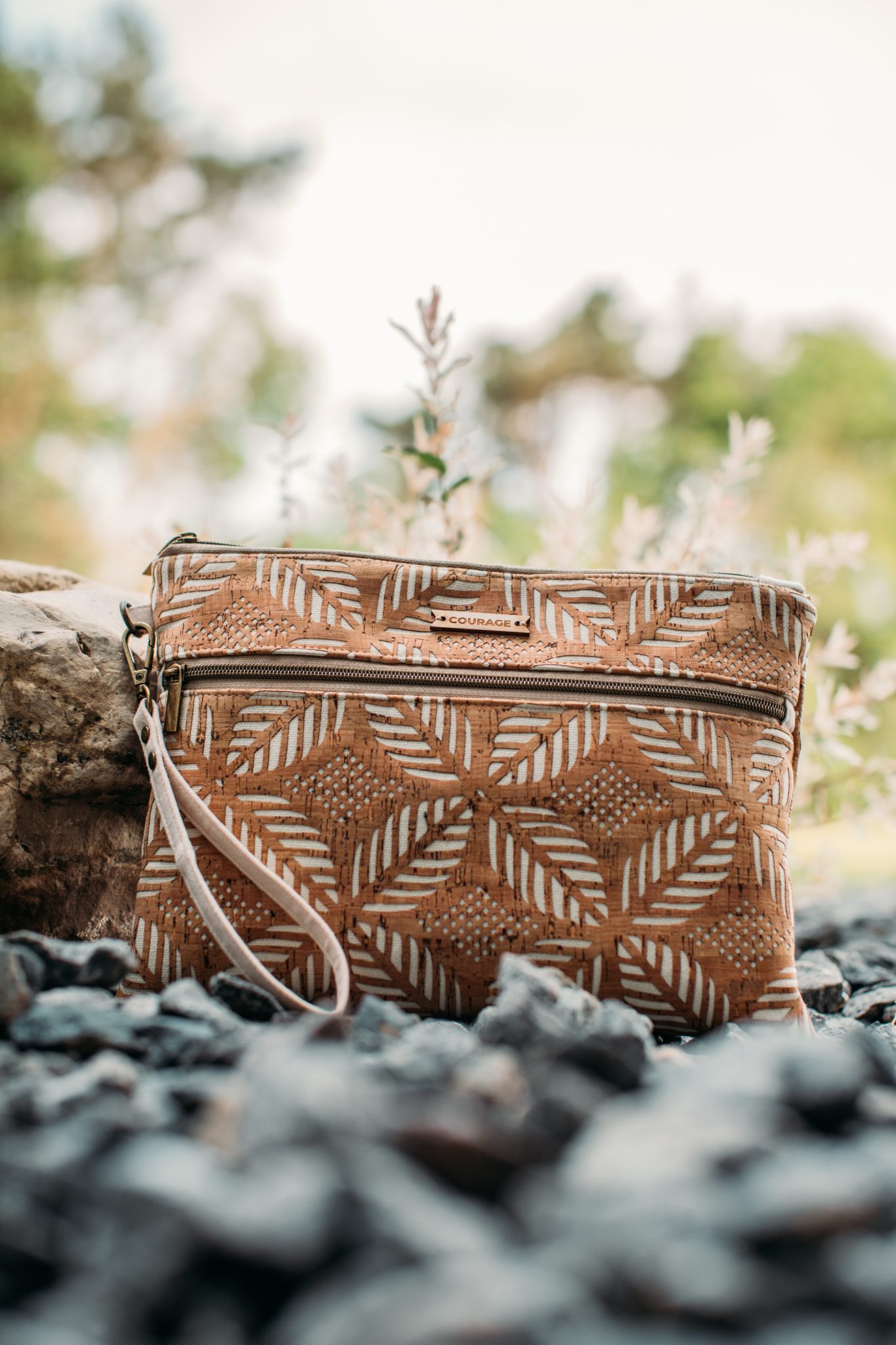 Review of the INVENTOR Tablet Clutch by Carry Courage
The INVENTOR tablet clutch by Carry Courage has been getting used as my everyday purse the last few weeks. This is actually the first wristlet clutch I've ever owned. I know that sounds ridiculous, but I've always bought crossbody bags for traveling. It's taken me a bit to get used to carrying a wristlet, but I'm honestly surprised how much I like it for a change!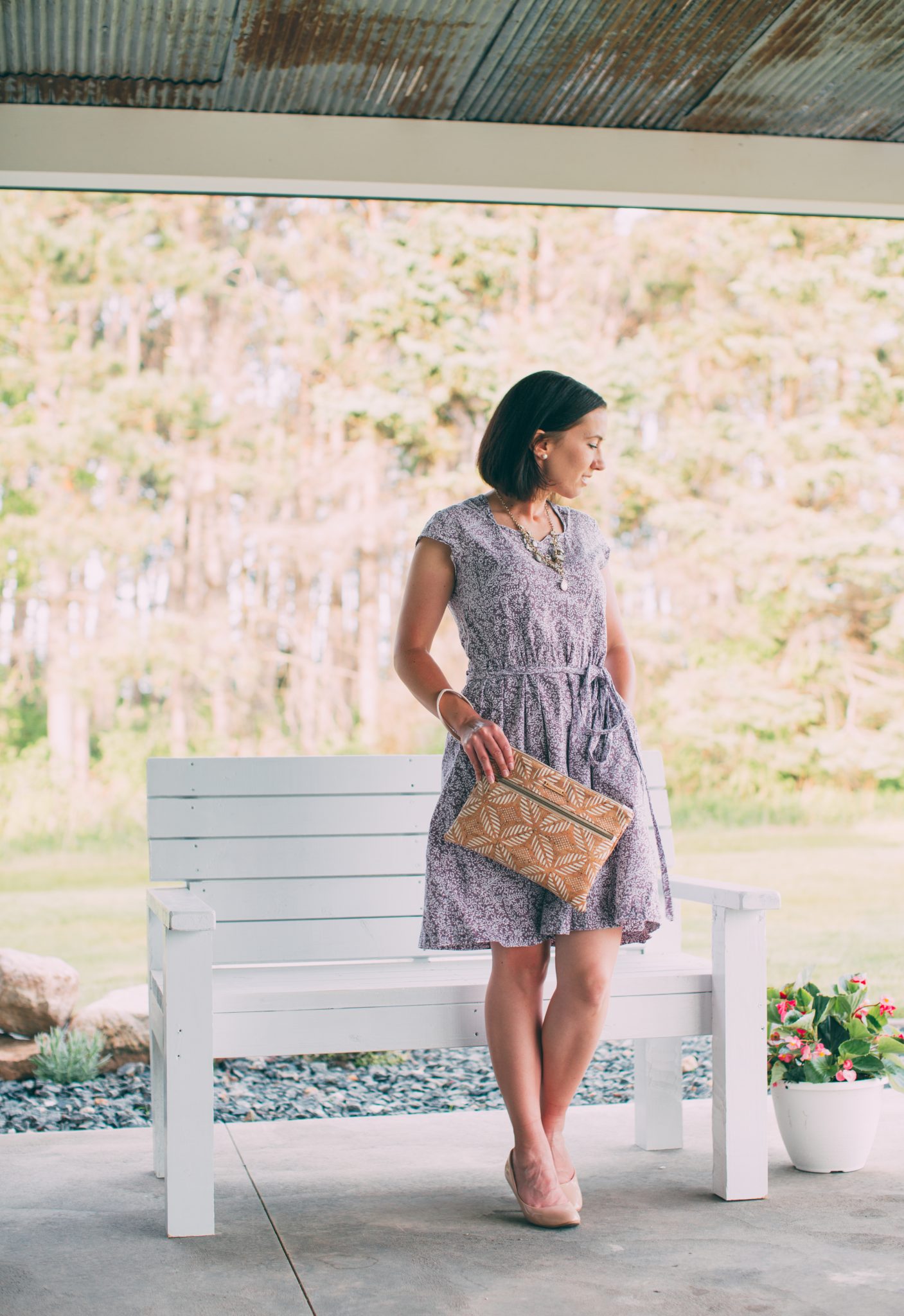 What I Like About the INVENTOR Tablet Clutch
It's really cute & unique! Purses are meant to make a statement, in my opinion, and this wristlet clutch does just that. I've gotten tons of compliments on it – even my husband thinks the cork material is really cool (and he almost never notices my handbags anymore).
It's very well-made and durable. I always stuff entirely too much stuff inside my handbags and put way too much weight on them. This clutch is holding up to the challenge of carrying all my useless stuff around, though.
The material is easy to clean. I used this clutch last weekend for the first date night my husband and I have had outside our home since March! We went to one of our favorite restaurants in downtown Appleton that has outdoor seating, and I ordered pasta with a red sauce. I, of course, spilled it on my white shirt and this bag (no idea how I did it). I'm still working on getting the stain out of my shirt, but it wiped right off the clutch no problem!
It's versatile. This Carry Courage clutch is easy to dress up or down and goes with the majority of my wardrobe. I can easily pair it with a dress for a fancier look or with a T-shirt and pair of jeans. The wrist strap is also removable if I'd rather carry it as a clutch than a wristlet. (I prefer using it as a wristlet, though.)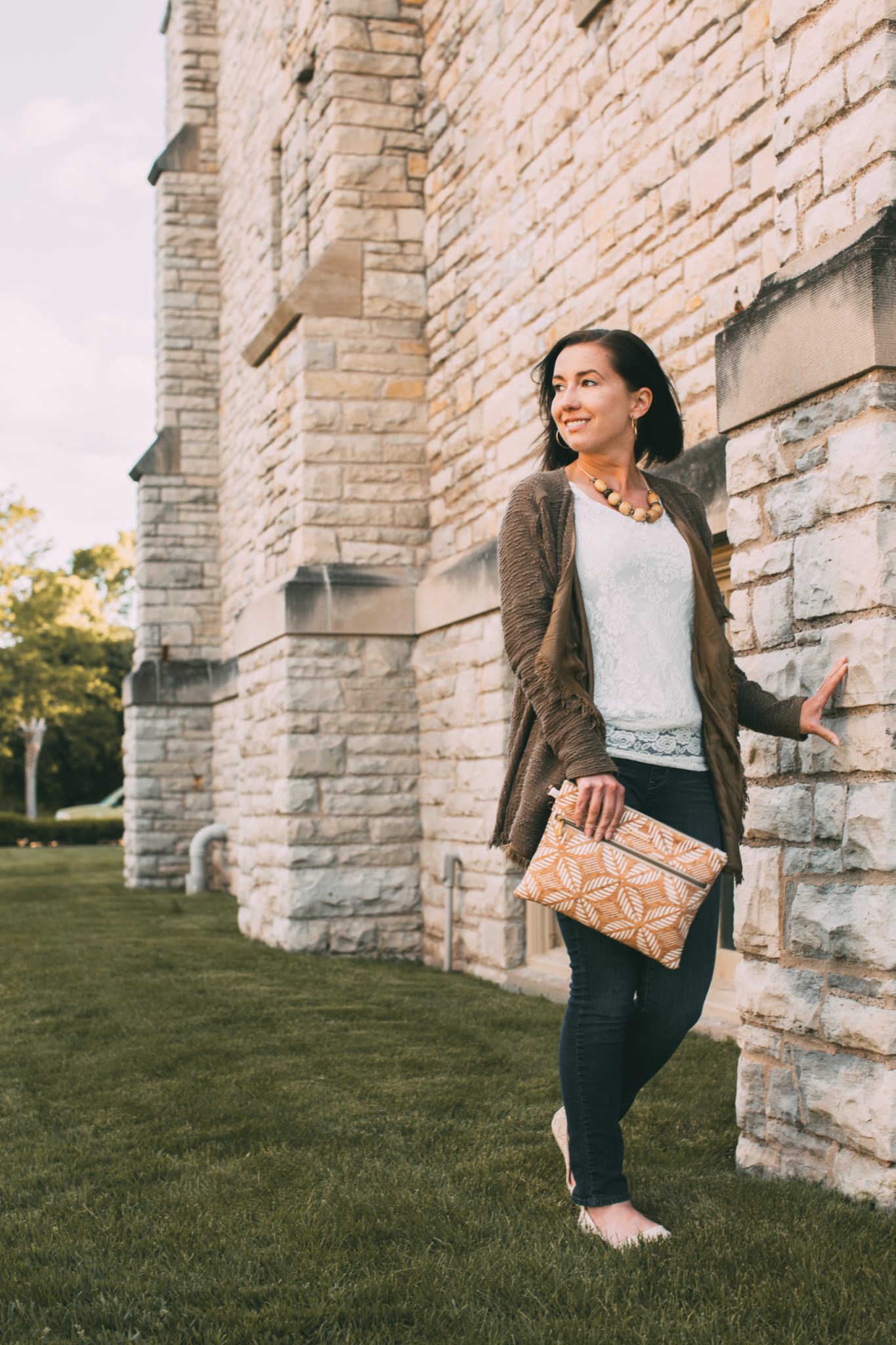 What I Don't Like About the INVENTOR Tablet Clutch
It's not a crossbody. This is just my personal preference and not really a negative against this clutch. I've just really gotten used to using crossbody bags over the years. A clutch does give a different, less casual look to an outfit, though!
Verdict
Despite this Carry Courage clutch being a different style of bag for me, I'm REALLY liking it. I have been recommending it to anyone who stops to ask me where it's from and am wholeheartedly recommending it to my readers on here. It's a really fantastic product that is sure to get some compliments when you're out and about.
Given that this is a quality, one-of-a-kind handmade bag that is made from vegan materials, I believe the price tag on this clutch is more than fair and worth every penny.
From a traveler's perspective, I can see using this bag as a way to keep myself organized within my suitcase (it has a lot of great pockets for organization and also extra padding for my Kindle). I will also be using this as my "going out" bag for nights out at restaurants. However, I don't think this will be a bag I use for a day of sightseeing, as I need to be handsfree for taking photos.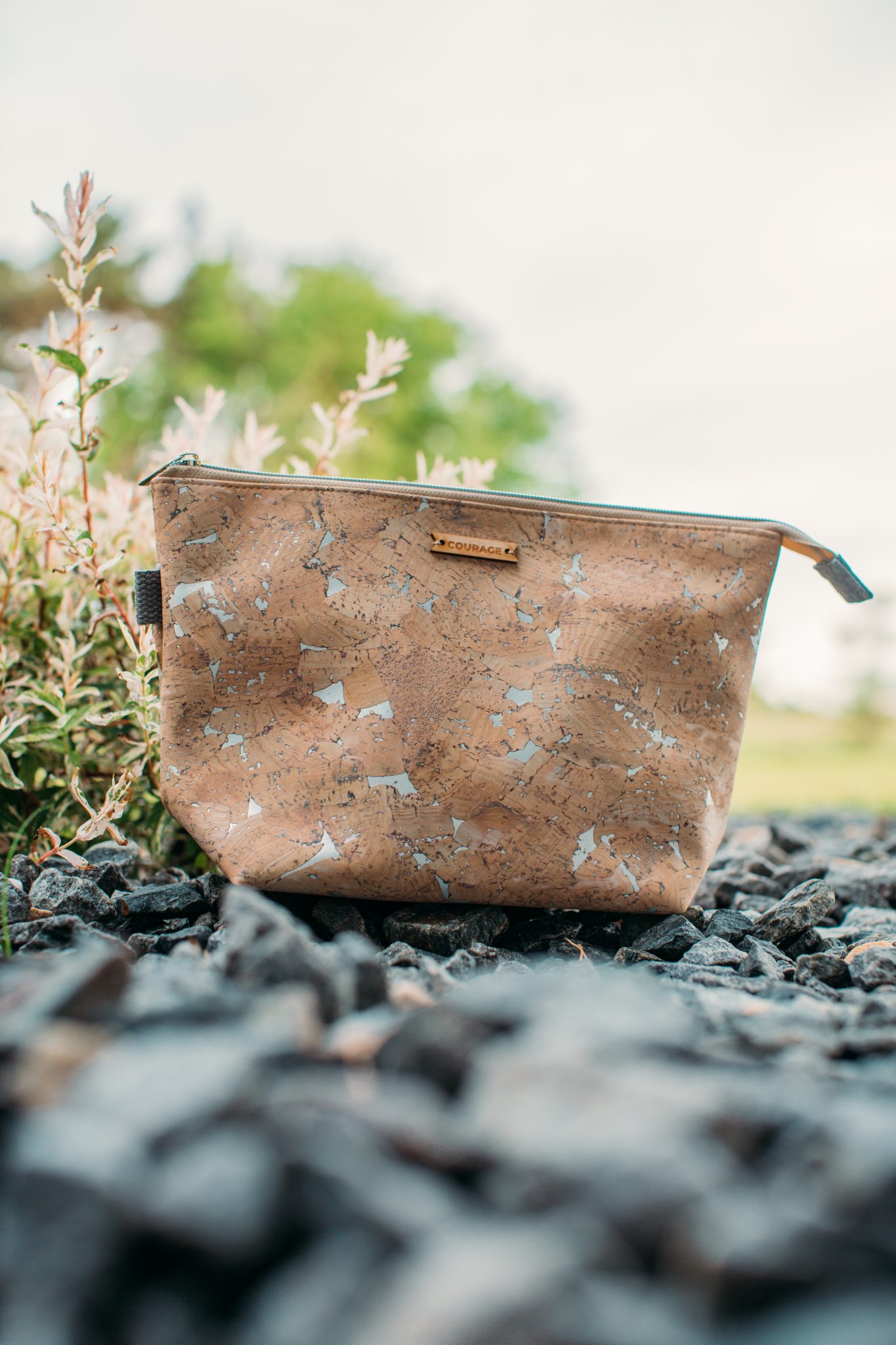 Review of the ADVENTURER Cosmetics Bag
This is the first "nice" cosmetics bag I've owned. I've always just used those free cosmetic bags that would come with my perfume or that Ulta would give as a free gift at purchase. My thought was I was the only one who is likely to see my cosmetics bag, so I never wanted to spend a bunch of money on one.
However, as my husband has repeatedly pointed out to me, I am incredibly disorganized when it comes to my cosmetics. When we travel, I waste a ton of time in the morning digging through bags that have zero organizational quality to them (they're essentially just glorified Ziploc bags). And when I'm home, I don't even bother to put my stuff back in its bag, as it's easier for me to see what I have if it's dumped on my counter. (This makes my husband bonkers!)
What I Like About the ADVENTURER Cosmetics Bag
My cosmetics are actually organized, and I can SEE them! This Carry Courage cosmetics bag has 4 vinyl pockets and 3 mesh pockets. I can easily see which of my cosmetics are inside of it.
It's very roomy. This cosmetics bag is 13″ wide, 8 1/2″ tall, 4 1/2″ deep. That is a lot of room! I can easily fit every makeup product I own and then some.
It's gorgeous! This cosmetics bag could easily double as a clutch it's so pretty.
It's easy to wipe clean. This bag is easy to wipe clean from my makeup covered hands.
It's made from sustainable materials. As with all Carry Courage products, this cosmetics bag is made from sustainable products, and this vegan cork fabric is just so cool!
What I Don't Like About the ADVENTURER Cosmetics Bag
I really don't think I have anything negative to say about this cosmetics bag. It really ticks all the boxes and is a fantastic product for traveling and everyday use. I suppose the price tag could be viewed as a negative to some, but I do feel it's justified, given that this cosmetics bag is a high-quality, handmade vegan bag that could easily double as a clutch.
Verdict
I love it! My husband is a big fan too because it doesn't look like a bomb went off in our bathroom for a change, haha. I'm actually keeping my cosmetics inside their bag for once.
This bag is also gorgeous, and I would have no issues using it as a clutch. It's really a fantastic piece!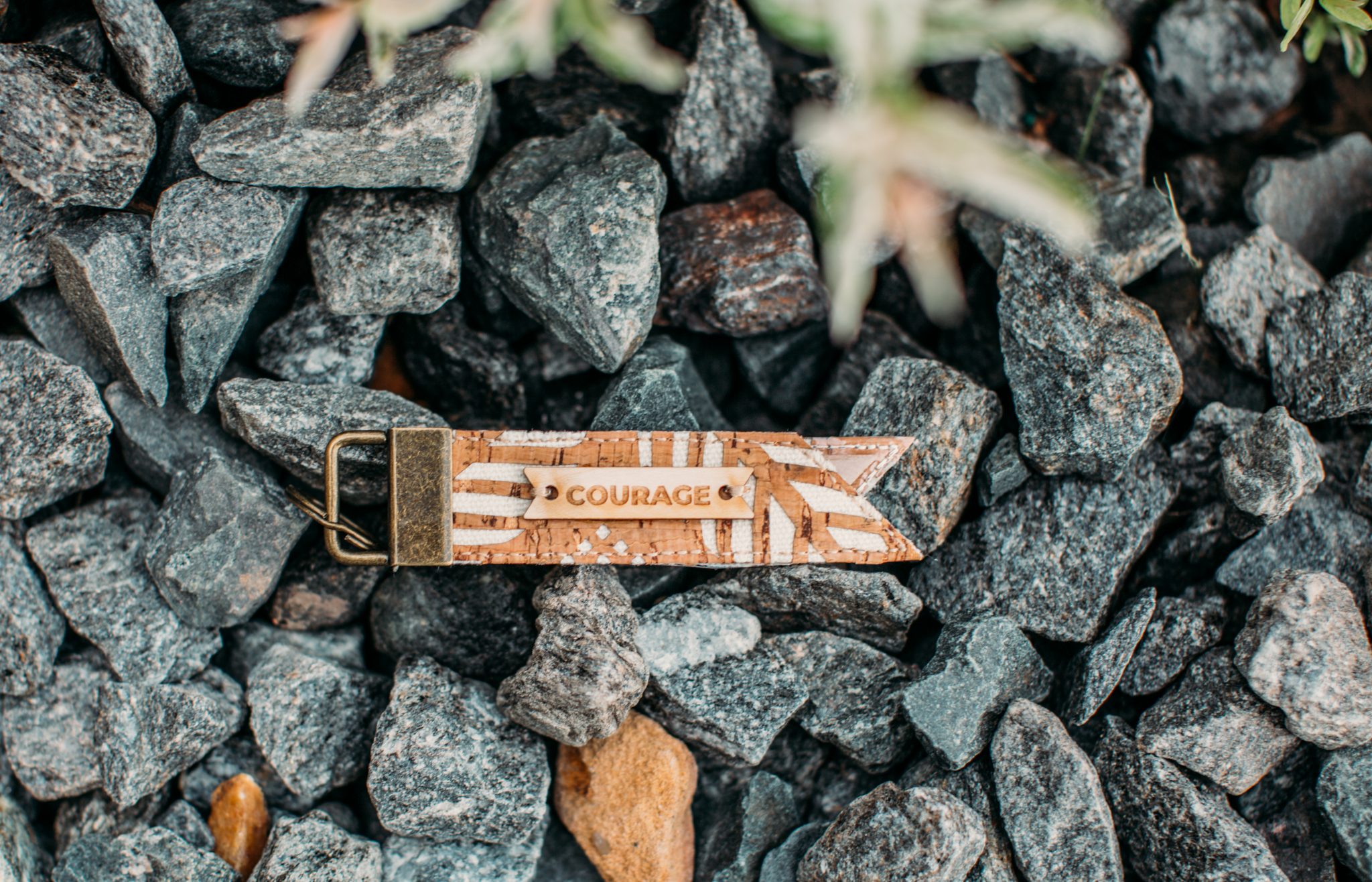 Review of the EXPLORER Keychain Luggage Tag
I've had the misfortune of having my luggage lost a few times over the years. Each time it happened, though, the airline/airport never needed more than my phone number to get it returned to me.
Having your entire address written on your luggage tag isn't a good idea, and it isn't necessary. The EXPLORER keychain luggage tag has just enough room to write your phone number and your email address (if you want).
What I Like About the EXPLORER Keychain Luggage Tag
It's pretty! I'm a big fan of having cute luggage tags, as I tend to not have the most vibrant luggage.
It's unique. I like that this tag will help my bag stand out on the luggage carousel, but not in an over-the-top way.
It's, of course, made from sustainable materials. This luggage tag is also made from sustainable cork material.
What I Don't Like About This Luggage Tag
Honestly, I haven't had a chance to fly with it, given everything that has happened. So, I don't have a strong opinion on this luggage tag yet. I'm curious if it will be more durable than my past luggage tags (that have all been beaten to a pulp).
I will update this post after I have flown with this luggage tag.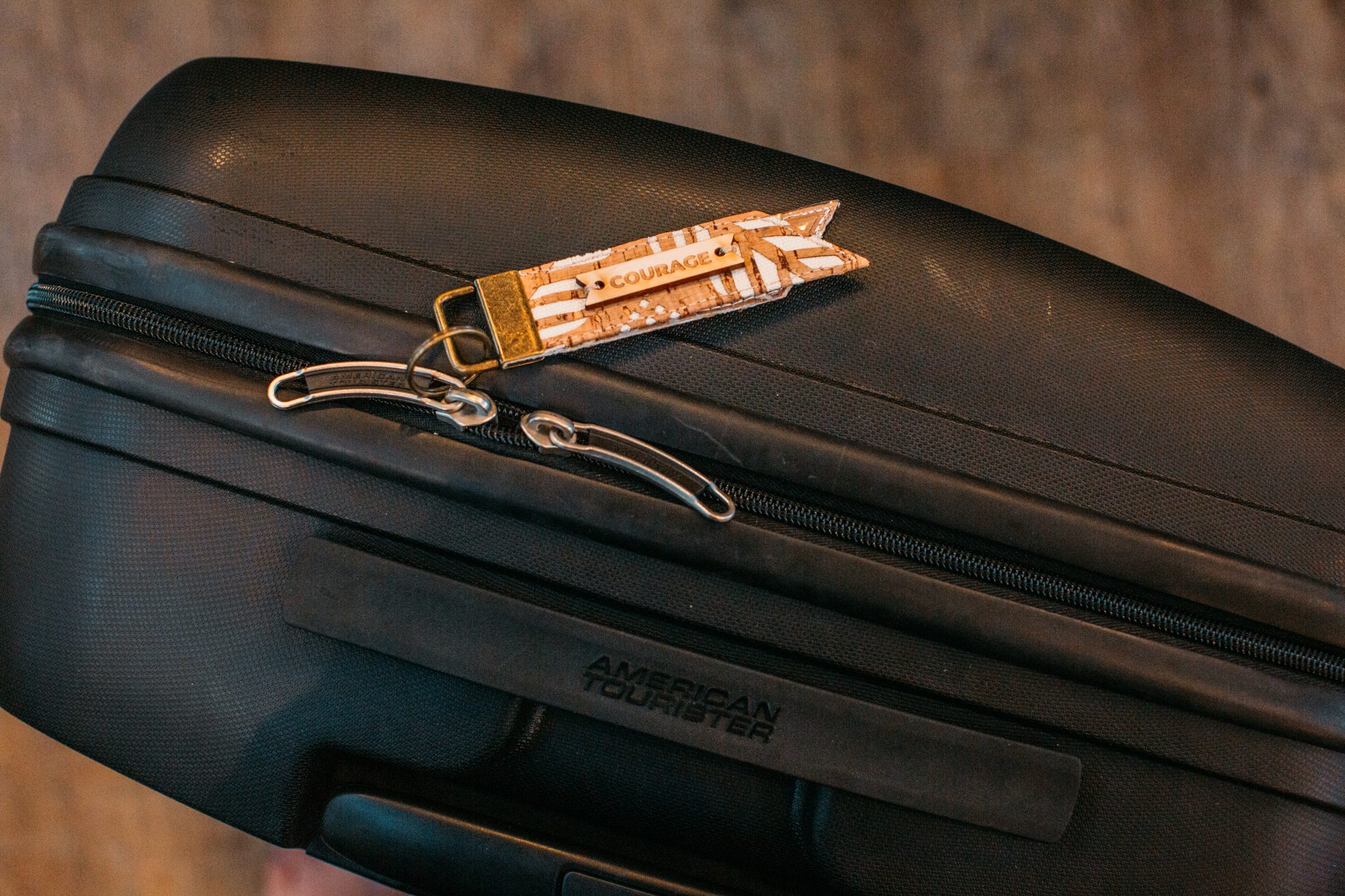 Verdict
This is a unique and beautiful luggage tag that I'm excited to test out on future travels (whenever they might resume). I love that this luggage tag is sustainable too. I, personally, think this would make a great gift for a traveler too. It's not crazy expensive and would be a thoughtful little gift for that hard-to-shop-for traveler in your life.
Click here to shop the EXPLORER Keychain Luggage Tag.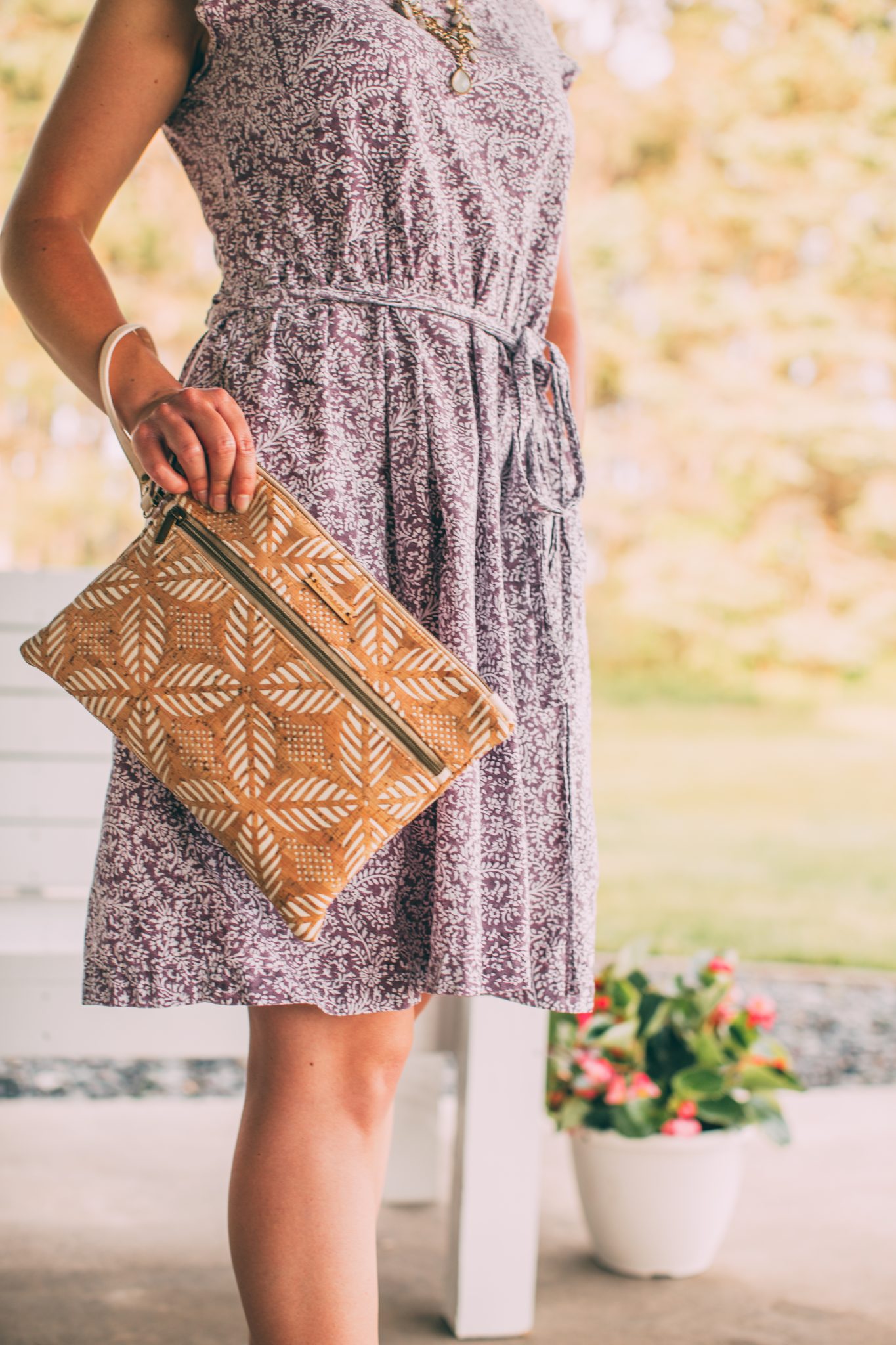 Final Thoughts
I've made it an unspoken goal of mine this year to be more aware of the products I am using and the materials that are being used to make them. I know "sustainable," "vegan" and "ethical" may just seem like trendy buzz words in the fashion community. However, I've come to find that the companies that are creating sustainable products (like Carry Courage) really care about the environment, the quality of the products they are creating (they're built to last), and how well they treat their employees.
The price tags reflect the effort that goes into creating high-quality and environmentally-friendly products. I really believe the price tags for such products are worth it.
I even talked with Carry Courage creator, Marisa Simoes, about how she determines her pricing. I loved her response!
I used to have a complex about charging too much for my products and tried to take shortcuts to reduce the cost. Since I've stopped that nonsense and started charging the price they are actually worth I have not only increased sales, but now have many repeat customers that can testify to the durability and longevity of our pieces. – Marisa Simoes, Carry Courage creator & owner
Overall, I am very impressed with the quality and aesthetic of Carry Courage products. I'll be keeping my eyes glued to their website for any new product releases – because I'm hooked!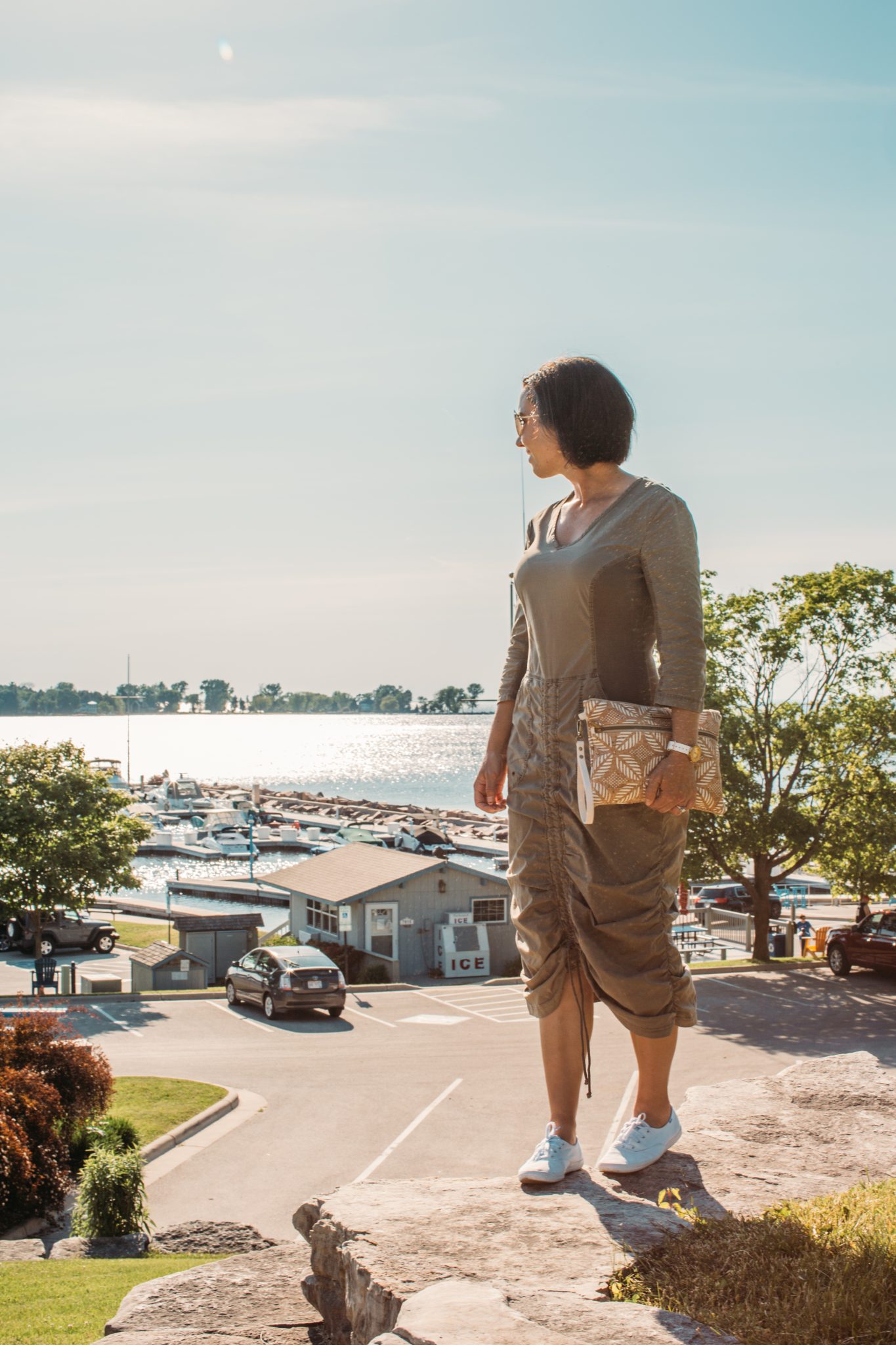 What are your thoughts on Carry Courage products? Let me know in the comments!
*Thank you to Carry Courage for gifting me these products and for sponsoring this blog post. As always, all opinions are my own, and I am never compensated for a positive review.
*Disclosure: some of these links are affiliate links. Meaning, if you click a link and make a purchase, Have Clothes, Will Travel gets a very small commission at no extra cost to you. Thank you for supporting the brands that make this blog possible! I am also a participant in the Amazon Services LLC Associates Program, an affiliate advertising program designed to provide a means for us to earn fees by linking to Amazon.com and affiliated sites.