My Honest Frances Valentine Review for Dresses, Shoes, & Handbags
If you're a fashion enthusiast like me, chances are you've already come across one of the most unique fashion brands out there – Frances Valentine. However, you may be unsure about the quality, style, and sizing of their products. That's where I come in. In today's post, I will provide you with comprehensive Frances Valentine reviews, detailing everything you need to know about this brand.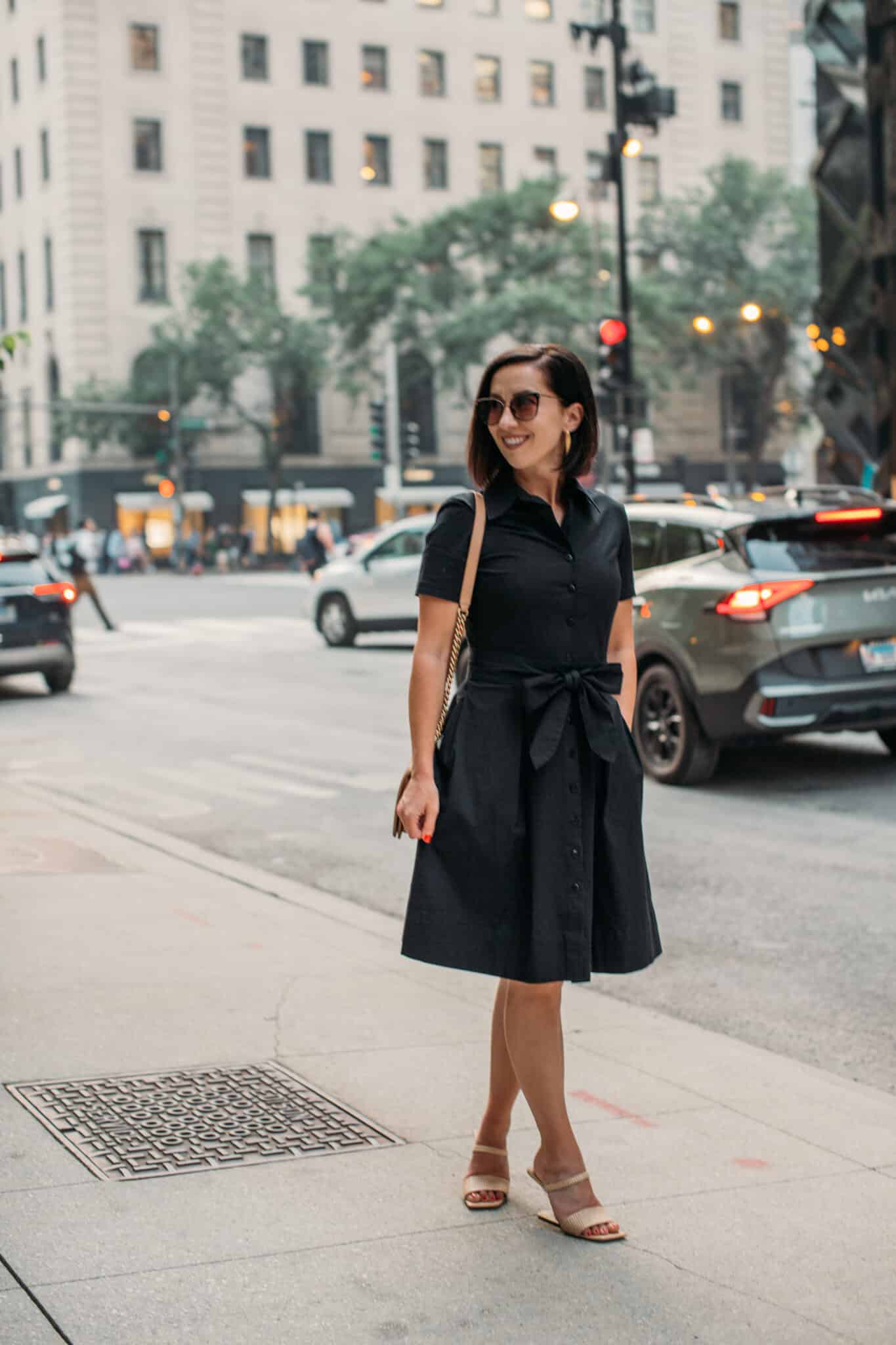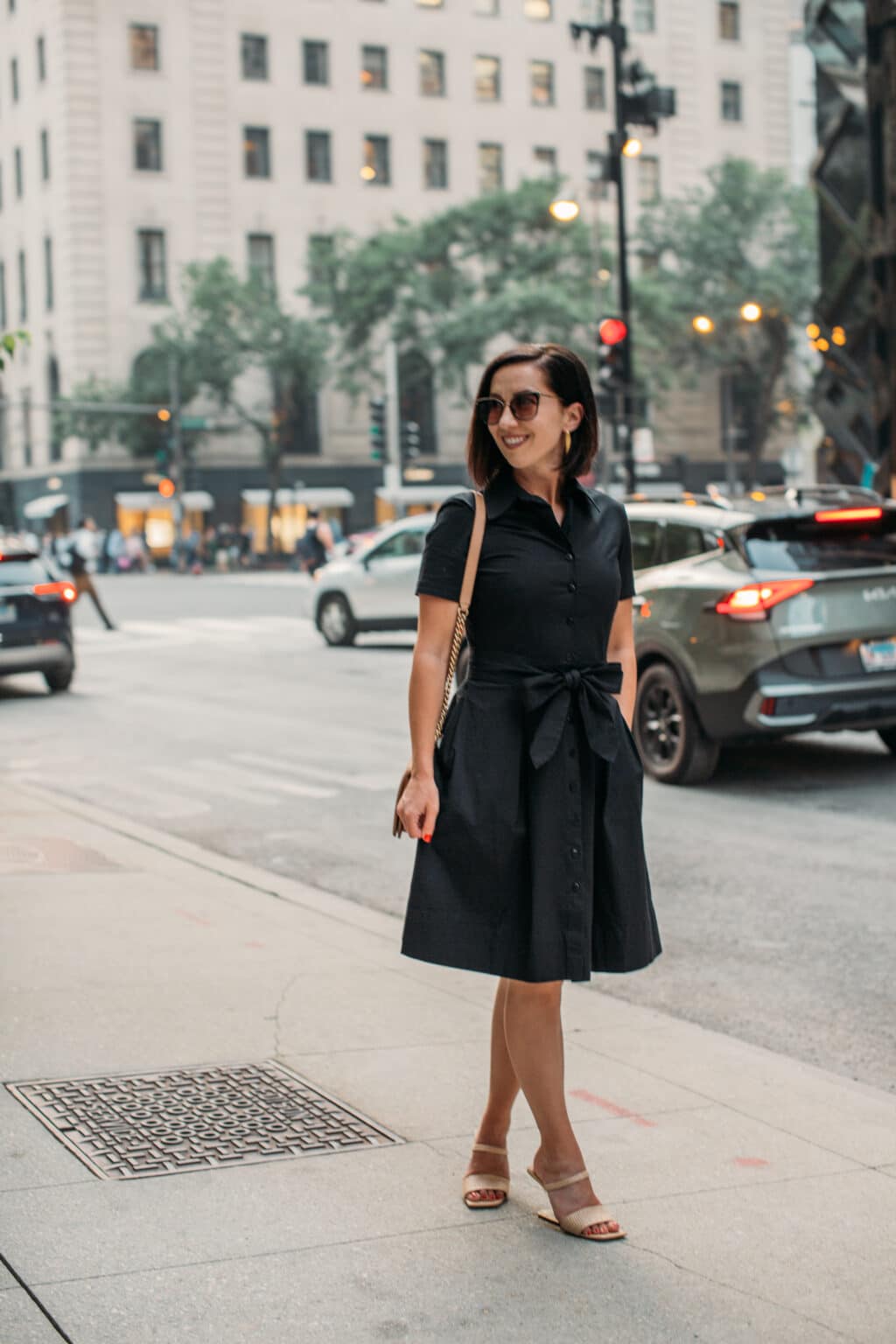 *Disclosure: Have Clothes, Will Travel uses affiliate links. Meaning, if you click a link and make a purchase, Have Clothes, Will Travel gets a very small commission at no extra cost to you. Thank you for supporting the brands that make this blog possible!
A Brief History of Frances Valentine
Frances Valentine is a brand laden with history and sentimentality. Established in 2016 by the late fashion icon Kate Spade, her best friend Elyce Arons, and Spade's husband Andy, Frances Valentine is a testament to enduring creativity and passion for fashion. After selling their first brand, Kate Spade New York, the trio decided to create something new, something personal, and something uniquely theirs. Thus, Frances Valentine was born.
Named after Kate Spade's daughter and family members, Frances Valentine is a brand deeply connected to its roots. The brand focuses on creating lasting pieces that reflect the personal style and spirit of its creators. Now, let's dive into comprehensive Frances Valentine reviews and see if this brand lives up to its original vision.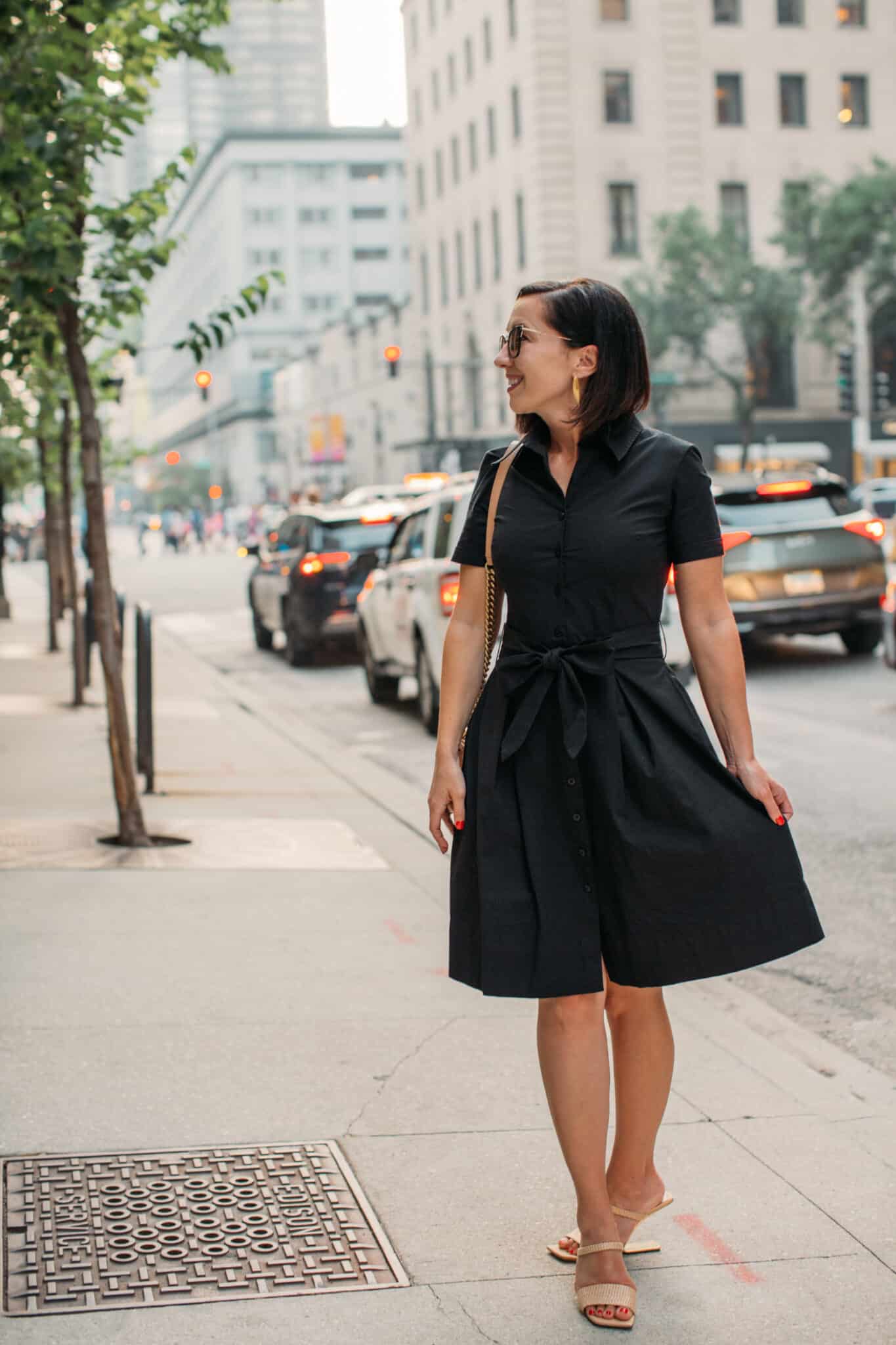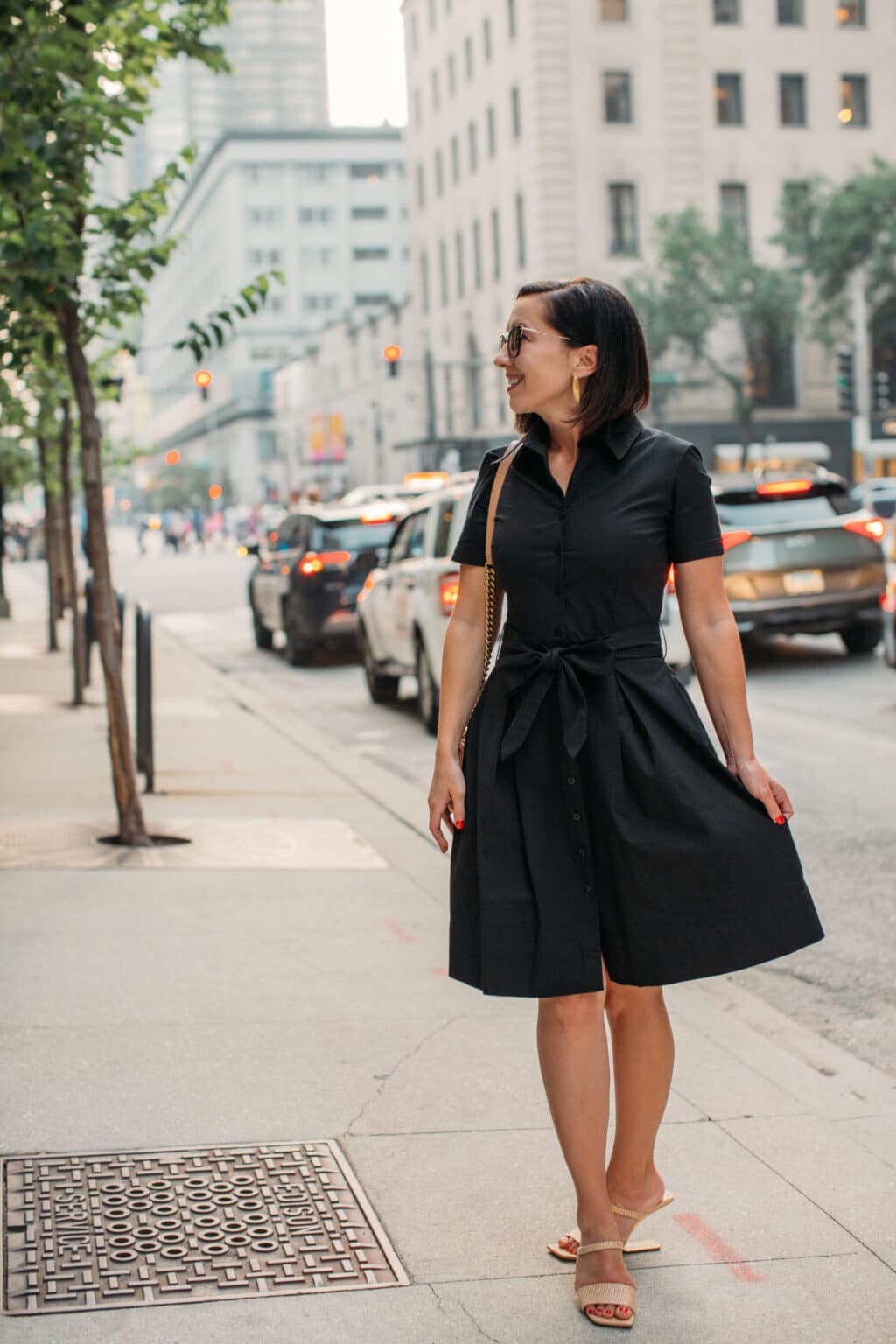 Comprehensive Frances Valentine Reviews
When I first encountered Frances Valentine, I was immediately struck by the timeless elegance and unique design elements of their pieces. From bags to dresses, shoes, and accessories, every item seemed to carry a distinct personality, a signature style that is hard to find in today's saturated fashion market. I was intrigued, and so I decided to make several orders for a thorough review.
Let me start with Frances Valentine sizing. This is a crucial aspect that often determines how well a brand's products fit and, ultimately, how comfortable they are.
As a seasoned fashion reviewer, I must say that Frances Valentine's sizing is rather tricky. While the brand does an excellent job of providing detailed sizing information for each of their products, sizing does vary from item to item. I ordered 2 different dresses, 1 was a size medium and 1 was a size small. The size medium dress is quite fitted on me, whereas the size small is quite baggy.
I also ended up sizing up a half-size in the shoes I ordered, as they ran a bit small and were quite narrow.
I'm going to get more detailed about each item I ordered, below.
Bottom line: Know your measurements and read the size chart, as sizing is not consistent. Frances Valentine will also suggest whether or not you should size up or down from your normal size. I did find these suggestions to be accurate.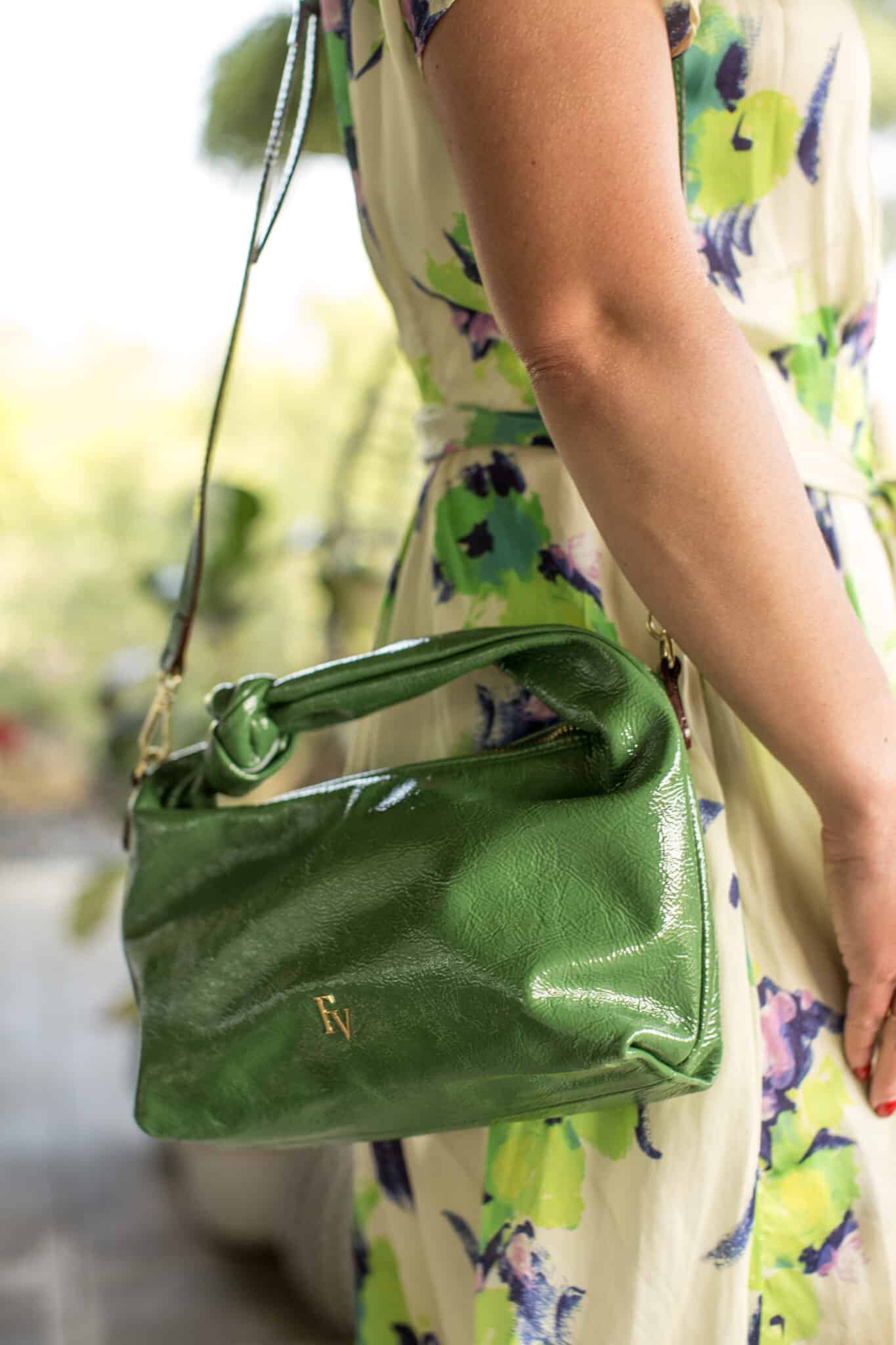 Frances Valentine Bag Review: Styles, Quality, and Durability
Moving on to my Frances Valentine bag review, I must say, their bags are where the brand truly shines. From the moment I unboxed my first Frances Valentine bag, I knew I had stumbled on something special. The design is unique, the quality is top-notch, and the durability is evident.
Frances Valentine offers a wide variety of styles, from chic totes to quirky crossbody bags (my favorite!), elegant clutches, and practical backpacks. Each bag is crafted with keen attention to detail and high-quality materials like leather, canvas, and woven fabric. The colors are vibrant, and the patterns are distinctive, making each bag a statement piece in its own right.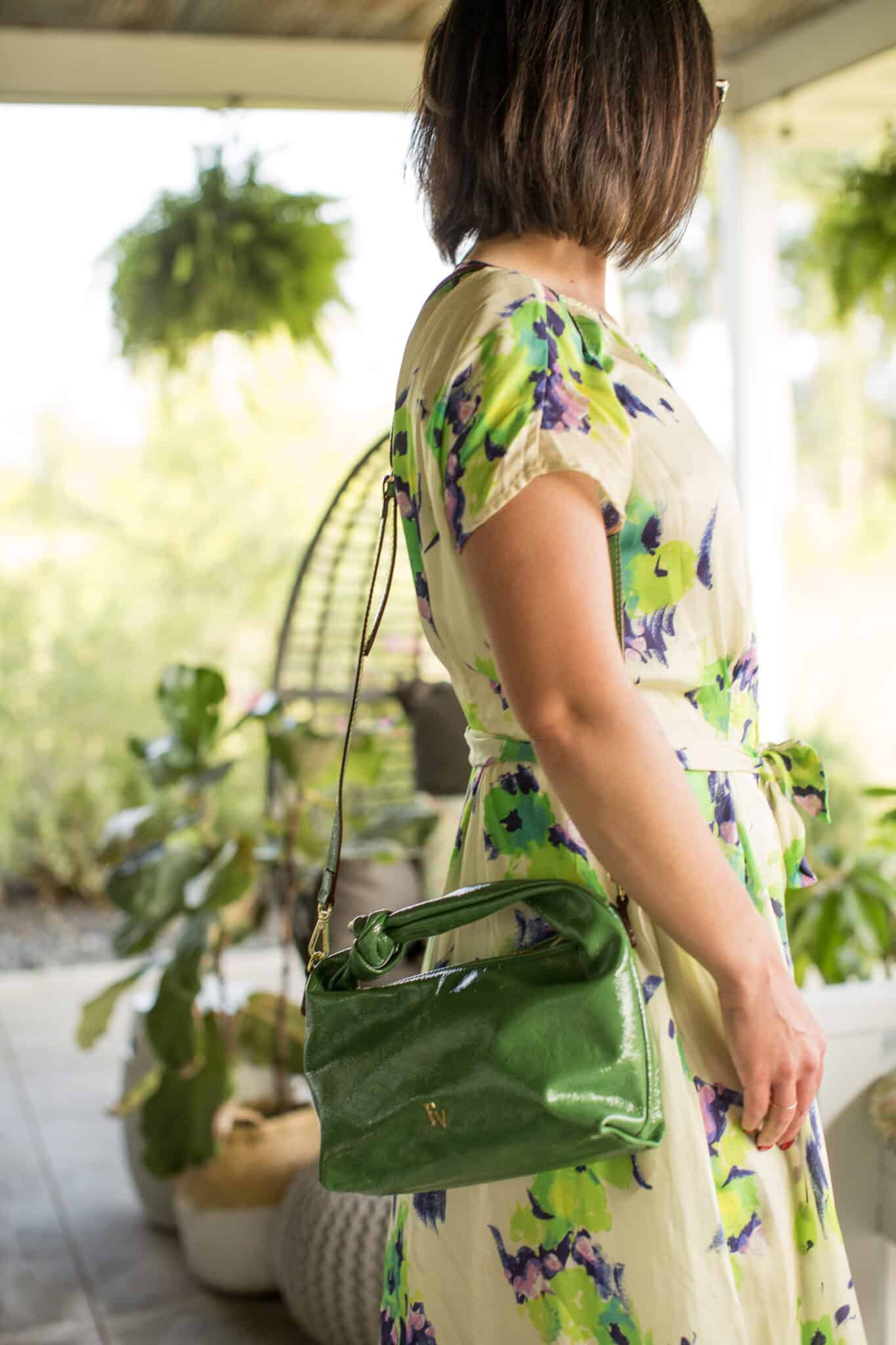 The bag I ordered is the Tinsley Hobo Naplak in Green. It's a wonderful bag that is just the right size in my opinion. It's very comfortable to use and holds all my essentials.
I love that I can use it as a crossbody or shoulder bag, or remove the strap and use it as a clutch. 10/10 for versatility! It also gives me Bottega Veneta Jodie vibes but without the hefty price tag.
Bottom line: I would 100% order another bag from Frances Valentine. I love the one I have!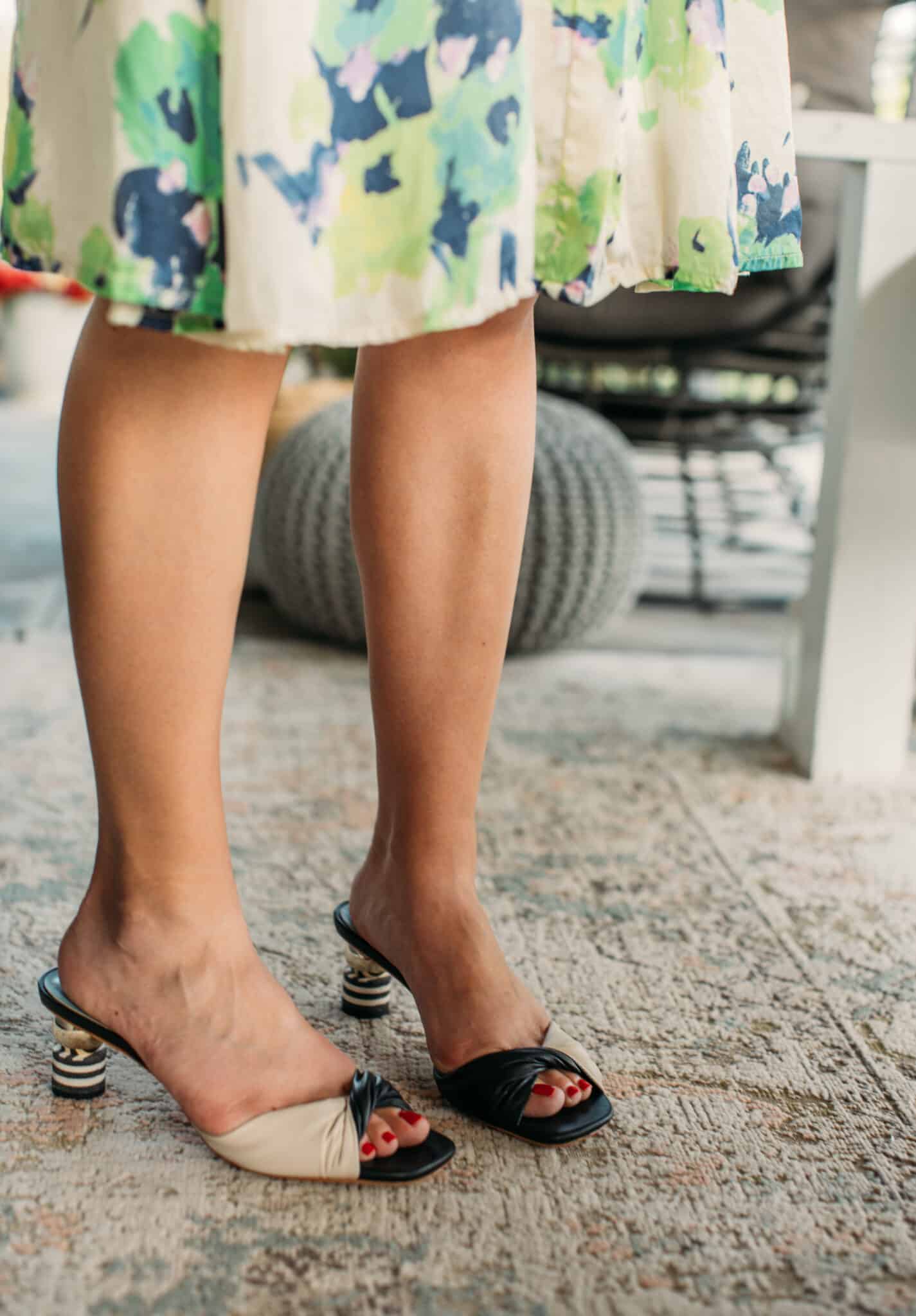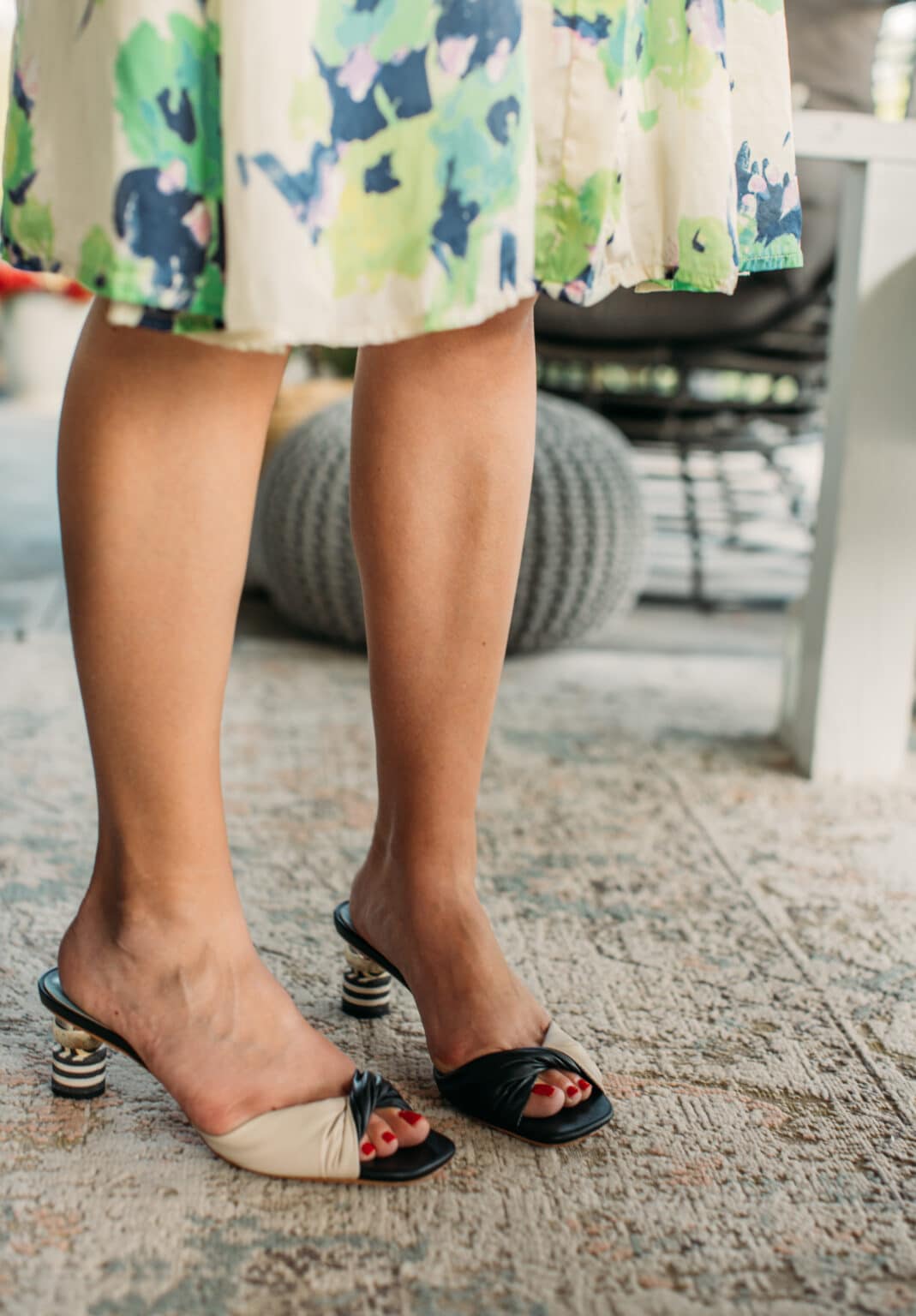 Walking in Style: Frances Valentine Shoes Review
Next up, we have the Frances Valentine shoes review. One of the things I loved about Frances Valentine is their interesting and stylish shoe collection. Whether you're looking for a pair of classy pumps for a special occasion, comfortable flats for everyday wear, or trendy boots to spice up your winter wardrobe, Frances Valentine has got you covered.
The shoes are stylish without sacrificing comfort, a rare combination in the world of fashion. However, again, the sizing is a little tricky. I have wide feet and also a bunion on one foot. So, finding shoes that fit properly is always a struggle for me.
I ordered the Farah Twist Kickball Heel Nappa in Black Oyster. In these, I initially ordered my normal size 8, but I could not squeeze my wide fit into them! I exchanged them for an 8 1/2 and had to break them in a bit, but they did end up working out. The leather is quite soft and didn't take too long to stretch a little. They're really comfortable to wear now!
Note: Frances Valentine does offer free exchanges within 30 days of purchase. However, they do charge a restocking fee for returns.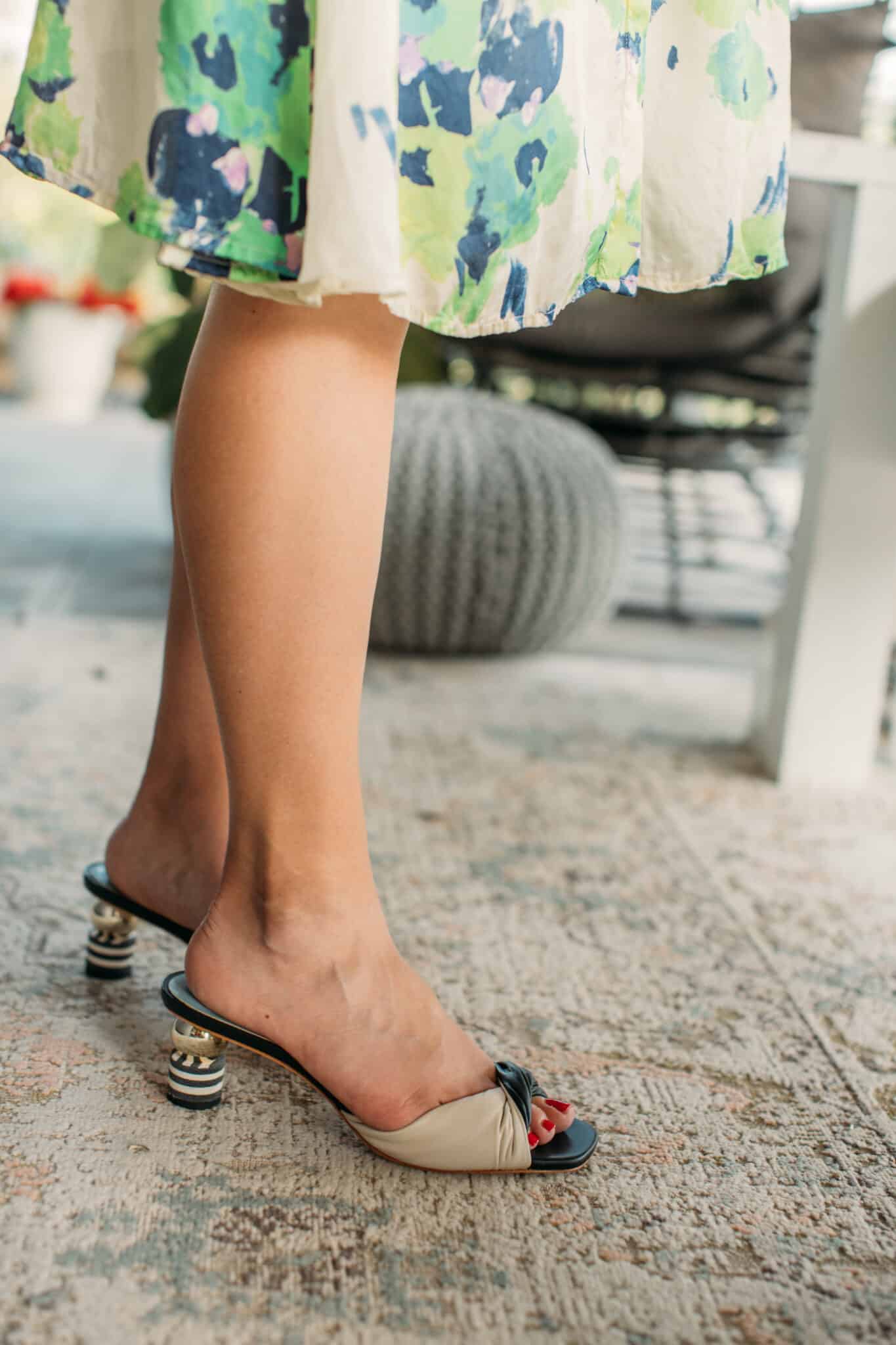 As far as quality goes, I would say it is exceptional, with durable materials and solid construction, promising longevity. (I'll continue to update this review as I use the shoes more over the years, they only have a summer of use as of writing this.)
Bottom line: In my experience, people with wide feet may struggle with Frances Valentine shoe sizing. However, the shoes themselves are incredible and worth the pain of breaking them in.
Frances Valentine Dresses Review
In terms of clothing, let's focus on the most feminine of all – the dress. In my Frances Valentine dress review, I found the brand's dresses to be the epitome of comfort.
The styles range from casual to formal, offering options for every occasion. The sizing does vary, though. You will have to look at the suggestions for each dress before purchasing and know your measurements.
I followed the sizing suggestions and the dresses fit well, and are very comfy to wear. I'll go into detail for each below.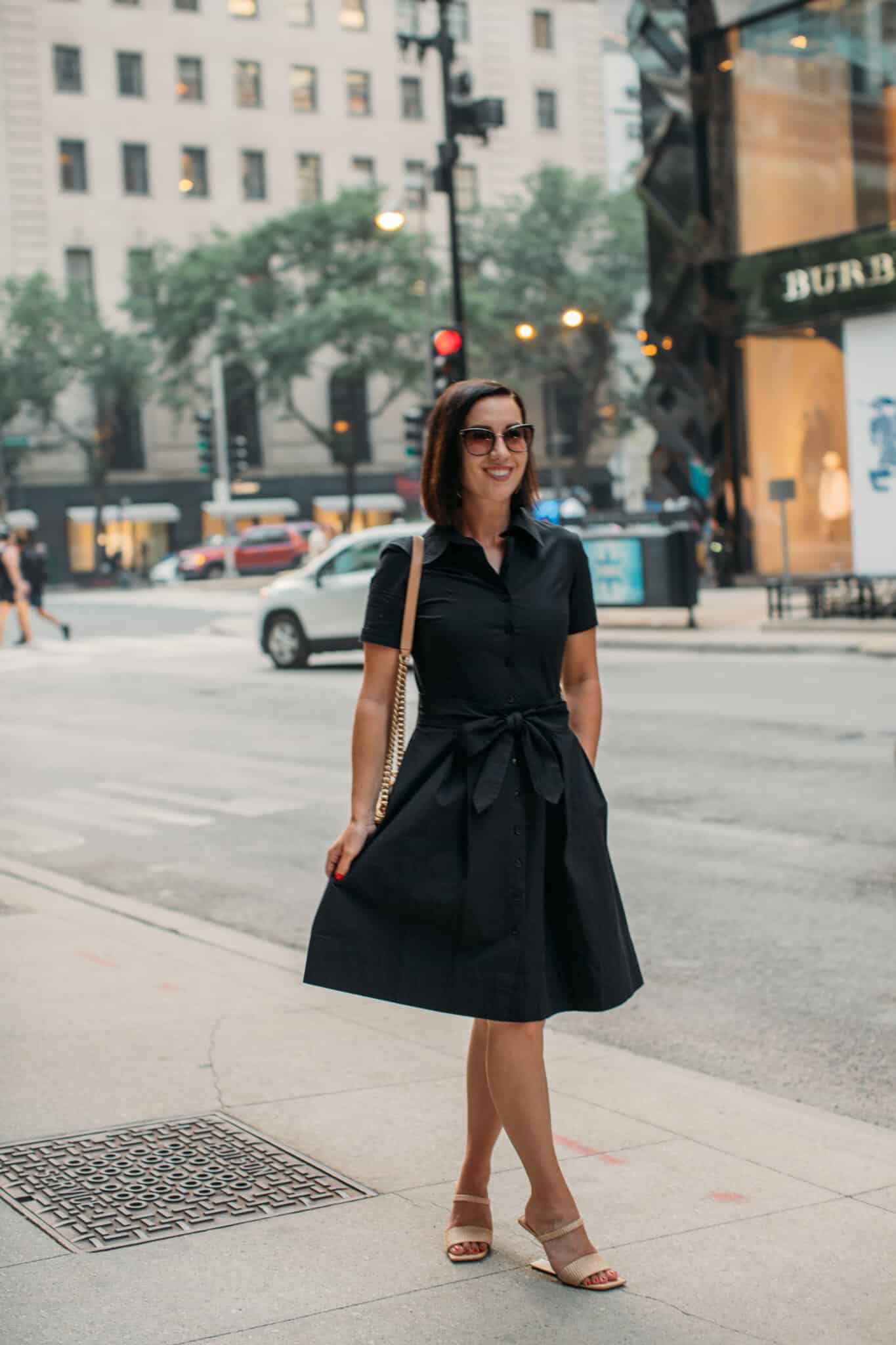 Bella Dress Review
The first dress I tried was the Bella Dress in black. This is a classic midi shirt dress – shaped with short sleeves, a folded collar, and a pleated skirt.
Based on the size chart, I should have ordered this dress in a size small. However, Frances Valentine suggested sizing up in this dress, so that is what I did. It fits perfectly!
I, personally, wore this for my date night at Alinea in Chicago a few weeks ago. I was very excited to wear this dress to a posh restaurant! Since then I've also paired it with flats for a low-key brunch and also happy hour with friends.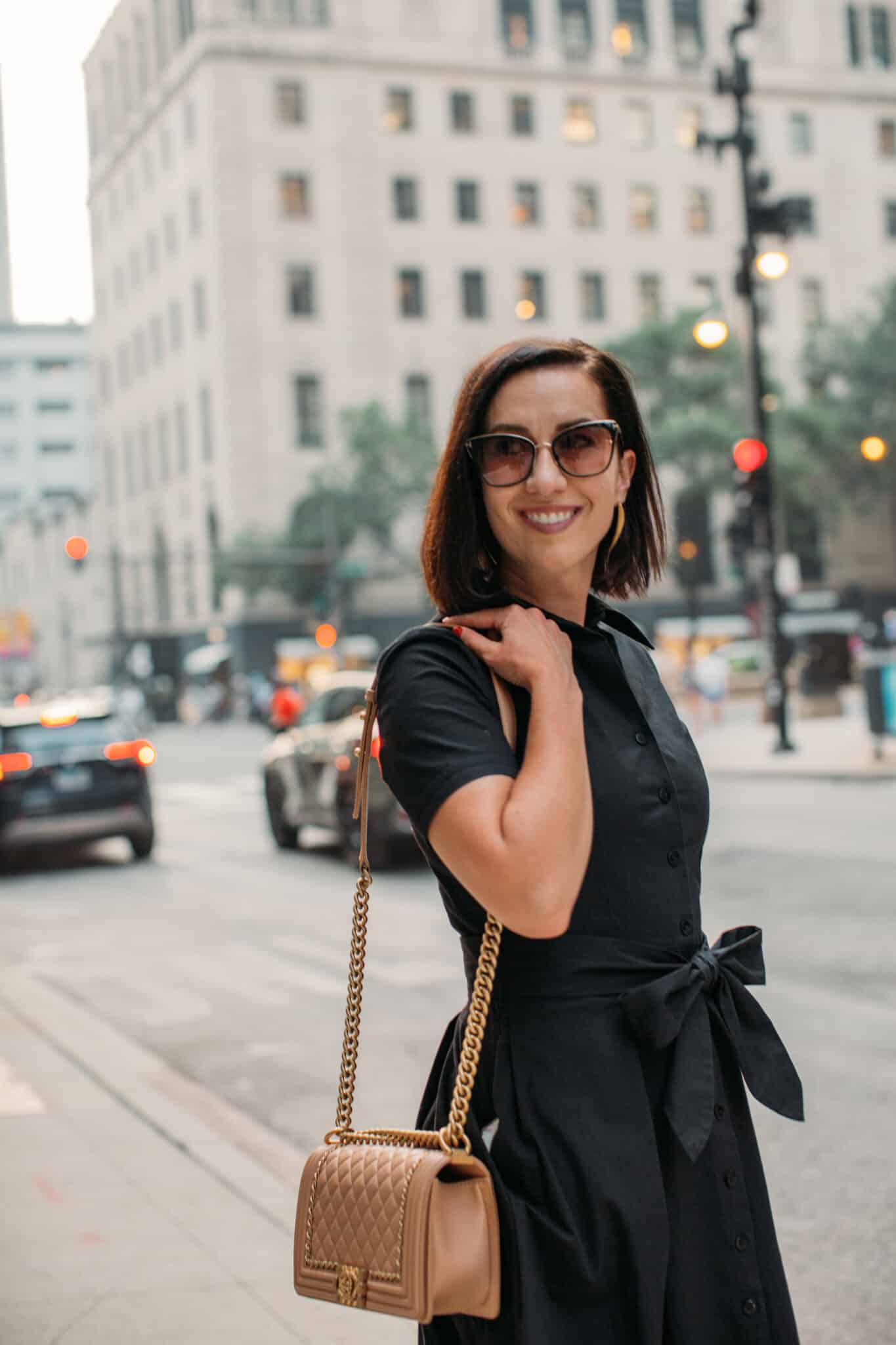 It's a great versatile dress, that I think I'll be able to easily pair with tights and wear into the fall, as the cotton material is quite heavy. I kind of want to order this dress in red as well, as I think the red color would be even more stunning than the black.
The negative about this dress though is that it is a lint/dog hair magnet. I have to make sure I have a lint roller handy when I wear it!
Anna Slope Arm Dress Review
Next, I tried the Anna Slope Arm Dress in Tuileries Oyster Green. This dress I really wanted to love, as it is just so comfortable and I thought it would be a good "day" dress. Something that wouldn't look too over-the-top if I had to run an errand, but could also be dressed up for a night out with jewelry and heels.
However, I feel this one kind of falls flat in both categories. And while I do like how comfortable it is, it's really not the most flattering dress by any means. I also was surprised that with a nearly $400 price tag that this dress is 100% Viscose! I hadn't looked all that close at the item description, I guess, and had thought this was made of silk, or at least a silk blend.
For the price tag, I really have a hard time justifying spending that on a dress made of synthetic material.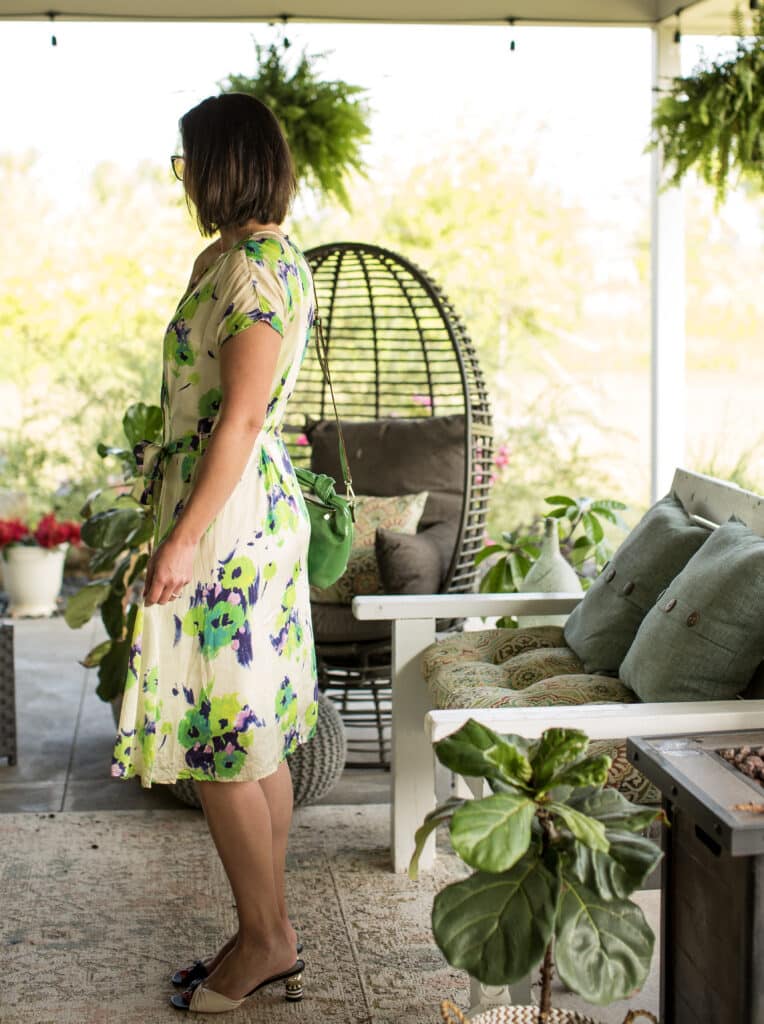 Oh, and this dress is also VERY sheer. I'm wearing a slip under it, as you would be able to see my neutral-colored undergarments plain as day otherwise.
In this dress, I ordered a size small, as that is the size I am according to the size chart. The description also said it was true to size. I do think this is true and this dress fits as it is intended to.
Bottom line: I would order dresses from Frances Valentine again. I love my black shirt dress! The other dress was a bit of a miss, but I have still been wearing it this summer. It is just important to pay attention to the sizing and the material of each dress. Lesson learned!
Conclusion: Is Frances Valentine Worth the Investment?
After thoroughly reviewing Frances Valentine's products, I can confidently say that yes, most of Frances Valentine's products are worth the investment. The brand offers high-quality, stylish, and unique products that stand out in today's fashion market. The shoes, bag, and dresses are a ton of fun to wear.
And while I didn't love the Anna Slope Arm Dress (and don't recommend paying full price for it), I have to admit that that is on me for not thoroughly reading the item description.
So, dear readers, that's all for today's Frances Valentine reviews. I hope you found it helpful in your fashion journey. As always, stay stylish, stay confident, and remember, fashion is a way to express who you are. So, make sure your style speaks volumes about you!
*Thank you to Frances Valentine for sending these products. As always, all opinions are my own, and I am never compensated for a positive review.