Karina Dresses Introduces New Wrinkle-Free Fabric for Fall Collection
I have been a big fan of Karina Dresses for years, now. Their vintage-style, wrinkle-free dresses are some of my most-worn pieces in my closet. They're absolutely perfect for traveling!
Up until, now, though, they only carried their dresses in one type of fabric (a microfiber/lightweight). I absolutely love this fabric, don't get me wrong, but I'm super excited about having some variety!
Fabric Details
Karina's new fall line has introduced two new fabrics! The one I'm wearing above is their new Stretch Jacquard print. It's a pattern woven into the fabric versus being printed on the fabric. (The other fabric is this marled stretch sweater knit.)
It's a little thicker than the rest of the Karina Dresses I have, which makes it perfect for fall and winter! This dress is one that can easily be paired with a pair of tights and boots and layered with a scarf and cardigan too.
Dress Styles
The Stretch Jacquard print is available in 3 different styles of dresses. The one I'm wearing in this post is the "Cece dress." It has a shallow V neckline with a princess-seam bodice and a waistband that falls just underneath the bust line. Most importantly, though, it has POCKETS.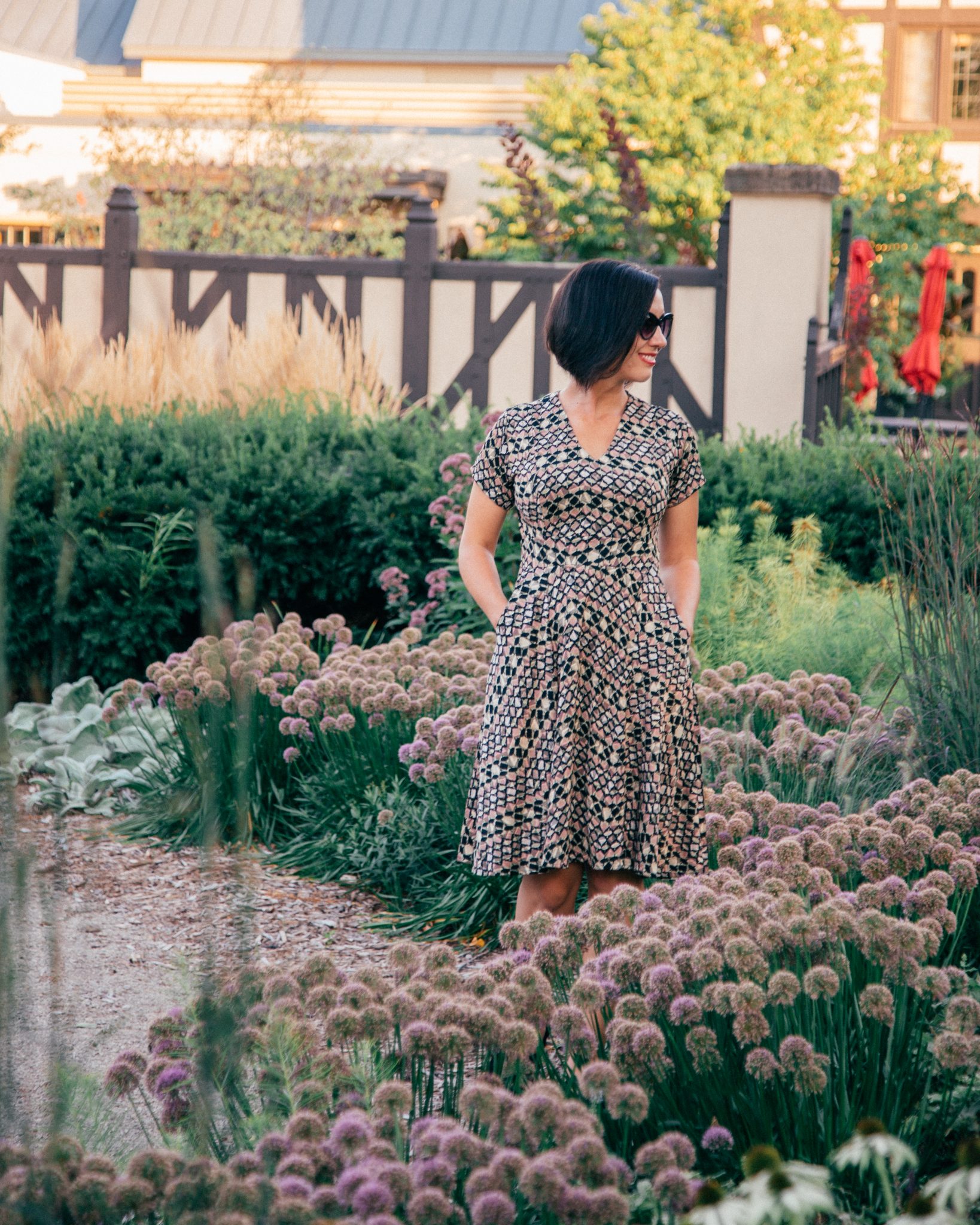 Sizing
This dress is still wrinkle-free and machine washable too – even though it's a different fabric. It's also available in size XS-4X.
If you're in between sizes, though, I would say to size up with this dress. I'm wearing my normal S/M and it is great, but there isn't much room for growth in the chest and shoulders area!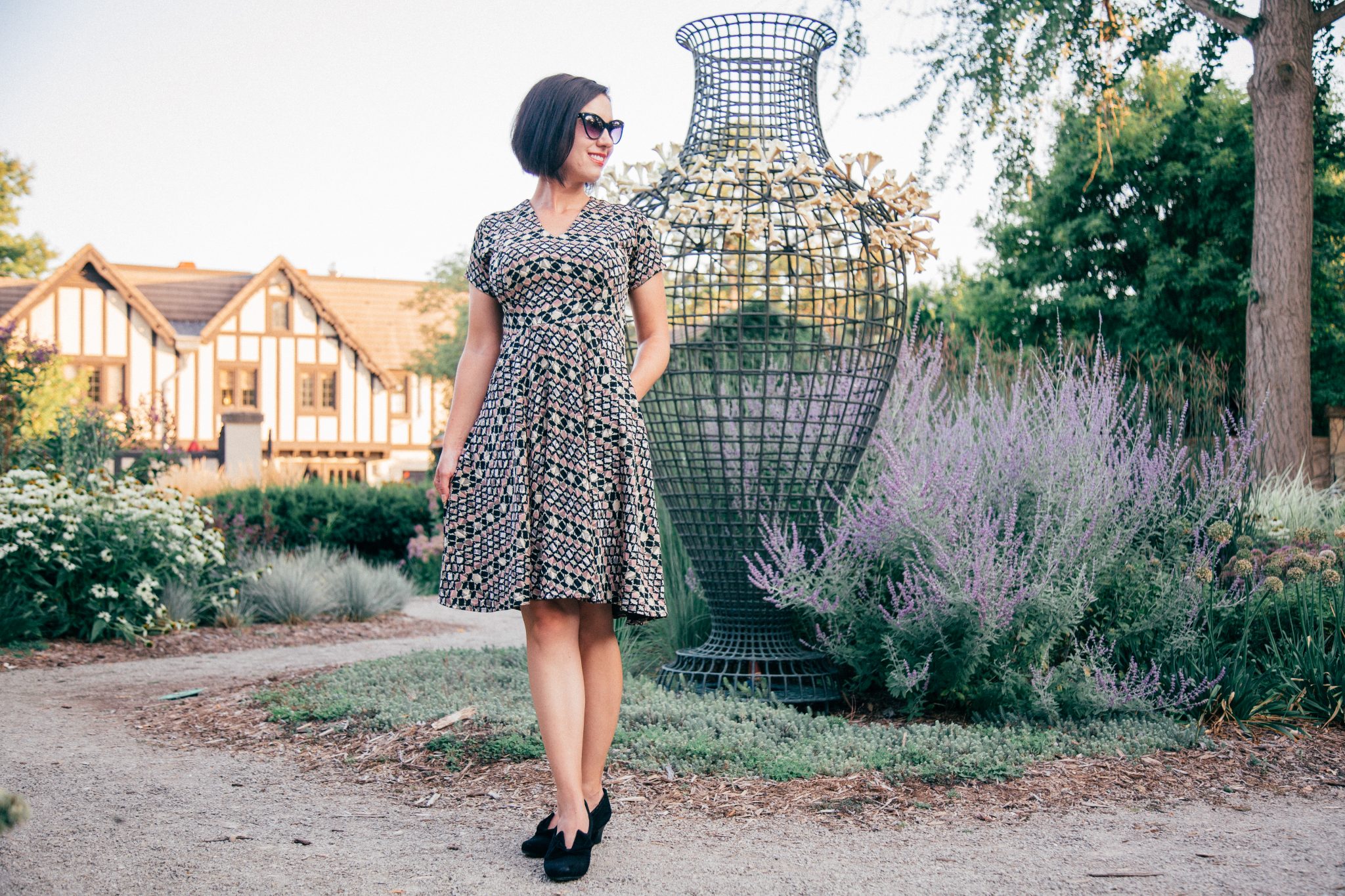 Fabric Quality
I've worn and washed it 5 times now and it still looks great. I haven't had any issues with the fabric snagging either. I'll continue to update as I wear and wash it more.
Watch it in Motion!
The video above does a good job of showing how well this dress moves too! I was wearing it when I recently met up with fellow blogger Lindsay of Anchored in Elegance. She made the video above for me! She'll be making an appearance on my blog on Friday. So, stay tuned!
Earrings
Quick shout out to Onecklace for these 24k gold plated chevron earrings before I end this post! I actually have had this exact pair of earrings for 4 years, and they are some of my favorites. I wear them nonstop, and they still looked fantastic…. until I lost one of them.
Fortunately, Onecklace was kind enough to send me another identical pair. I'm so happy and wanted to share! They're 100% worth the price tag (just try not to lose one, like I did).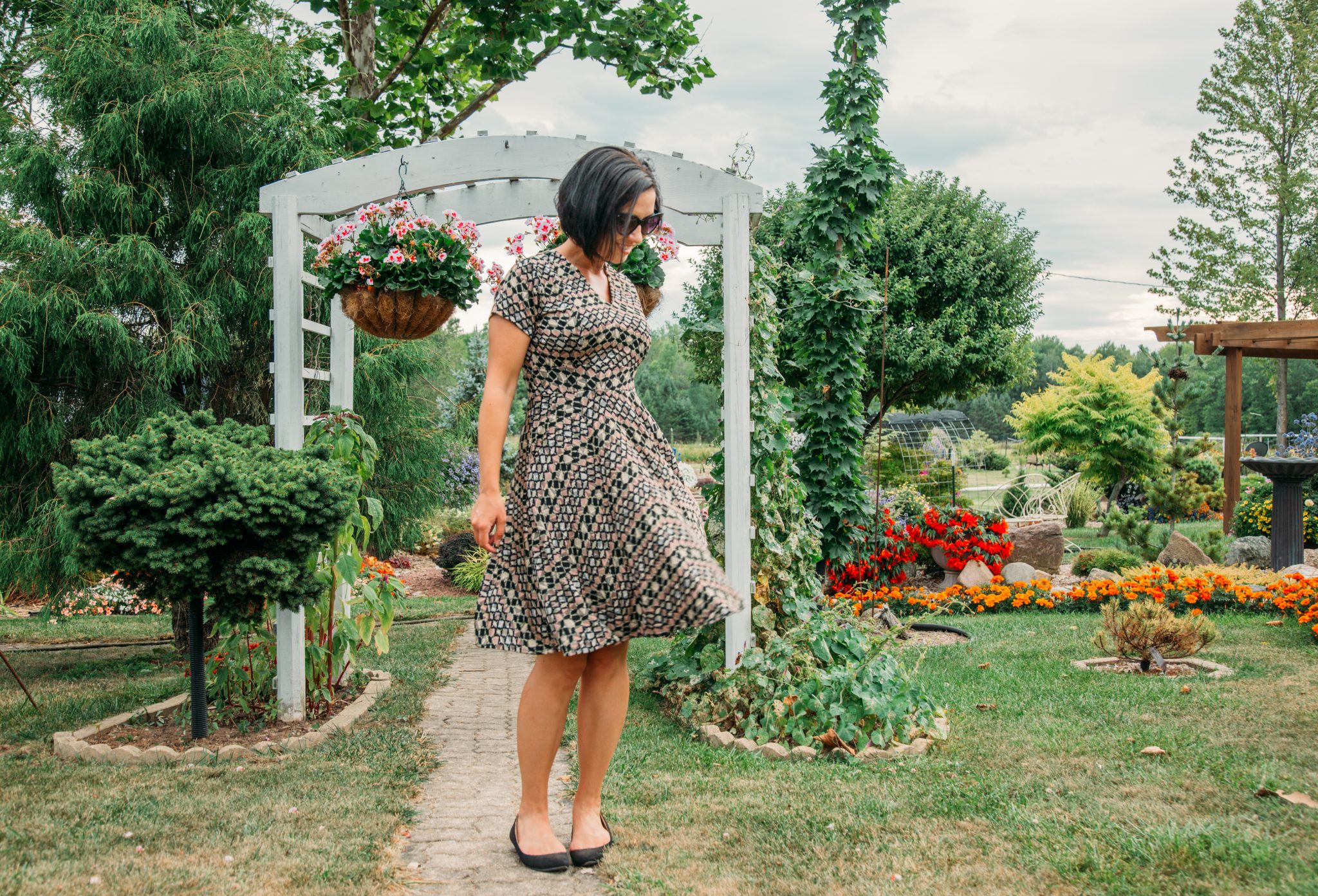 I am happy to answer any questions any one has about Karina Dresses or their new fabrics in the comments section at the end of the post!
Where to find it:
Dress: c/o* Karina Dresses
Shoes: c/o* Hotter Shoes
Earrings: c/o* Onecklace
Sunglasses: c/o* Polette
*Disclosure: some of these links are affiliate links. Meaning, if you click a link and make a purchase, Have Clothes, Will Travel gets a very small commission at no extra cost to you. Thank you for supporting the brands that make this blog possible! I am also a participant in the Amazon Services LLC Associates Program, an affiliate advertising program designed to provide a means for us to earn fees by linking to Amazon.com and affiliated sites.
*c/o = courtesy of, meaning the company gave me the product to be used on my blog, and I did not pay for it. All opinions are my own, and I am not being compensated for a positive review.