Honest Carve Designs Review for Swimwear, Jeans, & Tops
Carve Designs started as a surf apparel company that sold rashguards and shorts in the early 2000s. It has since grown to provide a full range of surf and lifestyle clothing. From jeans to swimwear to fleece and jackets – there's a little something for every woman.
I have been testing out a Carve Designs shirt, jeans, and swimsuit for the last few months. I will be reviewing the items' overall quality, sizing, price, and comfort – starting with the shirt, then the swimsuit, and ending with the jeans. I'm also happy to answer any questions anyone has in the comments section at the end of this post.
*Disclosure: some of these links are affiliate links. Meaning, if you click a link and make a purchase, Have Clothes, Will Travel gets a very small commission at no extra cost to you. Thank you for supporting the brands that make this blog possible!
Carve Designs Review
Dylan Gauze Shirt: Cloud Ikat Review
This lightweight cotton shirt features a four-button style and long sleeves that can be rolled and then buttoned. You could easily use it over a bikini as a coverup or wear it as I am (above) as a casual everyday shirt.
Is the Dylan Gauze Shirt: Cloud Ikat Shirt Comfortable?
This is have been my most-worn shirt so far this year because it is SO comfortable. I love it. I will admit, though, while the loose style is comfy as all get out… it isn't the most flattering shirt that I own. It's a little tent-like on me from some angles. However, given how comfortable it is, I don't care one bit!
Admittedly, I could wear it tucked in, as they have it on the website. That would certainly look tidier, but I just love how comfy it is untucked.
It breathes really well too. It's great to wear as sun protection on a blistering hot day, but I'm still wearing it into fall with a scarf and thicker cami under it.
I also always wear a cami under it, as it is quite sheer. You would be able to see my bra quite well under it if I did not wear a cami with it.
The material is also a little "stiff" and not exactly what I would call soft. I don't mind it, but it's worth noting.
Is the Dylan Gauze Shirt: Cloud Ikat Shirt Good Quality?
The quality of this shirt is fantastic. I've worn and washed it at least a dozen times now and it still looks new.
That said I am careful when I wash it. I always use a gentle detergent, wash it in my washing machine with cold water, and NEVER dry it. I also do NOT iron it, I use a handheld steamer to get out any wrinkles.
I am happy with the quality of this shirt and would order it again in another color. I think this will be a great shirt to wear for travel, as it will be comfortable, versatile, and modest (as long as I wear a cami). Perfect!
Dylan Gauze Shirt: Cloud Ikat Sizing
I followed Carve Designs' size chart and ordered this shirt in a size small. I think the small fits well. In most brands, I am a size medium.
But Carve Designs also has a "size predictor" you can use with their items where you enter your size in another brand (like prAna, for example), and then it will show you your size in Carve Designs items. This is also accurate, in my experience.
Is The Dylan Gauze Shirt Worth The Price?
This shirt in the Cloud Ikat print is currently $40 (and other prints/colors of this shirt are less than $30 right now). I think that is a very fair price for a well-made, quality shirt that I wear frequently.
Carve Designs Swimwear Review – Elba Top + Erin Reversible Bottoms
Carve Designs swimwear sells its tops and bottoms separately, so you can mix and match styles, colors, and sizes. I love this! So, the top I have is the Elba style and the bottoms are the Erin.
Is Carve Designs Swimwear Comfortable?
This is by far the most comfortable swimsuit I own. It is very soft, stretchy, fits well, and doesn't have an underwire. While I wouldn't want to try going for a run in this swim top, it does provide adequate support despite the lack of underwire.
This is something that I was perfectly comfortable swimming and tubing in and could see myself comfortably wearing it for a beach volleyball game (if I had any sort of coordination!). I had no issues wearing this swimsuit all day poolside this summer – it was very comfortable.
Is Carve Designs Swimwear Good Quality?
I have only gotten to really wear and wash this swimsuit a few times this summer. I have not been swimming nearly as much as I would have liked it. That said, so far, it is holding up well in the wash, and has survived tubing, water slides, and hours of baking in the sun and chlorine.
It does appear to be a very well-made swimsuit that I am quite pleased with!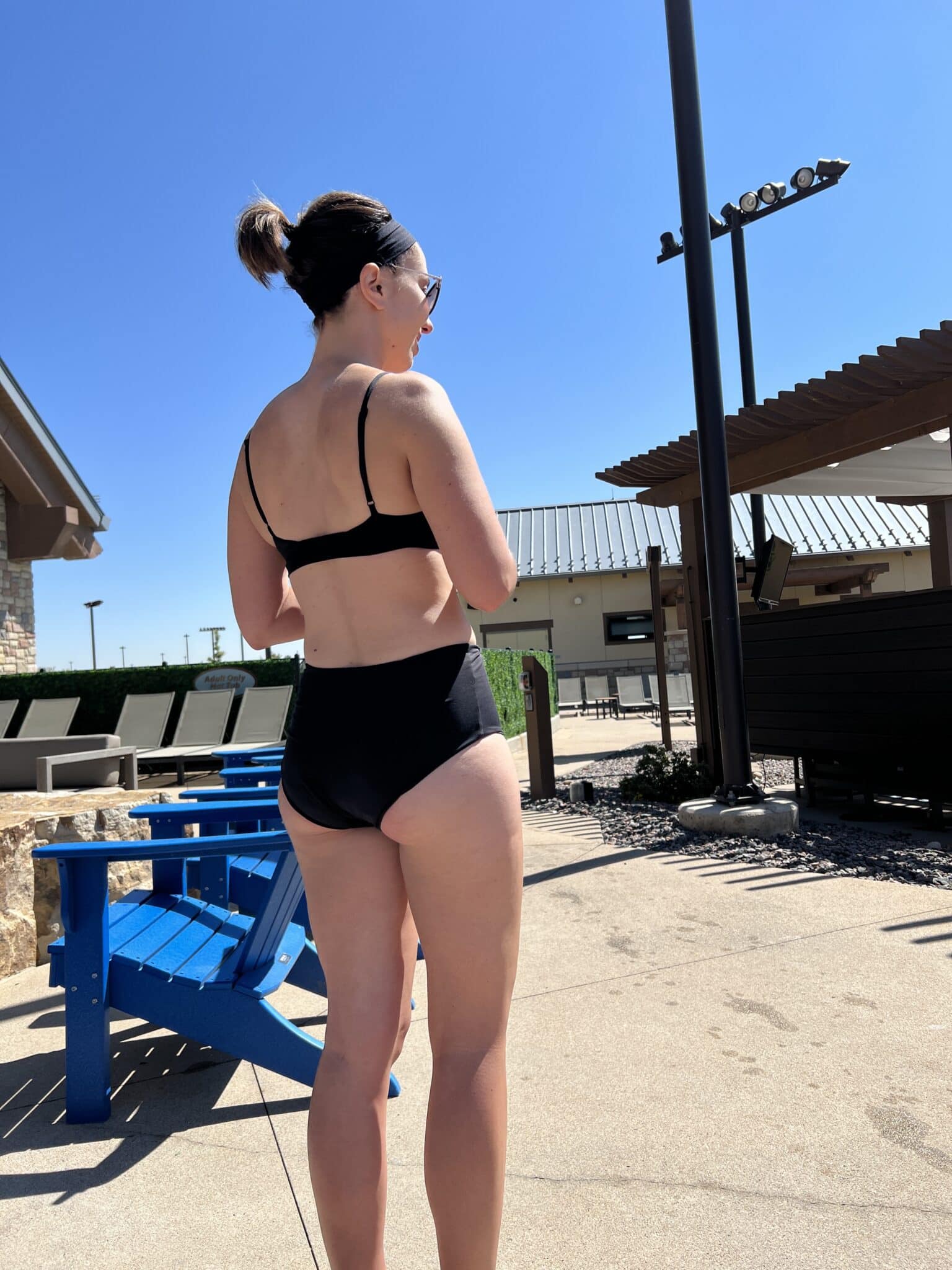 Carve Designs Swimsuit Sizing
Again, I followed the size chart and ordered a size small for both the top and the bottom. This is the first time I can say I've ever been a size small in swimwear (especially for bottoms – the last pair of bottoms I ordered in a different brand was an XL!).
I think both the top and the bottom fit exactly how they are supposed to. I LOVE this swim top. It has adjustable straps, which is a must for me. It doesn't have chest pads, but I didn't feel too "exposed" while wearing it. (The black of course helps – this would have been a different story if it were a white top!)
For both the top and the bottoms, the material is stretchy and very comfortable to wear. This means I don't get a "muffin top" from them – which is nice. However, I really dislike where the bottoms hit on my waist. It's such an awkward fit, in my opinion. Judging by the product photos, though, this is the way this suit is meant to fit. I wish it either went above my belly button or was well below it… this weird in-between fit makes me crazy!
Is Carve Design Swimwear Worth the Price?
For me, the swim prices are a little expensive (over $50 for both, so over $100 for a full swimsuit). That said, given how comfortable and well-made the top is, I would 100% order another swim top like this from Carve Designs; comfortable yet flattering swimwear is hard to find. I do think this is worth it.
However, I don't love these bottoms. I would be interested in trying a different bottom style, though. Something that is a little more flattering would make me a little more willing and happy to pay over $50 for swim bottoms.
Brady Straight Leg Jeans: Vintage Wash Review
These Carve Designs jeans are fitted at the waist, relaxed down the legs, and have just a little bit of stretch. I'm wearing their light wash, but these jeans do come in a darker wash as well.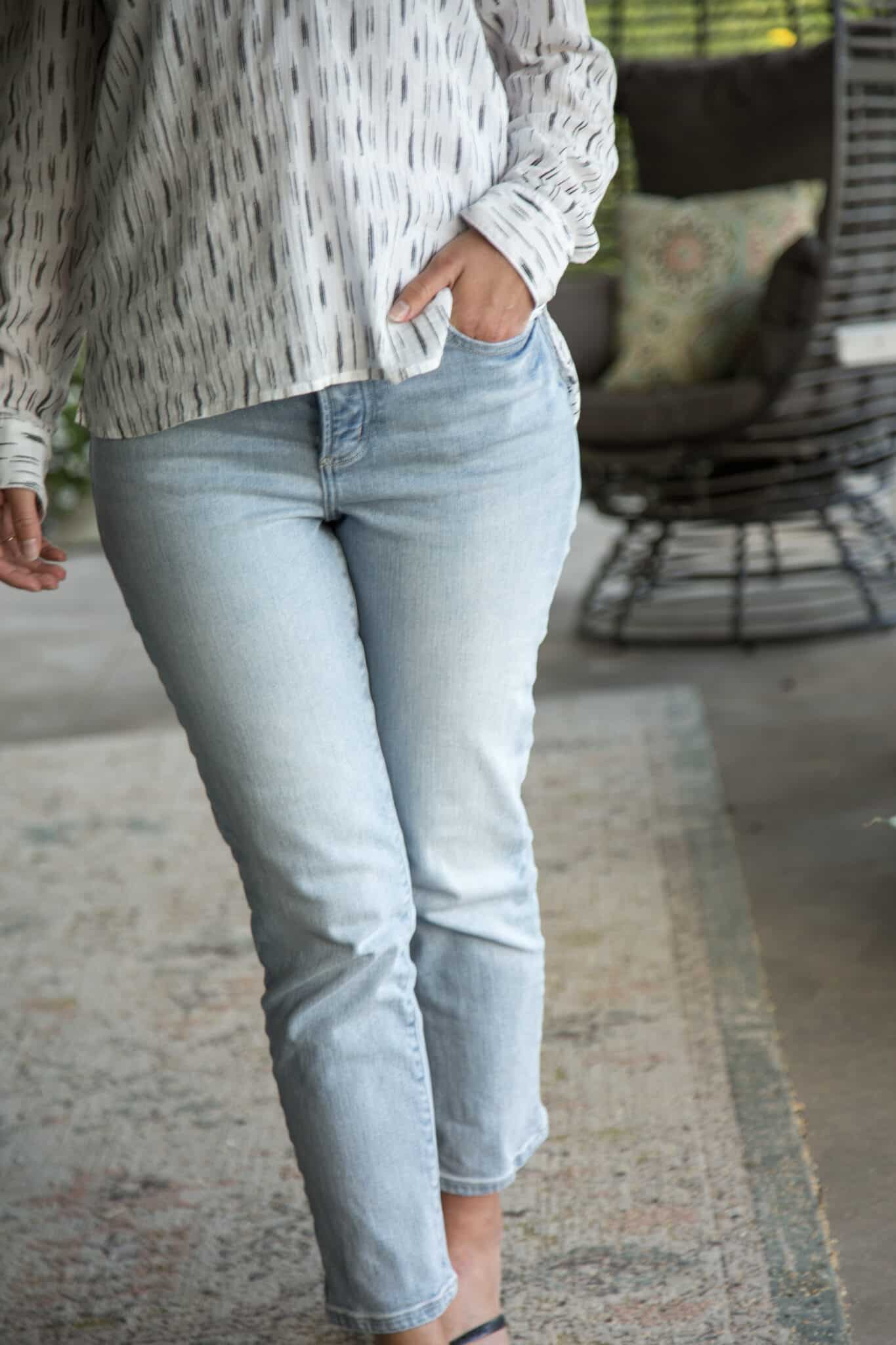 Are the Brady Straight Leg Jeans Comfortable?
So, these jeans are a bit "stiff", and they have a little stretch but not much. The first time I wear them after washing them they feel quite fitted… but they relax and are super comfortable as I continue to wear them. (Note: I do NOT dry these jeans.)
However, for the first wear after a washing – these are not the most comfortable jeans that I own (those are my Madewell jeans). That said, these Carve Designs jeans keep their shape a lot better than my stretchy Madewell jeans. I don't feel the need to wash them unless they are actually dirty (not because they're getting stretched out).
Are the Brady Straight Leg Jeans Good Quality?
Given how much use these have gotten over the last few months, and they still look new… I would say they are of fantastic quality. These are just as well-made as my Madewell jeans, and I really like how well they hold their shape. They are great for traveling for this reason. I can make it through a week-long trip wearing them and not have to worry about them getting stretched out.
Brady Straight Leg Jeans Sizing
So, based on the size chart, I went ahead and ordered my normal size 6 in these jeans. I think they look great and fit quite well. However, given how stiff they are and they don't have that much stretch… I do wonder if I maybe should have sized up in these. Perhaps a size 8 would have been a little more comfortable?
I would have liked to have ordered a pair of each size, but returns with Carve Designs are not free (there's a $7 fee), and I hate getting charged shipping and returns fees! That said, exchanges with Carve Designs are free. So, I could have exchanged them (but they just looked so nice!).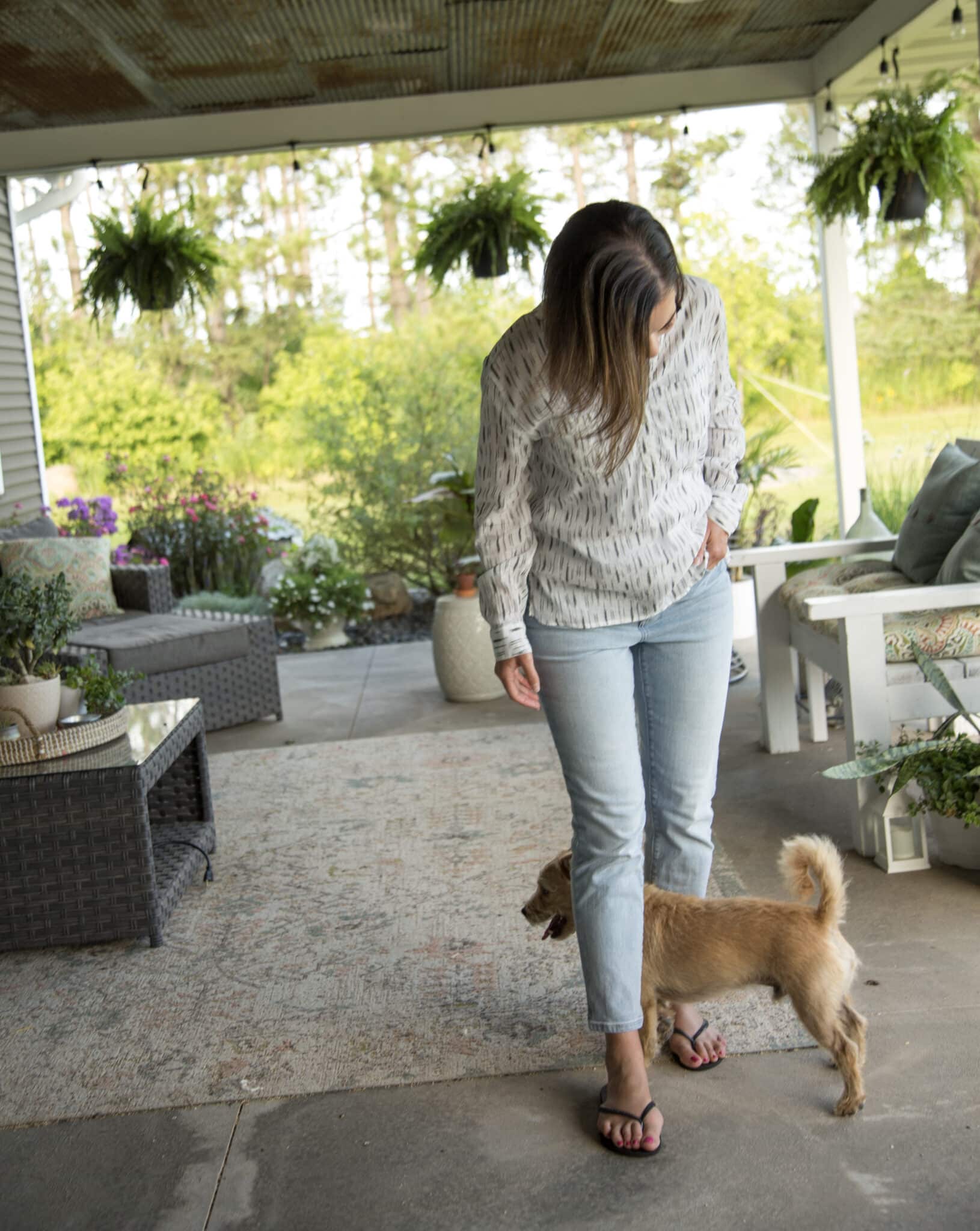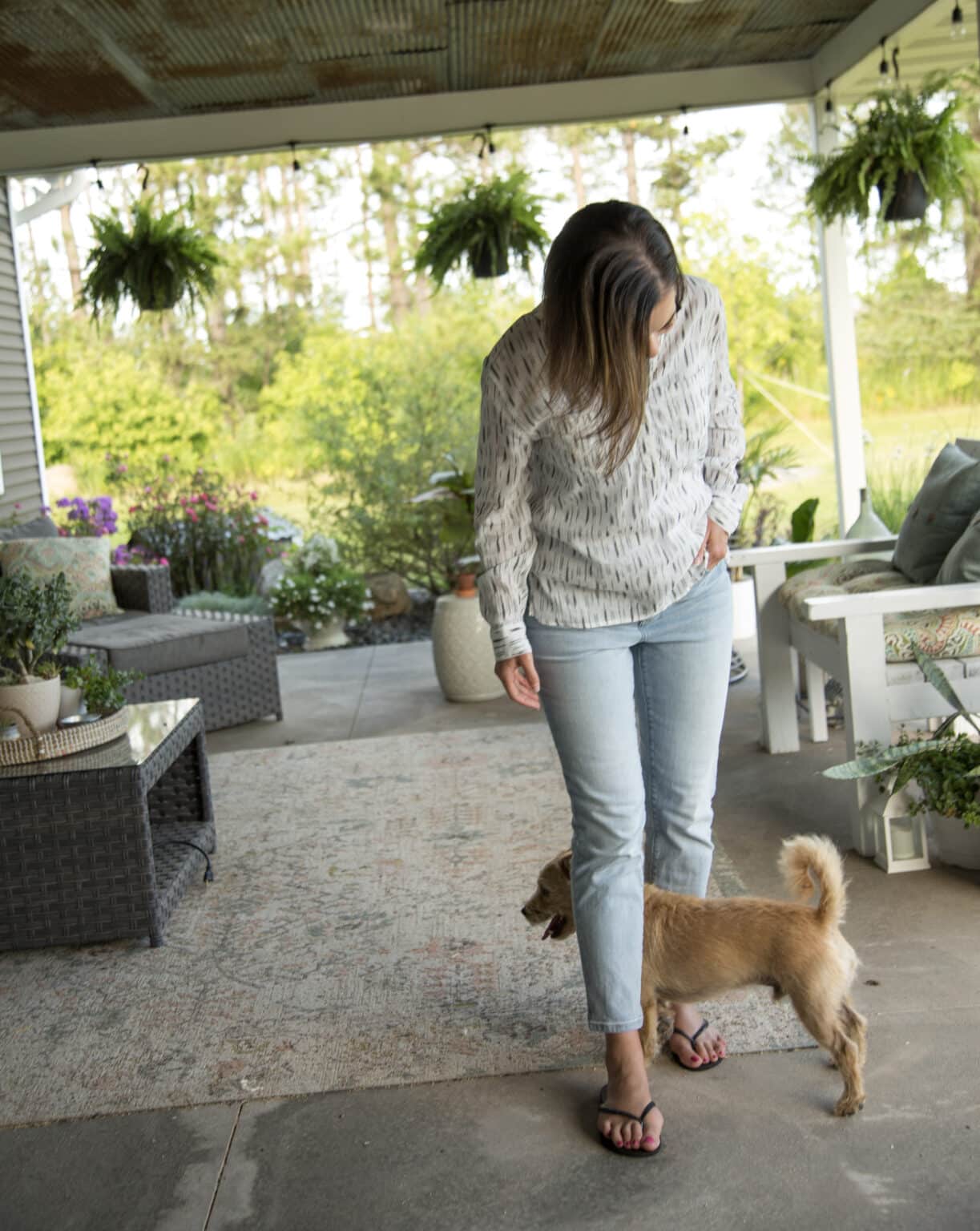 Are the Brady Straight Leg Jeans Worth the Price?
These jeans are just under $100. That is getting into expensive jean territory… However, in comparison to my jeans that are $150ish (Madewell) and even $200ish (GRLFRND and Agolde jeans that were a gift) – these Carve Design jeans are just as well-made as any of those pricey brands.
I actually think Carve Design jeans are more flattering (at least on me) than all of the other brands mentioned above. So, for me, these jeans are very much worth their price tag – as I wear them more than my pricier jeans.
Final Verdict – Do I Recommend Carve Designs Clothing?
My experience with Carve Designs has been nothing but positive. While my jeans aren't the most comfortable (perhaps I should have sized up, though)… and my swim bottoms were not all that flattering (they did look just like the website photo, though)… the quality of clothing Carve Designs is making is fantastic. I would absolutely order any piece of clothing from them again and do recommend them to anyone who is interested in purchasing quality, everyday clothing.
Thank you to Carve Designs for sending the items used in this post to me free of charge. However, this post is not sponsored by Carve Designs – it was written because I thought my readers would find it helpful.