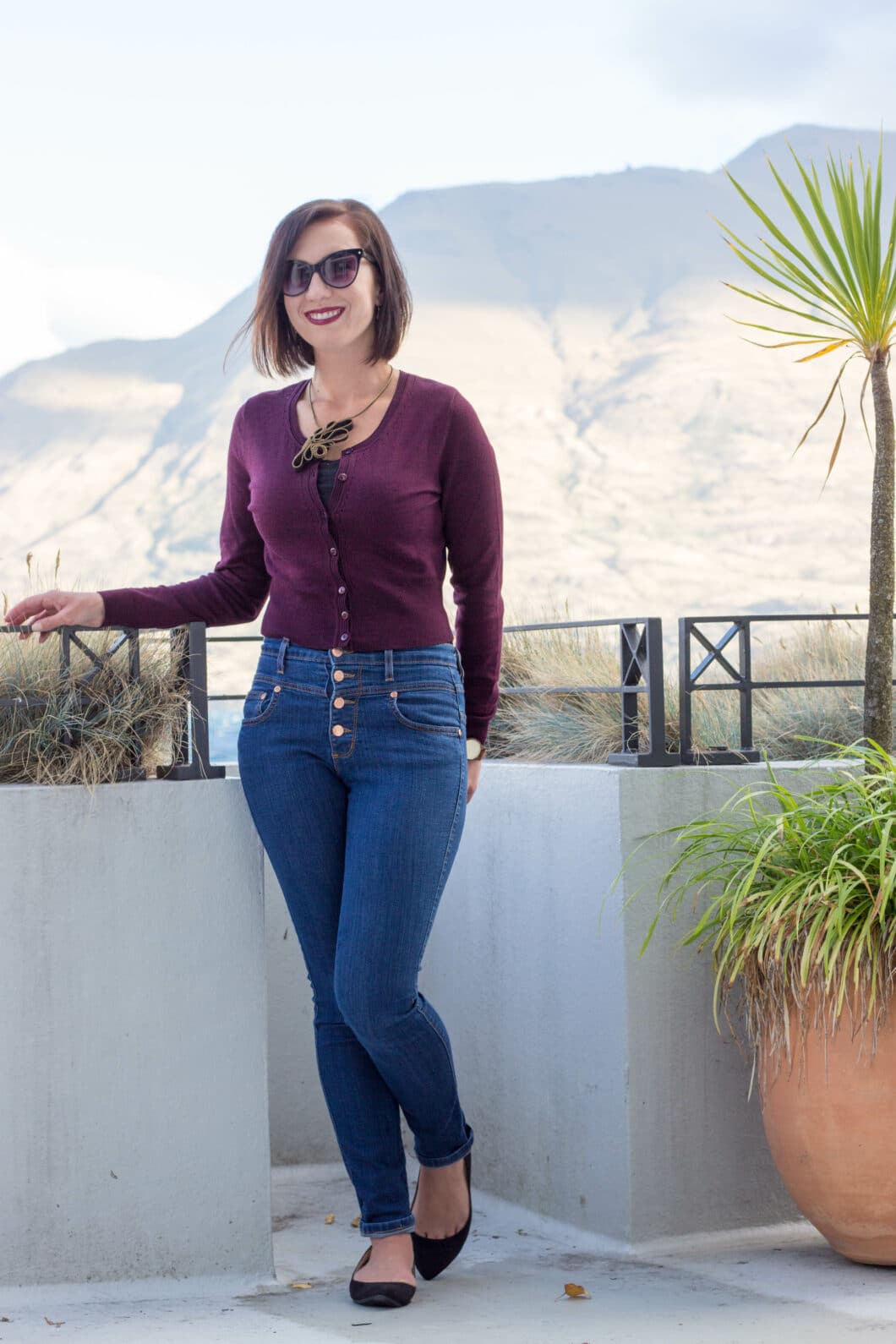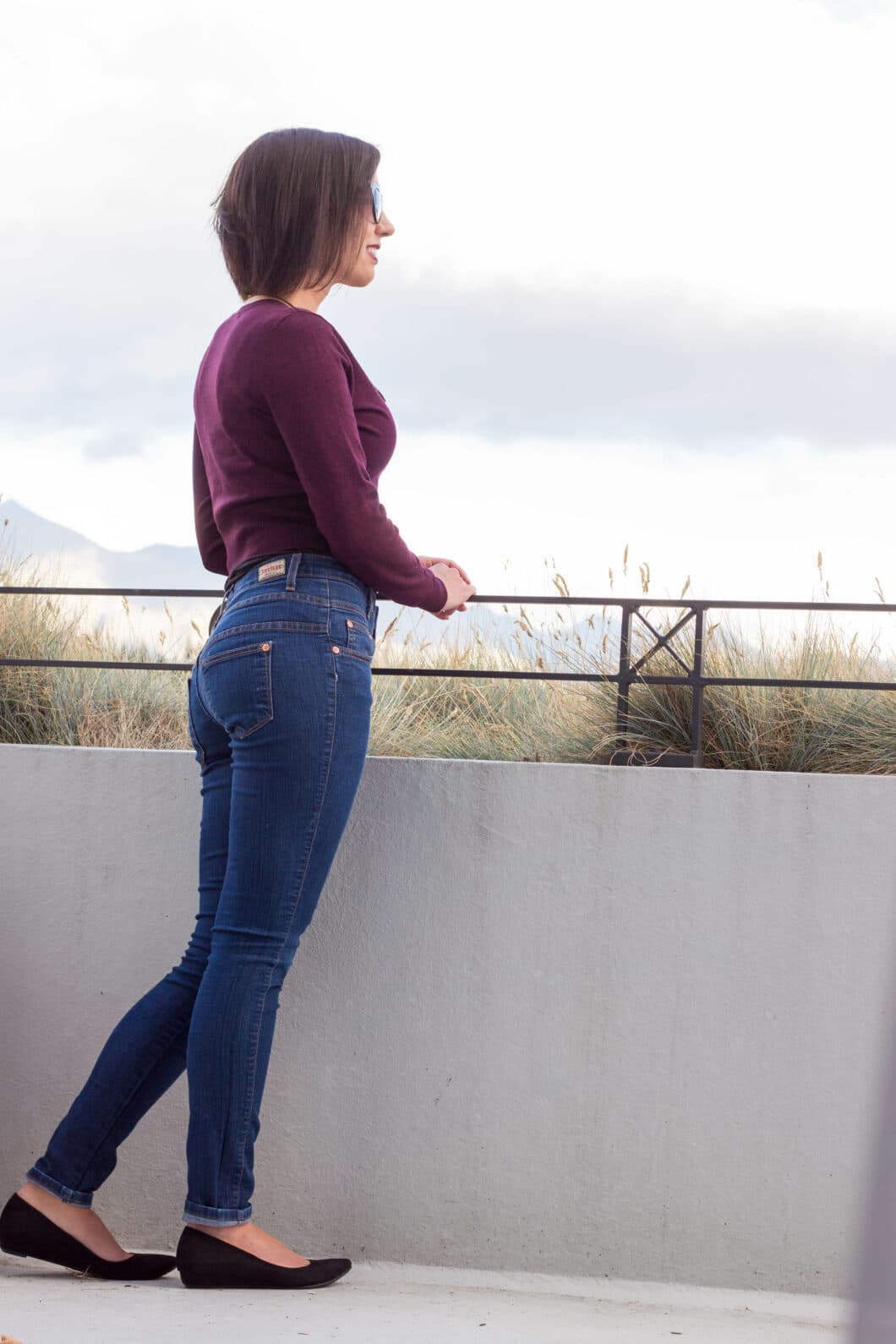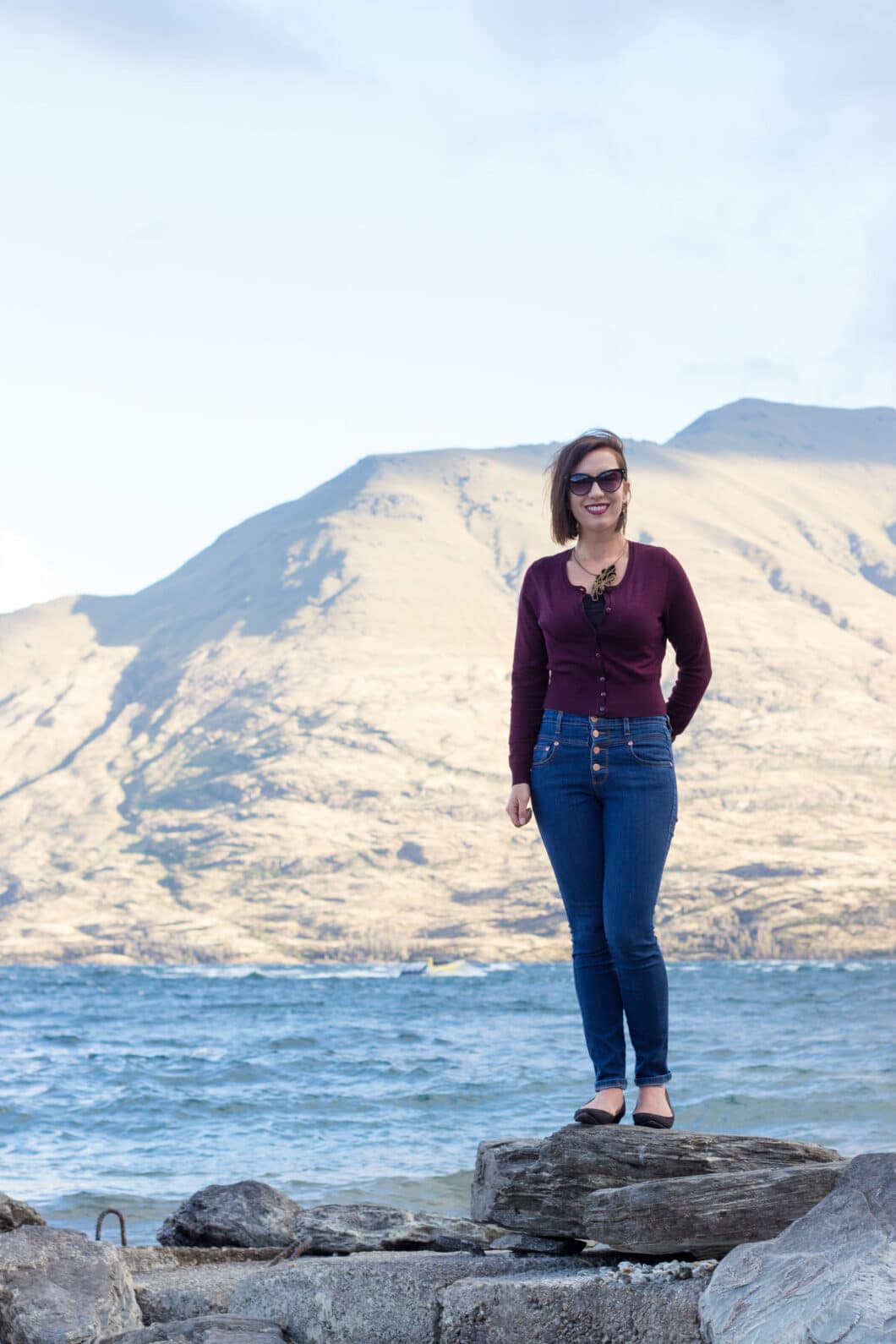 Holy moly, I know this is an outfit post, but would you look at that background! These photos were taken in Queenstown, New Zealand on our trip a couple weeks ago (this is the same area as my bungy jump post on Monday). I don't know if I have seen a place quite as beautiful as Queenstown. It literally looked like a postcard every place you turned!
But anyways, I'll be sharing some proper beauty shots of Queenstown on Friday…let's talk about this here outfit. These jeans are the jean version of the shorts I featured in my previous outfit post, and they are my favorite pair of jeans. I like how they can make a casual outfit look just a hint dressier, thanks to the buttons. And as you can see, I've managed not to throw these in the dryer on accident, and they fit like a glove! (My shorts have really shrunk on me after putting them in the dryer.) Oh, the pockets sit a bit low on them. At first, I wasn't so sure about that. But honestly, it's really grown on me. I just wish there was a capri version of these, so I could have the whole family! Haha. (There is an ankle-length version, but those are not capris, in my opinion.)
And I know that cardigans are not always that exciting, but I am really excited about this one! It's so soft & versatile! (Get ready for a bunch of outfit posts with it, haha.) I actually got it from Review Australia in a couple colors thanks to a sale + a coupon I had. That coupon had encouraged me to go on a bit of shopping spree the night before I left Australia. Haha. I hadn't bought anything from Review until then because my thought had always been I could order similar products for less money on ModCloth…but, gosh, I really am impressed with the quality of their clothing! (And ModCloth still hasn't gotten their site working properly, so I don't foresee me shopping there anytime soon.)
This isn't my typical dress or skirt outfit, but it was too gosh darn chilly in Queenstown for a cute little dress! I was a bit in shock after the warm weather we had in Sydney. It's pretty chilly in Rosario right now too, compared to what I was used to. I'm breaking out my scarves and cardigans… Fall is in the air! (It's so weird, haha.)
How's the weather been by you? And do you have a favorite pair of jeans? Let me know in the comments!
Shop the look:
Cardigan: Review Australia
Jeans: ModCloth
Wedges: Chinese Laundry via ModCloth
Sunglasses: c/o* Polette
Necklace: Gift from my husband (Similar here)
Disclosure: some of the links in this post are affiliate links. Meaning, if you click a link and make a purchase, Have Clothes, Will Travel gets a very small commission. Thank you for supporting the brands that make this blog possible!
*c/o = courtesy of, meaning the company gave me the product to be used on my blog, and I did not pay for it. All opinions are my own, and I am not being compensated for a positive review.