What to Wear When It's Insanely Hot & Humid (Other Than a Dress)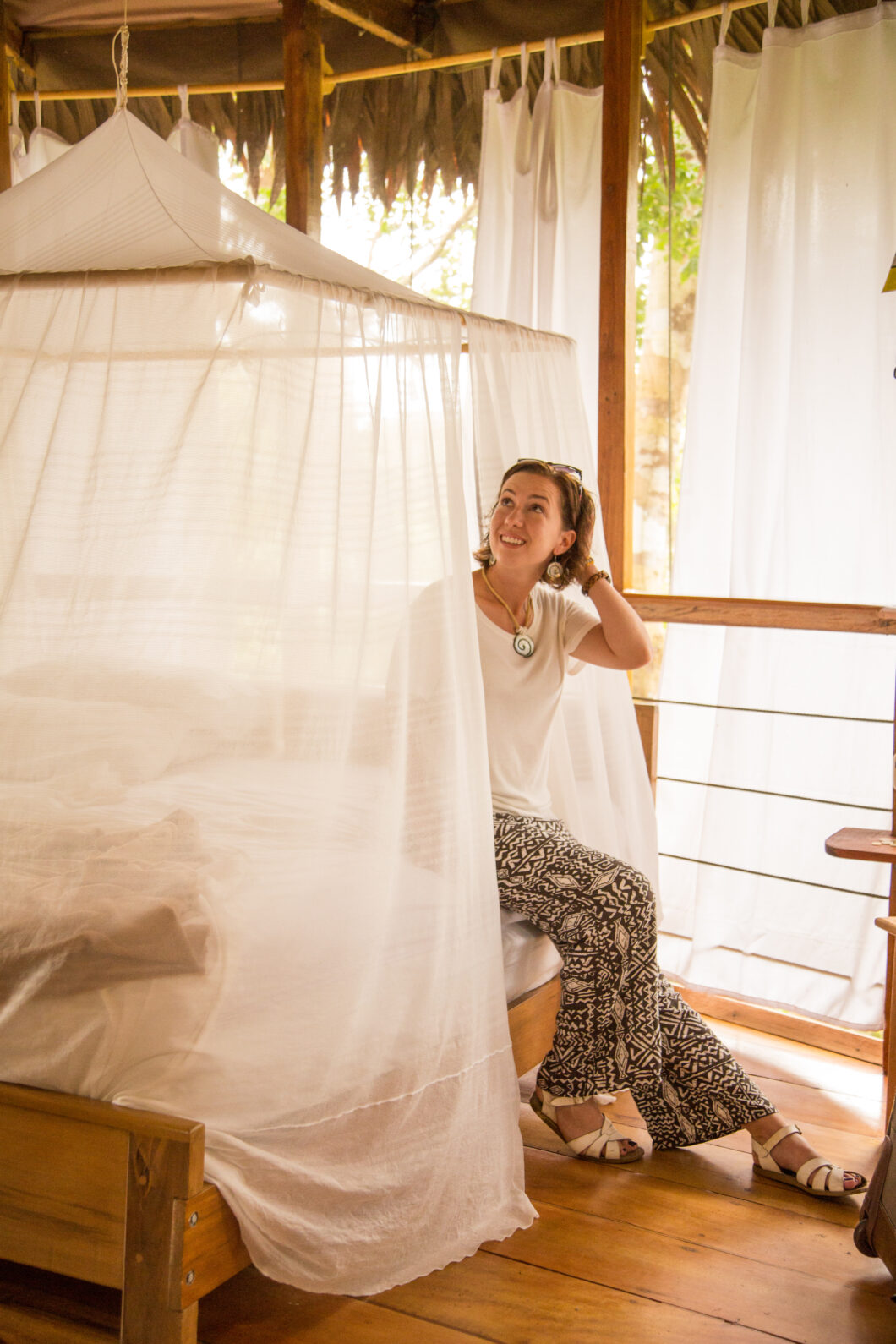 Pants (similar) | Shirt (similar) | Sandals | Sunglasses (similar) | Necklace (similar) | Watch c/o*
What to Wear in Hot and Humid Weather: A Guide for Women!
What to wear when it's insanely hot & humid…or what to wear when you're living in a treehouse in the middle of the Amazon Rainforest. Haha. This was the one and only "fancy" outfit I brought along for our treehouse adventure. The rest of the time, I was wearing hiking clothes and boots! (My roll-up hiking pants are the comfiest things ever.)
Usually, when it's 100 degrees Fahrenheit with roughly 100 percent humidity, a lightweight sundress is the way to go. However, in the jungle, there are TONS of bugs. So, I needed to be as covered as possible but not wear something that I'd sweat to death in.
That's where these lightweight beach pants come in. I bought them in Rosario, Argentina, from a Billabong supplier, and I absolutely love them. (They sell them in the US and Europe, too, but in different colors and patterns. Click here for some more options.) And as stupid as it sounds, a loose-fitting, lightweight, plain T-shirt was one of the best things I've bought in a long time. I lived in this while we were in the jungle. (It was worn multiple days, also with hiking pants!)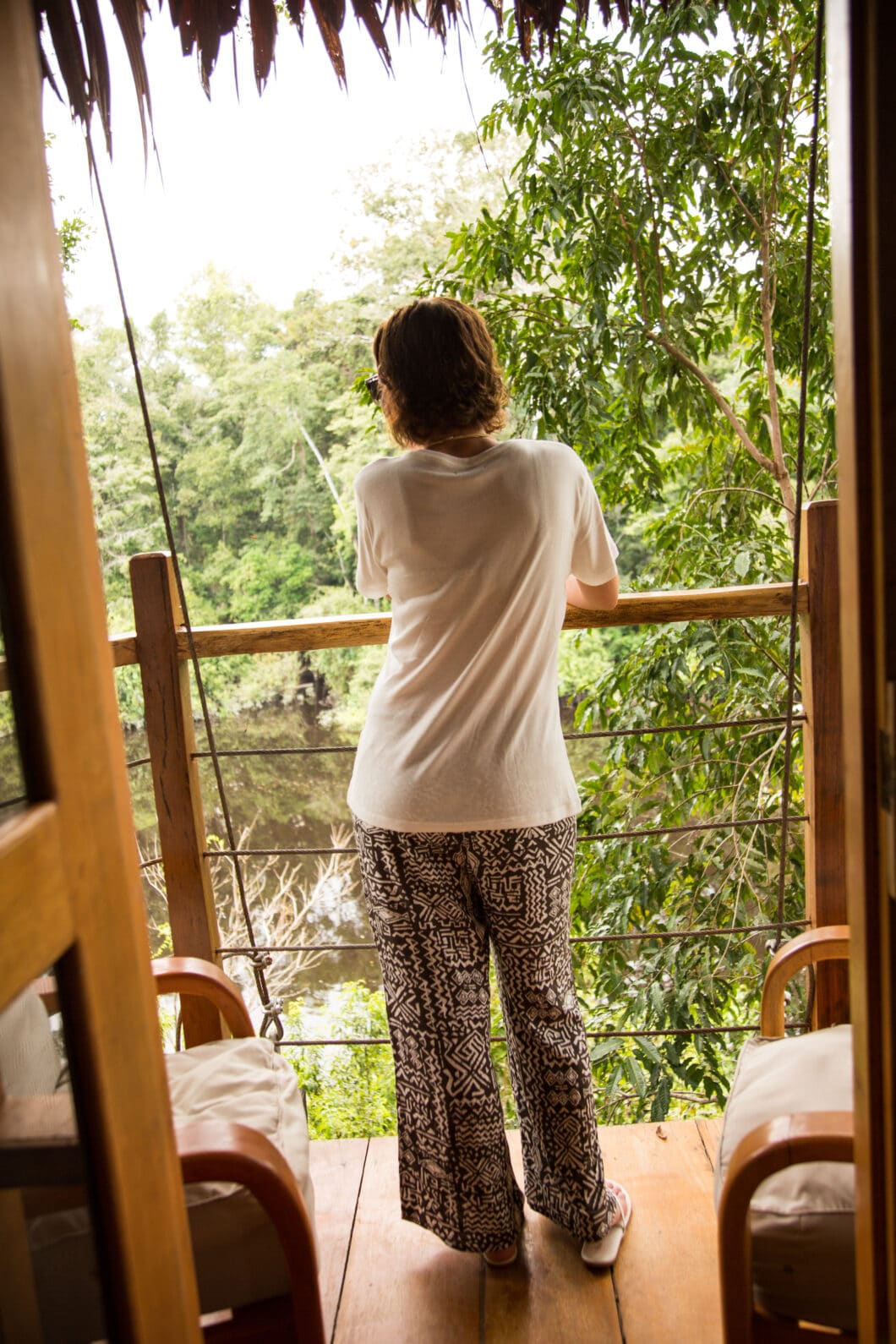 If you're being really observant, you'll also notice that I'm wearing a pair of flip-flops and my trusted Salt Water Sandals in this post. This outfit might have gotten worn multiple times, haha. Don't worry, I was showering! My hair is actually still wet in all of these photos, despite having been washed hours ago. It was THAT humid. I also didn't bring my blow dryer or straightener or much for makeup. So, this is my natural hair texture and almost makeup-free face. Scary stuff! Haha.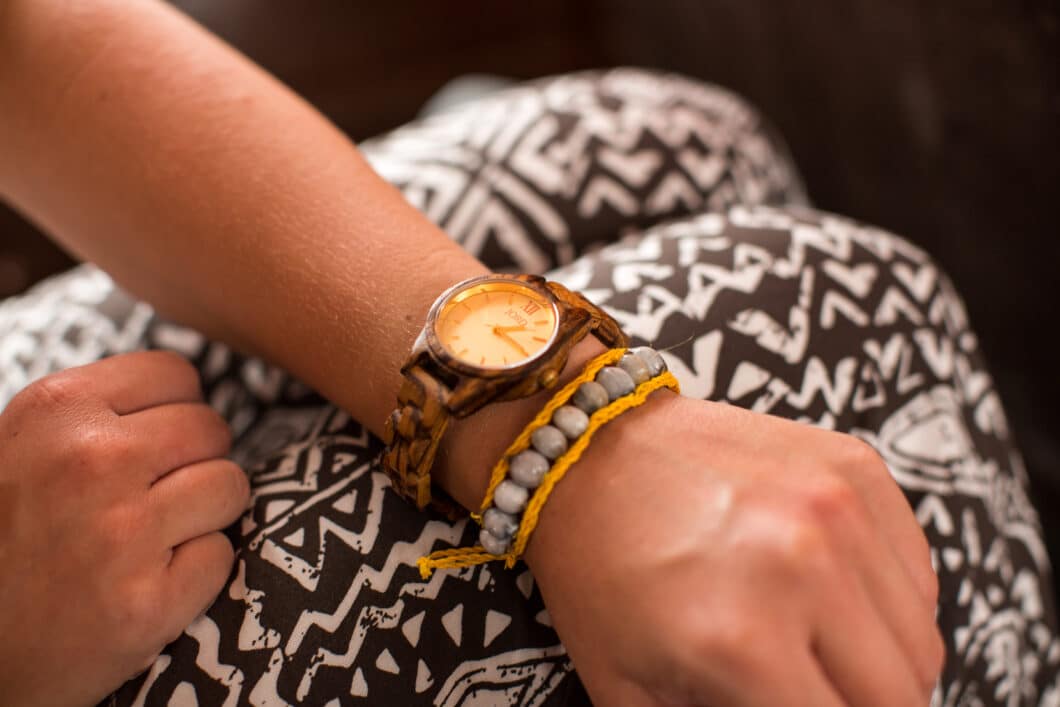 I never took my JORD watch off during this trip, either. I actually have a tan line from it that looks just awful. I guess I'll be wearing this watch every day until it fades now! Haha. And the bracelet, I actually made with the help of a woman in a nearby village. It was a really cool experience that I'll be sharing in my next Amazon adventure travel post!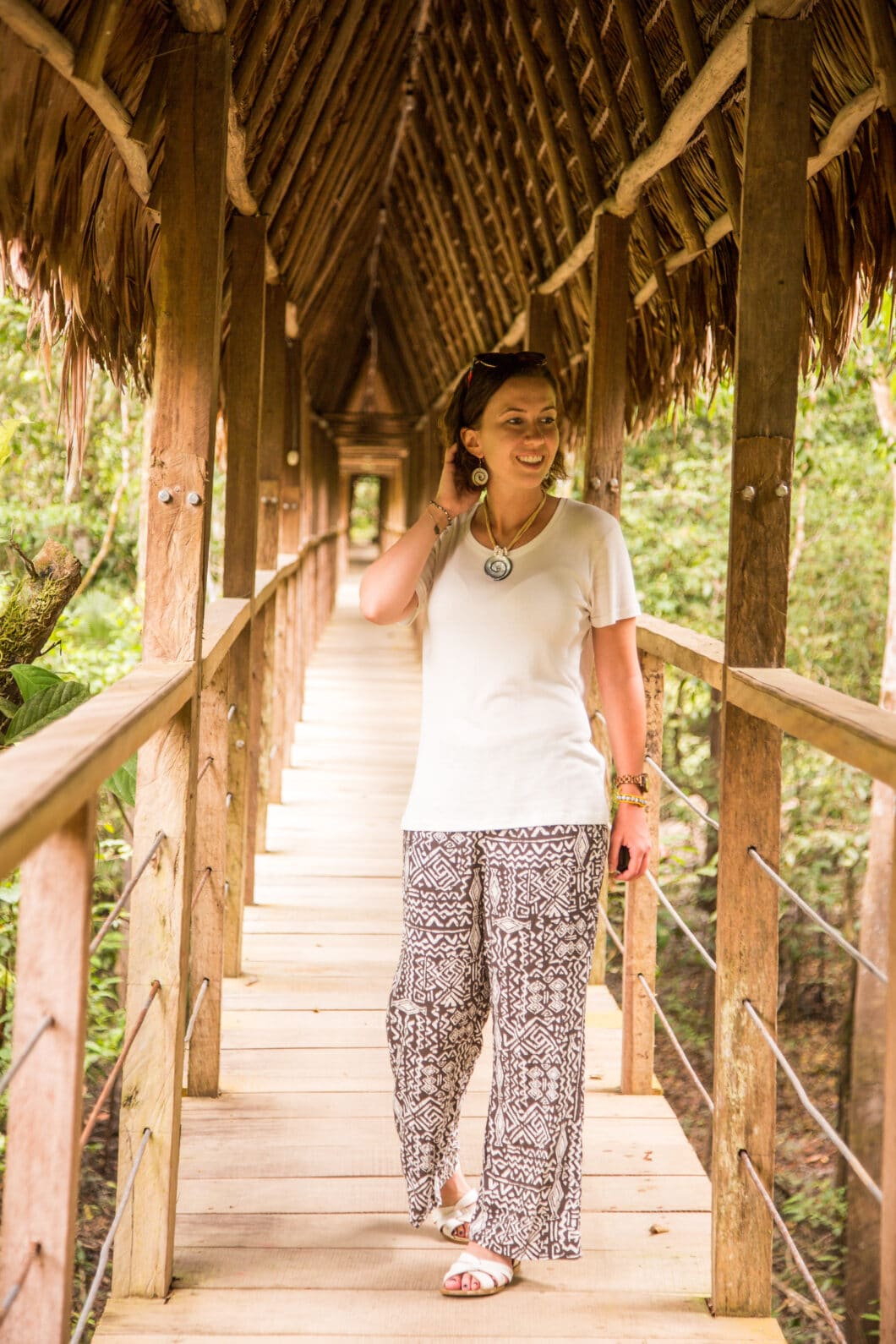 I'm already missing that treehouse! So much fun! Don't miss my last post about this amazing treehouse lodge in the Amazon rainforest! I'll have a few more posts about our time in the Amazon soon. Friday's post is going to be a bit different, though, with some major announcements in it…stay tuned.
What do you like to wear when it's insanely hot & humid? Let me know in the comments!
Shopping List: The Best Clothing to Wear in Hot and Humid Weather
Pants: Billabong Adventure Spirit Pant (different pattern)
Top: Carrefour (Similar shirt from Amazon)
Sandals: Salt Water
Watch: c/o* JORD Wood Watches
Sunglasses: Gift from my mom (similar sunglasses from Amazon here)
Necklace: Bought from a street vendor in St. Lucia (similar Mother of Pearl pendant necklace here)

*Disclosure: some of these links are affiliate links. Meaning, if you click a link and make a purchase, Have Clothes, Will Travel gets a very small commission at no extra cost to you. Thank you for supporting the brands that make this blog possible! I am also a participant in the Amazon Services LLC Associates Program, an affiliate advertising program designed to provide a means for us to earn fees by linking to Amazon.com and affiliated sites.
*c/o = courtesy of, meaning the company gave me the product to be used on my blog, and I did not pay for it. All opinions are my own, and I am not being compensated for a positive review.