Travel Outfits for Summer: What to Wear on Vacation
The summer travel season has arrived, and that means that it is time to pick your favorite summer vacation outfits. You want your travel outfits for summer to be versatile, cool, and comfortable!
It is so much easier to travel light during the summer months because you don't have to worry about big bulky coats or sweaters. You may even be able to travel with just a carry on which makes getting in and out of the airport so much easier.
This post is here to help you find some outfit ideas for your summer travels – whether you're traveling locally by car or need a comfortable and stylish outfit for your next airport adventure.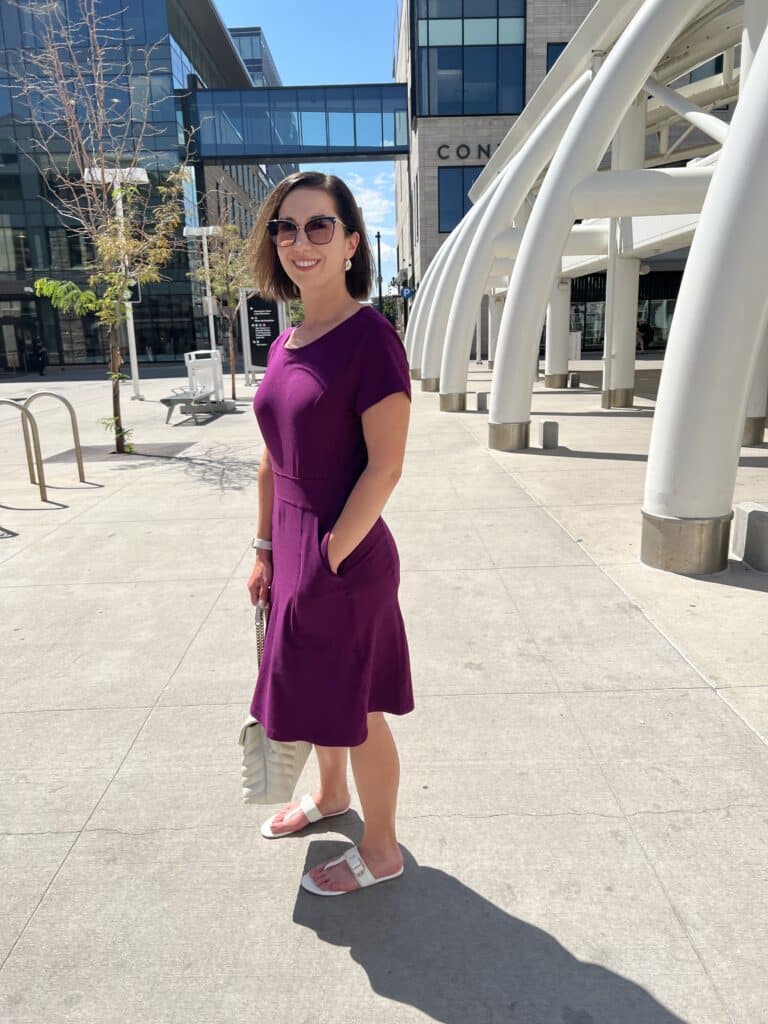 *Disclosure: some of these links are affiliate links. Meaning, if you click a link and make a purchase, Have Clothes, Will Travel gets a very small commission at no extra cost to you. Thank you for supporting the brands that make this blog possible!
Summer Dresses
Lightweight summer dresses are great summer travel outfits. They are cool, comfortable, and flowy to keep you comfortable whether you are traveling by plane, boat, car, or a combination, and they look amazing too! They're also great to layer with a cardigan or jacket if you get chilly – especially on an airplane. (You can see my travel jacket picks at the end of the post!)
Indiana Ivy Maxi Dress
This loose dress with an elastic waist and ¾ length sleeves is soft, made of 100% rayon, and has buttons all the way down the front. The beautiful floral print dress is perfect for summer, and it can also be worn as a kimono if you leave the buttons undone.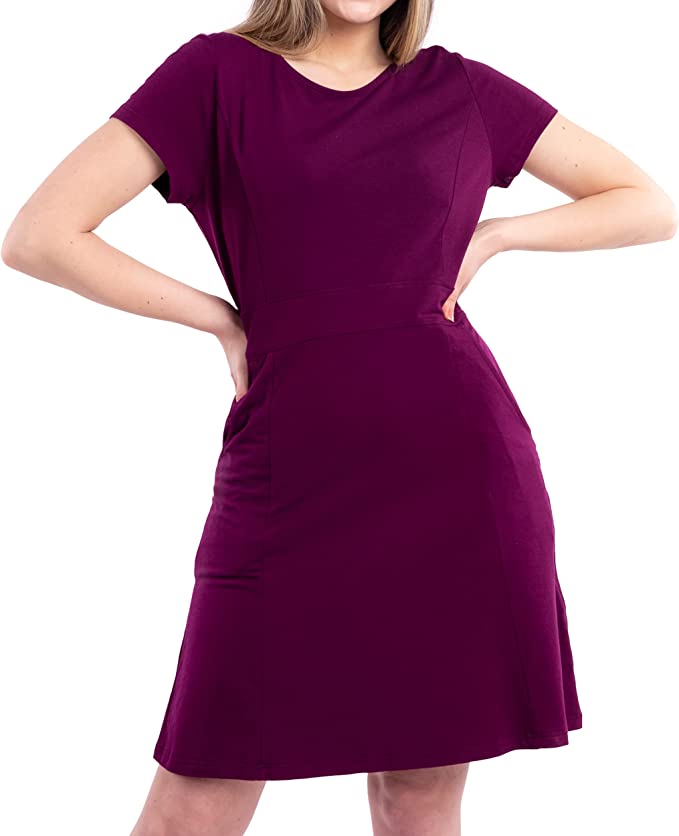 SCOTTeVEST Daisy Dress
This comfortable, breathable dress is wrinkle-resistant and stylish. It is a really nice summer airport outfit and one of my go-to travel dresses. This dress has eight hidden pockets so that you can keep your phone, money, travel documents, and other items securely on your person. This beautiful dress is available in black, navy, and plum.
Relaxed-Fit Sleeveless V-Neck Midi Dress
This sleeveless midi-length dress should be on your list of summer vacation outfits. Super soft, with a v-neckline, and a side slit detail, this dress comes in a variety of colors and prints for you to choose from and you can wear it for travel on your vacation excursions.
Comfortable Travel Pants
Not a fan of dresses? Not to worry! A pair of stylish but comfortable pants, or even jeans can be a part of your summer vacation outfits to keep you looking fabulous and feeling great at the airport and beyond. Pair with any of the travel tops in the next section.
Deri Linen Palazzo Pants
If you are looking for pants that are both stylish and comfortable for traveling then look no further than these palazzo pants. These washable linen, pull-on, mid-rise pants with an adjustable hem are cool and comfortable. You can get them in pink, and two different shades of blue.
Read next: Honest Lilly Pulitzer Review of Their Dresses for Quality & Sizing
Kate Skinny Cargo Pants
If you are looking for a comfortable pair of pants as part of your travel outfit for summer then you might like these cargo pants. These breathable, stretchy, cargo pants with skinny legs and mid-rise waist are designed with travel in mind. These wrinkle-free pants will leave you looking great, and they come in a variety of neutral colors too. I like to wear them for everything from long flights to African safaris to shopping in Europe. They're incredibly versatile and well-made. I've had mine for several years, and they still look brand new. (I have the khaki color.)
Aviator Travel Jeans
If you have been looking for the perfect, comfortable pair of jeans to travel in then look no further. These Aviator travel jeans were created with comfortable travel in mind. These jeans have a mid-rise relaxed waist with a straight-leg fit. There are two deep front pockets and two hidden zipper pockets in the back. I'm also a huge fan of Aviator travel jeans!
Read next: Aviator Slim Skinny Fit Travel Jeans Review

Leggings
Leggings are a great choice when it comes to pants for summer travel. They are comfortable, lightweight, and look great too, especially when paired with a cute blouse or shirt. These super soft and stretchy leggings are available in a variety of colors, waist heights, and lengths so you can choose the ones you like best.
Skirts, Skorts, and Shorts
Because of the warmer summer temperatures you might decide that you would be most comfortable traveling in skirts, skorts, or shorts. These are some great options to consider. Pair with any of the travel tops in the next section!
prAna Tulum Skirt
This hemp organic/cotton blend maxi-length skirt with an elastic waist with two deep front patch pockets is stretchy and comfortable. Perfect for summer travel, no matter what your destination is. This skirt is available in several different colors.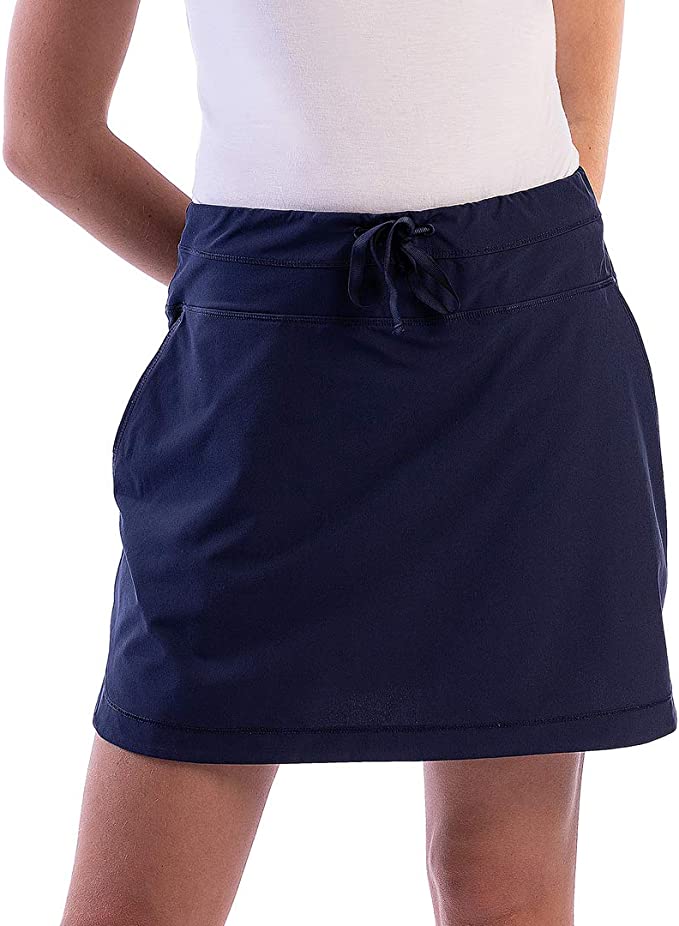 SCOTTeVEST Scarlet Skort
If you are looking for a skirt or skort for a travel outfit idea for summer, then check out this skort. The skort is made of breathable, lightweight fabric that moves with you comfortably, but that's not all, it also features several hidden pockets. This skort has eight pockets in total, five of which are hidden for your passport, cellphone, plane tickets, money, and any other valuables you need to carry on your person as you travel.
Athleta Arrival Skirt
This midi feather-weight skirt, made from recycled material, almost feels like wearing nothing at all. The skirt has an elastic waist with a drawstring, the fabric is wrinkle-resistant (perfect for packing), and has been treated with UPF 50 for adventures in the sun. This skirt is available in a variety of colors and sizes.
prAna Halle Shorts II
If you aren't worried about being cold as you are traveling this summer then you might like these comfortable shorts. You can choose from an elastic or button-down waist, and pick a 5-inch or 7-inch inseam. These shorts come in a variety of colors and prints and there is a skort option too!
Comfortable Summer Shirts and Blouses
The perfect shirt or blouse for travel is one that looks and feels great, without becoming a wrinkled mess. Here are some you will enjoy wearing as you travel this summer.
Flo Pima Cotton Tank
This wrinkle-resistant soft cotton tank is comfortable for travel or everyday wear. The back of the tank is a v-neck with a mesh overlay and the front has a crew neck with a light mesh overlay. This tank is available in several different colors so you can travel in comfort and style.
Women's Departure 2.0 Shirt
If you are looking for a comfortable shirt to wear for summer travel that will go with leggings, shorts, skirts, jeans, or pants look no further than this one. This long-sleeved, lightweight shirt is moisture-wicking and the material is made out of UPF 50 material so you can wear it for sightseeing and other activities on your trip as well. While this shirt is long-sleeved, it has convertible roll-tab sleeves for wearing it with short sleeves, and it comes in several beautiful colors.
Alex Vando Women's Dress Shirt
This comfortable and stretchy dress shirt is wrinkle-resistant and perfect for travel, just wash and hang to dry and it is wrinkle-free. This button-down collared shirt comes in a wide variety of colors and is available in both short and long sleeves.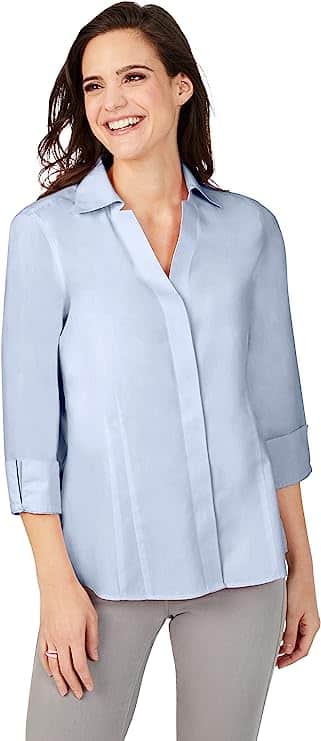 Foxcroft Women's Taylor ¾ Sleeve Shirt
This ¾ length sleeve shirt never needs to be ironed, which leaves it looking perfectly tailored and fresh even after hours on a plane. The buttons are covered and it has bracelet sleeves. This shirt comes in a variety of colors and would pair well with anything from skirts, and leggings, to shorts or pants.
Travel Vests, Jackets, and Cardigans
Travel vests, jackets, and cardigans are great to include as part of your summer airport outfits. They can keep you warm on a cold plane, and they give you some extra room to store your stuff!
Delaney Travel Vest
This wrinkle-free vest is perfect for traveling, it has a longer fit, that is great for layering, and is perfect for chilly flights or airports. The vest is made from stretchy, comfortable materials, has a drawstring waist on the inside, and has a two-way zipper. There are two deep zippered pockets perfect for storing your wallet, phone, and other personal items.
SCOTTeVEST Lucille Cardigan
As you would expect from SCOTTeVest, this lightweight wrinkle-resistant cardigan has four hidden pockets, perfect for stashing your belongings in as you travel. There are two deep drop-in pockets and two hidden zippered pockets. This cardigan can also help to keep you from getting cold on the plane or in the airport.
Eddie Bauer Ascent Wrap
This super soft sweater wrap is perfect for keeping you comfy and cozy on the plane and in the airport. Cuff sleeves, and two deep side pockets, make it functional too. This wrap is available in two neutral colors and has a loose comfortable fit.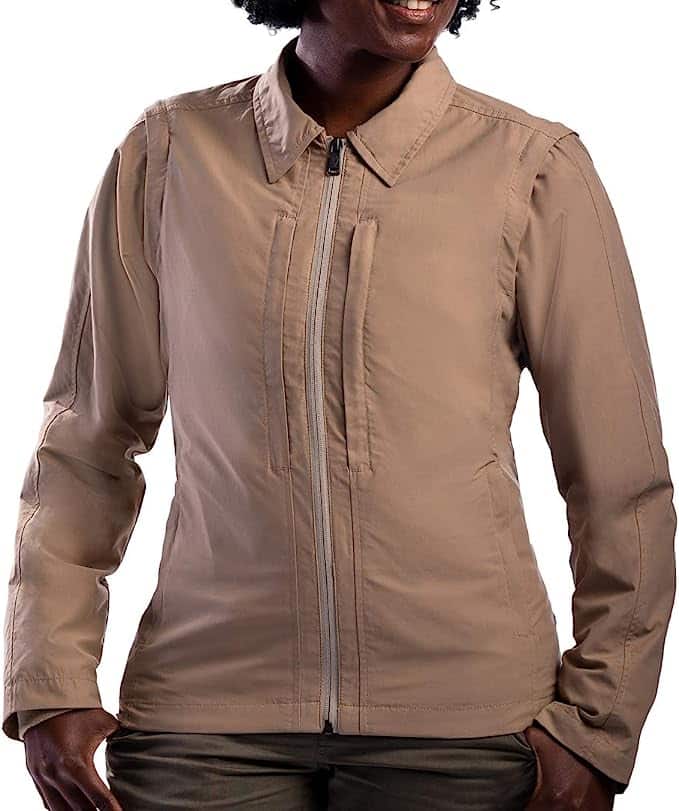 SCOTTeVEST Essential Jacket 2.0
If you are looking for a lightweight jacket to wear to the airport this summer, and need a lot of storage then this one is the one for you. There are 24 pockets that you can use to store all of your gear, and 20 of them are hidden. The jacket has zip-off sleeves so that you can transform it into a vest and store them in the back pocket. There is an RFID protection pocket to keep your information safe and a tablet pocket too!
Jumpsuits/Rompers
Jumpsuits and rompers are another comfortable, fun, and stylish option that you can wear for summer travel. Pair them with some summer sandals, and a cardigan for layering on the plane, and you have a perfect summer airport outfit.

V-Neck Short Sleeve Drawstring Waist Romper
This v-neck short-sleeve jumpsuit with a drawstring waist and long pants is made of lightweight stretchy material to keep you cool and comfortable while you travel. It comes in more than 20 beautiful colors, including some bright summery ones.
StretchTech Jumpsuit
This sleeveless v-neck jumpsuit with wide halter shoulder straps is made of comfortable loose material that moves with you. The fit through the hips, thigh, and waist is relaxed, and the jumpsuit is ankle length. There are four beautiful colors to choose from too.
Butterfly Sleeve Belted Jumpsuit
You may also like this butterfly sleeve, high-waisted, belted, capri-length jumpsuit. This v-neck jumpsuit comes in a variety of beautiful colors that are sure to turn heads as you make your way through the airport.
Packing List For Summer Travel
Here is a handy packing list that you can use for your summer travel this year, to make sure that nothing important gets left behind!
A rolling suitcase makes getting through the airport so much easier for you! These Samsonite rolling suitcases come in a variety of sizes whether you are looking for a carry-on or a checked bag. They also come in lots of different colors, these hard-sided suitcases will keep your stuff safe and secure and they come with a ten-year warranty.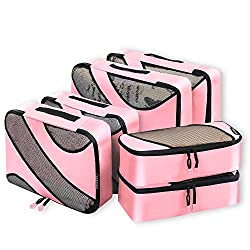 Packing cubes make packing your luggage so much easier, and they help you to keep everything organized too. Packing cubes can come in handy whether or not you are packing a suitcase, or just traveling with a carry-on for the weekend.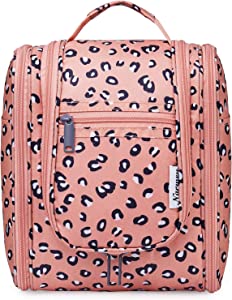 A travel toiletry bag is a must-have for summer travel so that you can keep all of your make-up and skin-care items neat and organized. This travel toiletry bag can be hung from a towel rack or door hook so that you can easily access everything. This bag has three separate mesh compartments as well as two compartments for make-up brushes, and toothbrushes. It also comes in a variety of colors and prints!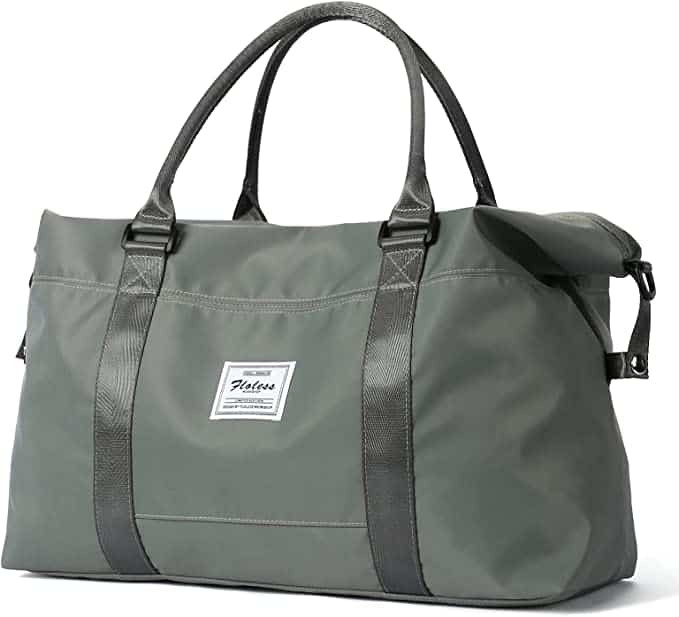 Using a tote bag for your carry-on gives you plenty of room to carry everything you need for a weekend trip, or all of your flight essentials. You'll have room for everything from an extra outfit for when you land, to your sweater for a chilly flight.
Keep your plane tickets, passport, identification cards, and credit cards all in one convenient place. This travel wallet also offers RFID protection to keep your information from being stolen, is waterproof, and comes in lots of colors and patterns.
At this point, hand sanitizer is a part of everyday life, and not just travel. These hand sanitizer bottles are nice because you can clip them to your purse, backpack, or carry-on.
The last thing you want is to have a delayed flight and arrive at your destination with a dead cell phone. A portable charger ensures that all of your devices are charged when you arrive.
Sometimes the dry air on the plane can leave your lips feeling chapped, be prepared by having some lip balm with SPF protection in your carry-on.
Summer wouldn't be complete without a cute and comfortable pair of summer sandals. Even if you travel with sneakers or other shoes, you can slip a pair of sandals in your carry-on bag for when you arrive.
Pack your favorite summer travel outfits from the suggestions above. Make sure that you don't forget to toss your travel jacket, cardigan, or favorite sweatshirt in your carry-on bag in case you get cold on the flight!
No matter where you plan to travel this summer, these summer airport outfits will have you arriving in comfort and style. Which are your favorite summer vacation clothes? Do you have any favorites to share?