Honest Lilly Pulitzer Review of Their Dresses for Quality & Sizing
Lilly Pulitzer clothing is the epitome of authentic American resort wear. This iconic clothing line started by accident in 1959, when Lilly Pulitzer (a stylish Palm Beach socialite) opened a juice stand in Palm Beach, Florida. The juice stand was a hit, but it made a mess of Lilly's clothing!
So, Lilly asked her dressmaker to design a dress that would hide the stains from the fruits. The result was a comfortable shift dress made of bright and colorful prints. Eventually, Lilly was selling more dresses than juice, and she then focused on selling her colorful dresses.
Now, 60+ years later, Lilly Pulitzer clothing is still a fashion sensation that features bright and colorful prints.
I tried Lilly Pulitzer dresses (and also a bright top) for the first time this year when I was in Florida. This seemed like the perfect clothing for a trip to Florida!
In this post, I will be reviewing Lilly Pulitzer dresses (and a top) for their overall quality and sizing. Please feel free to reach out with any questions in the comments section at the end of this post.
*Disclosure: some of these links are affiliate links. Meaning, if you click a link and make a purchase, Have Clothes, Will Travel gets a very small commission at no extra cost to you. Thank you for supporting the brands that make this blog possible!
Does Lilly Pulitzer Run Small? Lilly Pulitzer Sizing Review
I currently have 3 Lilly Pulitzer dresses and 1 Lilly Pulitzer top. I was a little unsure of what size to order the dresses in, as my bust is a size 2 on the Lilly Pulitzer size chart, my waist is a size 6, and my hips are a size 4! I ended up reaching out to the Lilly Pulitzer team for help on this one. They suggested going with a size 4 in the dresses and a size small in the top, so that is what I went with.
All of my dresses fit perfectly, as does the top. While I would say the waist is a bit tight on a couple of the dresses, it's not terrible, and I don't think I would have wanted any of these dresses any larger, as the bust would have been way too big on me then.
I'm typically a size medium or a size 6 in other brands, so I guess I would say that the Lilly Pulitzer size chart runs a little large. It's important you know your measurements before you place an order, and if you are unsure and are in-between sizes like me, be sure to reach out to their customer service for guidance. The review section on Lilly Pulitzer's website is really helpful as well when trying to determine how an item will fit.
Review of Lilly Pulitzer Clothing Quality
I've had my Lilly Pulitzer items for a few months, now. However, I didn't get to properly test them out until I went to Florida a few weeks ago, and again this weekend back home in Wisconsin. (The weather was in the 70s this weekend – it was glorious!) So, I can't say how these items are holding up long-term, yet. However, I can say that every piece of Lilly Pulitzer clothing I have is fantastic quality!
While the over-the-top bright colors of typical Lilly Pulitzer clothing might not be everyone's cup of tea… I, personally, love how bright my items are. They're perfect for a tropical vacation or for wearing out and about this summer.
The dress above is proof too, that not all Lilly Pulitzer's dresses are crazy bright colors. I have a few other white eyelet pieces in my wardrobe, but I can honestly say that the Mialynn Midi dress above is the best one in my closet in terms of design and quality. I love the sleeves and also love that it comes with a white slip that is not attached. (It's fantastic that I can wear it with other dresses!)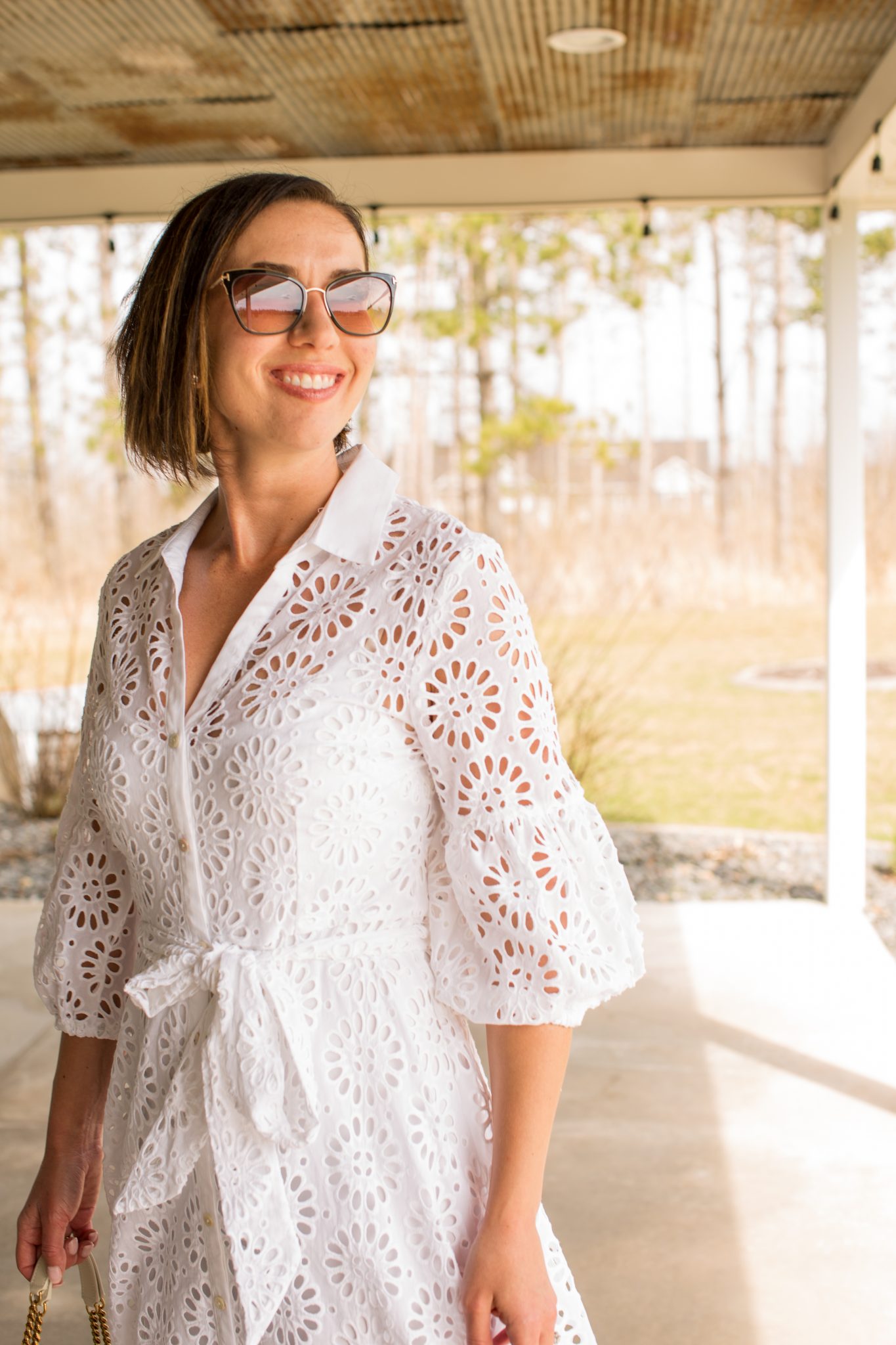 The unsung hero of this post, though, is my Sea View Linen Button Down Top (below). I have been wearing this top every chance I've gotten since it arrived. It is SO comfortable and is fantastic for travel. While I love the bright color… I do wish it came in some neutrals, as this would be the PERFECT shirt for a safari. And after my trip to Kenya… I am now planning my next 3 international trips back to Africa on safari.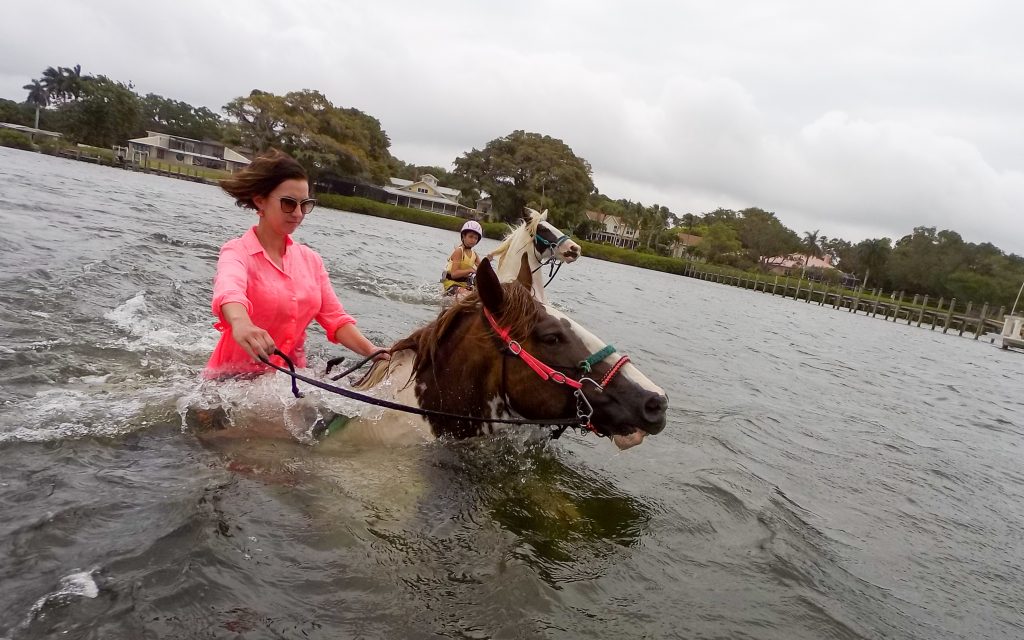 How to Wash Lilly Pulitzer Clothing – Can You Put Lilly Pulitzer Clothes in the Dryer?
I've seen this question asked quite a bit on Google, and I would not advise putting your Lilly Pulitzer clothing items in the dryer. It's also important to note, that not ALL Lilly Pulitzer items should be washed, some items (like my white eyelet dress) should be dry cleaned.
The items that I do wash, I wash on a delicate cycle, with cold water, and gentle laundry detergent. After I wash them, I'll put them in the dryer for a few minutes on low just to fluff them and get the wrinkles out, but I do NOT fully dry them. I will hang them to dry after fluffing them, and then use a steamer to get out any other wrinkles.
This is what I do for all of my "nice" clothes, though. This isn't especially unique to Lilly Pulitzer. I actually have a free ebook about how to take care of your clothing so it lasts a lifetime! You can enter your email below to get a free copy, if interested.
Verdict – Do I Recommend Lilly Pulitzer?
I was initially a bit hesitant to order from Lilly Pulitzer, as the colors and prints were SO bright, I wasn't sure I'd get much wear out of the items. However, now that I've had a chance to try Lilly Pulitzer dresses and tops, I can honestly say this will not be the last time I order from them. I am especially hoping the Sea View Button Down Top comes in more colors in the future too! The sizing with Lilly Pulitzer can be a little tricky, but, fortunately, shipping and returns are free if you do order an incorrect size.
If anyone has any questions about this Lilly Pulitzer review, please reach out in the comments.
Thank you to Lilly Pulitzer for sending the items used in this post to me free of charge. However, this post is not sponsored by Lilly Pulitzer – it was written because I thought my readers would find it helpful.