Ultimate Safari Packing List for Women & Men + Free Printable!
This is the ultimate safari packing list and includes a FREE safari packing list printable. It also shares what NOT to pack for your African safari.
You've done it, you've gone and booked your next adventure, an African safari, and it is sure to be an experience that you will remember for a lifetime. Exotic animals, new foods, and experiencing a new culture. But wait…what should you pack for this amazing trip?
Not to worry, because this is the ultimate safari packing list. We will cover everything you need to bring with you to be cool and comfortable for your safari adventure!
First, here are a few things that you need to keep in mind before we jump right in with what to pack.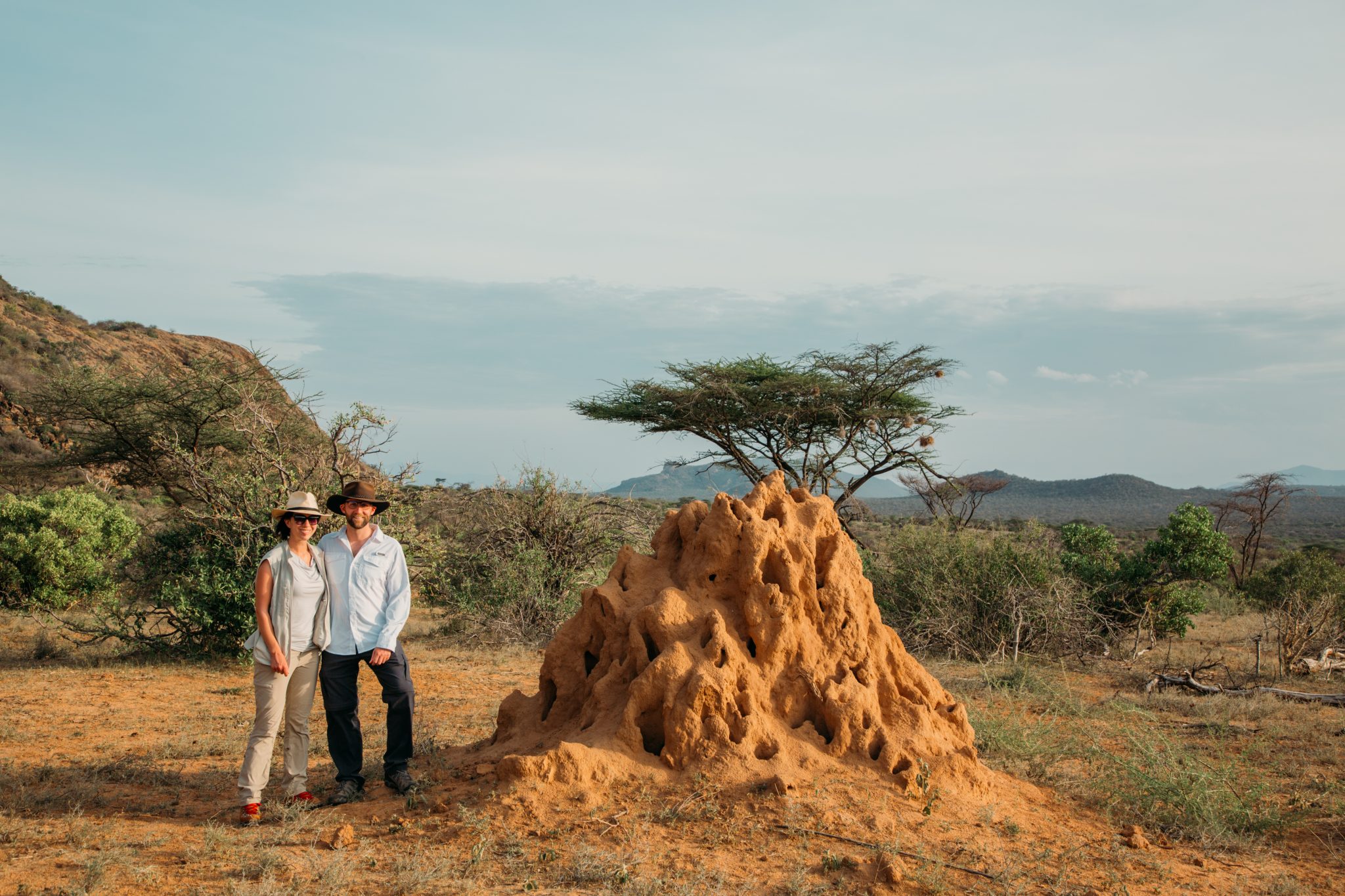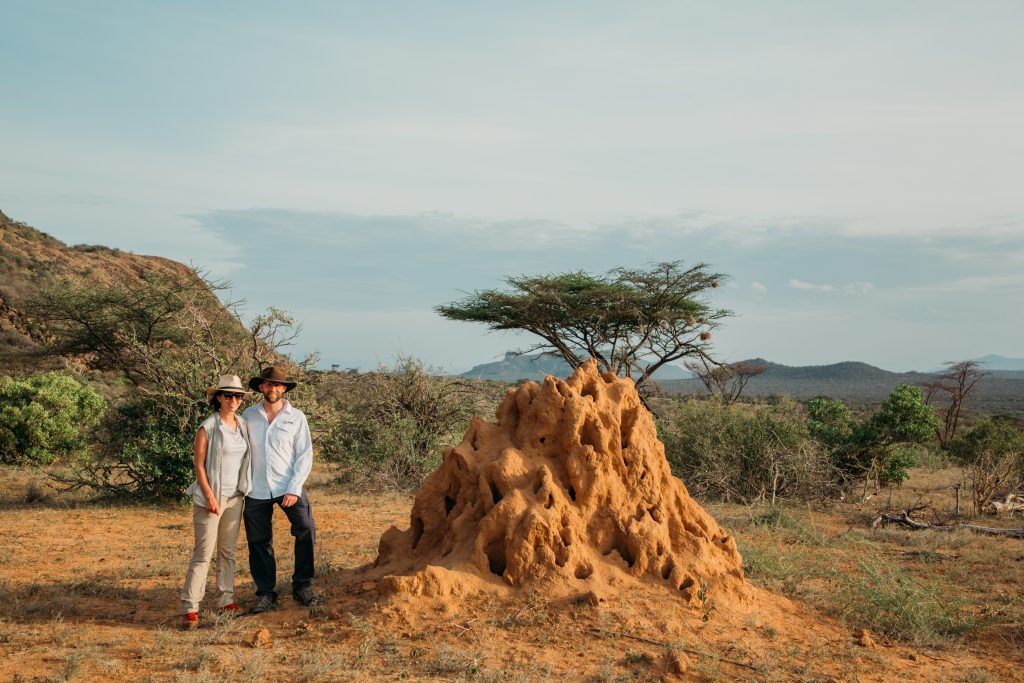 What to Pack for a Safari
Packing for a safari is not like packing for other vacation adventures. You will need to pack lightly because at some point in your travels, you will likely be on a small bush plane, and there just isn't room for passengers and a ton of luggage.
The majority of the lodges offering safaris have a 15 kg (33 lb) weight limit on your luggage, this includes your personal item and your carry-on. You should pack only what you need and leave the extras at home. You should also note that many lodges will have laundry services included in their rates, which makes packing a ton even more unnecessary.
Now let's talk about what you need to pack for your safari, and what to pack it in!
Get your FREE safari packing list printable at the end of this post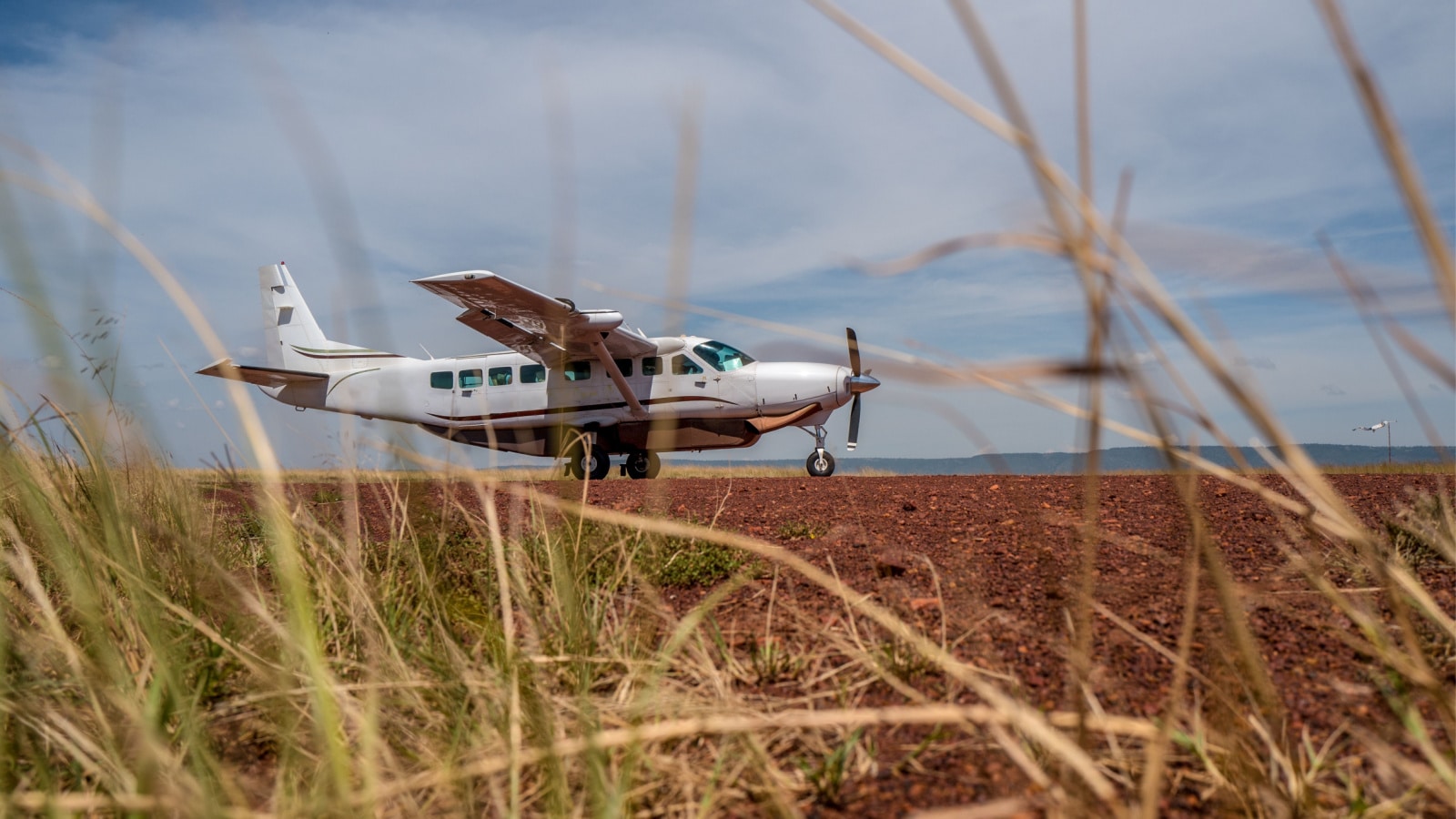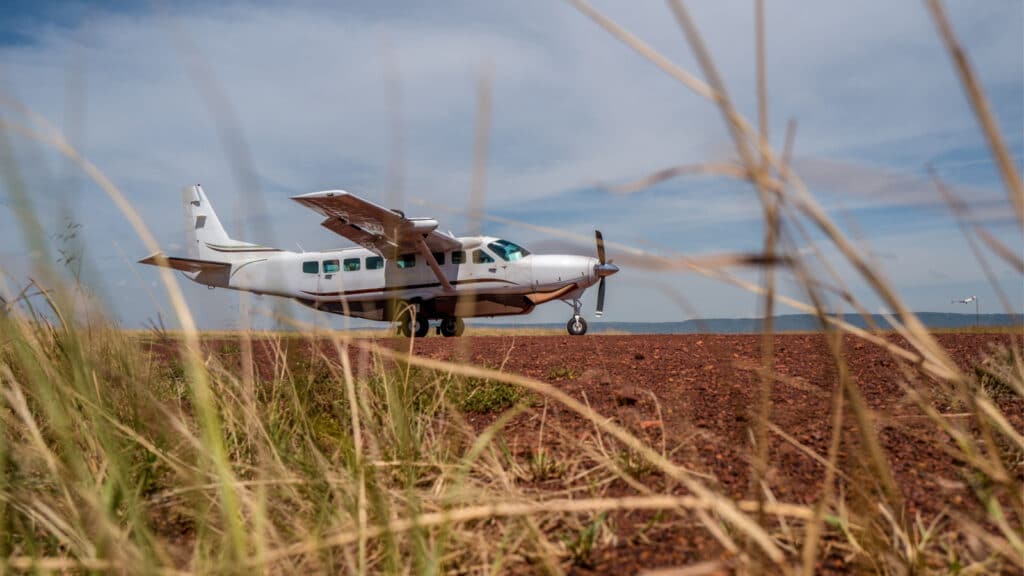 *Disclosure: some of these links are affiliate links. Meaning, if you click a link and make a purchase, Have Clothes, Will Travel gets a very small commission at no extra cost to you. Thank you for supporting the brands that make this blog possible!
Your Safari Luggage
NIKE Duffel Bag
You can't start packing for your safari without having something to pack in! This soft-sided duffel from NIKE will make the perfect bag for your safari if you don't already have soft-sided luggage. The majority of bush planes do not allow hard-shell luggage. So, your safari luggage should be soft-sided and not hard so that it can be tucked away in the cargo storage areas of the bush planes.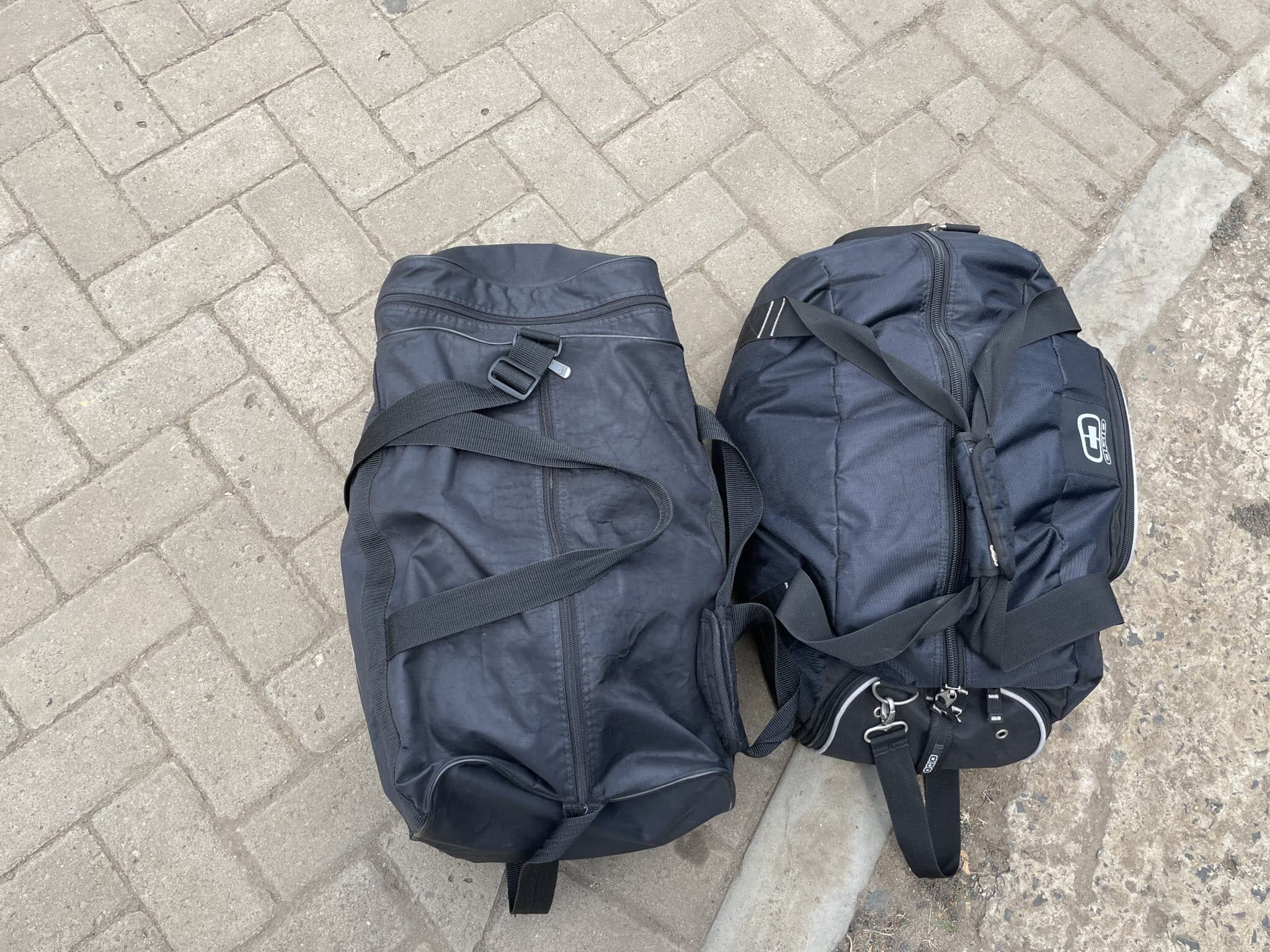 What Clothes to Pack for Safari – Ladies
Safari Bottoms
Comfortable pants are a must for any safari trip because a lot of your time will be spent sitting as you travel from place to place with your guides looking for animals. You should have two pairs of pants on your African safari packing list. This will give you a pair to wear, while the other is being laundered.
Eddie Bauer Horizon Pants
These Eddie Bauer Horizon Pants are easy to pack and perfect for outdoor adventure. They have sunscreen built-in to the fabric, the fabric sheds water so you won't get soaked, and they are really comfortable and durable. Plus, they can be rolled up if you get too warm. I've been using these for over 6 years now and have worn them all over South America, including the Amazon Rainforest, and most recently on safari in Kenya. They are my absolute favorite travel pants. Just make sure to go for the khaki or olive green colors so that you can blend in with your surroundings.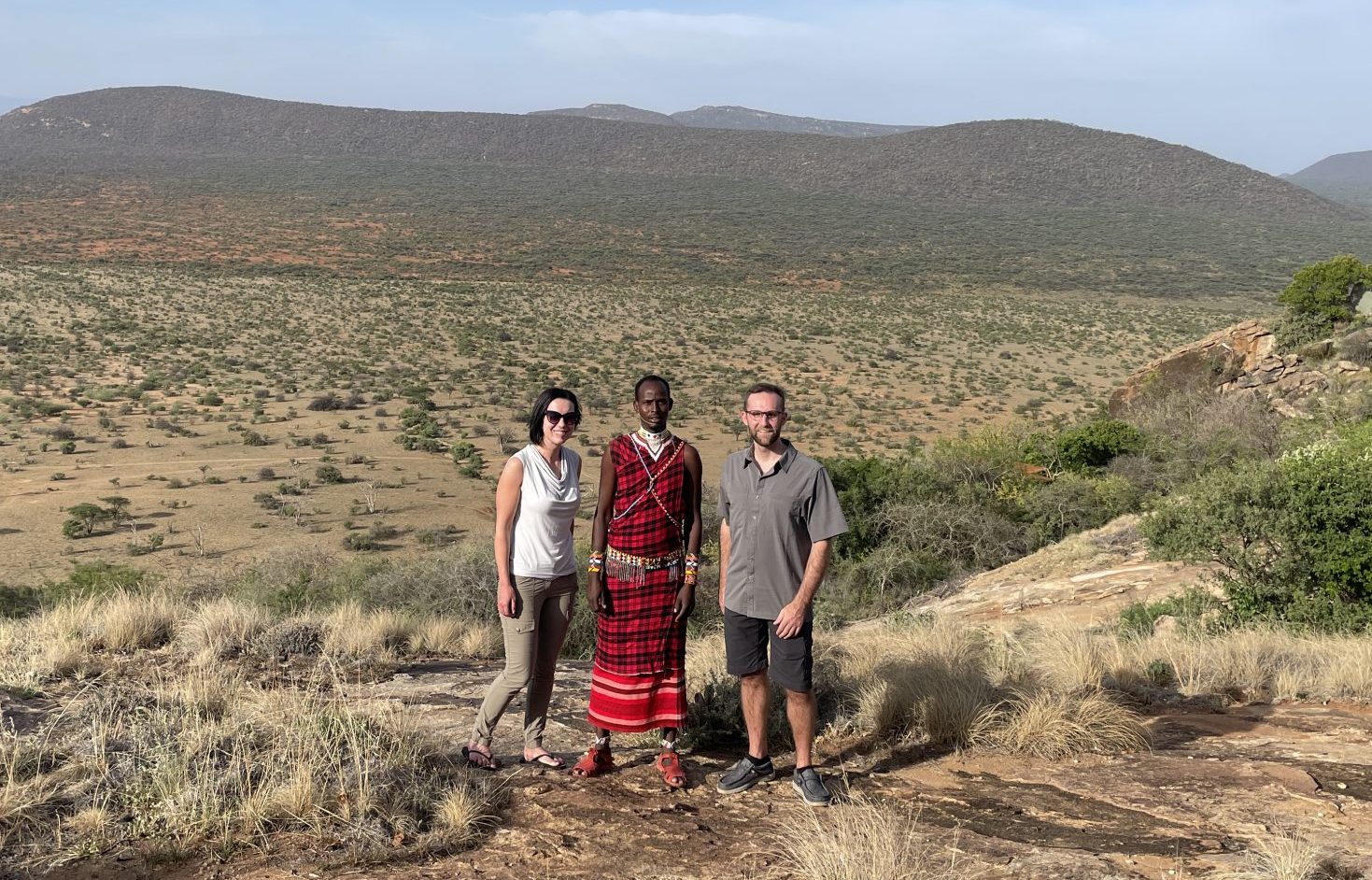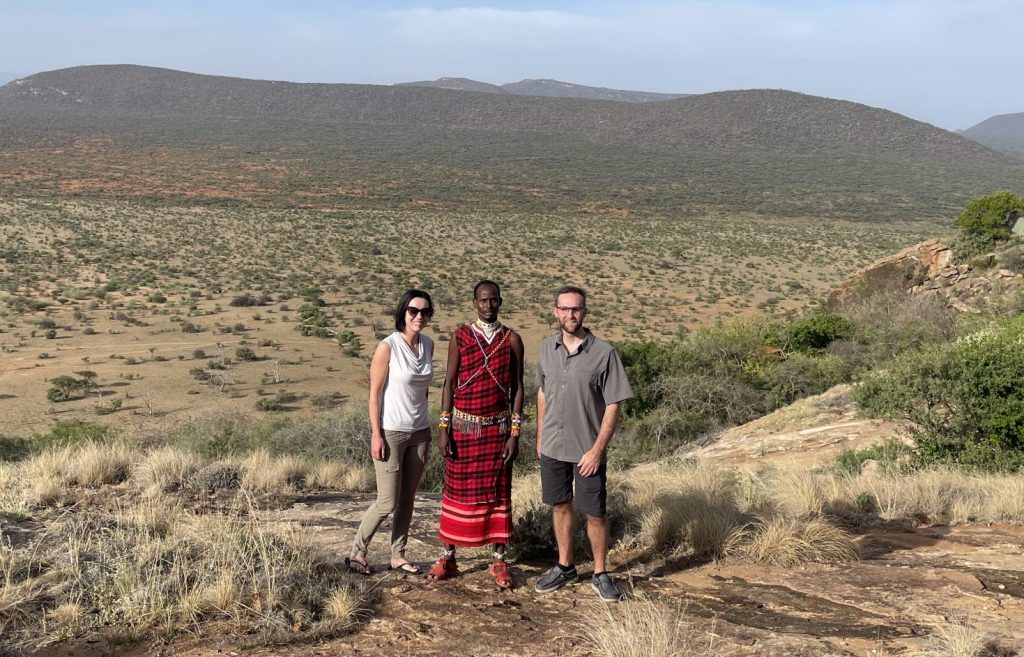 ANATOMIE Kate Skinny Cargo Pants
These skinny cargo pants are really comfortable no matter where you are traveling but are also some of the best clothes for a safari in Africa. These cargo pants are stretchy and breathable and will have you exploring the bush in style.
Safari Shorts
You may prefer to wear safari shorts on your African safari, especially if you are visiting when it is extremely hot. I, personally, did not pack shorts. (I just don't like them!) However, if you wear bug spray and sunscreen, there's really no reason you couldn't wear shorts while on safari.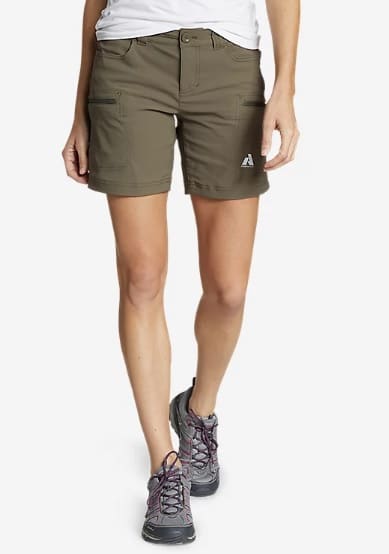 Eddie Bauer Guide Pro Shorts
These Guide Pro shorts are made of stretchy comfortable material with 50 spf sunscreen-treated material. They repel water and have cargo pockets so you can keep track of your stuff. Pair them with your favorite t-shirt, and hiking shoes and you are safari ready!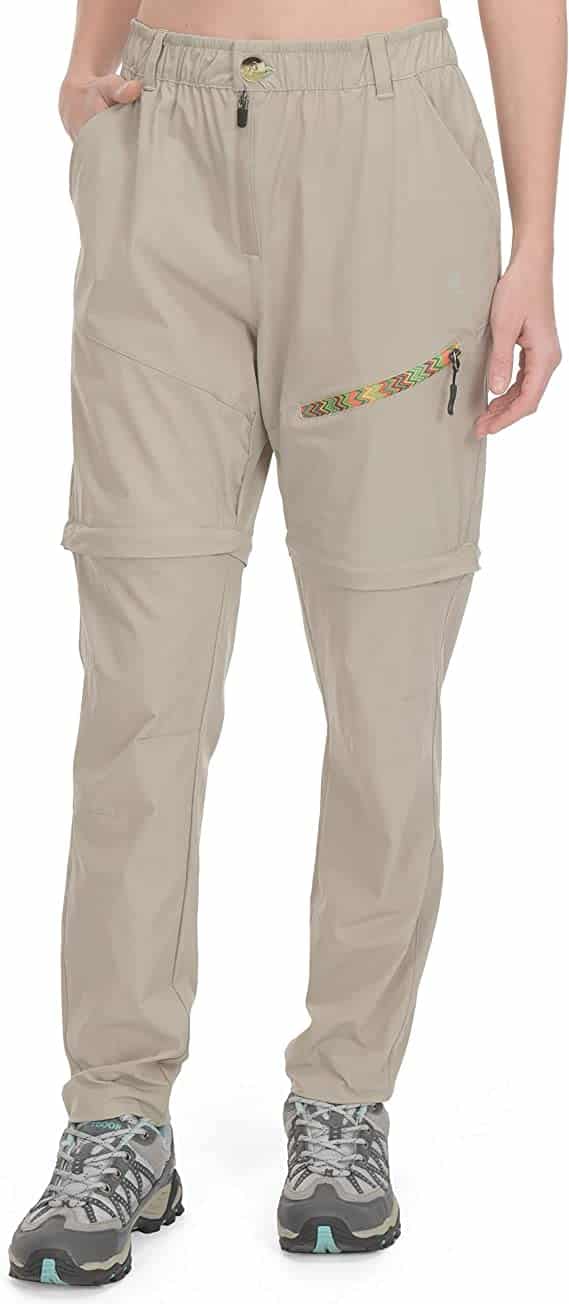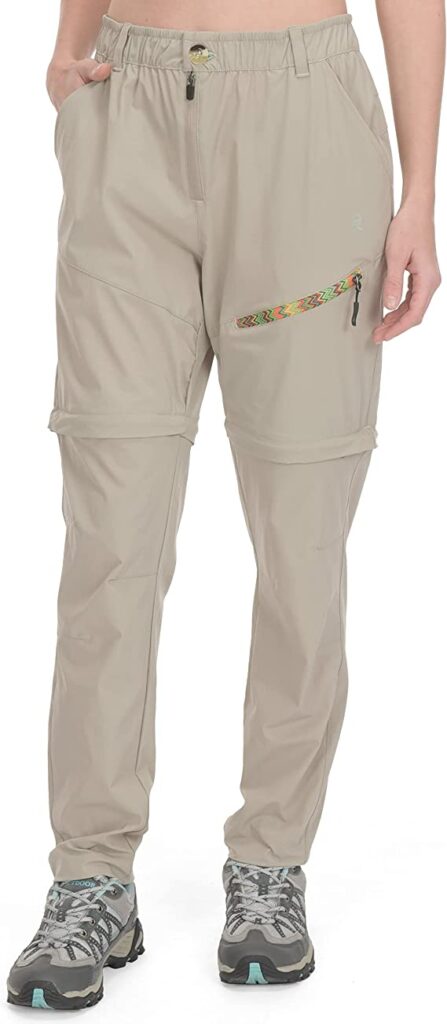 Convertible Pants
Can't decide if you should wear pants or shorts on your safari? You don't have to choose with these convertible pants. These pants are made of stretchy lightweight material with SPF 50, and they zip off easily at the knees if you find that pants are too hot as the day warms up.
Convertible pants are a good option for your African safari packing list, because the mornings and evenings can be quite chilly, and the afternoons very warm.
Safari Tops
The key to dressing comfortably for your safari is dressing in layers so that you can strip some off or add to them as the temperature changes throughout the day. You can experience four seasons' worth of temperatures in a day while on safari in Africa. You will need at least two T-shirts or tank tops on your packing list. Pack an extra one or two if you plan to wear them while lounging or sleeping.
T-shirt
A t-shirt can make an excellent base layer for your safari outfit. These affordable basic scoop neck t-shirts come in a variety of color choices and will keep you comfortable all day long.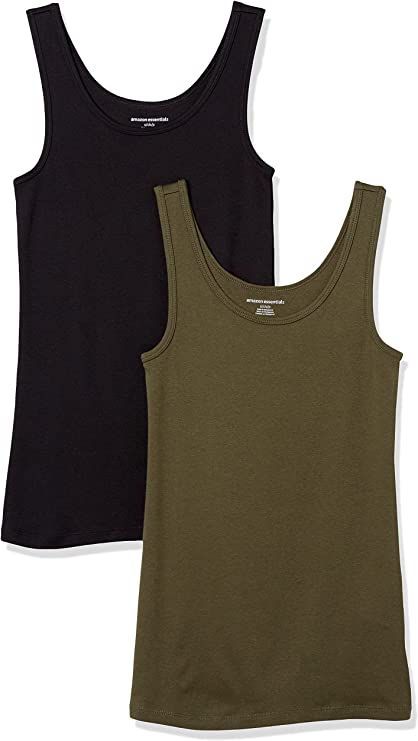 Tank top
A tank top like this can also make a great base layer for your safari outfit. These tanks come in two packs, and a variety of colors. Remember to avoid clothing in black or navy or you run the risk of attracting bites from the tsetse fly. You will see traps for these flies throughout your trip and note they are black and dark blue!
Safari Shirt
These long sleeve button-down shirts are made with moisture-wicking fabric that has 50 SPF sunscreen built into them. There are mesh-lined shoulder vents to help keep you cool, and two pockets for holding what you need. You can easily adjust the roll tab sleeves, and they come in a variety of colors.
Long sleeves and pants may seem counterintuitive for a safari trip, but the African sun can be brutal and you don't want to get sunburned. Long sleeves and pants also help to protect you from the brush and insects. If you choose shirts and pants like the ones here you can be protected and comfortable on your trip.
Undergarments
So I don't usually mention what to pack in regards to undergarments in packing lists but in this case, they need to be discussed. I've previously mentioned that the lodges offer laundry services so you can feel good about packing light.
However, most of the lodges will not wash ladies' underwear, culturally it is considered taboo.
So what does this mean in terms of packing? You will either need to pack extra underwear or plan to wash your underwear out in the sink at your lodge. Personally, I packed enough for two pairs of underwear per day while I was on safari.
Sports Bra
When on safari you will either be hiking trails to search for game, or in the back of a Jeep bumping along on difficult terrain. Because of all of this bumping and jostling you are going to want a supportive and comfortable sports bra.
This one is my favorite, but feel free to pack a couple of your favorites. I like this one because it is moisture-wicking, dries quickly, and is comfortable enough to wear all day.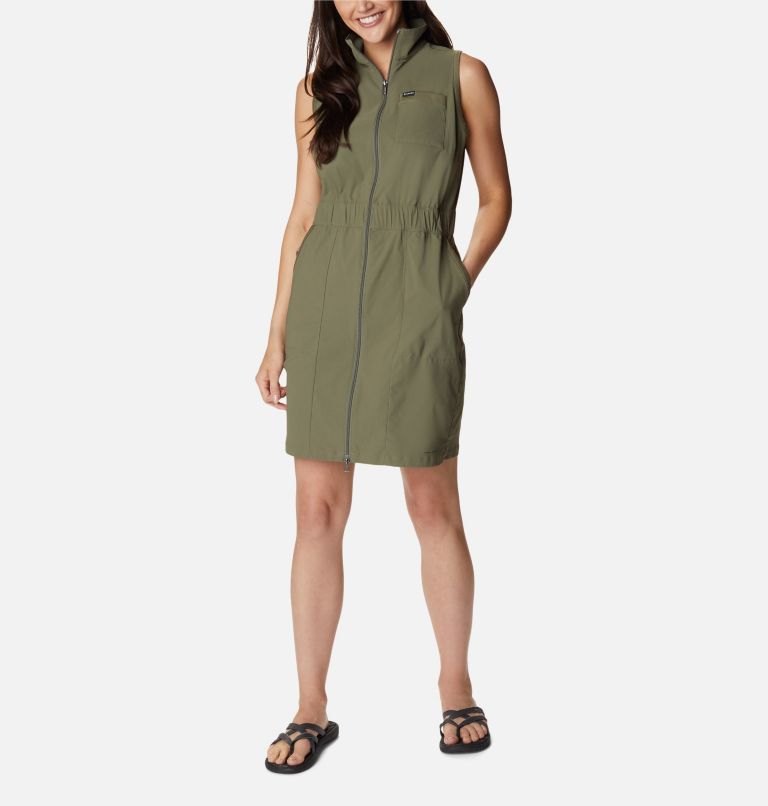 Safari Dress
You don't have to pack a safari dress, but if you have the room for it you can also use it as a cover-up for your swimsuit, lounging around the resort, or for wearing to dinner. If your safari tour is a driving one you can also wear a safari dress for that, this dress is cool and comfortable with SPF 50 built-in.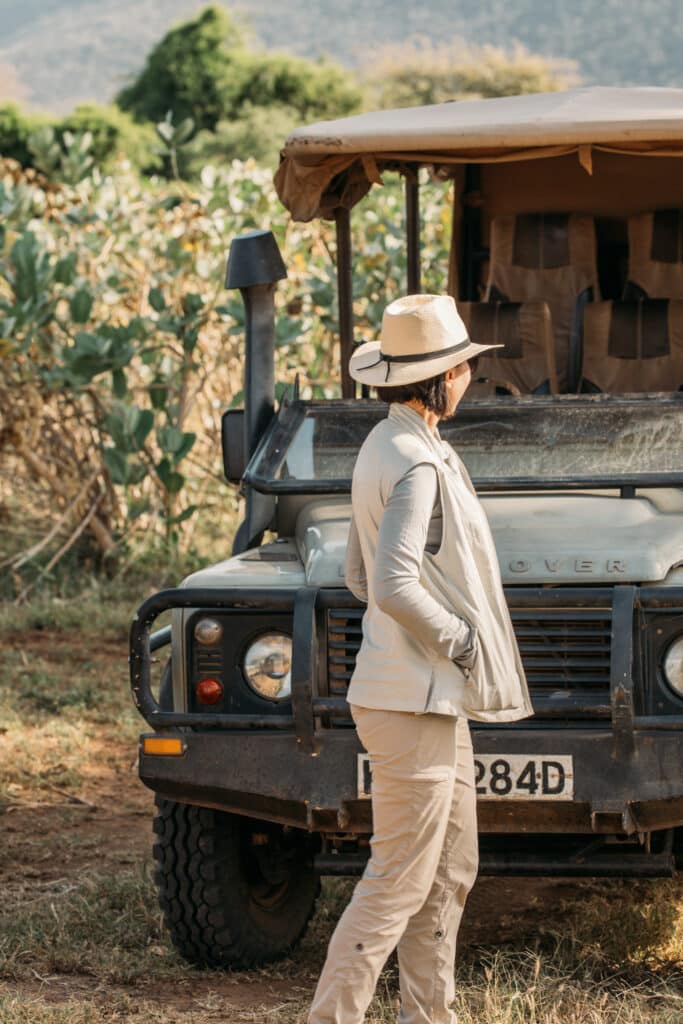 Safari Vest
You're on safari and you are going to want to take lots of pictures, but you may not want to carry an extra backpack of gear with you. An alternative is this safari vest with sixteen hidden pockets for all of your important stuff!
Travel Jacket
You will definitely want to pack a jacket of some kind for chilly mornings. I wore this one over my safari vest and was comfortable, but I live in a cold climate so you may find that you need something warmer.
If you tend to be cold, you might want to pack a fleece jacket like this one. It's super soft, easy to pack down, and comes in an array of colors. You might also like a packable down coat like these depending on the time of year you are visiting. These jackets can also be packed down small so you don't have to worry about them taking up too much space or weight.
Shoes
If you are going to do any walking safari tours you might naturally think that you need to bring along a pair of hiking boots…you don't. They are going to take up room and weight and you simply don't need them.
A comfortable pair of closed-toe sneakers are all you need for your safari outings. (I wore the On Cloud 5 sneakers pictured above. I also had hiking boots along and absolutely did not need them – even for walking safaris.) Make sure you break your sneakers in before your trip if you plan to do a lot of walking tours.
You will also want to pack some long athletic socks like these for your trip. They offer some extra protection from the bugs and brush for your legs and feet.
Safari Accessories
Accessories might be the last thing you think about packing for a safari trip but these accessories are all about comfort and function rather than fashion. Here's a quick rundown of the safari accessories you NEED to pack.
Scarf
A scarf like this one can help to keep you warm on cooler mornings and evenings and give you some protection from the sun during the day.
Sunglasses
You will definitely want to take your favorite pair of comfortable sunglasses with you on your safari. These are some of my absolute favorite sunglasses with their comfortable fit and polarized lenses.
Gloves
If you plan to make the most out of your opportunities to get amazing animal pictures on safari, you might want to pack a pair of gloves. The mornings are chilly and you can't get pictures or videos with your hands tucked in your pockets!
Safari Hat
It's a good idea to pack a safari hat for your trip. A hat like this one has a chin strap to keep it from blowing away on the bumpy trails, and it offers 50 spf sun protection. The material is also moisture-wicking and vented to help keep you cool and dry.
You might also want to pack a beanie to keep your head warm for early morning game drives.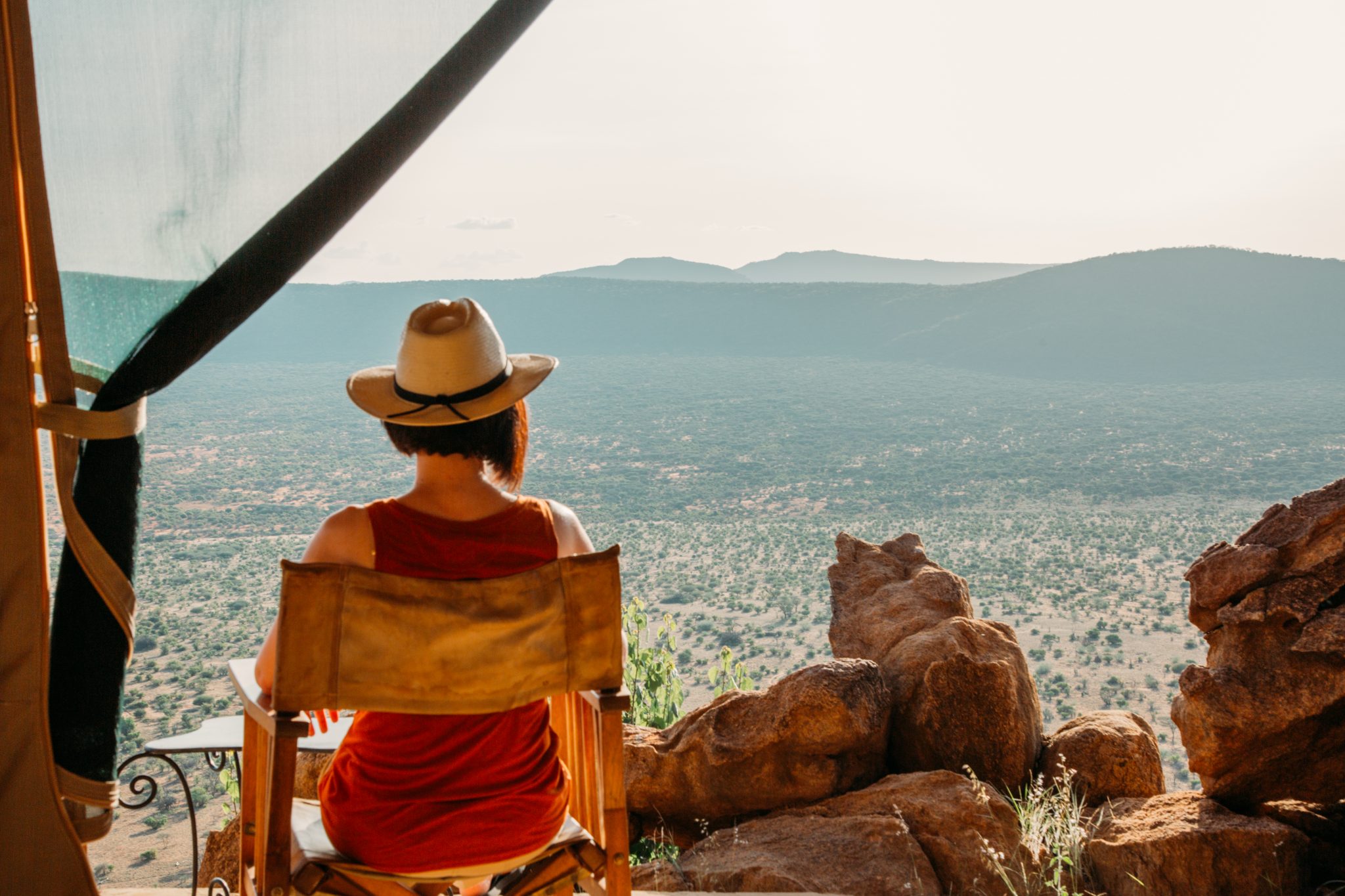 What to Pack for the Safari Lodge for Women
Loungewear
You will need some loungewear for sleeping and relaxing around the resort. A comfortable tank top like this one and some athletic shorts. Should fit the bill for each of those tasks nicely!
Flip Flops
Make sure to bring along a pair of flip-flops to wear around the pool and the lodge. Your feet will probably appreciate the chance to air out for a bit after being cooped up in your athletic shoes all day.
Sandals
If you prefer a shoe that is a little sturdier for walking around the lodge you can pack a pair of hiking sandals instead. You can also pair them with your dinner outfits or for walking around the villages.
Swimsuit
Most of the lodges have swimming pools so make sure that you pack your favorite swimsuit for your safari. An afternoon swim is the perfect way to cool off between game drives.
Swimsuit Cover-Up
Don't forget to pack a swimsuit cover-up for the walk from your lodgings to the pool. Since space and weight were an issue for this trip I used my SCOTTeVEST dress as a swimsuit cover-up and around the lodge for dinner. It dries quickly so you can easily wash it with a laundry packet in your room and have it dry in time for dinner.
Summer Dress
You certainly don't have to pack a fancy dress or any dress at all. You can if you think you might want to dress up for dinner or a trip to the village, or you have room for a dress.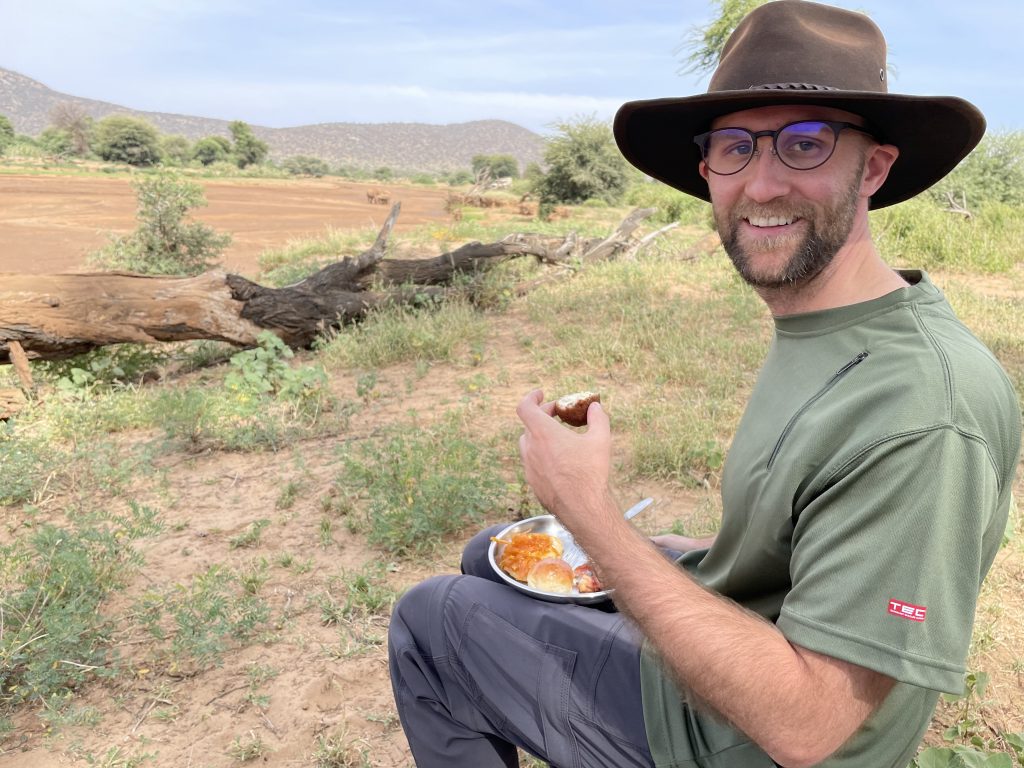 What Clothes to Pack for Safari – Men
Safari Bottoms
Just like for the ladies, you are going to want to make sure that the safari bottoms you pack are comfortable to sit in for long periods of time. You also want walking in them to be comfortable as well.
Safari Pants
Game drives start early in the morning when the temperatures can still be very cool. If you aren't a fan of the cold you might want to choose a pair of safari pants like these. The fabric is treated with 50 spf sun protection, they have pockets, and the fabric is moisture-wicking to keep you comfortable all day long.
SCOTTeVEST Cargo Shorts
These cargo shorts are SO comfortable for safari wear and they have eight hidden pockets so that you can carry what you need for a day of adventure! (My husband wears these all the time, even when we're not traveling.) They come in a nice neutral color too so you don't have to worry about the tsetse flies finding you, or running off the animals!
PrAna Convertible Pants
If you can't decide if you want to wear pants or shorts for your safari, you can have the best of both worlds with convertible pants like these. These pants have UPF 50, they are moisture-wicking, have pockets, and have easy zip-off bottoms.
Convertible pants are great if you are going to be spending some time in the brush to protect from the sun and bugs, and you can easily convert them to shorts if you get too hot.
Safari Shirts
You may want to consider long-sleeved shirts to wear while you are out on your game rides and walks. The sleeves will help to protect you from the bugs, and sun, and you can always roll them up if you get hot.
SCOTTeVEST Athletic Shirt
This shirt is moisture-wicking and it has a lot of different pockets that you can use to help carry your stuff. There's room for your phone, sunglasses, lip balm, and whatever else you might need to carry with you, and you can't even tell!
Atlas Exploration Shirt
This shirt is perfect for game trails and hanging out at the lodge. The fabric is moisture-wicking to keep you cool and dry, there are pockets, and the sleeves are convertible so you can make the shirt a short-sleeved one in a snap!
You want to give yourself options while you are on safari, so you should pack one or two short-sleeved shirts as well. They are perfect for going to dinner, exploring a village, lounging at the resort, or wearing while your other clothing is laundered.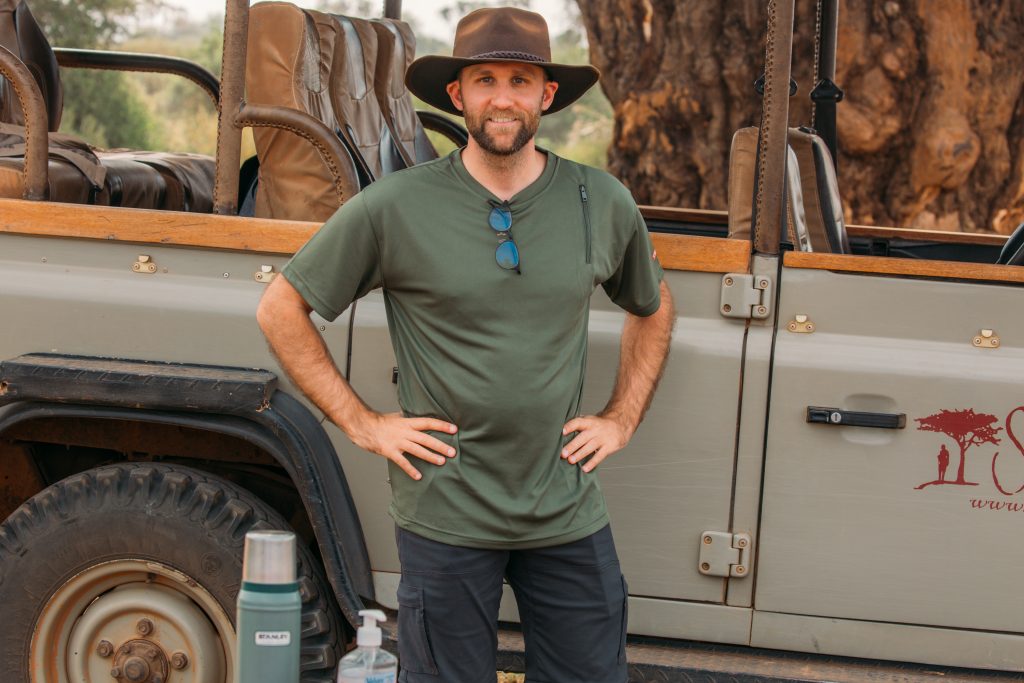 SCOTTeVEST Performance T-shirt
This short-sleeved shirt is perfect for lounging at the lodge or for heading out on an afternoon game ride. There are a lot of hidden pockets in this short so you don't have to worry about leaving anything behind or lugging extra gear.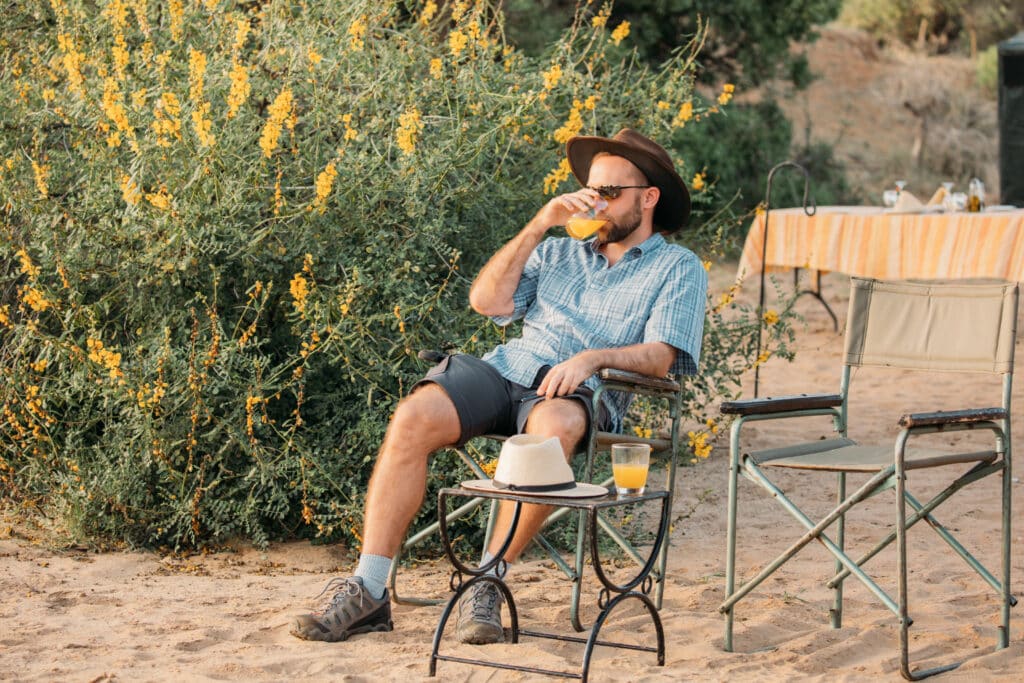 SCOTTeVEST Docksider Shirt
This short-sleeved button-down shirt is perfect for heading to dinner or hanging around the lodge, and you could wear it on your safari tours as well. This shirt has seven pockets so that you can easily carry what you need, and no one will be the wiser. Can you tell we really like functional clothing with lots of pockets?
Men's Shoes for Safari
You are going to want to make sure that you pack some comfortable closed-toe shoes while on safari, especially if you are going to be doing any walking tours.
Oboz Hiking Shoes
These hiking shoes are comfortable and worked out well for my husband when we were on safari. You don't need hiking boots or even hiking shoes for a safari. You would be just fine with a comfortable pair of sneakers.
High Hiking Socks
Regardless of whether you choose hiking shoes or sneakers, you are going to want some long hiking socks like these. High socks will help to protect your feet and calves from brush and bugs.
Undergarments
Remember, if you are going to pack extra of anything, it should be underwear, as many of the lodges will not wash undergarments. You can of course wash out your underwear in the lodge bathroom. (And some lodges do wash men's undergarments.)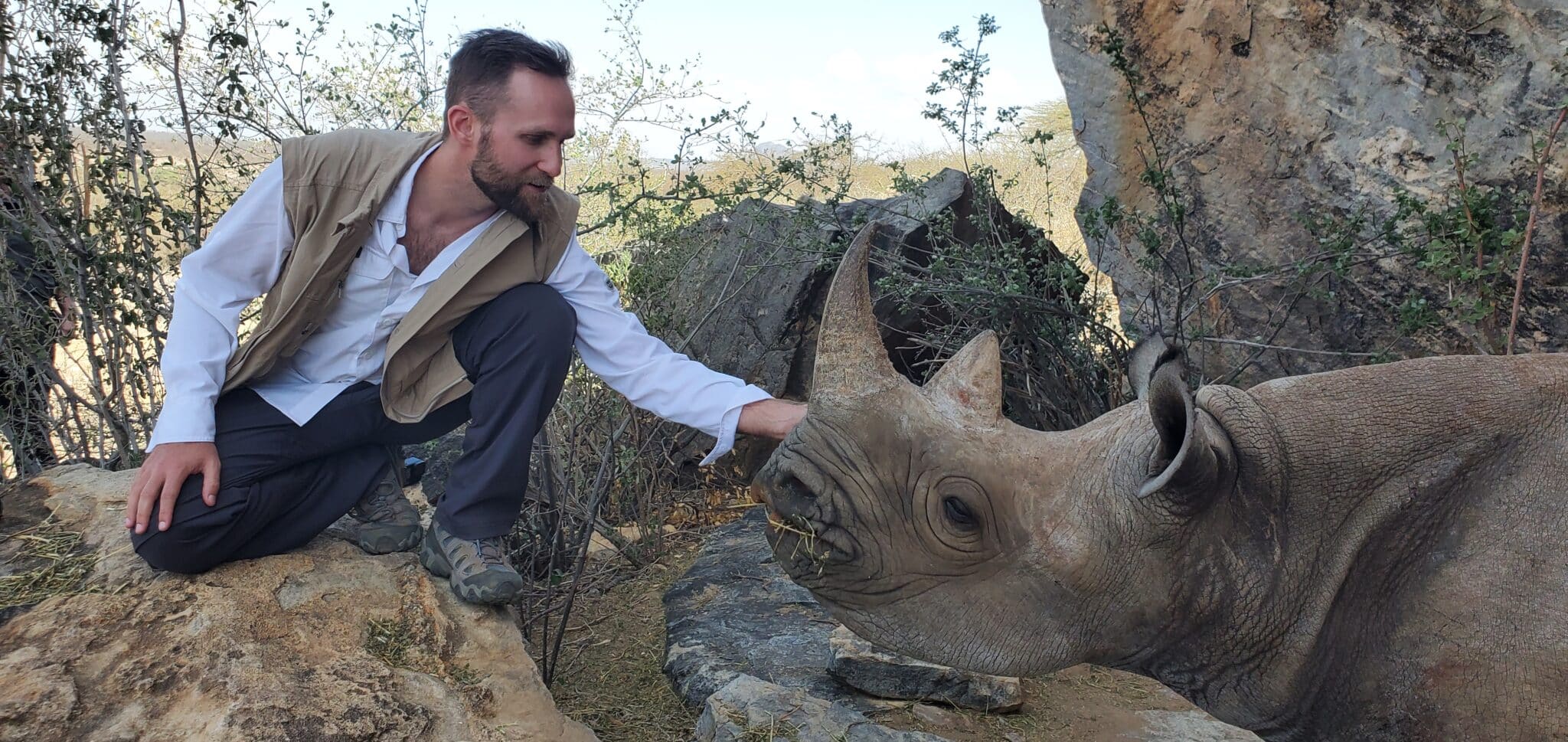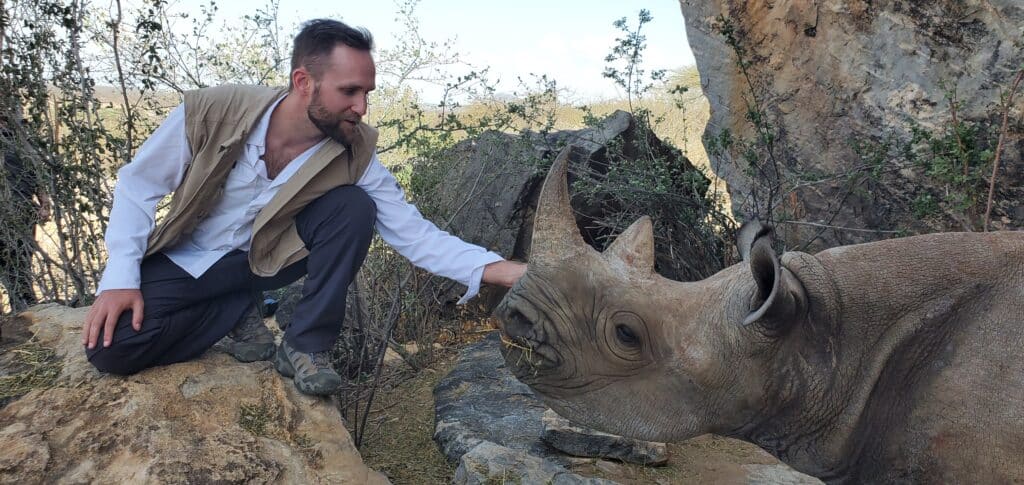 Safari Vest
A safari vest with lots of pockets is a must-have for your safari adventures, and this one has 24 pockets. This vest is actually a jacket, and you can remove the sleeves to turn it into a vest. Having sleeves that you can take on and off is quite convenient for early morning trips when it is still quite cool outside.
Safari Accessories to Pack for Men
Gaiter
Men aren't always into scarves, so consider packing a gaiter instead. You can use it to stay warm and to keep the dust, insects, and sun off of your face and neck.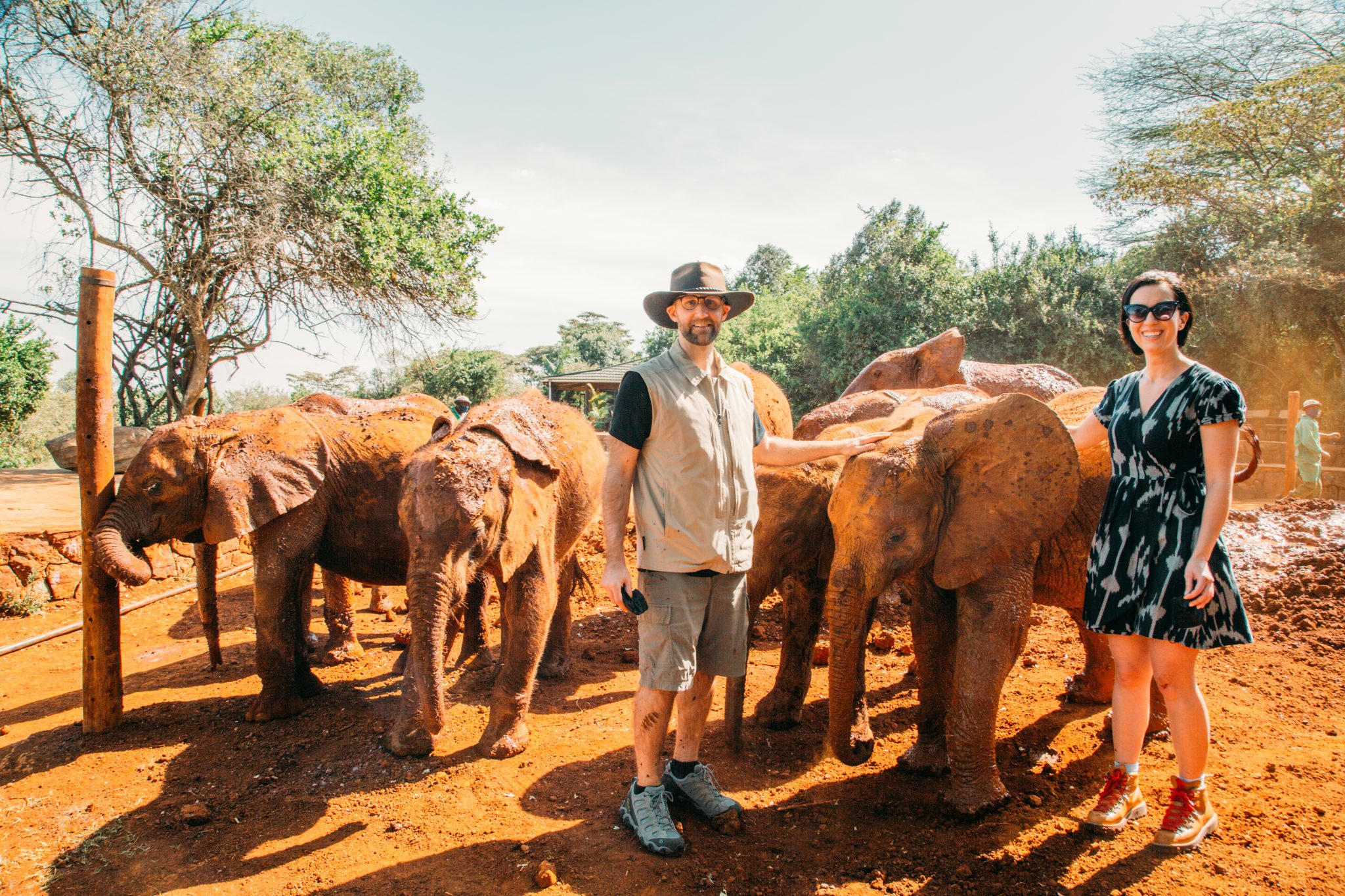 Safari Hat
You are absolutely going to want to pack a hat with a chin strap like this one for your safari. The chin strap will help you to keep it on your head in the wind (or while traveling bumpy trails in the back of a Jeep). A hat will help to protect your face and neck from the harsh African sun.
Beanie
It can be quite chilly in the mornings and while your safari hat will keep the sun off of you, it won't do much about keeping you warm. Consider carrying a beanie with you for chilly mornings and then slip it in your vest when the sun comes up.
Gloves
Gloves are another small comfort item that you can carry with you for those chilly mornings. Gloves will keep your hands warm and still allow you to hold onto your binoculars, camera, or phone.
Sunglasses
Sunglasses are something that you will definitely want for your trip. The African sun can be bright and these polarized sunglasses are comfortable enough to wear all day long while you look for the animals.
What to Pack for the Safari Lodge for Men
You are going to want to have some comfortable clothes to wear while you are hanging out at the lodge in between game rides, and for relaxing in the evenings.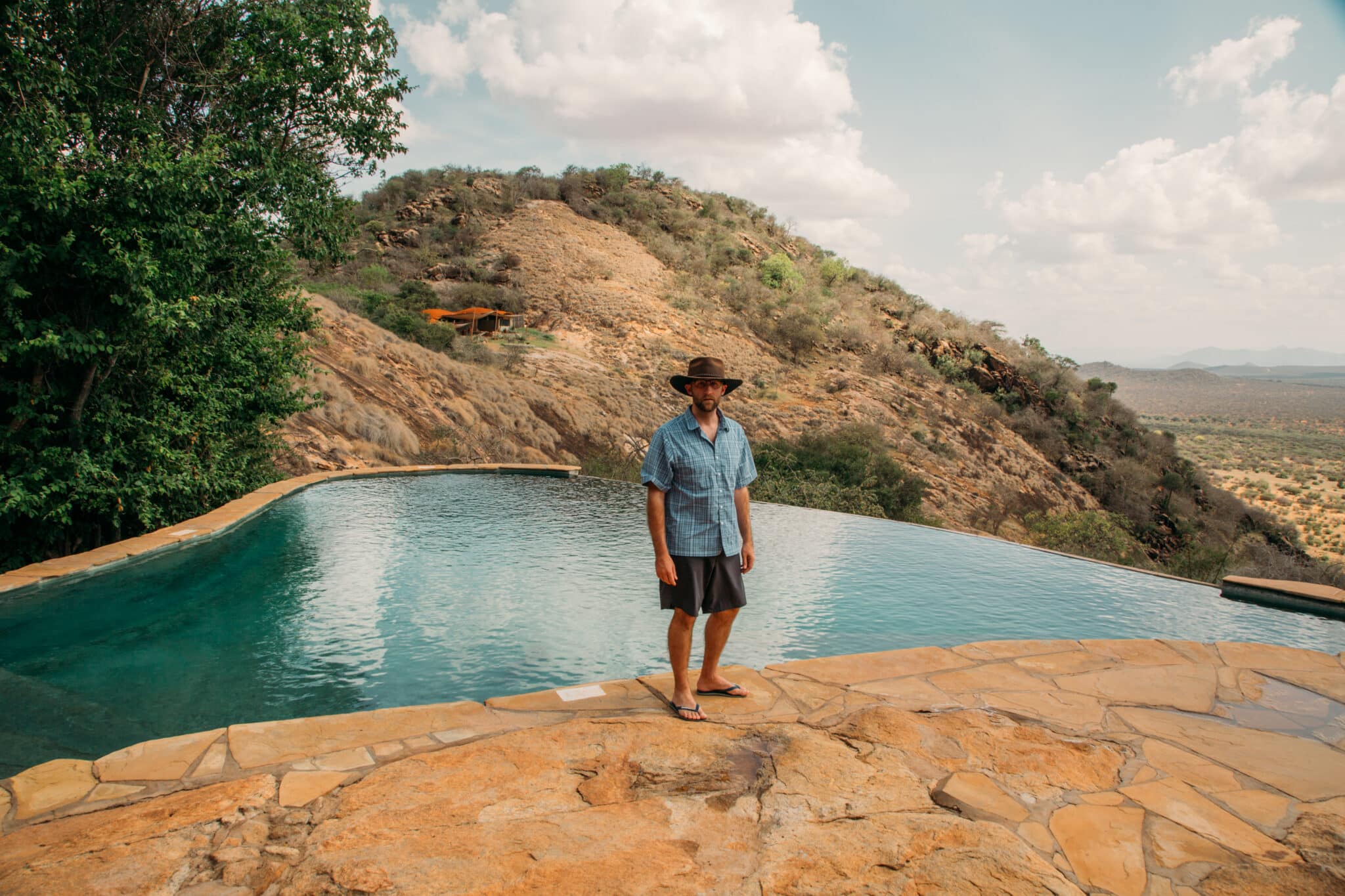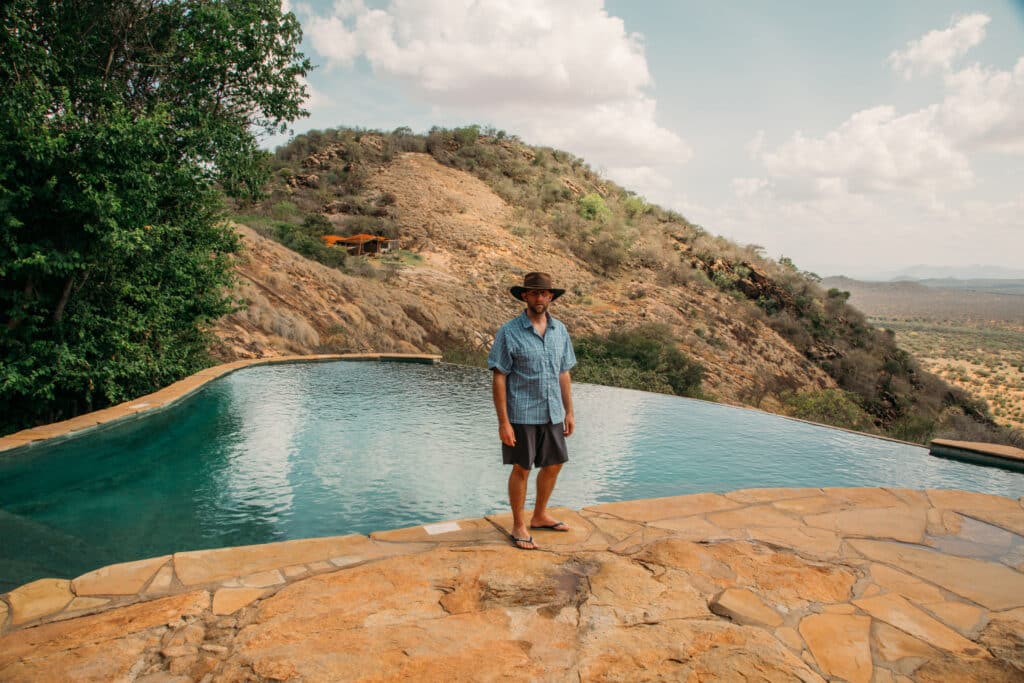 Swim Trunks
Many of the resort lodges have pools available for you to swim and relax in so don't forget to pack a pair of swim trunks with you. These dry quickly, and come in a variety of colors and styles.
Flip Flops Or Slip On Shoes
After a long day of searching for animals on safari, your feet might appreciate a little breathing room. Flip flops or slip-on shoes are perfect for wearing from your room to the pool or around the lodge.
Loungewear
You can absolutely wear your safari clothes around the resort as well, but if you feel like you might be more comfortable in something else, bring along some athletic shorts and a T-shirt.
Athletic shorts are perfect for sleeping in or lounging around the resort. They aren't necessary, but if you have the room you may want to include a pair.
A basic t-shirt like this one is perfect for wearing from your room to the pool, sleeping in, or wearing around the resort. This one is affordable and comes in a LOT of different colors.
Miscellaneous Toiletries and Other Items to Pack for Your Safari
There are some toiletries and other miscellaneous items that you will want to make sure that you include in your safari packing list.
Toiletries to Pack for Safari
Sunscreen – One thing you definitely don't want to be on safari without is sunscreen. This is my favorite sunscreen for my face, and the other one is for your whole body.
Insect Repellant – There are lots of insects on safari so make sure you pack some insect repellent that contains Deet like this one.
Anti-Itch Stick – Even with the insect repellent you will probably still get bug bites. Make sure you pack some anti-itch sticks like these.
Aloe Gel – Even with sunscreen you are likely to get at least a little sunburned. Aloe gel can relieve the discomfort.
Toothbrush & Toothpaste
Deodorant
Over-the-Counter Medicines – Make sure that you pack a supply of Tylenol, Advil, Pepto, antidiarrheals, and Benadryl.
Make-up – Most women don't wear make-up on safari, but you still may want to bring along your favorite travel-sized face wash, moisturizer, and lip balm.
Laundry Packets – I have already mentioned that most of the lodges have laundry services, but they won't wash undergarments. Bring some of these TSA-compliant laundry packets and you can wash them out yourself.
Miscellaneous Items to Pack for Safari
Binoculars – You will absolutely regret it if you head out on safari without binoculars. Not all of the animals want to walk right up to you!
Power Adapters – If you want to be able to charge your camera and device batteries at the lodge you will need a power adapter. I recommend getting a universal outlet adapter, so you can use it on future trips as well.
Camera Gear – You will want to take lots of pictures and videos. Here's my list of safari camera gear!
Extra batteries & Memory cards – Batteries can fail and memory cards can fill up quickly so make sure you pack some extras for your trip!
Chargers and cables – Don't forget to pack chargers and cables for any of your gear that has rechargeable batteries.
Waterproof Dry Bag – African safaris can be quite dusty, and if it rains muddy, which aren't the best conditions for your cameras. Bring along a waterproof dry bag, big enough for your camera gear to keep it protected from the elements.
Cash – Make sure that you bring some smaller bills of American dollars to tip your guides, hotel staff, etc. You can also use it to buy snacks at some of the smaller airports you might be traveling through and at the shops if you go into town. Keep in mind that only U.S. dollars printed after 2006 are accepted. Bills printed before that were very easy to forge and will not be accepted.
What NOT to Pack for Your Safari
We've talked a lot about what you should pack with you on a safari, but what about what you shouldn't pack for your trip? There are some items that you will want to avoid bringing with you.
Camouflage clothing – While it is highly advisable to pack neutral (khaki, olive green) clothing, camouflage clothing is illegal to be worn by anyone not in the military in some African countries.
Black, Navy, Or Dark Blue Clothing – These are the colors that attract the tsetse fly, a biting insect that WILL bite through your clothes, and carries a disease known as African sleeping sickness. (Note: not ALL African countries have this issue, though, I was OK with my darker clothing in Kenya.)
Plastic Bags – Plastic bags have been completely banned in some African countries, and can carry a fine if you are caught with them. Don't take the chance and leave plastic bags at home!
Strong-smelling perfumes, shampoos, lotions, and body wash – A safari isn't the place for strong-smelling cosmetic products, especially if you are on a walking tour. The smells can keep the animals from coming near enough for you to see them.
Drones – While not illegal in all African countries, they are illegal in some of them. Leave the drone at home, but make sure to bring your camera and binoculars.
Free Safari Packing List Printable
There you have it, everything you should and should NOT pack for your African safari. Use this ultimate safari packing guide to help you prepare for your trip, and make sure that you don't leave anything important behind at home.