20 Unique Places to Stay in Kenya for an Unforgettable Trip
Kenya has an absolutely astounding amount of unique places to stay! When I started researching my trip to Kenya, I was honestly overwhelmed by the number of choices.
From a rhino tracking camp (my personal favorite!) to luxury "star beds" and treehouses and even an "ark" and more… there's something for everyone's personal taste in Kenya!
To help you with planning your trip to Kenya, I've narrowed down my list to include 20 of the top properties to choose from in Kenya. Happy travels!
*Disclosure: some of these links are affiliate links. Meaning, if you click a link and make a purchase, Have Clothes, Will Travel gets a very small commission at no extra cost to you. Thank you for supporting the brands that make this blog possible!
The Coolest Hotels & Safari Lodges in Kenya
1.) Giraffe Manor
People from all over the world flock to this old-world guesthouse to experience having breakfast (and tea time) with Rothschild's giraffes. This is THAT hotel where giraffes will poke their heads through the windows during breakfast, and they'll even wake you up in the morning looking for a snack! Giraffe Manor is honestly what sparked my interest in traveling to Kenya, more than 10 years ago. This place looked AMAZING. And I am here to tell you, it 100% lives up to the hype.
In addition to the unique giraffe experience, you can also have a romantic candlelit dinner at the Orchid House, and play chess, croquet, and boules. It's also near Nairobi National Park and Sheldrick Wildlife Trust (transport can be arranged at no additional charge), and no other lodging in the world hosts this one-of-a-kind giraffe experience!
Read next: Honest Giraffe Manor Review – Is It ACTUALLY Worth the Cost?
2.) Saruni Samburu
Known for its eco-friendly and innovative architecture, Saruni Samburu offers unparalleled views of the plains and Kenya's Northern Frontier District. It's built on top of a volcanic outcrop and features open-air showers, game drives to see the Samburu 'Special 5' (Gerenuk, Grevy Zebra, Beisa Oryx, Reticulated Giraffe, and Somali Ostrich) and elephants galore, and cultural interactions with Samburu warriors–one of the oldest tribes in Africa.
While Giraffe Manor is a one-of-a-kind experience that had been on my bucket list for years, I honestly enjoyed Saruni Samburu even more. This luxury "lodge" is that incredible. The views, the amazing staff, the fantastic food, the remoteness, pools, spa, and more… this place is just unbelievable! I would go back in a heartbeat.
Read next: Honest Saruni Samburu Review – A Luxury Safari Lodge in Kenya
3.) Saruni Rhino
This is by far the most unique place to stay on this entire list! Saruni Rhino is just a 1.5-hour drive from Saruni Samburu, and it is easy to book (and more cost-effective) to book these lodges together. However, instead of your typical safari experience, Saruni Rhino offers black rhino tracking ON FOOT. It's nuts, and absolutely deserves to be on your bucket list!
Saruni Rhino also has just three "Banda" room types (these are thatched, open, stone cottages), so it is a very private experience. This is great if you're like me and don't like to be around large groups of people. Staying at Saruni Rhino has been my favorite travel experience to date, and I am already planning my return!
Read next: Tracking Black Rhinos ON FOOT – My Experience With Saruni Rhino Lodge in Kenya
4.) Elewana Loisaba Star Beds
A cozy, rustic boutique lodge that offers sweeping views of the night sky and African valley. Handcrafted four-poster beds (with a thatched roof) on elevated wooden platforms are rolled out every night so you can sleep under the African night sky. Talk about a unique experience! Mornings start with a hot bush breakfast with a view like no other in the open wooden deck and lounge area.
5.) Watamu Treehouse
Nestled high among the treetops by Watamu Beach is this picturesque treehouse. Beautiful stained-glass windows, white walls, and rustic decors adorn the multiple rooms of this unique abode. There's also a yoga terrace and a garden pool for when you want to soak in the beauty of nature. Kitesurfing, turtle watching, and yoga sessions are some of the fun things to do in the area (available upon request).
6.) Sarova Salt Lick Game Lodge
As unique as it gets, these eco-lodges are placed on stilts giving you an unparalleled views of the animals and grazing grounds below. Elephants, buffaloes, and giraffes are frequent visitors of the grounds and watering holes nearby. You can also observe the wildlife through dugouts or via the observation decks safely.
7.) Cottar's 1920s Camp
Experience how people camped in luxury in the early 20th century at Cottar's Camp. It's located in a beautiful private reserve close to the neighboring Masai Tribe. The Cottar family has been providing guided African expeditions since 1919, and guests will appreciate the old-world charm and decor of the spacious open tent set up.
8.) Governors' Camp
Situated along the banks of Mara River is Governors' Camp which still remains in its original location since 1972. It's Africa's first permanent tented camp reserved mainly for political figures a century ago. Today, tourists can choose from the 37 tents available on site and enjoy the bar tent overlooking the plains and river inhabited by crocodiles, birds, and hippos.
9.) Mahali Mazuri
Mahali Mzuri is a luxury camp located in the Motorogi Conservancy, which is a private region of the Maasai Mara. (This is the luxury safari camp that is owned by Richard Branson.) Outside is a spectacular view of the surrounding bush and river with occasional sightings of hippos and lions. Guests are encouraged to try bush dinners, game drives, go on picnics, and catch a scenic flight over the Mara landscape.
10.) Segera Retreat
Right in the heart of Laikipia, Kenya is Segera Retreat, an elevated six-villa camp creatively made of thatch and timber complete with luxury amenities. Similar to a bird's nest, this private retreat offers 360-degree views of the pristine savannah landscape and wildlife. Each villa has a spacious en-suite bedroom, a swing bed, a private deck, and sun loungers.
11.) The Ark Kenya
Built in 1969 inside the Aberdare National Park, this lodge has a unique take on the biblical ark as it features three spacious decks with plenty of lounges and balconies so you can observe the wildlife below from the comfort of your rooms. There's no shortage of wildlife sightings since the hotel overlooks the Yasabara waterhole with saltlicks attracting plenty of animals daily.
12.) Rutundu Log Cabins
A traditional hunting-style cabin made from cedarwood and moss that provides insulation. The location is so dreamy, Prince William proposed to Kate Middleton here! It's warm, safe, and luxe and the privacy is unparalleled. Outside is the beautiful Lake Rutundu surrounded by mountains and heather forests.
13.) Finch Hattons
Overlooking Mount Kilimanjaro and Chyulu hills is Finch Hattons, an award-winning luxury safari camp with panoramic views of the surrounding vistas and forests. It features private verandas and an open-air terrace decked with cozy chairs and daybeds. Below is a natural spring where resident crocs and hippos wallow about; there are also guided nature walks and game drives through the Amboseli National Park.
14.) Hemingways Watamu
One of the three Hemingway boutique hotels in Kenya, Hemingway Watamu is a five-star coastal haven located in the middle of Watamu Marine National Park. Fronting the hotel is a pristine beach and turquoise waters where you can go swimming and kite surfing, as well as explore the Gede ruins and Tsavo National Park.
15.) Borana Lodge
Nestled in the heart of Borana Conservancy—the largest and most successful rhino sanctuary in East Africa—is Borana Lodge. Rustic (yet luxurious) cottages made of local stone and wood are perched against a beautiful hillside surrounded by forests and a vegetable garden. You will enjoy the idyllic setting of the lodge blending in with the landscape, as well as rhino tracking and mountain biking as part of the activities.
16.) Ol Malo
Ol Malo is a luxury adventure lodge set on a 5,000-acre working ranch in Laikipia. Known for its astounding landscape, dramatic hills, and stunning views of the Laikipia plateau, at Ol Malo you will have plenty of safari activities to try including fishing, horseback or camel riding, as well as game drives, and a cultural visit to the Samburu tribe.
17.) Serian 'The Original'
One of Alex Walker's first safari camps set in the private Mara North Conservancy, Serian in Masai means peaceful, calm, and serene. It features elegant accommodations and offers you a quiet and authentic game viewing experience of the Kenyan wilderness and wildlife with an award-winning guide. There are only 6 tents and 1 family room, making it a quiet, private place to stay. You can also arrange a night in a fly camp (where you spend the night out in the wilderness with a simple tent – very exciting!).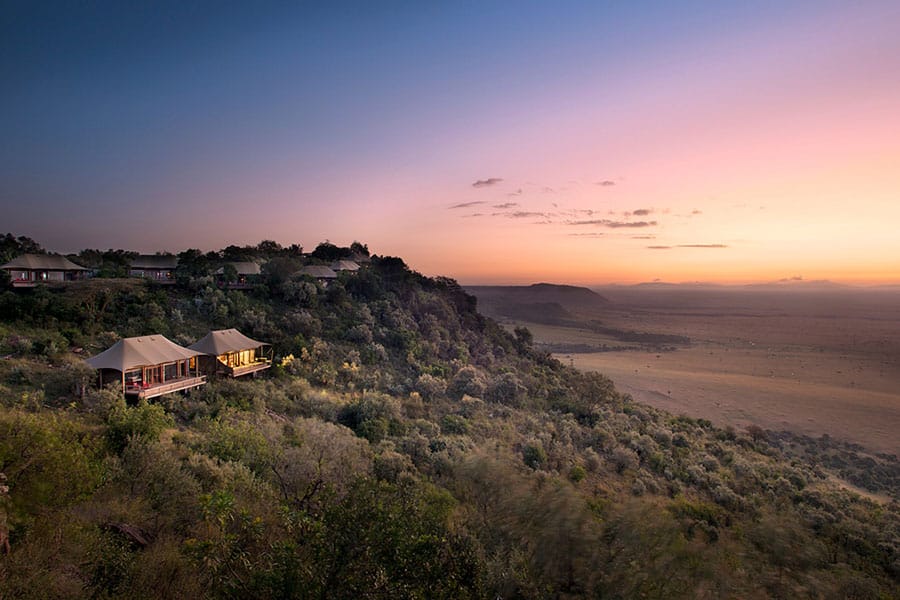 18.) Angama Mara
Nestled high on the edge of the Great Rift Valley overlooking Kenya's Maasai Mara is the Angama Mara safari lodge. Swanky glass-front tents and a private airfield make for the loveliest views of the plains and it is made especially dramatic during the migration of over two million African wildlife into the Mara Triangle.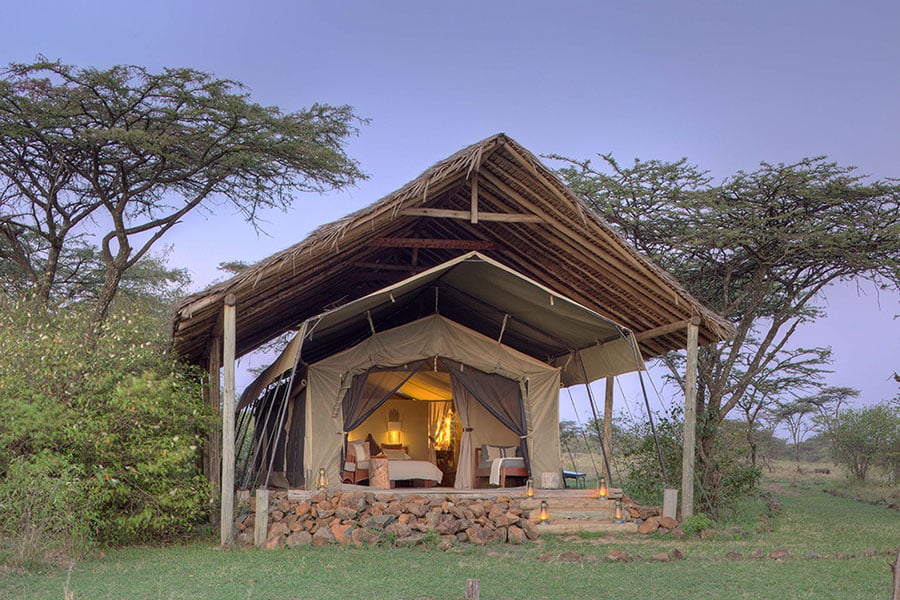 19.) Naboisho Camp
Nine permanent tented suites make up Naboisho Camp located inside the Mara Naboisho Conservancy. Each tent is elegantly decked with creature comforts, and the camp zone is mostly surrounded by woodlands and acacia trees. The camp has the highest concentrations of lions in the world (you can hear them roaring at night from your tent!), and you are treated to exclusive safaris within the conservancy of the Serengeti-Mara ecosystem.
20.) Campi Ya Kanzi
An award-winning eco-lodge boutique set in Chyulu Hills where it's also home to a wide array of unique flora and fauna. A swimming pool, private plane, and massages are included in this luxury accommodation. This Masai-owned reserve also features over 283,000 acres of pristine wilderness, perfect for days of endless game viewing and safari experience.