Tracking Black Rhinos ON FOOT – My Experience With Saruni Rhino Lodge in Kenya
I am SO excited about today's blog. This is hands down the coolest travel experience I have had to date. This post is all about my experience staying at Saruni Rhino Lodge in Northern Kenya. This lodge is in the Sera Conservancy, and here, you can track black rhinos on FOOT.
Seriously. You track black rhinos on foot.
This post is going to explain what you can expect when staying at Saruni Rhino and what it's like to track an honest-to-goodness black rhino on foot.
Spoiler – it's nuts!
What is Saruni Rhino Lodge?
Saruni Rhino is a unique safari lodge that was founded in 2017 and features just 3 bandas. A banda is a rustic stone cottage with a thatched roof and canvas zip-down windows and doors. So, you basically get your own little house here!
Saruni Rhino is the only safari lodge on the Sera Conservancy in Kenya, which is 839,000 acres. Needless to say, you're not going to run into much for fellow tourists while you're here. I met a total of 3 people who were not local to the area the whole time I was here. It's about as private and in the wilderness as it gets.
Now, the main reason you would come to Saruni Rhino is to see the Black Rhinos. Unlike other lodges in Kenya, this isn't an area that is known for its abundance of wildlife. It does have some…on our drives to and from the rhino conservancy, we did see a few animals (check out my pics below.)
There are also TONS of monkeys (check them out in my YouTube video) that like to hang out by the lodge and try to steal food… and your toiletries.
There are also elephants that will make their way to some of the watering holes by the lodge… which I thought was cool.
One of my first experiences at Saruni Rhino was when a herd of elephants walked right by my room. One of the Saruni Rhino employees ran over to me to ask if I wanted to get a closer look at the elephants from a safe location. I thought this was incredible. Getting to observe the elephants on foot hiding behind some bushes… how amazing!
That was until I got the chance to get close to a wild black rhino on foot!
I'll talk about the lodge itself toward the end of this post, but first, we're talking about what it's like to track a wild black rhino on foot!!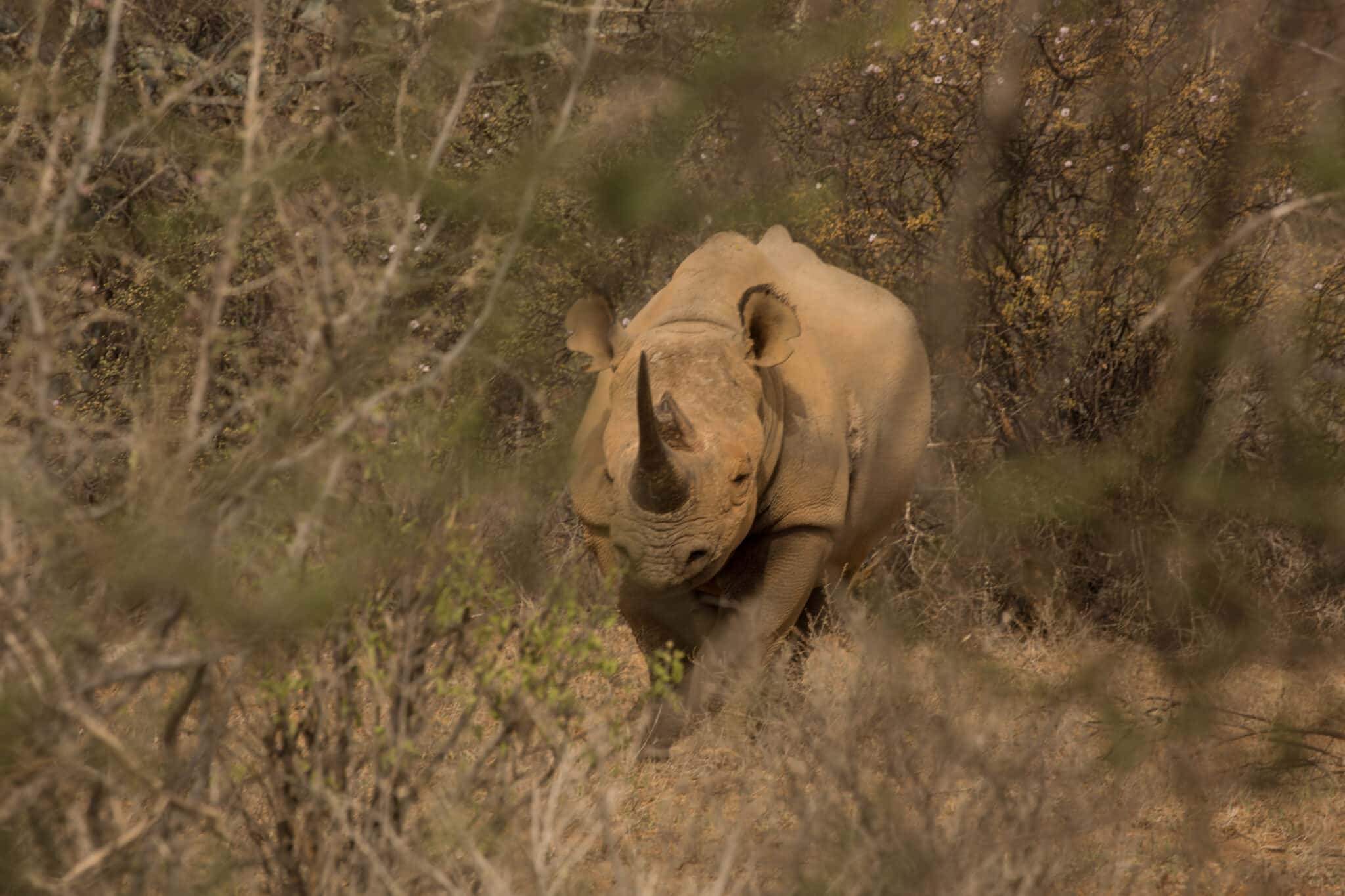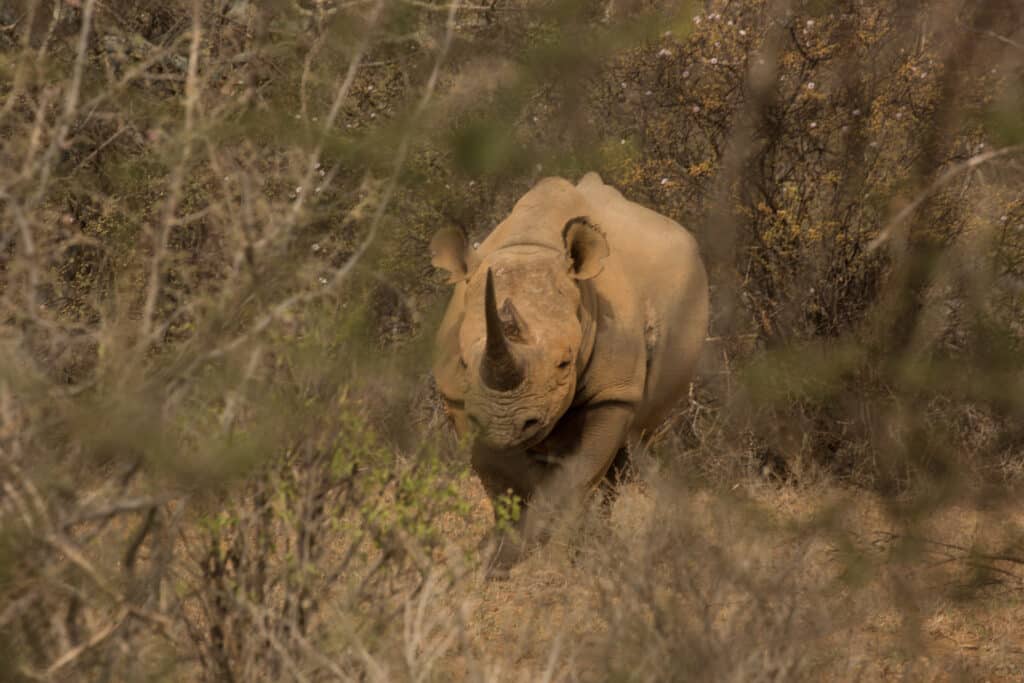 Tracking a Black Rhino on Foot – What to Expect

Now, at Saruni Rhino, you will be with one of 3 Saruni guides who are going to help you with tracking, and act as a translator to you while tracking the rhinos with the conservancy's rangers.
So, basically, they're in charge of making sure you don't die.
Sometimes this will be a group outing with other lodge guests, and sometimes it will be private. It will just depend on how many people are staying at the lodge and how many guides are available.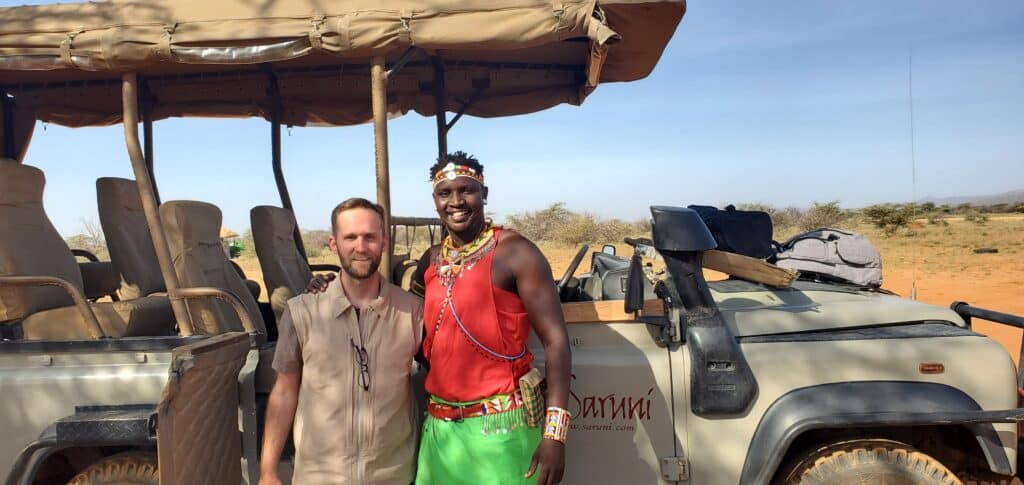 Jimmy was our guide, and we had him pretty much to ourselves the whole time we were at Saruni Rhino. We LOVED Jimmy. He was a former ranger, so he really knew his stuff and knew the rangers working at the conservancy.
You're also going to have a dedicated ranger with you while you are on foot – whether you're tracking rhinos or walking anywhere outside of the lodge. They are going to be the only person with a gun, kind of hiding in the shadows making sure everyone is safe.
How a tracking session works is you will drive from the Saruni Rhino Lodge to the rhino sanctuary (about a 30-minute drive) – which is fenced in and guarded by the rangers 24/7. This is because poaching of rhinos is still a very big issue.
And the rhinos do not have tracking devices on them. They don't use tracking devices because one of the rhinos had health complications when a tracker was inserted, so it was decided to not use these trackers on the rhinos anymore.
So, the way the conservancy monitors the rhinos is by having the rangers track them on foot. They will then be able to report on the whereabouts of the rhino and its health. The rhinos are constantly being tracked by the rangers.
Basically, when you're tracking a rhino here, you're shadowing a ranger for the morning or afternoon as they do their job.
Your guide will drive you as close as you can get in a vehicle to where the rangers believe a rhino is, and then you will get out and walk toward it on foot. You'll look for signs of rhino – from poop, to "marking its territory", broken sticks, etc. It's quite a lot of fun! But there is A LOT of walking involved. You need to be in moderately good shape to enjoy this adventure. (You can see what this looks like in my YouTube video, below.)
Every tracking experience is going to be a little different, too. Sometimes you might get out and track and walk for a mile and the rhino is gone before you get anywhere near it. Sometimes you might get out and only walk a few minutes and poof! There's a rhino.
Typically, when you find a rhino, you will observe it for a few minutes and maybe take a few photos. If they notice you, they will do a little dance to try and scare you off… when that doesn't work, they will run away.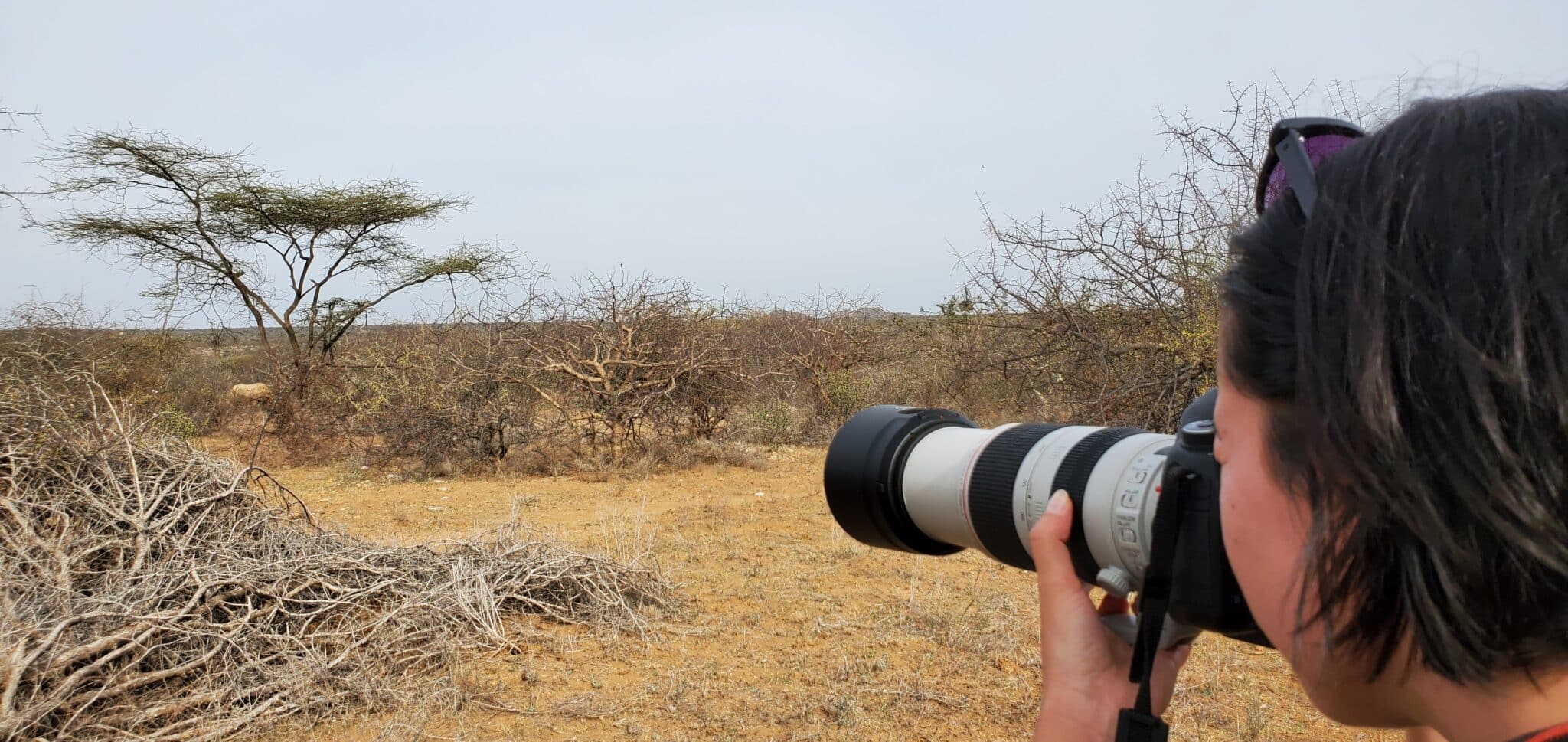 Your guide will also explain this to you, but you are always going to need to have brush or something between you and the rhino. You aren't just walking in an open field toward the rhino – you'll be hiding behind rocks, trees, bushes, or in one case we were using a termite mound as cover. The termite mounds are huge here!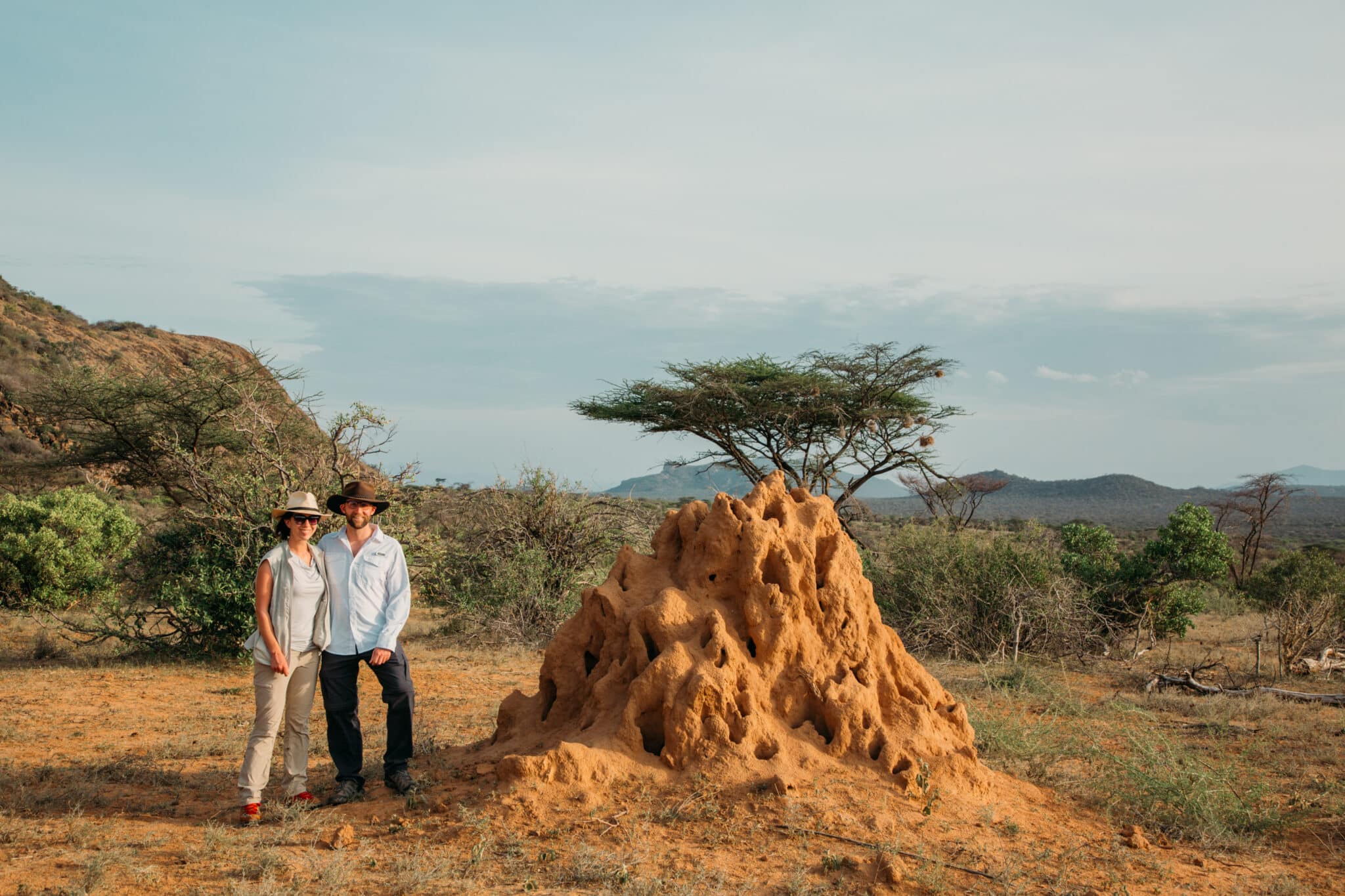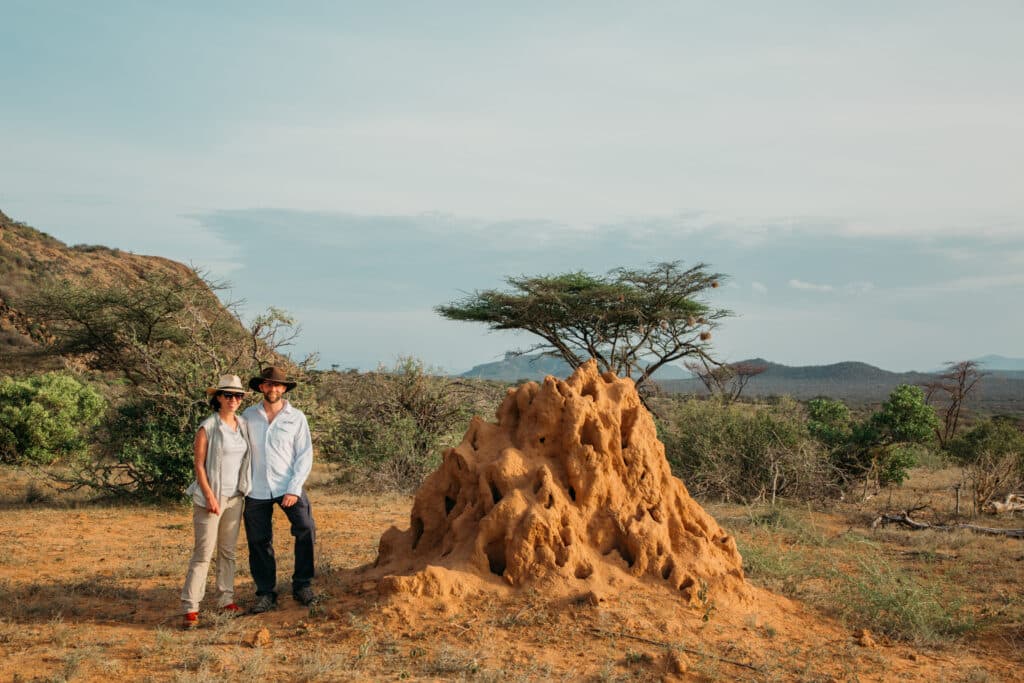 I also can't stress this enough – you need to ALWAYS listen to your guide. They will be giving you hand signals when you are close because you won't be talking. Sometimes they don't want you taking photos because the sound could startle the rhino, sometimes they want you to freeze, and so on.
These are wild animals, so you must always be paying attention and listening to your guide. They understand their behaviors and will help keep you safe.
Now, you will also be talking with your guide about how comfortable you are being close to the rhinos. You can stay back as far as you like.
My husband and I wanted to get as close as possible to the rhinos, so that is what we did. We understood the risks. You don't have to get as close as we did, though.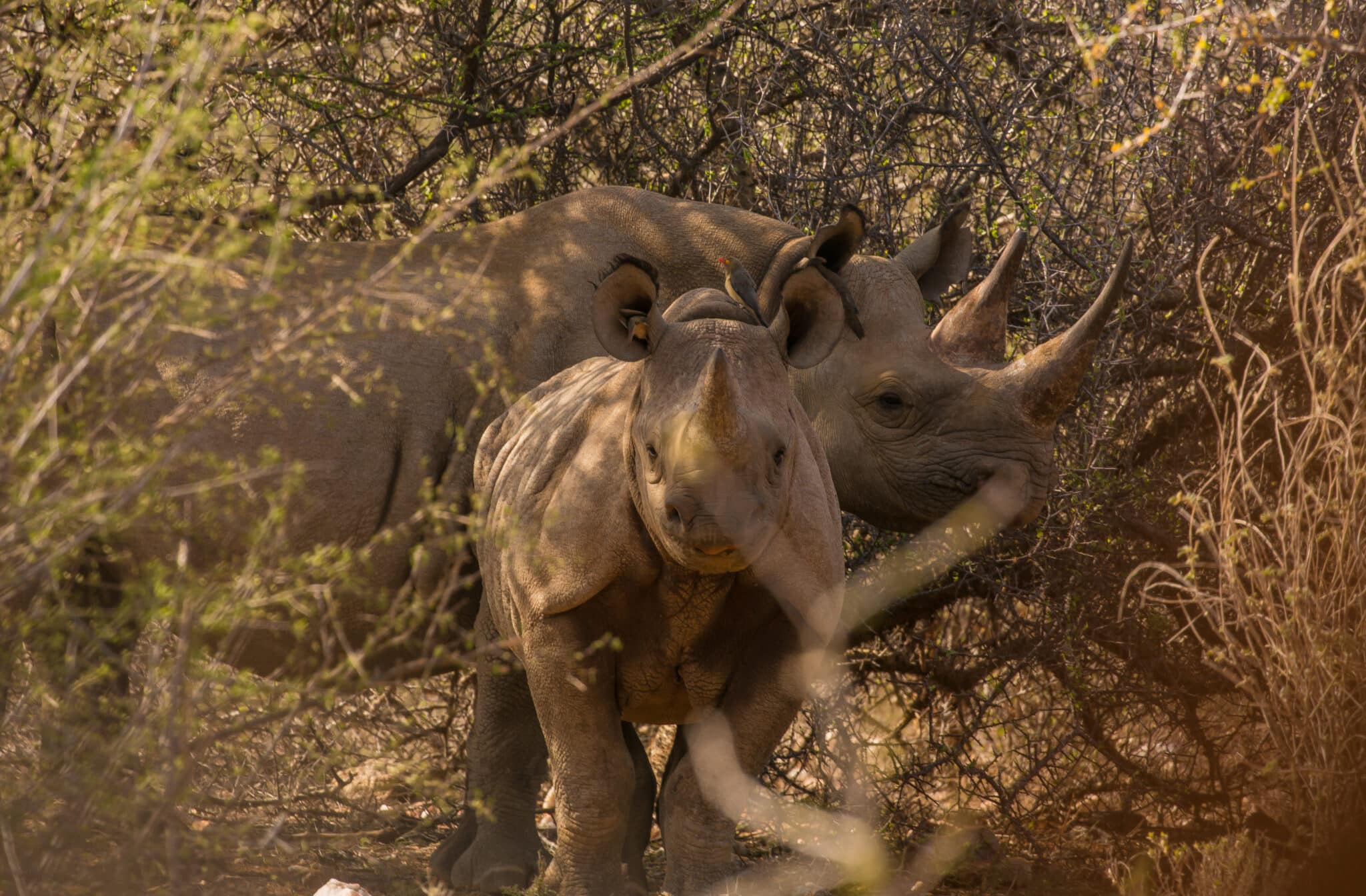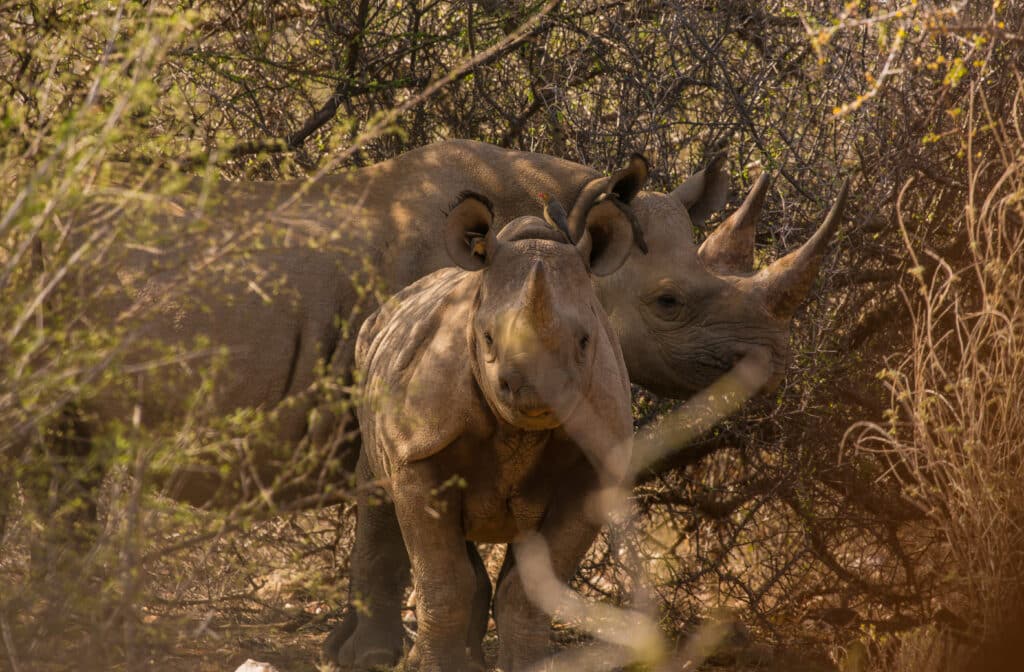 The last rhino we saw on our adventure was with its baby, and I'm not going to lie. I was peeing my pants a little bit here. We were VERY close to these guys, and any time a baby is involved with any animal, a mom can get aggressive. That wasn't the case here, they just trotted off after they had enough of us.
Looking back this was one of the coolest and most terrifying things I think we've ever done. But I, personally, loved it and am absolutely going back one day.
I also thought it was awesome that we go a "rhino tracking certificate" at the end of our stay.

Now, one of the most common questions I got about this experience, was "wasn't I afraid the rhino was going to charge us?"
This is something that could happen, I mean these are wild animals, there's always a risk… but it's far more likely to happen if you are NOT listening to your guide. I always felt safe when following Jimmy's instructions.
How to Prepare for Tracking a Rhino on Foot

Now here's how to prepare for your tracking session…
It's going to be VERY hot on your tracking sessions no matter what time of year you go. I think every tracking session we did the average temperature was around 90 degrees Fahrenheit when we were there in February.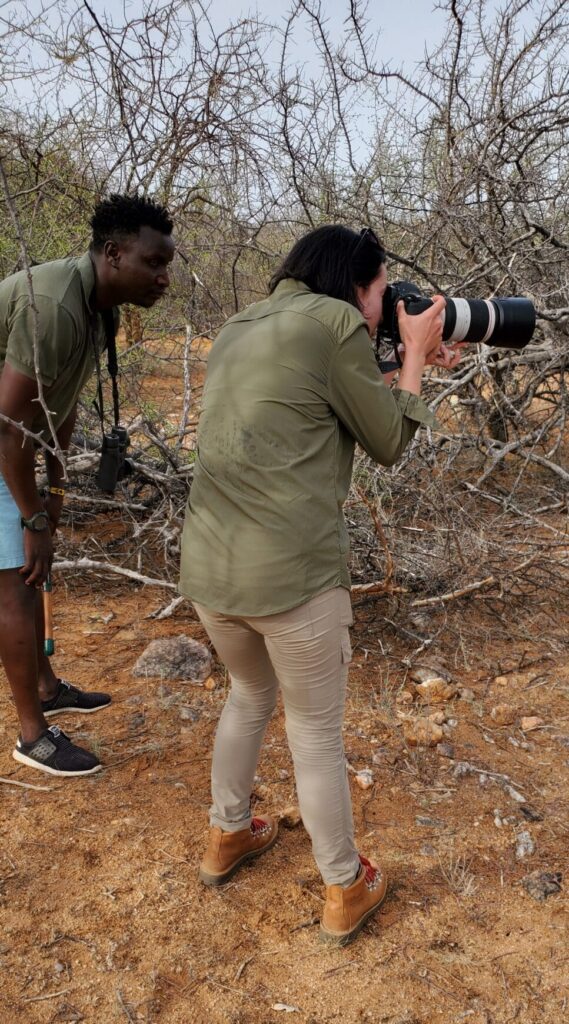 My outfit links: Shirt | Pants | Boots | Long socks | Vest (I would wear in the morning on longer tracking sessions)
So, you'll want to wear breathable clothing, and also be covered, so you aren't getting scratched by branches or getting sunburnt.
It's also really important you wear neutral-colored shirts during your tracking sessions too. Rhinos don't have the greatest eyesight, but they will notice any bright colors – and this includes white.
I made the mistake of wearing a white shirt under my vest one morning and this scared a couple of rhinos away, as they could see the sleeves of my shirt very well.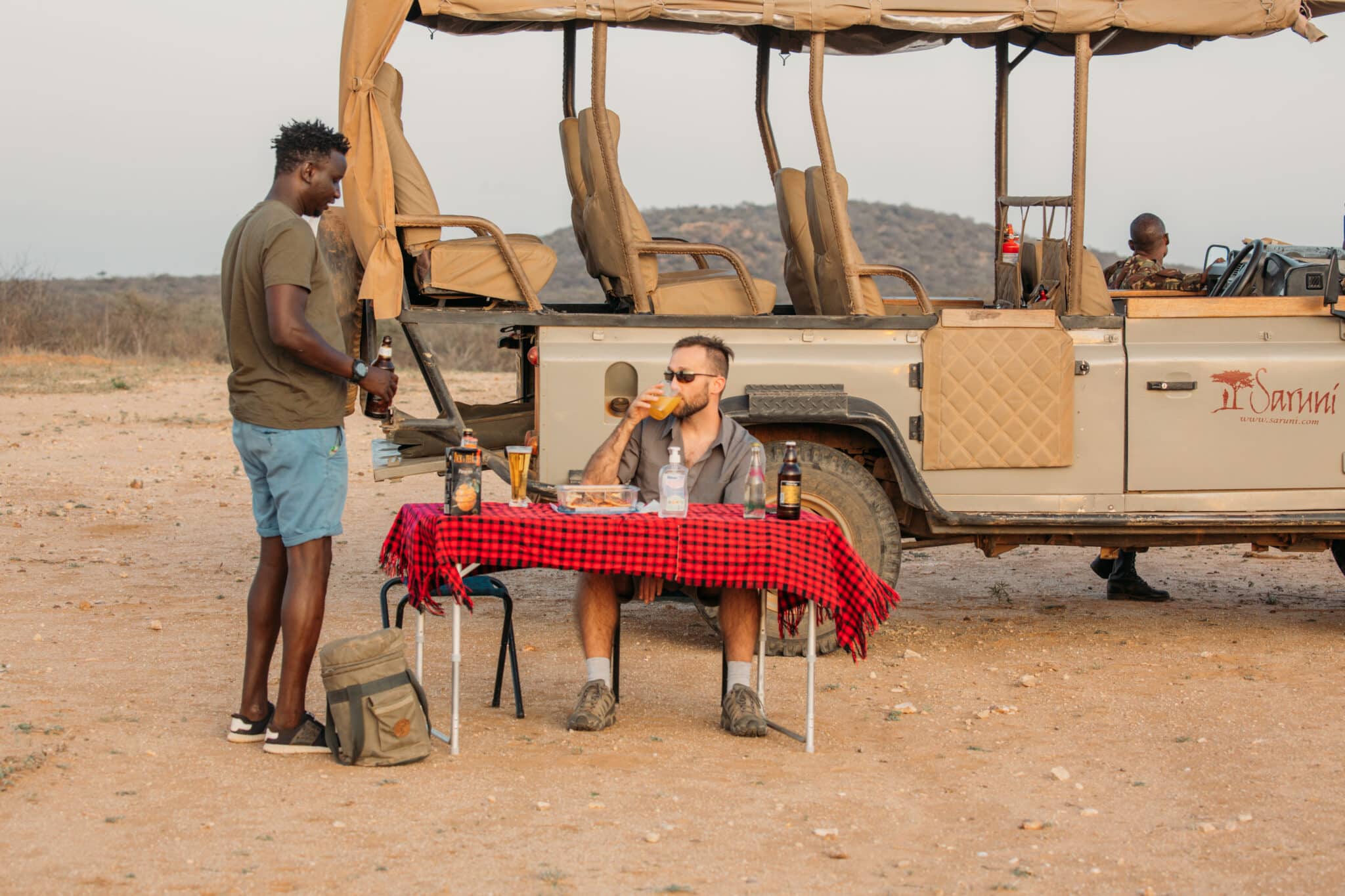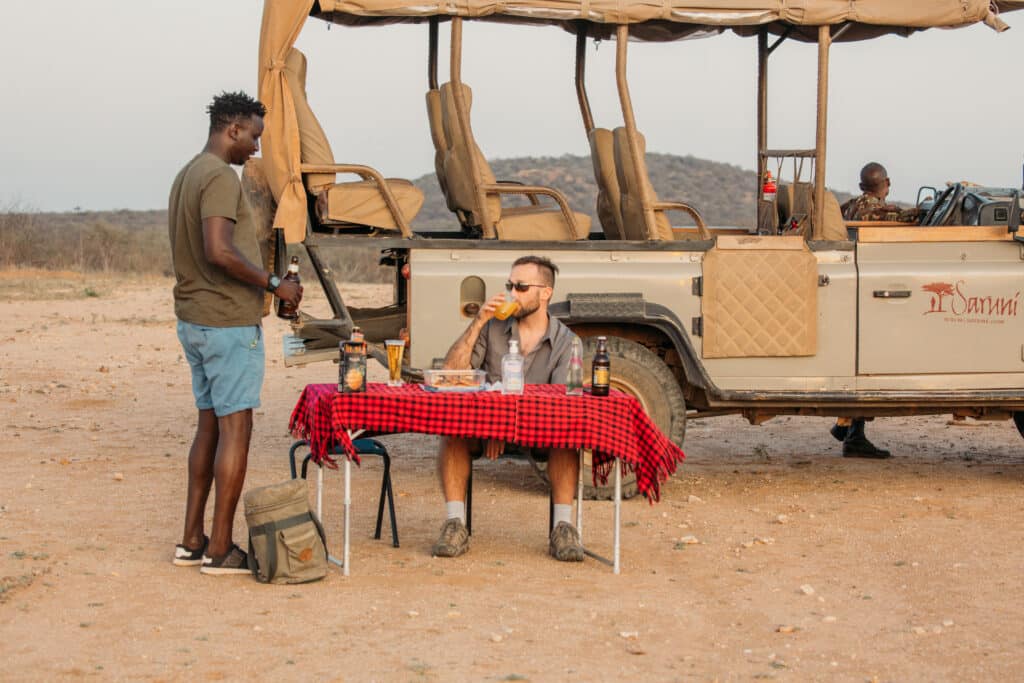 My husband's outfit links: Shirt | Zip-off pants | Hiking shoes | Sunglasses | Long socks | Vest (Would wear in the morning on longer tracking sessions)
Rhinos also have fantastic hearing. So, you are going to want to be as light on your feet as possible. Wearing sneakers with some decent grip is a good idea or a lightweight hiking shoe. (My Danner boots are awesome – but they were too clunky for this experience, in my opinion.)
The terrain is going to vary in this conservancy, sometimes it's completely flat and just gravel, other times it's very rocky and you're walking up the sides of hills. Having comfortable, lightweight footwear is a must. You are going to be walking A LOT.
Oh, and be sure the beep sound is turned off your camera before you take photos too – I made that mistake the first time I went out, and the rhino was not impressed.
It's also important to NOT wear any sort of perfume, scented hairspray, body lotion, etc.
Jimmy, our guide, was always monitoring which direction the wind was blowing and was doing his best to mask our scents… but if you doused yourself in cologne before going out, the rhinos will know you're coming.
Meeting Loijipu in the Sera Conservancy
You also have the opportunity to meet a friendly rhino named Loijipu. He was abandoned by his mother when he was just a few days old. The reason for his mother abandoning him is a bit unclear.
When this happened, the nearby Reteti Elephant Sanctuary took him in and raised him for the first 18 months of his life.
Side note, you can also visit the Reteti Elephant Sanctuary when you are at Saruni Rhino – I did not do this because we had spent a lot of time at Sheldrick's Elephant Sanctuary in Nairobi.
After his time at the elephant sanctuary, Loijipu was returned to the Sera Rhino Sanctuary where he is under 24/7 surveillance, and his caretakers are working to re-introduce him to the wild. He has hundreds of acres all to himself but really enjoys hanging out by this rock in the shade.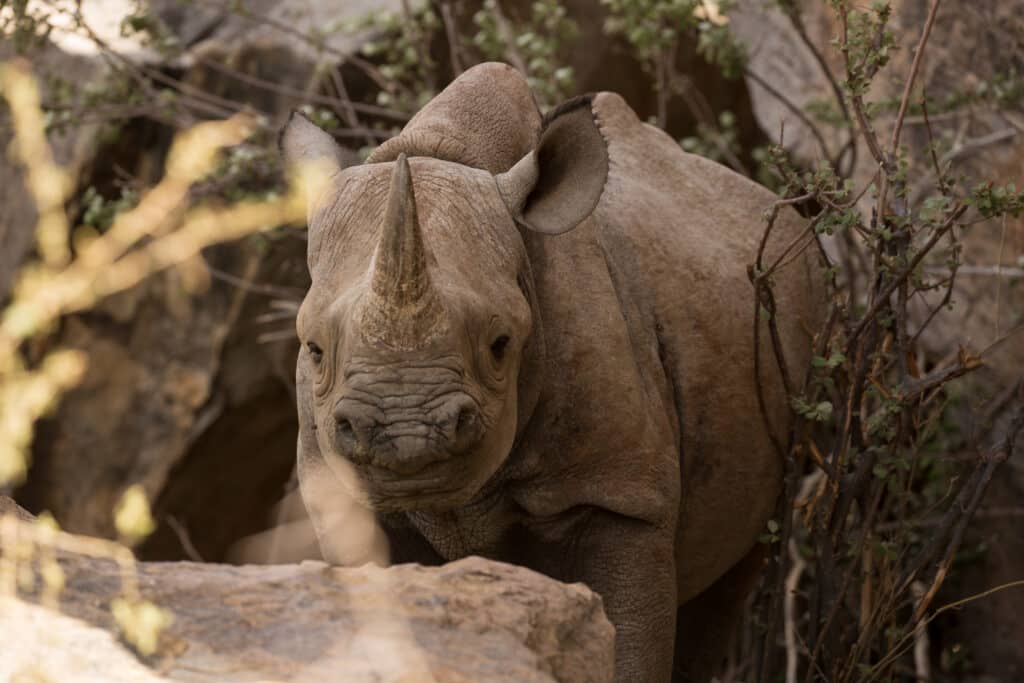 The caretakers say he is developing the skills he needs to survive on his own, but he is still too small to be with the other rhinos on his own. He will need a few more years to grow before he can leave his environment and join the other rhinos… as the other male rhinos will attempt to kill him at this point.
For now, you can visit him, and if he allows it… you can get up close to him and give him a snack.
It is a really incredible experience!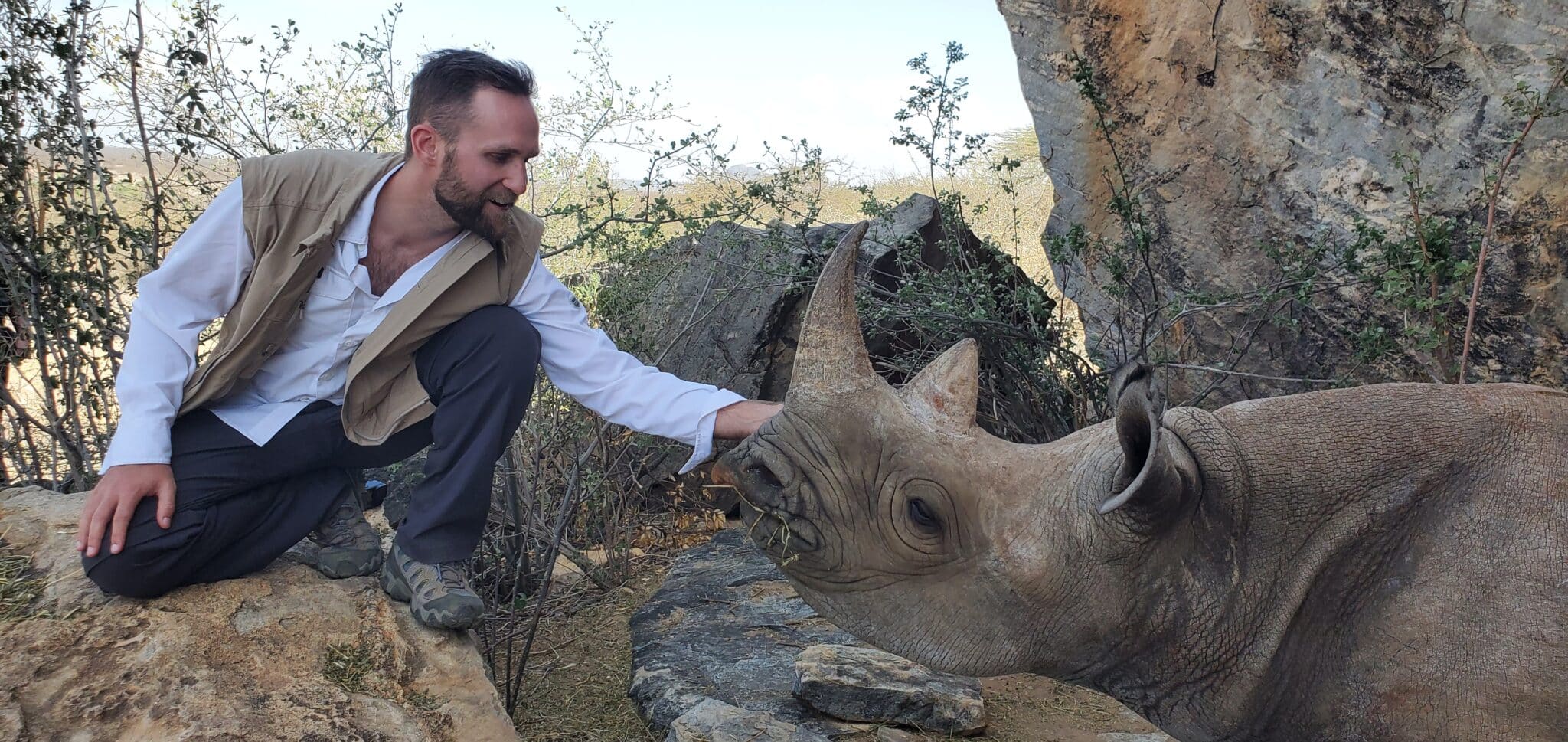 How Did I Find and book Saruni Rhino?
So, I booked our Kenyan safari through a travel agency called Go2Africa. I'm not the type of traveler who typically uses a travel agency, I like to plan and book everything myself and book directly with tour operators and hotels when possible… BUT when it came to planning a safari in Kenya, I was completely overwhelmed. There were so many incredible places to say, so many cool animals to see – I didn't know where to start.
Go2Africa was a company that came highly recommended to me by a few fellow travelers, so I reached out to them, and I was really impressed with everything they suggested and how professional they were. Lauren was the safari expert who put together this whole safari for me. She was incredible – I actually have an entire post on my experience using Go2Africa, if you're interested.
Lauren is the reason I found Saruni Rhino and also stayed at Saruni Samburu, I have an entire YouTube video and blog post on this amazing lodge as well.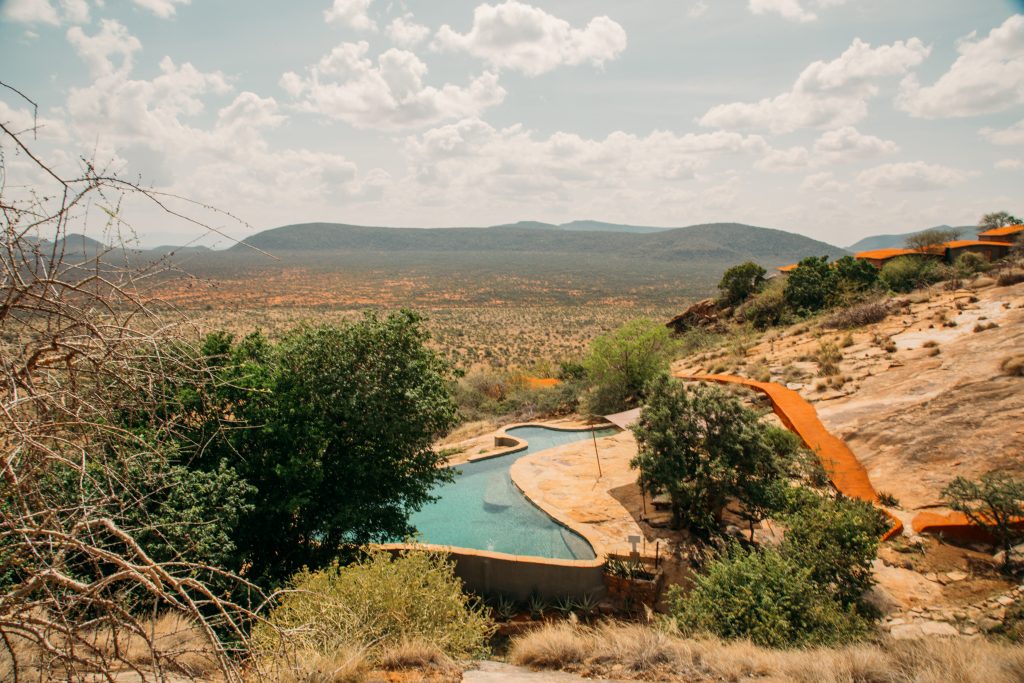 How Do You Get to Saruni Rhino Lodge?

My husband and I stayed at Saruni Samburu and then transferred to Saruni Rhino for 3 nights. Saruni Rhino is about a 2-hour drive from Saruni Samburu, which is a sister lodge to Saruni Rhino. I felt spending 3 nights at each property was the perfect amount of time.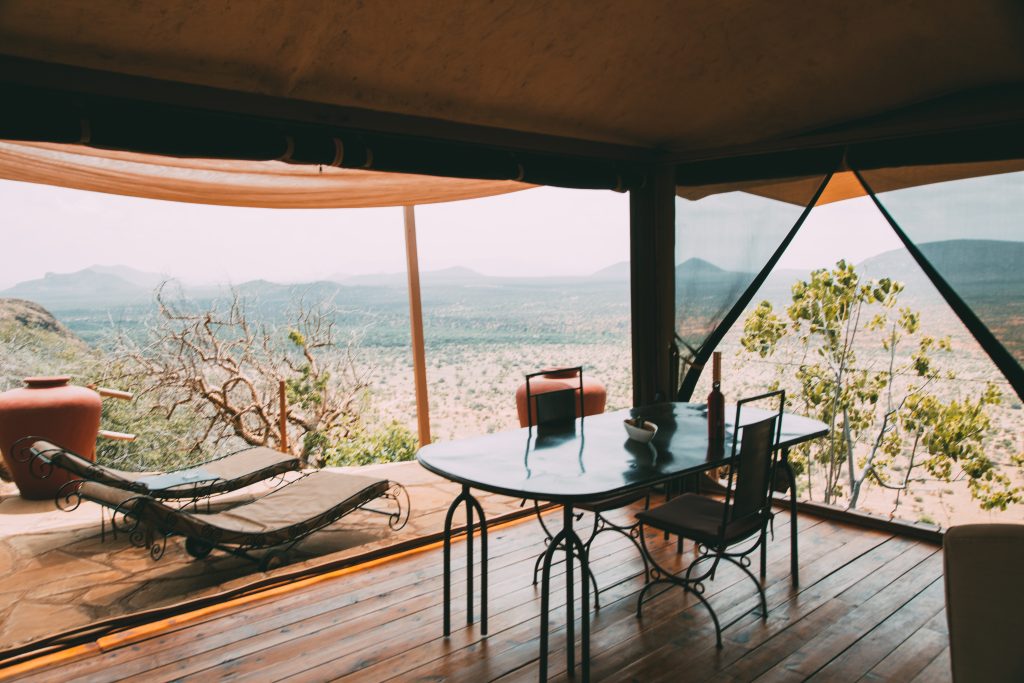 However, if you're not staying at Saruni Samburu you can be transferred from the Kalama airstrip in Kalama Conservancy, both Air Kenya & Safarilink fly daily to this airstrip which is about a 2-hour drive too… and if you are flying privately, there is an airspace in the Sera Conservancy which is so close you can walk to it from the lodge.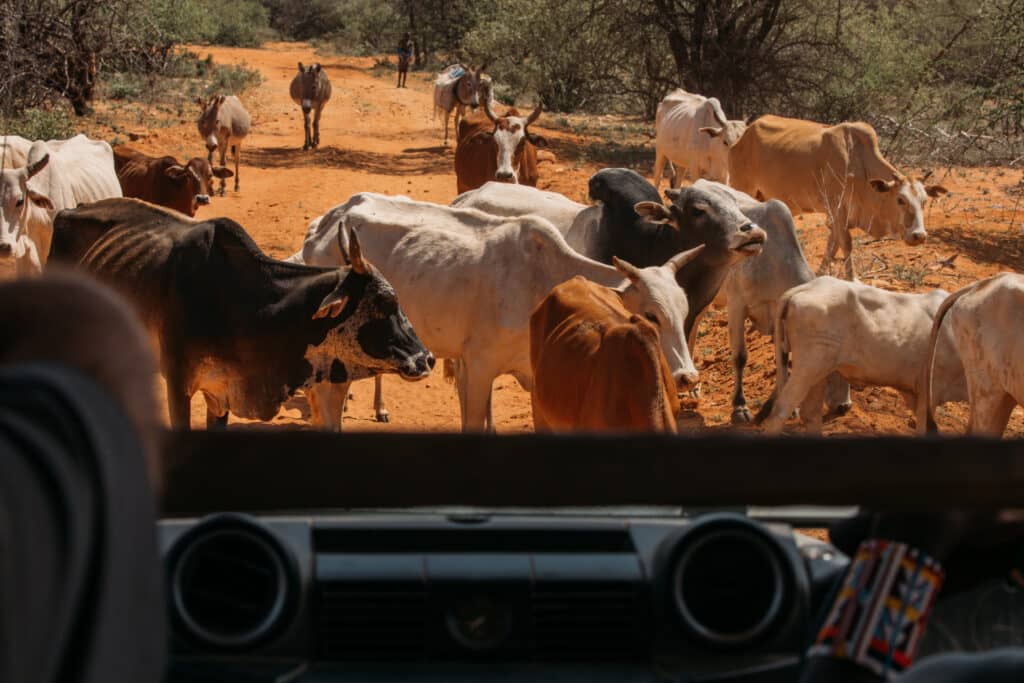 How Much Does it Cost to Stay at Saruni Rhino?

Rates for staying at Saruni Rhino can get a little complicated, as there is a lot that goes into them, but to give you a rough idea of how much a night is here – during the time we stayed here in early February the BASE rate per person per night was $700 a person, and again, we stayed here in early February, which is considered their mid-season… so not high season but not the low season either. The rates vary and obviously increase if you are staying during the high season.
That base rate includes your transfers, your accommodation, all of your soft drinks, house wines, beers and spirits, and rhino tracking sessions… all of your meals, picnics, and your sundowners. Which a sundowner is your cocktail you sip while you watch the sun go down.
The revenue that Saruni Rhino gets from hosting visitors is split 60:40 between their Community Fund – which is dedicated to development projects in education, health, and sanitation – and conservancy operating costs such as salaries for the wildlife rangers. So, that is pretty awesome in my opinion.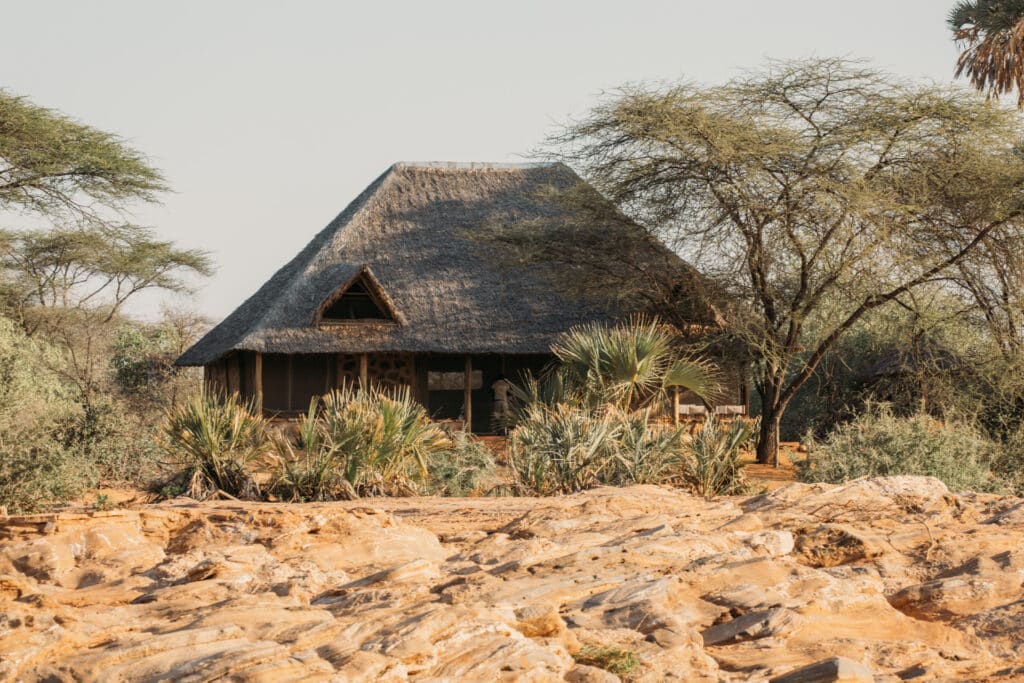 Also, the costs will vary a bit depending on which banda you stay in. My husband and I actually ended up spending more than that $700 base rate, because of the banda we had to book. The other bandas were already booked, so we had to take the Family Banda, which comfortably fits 4 people. We did not need that much room, but we really wanted to stay here.
I did get the chance to walk through all 3 of the bandas when they were in between guests, so I can show you a quick little walk-through of each one – so you know what to expect when you make your booking. (This is also better to see in my YouTube video of Saruni Rhino.)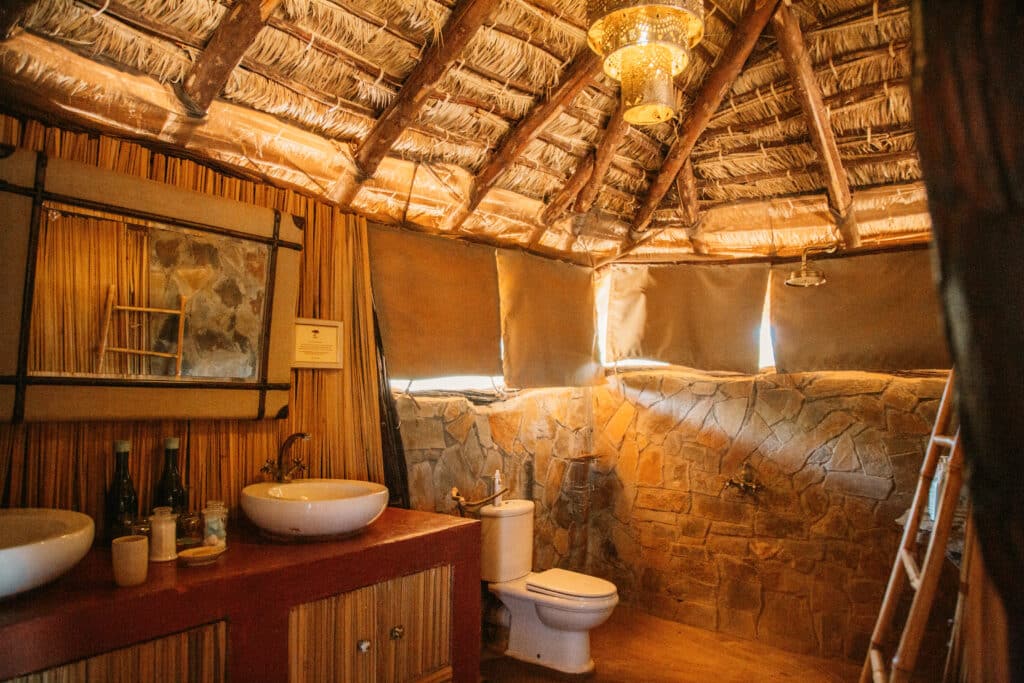 All of the bandas have flushing toilets, they do have hot showers during certain times of the day too. So, you can't take a hot shower whenever you please, but there is running water at all times of the day – so you can take a cold shower if you want (which does feel good after a hot morning of tracking rhinos on foot).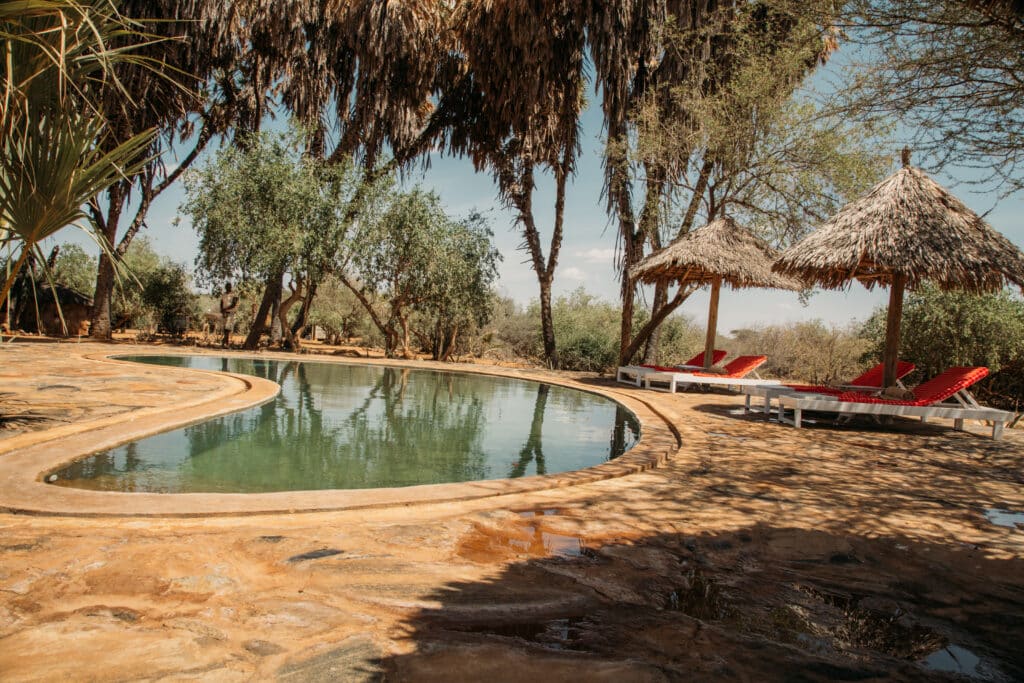 There is also a swimming pool where you can relax at.
Now, if you're familiar with other Saruni properties, Saruni Rhino is a bit more rustic than say Saruni Samburu. I still loved it, but just something to be aware of.
Banda 1 at Saruni Rhino
This is inside Banda 1, which sleeps 2 people… it has a bathroom & natural stone shower, and a flushing toilet. You do have to walk outside to get to this bathroom – so if you get up frequently in the night to use the restroom, this may not be the best option for you. The monkeys are also big fans of this bathroom – so don't leave your toothpaste and other toiletries out they will absolutely steal them.
The banda itself is open plan in style with no room divider. Your view is of a beautiful private sandy terrace, and you will overlook the dry river bed.
Banda 2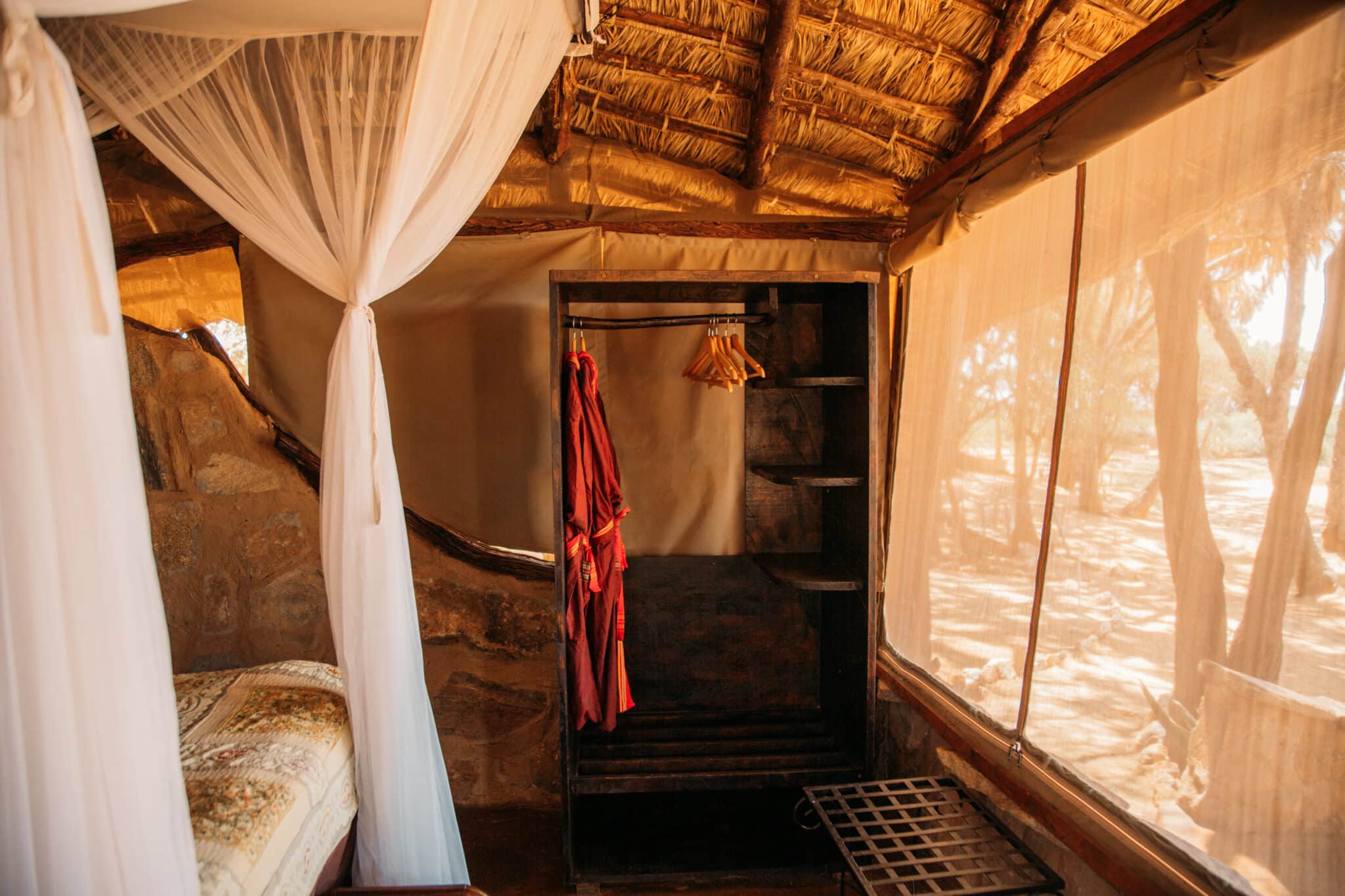 Banda 2 also sleeps 2 people. This one has an en-suite bathroom, so monkeys are less of an issue in here. You also have a lovely private sandy terrace with chairs and a tree bed of sorts that the monkeys also love… and this overlooks the dry river bed. It's the smallest of the bandas, and is also a great option for a solo traveler.
The Family Banda
And then there is the Family banda, which is where we stayed. There are 2 bedrooms in this one that sleeps 4 people. Both rooms have en-suite bathrooms and then a living room in between the rooms. There is also a fantastic lounge area in the front of the banda that has seating and a table and has the best view of the waterhole. This is where I was sitting when I saw the elephants coming over. We loved it! But we didn't need this much room for 2 people.
The Food at Saruni Rhino

Ok, and the food at Saruni Rhino is AMAZING. I mean, Saruni properties are pretty much in the middle of nowhere, but you get a high-class dining experience at every single meal. All of the dishes have this Italian theme to them, and they are all presented SO beautifully. And they are SO good. You get 3 courses with your lunch and dinner too.
I wish I had more photos and videos to share of it, but I usually ate it before I thought to take a video or photo of it. Trust me when I say the food in itself is a reason to stay at Saruni Rhino. It's amazing.
For dinner each night, the staff would also set up this huge wooden table in the riverbed, along with a full bar, and served us down there. There were staff and rangers set up on the river bed as well to make sure any curious animal didn't get too close.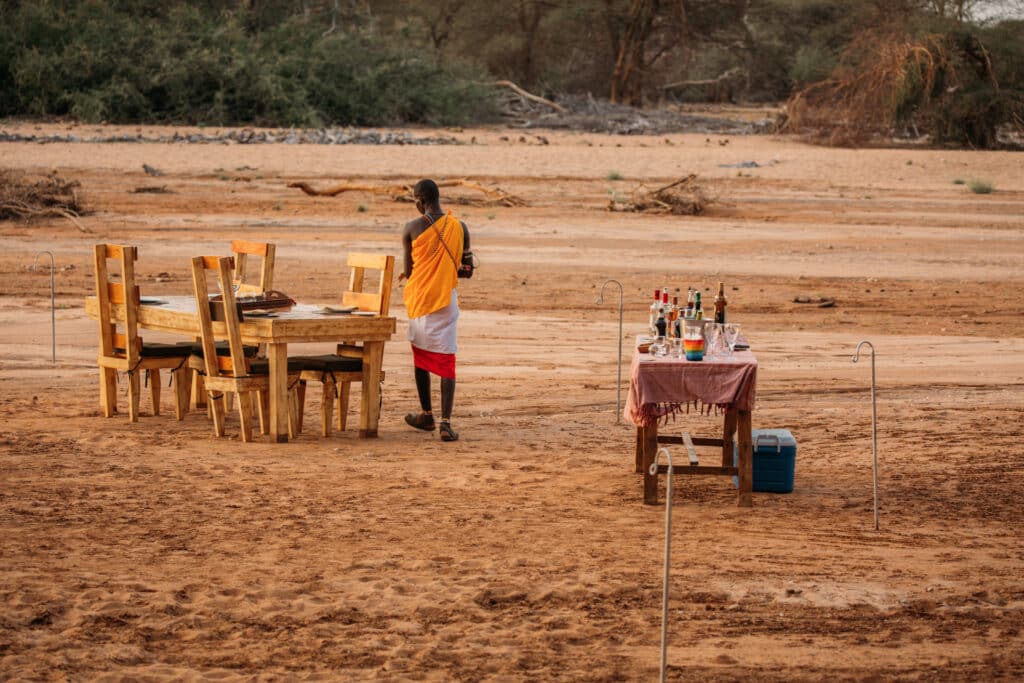 I also want to reiterate how incredible the staff are at Saruni Rhino. We loved everyone we met here. Sammy, the manager of the property has to be one of the nicest most accommodating people I have ever met. He made sure our stay here was unforgettable.
And again, Jimmy went out of his way for us at every step of this trip… and he kept us alive!
Do I Recommend Saruni Rhino?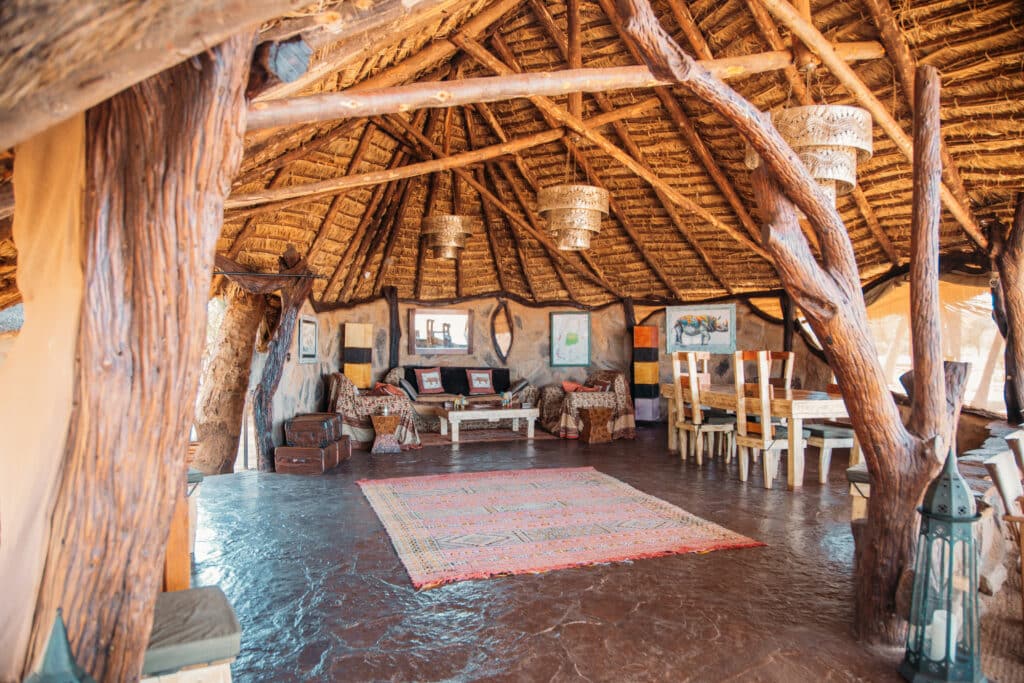 My husband and I loved everyone we met here and will absolutely be returning to Saruni Rhino. This place is so special that I am going to break my personal rule of never staying at the same place twice. The Saruni properties are that incredible and are unlike anything I've ever experienced.
To maybe put this in perspective a little better… I would stay at Saruni Rhino again over staying at the famous, and also incredible, Giraffe Manor in Nairobi. That's how much I loved Saruni Rhino and our experience tracking black rhinos on foot.
So, yes, I 1000% recommend staying at Saruni Rhino. Hands down, this is the coolest travel experience I have had to date. I already want to return!
If anyone has any questions at all about staying at Saruni Rhino or tracking black rhinos on foot – please reach out in the comments at the end of this post. Thank you so much for reading!