Honest Giraffe Manor Review – Is It ACTUALLY Worth the Cost?
You've likely seen the photos and videos of Giraffe Manor on your Instagram feed or favorite travel show. This is THAT hotel in Nairobi, Kenya where the giraffes will poke their heads through the windows while you have your breakfast. It's an experience that has been at the top of my bucket list for over a decade.
This blog post is going to explain everything you ever wanted to know about staying at Giraffe Manor, my tips for booking and staying here, as well as whether or not Giraffe Manor is ACTUALLY WORTH its expensive price tag.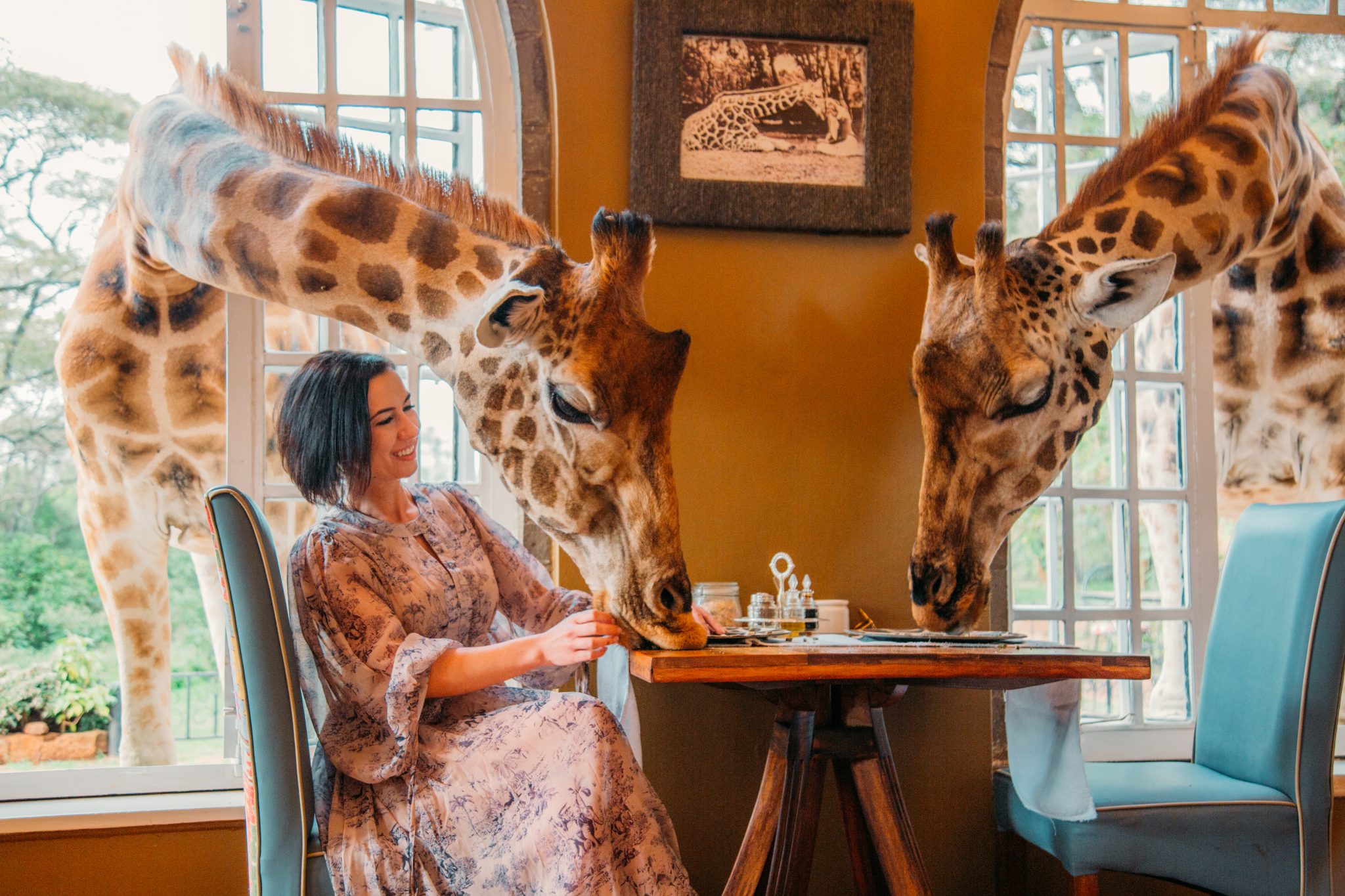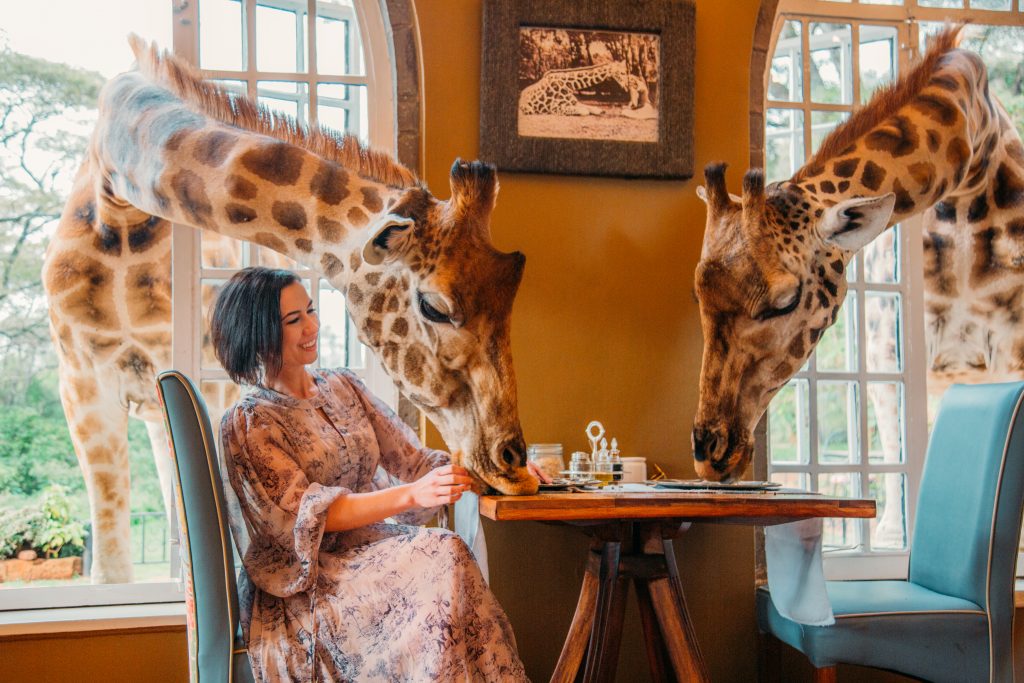 What is Giraffe Manor?
First, a little background on Giraffe Manor…at Giraffe Manor, there is a herd of 10 Rothschild giraffes living on the manor grounds. They roam freely on the 12 acres.
The manor was built in 1932 in Nairobi, Kenya, and was modeled after a Scottish hunting lodge. The giraffes weren't introduced here until the 1970s. This is when the owners, Jock and Betty Leslie-Melville, first adopted an orphaned, endangered Rothschild's giraffe they called Daisy. At the time, there were only 130 Rothschild Giraffes left in the world. Thanks to breeding programs, like here at Giraffe Manor, there are now more than 300 Rothschild Giraffes safe and breeding in Kenyan national parks.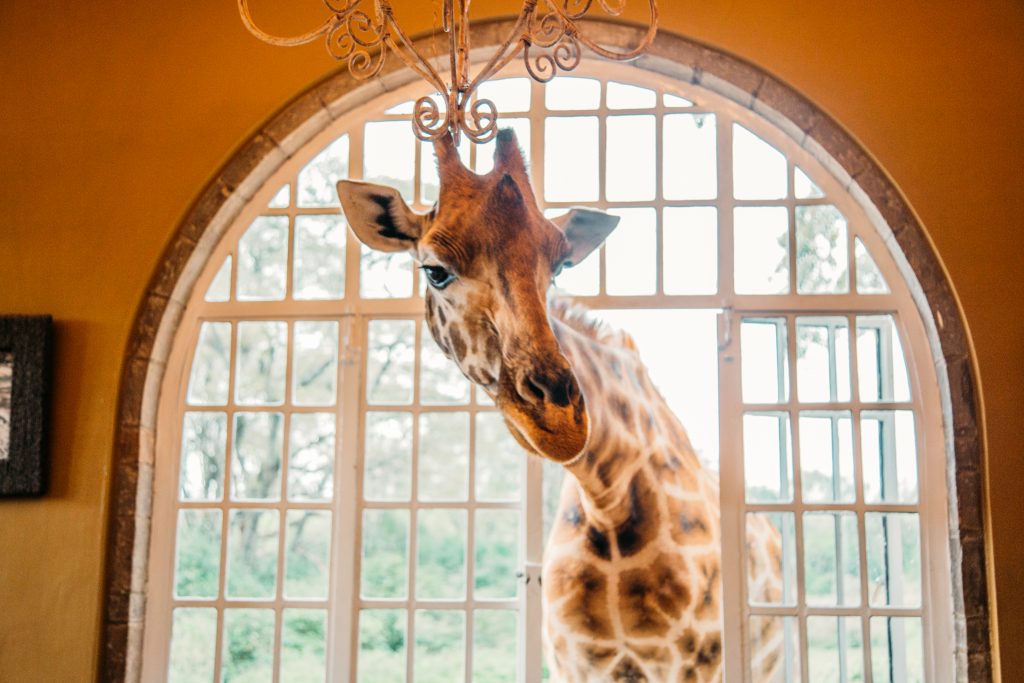 Now, Giraffe Manor is an all-inclusive luxury hotel that the world is obsessed with! Since 2009, it is also part of the Safari Collection – which owns other luxury lodges and camps in Kenya. The Safari Collection is also doing incredible work in terms of helping the local community and donating to animal conservation funds throughout Kenya.
Booking Giraffe Manor – What to Know

We spent one night here in early February, and we stayed in The Lynn room (see photos below) – which is on the ground floor of the Main Manor. When booking a stay at Giraffe Manor it can be kind of confusing, because there is The Main Manor and The Garden Manor, and The Retreat. The Retreat is a spa area and doesn't allow overnight guests. And you can't book a room at the Garden Manor unless you are staying at one of the other Safari Collection properties.
Need help booking a trip to Kenya? I personally use and recommend Go2Africa travel experts!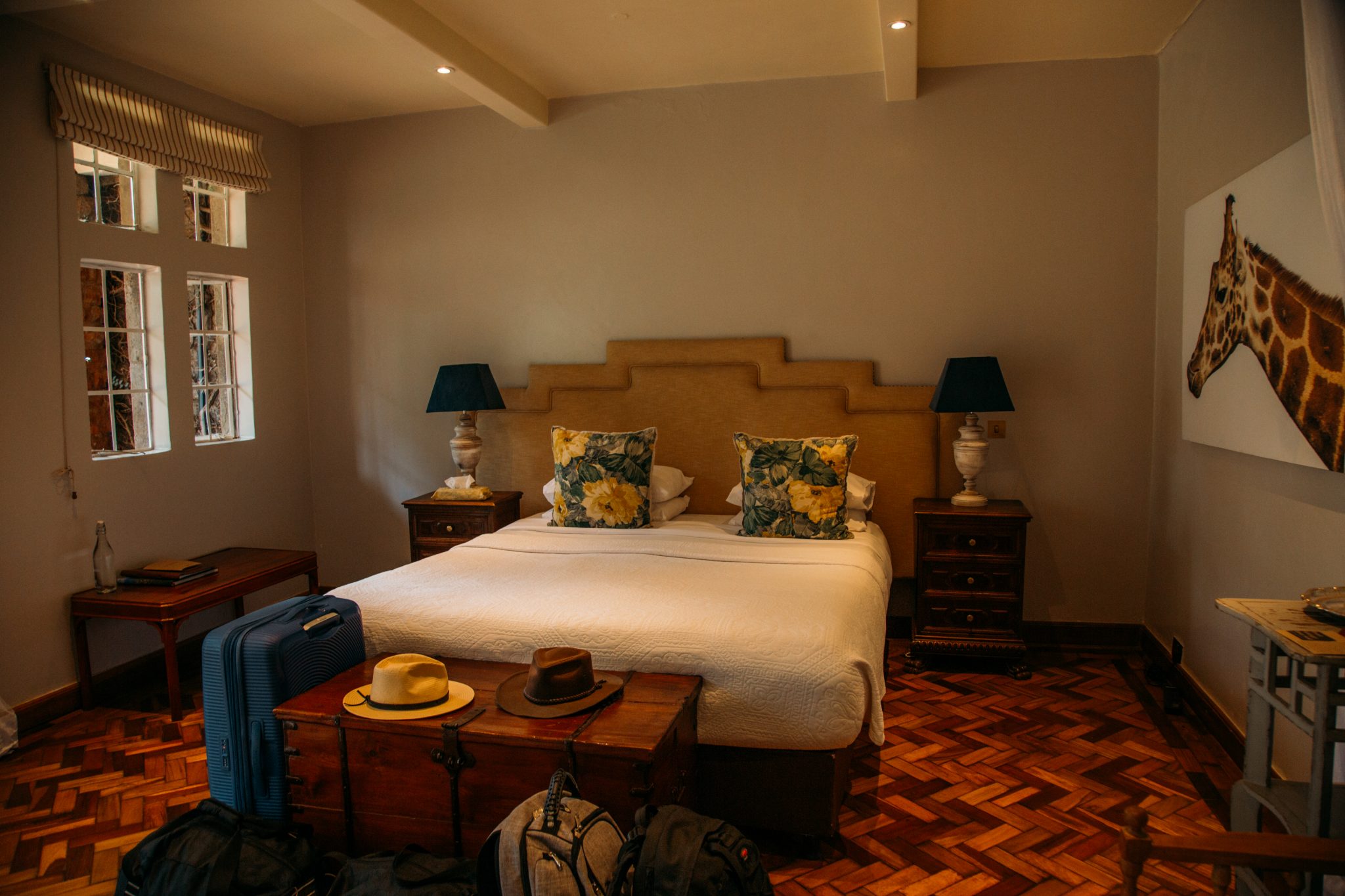 We were not staying with the Safari Collection for our time in Kenya – and if you aren't either, that means you will only be able to choose from 1 of the 6 rooms in the main manor. Needless to say, given how much attention this hotel has gotten over the years – this place books up fast!!
You need to book at least 1 year to 1 1/2 years in advance if you want to stay at Giraffe Manor.
watch my giraffe manor youtube video!
Learn more about Giraffe Manor + see some cute giraffe footage!
What it's Like to Stay at Giraffe Manor – My Experience Staying at the Giraffe Hotel
So, what's it actually like to stay at Giraffe Manor? Let me explain…
Giraffe Manor takes care of your transport to and from the manor. So, they picked us up at our hotel in Nairobi and drove us to the manor to get checked in promptly at noon. Check-in begins at noon, and there are NO early check-ins here.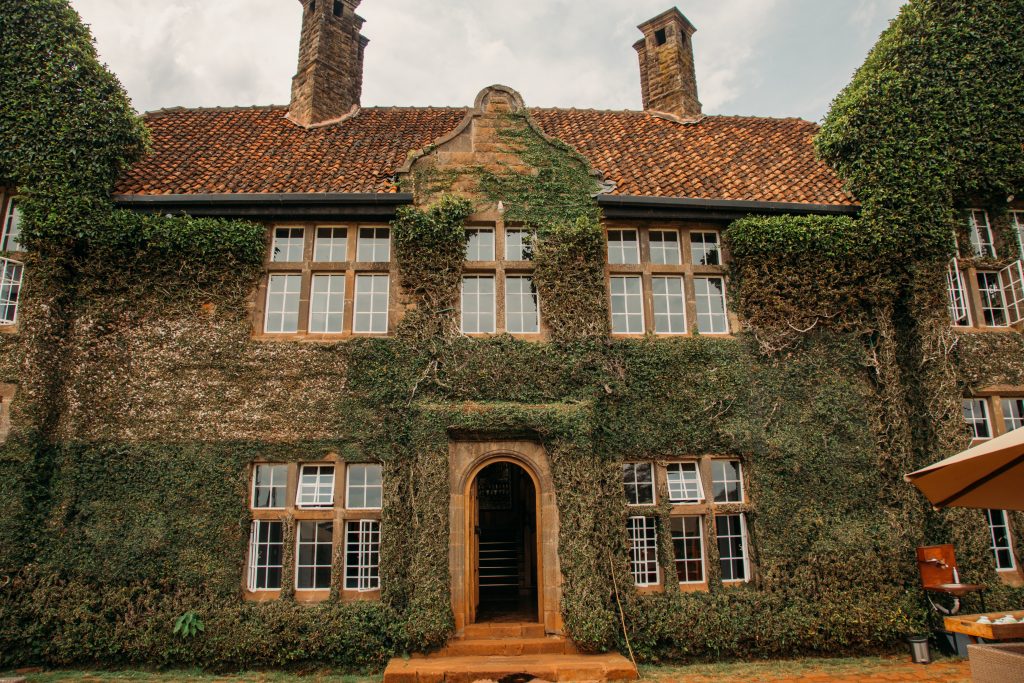 We were greeted with a refreshing drink and asked to wait outside on the patio furniture while they readied our room and took our luggage up – as you would at an all-inclusive resort.
Then we had lunch at 1 pm – which I thought was really good. It was 3 courses in this beautiful courtyard. (Photos are below.)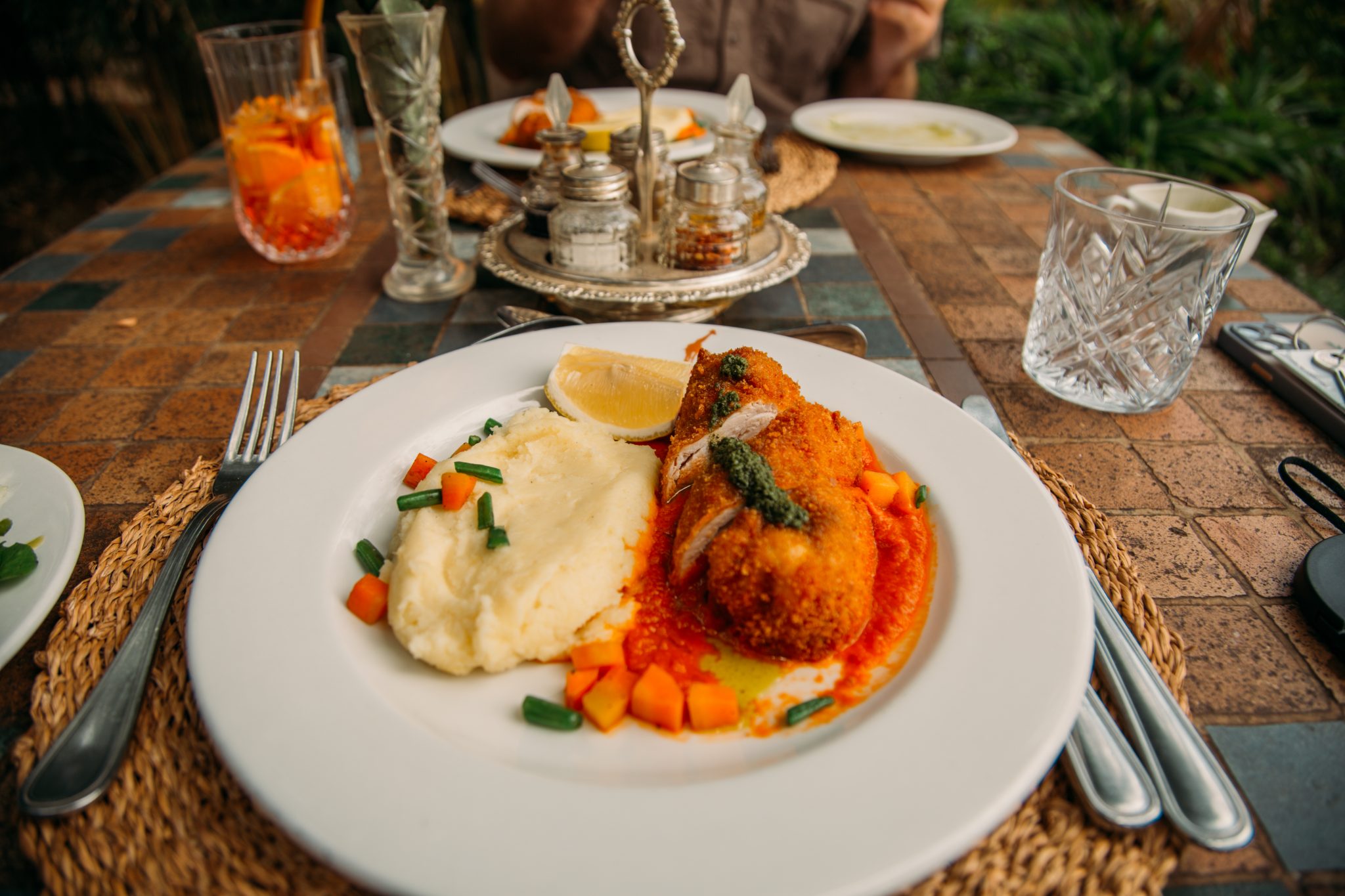 Then, we had the afternoon free to do whatever we wanted until 5. Which 5 is when teatime with the giraffes starts!
During this free time, you could go to the Retreat area to swim or for a massage or Giraffe Manor could arrange for you to go to different souvenir shops in the area or the Karen Blixen Museum which is nearby, or if you had booked a private tour of the Sheldrick Wildlife Trust you could also arrange to go there – as this elephant orphanage is also close to Giraffe manor.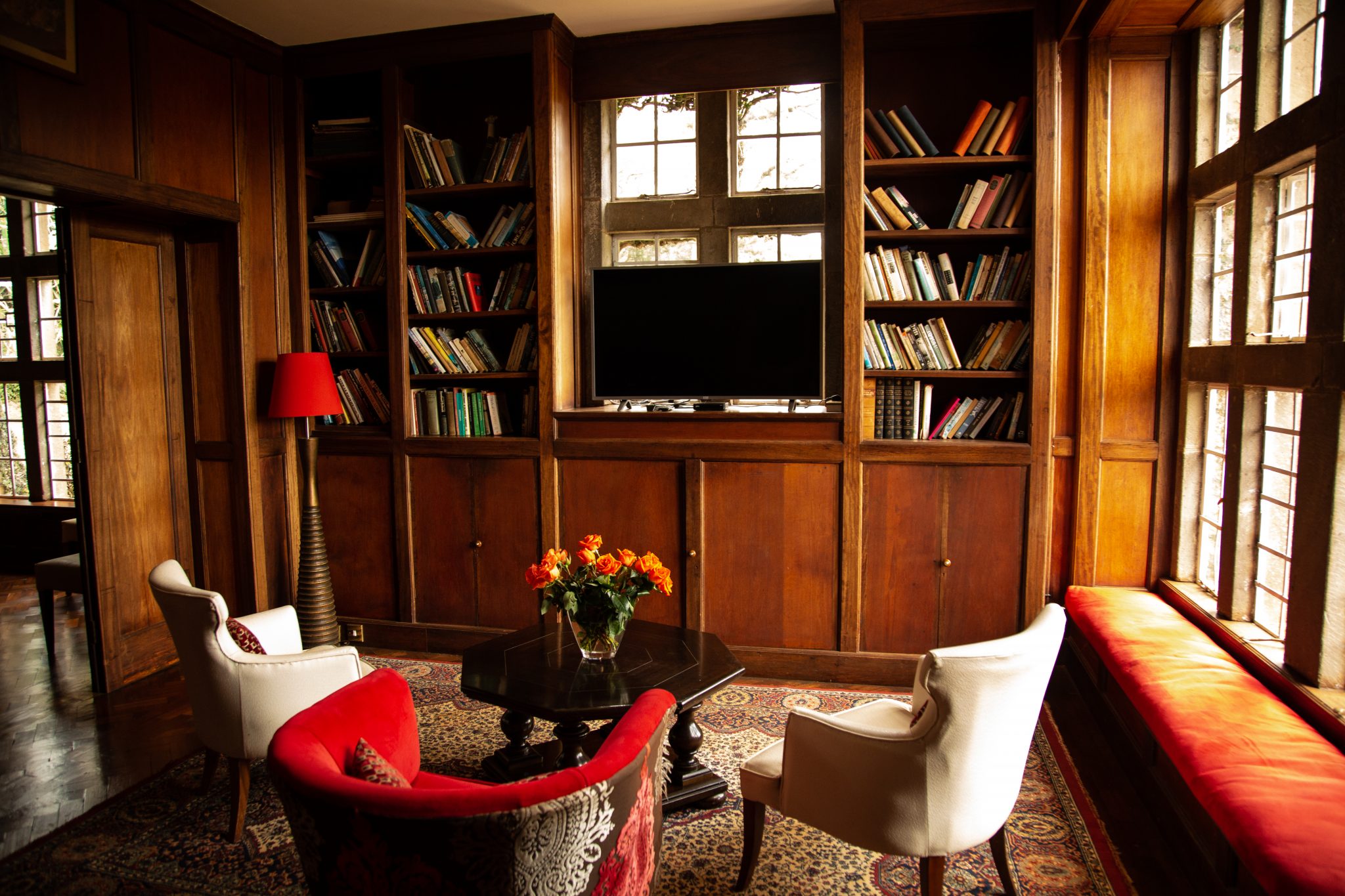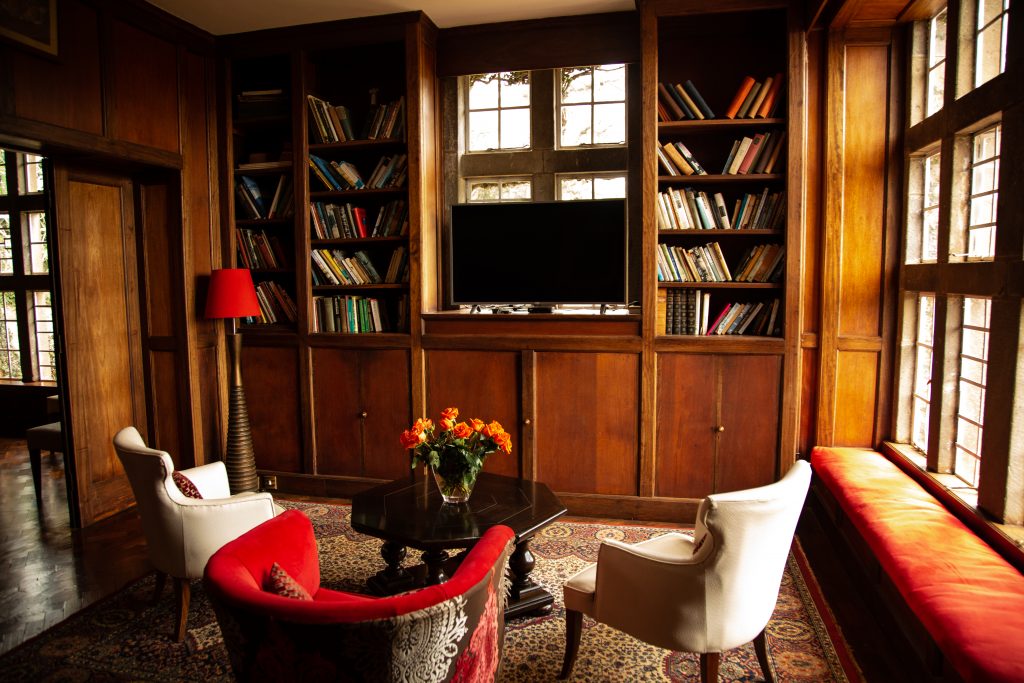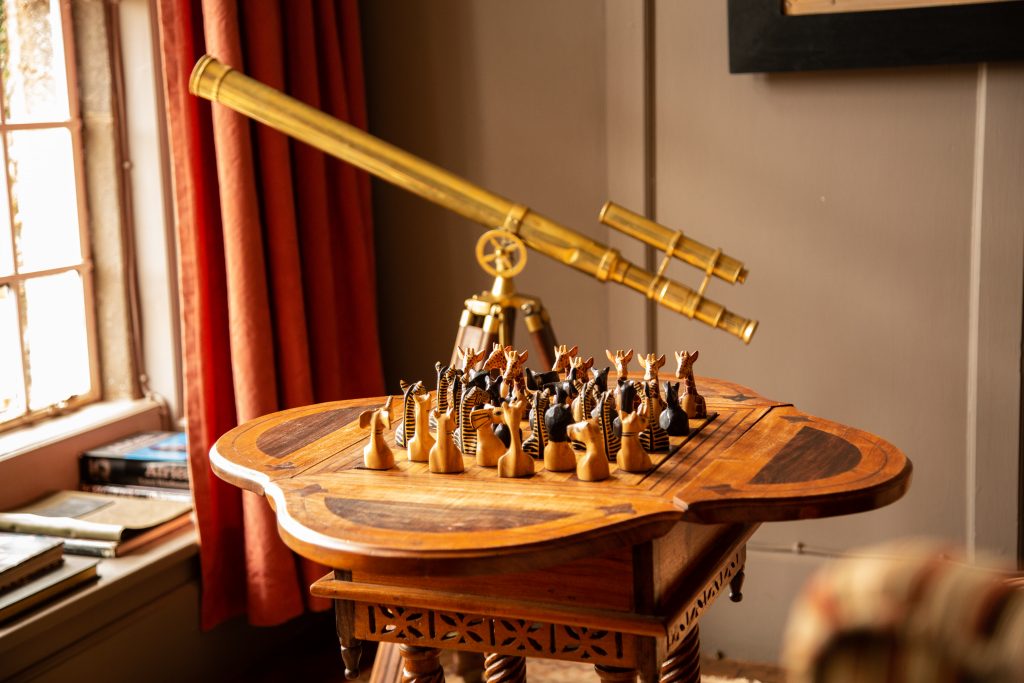 BUT If you're only staying one night at Giraffe Manor as I did, I would say to just take advantage of staying on the Giraffe Manor grounds and visiting the other places I mentioned on a separate day. If you're staying more than one night at the manor, though, these are options to keep in mind.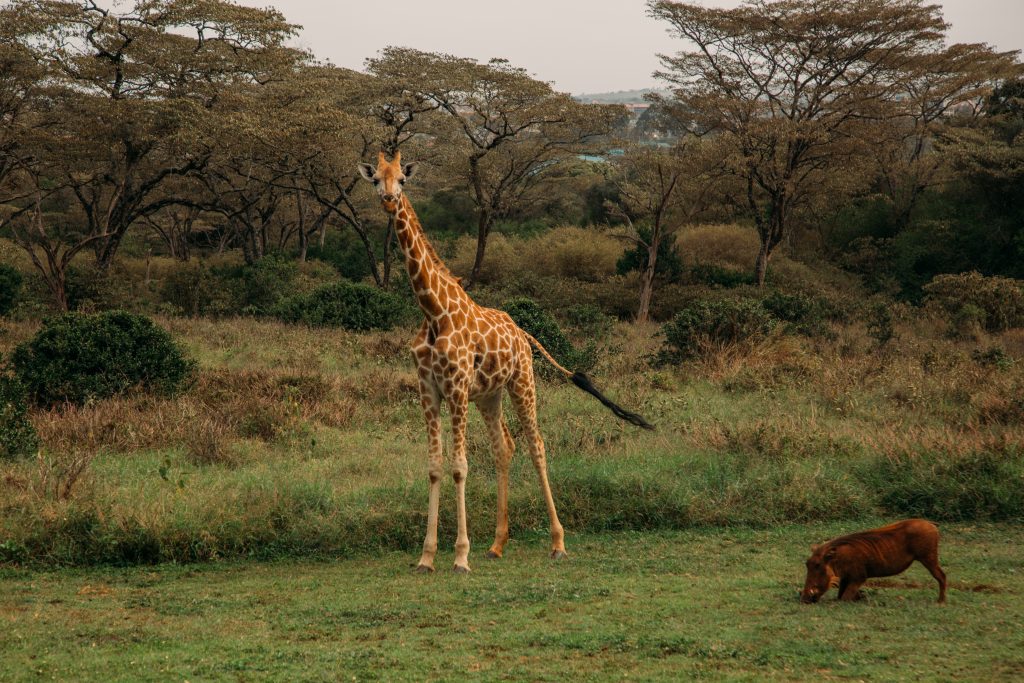 So we hung out around our room and watched the giraffes and warthogs, who also roam around here, and then walked over to the Giraffe Centre, which is on the same grounds as Giraffe Manor.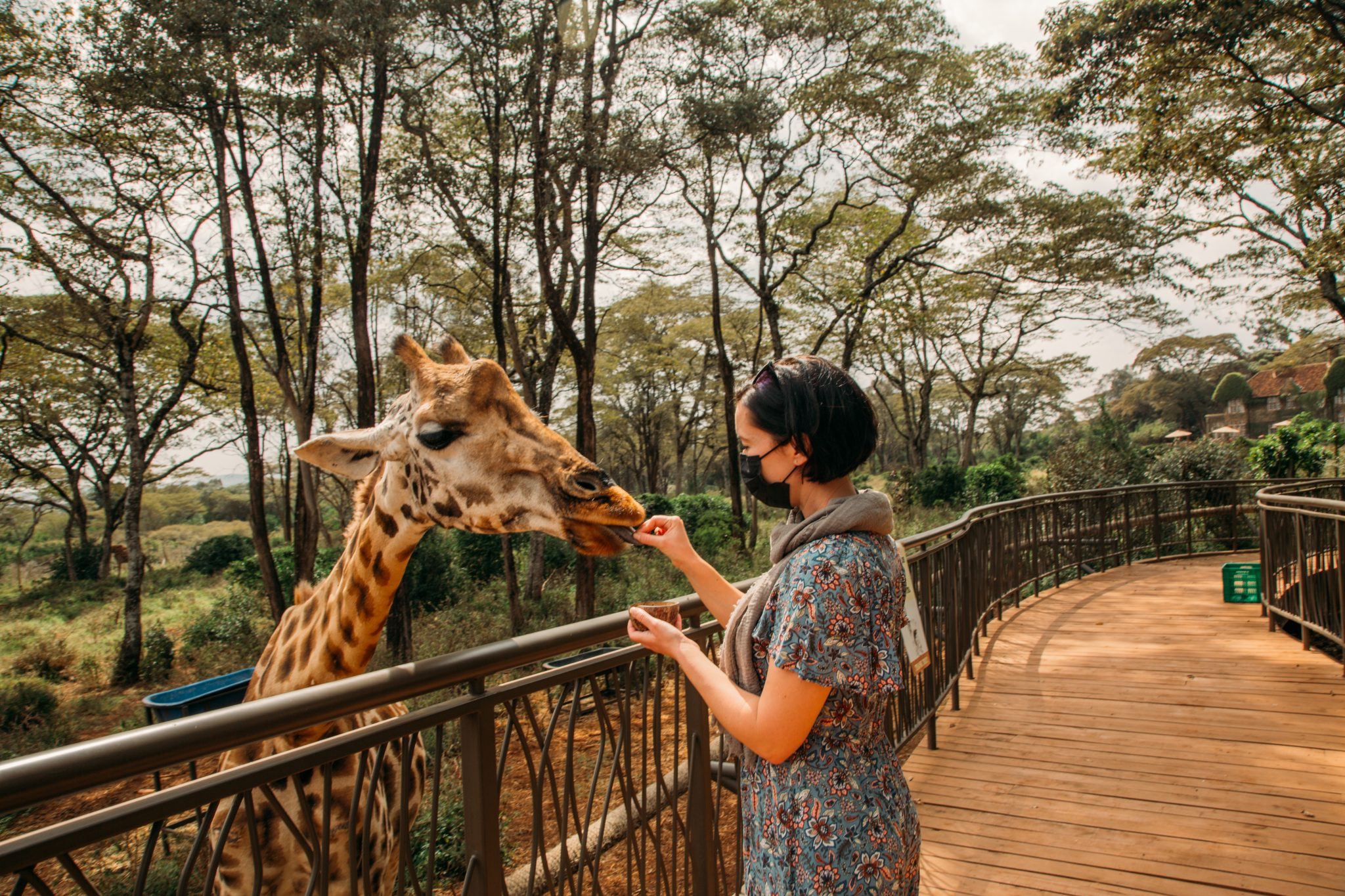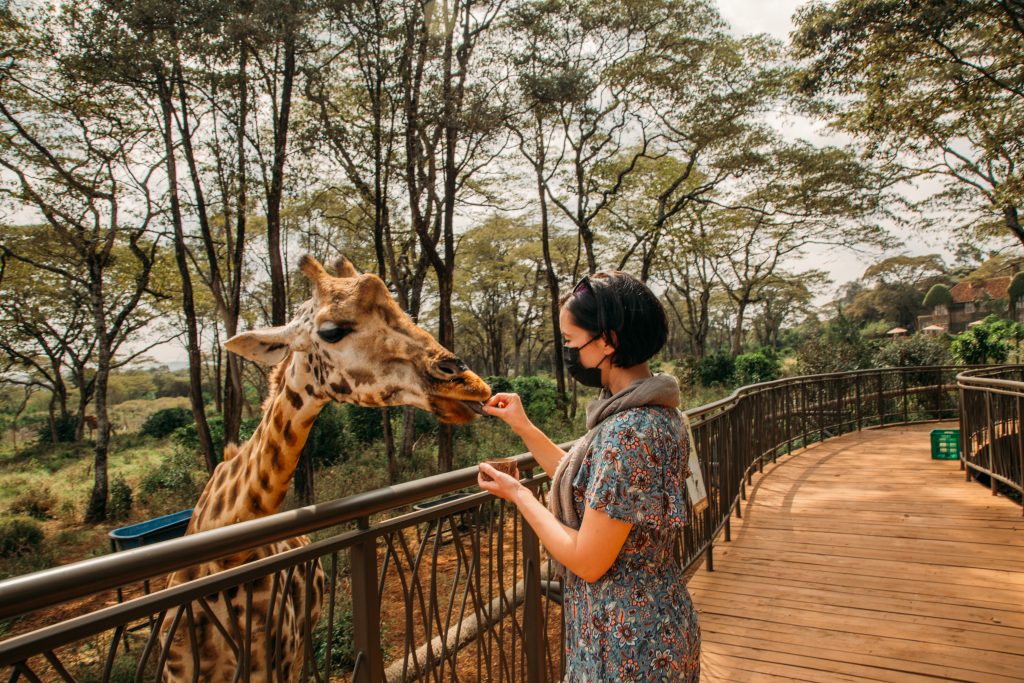 Visiting The Giraffe Centre – What to Know
The Giraffe Centre is open to the public from 9-5 .
You can also feed the giraffes here! It's free for Giraffe Manor guests to visit, otherwise it's $15 USD per person.
You don't need to book this in advance.
The Giraffe Centre is also a much cheaper alternative to Giraffe Manor – if you want to get up close and personal to giraffes but don't want to spend a bunch of money. You can even see the manor from Giraffe Centre.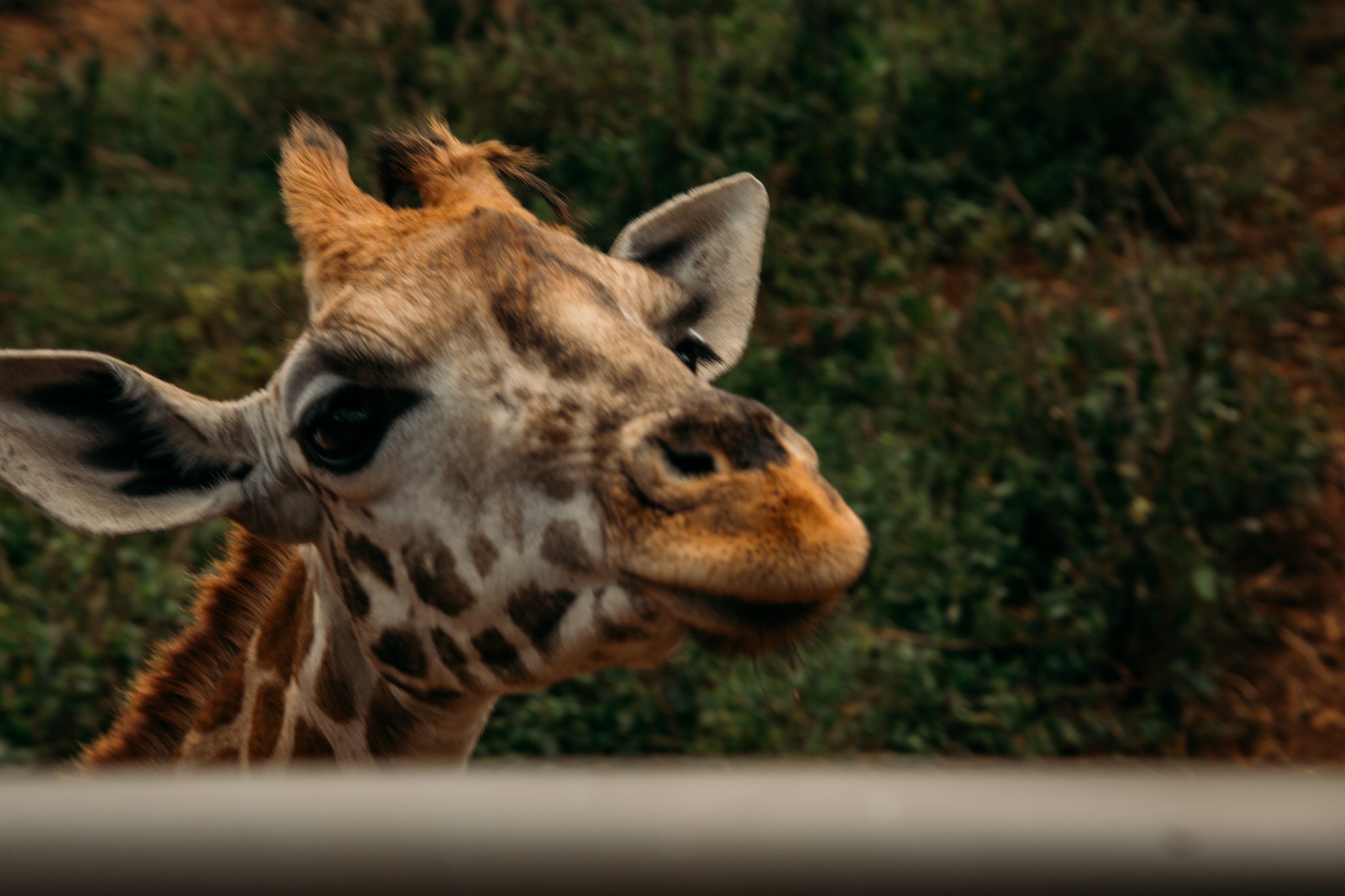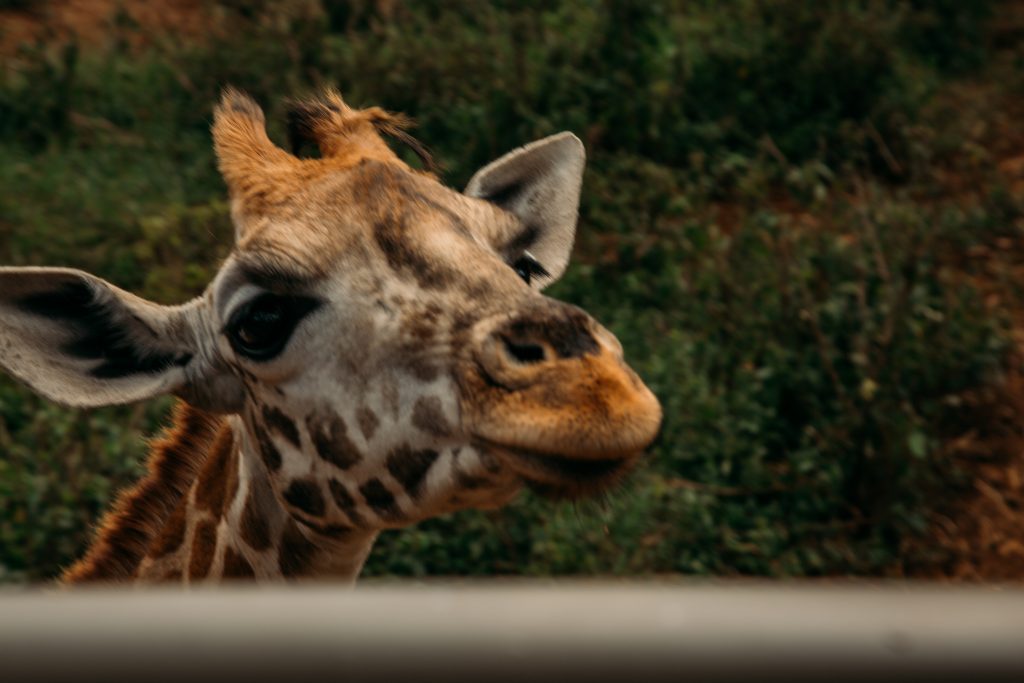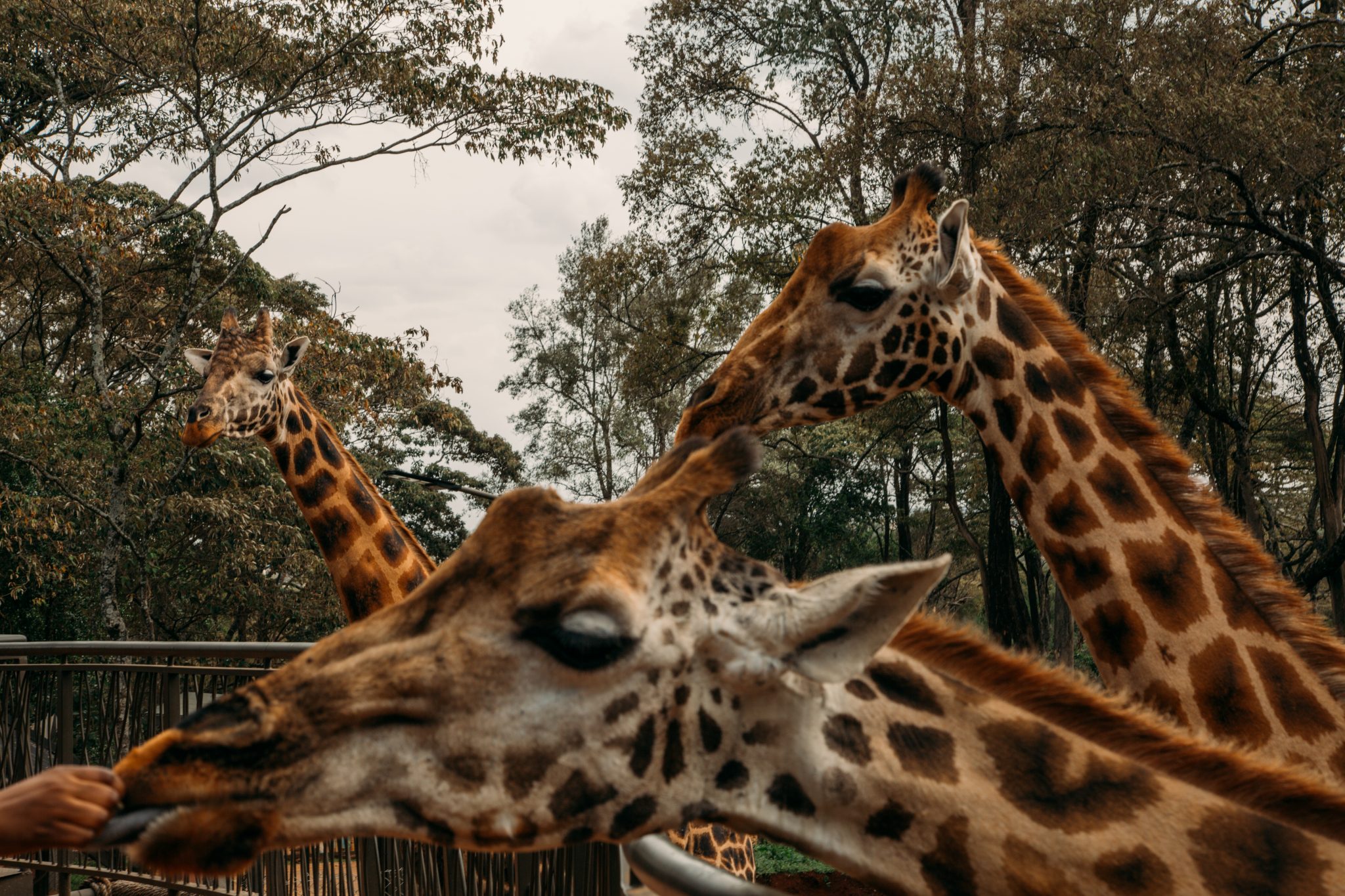 It's also worth noting, that because the giraffes are getting fed by the Giraffe Centre guests from, 9-5, they likely won't wander over to the Manor too much during this time.
The giraffes are entirely food motivated! If they're not getting their grass pellets, they want nothing to do with you!
Then when 5 o'clock rolls around, the giraffes are moving on over to the Manor after the Giraffe Centre closes. This is when you have "tea" with the giraffes.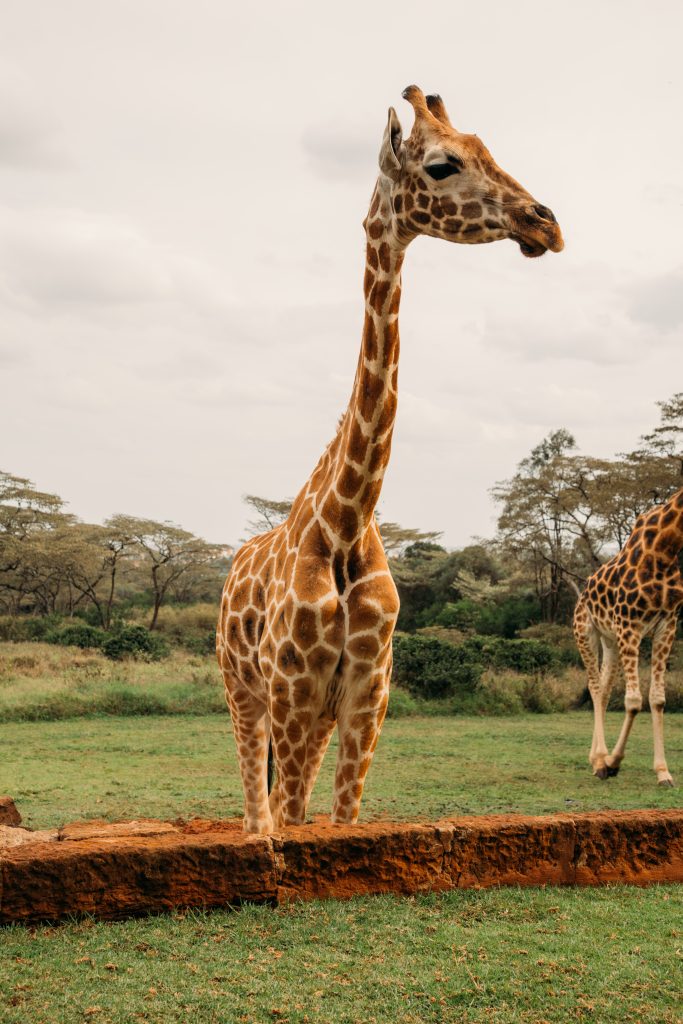 Tea Time With The Giraffes
You are served tea and cakes, and then you can get some fun photos with the giraffes. The staff has this whole photo thing down to a science now! They even have a swing now where you can swing and feed the giraffes – which is WAY harder than it looks I might add. See some of our fun photos from tea time in the gallery below!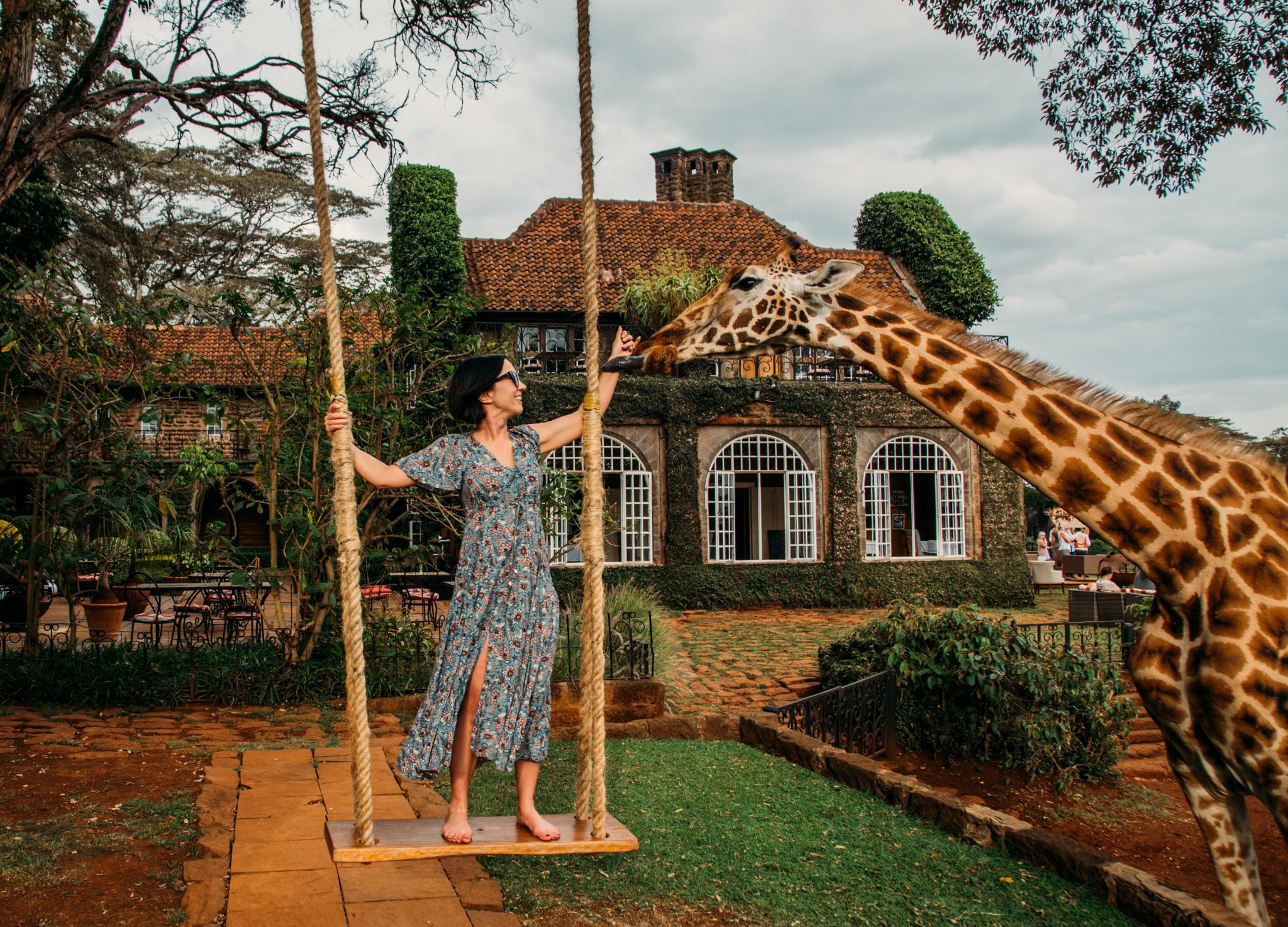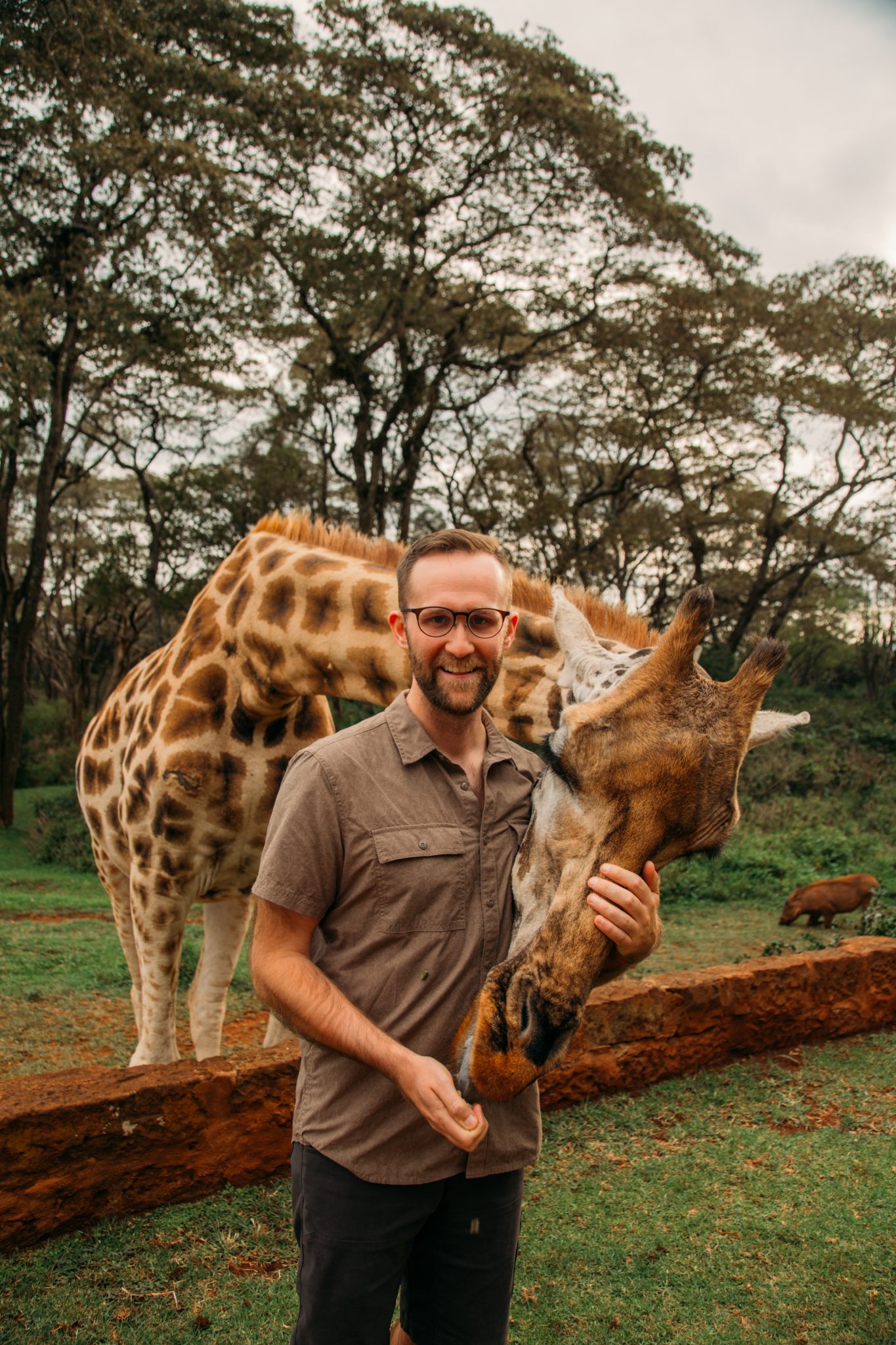 Tea time goes until about 6, and then you get ready for dinner which is at about 7:30 if I remember right. The giraffes then go across the road for the night to graze.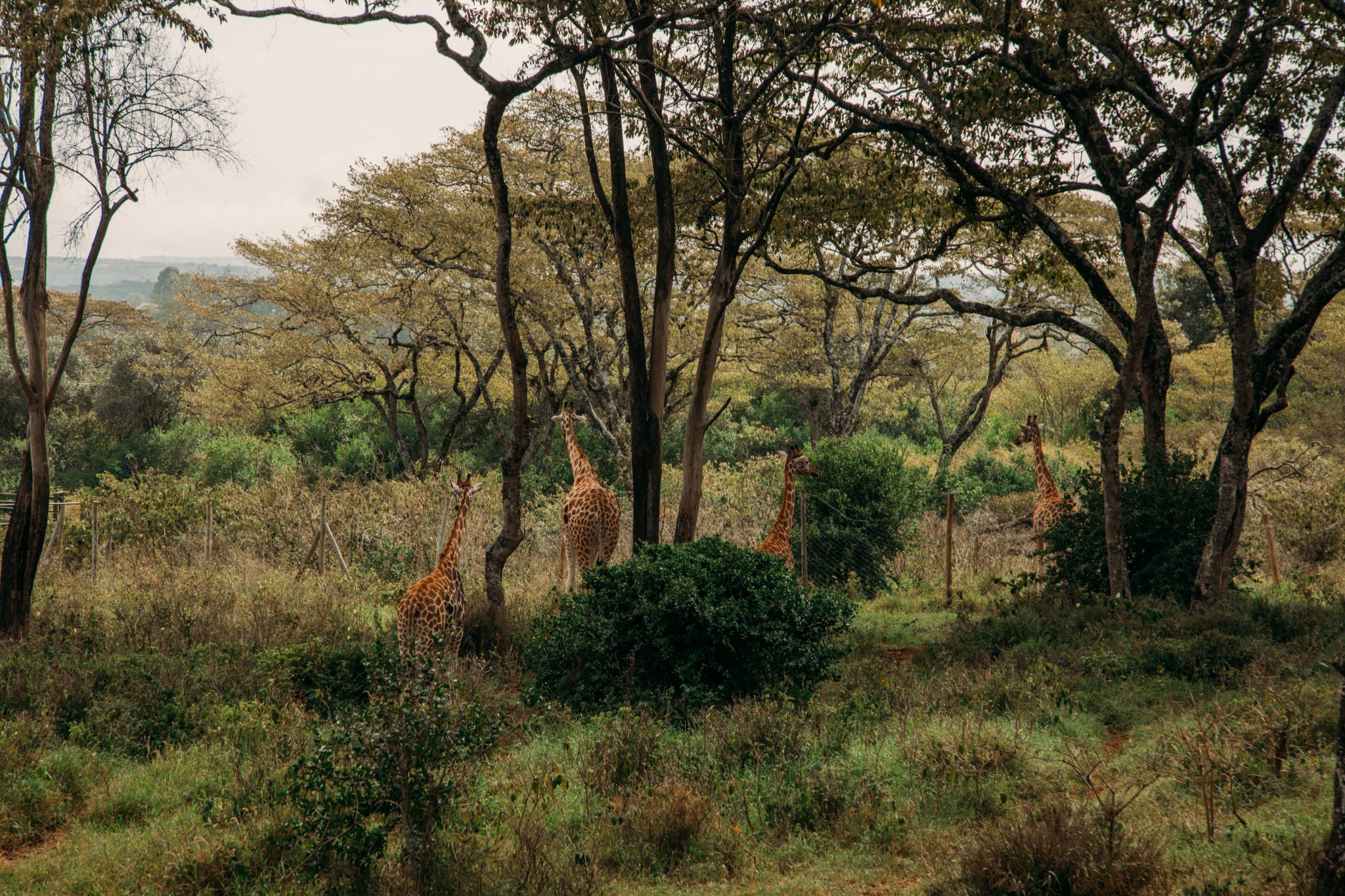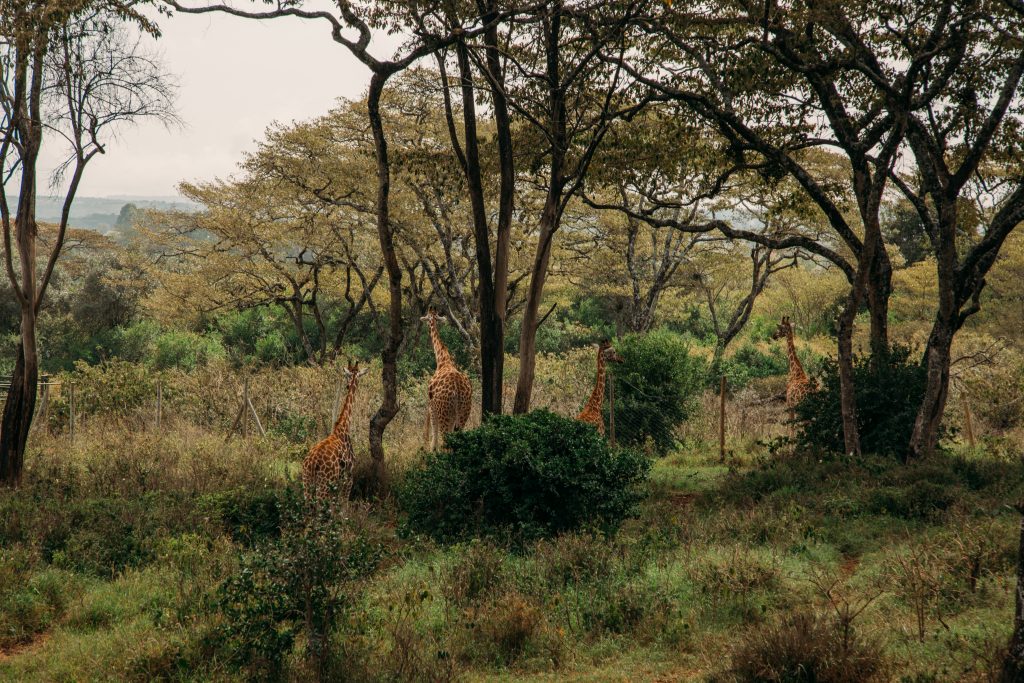 They do this because giraffes only sleep for 30 minutes a day, and the rest of that time is basically spent eating. So, If they stayed on the manor grounds for the entire day, they would strip the forest of leaves there in no time! So, they send them across the road to another forest at night.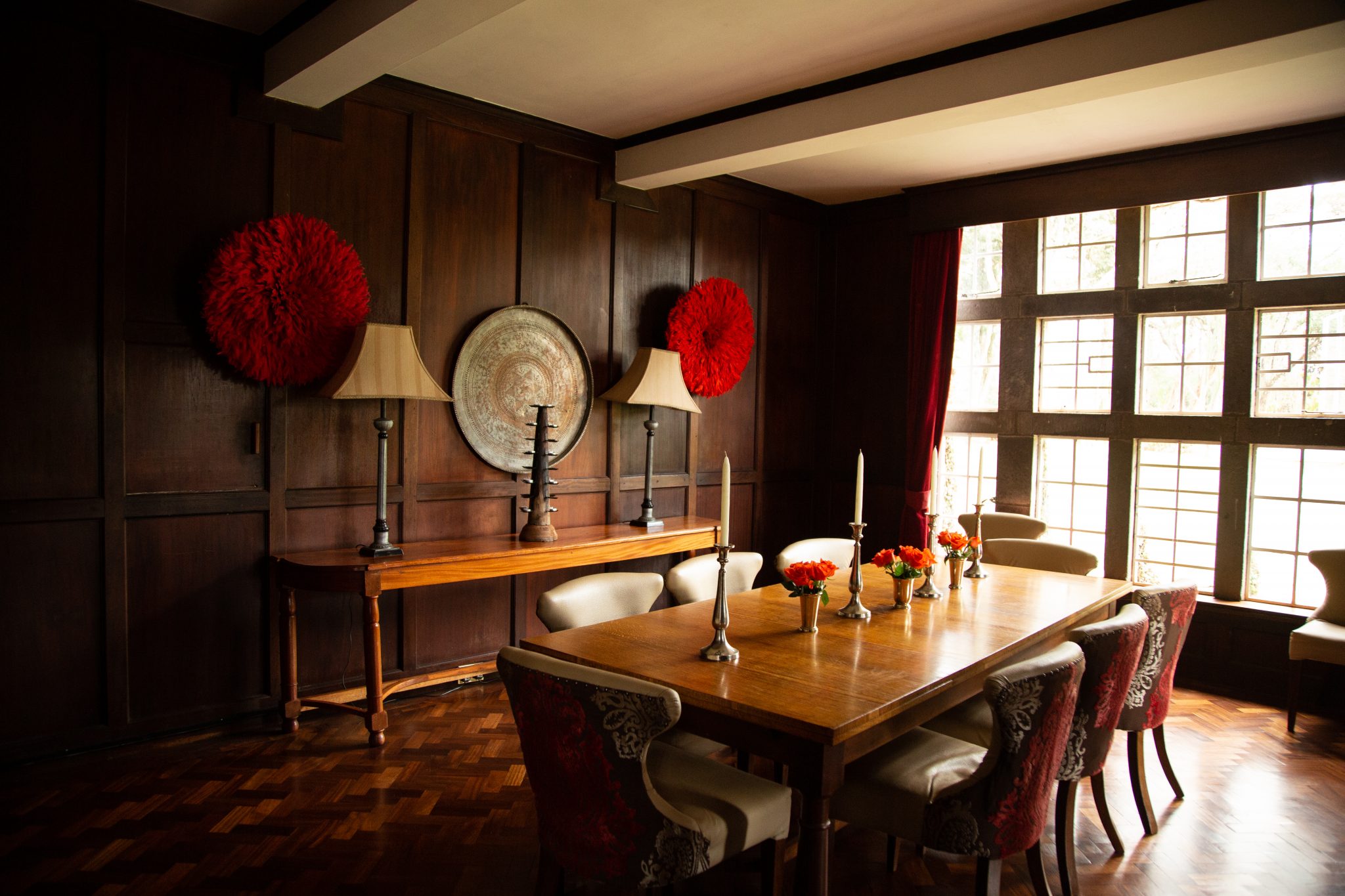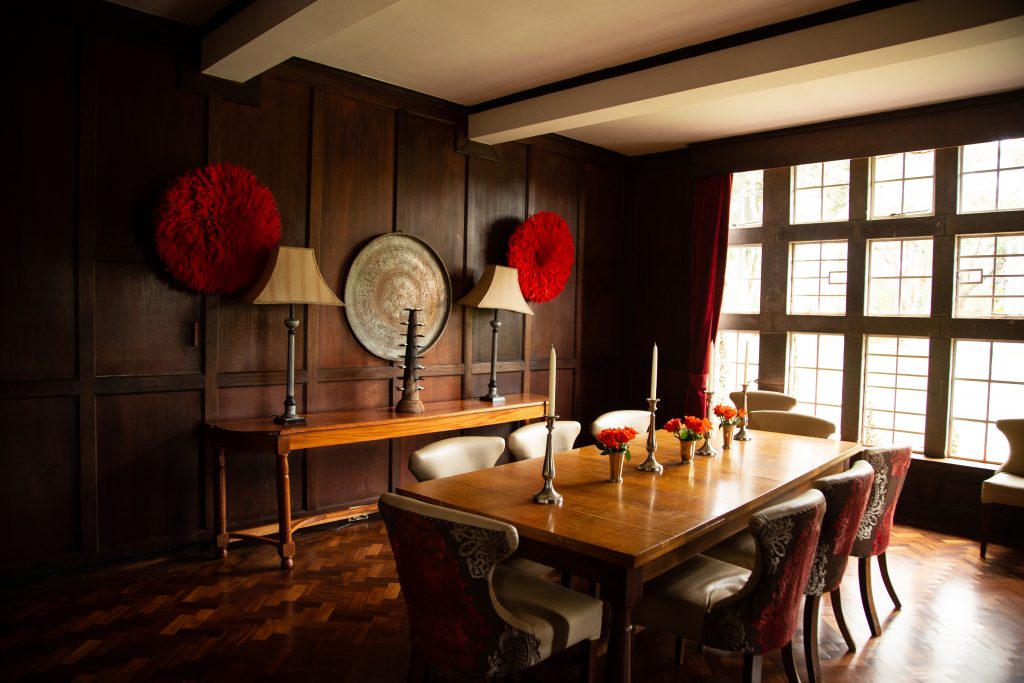 Dinner at Giraffe Manor
Then, for dinner, it will either be held in the beautiful courtyard again if the weather is nice, or you'll have dinner in the Garden Manor or the Main Manor. We had our dinner in the Garden Manor, and it was beautiful and the food was delicious! (You can see what this looked like in my YouTube video at the end of the post.)
I, then, would recommend going straight to bed after dinner. This is because the giraffes are going to come, and wake you up before 6 am looking for treats! They actually put a little treat bucket in your room for this very reason.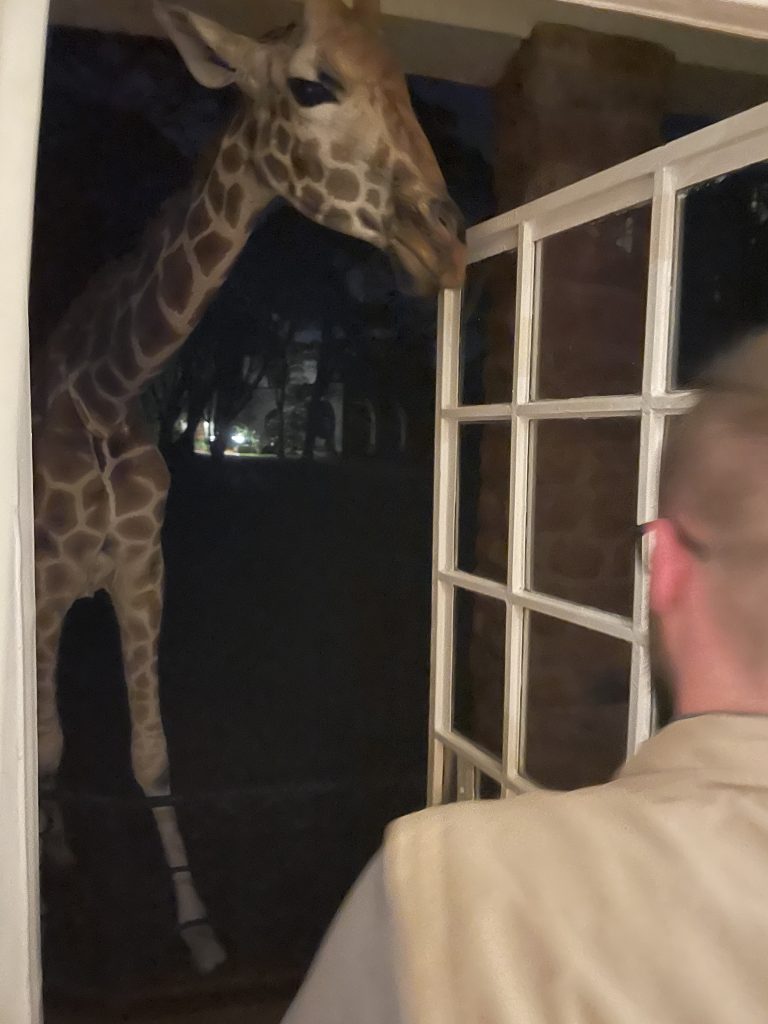 Giraffe Wake-up Call!!
It was about quarter to 6 am when one of the giraffes stuck its head through our open patio door looking for a treat. It was the coolest thing ever!! (Again, you can see this better in my YouTube video.)
Not all of the other rooms were up yet, so we had 3 giraffes at one point all looking for treats from our room. This was seriously my favorite part of staying here. It was so much fun to feed the giraffes right from our room!!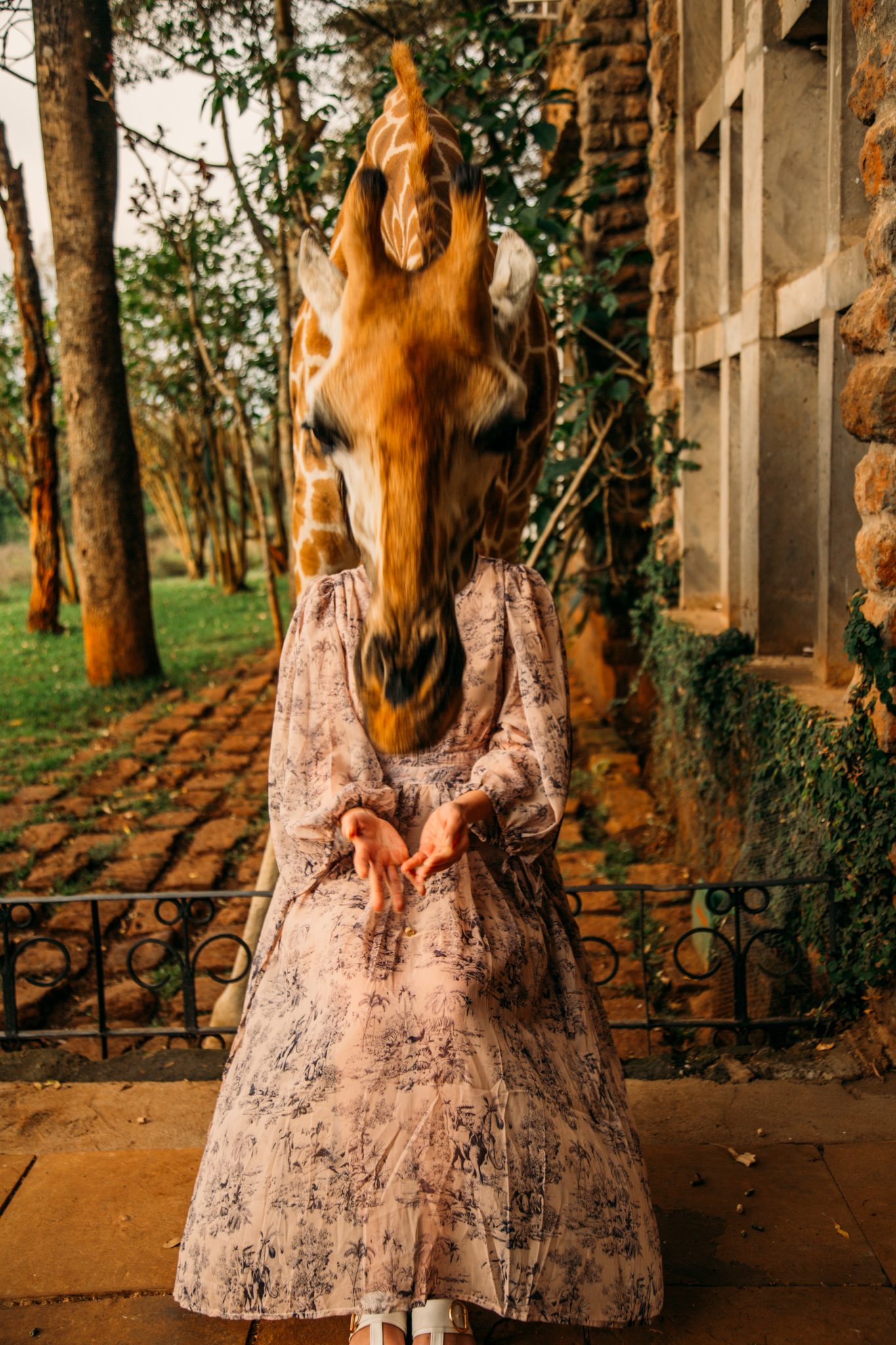 The Famous Giraffe Manor Breakfast – How it Works
Once you've used up your treat bucket… head down for that famous breakfast. I would say to be downstairs before 6:30 am if you'd like to grab a few more photos. (The photos above are ones we had snapped before breakfast started.)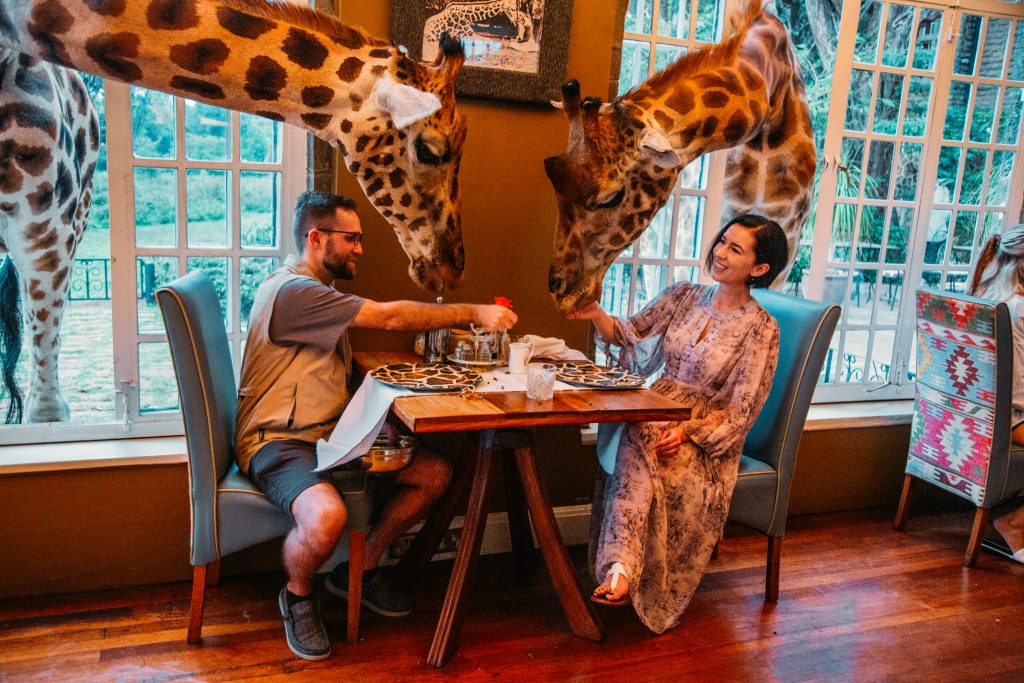 I want to point out, though, that that ONE table you see all of the Instagram photos of, is now just a table that is used for photos. No one was eating their human breakfast at that table when we were there. It was set up just for the giraffes to eat their breakfasts, and guests to take turns taking their photos. (This might vary depending on the day – but this was my experience.)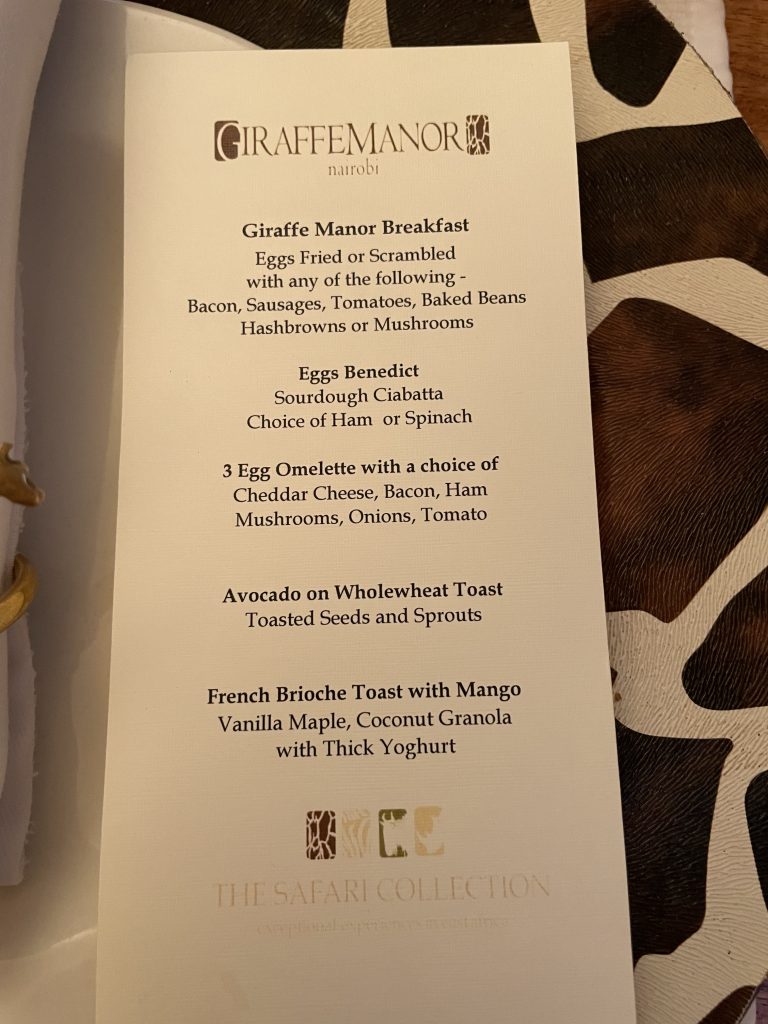 Then you'll eat your breakfast at another table. In the past, I think this was done differently, but now it's a little more of an organized affair and allows you to get that famous photo but also enjoy your human breakfast and watch the giraffes safely.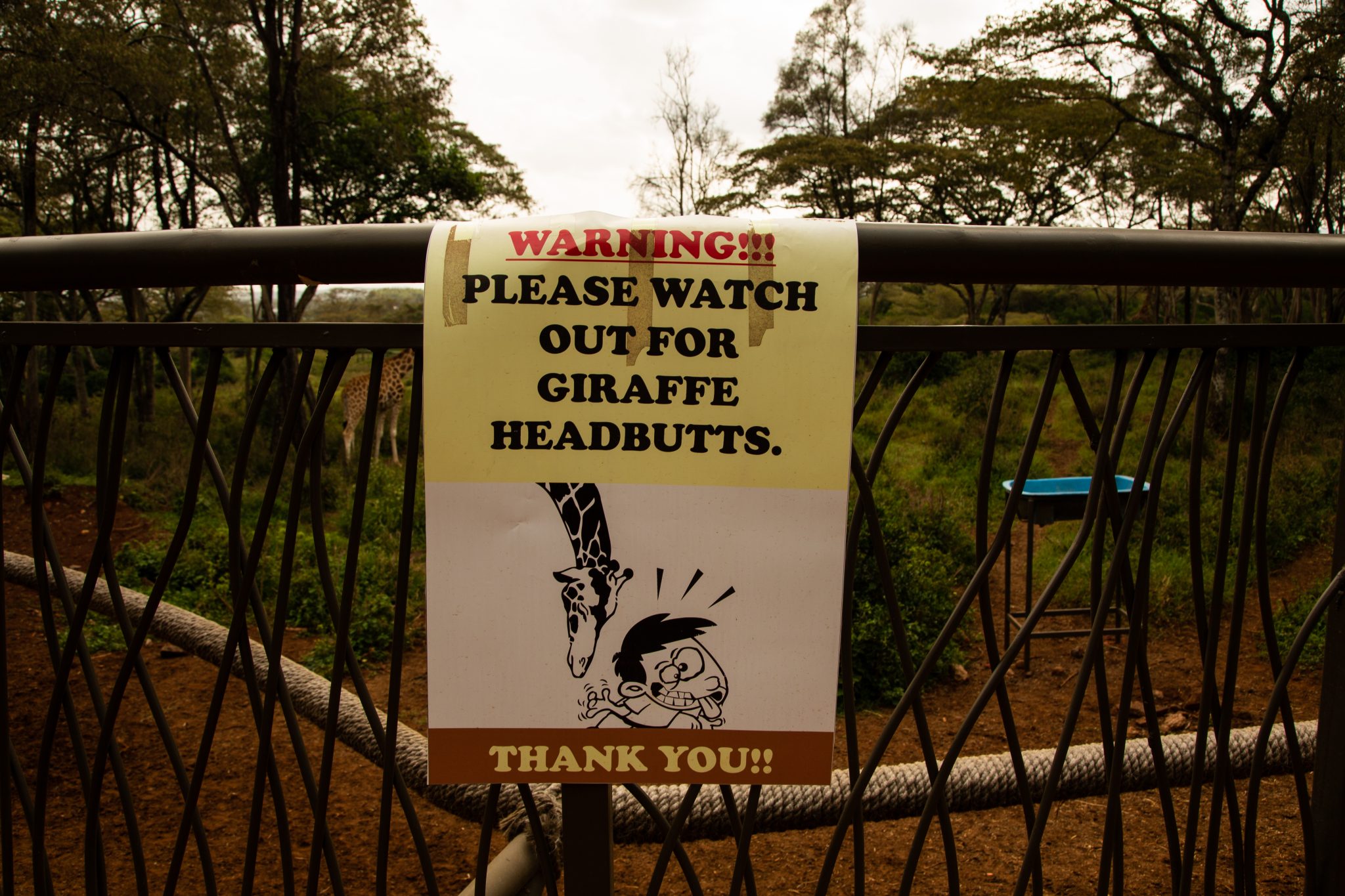 And I say watch them safely because there are a couple of giraffes who, if they are not constantly getting treats, seem to enjoy headbutting the guests! And they have very strong necks. So, always be aware of where the giraffes are and listen to the staff.
Then, you check out at 10 am and Giraffe Manor will take you wherever you want to go within the Nairobi area. We had our safari flight to catch at 10 am from Wilson airport, so that's where they took us. The driver helped us with our bags through security and even checked us in with the airline when we got there – which I thought was really nice.
How Much Does Giraffe Manor Cost?
Now, the moment you're all been waiting for – how much does Giraffe Manor cost, and is it ACTUALLY WORTH IT?
To stay at Giraffe Manor currently costs $965 per person per night. So, for 2 adults were talking $2,000 a night. And that is the CHEAPEST room rate. You can also spend more if you would like to stay in a family suite.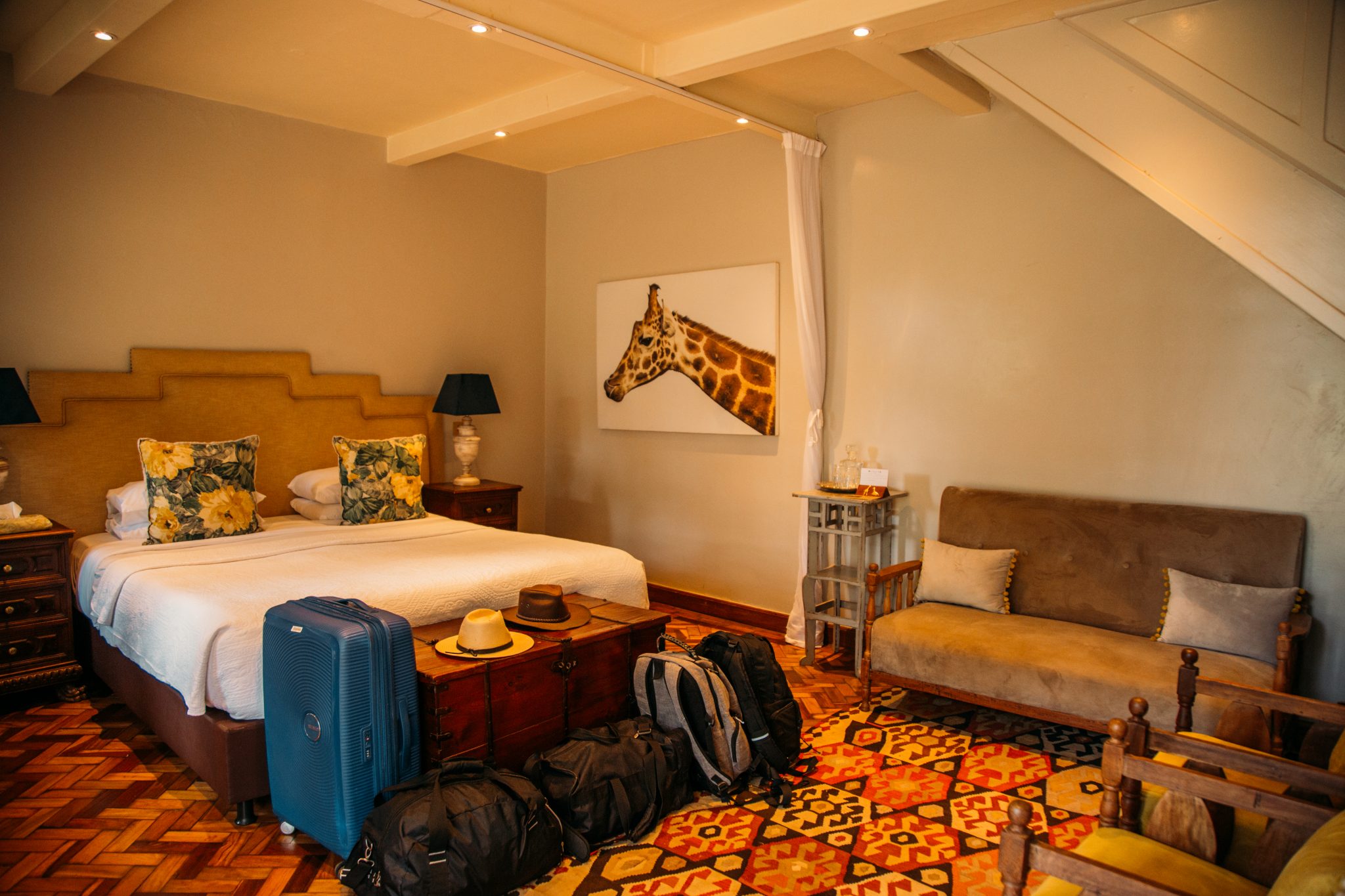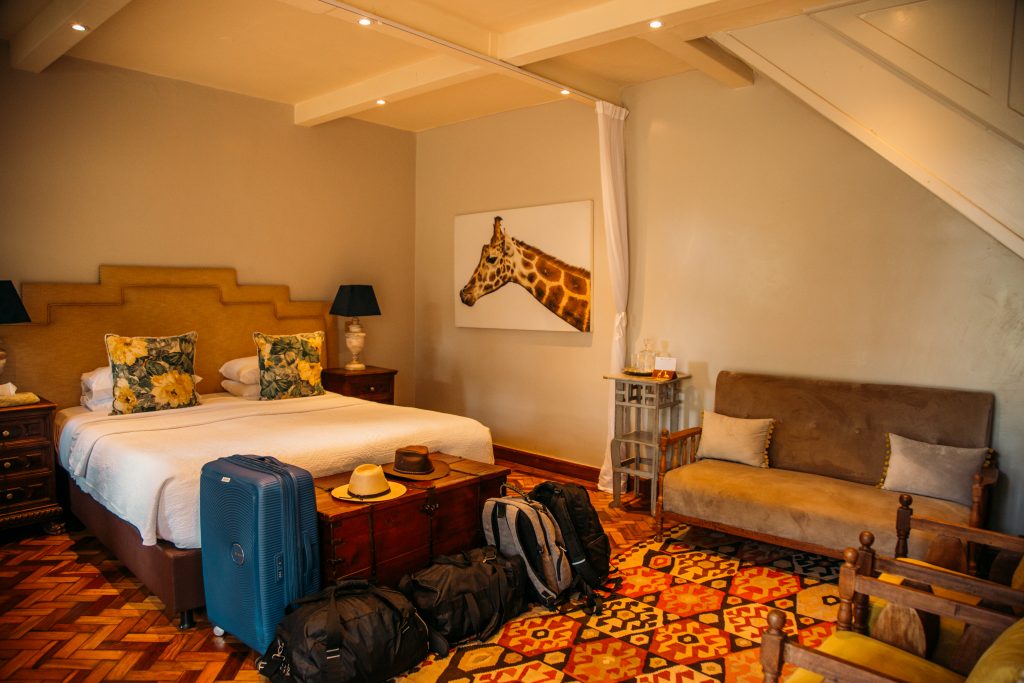 Is Giraffe Manor Worth it?
For me, YES. I honestly thought it was worth the price tag. This was because it went beyond just being another Instagram photo op. This was a luxurious experience from start to finish and it was AMAZING to get to be this close to the giraffes in a private setting.
I had been worried that this was just going to be a bunch of people trying to get that perfect Instagram photo, and it would just be a blood bath to even get close to a giraffe (you know, like my experience in Cappadocia or at the Pyramids of Giza). But that was NOT the case at all here.
Please note: I am NOT sponsored by Giraffe Manor.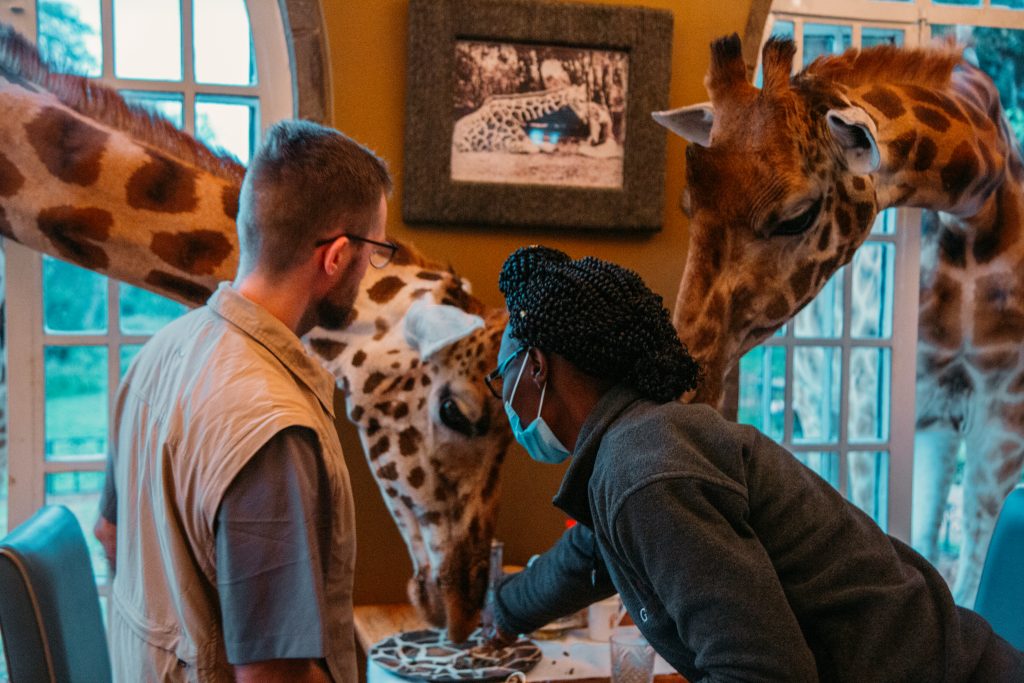 The staff knew how to keep everyone moving and ensure everyone got a good photo and got to actually enjoy their time with the giraffes. Having the giraffes come to your room in the morning was SO cool too. Plus, the service was PHENOMENAL. They really went above and beyond here to make your stay luxurious. Each room also has a dedicated butler to help with anything you might need while you're here. It's awesome! I mean, they even do your laundry for you here!
This is one experience that I had built up in my mind over the last decade, that I honestly didn't think would live up to the expectations I had built up. However, Giraffe Manor actually exceeded my expectations. That has never happened with past travel experiences I have built up this much! So yes, I say it is worth it.
Q&A About Giraffe Manor
Now, I've also gotten quite a few questions about Giraffe Manor from friends and people on social media, that I thought would be helpful to answer here. These are a few of the most common questions I got…
Was the food at Giraffe Manor actually good? And what if you're vegan?
I thought the food at Giraffe Manor was great. Lunch and dinner are each 3 courses and I thought everything was really good. They can accommodate different dietary restrictions too – it's good to note this when you make your booking, though, and they can be prepared for you. I also want to reiterate that the Giraffe Manor is an all-inclusive stay, meaning all your food is included in your booking price.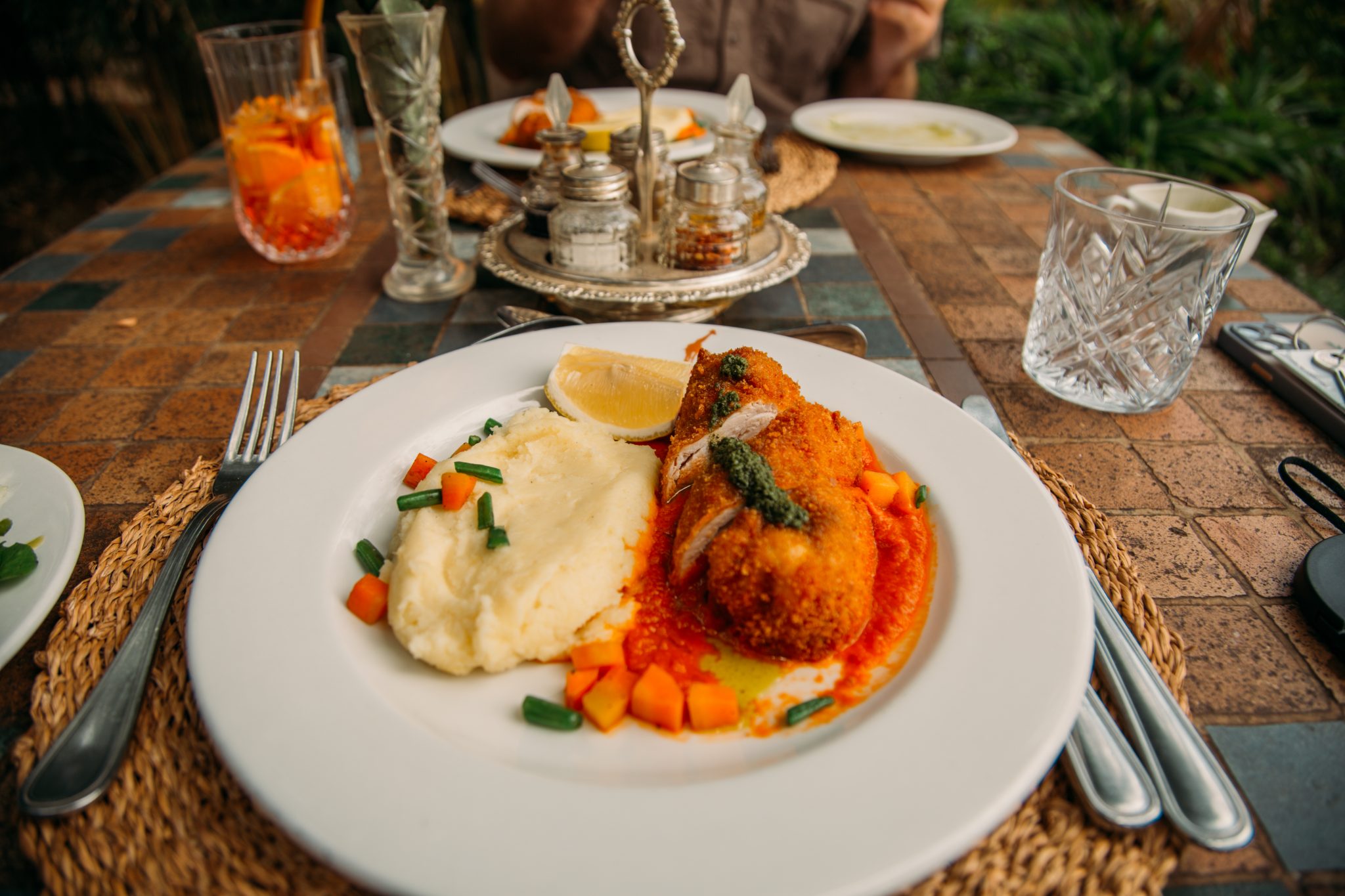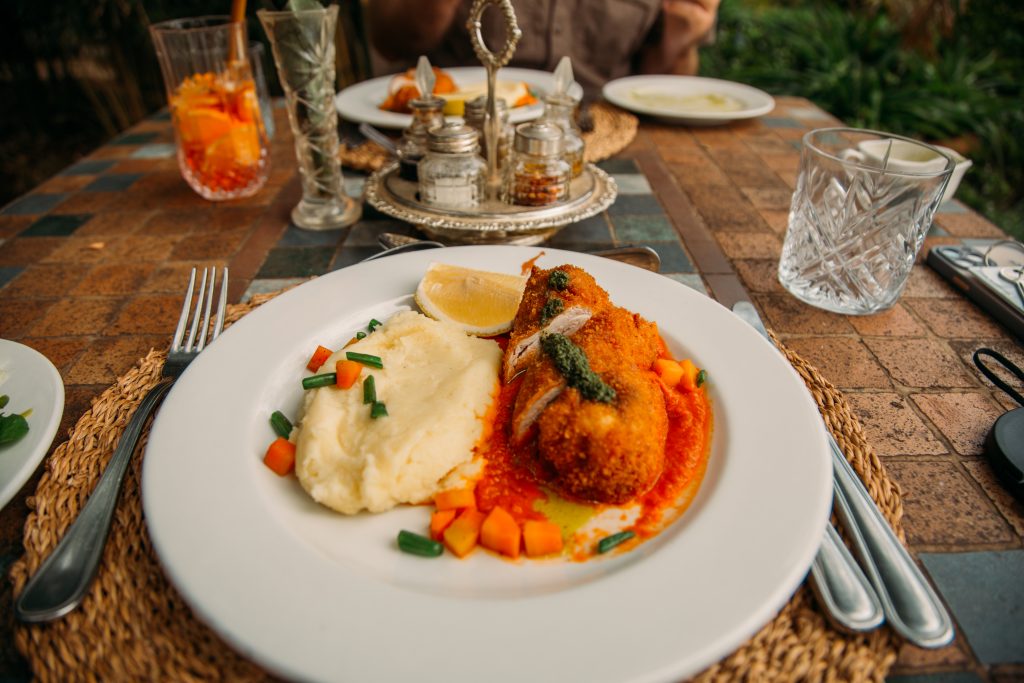 What about alcohol at Giraffe manor, is it actually included in the price?
So, house wines, beers, spirits, and non-alcoholic options are all included, and you can have as much as you want. We had some mocktails while we were here that we really liked, and I had some house wine with dinner that I thought was great. HOWEVER, champagne, luxury spirits, and select wines are not included. So, if you want champagne or top shelf, that's going to cost extra.
Which room should you book at Giraffe Manor? And is there a 'bad' room?
I wouldn't say there is a "bad" room to stay at in Giraffe Manor. There are some things to note, though: rooms are all different sizes because this is a manor and wasn't initially built to be a hotel. So, some rooms will be smaller than others.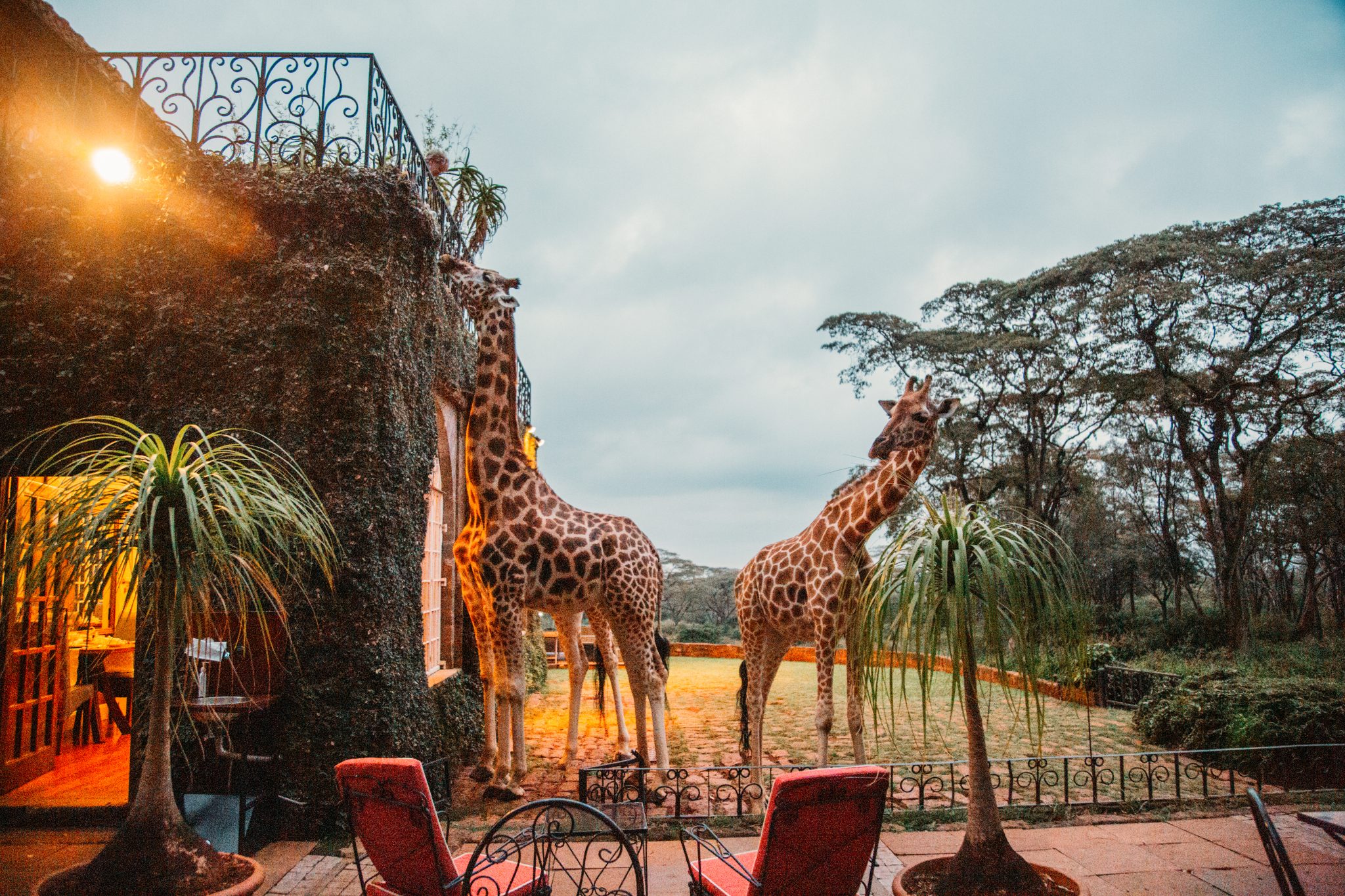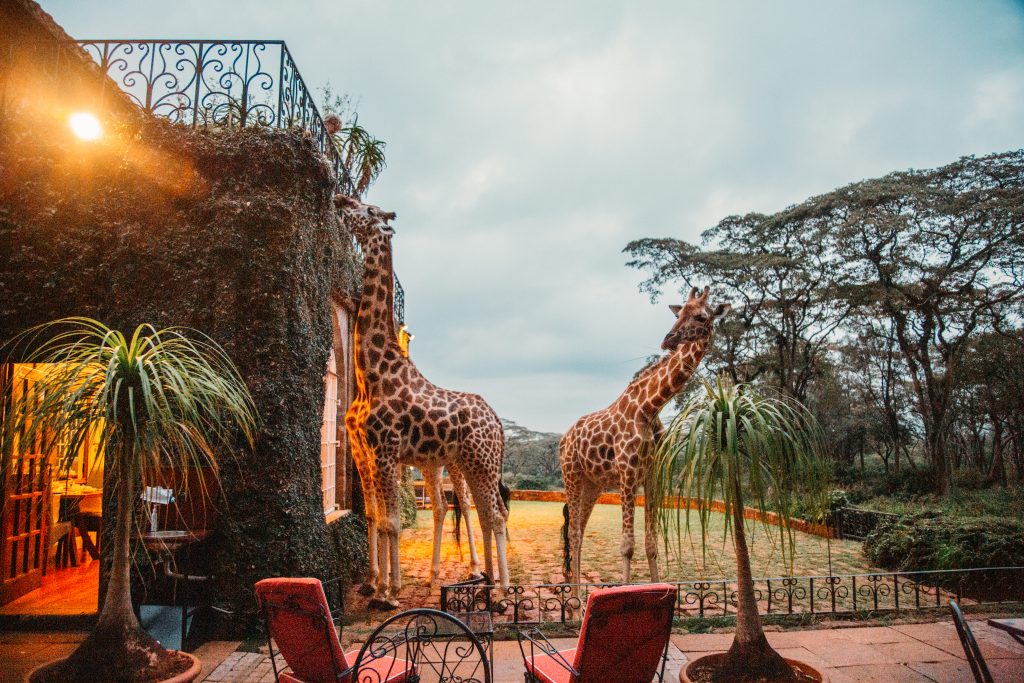 Not all the rooms have a balcony either, which some people really want a balcony. Just check this and ask questions before you make your booking. All of the rooms will get the giraffe wake-up call, regardless of whether they have a balcony or not though. In the rooms that don't have balconies, the giraffes will just stick their heads through your open windows – as they did with our room! Which, I, personally, thought was cooler anyway.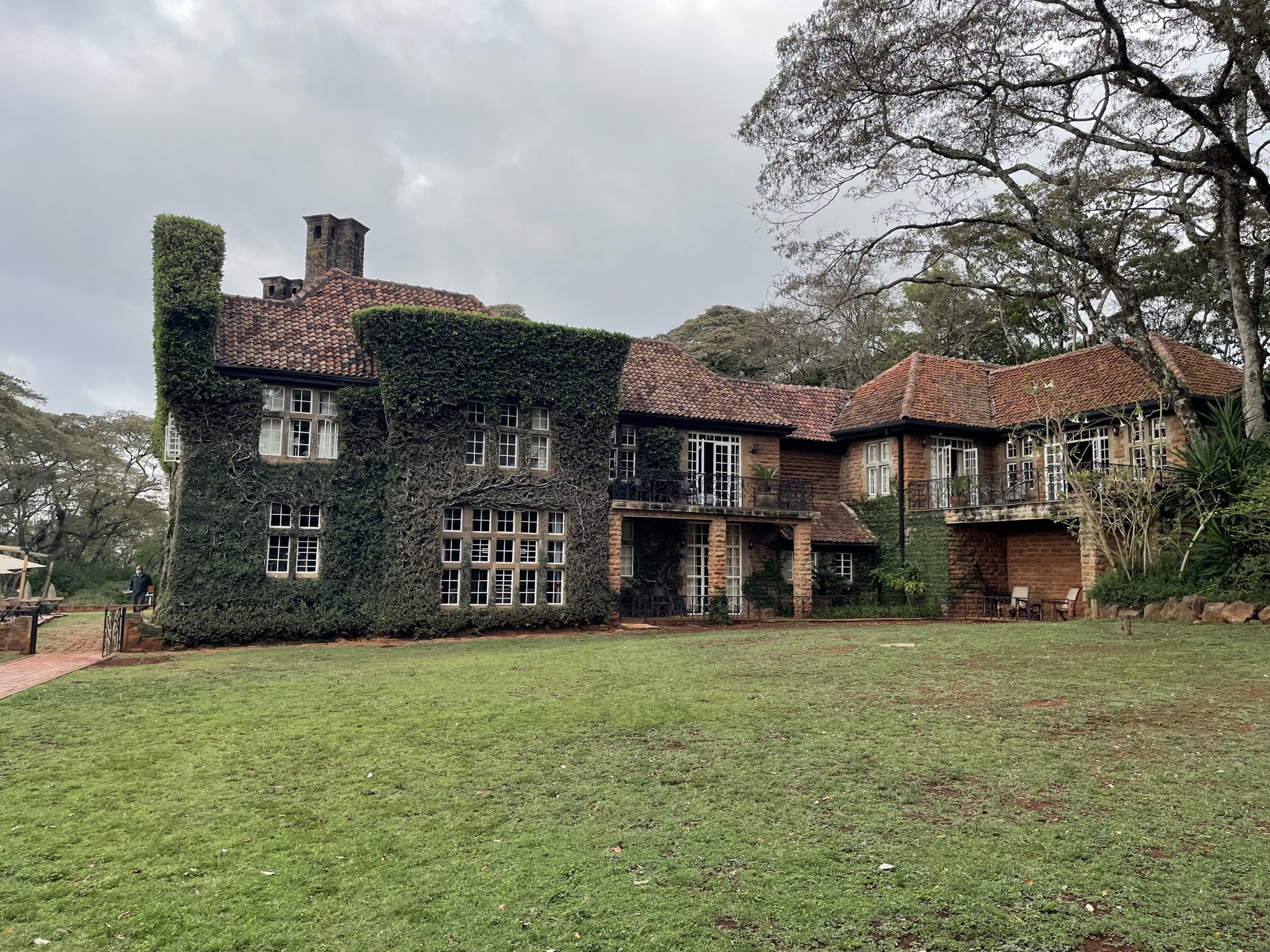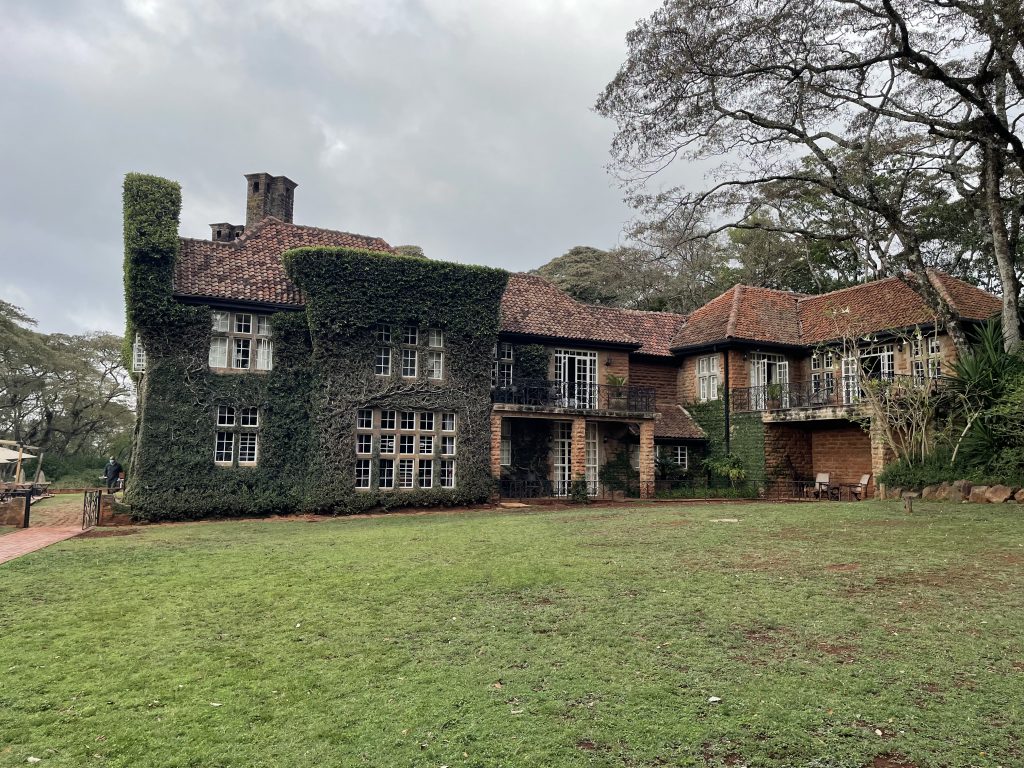 Can you visit Giraffe Manor without staying there?
NO. You have to book a stay at Giraffe Manor to actually experience The Manor and the famous Giraffe Manor breakfast. This is to ensure guests paying top dollar have that private experience with the giraffes here. As I mentioned above, if you don't want to stay at Giraffe Manor but still want to be up close and personal to giraffes – head to the Giraffe Centre next door.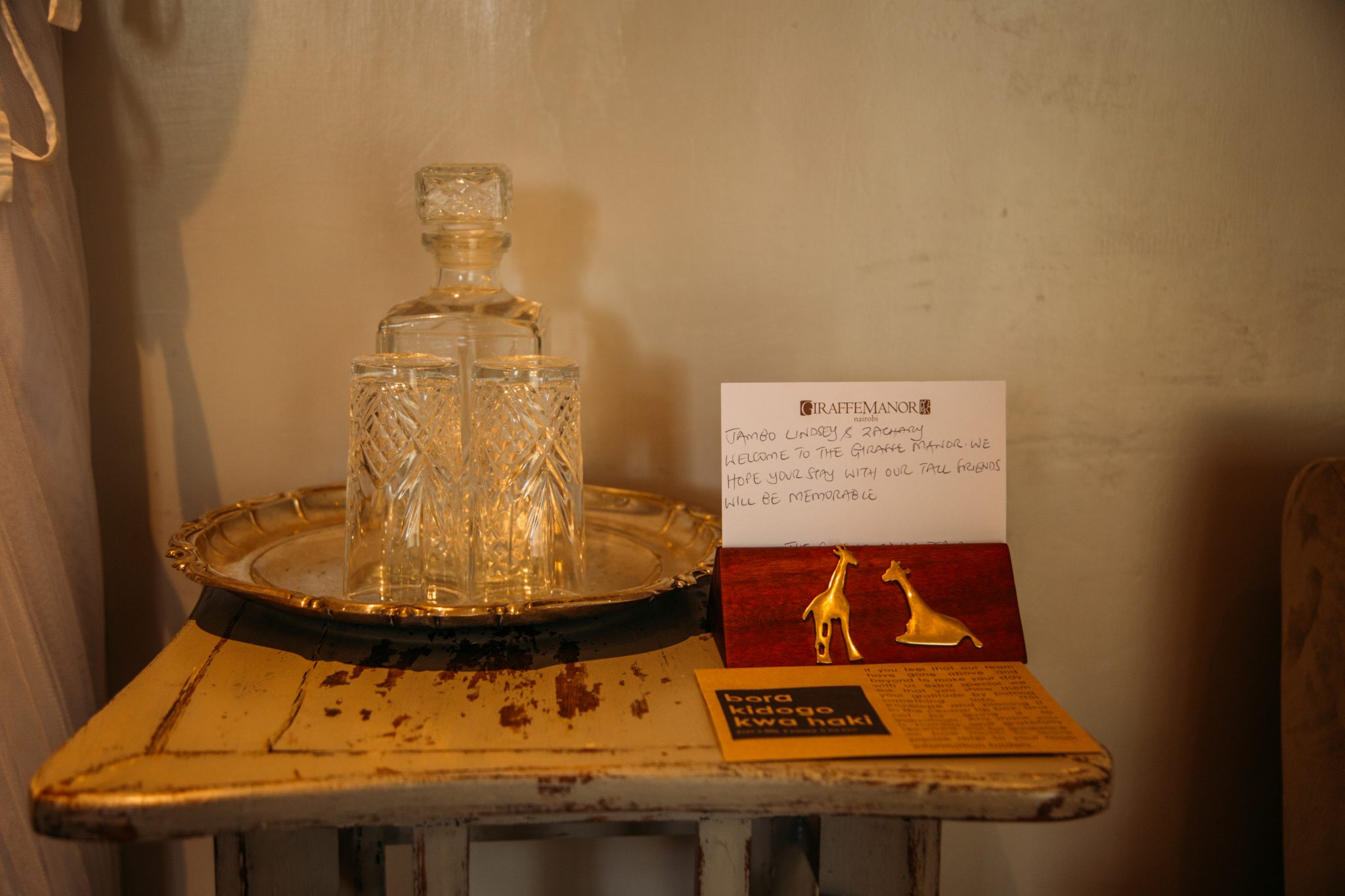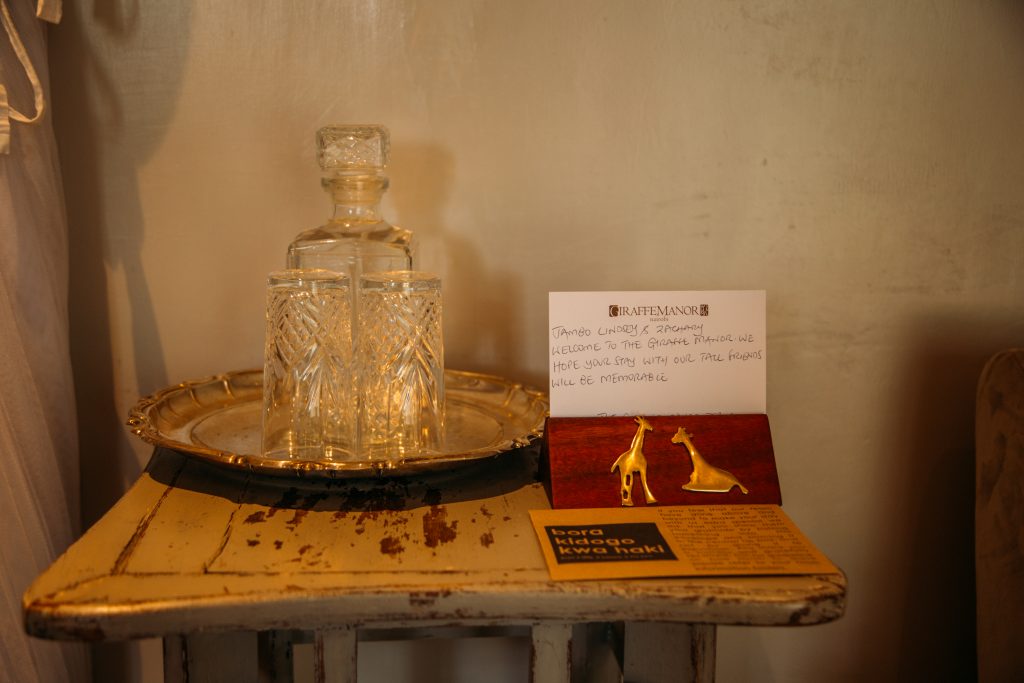 Do you tip the staff?
Yes! Tip the staff – they are amazing! There is an envelope in your room that you can leave a lump tip for all the staff who helped you during your stay. So you don't have to worry about tipping each person as they are helping you. Then, there's a tip box in the main area of the manor where you can leave your envelope at the end of your stay.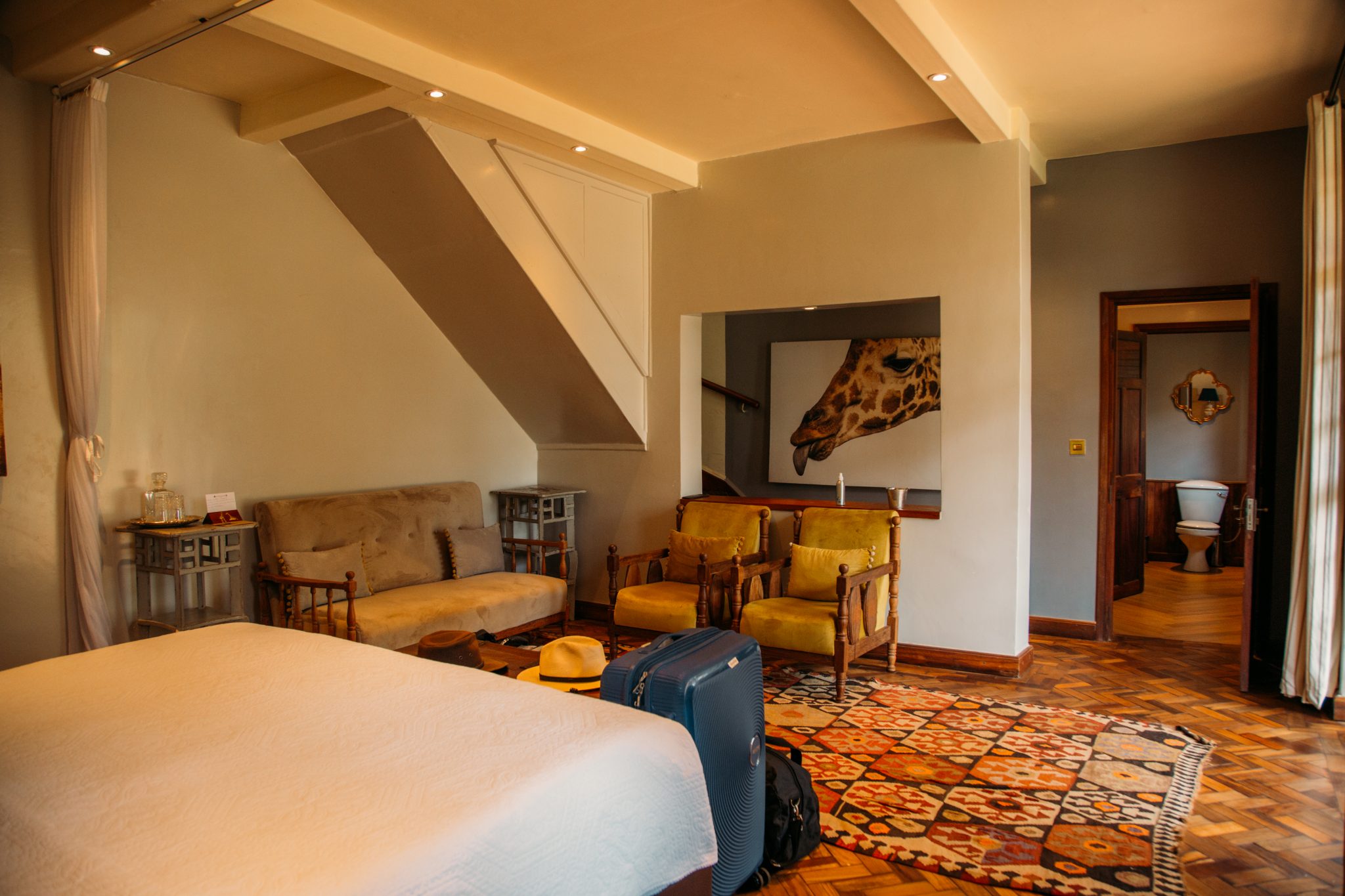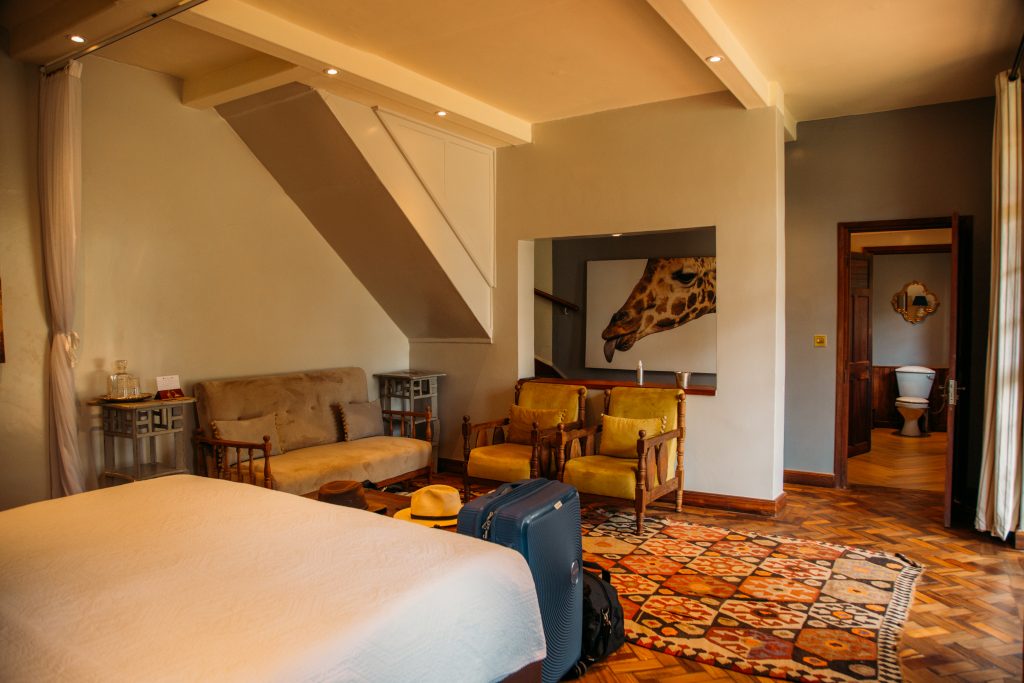 Were there any negatives to staying at Giraffe Manor?
Um, our bed was pretty uncomfortable. The room was also stuffy, because there is no air conditioner or fan in here, and February is pretty warm in Kenya. So, my husband and I didn't really sleep well when we were here. That was really our only negative experience though.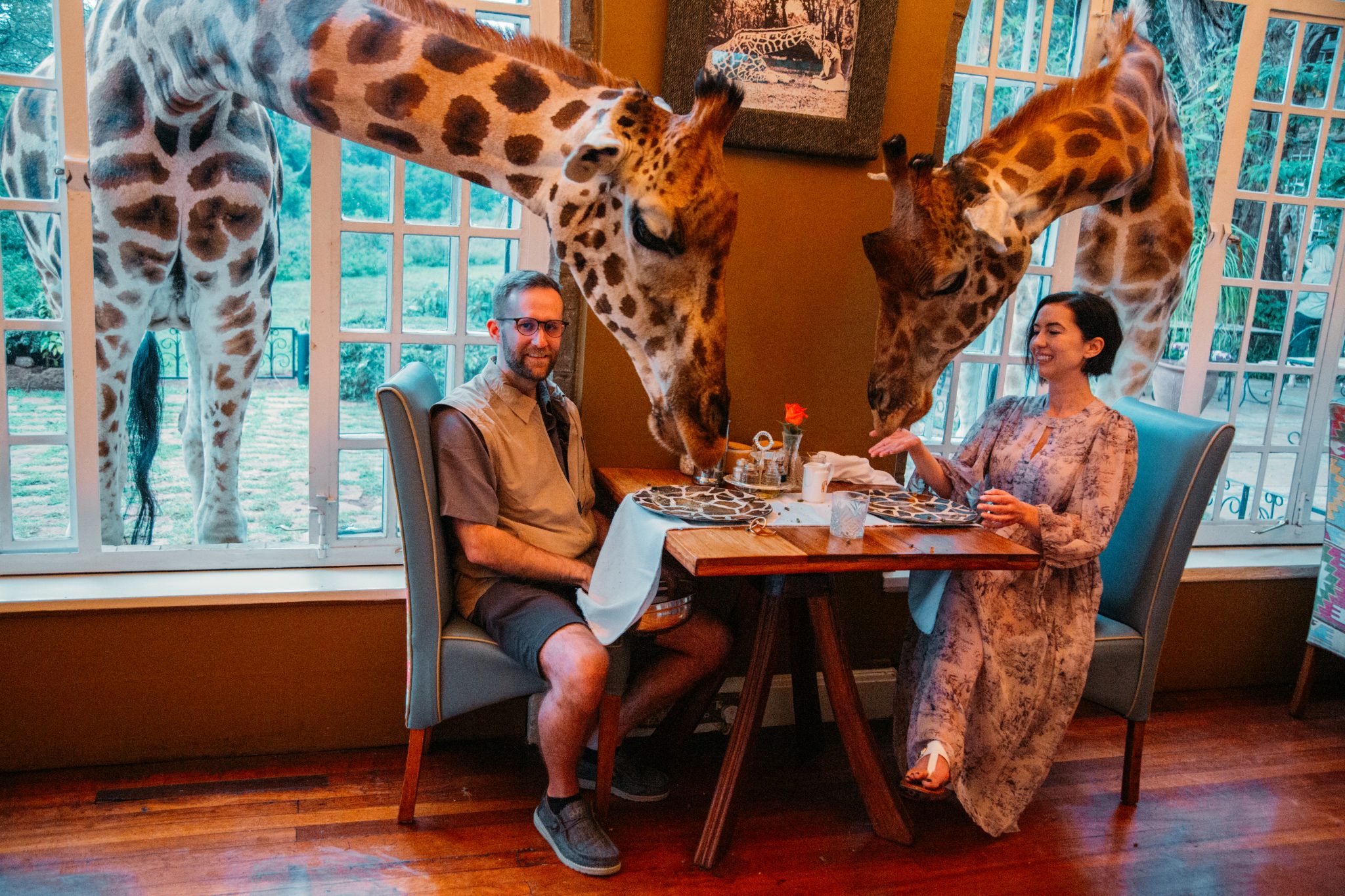 How many nights should you stay at Giraffe Manor? Is one night at Giraffe Manor enough?
I thought one night was the perfect amount of time to spend at Giraffe Manor as long as you are arriving at check-in, and then leaving closer to check out time, so you can really maximize your time spent at the manor.
I would say you would only need to stay here longer if you wanted to enjoy the luxury amenities at Giraffe Manor a little more.
What should you wear to Giraffe Manor?
Really, you can wear whatever you want. Some folks were in their safari clothes (like my husband), T-shirts and shorts, and some were wearing dresses. There isn't a dress code here and it is totally up to you. I like wearing dresses, especially flowy maxi dresses because they photograph well. I linked to our outfits below.
My Giraffe Manor outfit for breakfast
Bottom Line:
Giraffe Manor is absolutely worth it, in my opinion. This was a bucket list experience that 100% lived up to the hype. I would return in a heartbeat!! Just be sure to book as far in advance as possible to ensure you get a room.
Need help planning a trip to Kenya? I personally use and recommend Go2Africa travel experts!
Thank you so much for reading my Giraffe Manor Review! If anyone has any questions at all, please feel free to reach out in the comments section at the end of this post.
WATCH MY GIRAFFE MANOR YOUTUBE VIDEO!
Learn more about Giraffe Manor + see some cute giraffe footage!