Sheldrick Wildlife Trust Visit in Nairobi, Kenya – What to Know Before You Go
Today's post is sharing everything you need to know for planning a visit to the Sheldrick Wildlife Trust Elephant Orphanage in Nairobi, Kenya, as well as how you can help this wonderful charity, even if you aren't traveling to Nairobi.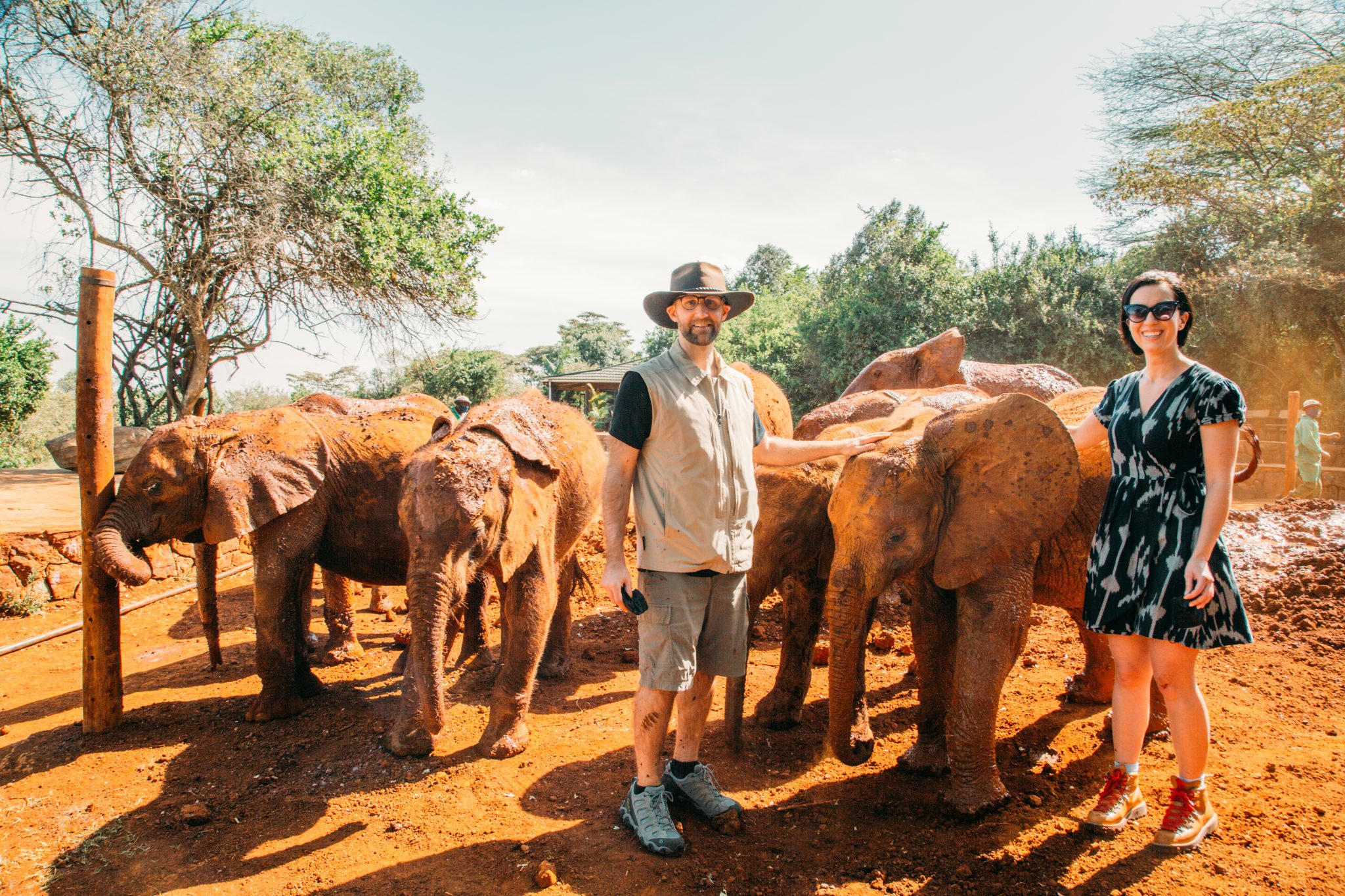 What is The Sheldrick Wildlife Trust?
The Sheldrick Wildlife Trust is a highly rated wildlife charity in Nairobi, Kenya. They are most known for being one of the most successful elephant orphan rescue and rehabilitation programs in the world.
The baby elephants that are in the care of Sheldricks are here for a multitude of reasons. Unfortunately, the most common reason they are orphaned is due to poaching. However, other reasons include drought, starvation, and sickness.
Need help planning a trip to Kenya? I personally use and recommend Go2Africa travel experts!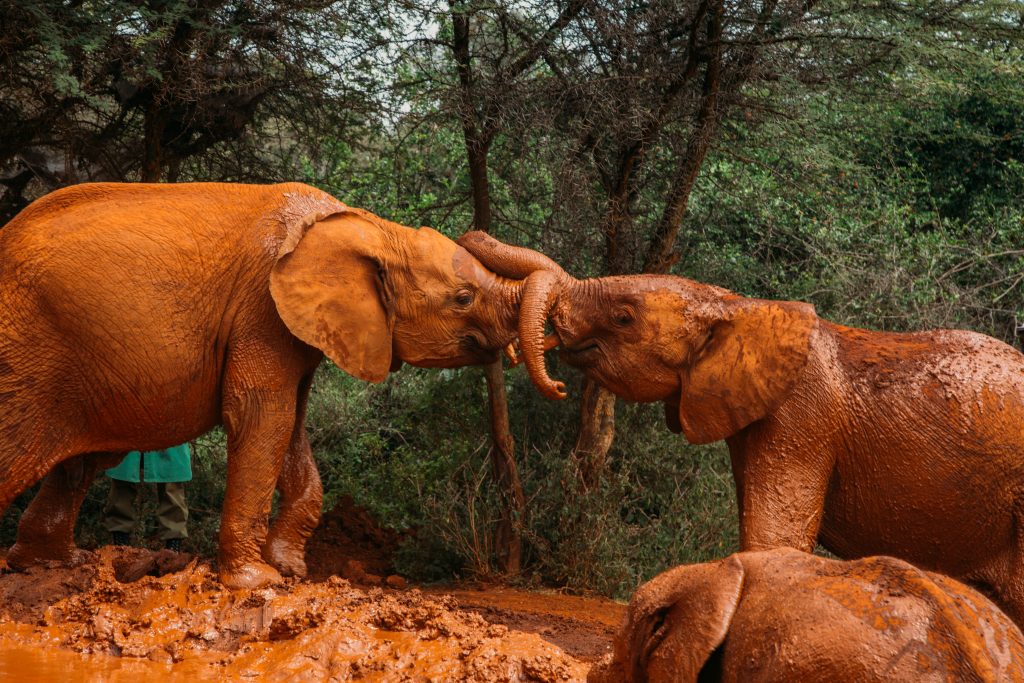 The babies here need to be fed every 3 hours. They actually have a caretaker who sleeps with them at night, to wake up and feed them every 3 hours. I thought it was interesting too that they are being fed human baby formula – this is what they have found to be the healthiest option for the little elephants.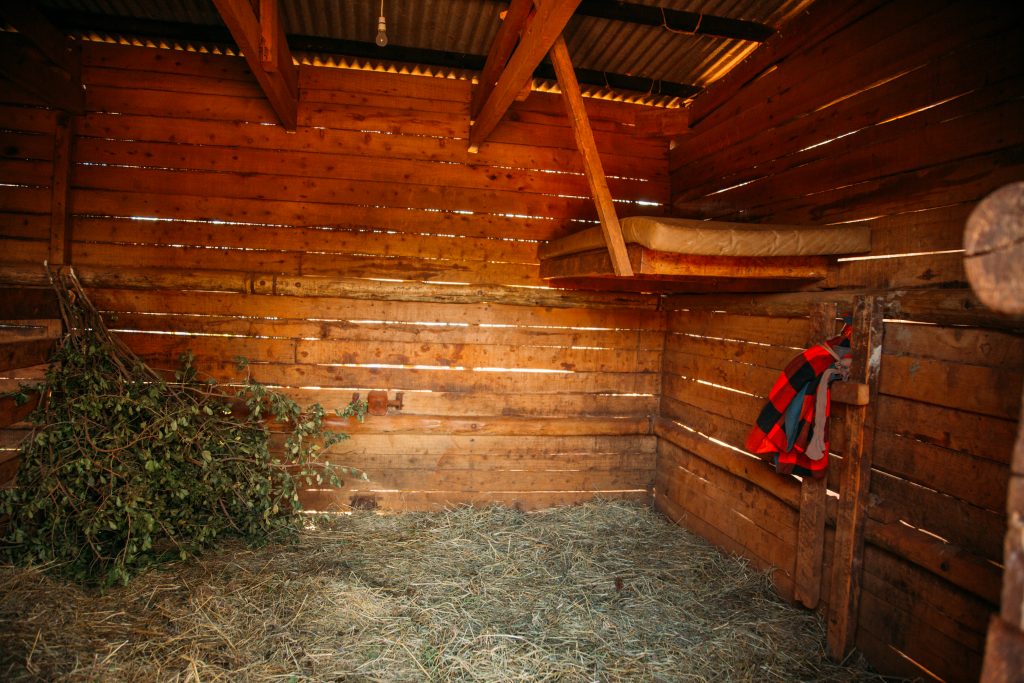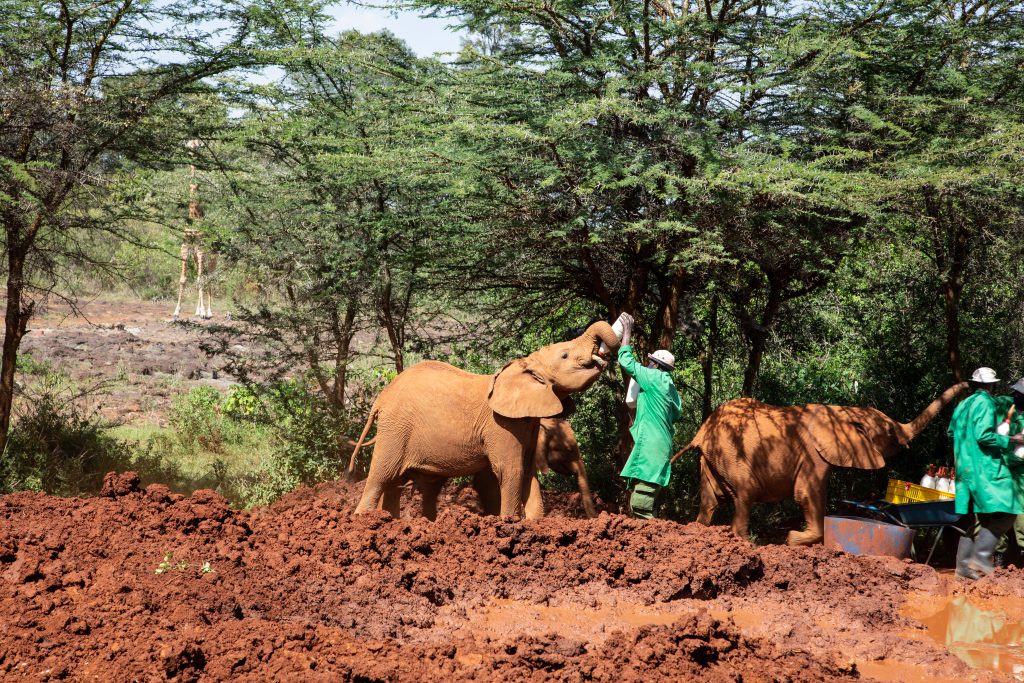 Then, once the elephants are old enough and strong enough (this can take up to 10 years), they are released back into the wild. All of the elephants you see here will one day be rehabilitated into the wild.
Needless to say, the work they do here at the Sheldrick Wildlife Trust is incredible!
my Sheldrick wildlife trust video:
Watch my video of the Sheldrick Wildlife Trust for helpful tips + cute baby elephant footage!
Visiting The Sheldrick Wildlife Trust – How To Plan Your Visit
And they do allow the public to visit and see first-hand how they care for the elephants. This was one of my favorite things I did during my entire trip to Kenya, and I HIGHLY recommend it to anyone who is visiting Nairobi.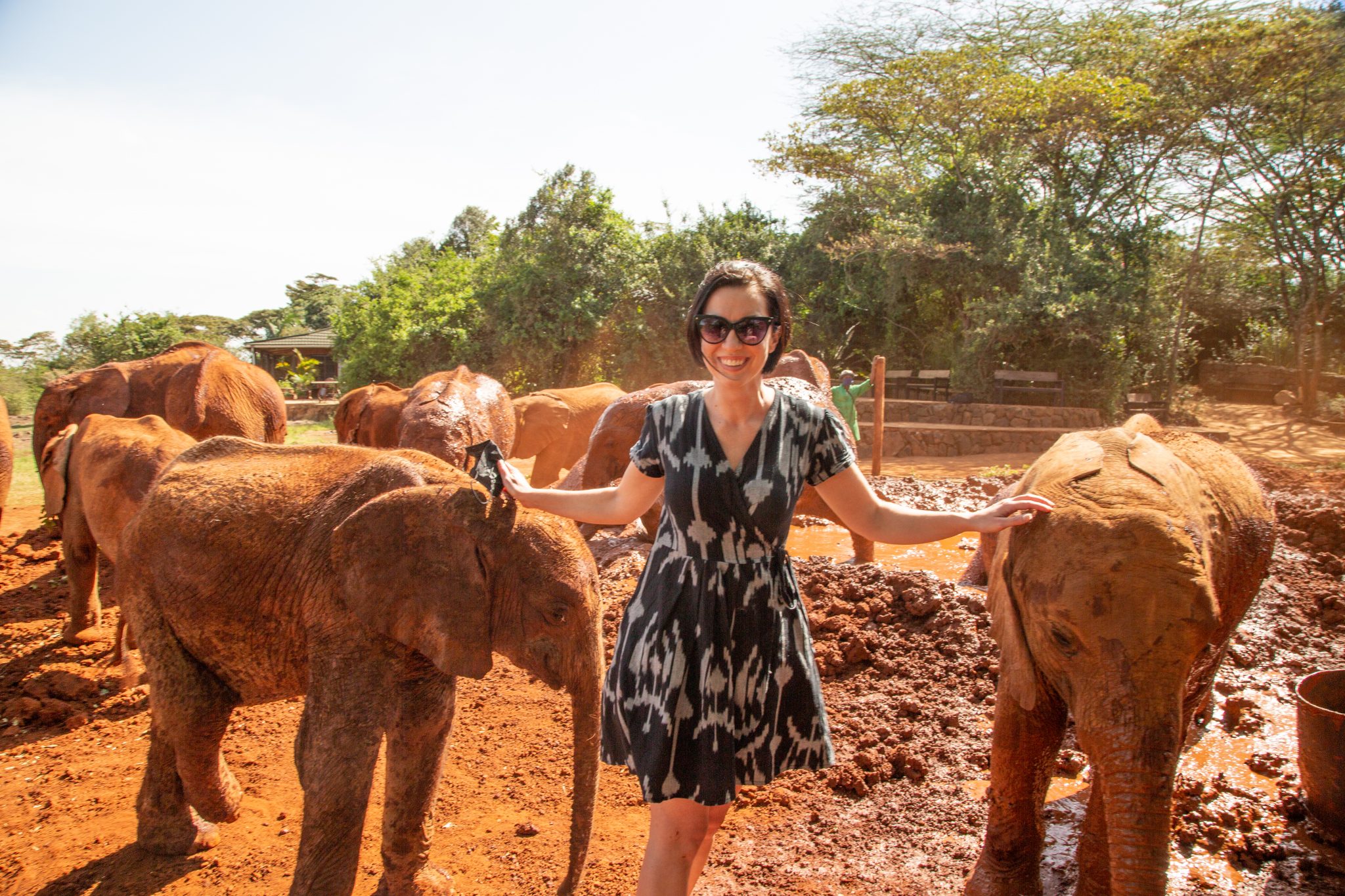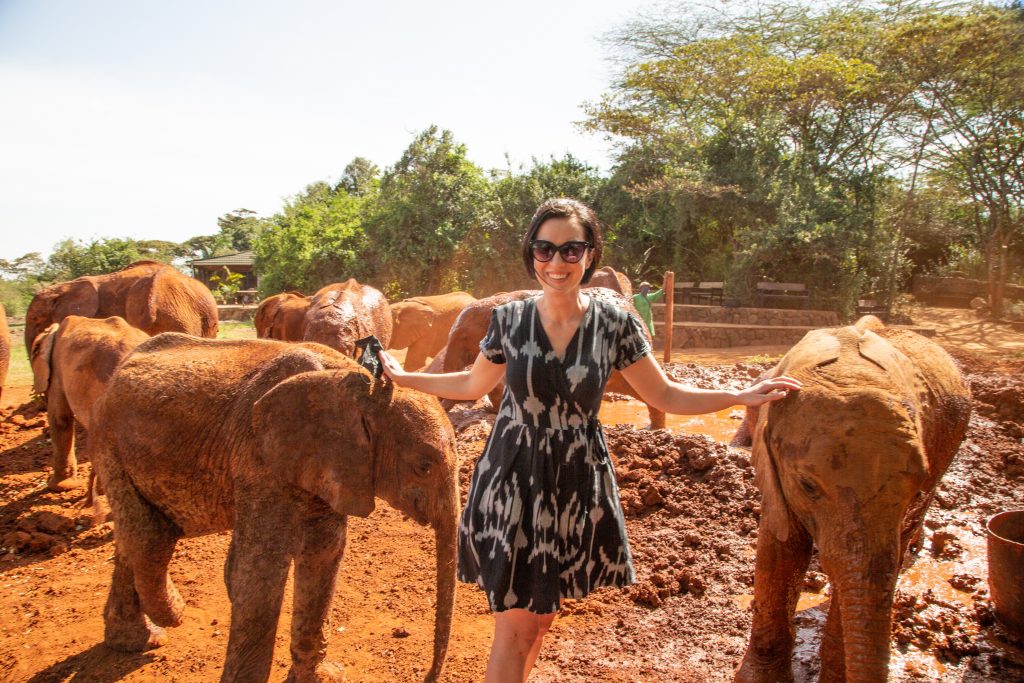 There are 3 different ways you can visit the Sheldrick Wildlife Trust in Nairobi and see the baby elephants.
3 Ways to Visit The Sheldrick Wildlife Trust
1.) The Public Feeding Time
This is the most common way to visit the Sheldrick Wildlife Trust. The public feeding is held every day at 11 am and currently costs $15 USD per adult and $5 USD per child.
The public feeding is capped at 100 people per day and you MUST book ahead of time with the Sheldrick Wildlife Trust! Then, you'll pay your donation in cash once you arrive. (It is recommended that you arrive by 10:30 am to easily make your payment and check-in.)
You'll get to watch the elephants being fed by their caretakers and learn information about the facility in a fun presentation. You'll also be quite close to the elephants. They may very well come right up to the rope separating you and brush against you!
2.) Foster Parent Visit Time
Now, if you want a little more private of an experience, there is also the option to visit in a small group setting if you have "adopted" an orphan elephant. On the Sheldrick Wildlife Trust website, you can adopt an elephant for as little as $50 USD, and this money goes toward the care of your adopted elephant and you'll get updates, photos, and more with your elephant.
So, if you do the foster parent visit – you'll get the opportunity to meet your adopted elephant, take photos with them, and watch the same presentation as the public feeding but in a smaller group of about 20. Please note, though, that due to COVID these foster visits are currently not being held. I'll update this post once this begins again.
3.) Private Visit
The third way you can visit the elephant orphanage is by booking a private visit. Every day at 3 pm is reserved for private visitors. This can be arranged for a private group of up to 10 people and a significant donation will be required – currently, the amount is $1,000 per group of 10.
This donation will be made via credit card or cash when you arrive for your private visit. Again, this needs to be booked in advance and these fill up very quickly.
The private visit will get you up-close access to the elephants while they take their mud baths – you'll get to interact with them and watch them play! You'll also get to meet their caretakers and ask them questions. It's a very special experience.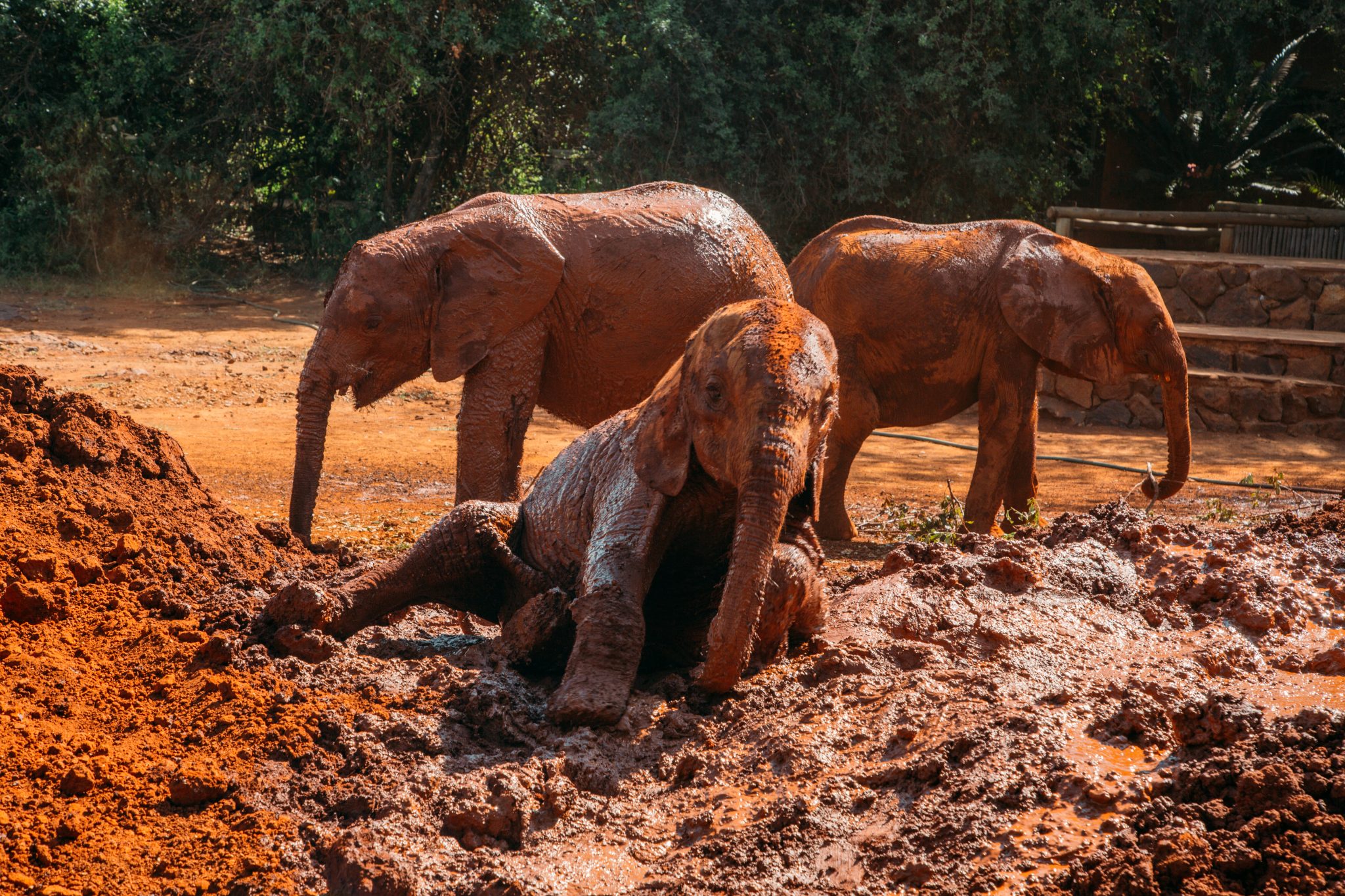 For the purpose of this blog post, I visited both the public feeding and did a private visit. They are both AMAZING experiences. If you can afford to make the sizable donation that is required for the private visit – you won't regret it. Getting to be that close to the little elephants is magical. They come right up to you, try to untie your shoes, lean against you, it's so much fun! And of course, your donation is going to a fantastic cause.
Our private visit photo gallery. Please feel free to click on the photos to make them full-sized.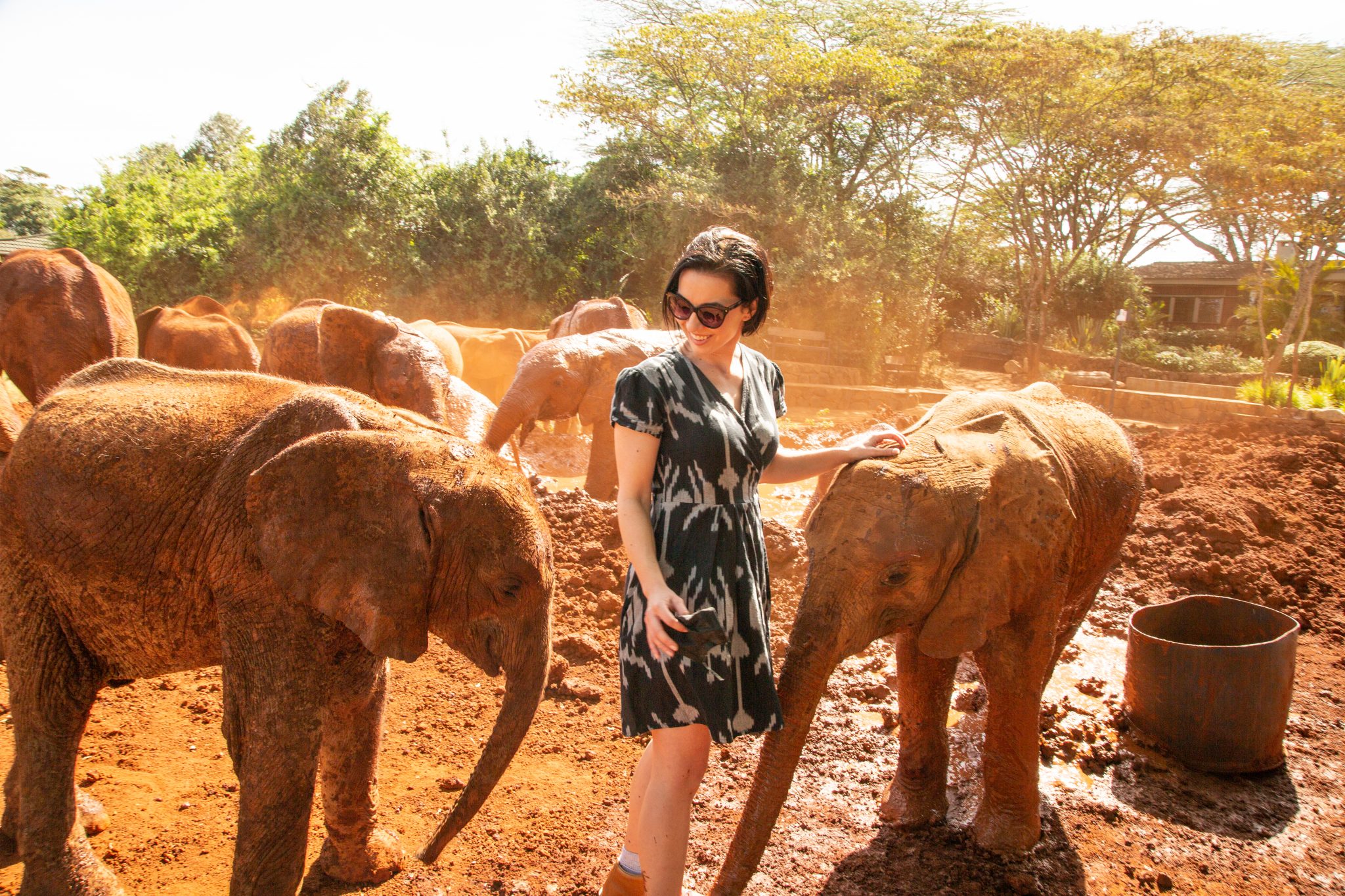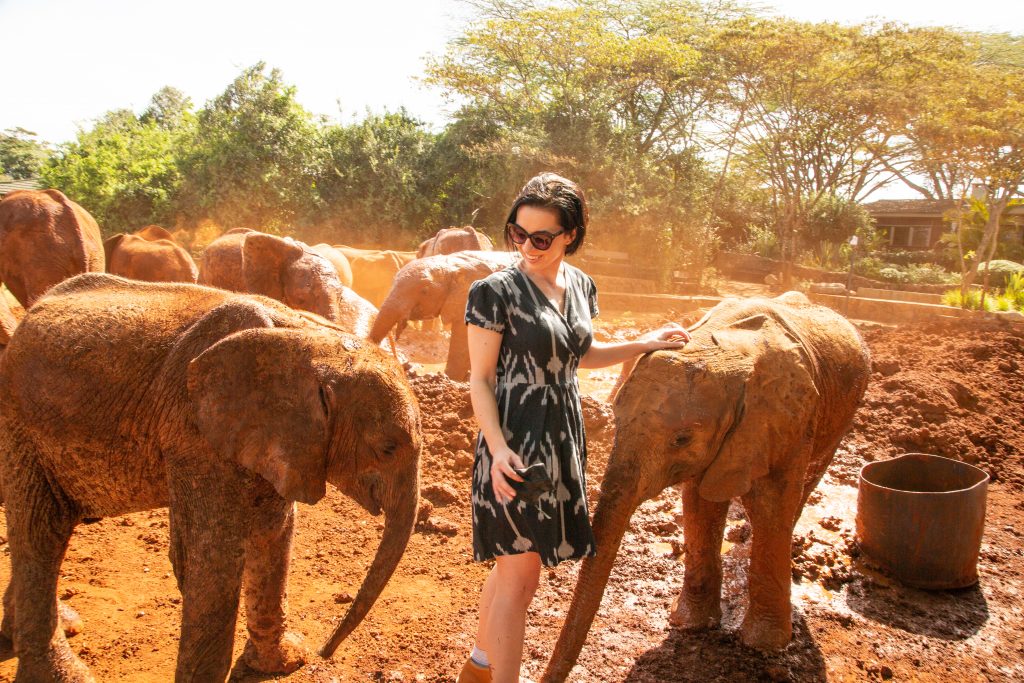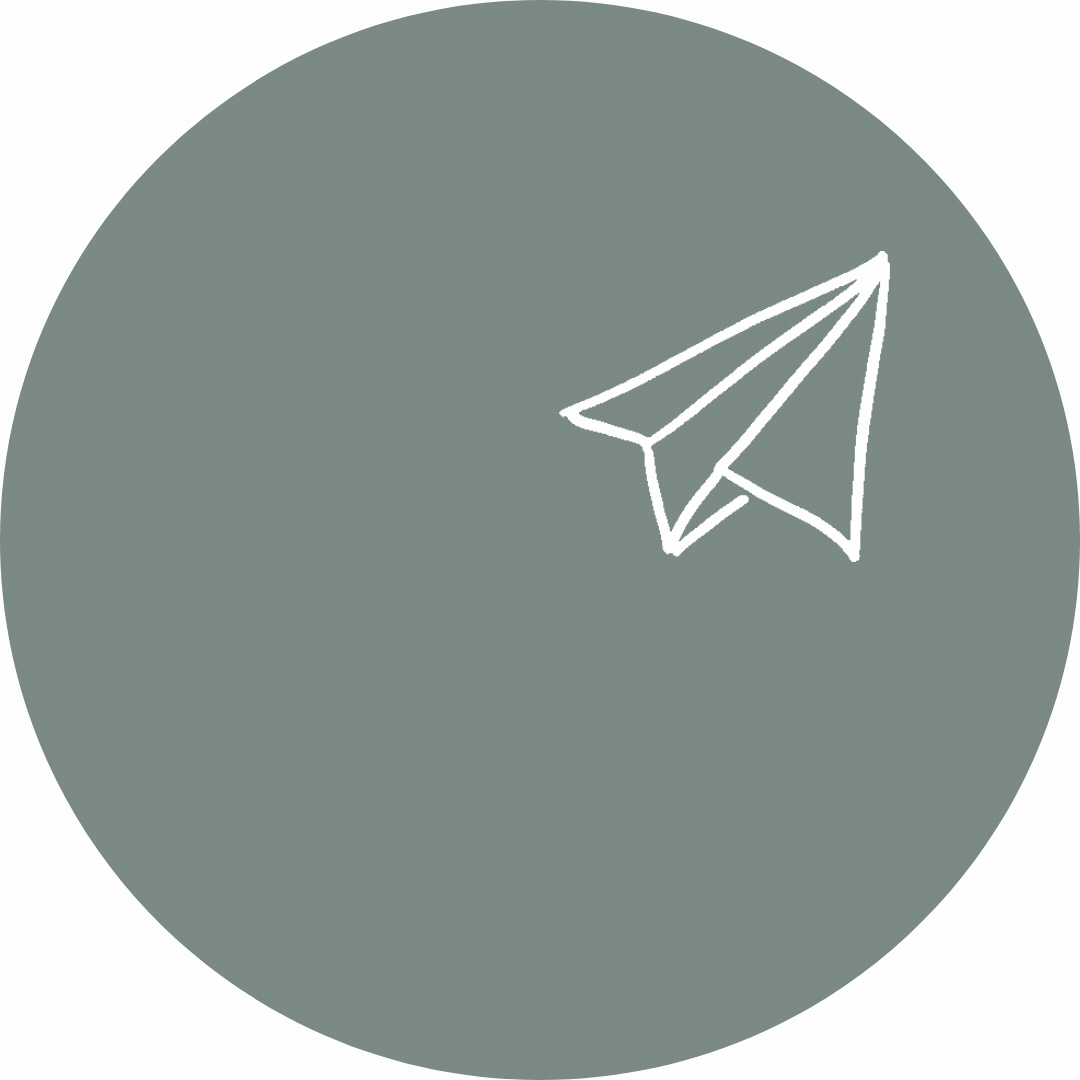 Note: All guests must wear face masks for the duration of their visit. The staff was kind enough to let us pull down our masks during our private visit for some quick photos (and once we were a safe distance from the staff). Prior to entry, you also must sanitize your hands and complete a temperature check.
That being said, though, the public feeding time is also an incredible experience and it's much more affordable. You still get close to the elephants, and if they are feeling social, they will also come right up to you. There is only a little rope separating you from them. So, you will get to see them up close and personal during the public feeding as well.
The photos below show how close you get during the public feeding!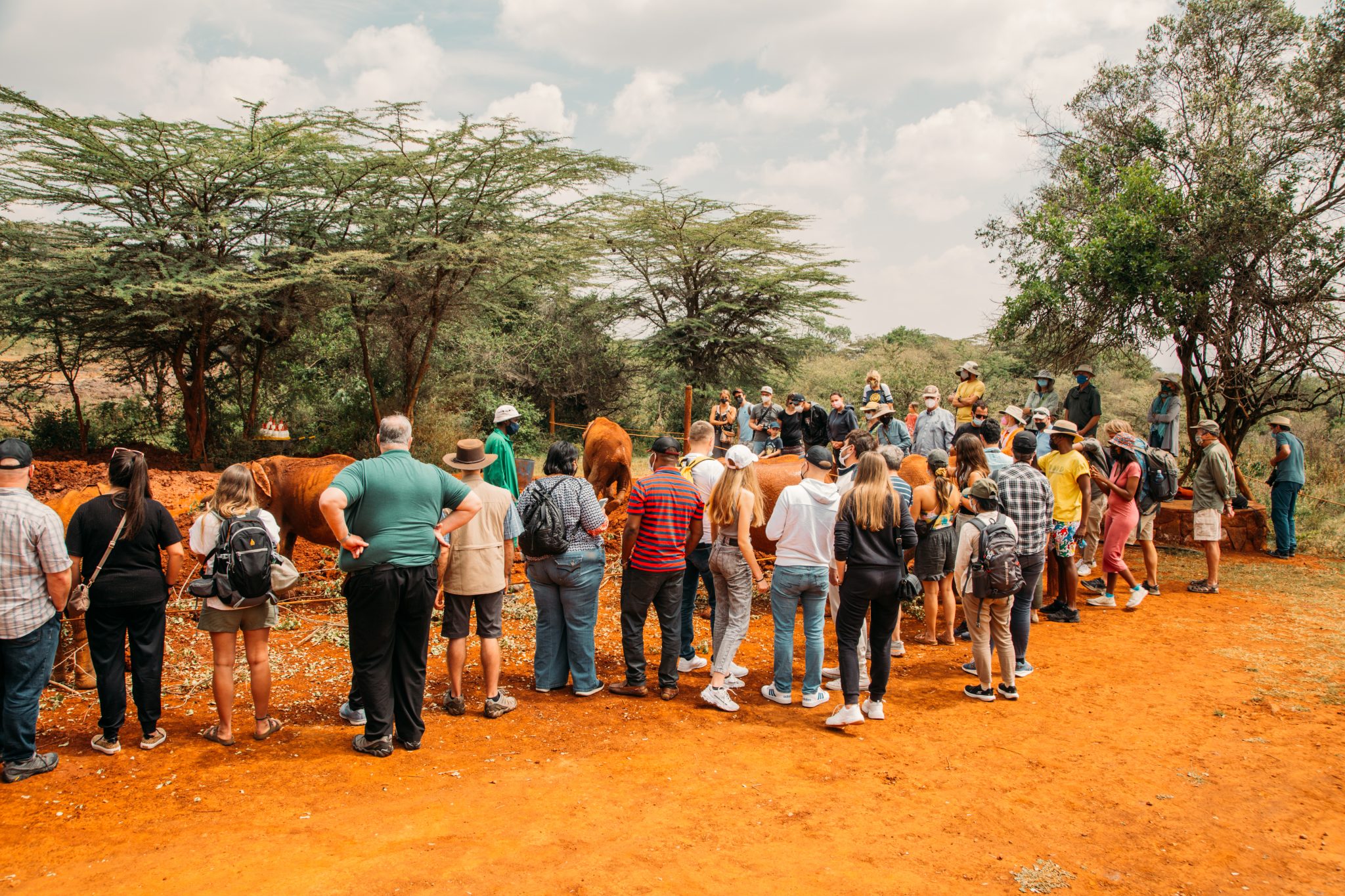 Plus, during the private experience, I was honestly a bit overwhelmed, in a good way… I mean there were baby elephants running all around me, but I could not focus and wasn't really taking in any of the information the caretakers were telling me.
Going to the public feeding was a more chill way to learn about the elephants and the work the Sheldrick Wildlife Trust does. My husband and I really enjoyed both experiences.

Do You Need To Book a Tour Guide To Visit The Sheldrick Wildlife Trust?
You may be wondering if you need to book a tour guide to visit. The answer to this is NO. you don't need a guide. You can easily book an Uber to take you here from your hotel. This is what I did both times I visited – and it cost less than $10 USD from my hotel in Hurlingham.
Plus, I highly recommend making your booking directly with the Sheldrick Wildlife Trust. I witnessed one group who had booked and paid through a third-party service, which Sheldricks didn't support. So, they were not allowed to enter. Just book right with Sheldricks and pay when you get to the gate.
Another option I've seen people do is to hire a driver for a day around Nairobi, but, again, this driver won't actually accompany you into the orphanage. They'll wait in the parking lot until you are done.
Also, if you are staying at Giraffe Manor at all during your visit to Nairobi – Giraffe Manor is quite close to the Sheldrick Wildlife Trust, and they will arrange transport for you to visit the orphanage during your stay with them. So, that's another option to keep in mind.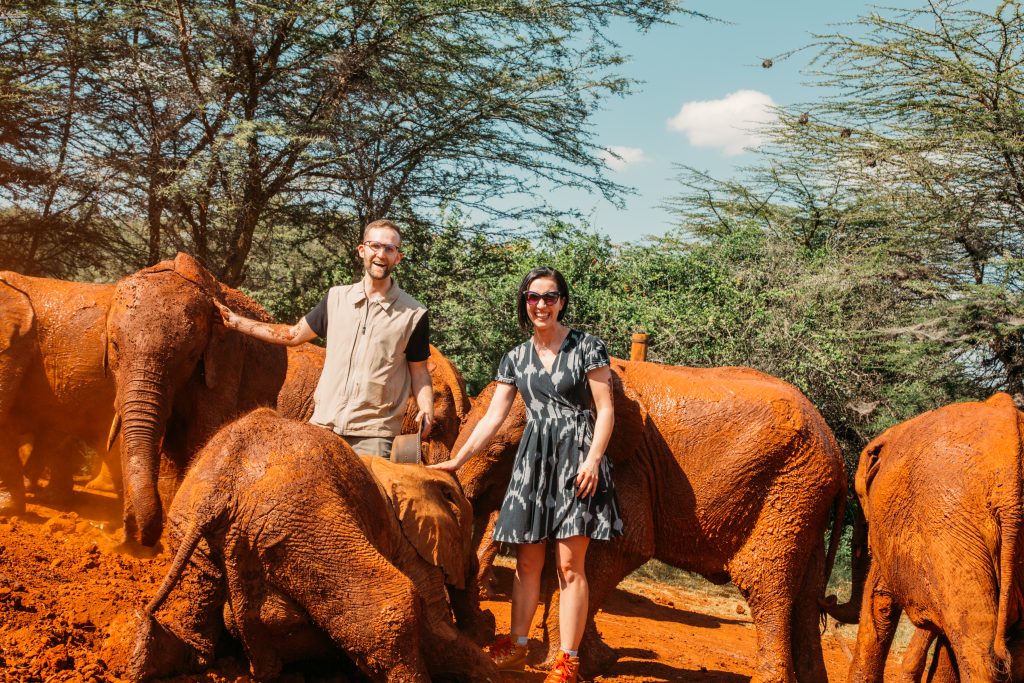 What to Wear to the Sheldrick Wildlife Trust

I also think it's worth noting that you should wear clothing to Sheldricks that's either:
Something you don't mind getting stained.
Or something that can be easily washed.
I know everything you're going to read about what to wear when you go on a safari in Kenya is going to tell you not to wear black. However, if you have some comfortable black clothing, I would encourage you to wear it when you visit Sheldricks.
This is because the soil here is this orangish clay that can be very difficult to get out of light-colored clothing. This is also something to keep in mind for your shoe choice. DON'T WEAR WHITE SNEAKERS. My husband and I were covered in mud and our shoes were caked by the time we left Sheldricks after our private visit.
my husband's outfit for sheldricks
During the public visit, we kept our distance, but if you were right next to the elephants you would have gotten mud on you as well.
Final Thoughts
Visiting The Sheldrick Wildlife Trust is a must-do experience in Nairobi, Kenya. Whether you go to the public feeding or a private visit – this will be a magical experience. For me, this was one of the highlights of my time in Kenya.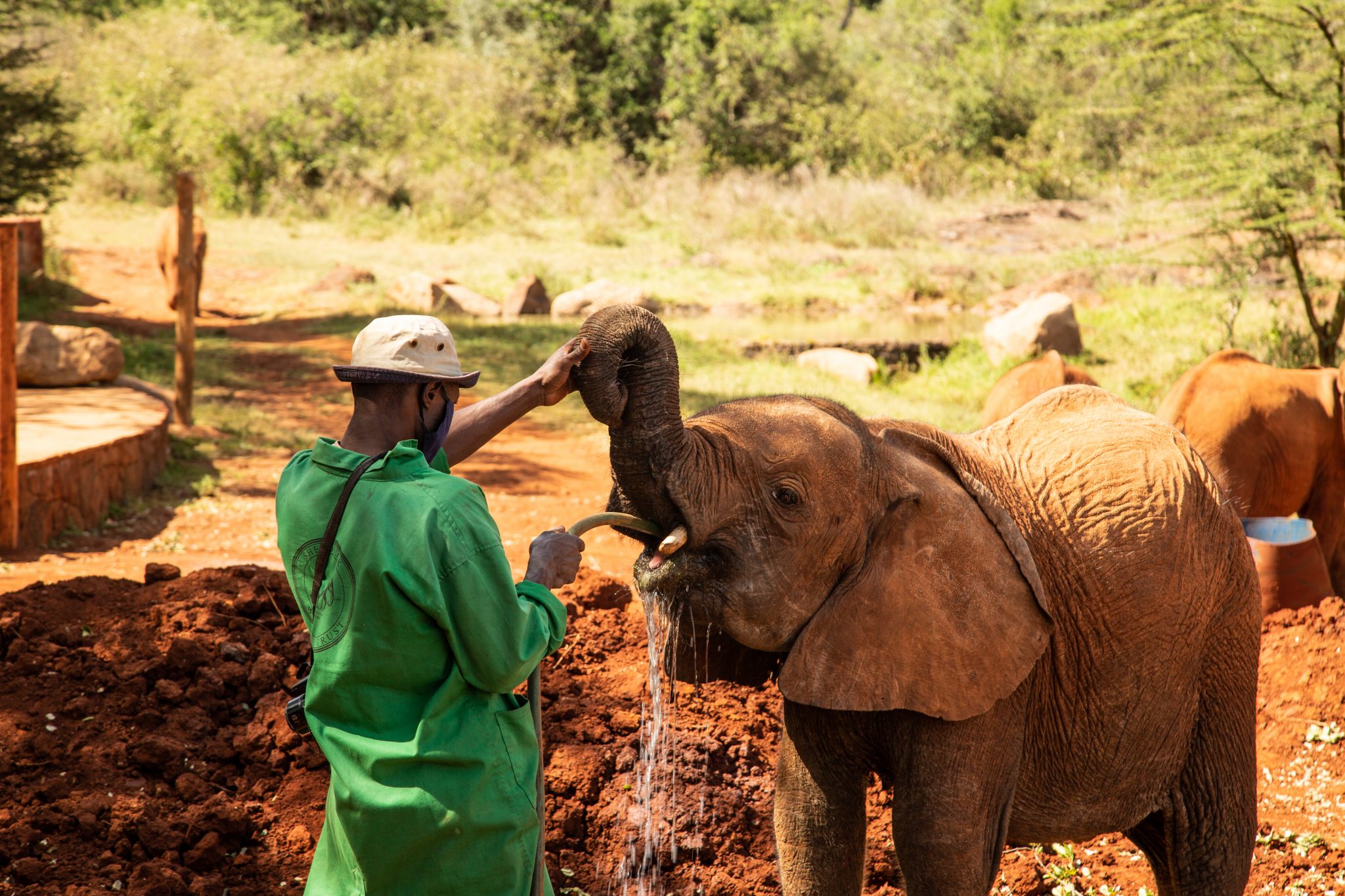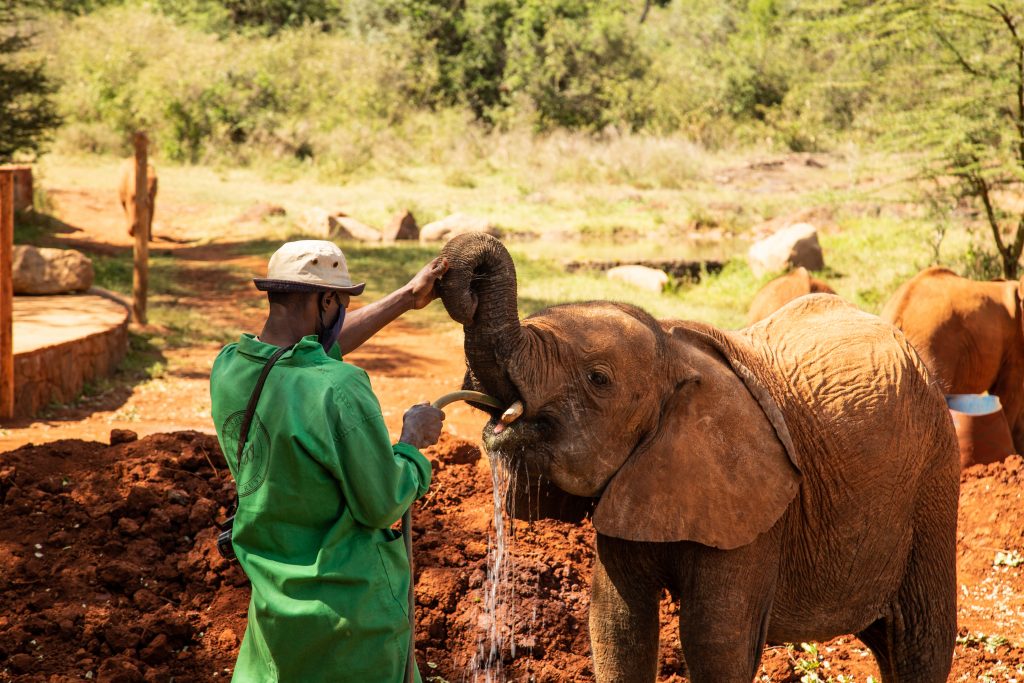 I hope this post helped you understand a little more about this wonderful charity and helped you plan your visit. If anyone has any questions at all please feel free to reach out in the comments.
AND If you are not going to Nairobi anytime soon, but would like to help The Sheldrick Wildlife Trust, there are a few different ways you can help.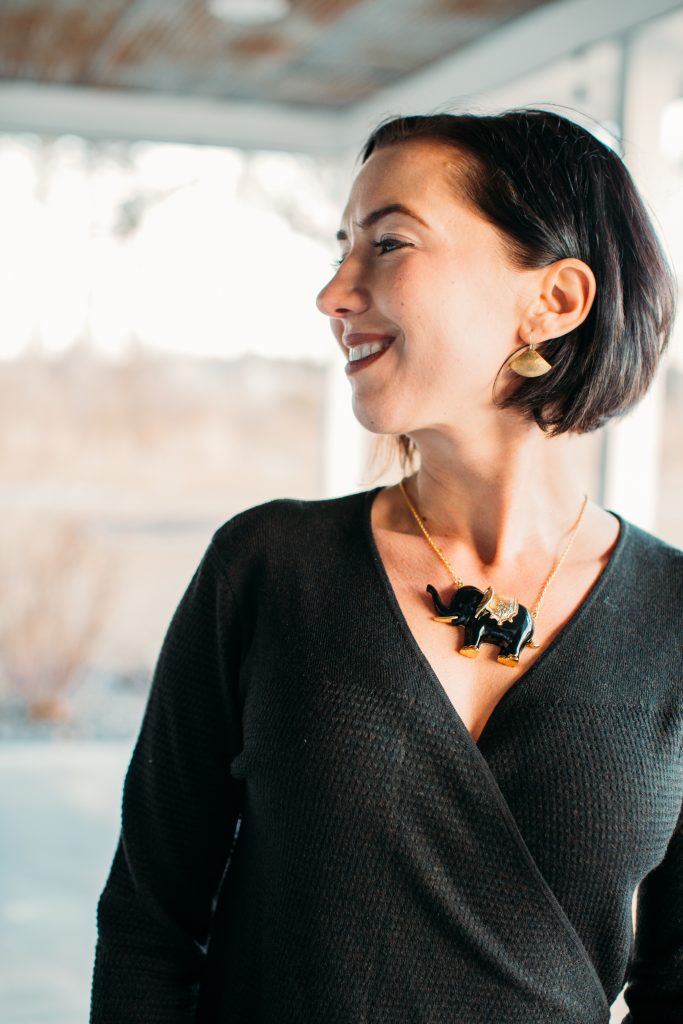 Each sale of this Kelly Hollis elephant necklace I'm wearing, above, is being donated to the Sheldrick Wildlife Trust. I am thrilled that Kelley Hollis jewelry is wanting to help this fantastic cause too!
How You Can Help The Sheldrick Wildlife Trust From Home
Please feel free to ask any questions about visiting the Sheldrick Wildlife Trust in the comments section at the end of this post. I'm happy to answer any of them!
my Sheldrick wildlife trust video:
Watch my video of the Sheldrick Wildlife Trust for helpful tips + cute baby elephant footage!
Need help planning a trip to Kenya? I personally use and recommend Go2Africa travel experts!
*Disclosure: some of these links are affiliate links. Meaning, if you click a link and make a purchase, Have Clothes, Will Travel gets a very small commission at no extra cost to you. Thank you for supporting the brands that make this blog possible!