Behind the Scenes of My Pyramids of Giza Photos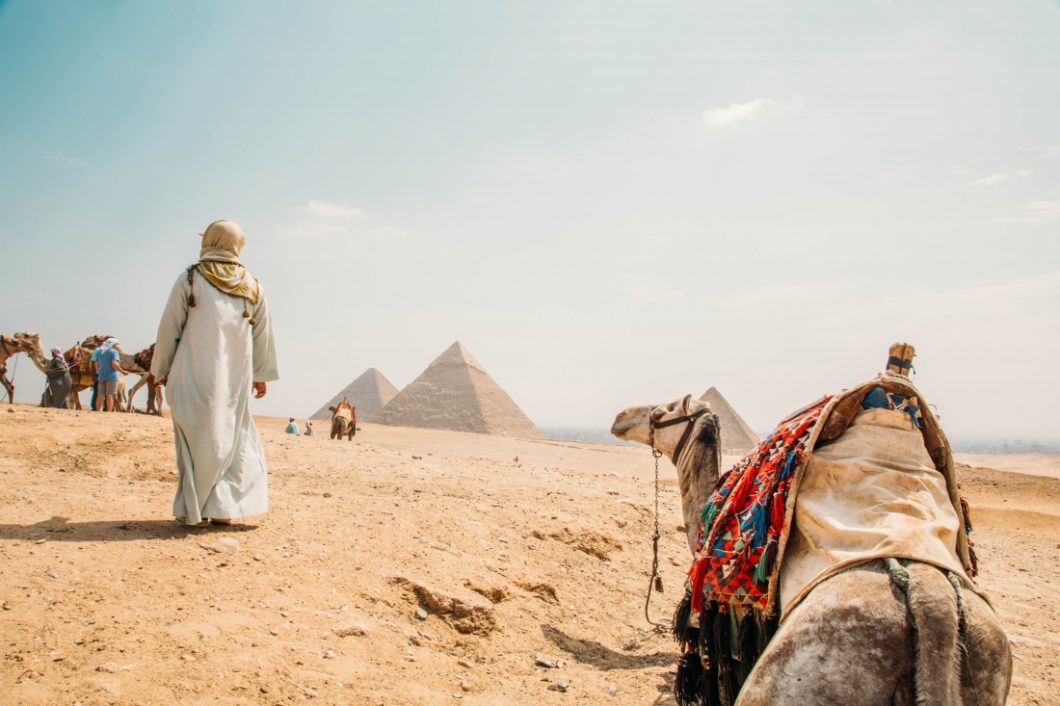 Living in a world of expertly cropped photos and Instagram filters can sometimes make a place look a little more glamorous and perfect than it actually is. And after the feedback I received on my "behind the scenes" post from Cappadocia, I thought it would be a good idea to continue doing posts like this for each place I visit.
Now, don't get me wrong, seeing the Pyramids of Giza is absolutely amazing and a dream come true to me, but I was also glad I had seen some "behind the scenes" photos before I went and had read others traveler's less-than-perfect experiences from here. It helped me to adjust my expectations accordingly and not be surprised when I visited.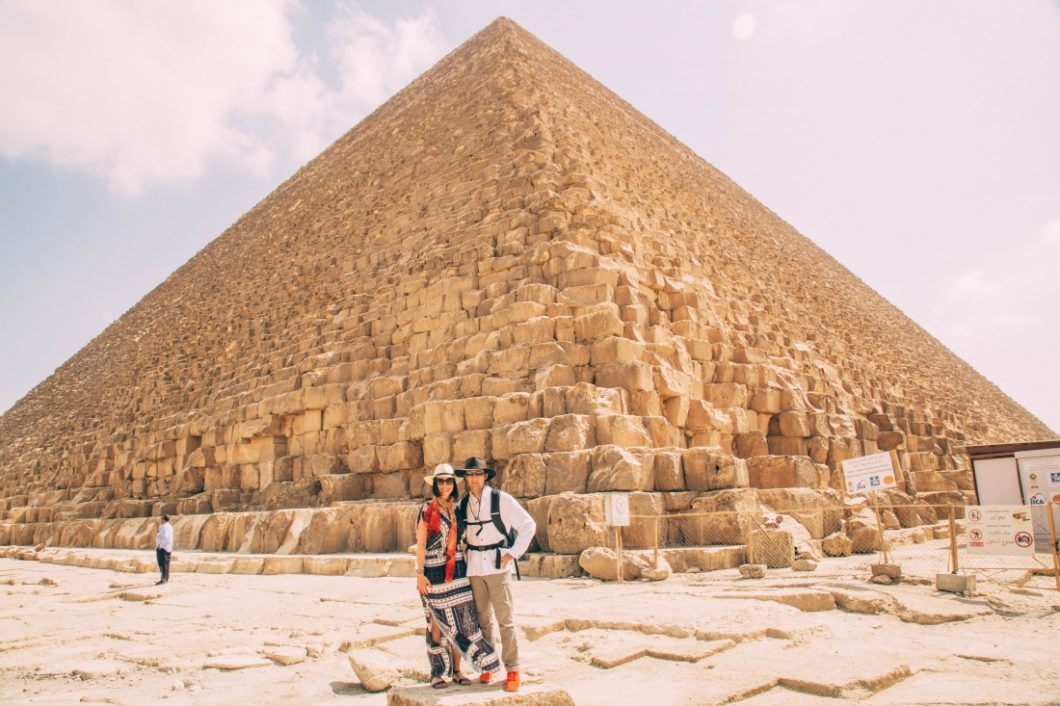 So, without further ado, here are some of my behind the scenes photos and stories from my Pyramids of Giza adventure! Enjoy!
Behind the Scenes of My Pyramids of Giza Photos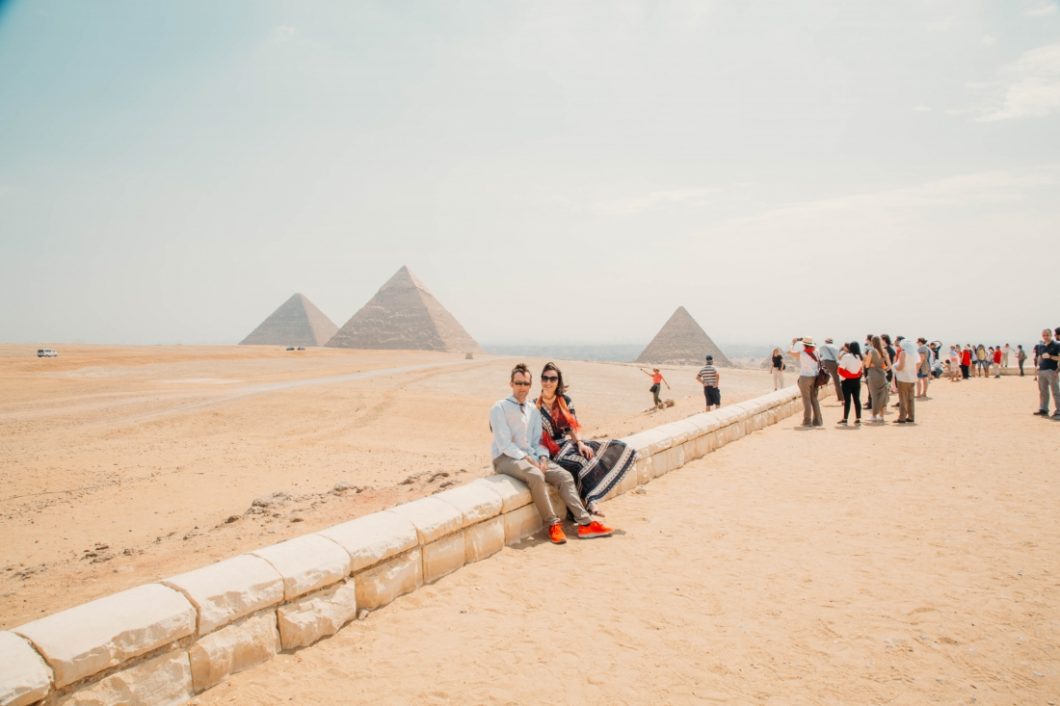 There are always going to be people in your photos…
As with any tourist destination, there are going to be tons and tons of people – none of whom are going to give a flying fig about being in the background of your photo. Anytime you see a photo of a popular spot (such as the pyramids) without people being in the shot, it's either the result of a miracle or a little bit of photo cropping.
Just to be clear, this isn't me complaining. I just don't want people seeing my photos and thinking they're going to have these destinations all to themselves when they arrive! The pyramids are at the top of many traveler's bucket lists, so you're going to have tons of people here no matter when you visit! (We visited in the offseason, and there were still plenty of people here!!)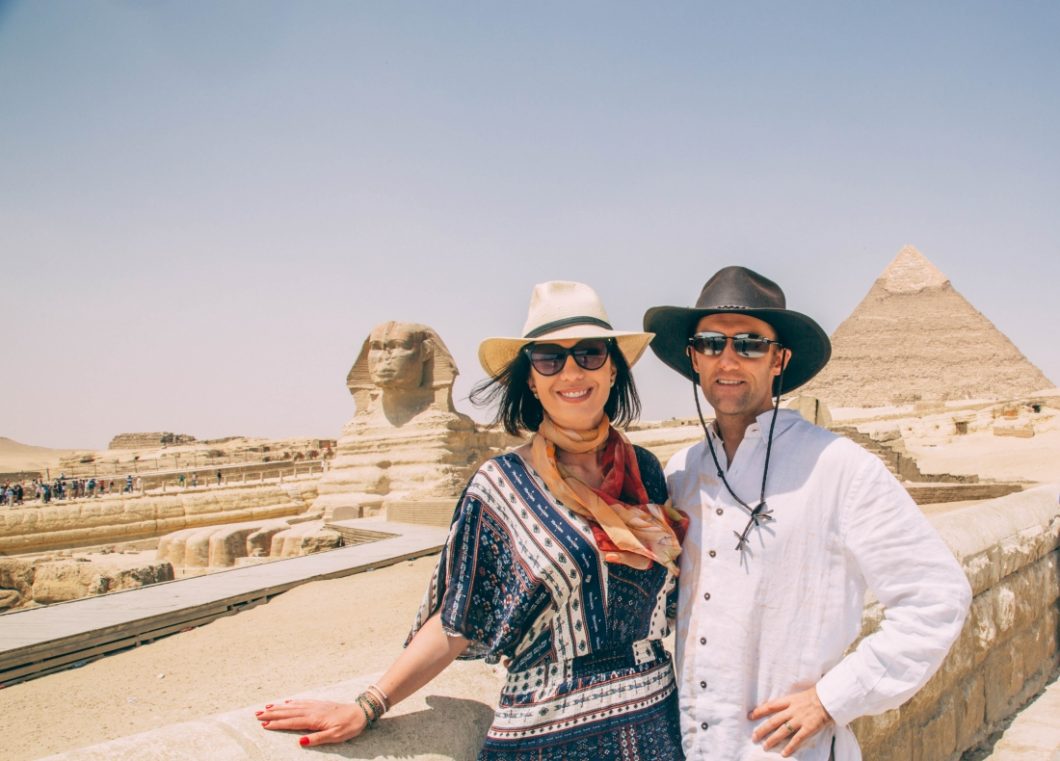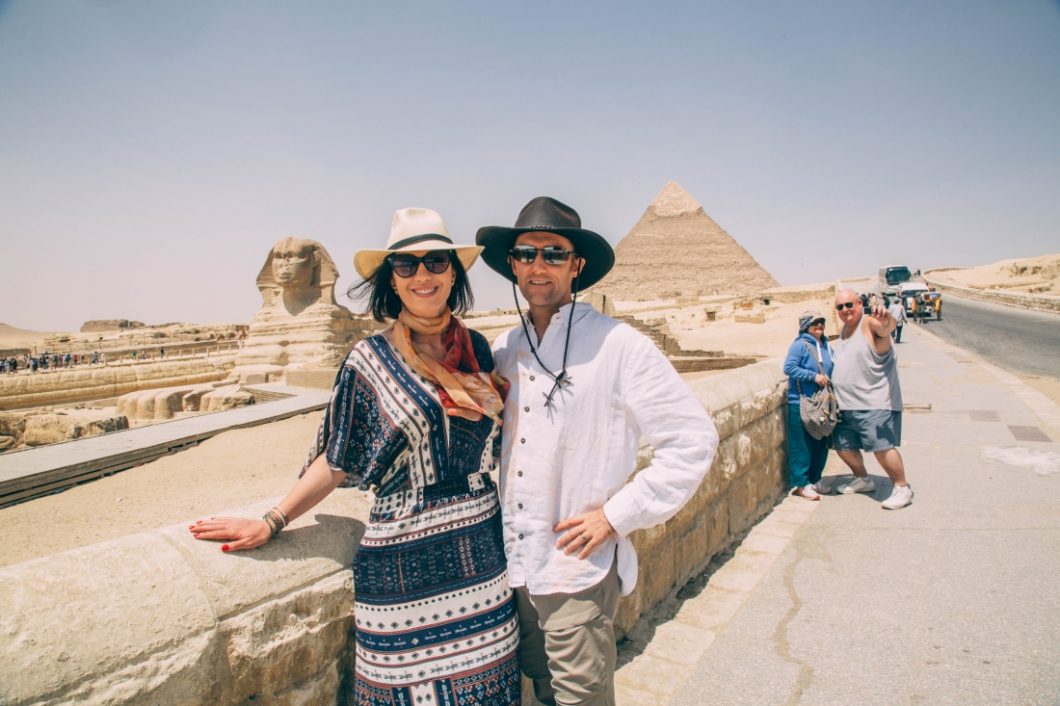 Not all guides will be good photographers…
I had mentioned in my previous Pyramids of Giza post that our guide for this adventure was not the greatest. She not only didn't have the correct paperwork for us (which delayed our tour by nearly 2 hours), and didn't give us hardly any useful information about the pyramids…she also falsely told us she was a good photographer and demanded I give her my camera
Which, again, this is not something I would expect from a guide – they're there to show you around and give you information, not be your personal paparazzi. However, it seems many guides here are selling "photography" as one of their areas of expertise. (Read – cheesy tourist photos, but fun, nonetheless.) And our guide really wasn't sure how to use my camera… which we realized after a few photos and worked with her on it! And, we did get some great pics that day. (But, just be checking your photos before moving on, obviously.)
Camels will not always cooperate…
Now, this I thought actually made for some great photos, haha. Our camel ride by the pyramids was fantastic (and our guide for this really did know his way around a camera). The camels did like to do their own thing at times, though. Which, frankly, I think made for some even better photos!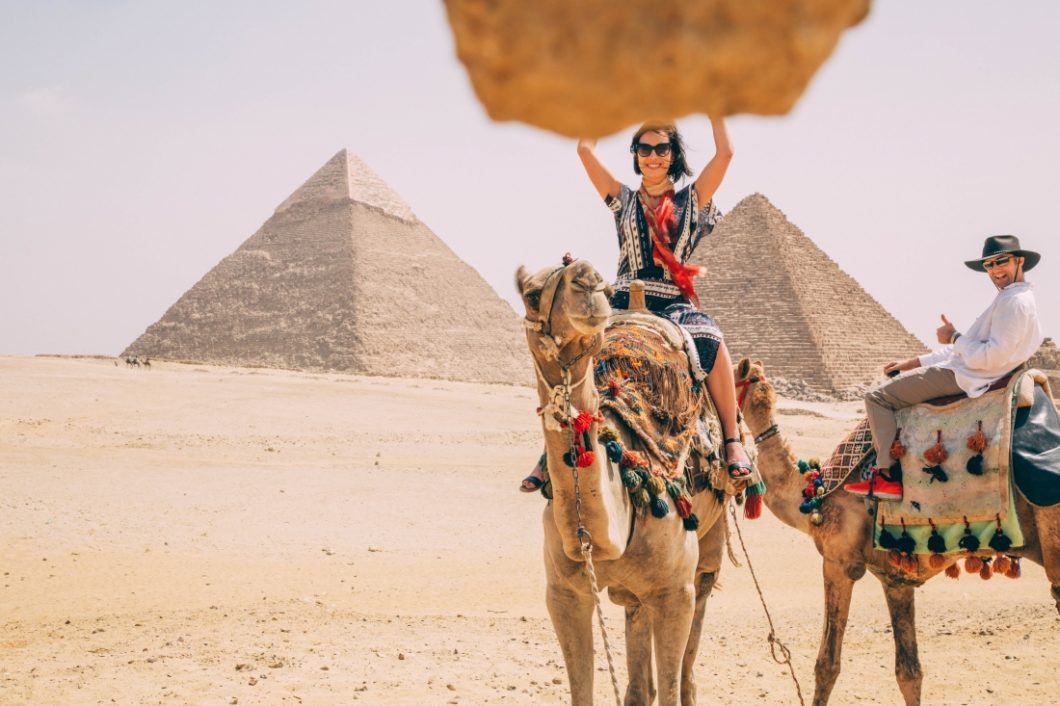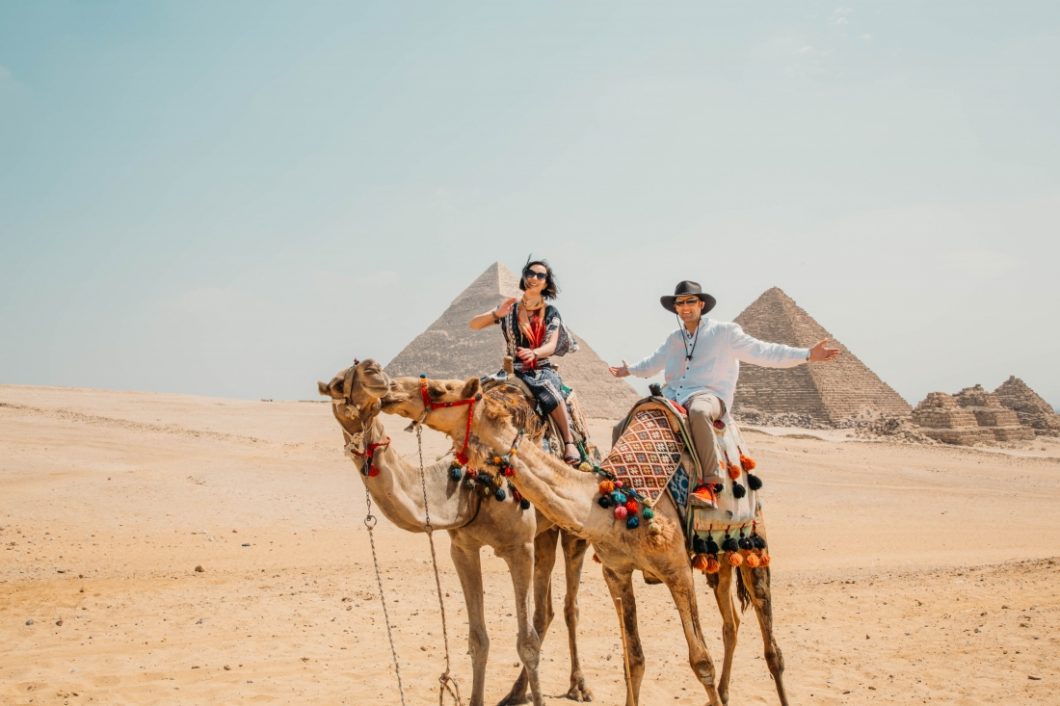 You're going to get haggled by hawkers…
This is less of a problem if you're visiting with a guide. However, we went back to the pyramids by ourselves and were harassed by hawkers nonstop while we took photos! This isn't evident in the photos themselves, but holy moly was it irritating trying to take photos while guys on horses and camels were constantly trying to get you to buy a ride or "check your ticket."
For example, this photo below might look peaceful and magical, but there was a pushy guy on a camel sitting next to my husband the entire time trying to get him to buy a camel ride while he was taking photos of me…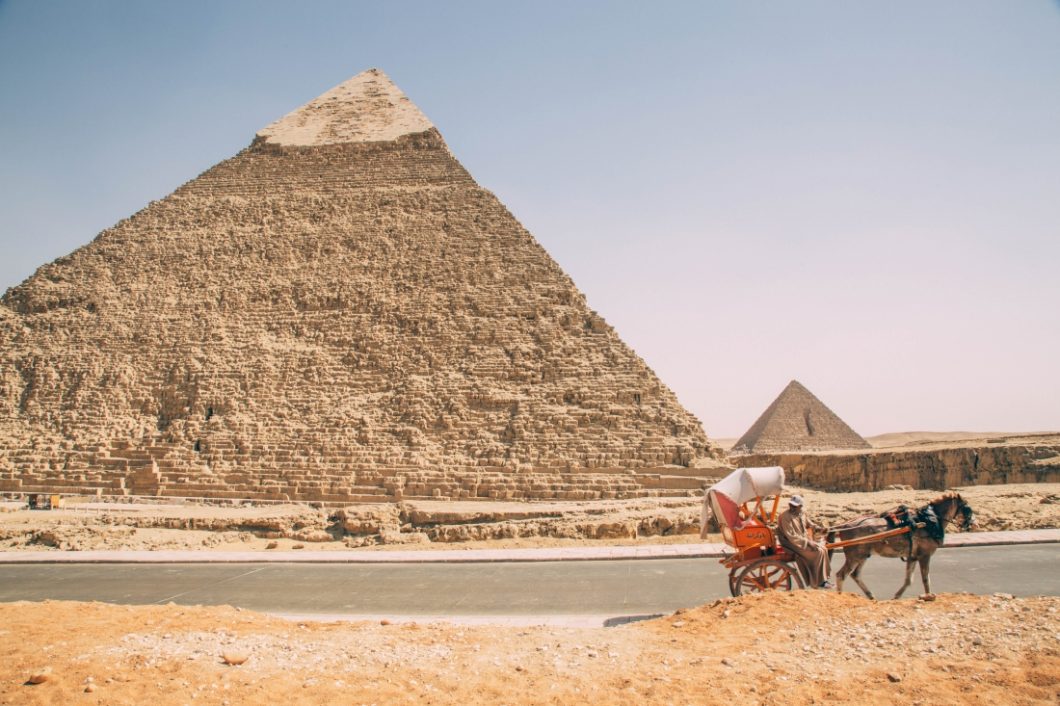 There really is a Pizza Hut & KFC across from the pyramids…
This is one of those things that really bothers some travelers. You're looking at one of the most iconic sights in the world, and then bam! There's a Pizza Hut and KFC! Frankly, this wasn't that big of a deal to me, but knowing this prior to going to the pyramids might have been the reason this was less of an annoyance for me. (There's also a junk yard and a bunch of abandoned buildings greeting you at the entrance of the pyramids complex.)
And then you turn around and see Pizza Hut…
Visiting the pyramids is absolutely incredible, though!
Again, I want to reiterate this – visiting the Pyramids of Giza is absolutely amazing! Being a little prepared and going in with realistic expectations of the experience, though, will certainly help you to enjoy it even more!
*Click here to see more tips for visiting the Pyramids of Giza.
*Click here to see my outfit post from here.
*Click here to see all of my Egypt posts.
*You can also check out my entire packing list for Egypt as a woman.
*Also see my itinerary for how to spend 7 days in Egypt!
What are your thoughts? Do you like getting a glimpse of the behind the scenes action? Or not so much…and would rather just see the pretty pictures? Let me know in the comments!