Visiting the Pyramids of Giza – 10 Tips to Know Before You Go
Visiting the Pyramids of Giza has been at the top of my bucket list since I was old enough to read. Needless to say, this experience had some pretty high expectations for me! Of course, with something you have been dreaming about for 20ish years, it's hard to not be a bit disappointed when it finally happens. (These were some pretty impossible standards to live up to!)
The day of my pyramids adventure started off disastrously and never fully recovered. There are certainly somethings I could have done to make this experience better for myself! For this post, I'll be sharing some of the things I learned the hard way – and hopefully, your experience will be a little better than mine when you go to visit the Pyramids of Giza!
Visiting the Pyramids of Giza – 10 Tips to Know Before You Go
1.) Do your research on a guide. If you're going to be using a guide to see the pyramids – do your research on a specific guide and ask for them by name when booking! I had booked through Memphis Tours and had read countless positive reviews of their services in Cairo before I booked. (I had also used them for my Valley of the Kings and Nile Cruise experience and they were PHENOMENAL.) Unfortunately, though, I didn't get the guides everyone was raving about in Cairo – my guide for the pyramids was pretty awful. (I should have asked for a specific guide with positive reviews by name!)
Our guide arrived late that morning (it was the second day of Ramadan and Cairo was a bit chaotic – so, this was actually rather understandable). However, she not only arrived late but didn't have our documents printed, they were electronic. Which apparently has been the way they were doing it for years, but that morning the security team outside our hotel said: "NO, that is not acceptable." And they wouldn't let us leave!! Our guide didn't know what to do! It took my husband getting the hotel manager involved, and basically throwing a fit, in order to get us to leave nearly 2 hours after we were supposed to! Then, she rushed us through our private tour…(which seemed unnecessary, as it wasn't a group tour – no one else was being impacted by this except us…)
So, needless to say, don't settle for any guide! This can be a make a break experience!
*Little did I know too, there are sunrise and sunset tours…so you can get gorgeous photos of the pyramids! I wish I would have done these too!!
2.) Expect to be harassed by hawkers if you're traveling to the pyramids without a guide. Just say no! Because of our guide fiasco that morning, my husband and I went back to the pyramids by ourselves, to enjoy the views and get a few more photos. While our guide was pretty terrible – she did shield us from the harassment of the hawkers!
Going by ourselves was a completely different experience. Every few moments someone was stopping us trying to sell us something. It really got annoying. However, your best bet is to just say no and then ignore them.

3.) The ticket price to get into the complex is 160 Egyptian Pounds (as of May 2019). You can also use this ticket to go in and out of the complex multiple times in the same day. We used it in the morning and later that afternoon without any issues.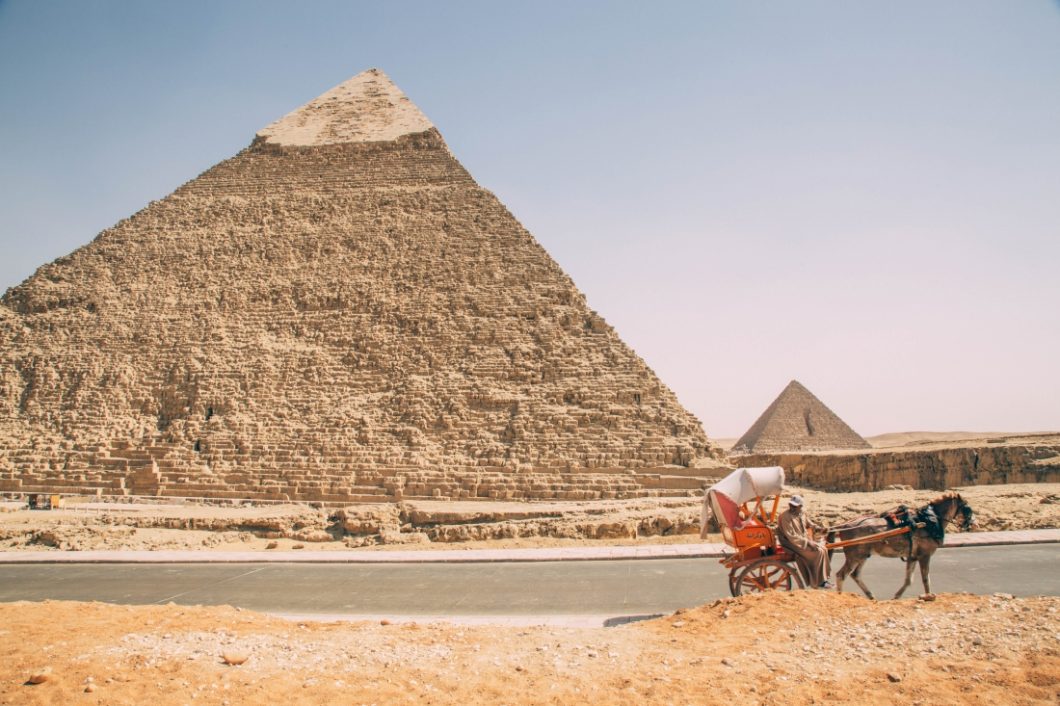 4.) Horse and/or camel rides are not a requirement – you can walk to the pyramids and panoramic view! A lot of hawkers will try to tell you it is illegal to walk (especially to the panoramic view). This is absolutely not true. There are even walking paths for you to follow! Ignore these people, unless you do want to take the ride (and be sure to negotiate the price beforehand and then pay at the end).
5.) To get some cool photos, though – the camel rides at the panoramic viewing platform are worth it. These camel rides will be from 10 minutes – 30 minutes. We had opted for the longer ride, and we paid almost 700 Egyptian Pounds per person to do so. (Our guide, had negotiated us the "best" price. Honestly, not sure if that is true, but upon further research, this does look about average.) just remember that everything in Egypt is negotiable and not to pay for the tour until the end. Tipping is also appreciated if the guide did a good job.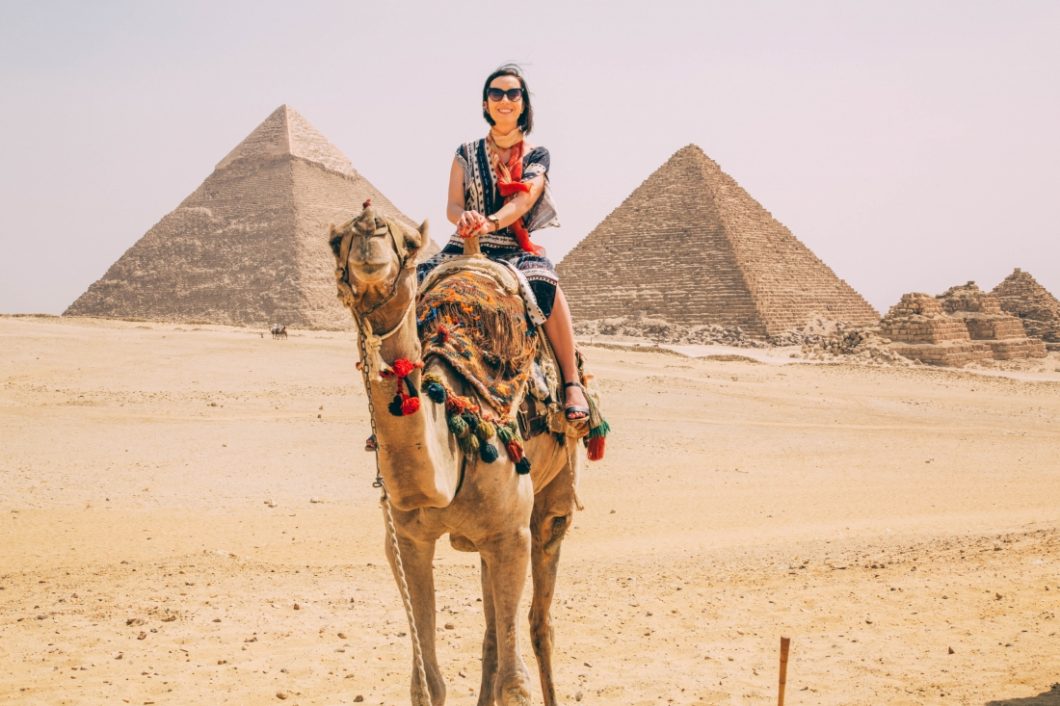 As you can see, our camel ride guide was great! We had so much fun riding through the desert with him and his lovely camels. My husband's camel had quite the personality and just did what he felt like, haha.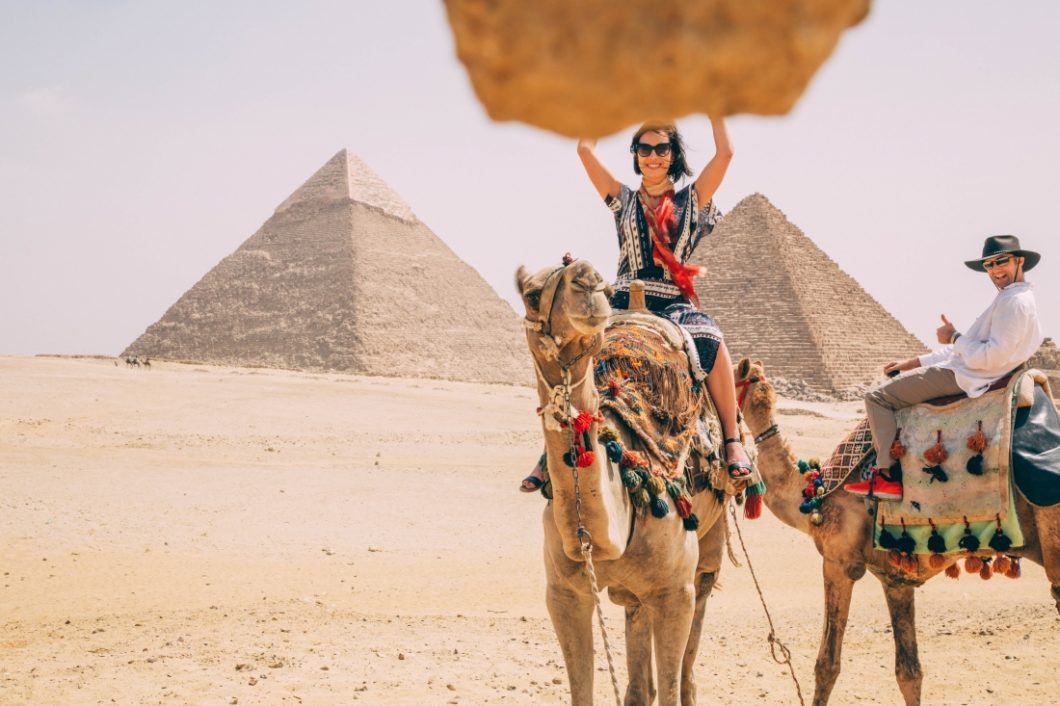 My camel was very chill and didn't mind me fidgeting every couple of minutes with my dress. (I was not exactly dressed appropriately for camel riding that day!)
6.) Stay at a hotel in Giza. If possible, I can't recommend staying at a hotel in Giza enough. Staying at a hotel in Cairo will mean it can take nearly an hour to reach the pyramids by car. However, if you stay at one of the pyramids in Giza, many of these hotels have pyramid views RIGHT FROM YOUR ROOM!! We had stayed at the Mena House by Marriott – which is as close as you can stay to the pyramids. Other than the security fiasco that morning, they were fantastic. If you're looking for a more budget-friendly option, check out these hotels in Giza, here. (Some are less then $30 USD a night!!)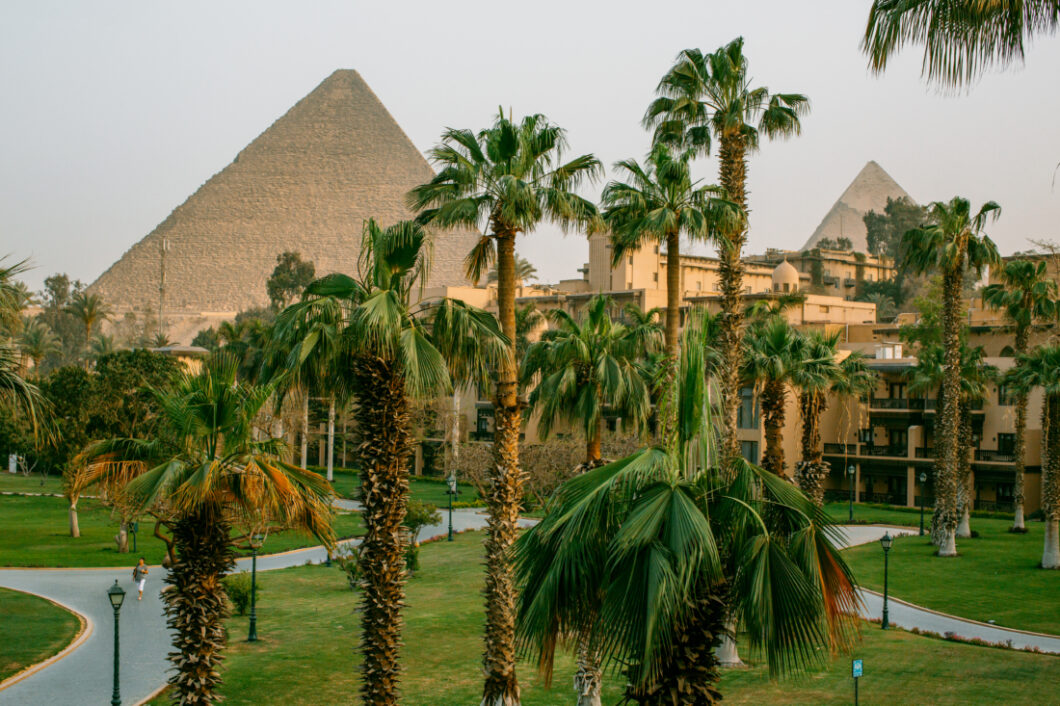 7.) During Ramadan, the hours do change – keep this in mind. Again, we had visited on one of the first days of Ramadan. I would advise not doing this as tensions were running rather high with everyone – security, guides, hawkers, etc. (Ramadan is a month of fasting, prayer, reflection, and community. Fasting from sun up until sun down is particularly difficult for the first couple days!)
The pyramids did not open until 8 am and closed at 3 pm! (Normally they open around 7 am and close at 5 pm.) Just be aware of this when planning your trip. This is also true for any other historical site or museum in Cairo during Ramadan. (Ramadan's dates vary from year to year – FYI.)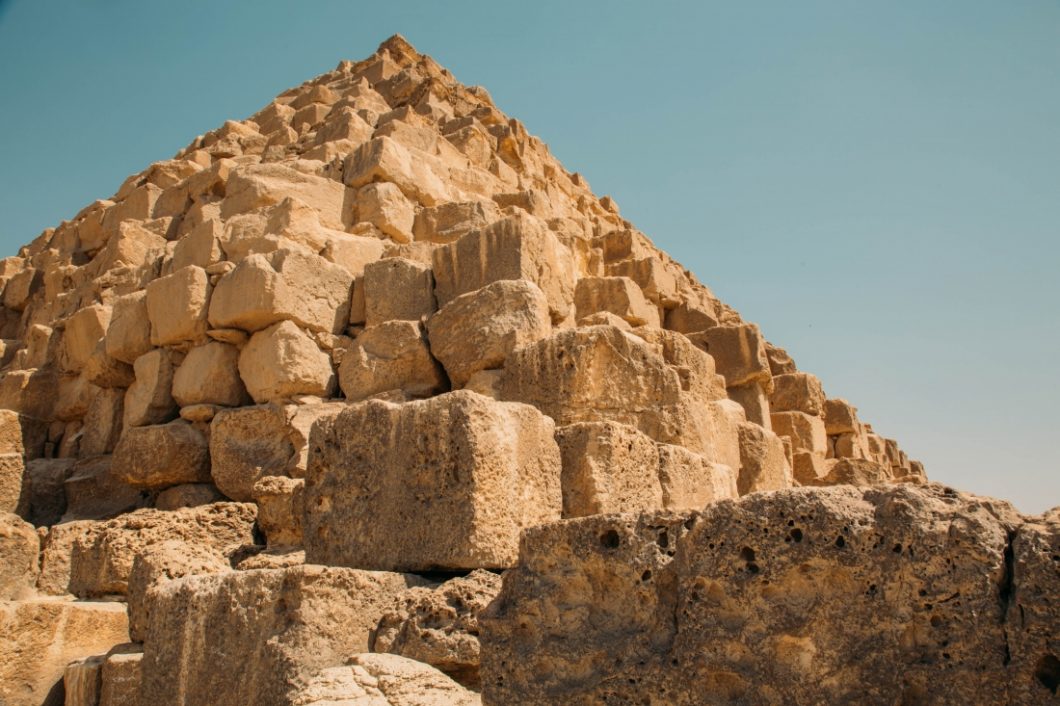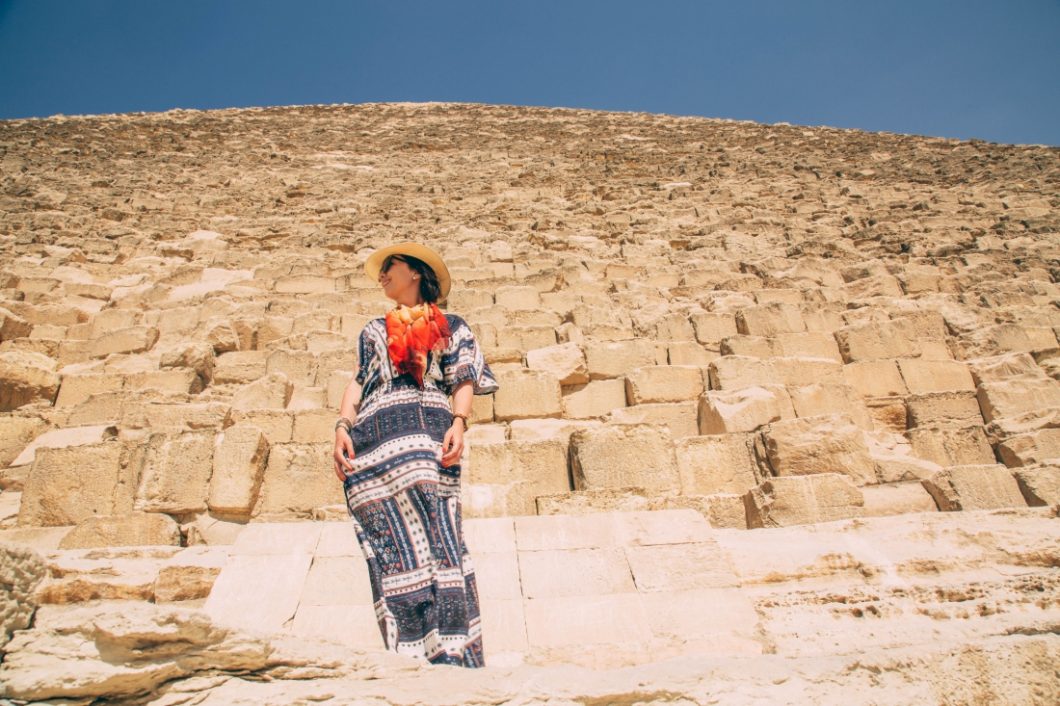 8.) Climbing the pyramids is illegal – don't do it! So, climbing the pyramids will land you in hot water. You could pay a fine or even spend some time in jail. (Climbing one or two blocks is OK, though. If you're unsure, just ask one of the guards. Better to be safe than sorry!) We had actually watched a man climb to the top of the pyramid that morning – he is in very hot water, now, though. And security was ramped up as a result by the time we arrived!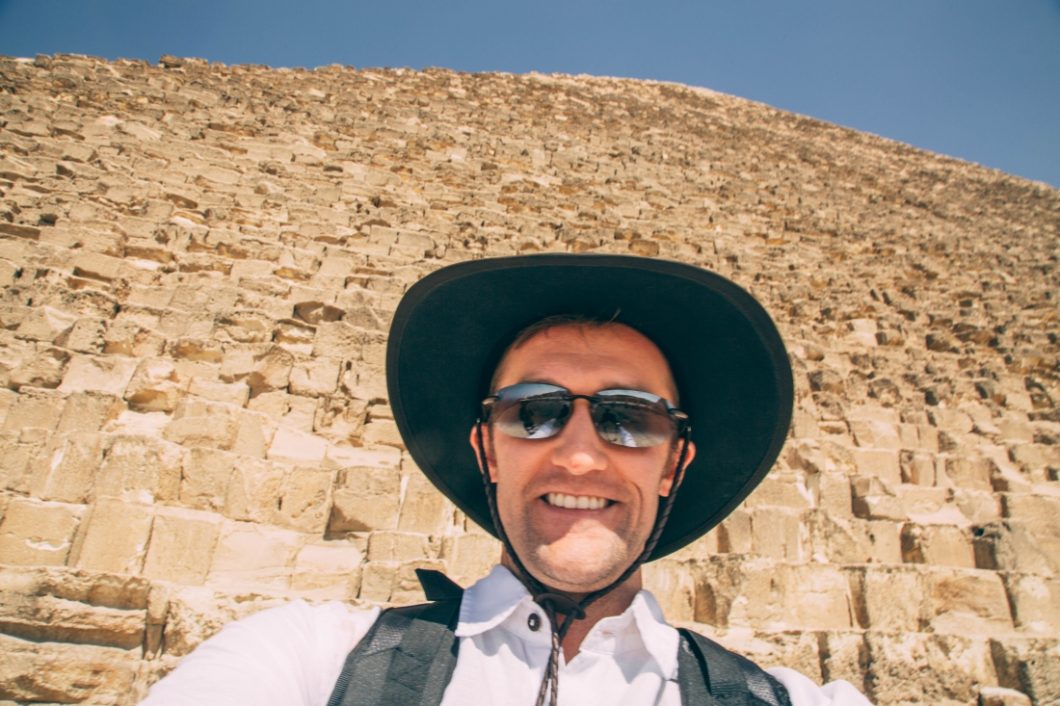 9.) You can go inside the Great Pyramid – it costs 360 Egyptian Pounds (as of May 2019). You can go inside the Great Pyramid! Just be sure to buy that ticket when you first arrive at the complex. Here are a few things to note about this too:
Photos aren't allowed inside. However, my husband said everyone was taking them – and then bribing the guards…. (Oh, Cairo… )
There isn't much to see inside. There is just a sarcophagus. (It wasn't until later that the Egyptians began decorating tombs with hieroglyphics, such as what you would see in the Valley of the Kings.)
If you're claustrophobic, you'll want to pass on this, though. I am claustrophobic and heard tales of fellow travelers having panic attacks while trying to go inside. My husband assured me I would not have made it through this, as many people were stopping in the narrow passageways to try and take photos…this would have killed me! I can't do narrow areas if I'm not moving or feel in any way trapped.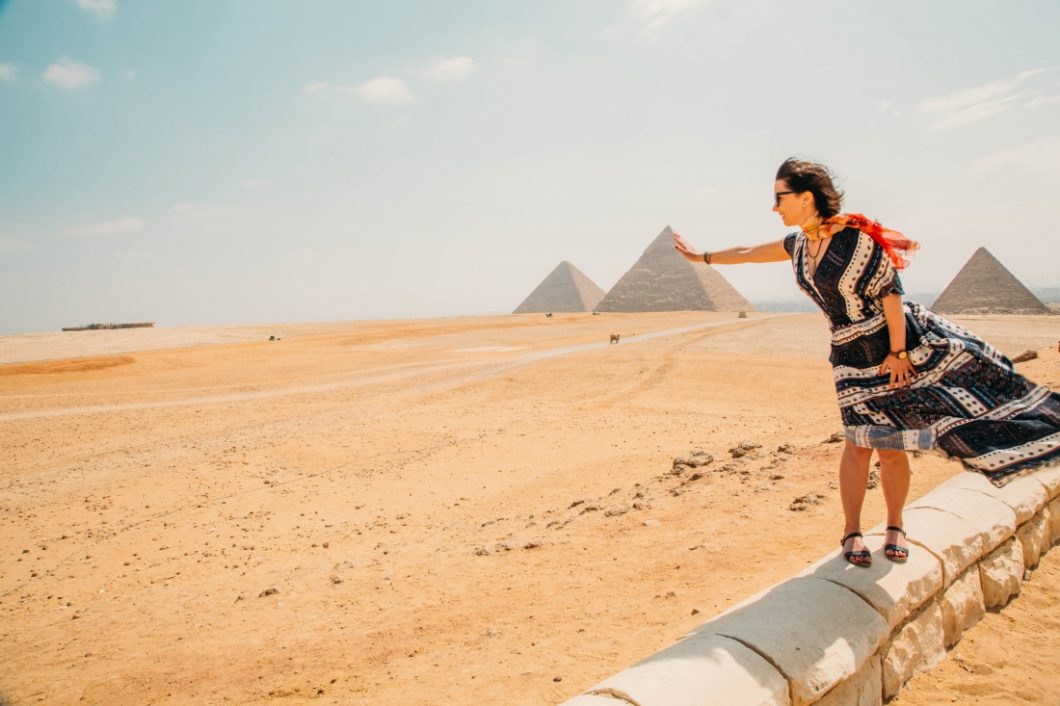 10.) Visiting the Pyramids of Giza first, before the Valley of the Kings, is a wise choice! Memphis Tours continually pushed for me to visit the pyramids on my first day in Egypt….which I didn't do because I didn't want to be a tired piece of poo when I saw them. So, I saved them for my last full day.
The reason you would want to see them first would be to chronologically see each site in Egypt – the pyramids would be the oldest, then head to Luxor, etc. etc.
Seeing each site chronologically is great, but my reason for going to them first would be if you had a fiasco as we did – you would still have enough time then to go back! I mean, the pyramids are likely the highlight of anyone's trip to Egypt, so you'd want to mitigate your risk as much as possible…(and have the opportunity to potentially return to them).
If you have any additional questions about visiting the Pyramids of Giza – please feel free to ask in the comments!
*Click here to see all of my posts on Egypt!
*You can also check out my entire packing list for Egypt as a woman.
*Also see my itinerary for how to spend 7 days in Egypt!