Nile River Cruise Outfit Idea
Embarking on a Nile Cruise in Egypt and not sure what to wear? Here is one Nile River Cruise outfit idea!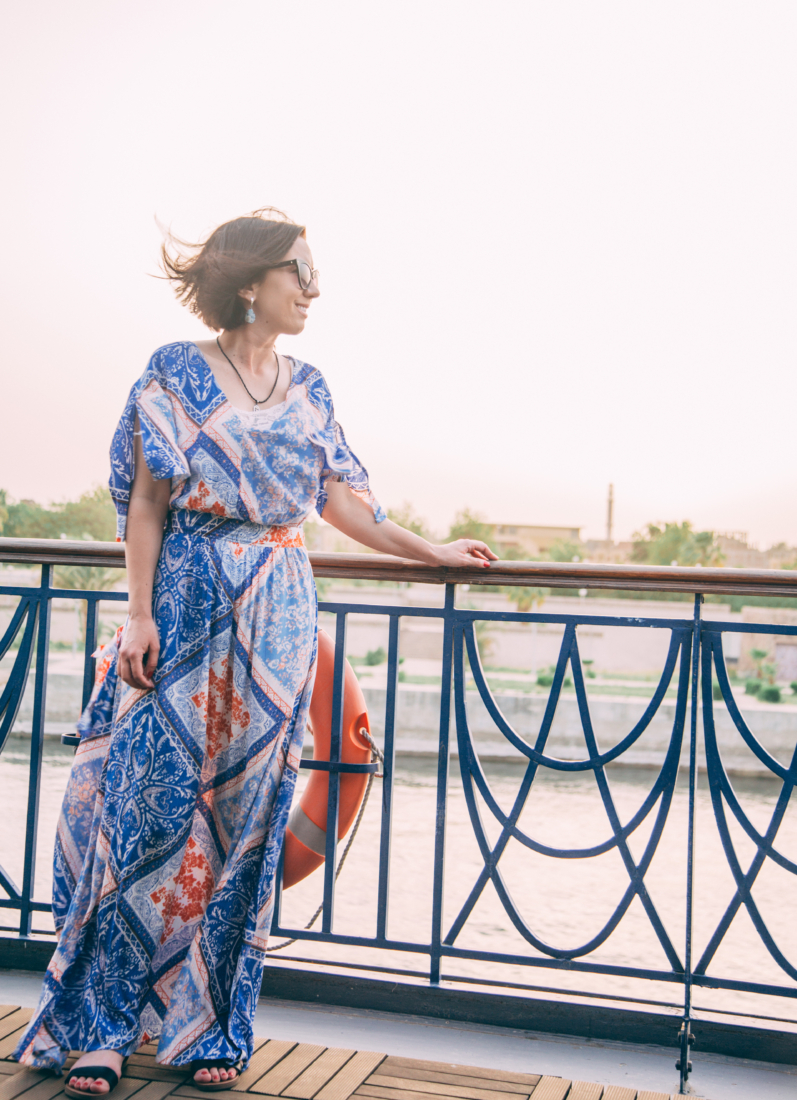 Dress | Sandals | Necklace | Sunglasses
During our Egyptian adventure, we had booked 4 nights on a Nile Cruise out of Luxor that sailed to Aswan. I have never been on a cruise until this point. And that being said, I do understand this cruise is not what cruises are typically like. This was a small boat that slept about 60 people with a lounge and downstairs eating area. It's an experience I'll get into a little more for a travel post, but for now, I'm just focusing on what I wore my first day on it!
We had been exploring the Valley of the Kings that morning before setting sail to Edfu, Egypt. This gave us some time to hang out upstairs on the deck and enjoy a couple cocktails as we cruised along and get to know some of the people on the boat. It was still pretty warm even with the added breeze and shade, so comfort is still key!
Note: We were here in May. If you are visiting in winter, the temps are far more comfortable. You may even need a cardigan or jacket!
Dresses I Packed for a Nile Cruise & Sight-Seeing in Egypt
I found out a little too late, that I hadn't really packed enough clothing for changing into "nice" dinner clothes after we were done exploring for the day. I'm used to eating whilst exploring and never really changing. That, however, is not how cruises work I am coming to find out! Most people got changed into some very cute clothes after they were done exploring!
This floral print maxi dress turned into my "dinner" dress because it is comfortable for the heat, but still "dressy" enough for dining on the boat…and it also didn't fit me as well as the rest of the dresses I had packed, and I didn't want to risk wearing it for a day of exploring!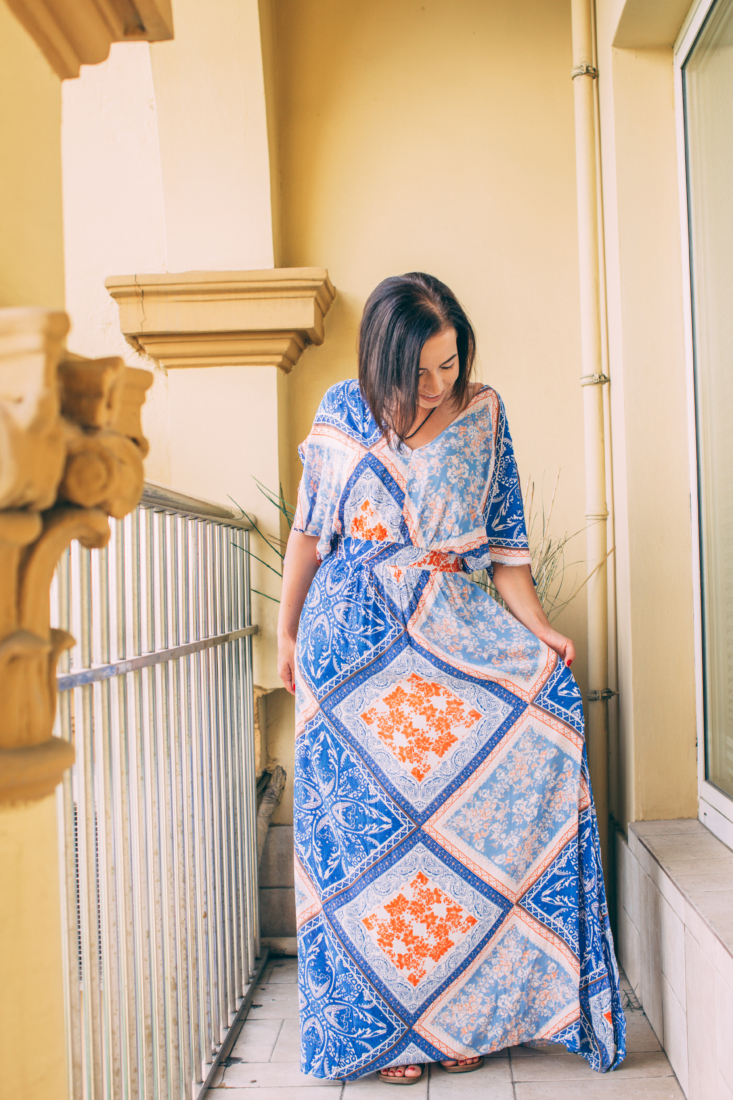 I had initially ordered this dress in this black and white vintage print, and I fell in love! So much so that I ordered it in the color pictured above, and also this deep navy floral color. I ordered my normal size medium in all of them, and the other 2 dresses fit me perfectly! The blue dress for some reason, though, does not fit the same.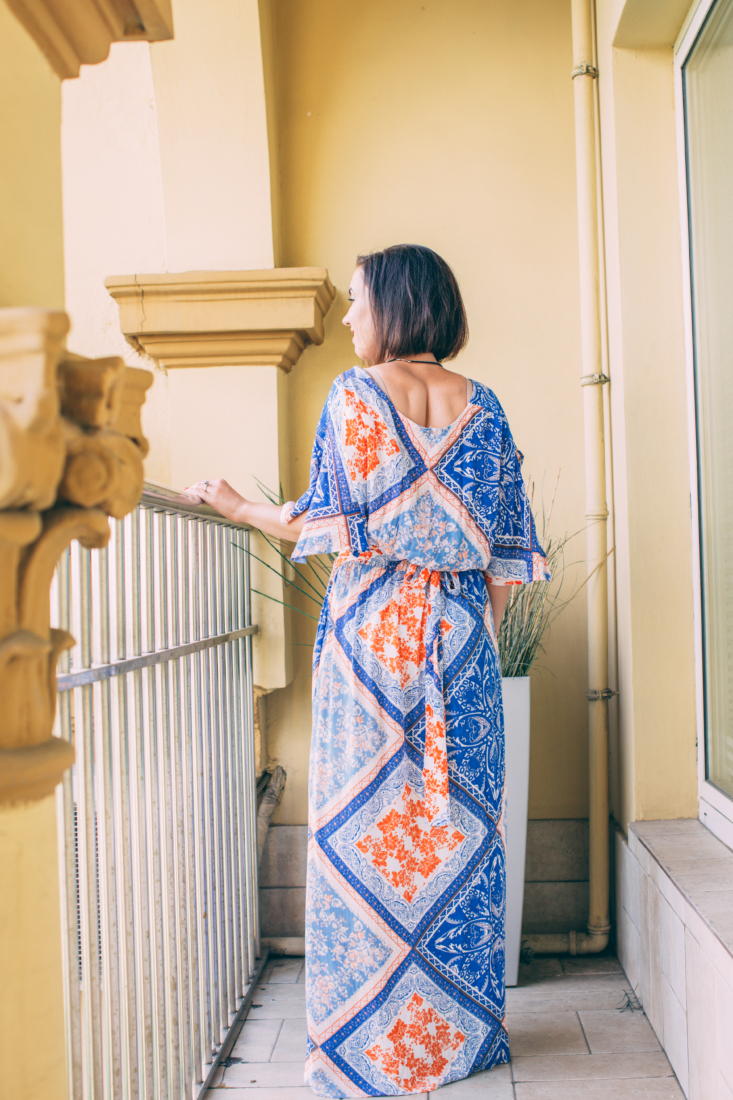 It's really long and quite loose on me. When I tried it on, I convinced myself it fit fine (because the other 2 dresses did), and put it in my suitcase. However, when I went to put it on the first morning we were in Egypt…I realized it was wayyyy too long to wear for a day of walking in flats! I would be tripping over it all day long. I'm about 5 feet 5 inches…and it has about an extra 3 inches of fabric on the bottom. (What in the world was I thinking when I tried this dress on??!!)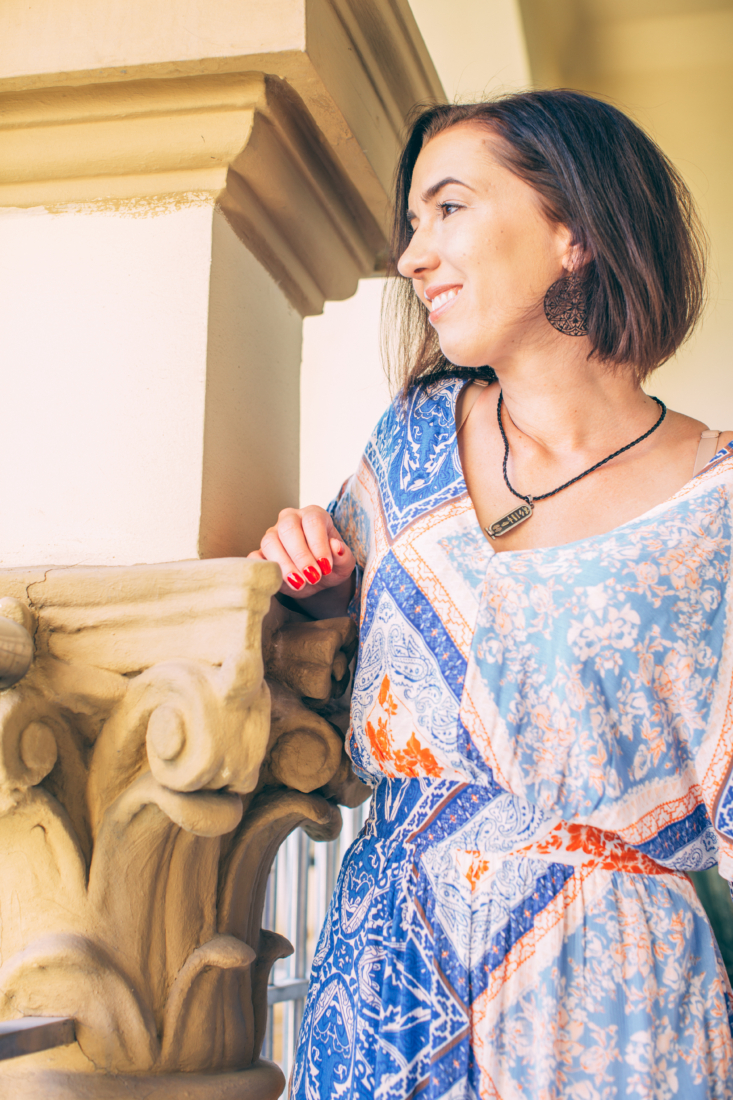 It is also pretty loose in comparison to my other two dresses (visit my Pyramids of Giza outfit guide and my Edfu Kom Ombo outfit guide to see those dresses). That being said, if I would have just sized down a size, this would have been a perfect dress for the occasion! I had worn the other two dresses for a variety of activities and was perfectly comfortable. (I even rode a camel through the desert wearing one, haha.)
So… What Should You Pack for a Nile River Cruise?
The moral of this story is that if you're taking a Nile River Cruise, it's a good idea to pack an outfit or two that you plan to wear at night…after you're done exploring. I would still say to dress comfortably, as this is your time to relax and enjoy the upstairs deck (which can get rather warm). This type of dress I felt totally comfortable wearing on the cruise, and if this dress was a size smaller, I would have even worn it for a day of exploring. (However, if you're tall...this vintage floral print maxi dress would be perfect for you!)
Read my full Nile River Cruise review! You can also check out my entire Egyptian trip packing list, as well as our full 7-Day Egypt Itinerary.
Has anyone else ever done a Nile River cruise or any type of cruise? How do you normally pack for them? Let me know in the comments!
*Note: I took a few more pics once I got home because the wind made it nearly impossible to show how this dress fit when we were on the cruise!
Where to Find My Nile River Cruise Outfit: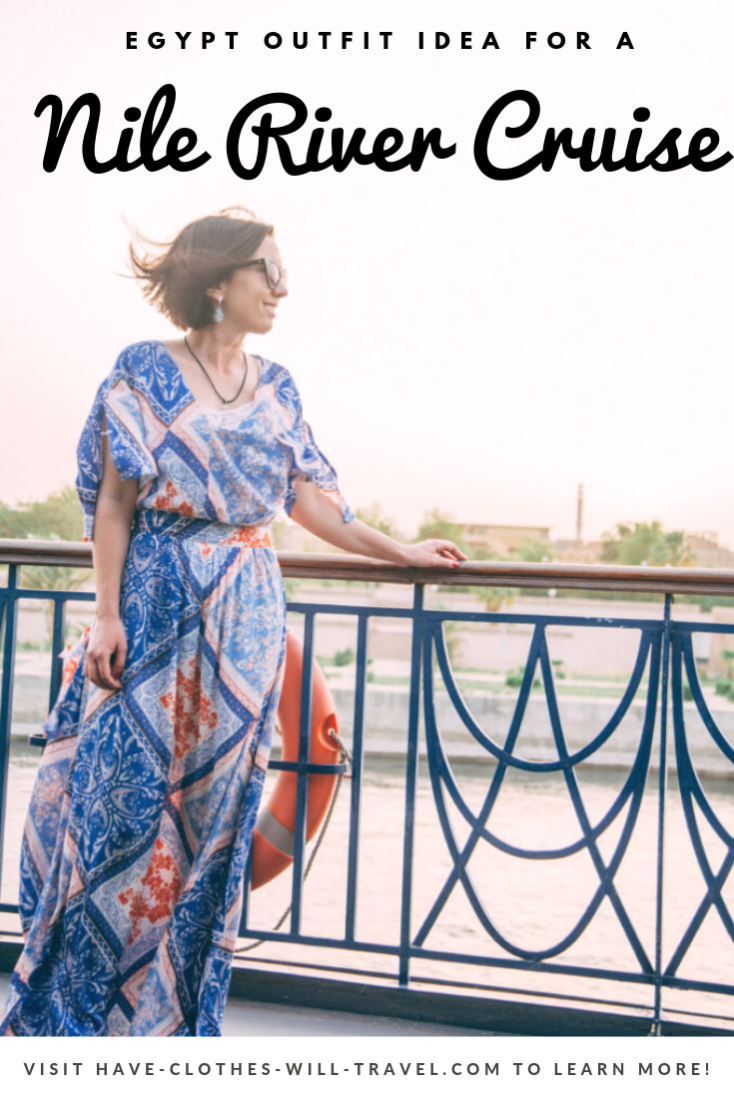 *Disclosure: some of these links are affiliate links. Meaning, if you click a link and make a purchase, Have Clothes, Will Travel gets a very small commission at no extra cost to you. Thank you for supporting the brands that make this blog possible! I am also a participant in the Amazon Services LLC Associates Program, an affiliate advertising program designed to provide a means for us to earn fees by linking to Amazon.com and affiliated sites.
*c/o = courtesy of, meaning the company gave me the product to be used on my blog, and I did not pay for it. All opinions are my own, and I am not being compensated for a positive review.