My Nile River Cruise Review (Featuring Amwaj Living Stone 4-Night Cruise)
Taking this Nile River Cruise in Egypt marked my first cruise experience. I had always vehemently protested being trapped on a boat with a bunch of people and unable to explore a foreign land at my own pace. However, cruising the Nile River had piqued my interest. It held a novelty factor, being the highway of the Ancient Egyptians and all…and everything I had read about it was quite positive. It seemed this wasn't "a normal cruise experience."
So, after some added persuasion from my husband's coworkers who had taken one of these cruises, we ended up booking our journey through Memphis Tours for The Amwaj Living Stone Nile Cruise for 4 nights. This cruise started in Luxor and ended in Aswan. We took a flight to Luxor from Cairo, and then once we reached Aswan, we took a flight back to Cairo.
I'll give my full, unbiased review of this cruise experience + share what to expect if you choose to book it.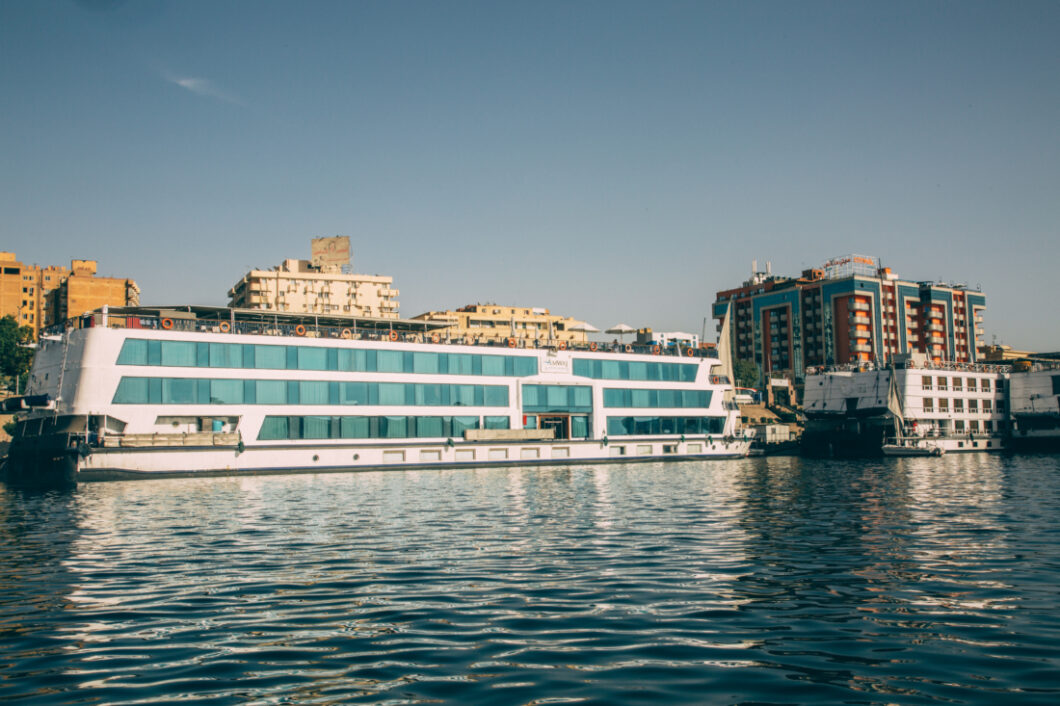 Full Review of The Amwaj Living Stone Nile Cruise
Rooms: The first question I always get asked about this cruise is, "how are the rooms?" Our room was one of the upper deck cabins. What this means is it's slightly more expensive because you have a slightly better view from your window. (You'll be up higher on the boat, and therefore will be able to see more as you're cruising along.) From what I could tell, the quality and size of the rooms were all about the same, though.
This boat is one of the "newer" boats, it's around 5 years old at the time we were on it (May 2019) and has around 60 rooms. However, the rooms were clean, no-frill, rather small places to get some sleep and watch the world go by from a little chair by the window. Our room was plenty clean, but it had a well-used feel to it. (This wasn't quite the luxury we had experienced at the Marriott Mena House in Cairo!)
Photos of our room on the cruise…pardon my disorganization!
We also enjoyed the staff's daily creations with our towels! This little monkey almost made me pee my pants when I opened the door, haha.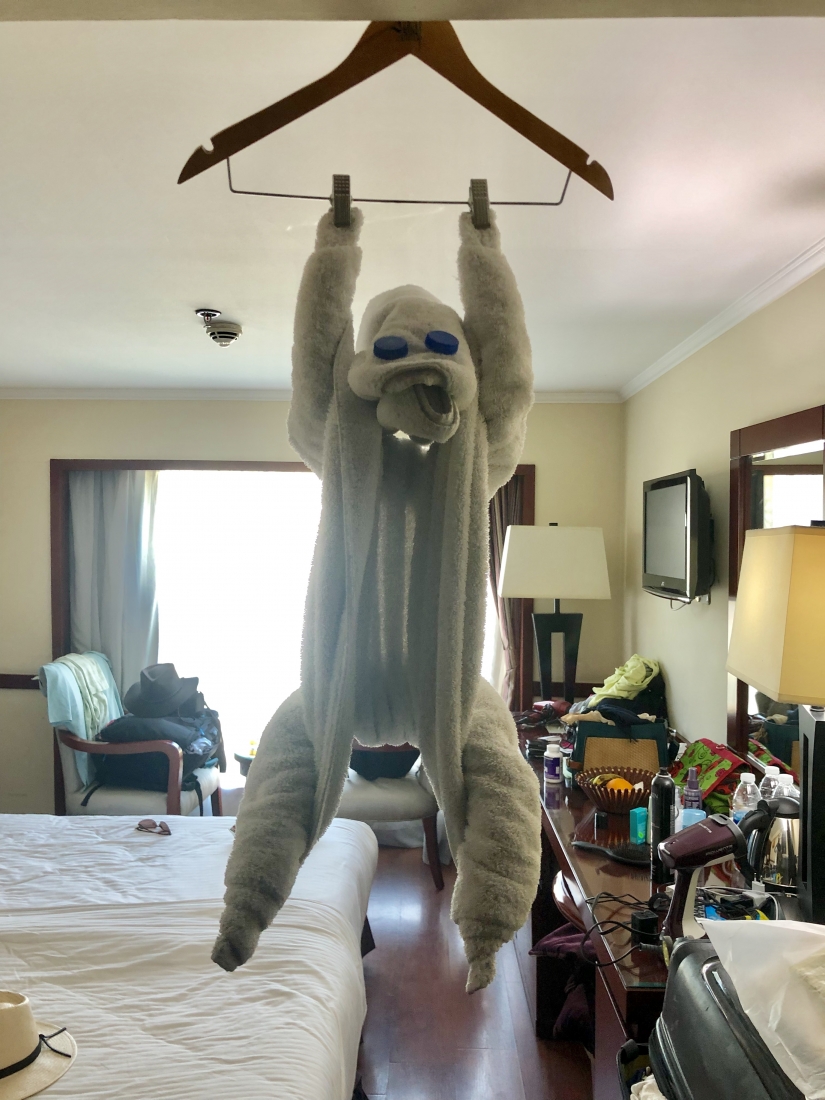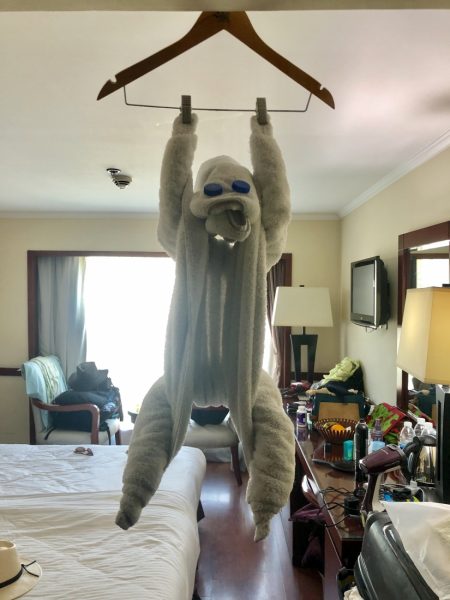 *Note: no irons are permitted inside the rooms because they are a fire hazard. So, if you have wrinkly clothes, you'll have to ask the front desk where you can go to iron your clothes. I had packed my travel steamer – which turned out to be a lifesaver for this trip. (I can't stand wrinkly clothing! I'm high-maintenance like that.)
Food: The next question that I'm always asked is, "how is the food?" Now, this is a typical buffet-style meal, and they're cooking for a large group for every single meal every single day of this cruise (all of your meals will be on this boat for the entire duration). Cooking food in bulk means some things will get rather repetitive, but overall, I was quite surprised by how good the food was on the cruise.
They did their best to switch up the food and had quite a variety of dishes to choose from at each meal. The desserts were quite dangerous, too! But, if you're a salad lover, you'll likely be disappointed, as the salad bar did leave a bit to be desired. (I did always like their selection of fresh fruit, though.)
Drinks: For our tour package at least, drinks were NOT included. This was a separate bill we paid at the end of the cruise. This included bottled water. My husband did the math, and it would be slightly cheaper to buy the bottled water from stores and bring it on the cruise. However, the amount wasn't too much. We ended up deciding the prices were fair, and we paid for the water onboard the cruise. We also had our share of cocktails, we're from Wisconsin, after all. (I drink alcohol, however, my husband does not. They do have non-alcoholic options for beer and drinks.) Our bill at the end was around $70 for both of us.
Activities:
When you're not exploring, the crew does their best to keep you entertained on the boat. You'll generally have around 4 hours on the boat in between temples. I'll explain the schedule a little better, below, though.
Some of the activities they had for us were: an afternoon tea on the sundeck, a happy hour social hour in the bar with free cocktails, a belly dancing performance, and a costume party (available to rent on the cruise).
There is also a swimming pool up on the sundeck where you can lounge and enjoy the views from sunchairs. (Click here for photos of that – sorry I have no idea why I don't have any.) There is also a covered area with fans where you can get drinks from the outdoor bar and sit and watch the world go by. (This was our activity of choice!)
We also spent a good portion of our time napping, reading or just sitting in our bed watching the views. If you've been following my blog, you'll know this is NOT the norm for us when we're traveling. We're sunup to sundown explorers and are usually dead tired by the end of a trip. So, napping and sitting were weird travel activities to have!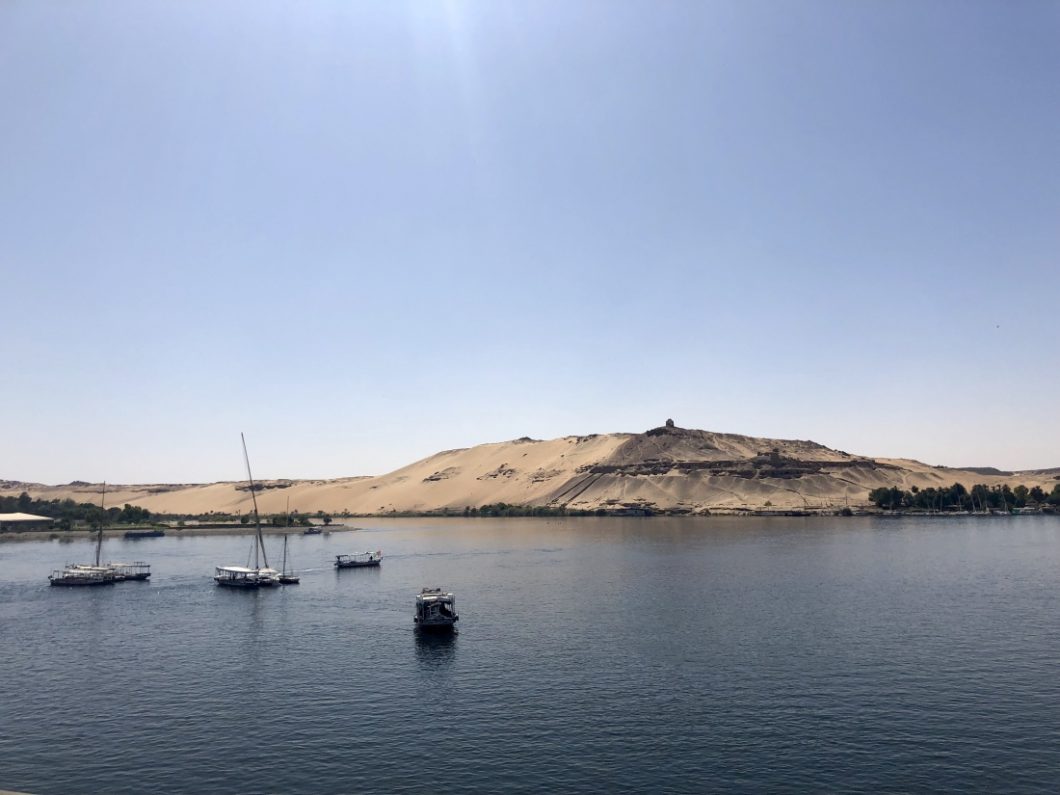 Amenities:
*There is a super small gym on board. This really just consists of a table for massages and two ellipticals that are all jammed in a room the size of a closet. (I like to exercise, but it was not happening on this cruise!)
*They also have a laundry and dry cleaning service, that wasn't horrifically priced either. (Sorry, can't remember the exact prices, but my husband did get a pair of pants washed, and I remember not being upset about the price…)
*There is also a medic on the cruise.
*If you want any souvenirs while in Egypt, there is also a gift shop on the cruise that is quite reasonably priced – and there is NO haggling. We actually bought a personalized cartouche necklace on this cruise for a fraction of what we had paid for the same one in Cairo. (If you're curious to learn more about buying souvenirs in Egypt, click here.)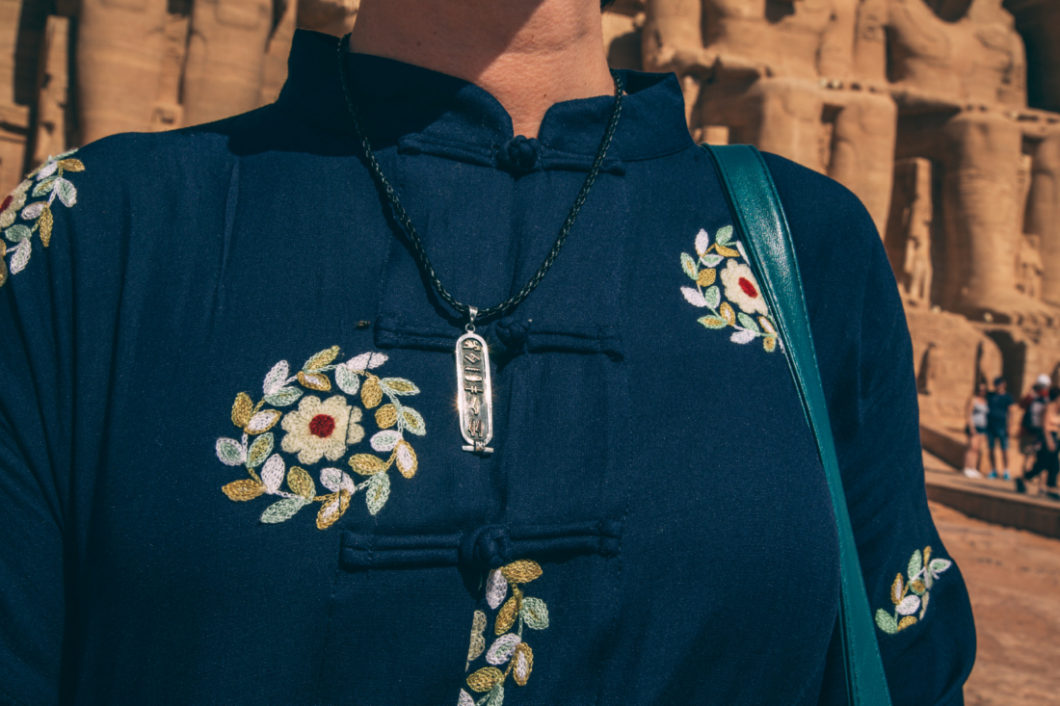 The Wifi Situation:
So, there is Wifi on this cruise. However, you have to pay for it. I believe it was about 150 LE per day. So, we decided to skip getting Wifi. Our T-Mobile international plan would work here and there, and that sufficed for the occasional Snapchat or email. Other than that, we disconnected for this journey.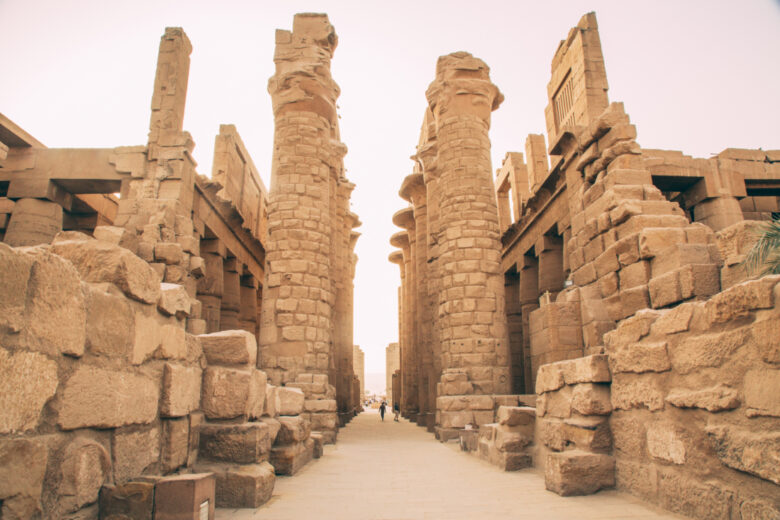 Tours on the Cruise:
The main reason you would take a Nile Cruise is to see all of these wonderful destinations at a relaxed pace. We had booked our tour guide through Memphis Tours. This was the same tour guide for each spot (except for the Nubian Village experience at the end and Abu Simbel.) His name is Ahmed and he was hands down the BEST tour guide we have ever had. He was so knowledgable and accommodating throughout this tour. We really lucked out having him as our guide!
We were grouped together with 3 other people who had also booked through Memphis Tours. So, this was a "small group" tour experience. We were also seated next to our tour group mates at dinner. We also really lucked out here because we were grouped with a FANTASTIC group of people. They were so fun to spend time with and were exactly the kind of group you'd want to be stuck on a boat for 4 days with!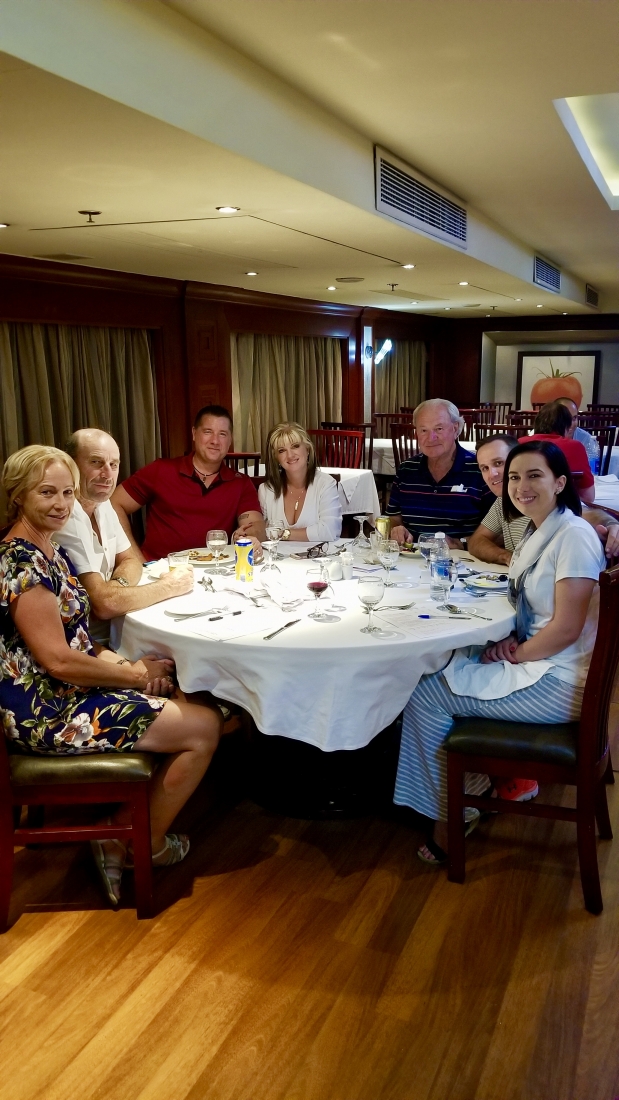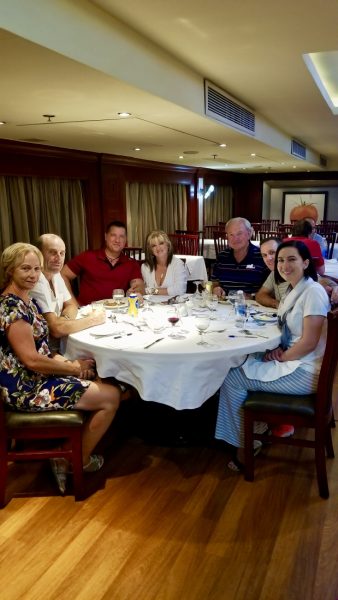 Schedule of the tours:
Day 1 – Arrived in Luxor at around 9:30 am. We spent the morning checking in and relaxing. That afternoon, we went to Karnak Temple and Luxor Temples. (Click here to read more about this day.)
Day 2 – We were up quite early this morning. (I got up at 5 am because I'm pokey.) Breakfast began at 6 am and then we were off to explore the Valley of the Kings and Hatshepsut Temple. we had lunch on board then set sail for Edfu. The rest of the day was relaxing on the boat. (Click here to read more about this day.)
Day 3 – Another early morning start in Edfu! We went to the Temple of Horus in Edfu. Then set sail for Kom Ombo. We had lunch on board. Then we stopped in Kom Ombo to explore briefly. We then set sail for Aswan and arrived very late that evening. (Click here to read more about this day.)
Day 4 – Early morning start to sightseeing in Aswan. We went to the Temple of Isis, the High Dam, and the unfinished obelisk in Aswan. We then had lunch and relaxed for a couple hours. You then had the option to stay on board the cruise or visit the Nubian Village in Aswan. Overnight in Aswan. (Click here to read more about this day.)
Day 5 – Departure. We opted to take a tour to Abu Simbel this morning. So, we packed up our bags and headed out at 3 am to make it to Abu Simbel from Aswan that morning. (Click here for more info this day.)
The Verdict?
My overall verdict of this cruise experience was that it was great! I had a lovely time despite my reservations about cruises. I have no prior cruising experience to compare it too, however, I am continually told that this was not a "normal" cruise experience. That being said, I also realize we were incredibly lucky because we had a fantastic tour guide and tour group, and the staff onboard the cruise were great. If we would have had a bad guide for the duration of this cruise or some crabby tour mates…this could have been a disaster to be stuck with them for 4 days.
Deciding whether or not a cruise is right for you depends on your personal preference, of course. If you want to see all of the sights listed above, you don't need to take a Nile cruise. You could take the train or fly and then take day tours to each spot or hire a taxi. The ladder may save you a bit of time, and if you decided you'd rather not see some of these sights you can simply skip them. A cruise is a set schedule, so if you're looking for more flexibility but still want to be on the Nile River, a felucca cruise could be your answer. This would be for the more adventurous traveler, of course!
Overall, I was happy with this experience and loved seeing all of the sights along the way. It was weird for us to have so much downtime while touring, but overall, it was a nice change of pace! I do understand that we really lucked out with the people we were surrounded with though, too.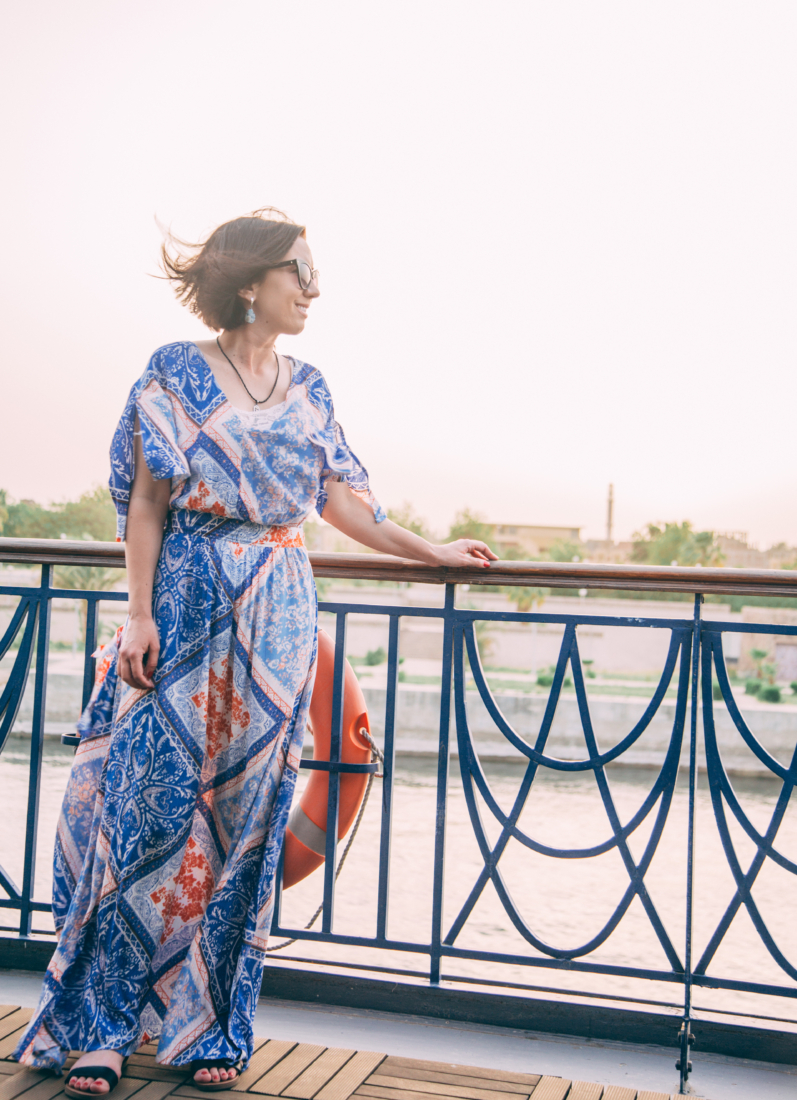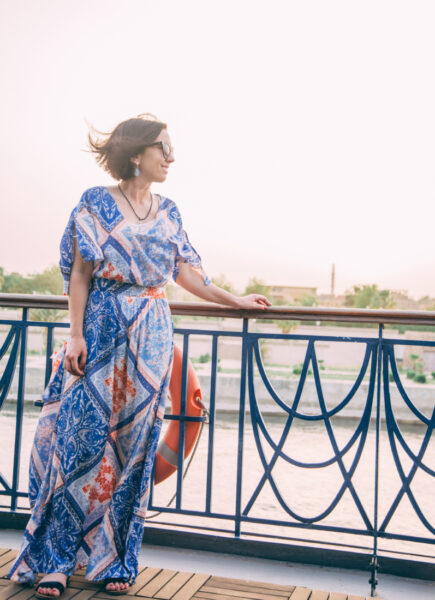 Dress Code on a Nile River Cruise:
One more quick note about how to dress on these cruises. Again, this is not a "normal cruise" experience. There won't be any nights on here where you'll need a cocktail dress or evening gown. That being said, most people were dressed "nice" for dinner. (You know, clean clothes, sundresses, button-up shirts, etc.) Click here to read more about dressing for a Nile River cruise.
For women, it's also worth noting you could wear shorts or tank tops or a swimsuit while by the pool or on the sundeck. (For the tours, though, dress conservatively. Click here for more info on that.)
If anyone has any additional questions about taking a Nile Cruise, fire away in the comments section below!
*Click here to see all of my blog posts about Egypt.
*Click here to see the Anwaj's Living Stone website.
*If you're interested in taking a 3-night cruise, click here.
Travel Insurance
It's a good idea, no matter where your adventure takes you, to have travel insurance. You never know what might happen! Whether you get sick before your trip and can't go, or you become sick or injured while on your adventure – being covered with travel insurance is a must. Some credit card companies do provide this service (check with yours), or you can get a quote from companies such as Squaremouth to find the best plan for you and your adventure. (This is the company I, personally, use. They are even recommended by Forbes!) To get a free quote, click here.
Visa Requirements
To check if your country requires a Visa for traveling to Egypt, click here.