10 Best Souvenirs to Buy in Egypt That Are Easy to Pack
Looking for the best souvenirs to buy in Egypt? This post has you covered!
Egypt is one of the first countries I've visited that I was REALLY interested in purchasing souvenirs. This has a bit to do with the fact that it's been at the top of my bucket list for decades, but mostly because I actually have a home to put souvenirs in, now. (Yay, for no longer being homeless!)
The vast majority of these souvenirs are easy to pack, though! That being said, I didn't purchase all 10 of these while in Egypt. I am TERRIBLE at negotiating – I like to pay the sticker price and be done with it. However, that is not how it works in Egypt at all! You should offer at least 20 percent less than whatever the asking price is (and stick to your guns).
My husband did a fabulous job at negotiating prices with the Egyptians while we were there. There were a couple of things, though, that I actually ended up ordering from Egyptian Etsy shops because their prices were less expensive than what we were able to get haggling with shop owners on the street and at markets (plus, they had really good reviews)! I'll let you know which of these I ended up not actually purchasing, though.
If you're heading to Egypt, here are 10 traditional souvenirs to keep your eyes open for + they won't take up a ton of space in your luggage!
10 Easy-to-Pack Souvenirs to Buy in Egypt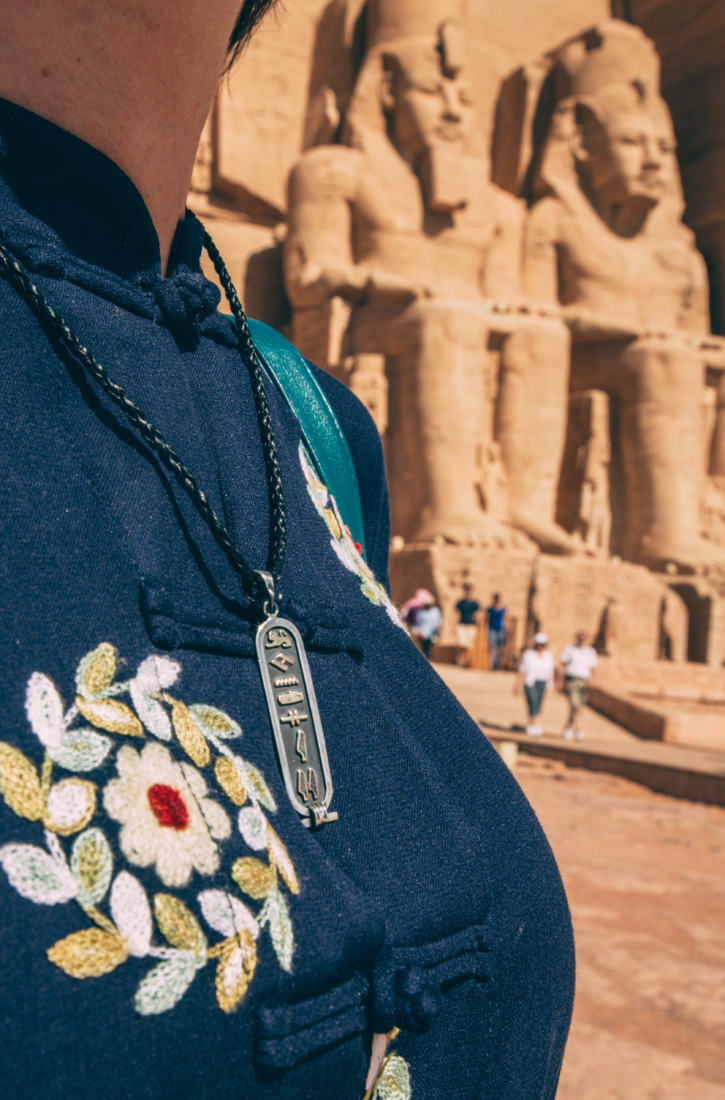 1.) Personalized Cartouche
For me, this was the COOLEST souvenir I bought while in Egypt. In Egyptian hieroglyphs, a cartouche is an oval with a horizontal line at one end. This is to indicate that the text enclosed is a royal name. (Cartouches were formerly only worn by Pharaohs.) The oval surrounding their name was meant to protect them from evil spirits in life and after death.
I had purchased this cartouche, with my name written in hieroglyphics, from a "government-regulated" shop in Cairo (but, if you've been following my Egypt posts, you'll know we were likely ripped off at these shops by our tour guide anyway). They made the necklace right in front of me, and it was quite fun to watch. However, I grossly overpaid for it! (It was my 1st day in Cairo.) They convinced me $80 was a good price, and I fell for it – and we even negotiated $15 off it.
The best price we were able to get for a necklace like this was actually made in Aswan, Egypt while we were on our Nile Cruise. They didn't make it in front of us…but the price for a necklace like the one I am wearing started at $20. (We actually ended up purchasing a double-sided one with real gold and a nice silver chain for $80 – unlike my cheap plastic chain and sterling silver pendant that is only single-sided).
This Etsy shop actually has some fantastic prices too – if you're looking to get a rough estimate of what you should be paying for these cartouches while in Egypt.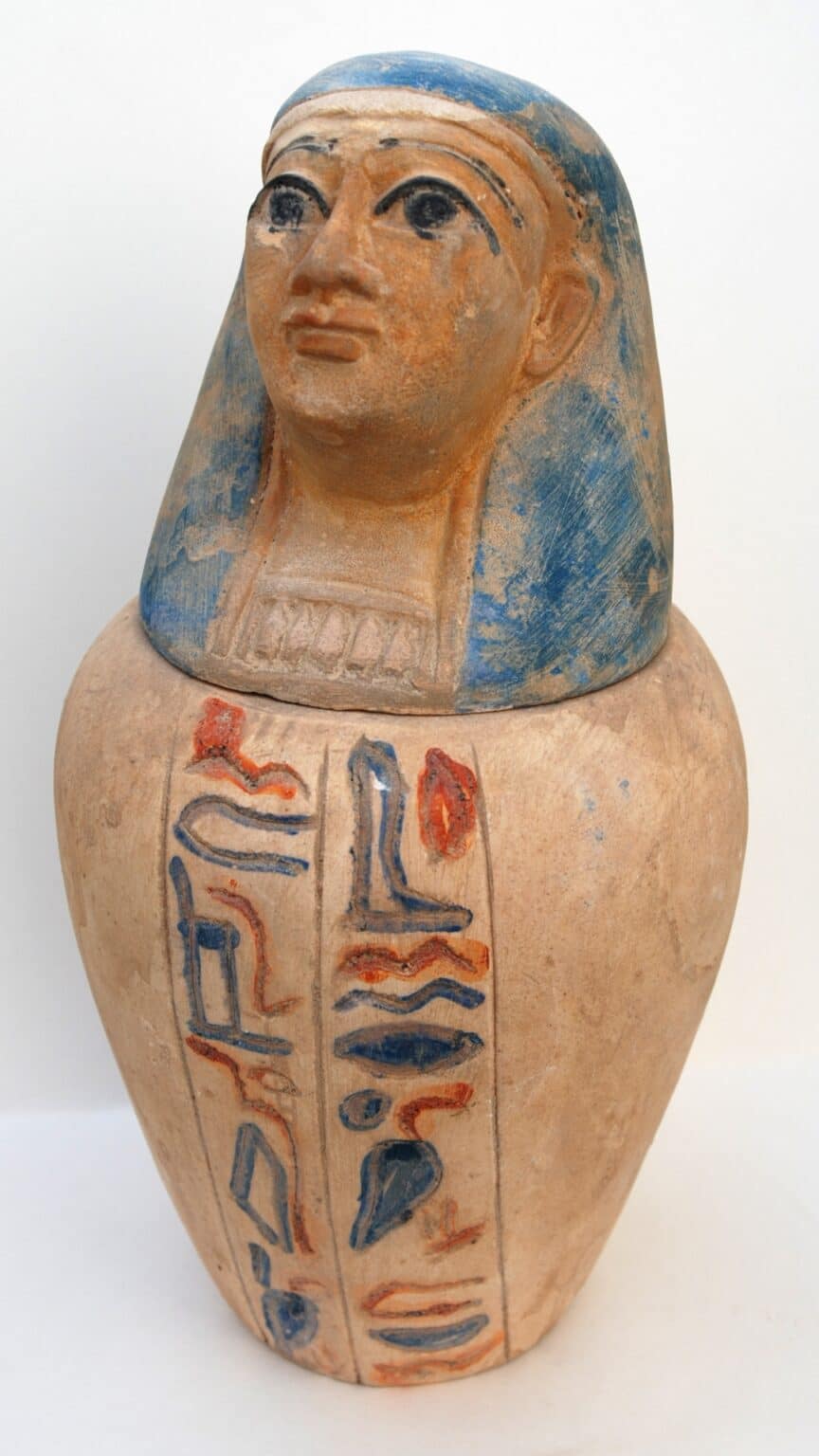 2.) Canopic Jars
This is a VERY close 2nd place for me in terms of cool souvenirs to buy in Egypt. Canopic jars were used by the ancient Egyptians during the mummification process to store and preserve the viscera of a person for the afterlife. They were commonly either carved from limestone or were made of pottery.
There are 4 canopic jars in a set:
Imsety had a human head and contained the liver.
Qebehsenuf had a falcon's head and contained the intestines.
Hapi had the head of a baboon and contained the lungs.
Duamatef had the head of a jackal and contained the stomach.
Fun fact: The heart was left inside the body because ancient Egyptians believed it to be the center of a person's being and intelligence.
Now, I tried to buy a set at every shop we went to but could not find any I that I liked, or they were bonkers expensive. The first set I liked started at $900 USD!!!! (Even if I negotiated it to less than half – that was still more than I was looking to spend.) The next set I liked was $150 USD, but one piece was damaged, and they would not offer a discount. The rest just looked cheap…and the prices didn't reflect that.
So, I purchased a set for just over $100 from this Cairo-based Etsy shop instead and had them shipped right to my home. Shipping took weeks, but I didn't have to negotiate with the owner – it was so worth it! I LOVE my canopic jars! They are fantastic conversation pieces when we have people over.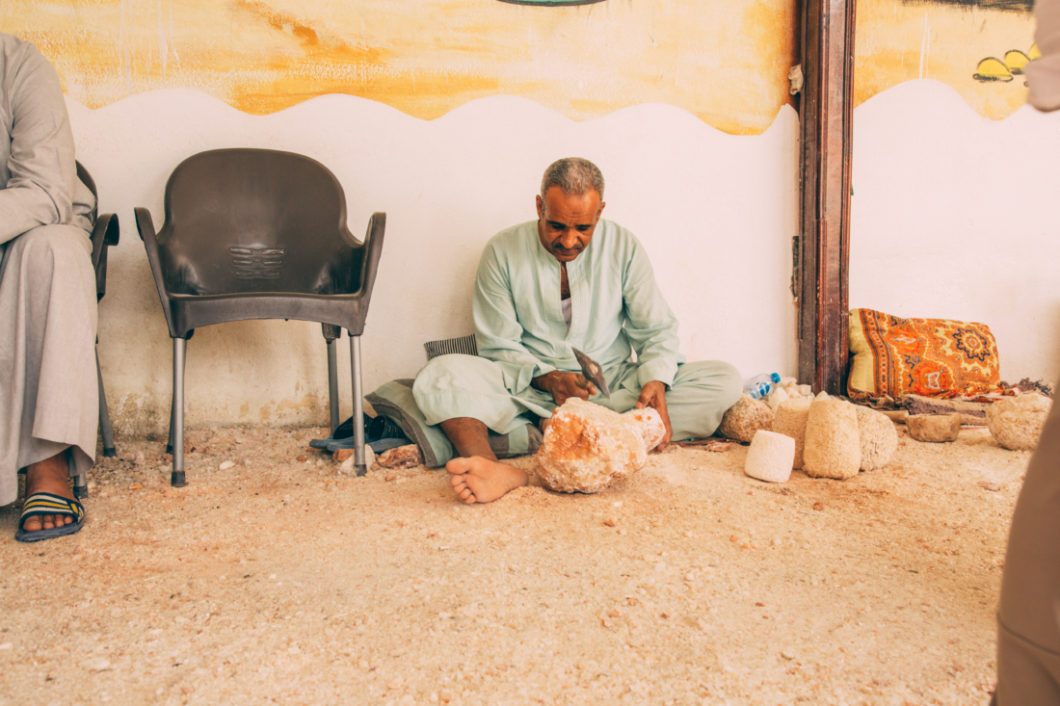 3.) Alabaster
Alabaster is a soft stone used for carving. You'll typically see it being sold as a vase. It's actually translucent too. (If you stick a candle or light bulb in this vase – the light will shine through.) DON'T use it for holding water, though. It'll dissolve it!
*This is one you'd want to put in your carry-on too…as it's very fragile.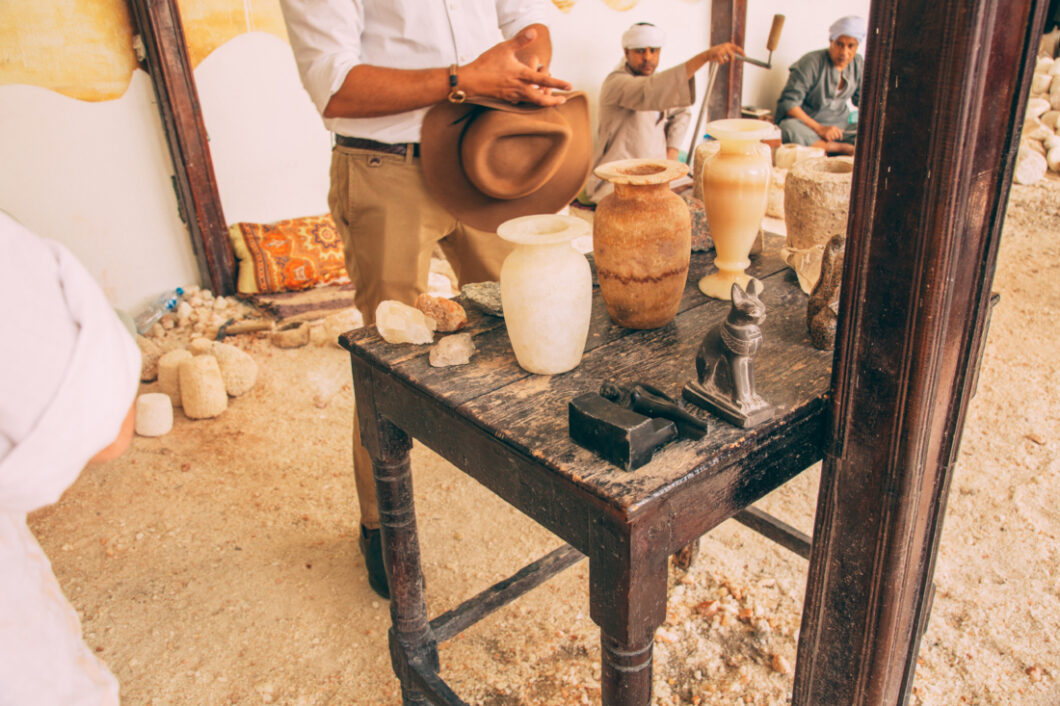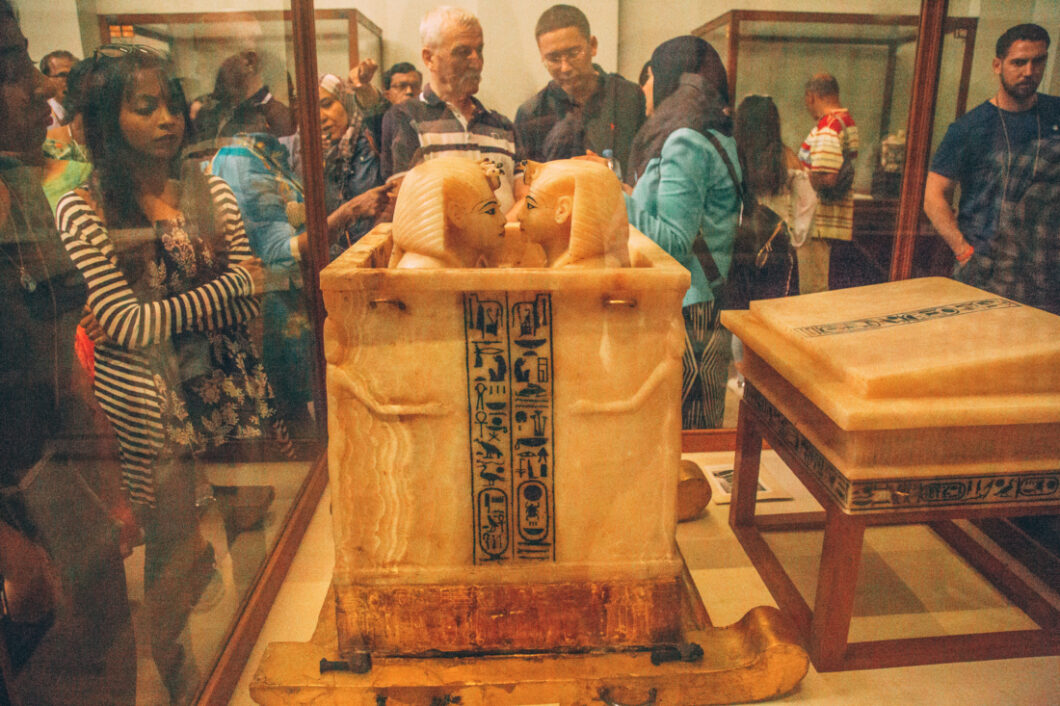 I did not end up purchasing any Alabaster souvenirs while in Egypt. This was a case of everything being more than I was willing to pay – and I was more interested in buying a reasonably priced canopic jar set. (Which I wasn't able to find while in Egypt… but I now see Alabaster canopic jars being offered on my new favorite Etsy shop for far less than what was being sold in Egypt!)
4.) Essential Oils
Aswan is the place to buy essential oils! Egypt has a rich history of essential oil production and is known for its production of high-quality oils, particularly those derived from aromatic plants like rose, jasmine, and chamomile. (Check out cool things to do in Aswan in this post.)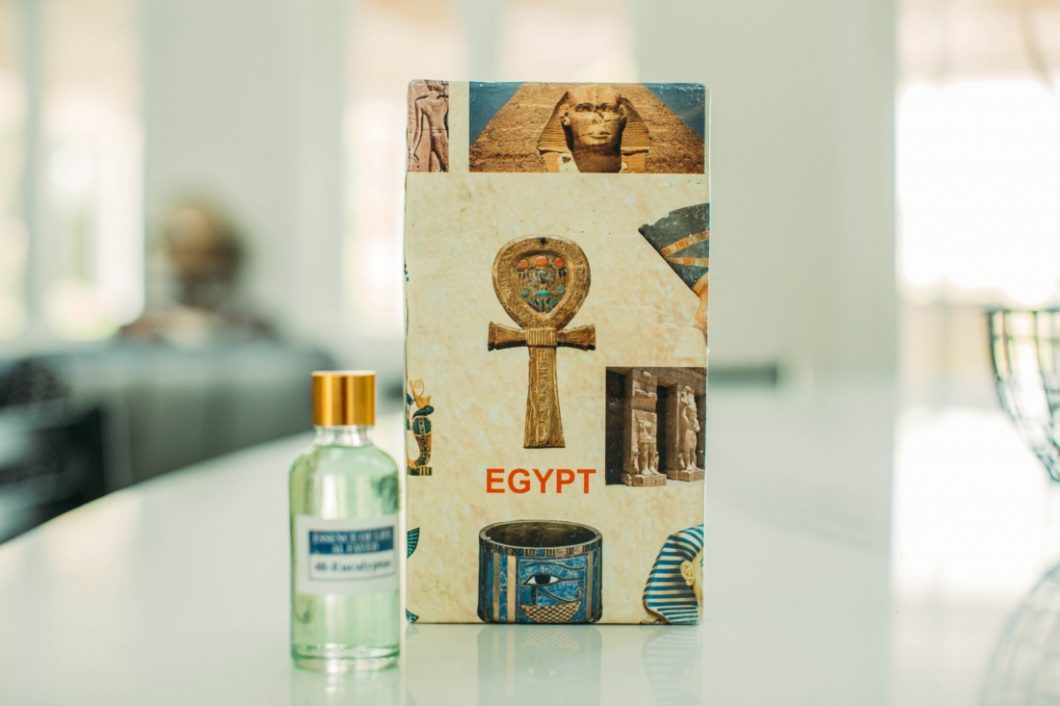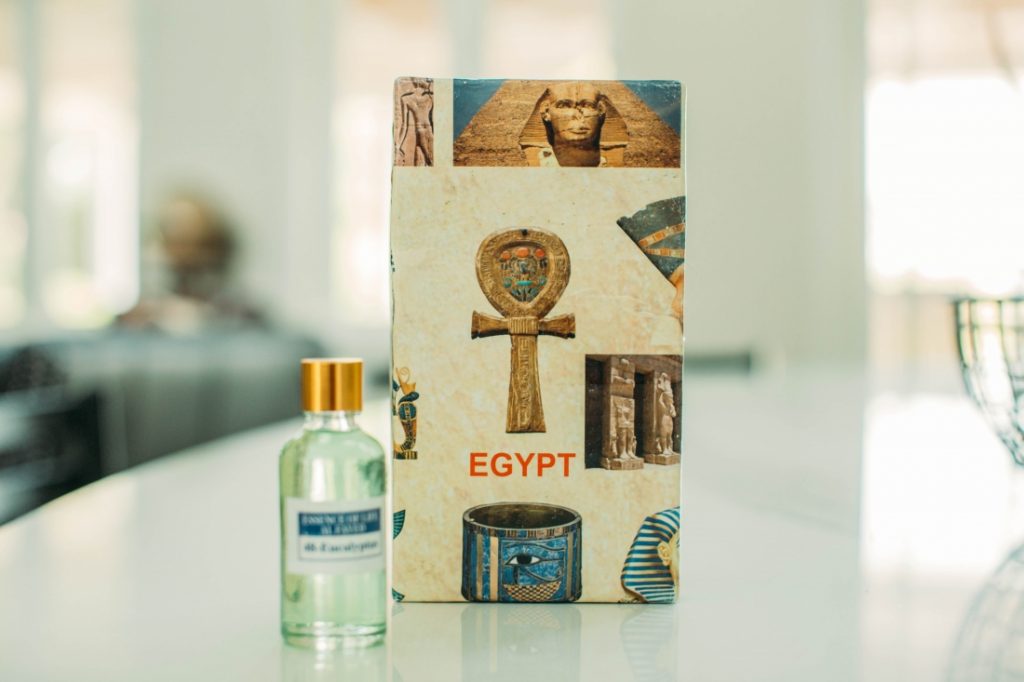 Essence of Life Al Fayed is the name of the shop we bought our oils from. I don't know too much about essential oils personally…I honestly ended up buying them because my husband and I were both congested and sniffing the mint essential oil provided instant relief. So, we're now the proud owners of a box of essential oils…all thanks to having a sniffly nose, haha. (And hey – the box the oils come in is cool too!)
The shop also offers massages with their essential oils – which are free. Just leave a tip if you enjoyed it.
If you have a favorite perfume you wear too, you can likely find a similar smell to it at these essential oil shops for a fraction of the price you would pay in the department store!
5.) Papyrus
Papyrus is paper made from the pith of the papyrus plant. It's very thick and the Ancient Egyptians used it for writing.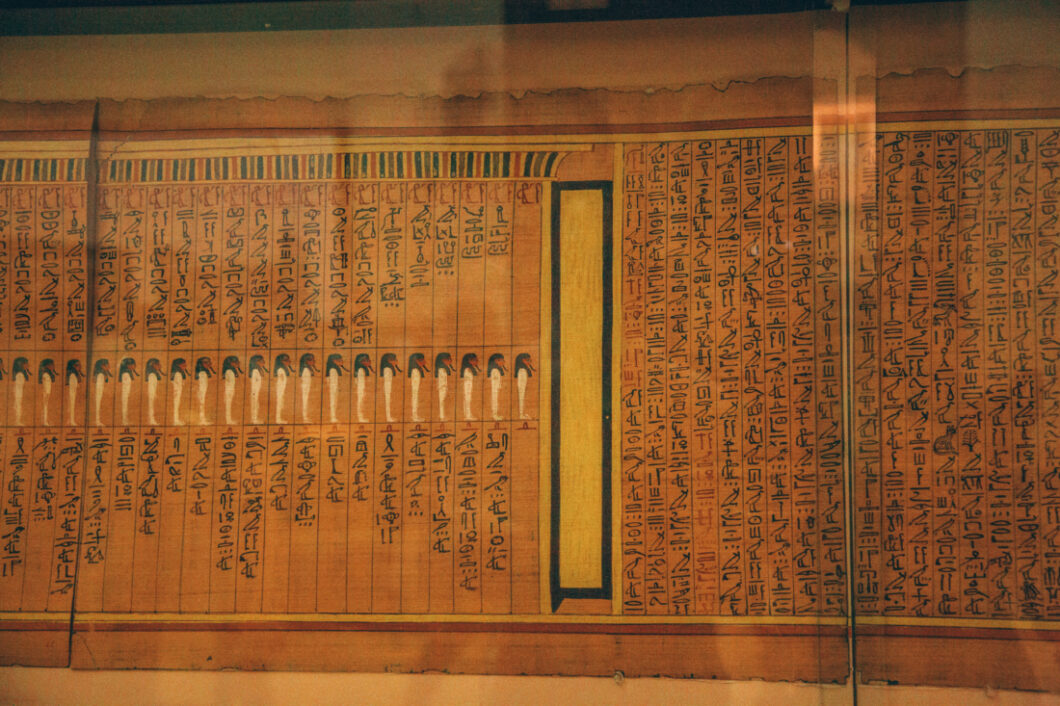 Hand-painted papyrus is a cool souvenir to bring back from Egypt! It's easy to transport, and you can buy it as small as a bookmark (so, it's economical as well). I did not buy any papyrus products, and I do regret this.
Our tour guide for the pyramids had offered to take us to a papyrus shop – but after our crappy tour of the pyramids + already getting ripped off buying the cartouche necklace…I vehemently declined a trip to the papyrus shop. (Which, I don't regret not going to…in hindsight, it just would have been neat to get a piece of papyrus to frame.)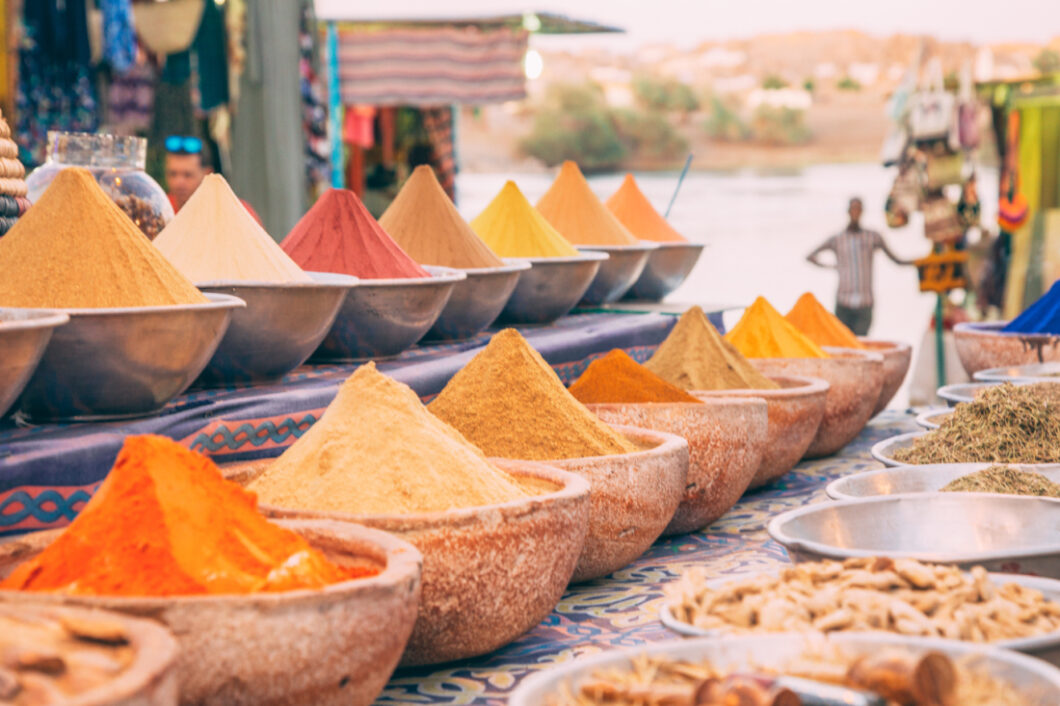 6.) Spices
Every market in Egypt will be selling brightly colored and fragrant spices. I, personally, enjoyed photographing them and smelling them more than actually buying them, though. While it can be a novel experience to buy them at a market in Egypt…I was worried about transporting them back in my suitcase, as I wasn't sure how customs would feel about me bringing them in. As long as the spices are packaged properly, though, the US does not mind you bringing them in your luggage.
7.) Statue of Egyptian Gods

You'll see statues of Egyptian Gods at every single souvenir shop and market. Most will look cheap…and are made of what appears to be plastic. However, some look phenomenal! The best spot I had seen these statues was in Aswan while waiting to catch a boat to the Temple of Isis. The Nubian people were selling all kinds of lovely souvenirs on these docks – and they weren't pushy at all…
8.) Camel Bone Jewelry

Jewelry made out of camel bone is also something that was being sold by the Nubian people in Aswan. It was all beautiful, and, again, no one was very pushy. The prices were very reasonable as well. Most necklaces were between $3-$5 USD.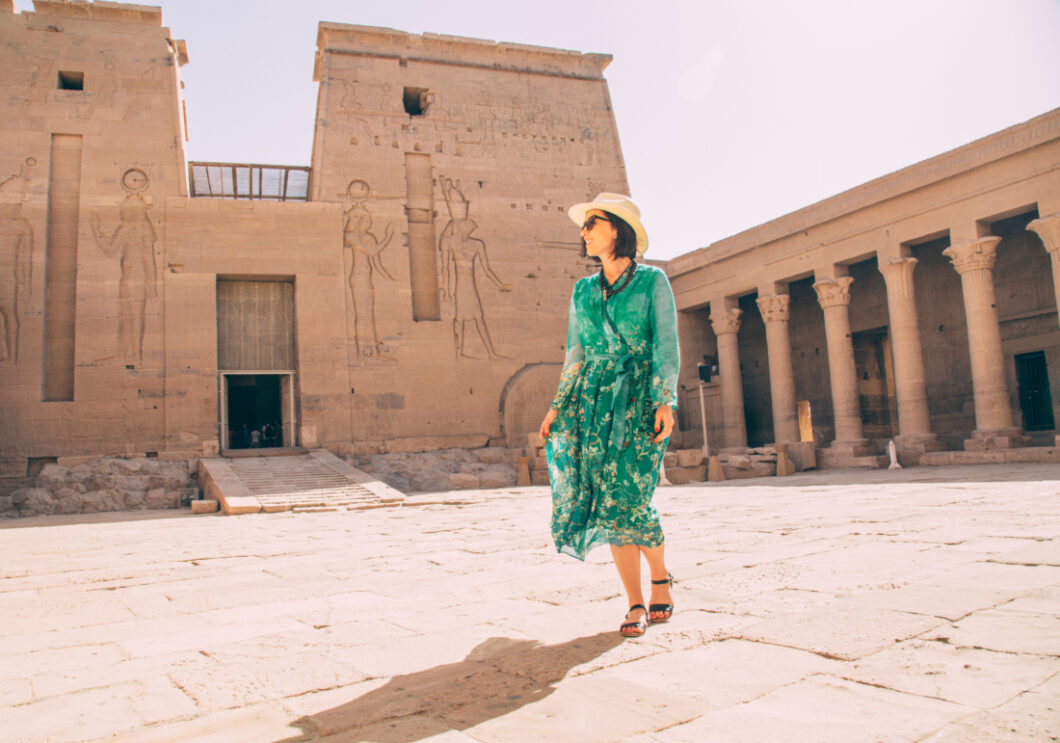 I did end up buying a necklace in Aswan from a very nice Nubian man for $5. I wore it right away while I went exploring in Aswan for the day! (This is my full outfit post from Aswan.)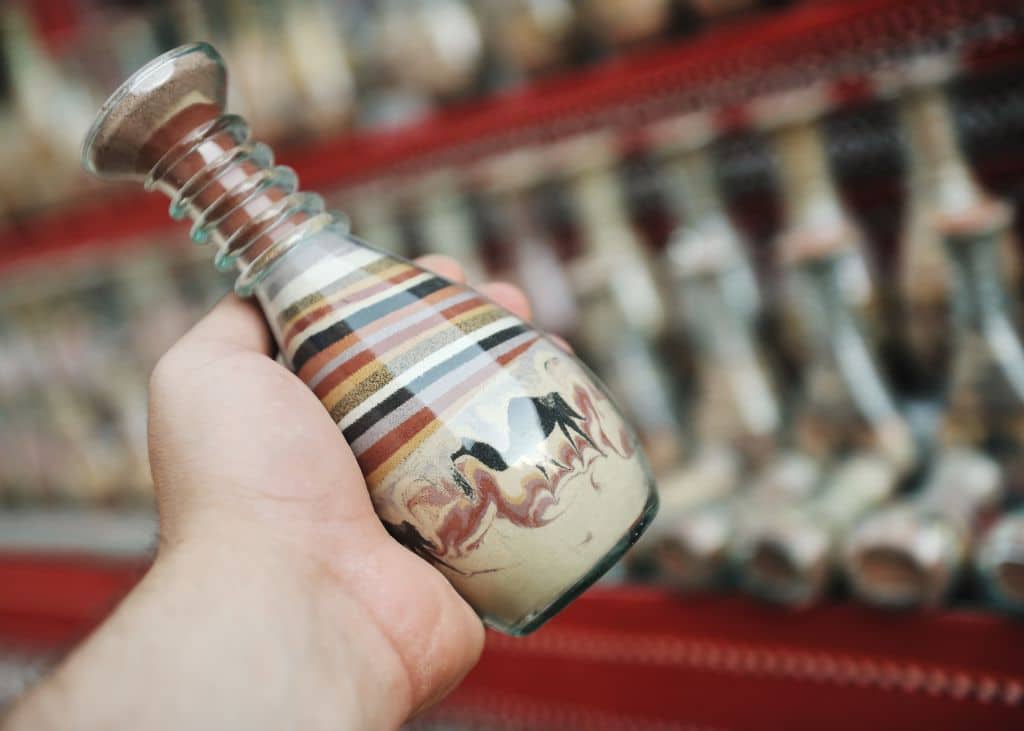 9.) Glass Bottles of Sand
Ok, I know these are super touristy…but watching people make these glass bottles of sand with the various colors, words and camels in them was super impressive to me. We ended up buying one of these little bottles of sand in Jordan for about $4 USD. These are also everywhere in Egypt, though. However, this was something that they would not let us pack in our carry-on luggage when we flew out of Jordan (this was not an issue in Egypt, though). So, if you're flying to Jordan after Egypt, keep your sand bottles in your checked bag.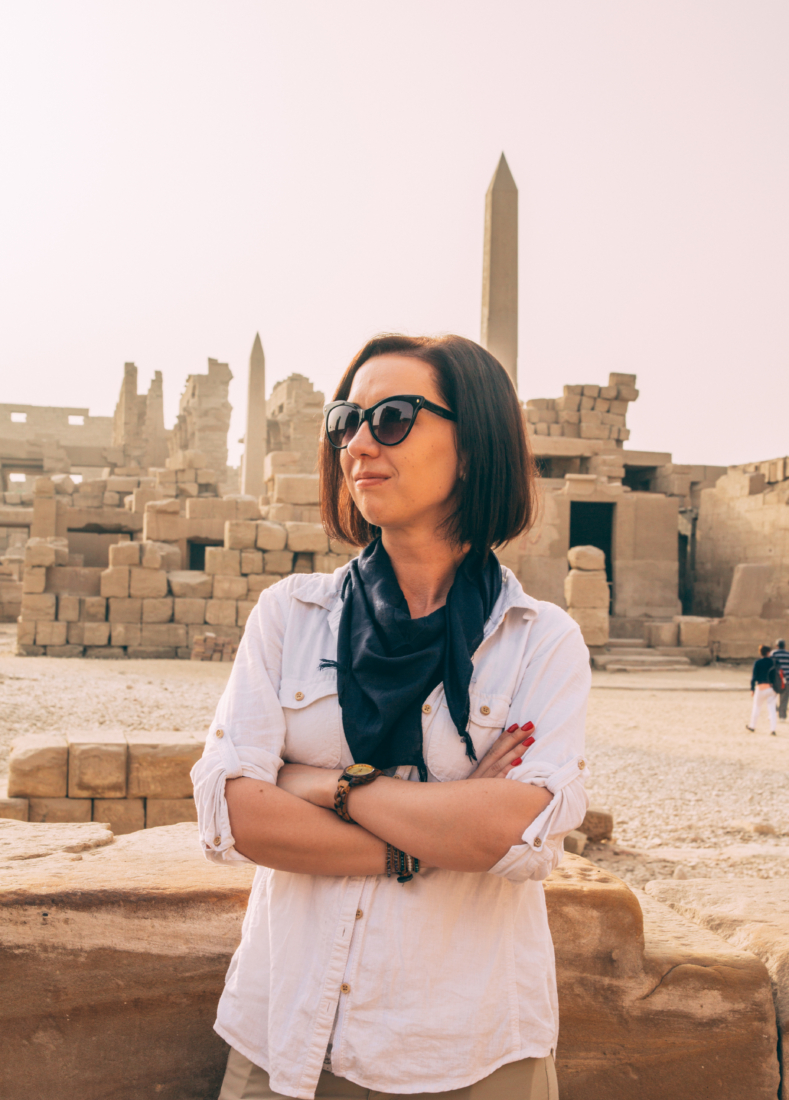 10.) Egyptian Cotton
Egyptian cotton is considered one of the best quality fabrics in the world – especially when it comes to bed sheets. Egyptian cotton fibers are considered by many to be the best because of their length, strength, and softness. A longer fiber means a stronger fabric and the ability to create a high thread count fabric.
Being in Egypt means you can buy all sorts of Egyptian cotton products! I already had bed sheets, so I did not purchase any Egyptian cotton bed sheets…but I did get an Egyptian cotton scarf to complete my "Rick O'Connell Outfit."
*See all of my blog posts on Egypt.
*You can also check out my entire packing list for Egypt as a woman.
*Also see my itinerary for how to spend 7 days in Egypt!
G Adventures is holding a cyber sale where group tour packages are up to 20% off!
Using a VPN When Traveling to Egypt
---
VPN is short for "virtual private network." A VPN (like IPVanish) sets up a private connection between your device and whatever network you are connected to – so, no one can see your browsing data. It is important to use a VPN anytime you are connected to public Wifi (such as at a restaurant, resort, hotel, cafe, airport, etc.). This is because when you connect to a public network no matter where you are, you run the risk of a hacker grabbing your unencrypted data. Trust me, speaking from experience here…this can put a real damper on your trip if your banking, phone or email get hacked while you're traveling!
VPNs can also help you save on domestic flights, help you watch Netflix shows not available in the US and more! You can read more about using a VPN in my post "Why I Use a VPN When Traveling and at Home (And You Should Too)."
Travel Insurance
---
Squaremouth is the only site that currently lets you filter travel insurance policies for COVID-19 coverage. I, personally, use Squaremouth for finding the best insurance policies for my travels, and I have had a very positive experience getting my claims settled and paid after I was stuck in Peru earlier this year. They're also recommended by Forbes! You can click here to get your free travel insurance quote.
Visa Requirements
Check to see if your country requires a Visa for traveling to Egypt.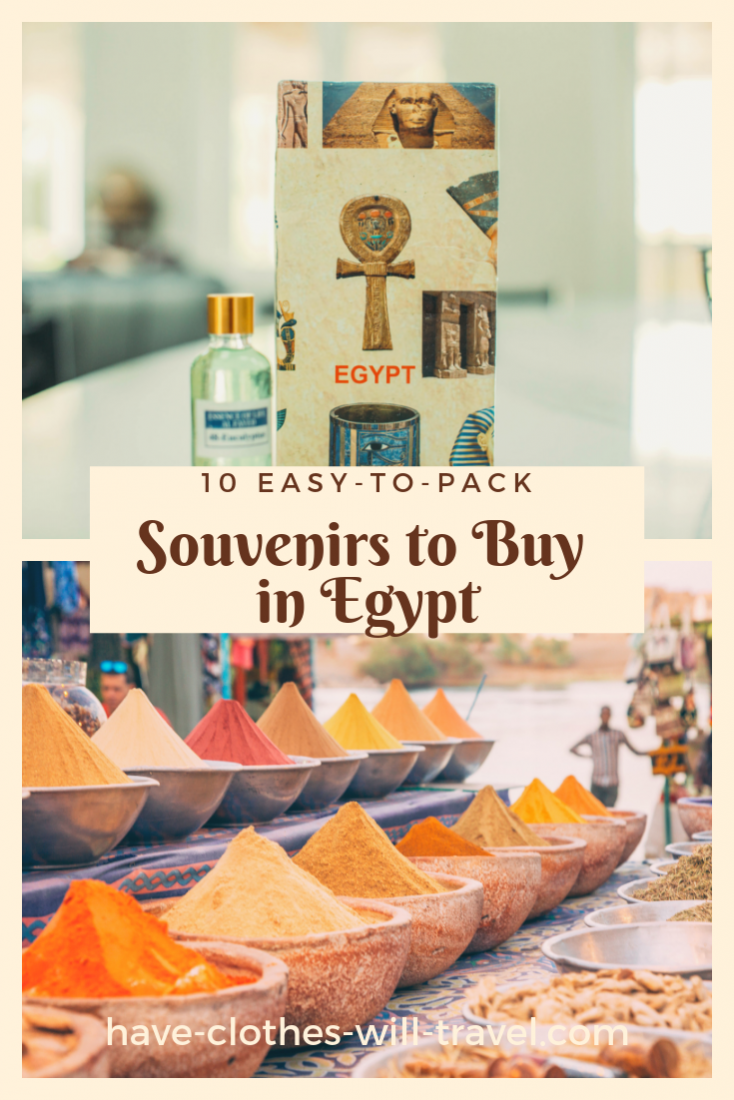 *Disclosure: some of these links are affiliate links. Meaning, if you click a link and make a purchase, Have Clothes, Will Travel gets a very small commission at no extra cost to you. Thank you for supporting the brands that make this blog possible! I am also a participant in the Amazon Services LLC Associates Program, an affiliate advertising program designed to provide a means for us to earn fees by linking to Amazon.com and affiliated sites.