Egypt Outfit Idea for Dinner at Mena House Cairo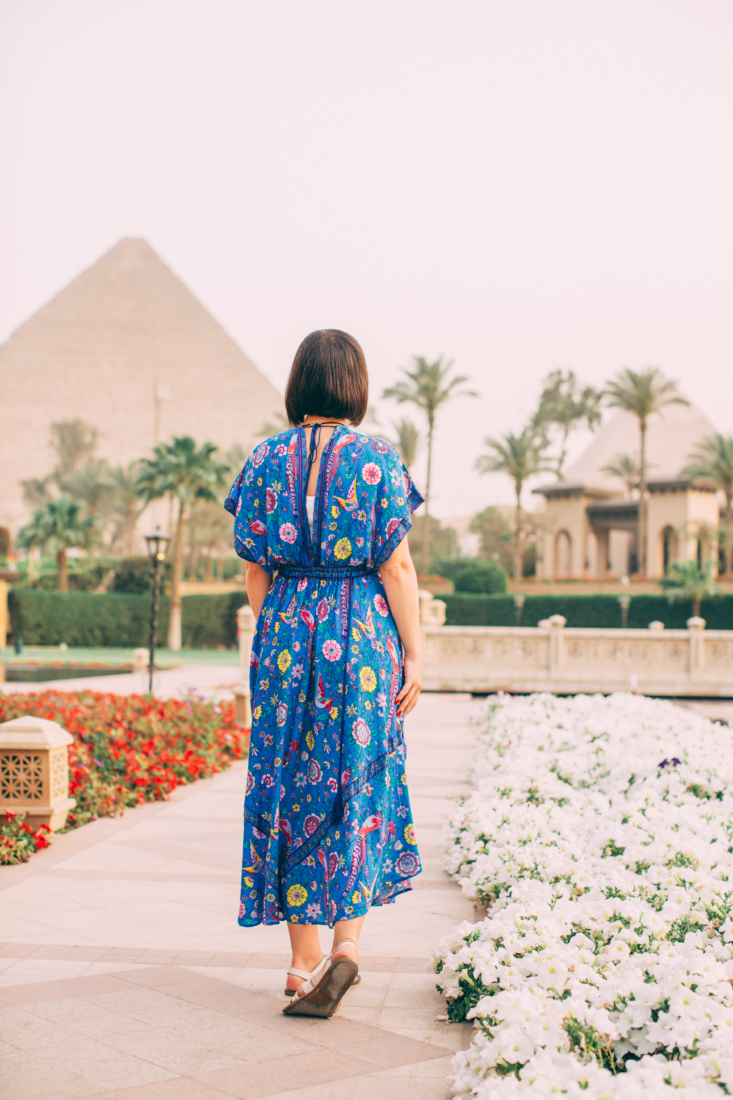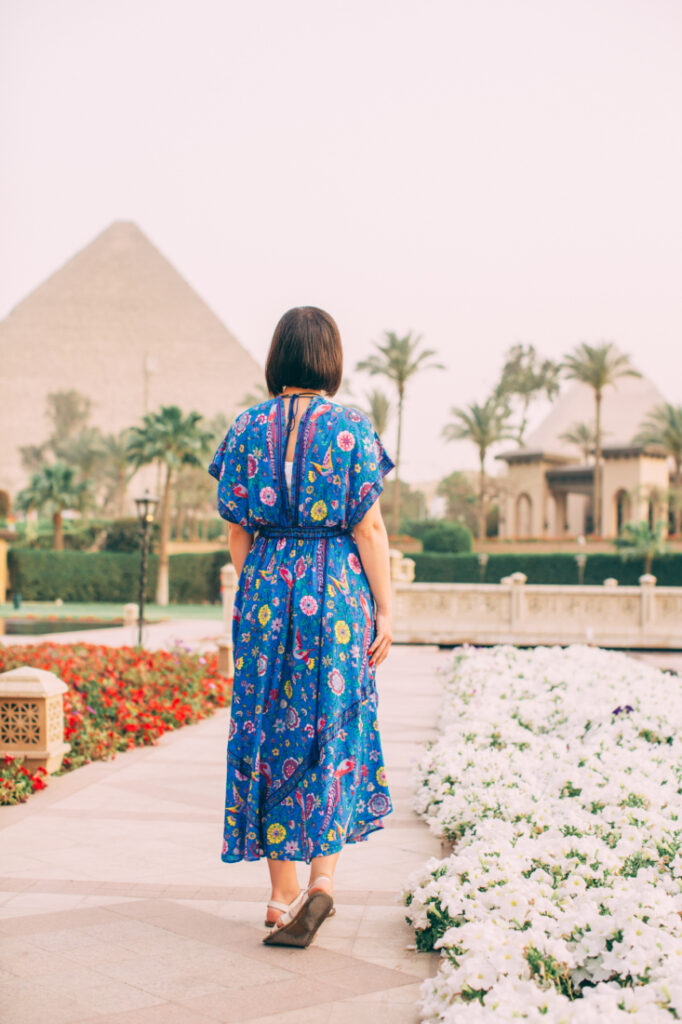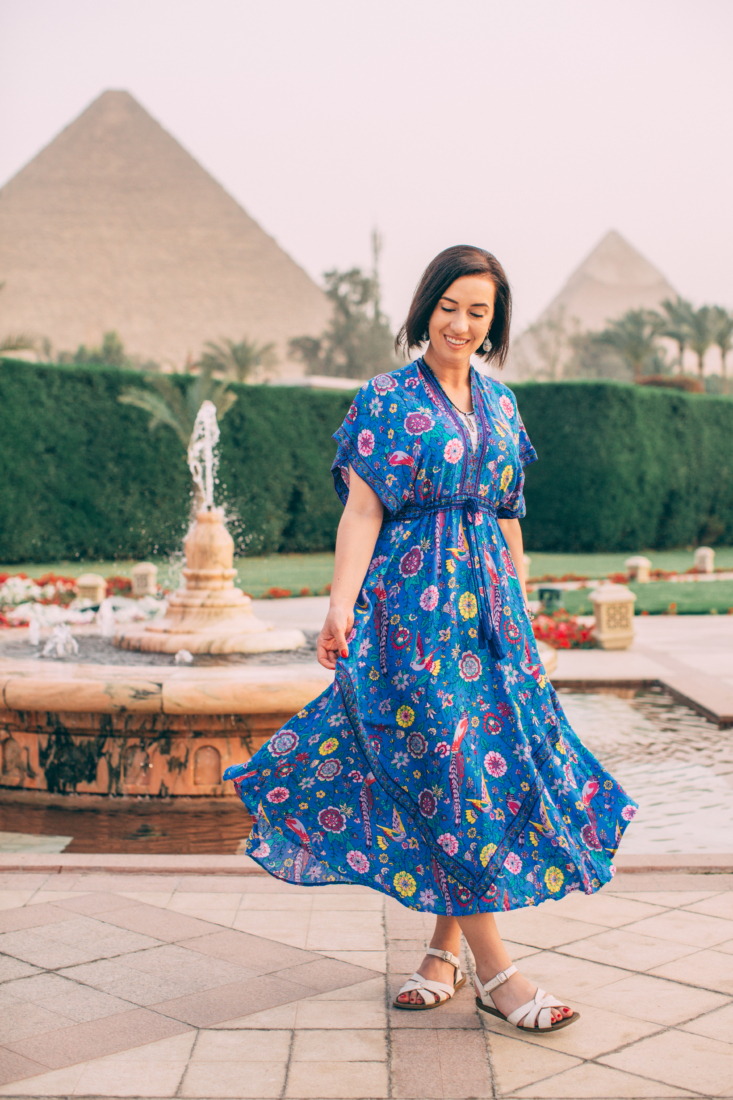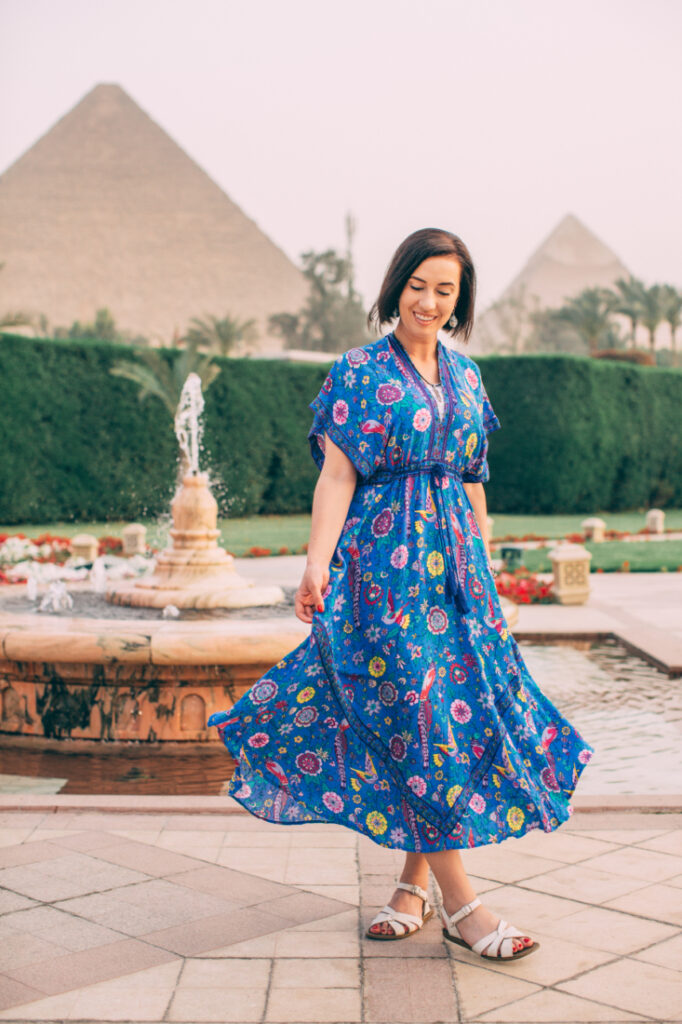 Dress | Sandals | Cami | Necklace | Bracelet
Here we go! I'm kicking off my Egypt blog series with my first outfit from the trip. I hope everyone is cool with maxi dresses and maxi skirts…because that's what the vast majority of my future outfit posts will consistent of. Egypt is a predominately Muslim country, and it's considered polite to not show much skin (no knees, shoulders or cleavage). This outfit is actually the most revealing one I had worn for the entire trip. I usually had on long sleeves, a scarf and hat.
I didn't get as covered up for this portion of the trip because it was for dinner at our hotel, the Marriott Mena House in Cairo. This is an international hotel, so you can basically wear whatever you want while on the grounds here. They had a few awesome restaurants onsite, but their main restaurant had an incredible view of the Pyramids of Giza! (Look at that view!!!)
*Note: There isn't a dress code for the restaurants, but on average, people were wearing nicer clothing…dresses, dressier tops or shorts. Guys were wearing nicer shirts with shorts, etc.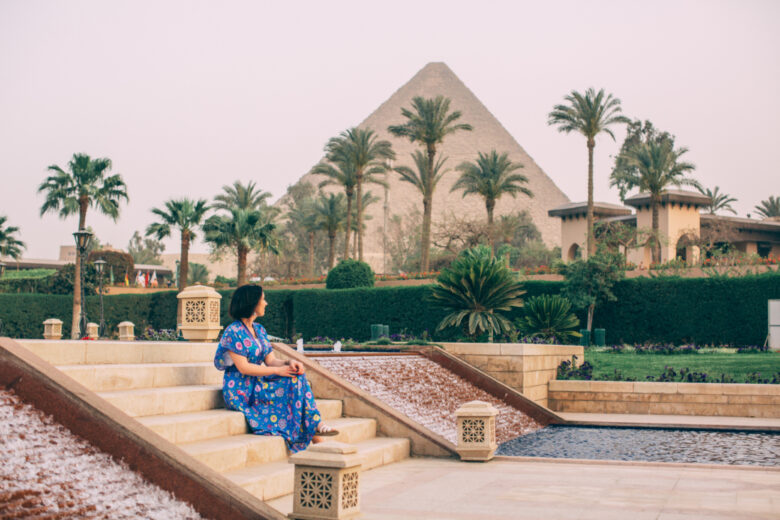 Our flight had arrived in the middle of the night, so it was pitch black when we checked into our hotel. When we were shown our room, the hotel's bellboy took us out onto the room's balcony and tried to show us the outline of one of the pyramids in the dark. I could just barely make it out from where he was pointing. It honestly gave me goosebumps and made me a little teary eyed when I could finally see its shape.
I slept for maybe 2 hours and woke up at the crack of dawn to get my first glimpse of the pyramids! This is something I've been waiting for since I was 8 years old, so needless to say "feeling like a kid on Christmas morning" is a bit of an understatement!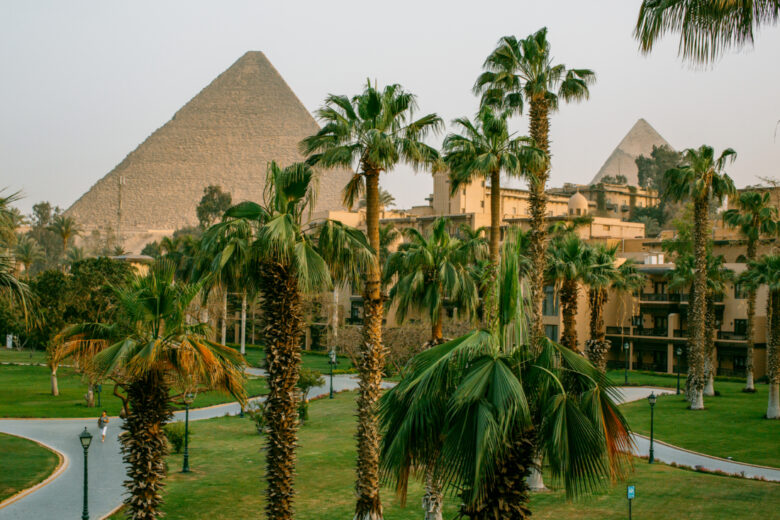 When I drew back the curtains, this was the view I was greeted to! I couldn't believe it! I ended up deciding not to tour the pyramids the first day of our trip because I didn't want to be a tired piece of junk while touring them…so we went to the Egyptian Museum for the day instead, and then returned to our hotel to enjoy this view and try out the onsite restaurant.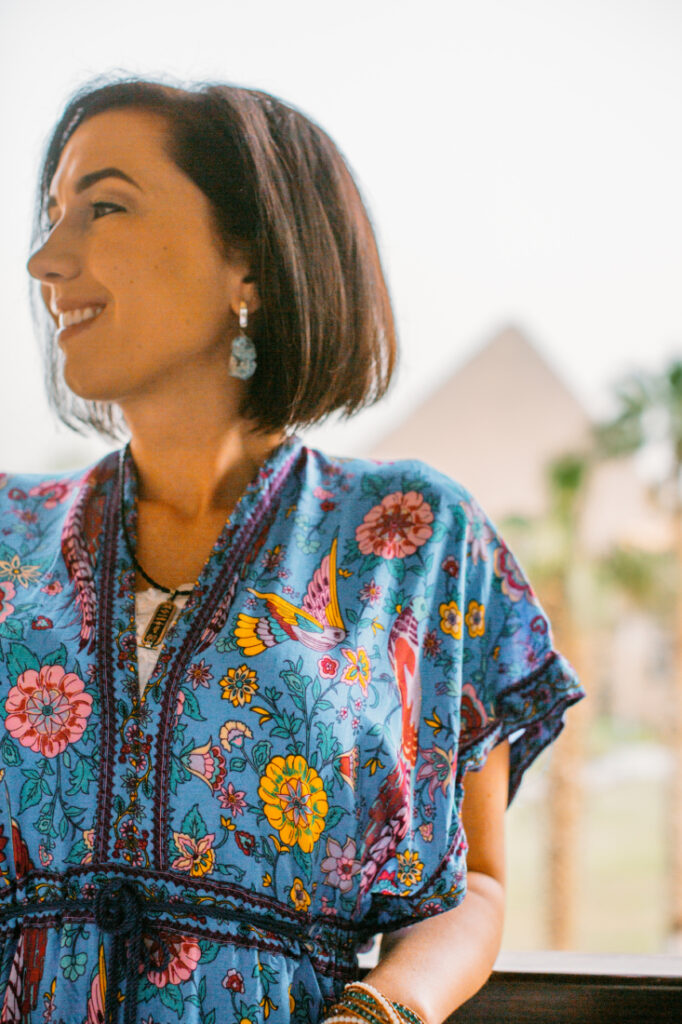 My New Necklace!
And on our way back from the museum, we stopped at a store and had necklaces made with our names written in hieroglyphs – I thought it was so cool! (Sorry, not the best pic of the necklace… I do have a better photo coming in my next outfit post, though!) I also found out that you can have them made on Etsy as well!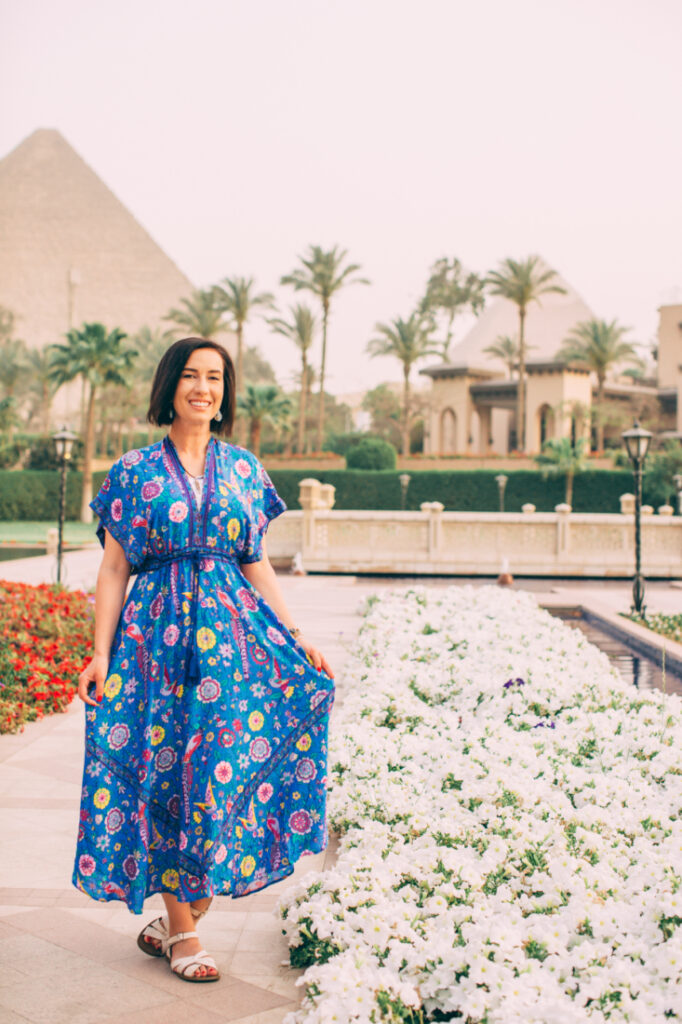 The Dress
I really liked how brightly colored and cheery this dress is. I also like how well it moves in the wind, and its unique back and sleeves. (It's also true to size.) This was a great dress for this trip! The only problem I had with this one, though, is that its far too revealing to wear without my cami underneath. That was not a big deal for the night I wore it to the restaurant, but for a day out and about exploring in the heat of Egypt…I learned really fast that I did not want to wear camis under my dresses unless absolutely necessary! (This dress honestly looks better without a cami too, but that wasn't something I was going to do on a trip like this.)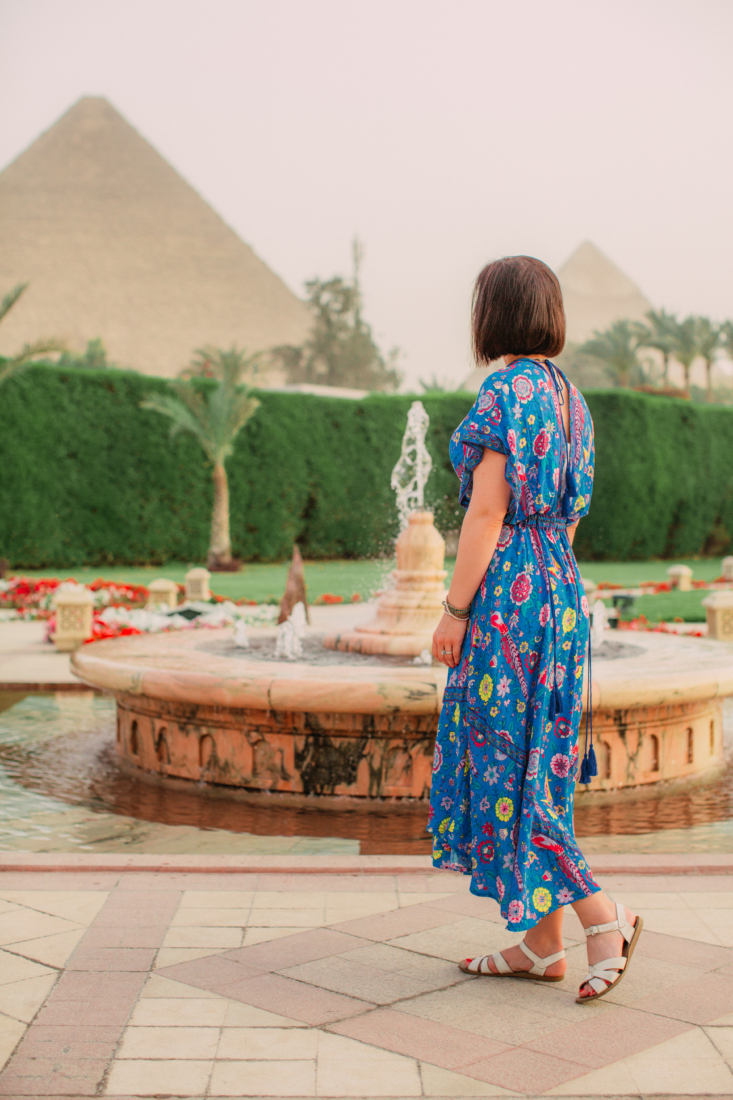 My Sandals
These sandals are always my favorite sandals for traveling no matter where we are or what we're doing. I've had these sandals for over 3 years now (even bought them in red as well) and have worn them on countless adventures. They are holding up SO well, and they're incredibly comfortable to wear. You can get them wet too, and they'll maintain their shape.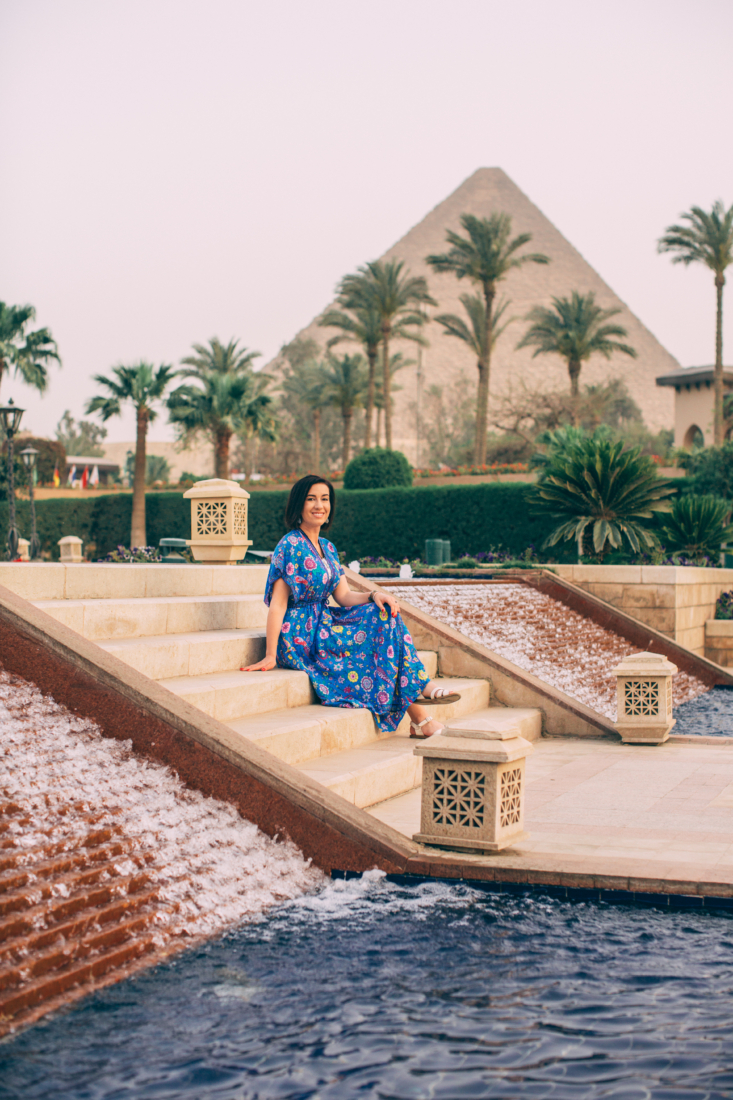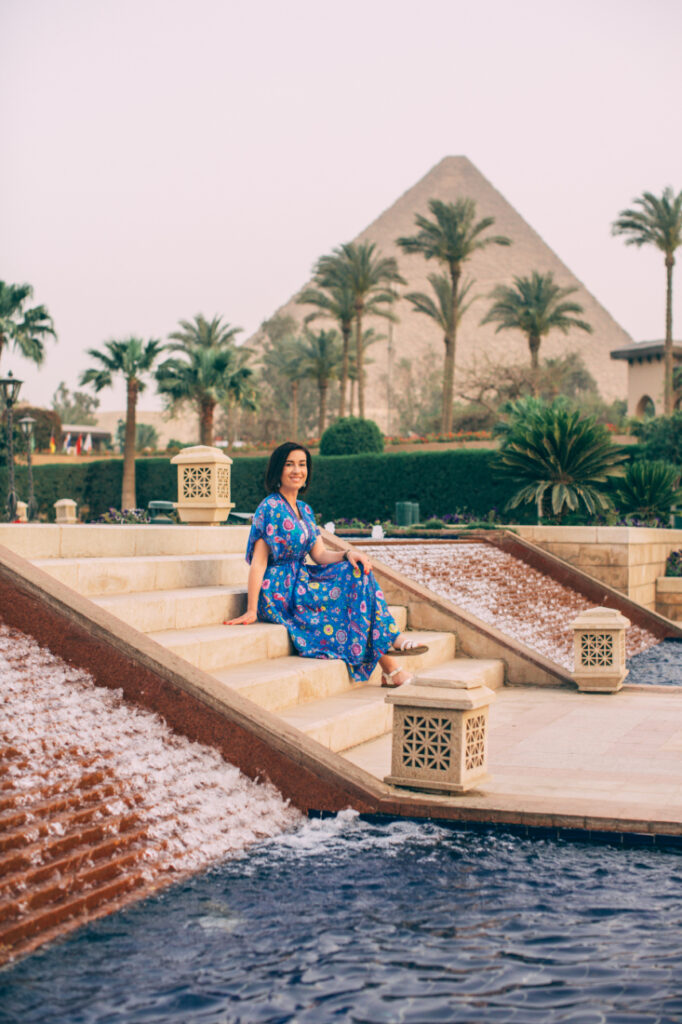 *Click here to see my full review of Marriott Mena House.
*Click here to see current rates. (If you're a Marriott Rewards member like us, this is the place to stay! They'll treat you like royalty here.)

*You can also check out my itinerary for how to spend 7 days in Egypt!
What types of outfits do you like to wear when you're dressing for more modest places? Let me know in the comments!
Where to find it:
Dress: Amazon
Sandals: Salt Water Sandals
Cami: Maurices
Necklace: Cartouche Hieroglyphic Necklace from Cairo (Similar here)
Bracelet: c/o* WestRiverLeatherCo
Earrings: Gift from my husband
*Disclosure: some of these links are affiliate links. Meaning, if you click a link and make a purchase, Have Clothes, Will Travel gets a very small commission at no extra cost to you. Thank you for supporting the brands that make this blog possible! I am also a participant in the Amazon Services LLC Associates Program, an affiliate advertising program designed to provide a means for us to earn fees by linking to Amazon.com and affiliated sites.
*c/o = courtesy of, meaning the company gave me the product to be used on my blog, and I did not pay for it. All opinions are my own, and I am not being compensated for a positive review.