Edfu & Kom Ombo – Are They Worth Adding to Your Egypt Itinerary?
Edfu and Kom Ombo are towns along the Nile River in Egypt that are home to 2 famous temples. Now, neither of these places are going to rank as high as say Cairo, Luxor or Aswan on peoples' itineraries. However, does that mean they aren't worth adding to your Egypt itinerary? In this post, I'll explain what each location has to offer, and my opinion of whether or not they're worth visiting.
The Temple of Horus at Edfu
Now, the main reason you would visit Edfu is to see the Temple of Horus. This is a Ptolemaic temple, that was built between 237 and 57 BC. It is one of the best-preserved ancient monuments in all of Egypt. It's dedicated to the god Horus (he's a falcon and pictured below).
The temple is said to have been built to represent how a falcon flies. There are two staircases inside, one is a spiral staircase and the other is straight. This is because a falcon flies up in a spiral, but flies down to the ground in a direct path. Pretty interesting, eh?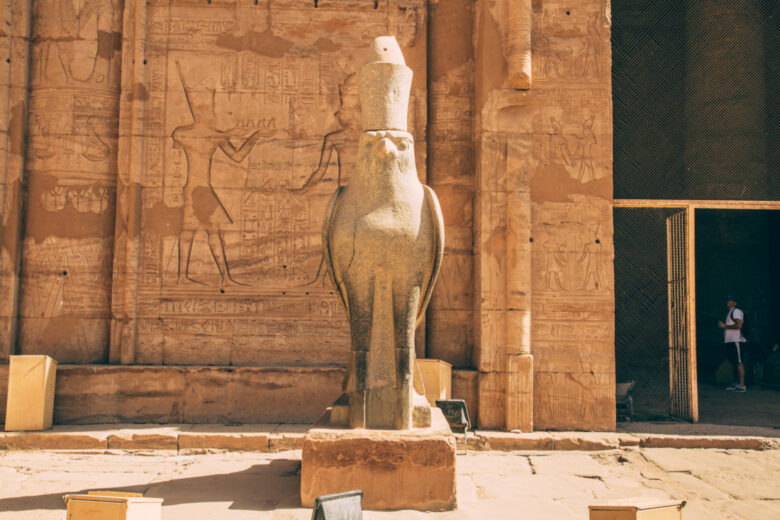 This temple really is an incredible sight to behold. There are also some interesting things to see inside… There is a room on the inner left-hand side of the temple (as you enter) that was actually the temple's pharmacy. Here, they had all of your various things needed for aromatherapy and the recipes were all written on the wall in hieroglyphics.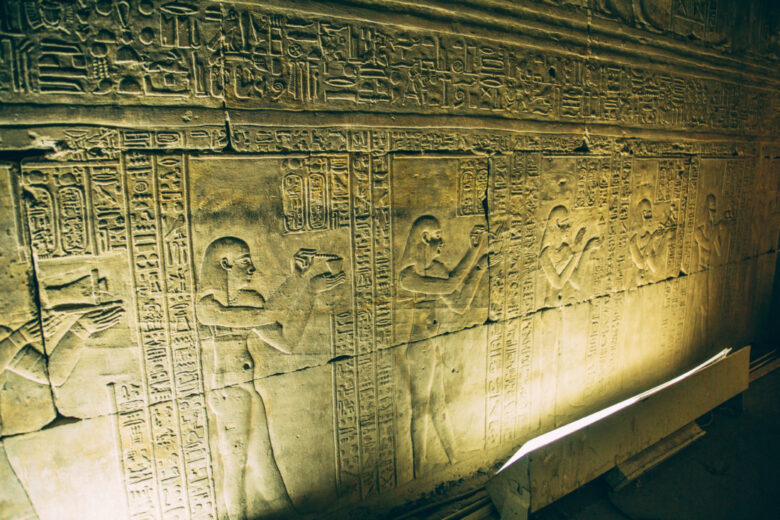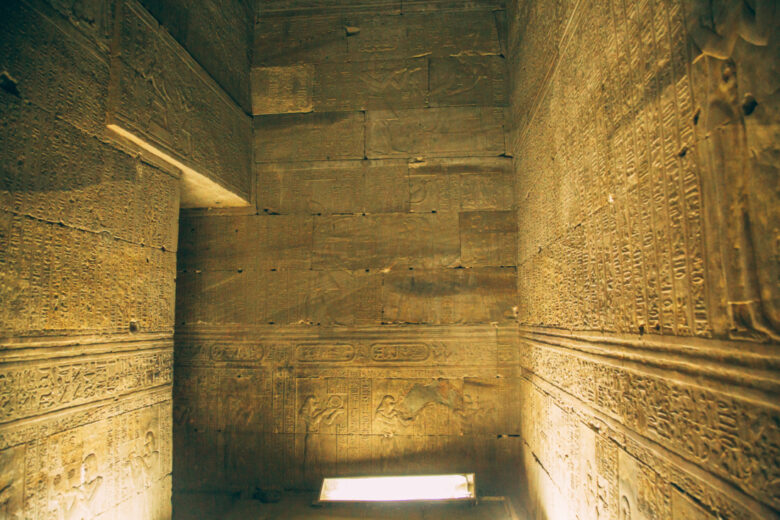 The polished-granite shrine to Horus is also interesting. From a distance, it looks like it's made of silver. And it once held the golden statue of Horus. There is also a replica of a wooden boat in front of it. The original, miraculously, does still exist, though! It's on display in the Louvre.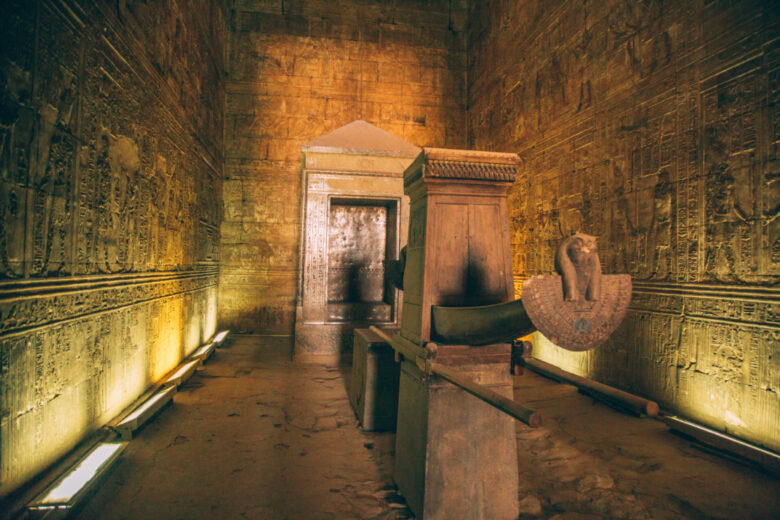 Another interesting tidbit in the temple (I never would have found this without a guide), is a depiction of Horus spearing a crocodile. This is said to be, perhaps, where the imagery of Saint George slaying the dragon came from. (My husband and I found this particularly interesting, as the flag of Moscow depicts Saint George slaying the dragon.)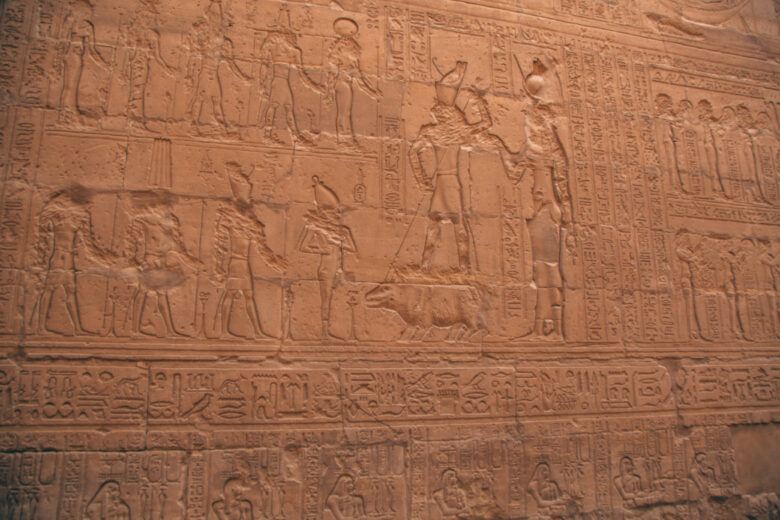 Did I enjoy visiting the Temple of Horus?
Yes! I was awestruck by how well this temple was preserved and how massive the entrance to the temple is. The interesting little bits of information about this temple made it even more enticing to visit. I am, however, very glad I had a guide for this temple, as I don't think I would have noticed half of these things on our own. (I even went back to try and find some things our guide had mentioned by myself, and I couldn't find them.)
Temple of Horus at Edfu Photo Gallery
The Temple of Kom Ombo (and Crocodile Museum)
And the main reason you would visit the town of Kom Ombo is to see the Temple of Kom Ombo and also its crocodile museum (more on that in a second)! The Temple of Kom Ombo is unique because it is dedicated to two gods – Horus the Elder and Sobek (he's a crocodile god). This temple was also constructed during the Ptolemaic dynasty between 180–47 BC.
This temple has various curious things to see as well. And once, again, I was very glad to have had a guide for this temple, as I would not have found any of these things on my own!
For example, the hieroglyphic below of a woman giving birth in the kneeling position. Interestingly enough, the Ancient Egyptians did have very effective pregnancy tests! A woman would urinate on a bag of wheat and emmer. If either of them grows, it means she is pregnant. And if the barley grows, that means it's a boy. If the emmer grows, it's a girl. And if nothing grows – she isn't pregnant. I thought that was incredibly interesting!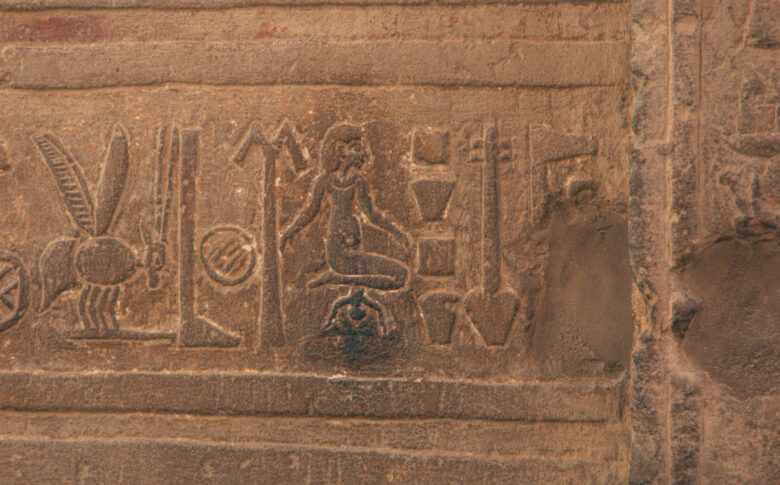 There are also secret passageways in this temple where priests would sneak inside a special chamber in the back of the temple. They would stand inside this chamber and speak when people were inside the temple. Their voice would echo throughout the temple and people would think it is the gods talking to them. Tricky, tricky!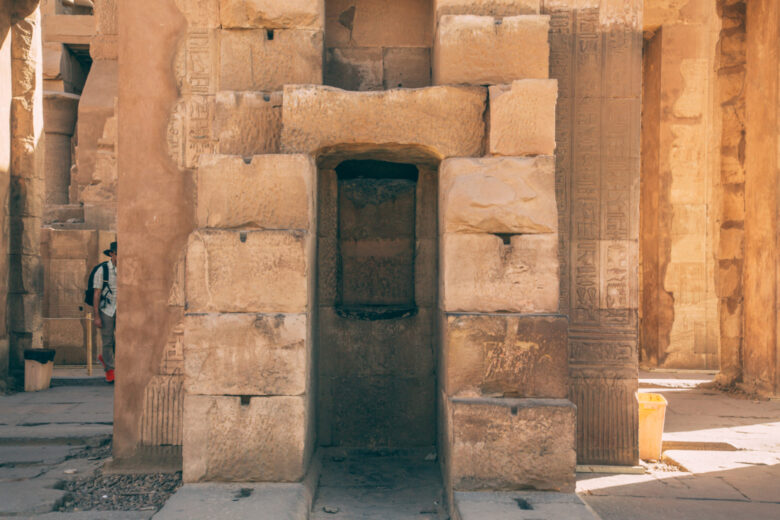 You'll also see the Ancient Egyptian calendar inside this temple and a depiction of the three seasons in Ancient Egypt. The three seasons are Growing Season, Harvesting Season and Flood Season. They are depicted by the goddess, below. You'll see at first she is not wearing any jewelry, and by the flood season, she is dressed beautifully. This essentially is where the term "work hard, play hard" comes from. The Ancient Egyptian were too busy during Growing and Harvesting season to care about things like getting dressed up, but Flood Season is when you could have some fun and get all gussied up! I found that interesting as well!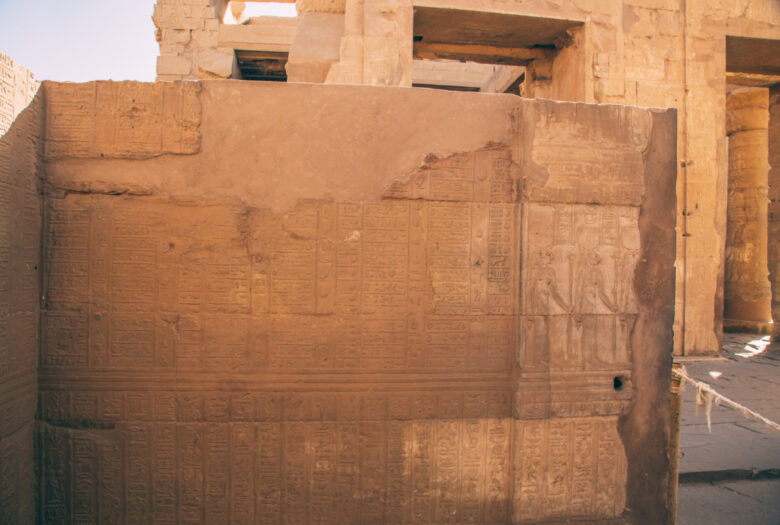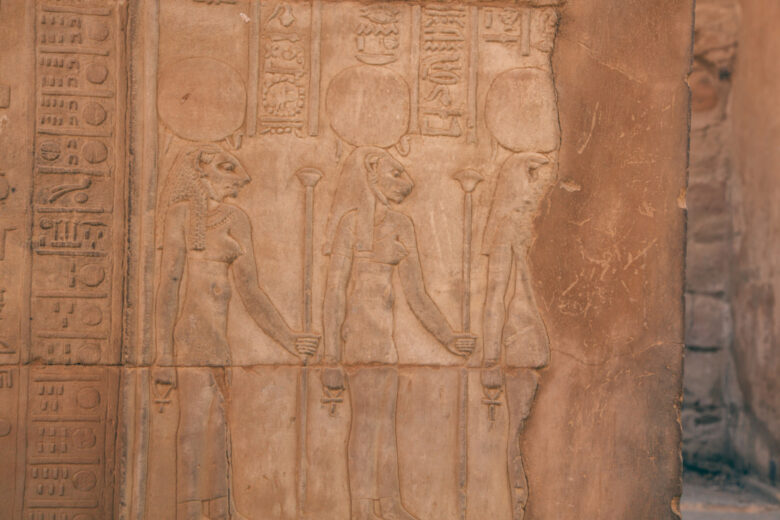 Oh yes, and there is also a mummified Crocodile Museum in Kom Ombu! There are tons of crocodiles inside that have been mummified for thousands and thousands of years! It's really interesting to see, in my opinion. (Plus, it's air-conditioned, which is a nice touch after dying in the heat all day.) However, there aren't any photos allowed inside. (The pic below is an embed from Flickr, not my own.)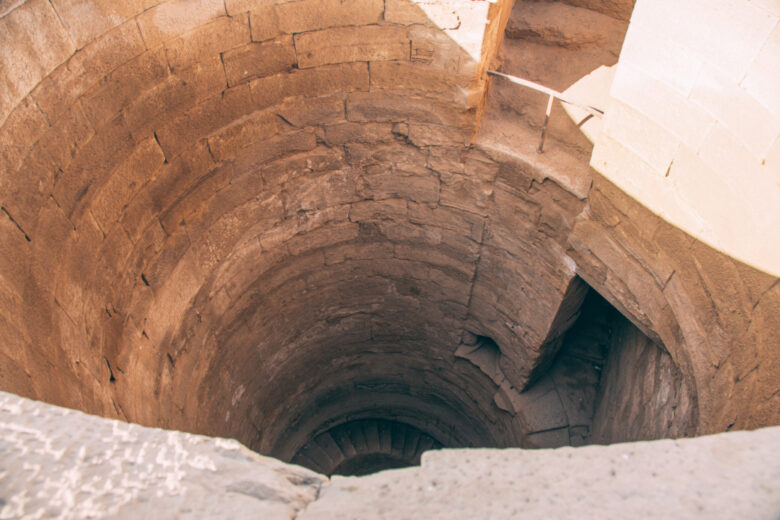 Did I enjoy visiting the Temple of Kom Ombo?
While the Temple of Kom Ombo is not as well-preserved as the one in Edfu, it did still have many interesting aspects to it, that I am really glad I saw. Again, though, this was in large part because we had a guide. If I had been wandering this temple on my own, I might not have been as impressed.
Temple of Kom Ombo Photo Gallery
Bottom Line: Is it worth visiting Edfu & Kom Ombo?
I, personally, enjoyed visiting each of these temples very much. And my husband was particularly fascinated by the Temple of Kom Ombo. I am really glad we saw both of them! If you can spare a day in your itinerary, I say absolutely visit them. However, if you are on a time constraint and have to pick and choose sights to see, not seeing these sights would cut off one day from your itinerary.
I had also seen some travelers trying to decide between seeing these temples or going to Abu Simbel. Again, I really enjoyed these temples, but if I had to choose between them and Abu Simbel – Abu Simbel would win, hands down. (Abu Simbel was the highlight of this trip for me, actually. Click here to see the full post on it!)
How did we get to Edfu & Kom Ombo?
We had gotten to them by boat actually. They were stops along the way for our Nile River Cruise.
There are also day trips from Aswan or day trips from Luxor that will take you to them. Another option is to rent a driver for the day. (That can be arranged through your hotel.)
Quick note about the carriage rides in Edfu…
Something I regret doing in Edfu was taking a carriage ride from our boat to the temple. This was included in the tour. However, in hindsight, I wish I wouldn't have done it. (I found out another member of our group had requested to take a taxi instead. This would have been a better option.) This is because many of the horses were in horrific condition. They were not well-cared for at all. The heat in Edfu is unbearable and none of these horses had access to water. Many also had open wounds on them. It really didn't sit well with me or my husband (or other members of our group who were farmers and had horses themselves).
If you do end up doing a carriage ride, though, at least try to support the people who are taking care of their horses. There were a few who appeared to be in far better condition than the others – give them your business.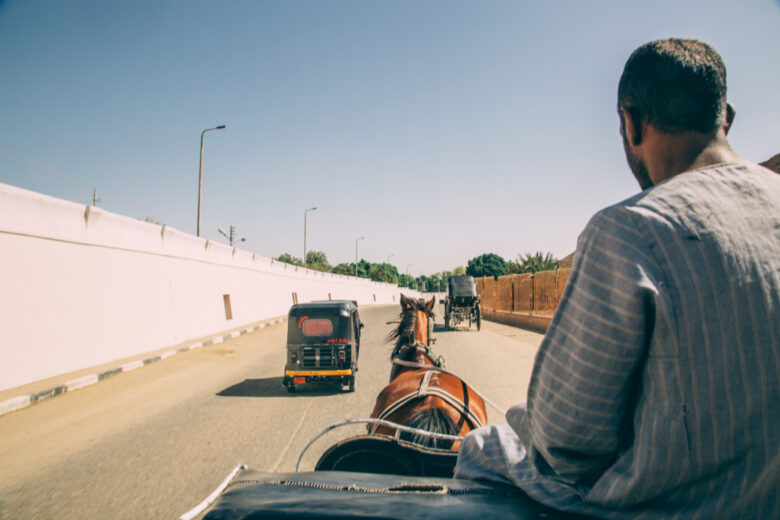 Now, I'm curious, do either of these places interest you? Let me know in the comments!
*Click here to read, "How to Spend 2 Days in Luxor, Egypt"
*Click here to read, "11 Things to Know Before Going to the Valley of the Kings in Egypt"
*Click here to read, "How to Dress Comfortably Yet Stylishly for the Heat in Luxor, Egypt"
*Click here to read, "Nile River Cruise Outfit Idea"
*Click here to read, "Visiting Karnak Temple & Luxor Temple – Must-See Places in Luxor"
*Click here to read, "The Mummy" Brendan Fraser/Rick O'Connell Inspired Outfit for Egypt"
*Click here to read, "What I Wore to the Egyptian Museum in Cairo"
*Click here to read, "12 Things to Know Before Touring the Egyptian Museum in Cairo"
*Click here to read, "Egypt Outfit Idea for Dinner at Mena House Cairo"
*Click here to see all my posts from Egypt.
*You can also check out my entire packing list for Egypt as a woman.
*Also see my itinerary for how to spend 7 days in Egypt!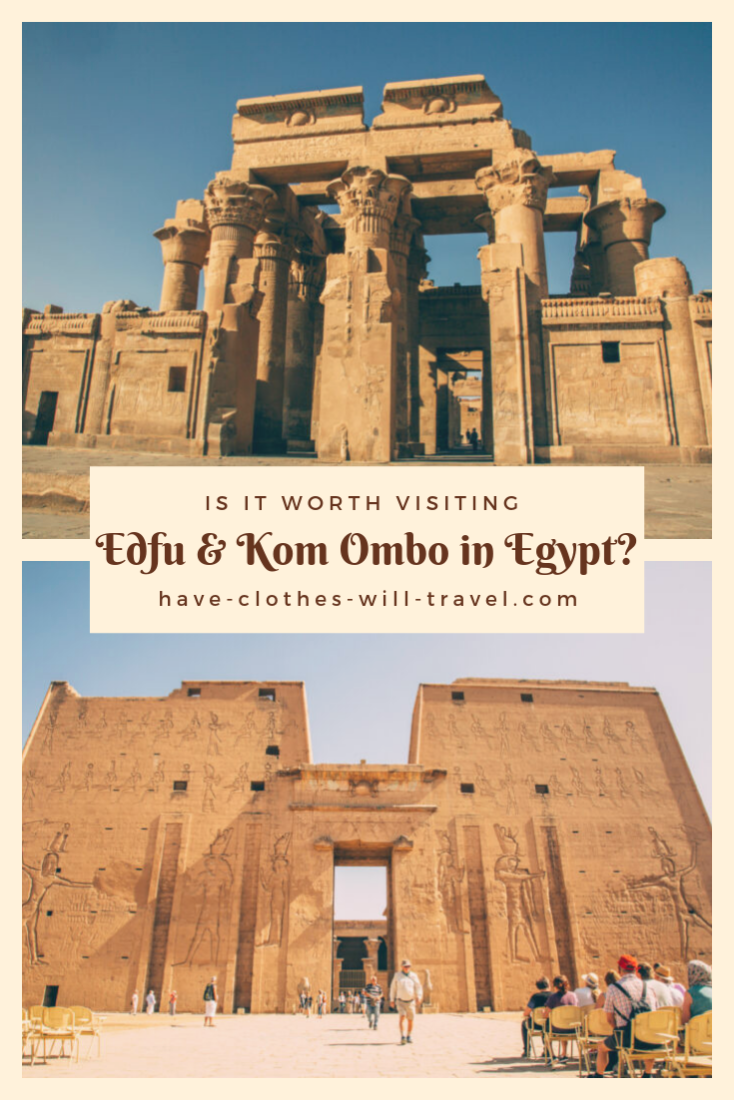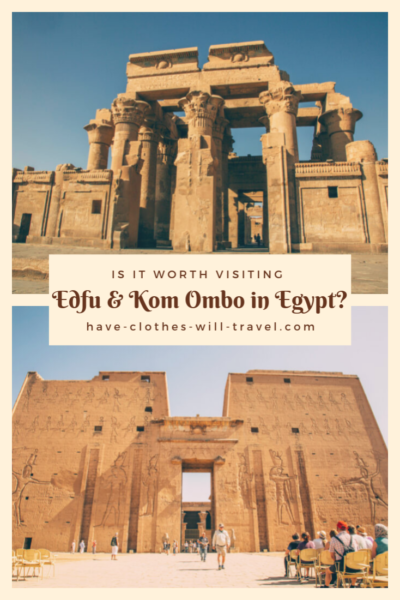 *Disclosure: some of these links are affiliate links. Meaning, if you click a link and make a purchase, Have Clothes, Will Travel gets a very small commission at no extra cost to you. Thank you for supporting the brands that make this blog possible! I am also a participant in the Amazon Services LLC Associates Program, an affiliate advertising program designed to provide a means for us to earn fees by linking to Amazon.com and affiliated sites.