Abu Simbel is an Egypt Must Do – Here are 10 Things to Know Before You Go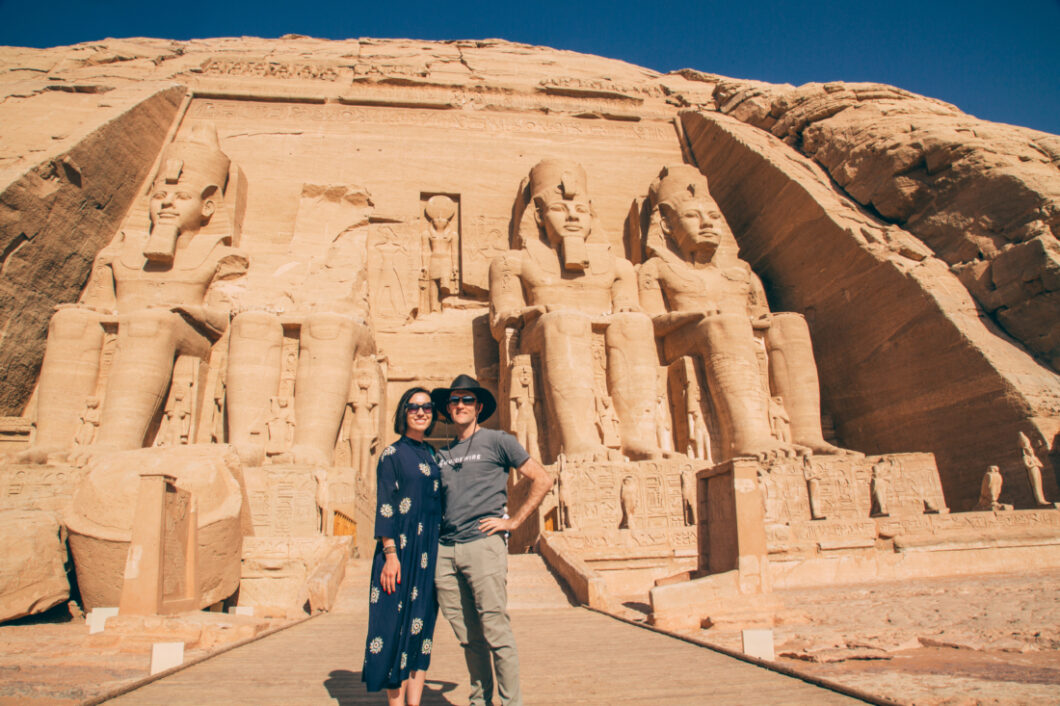 Abu Simbel is an absolute must-do if you are traveling to Egypt. This was honestly cooler for me than seeing the pyramids, and I have been dreaming about visiting the pyramids since I was 8. (That's how incredible Abu Simbel is!)
Part of this had to do with not having hardly any expectations for Abu Simbel (whereas, the pyramids had quite a lot riding on them). Abu Simbel is also a location where photos simply do not do justice, as cliche as that is. I read articles about it, and I had seen photos of it on Instagram, but none of that prepared me for the moment I saw it in person. (Seriously, I just walked around the entire time exclaiming "WOW!" to no one in particular.)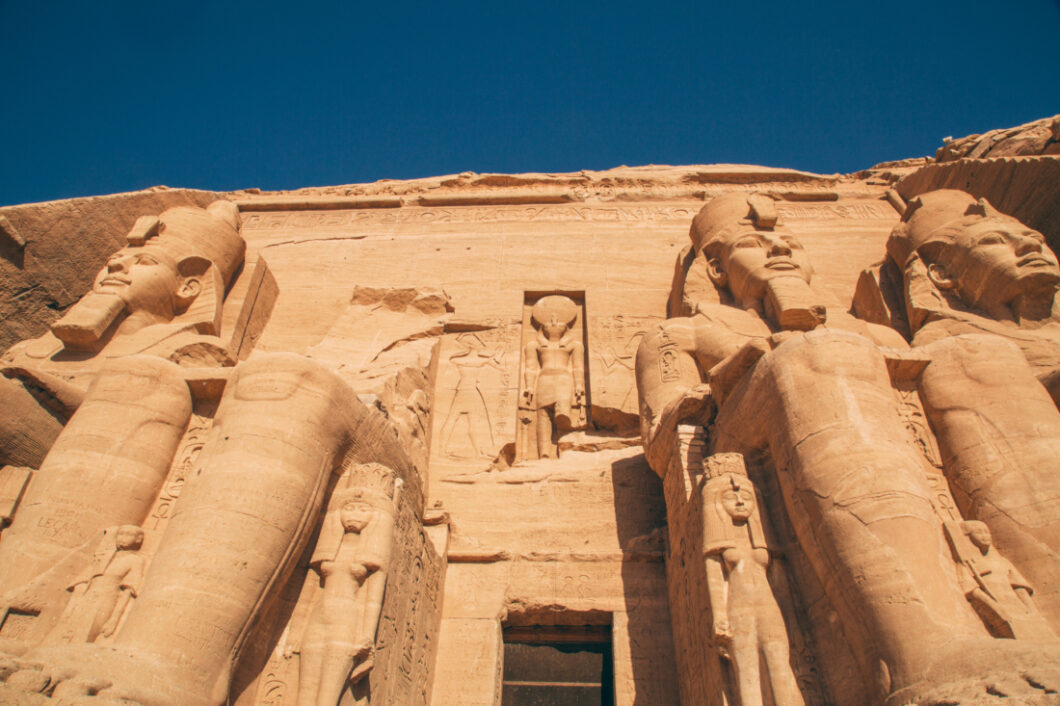 Abu Simbel is a very popular tourist destination with many people visiting it. However, it had a remote, almost untouched feeling to it. (At least in comparison to the pyramids and some of the other sights in Egypt.) This is just the way I felt, at least. There weren't vendors trying to sell you camel rides or anything like that while you marveled at the glory of these temples. (The pyramids were obviously bananas, with vendors harassing you every 2 seconds!) This was a completely different experience for me.
Hopefully, you're considering adding Abu Simbel to your Egypt itinerary! Enjoy my list of 10 things to know before you go.
10 Things to Know Before You Visit Abu Simbel
1.) Abu Simbel is a village in Southern Egypt, near the border of Sudan. It is home to two massive rock-cut temples one for the great Egyptian ruler Ramses II and one for his chief wife, Queen Nefertari.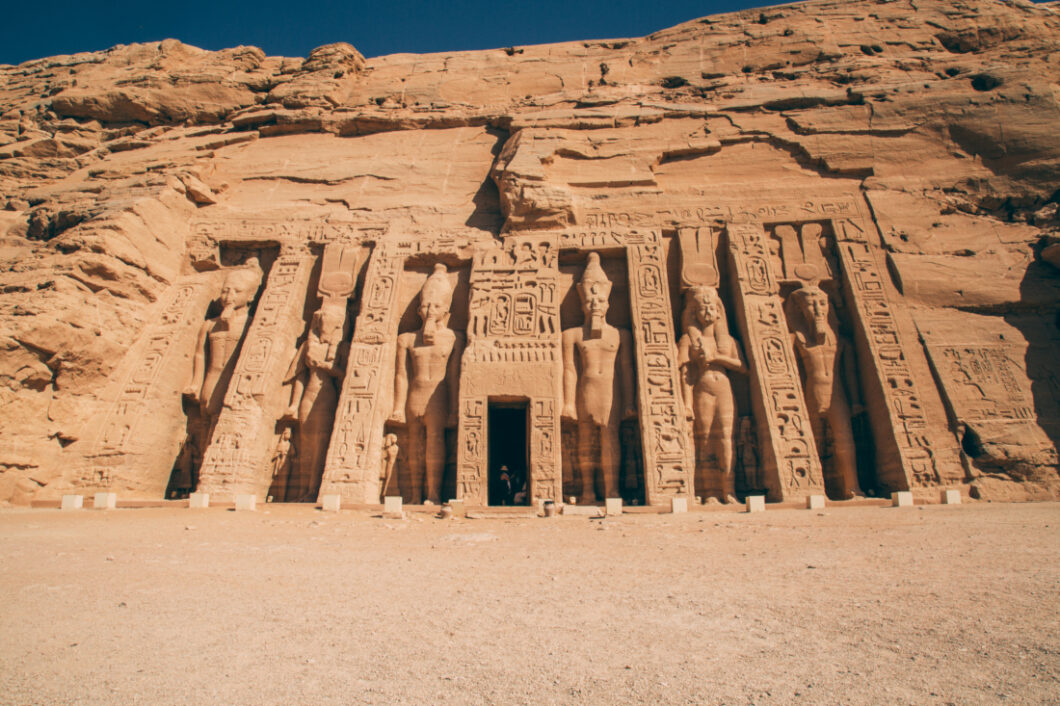 2.) The large statues of Ramses II depict him throughout his life. If you look closely, you will notice that no two statues are identical (they are meant to depict him during different phases/ages of his life). They are 65 feet tall!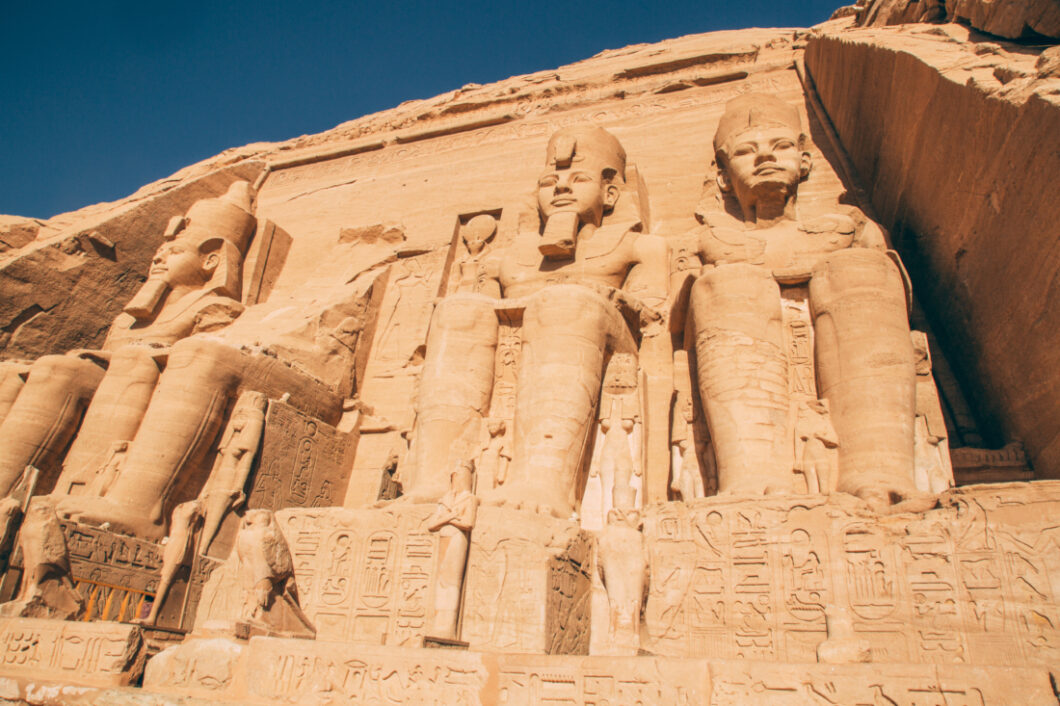 3.) This is not the original location of the temples. It moved in 1964! The Egyptian government worked with UNESCO and moved the temples to save them from flooding from the Nile River after the High Dam was constructed. (Could you imagine moving these two temples piece by piece and restoring them to exactly as they were found?!)
4.) There is one crumbled statue of Ramses II, this was decided to be left as it was found in 1813, instead of restoring it.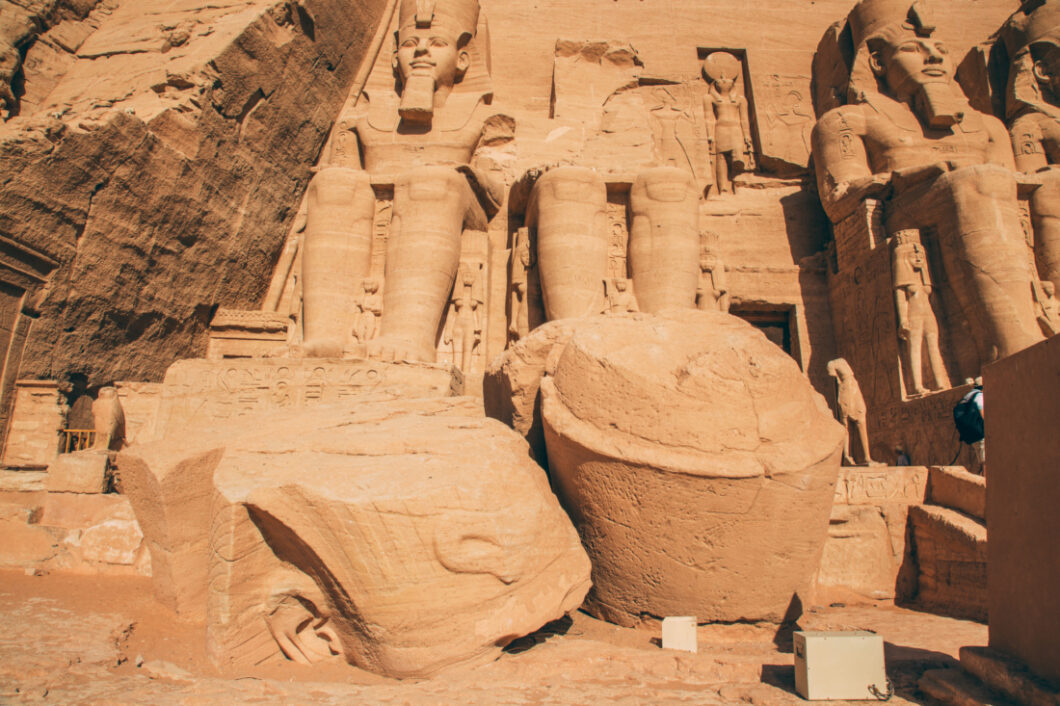 5.) No guides are allowed inside either of the temples. Our guide gave us a rundown of the history of the temples while we were driving to Abu Simbel from Aswan. (Funny story – we ended up having the same guide who was quite the weirdo when we visited the Nubian Village. He was slightly better for this tour. But, even having him as a guide again still didn't take away from how incredible this day was!)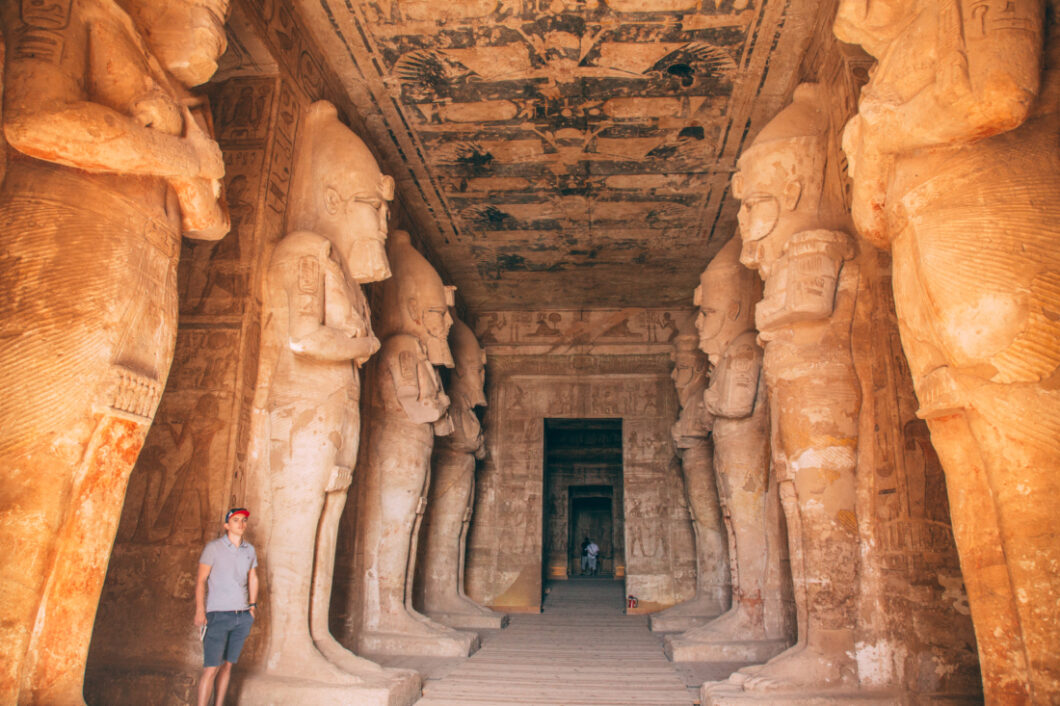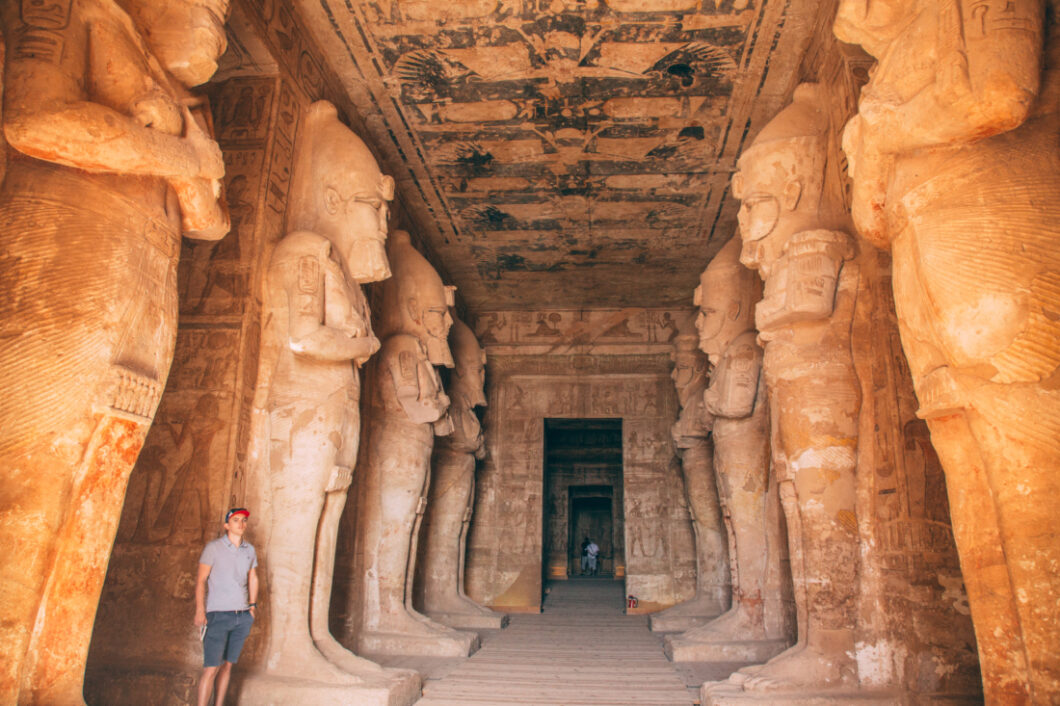 6.) Getting there is a bit of a journey! The nearest city is Aswan. You can get there by bus or by flying. There aren't that many flights from Aswan to Abu Simbel, though. So, if that is something you want to do, be sure to book your flight early! Taking a tour from Aswan is the most popular option (and what we did). It's a little over 3 hours driving to get there. And while it may look like an easy enough drive, you can't just rent a car and go yourself. Only licensed operators can get through the various security points. (It also is an incredibly boring drive you'd rather be sleeping for anyways!)
7.) If you take a bus tour, you'll likely be leaving Aswan very early (around 3 am). However, even though you'll arrive in Abu Simbel before 8 am, it is still REALLY hot and there is hardly any shade. Don't forget to wear sunscreen and pack a lot of water!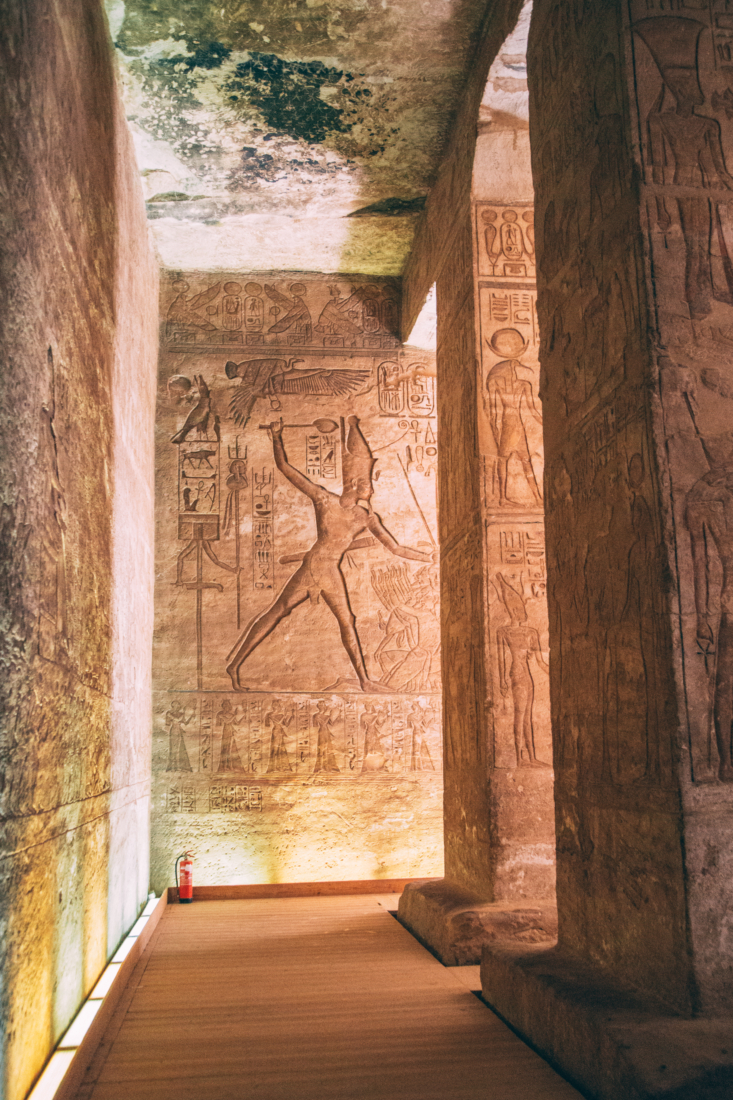 8.) You CAN pay to take photos inside. (This includes cellphone photos and digital cameras.) Until very recently, no photos were allowed inside either of the temples. However, now you can pay a fee to take photos inside the temples. (I believe it was 300 Egyptian pounds, so not exactly cheap.) Yes, you have to pay even if you're using your cellphone. We were CONSTANTLY getting asked by guards to show our tickets. You DO NOT need to pay if you're only taking photos of the outside, though.
Worth noting: Our guide said my husband and I only needed one ticket between the 2 of us. This is not entirely true. We're both pretty photo-crazy and were hollered at by the guards for taking photos at the same time. (Apparently, you can only take photos one at a time if you're splitting your ticket.) It was a bit frustrating. So, if you're photo-crazy like us, you might be better off just buying the two tickets, or else you'll have to make sure only one person is taking photos, and they have the ticket in their hand while doing so. Otherwise, you will have a guard interrupt your photo. (We were even getting stopped by tourists telling us not to take photos because they didn't realize you could now buy this photography ticket!)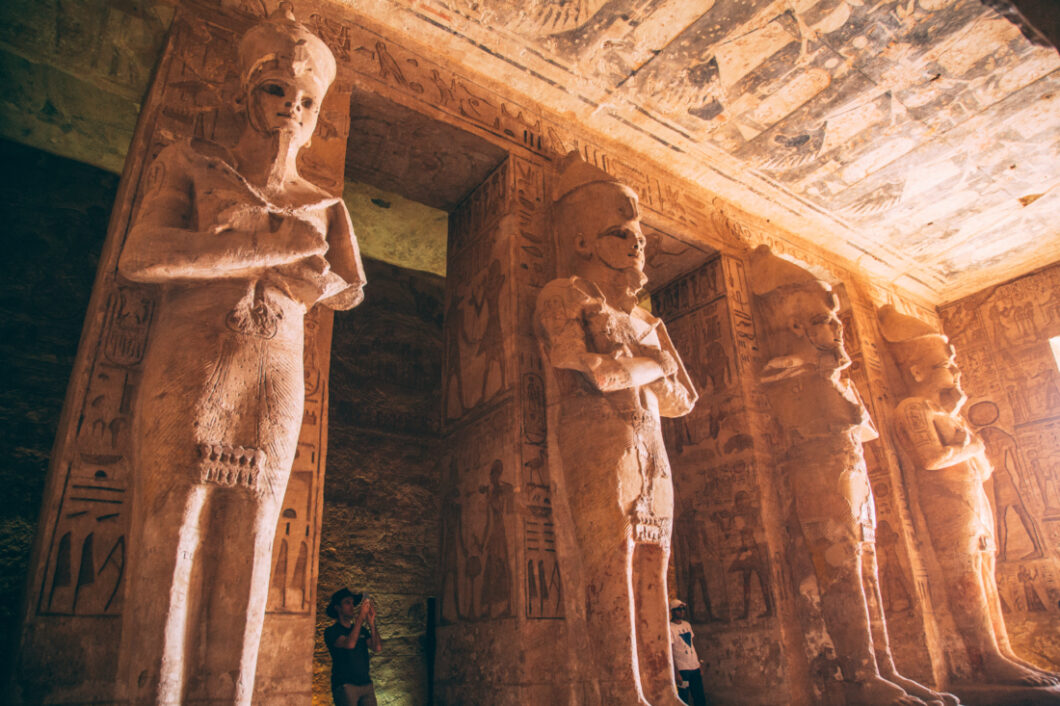 9.) Expect to spend between 1-2 hours here if you're on a tour. Our guide gave us some facts about the temples before we went to them and also took our photos together. We then spent over an hour wandering through the temples by ourselves and taking photos. This was enough time for us to be happy with the experience, but I could have easily have spent another hour marveling at their grandeur.
(We had some fun trying to take photos of ourselves outside the temple too!)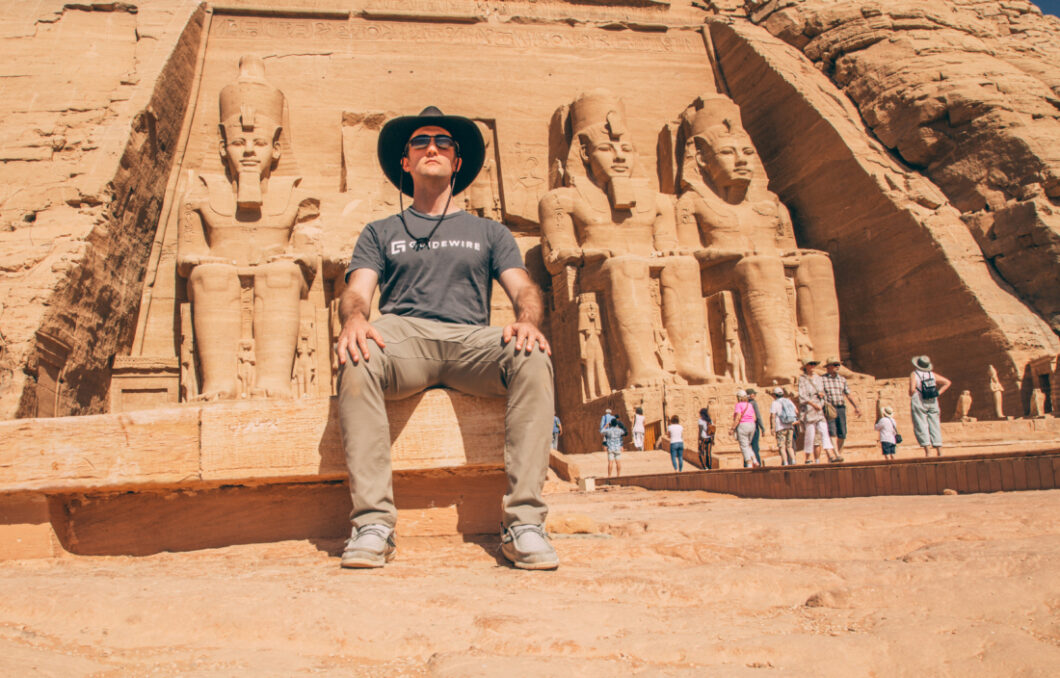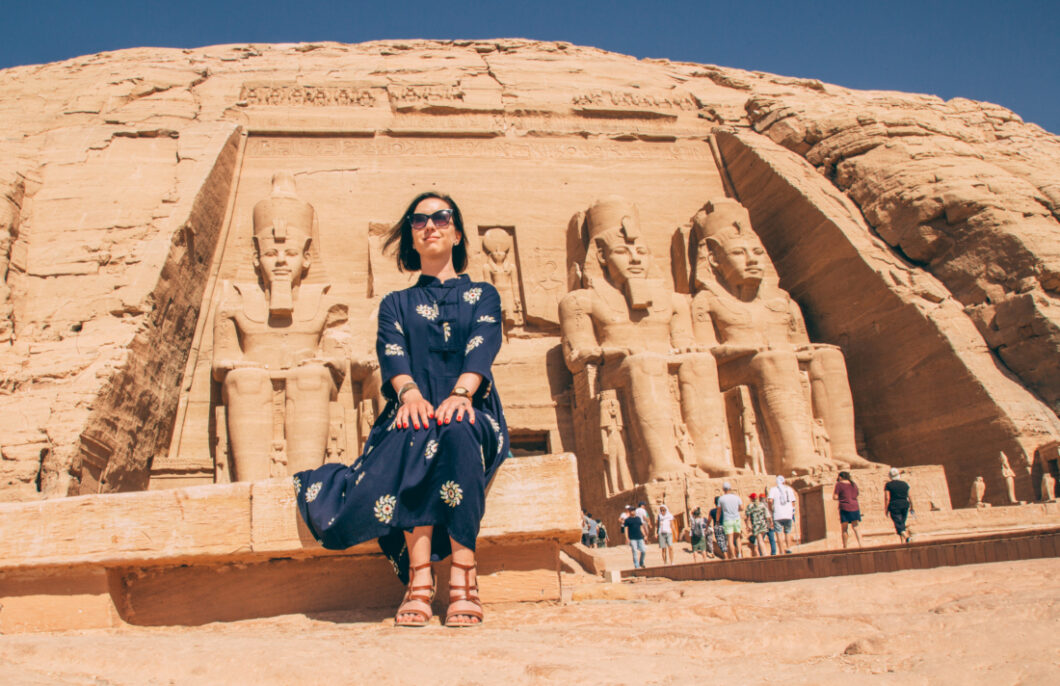 10.) If you decide to stay the night in Abu Simbel, the Nefertari Hotel is only a 10-minute walk from the temples! I thought that would have been neat. You could spend as much time as you want at the temples and then simply walk back to your hotel. (We drove back to Aswan and then caught a flight back to Cairo that same day – ick!)
More photos of Abu Simbel can be found below. Please feel free to click on them to make them full-sized.