25 Awesome Places to Visit in Egypt (#1 Might Surprise You!)
Egypt has been a place I've dreamed of visiting ever since I was a little girl. I honestly wanted to be an Egyptologist when I grew up! Needless to say, when it came to planning a trip to Egypt, I had spent a lot of time researching and planning every last detail.
While Egypt usually attracts history buffs (like me) thanks to its never-ending supply of historic tombs, temples, and pyramids… beach-lovers, scuba-divers, and city-lovers will also find plenty of places to visit and enjoy in Egypt too! Egypt has a little something to offer for everyone!
This list of places to visit in Egypt ranges from the obvious, like the Great Pyramids of Giza and the Nile River…to some spots a little off the beaten path. This list ends with my personal favorite spot to visit in Egypt, which may surprise you. (Spoiler: it's not the Pyramids.) I hope you enjoy this list, and please feel free to reach out with any questions in the comments section at the end of the post.
25 Awesome Places to Visit in Egypt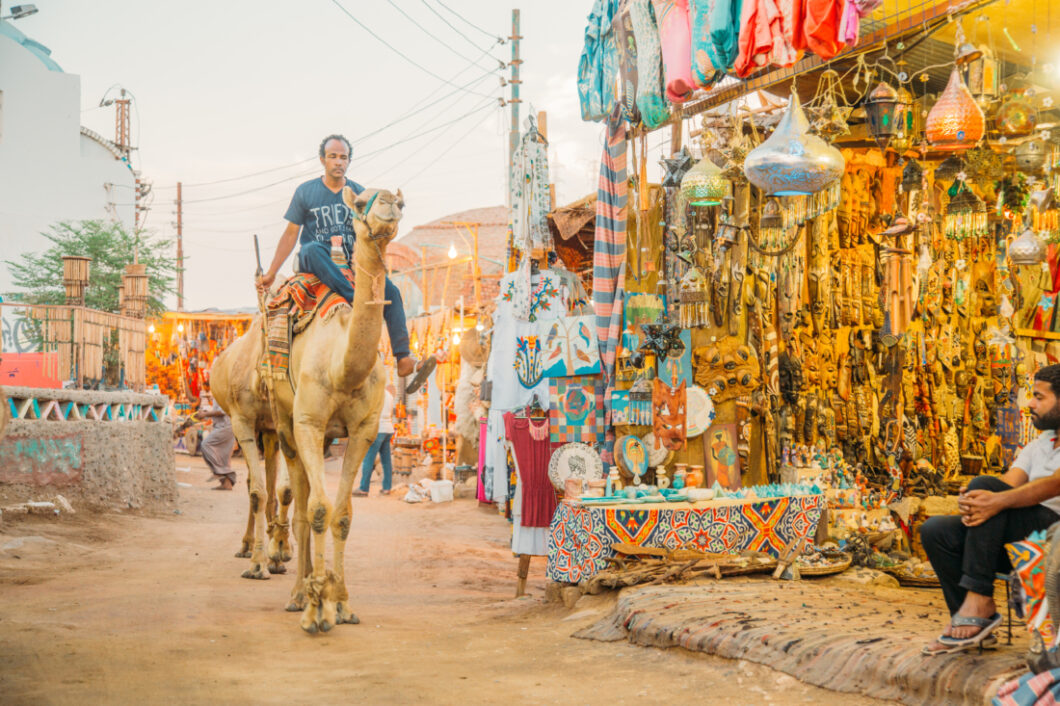 25.) The Nubian Village in Aswan
Now, technically, there are 2 Nubian Villages located on Elephantine Island in the city of Aswan – and you can visit them! They are connected by a path, which you can walk or there are camel rides aplenty. You'll see traditional houses that have been painted in some beautiful colors, and there are tons of souvenirs for sale. My experience here wasn't the greatest, but many of my fellow travelers have said this is one of the highlights of their trip to Egypt! So, it deserves to be on this list (and my experience was likely a one-off thing).
The Nubians are a group of African indigenous who are one of the oldest civilizations on earth. They live in present-day Sudan and also southern Egypt. They have their own language – which is completely oral. (If you're curious to learn more about this ancient civilization, I would check out this book.)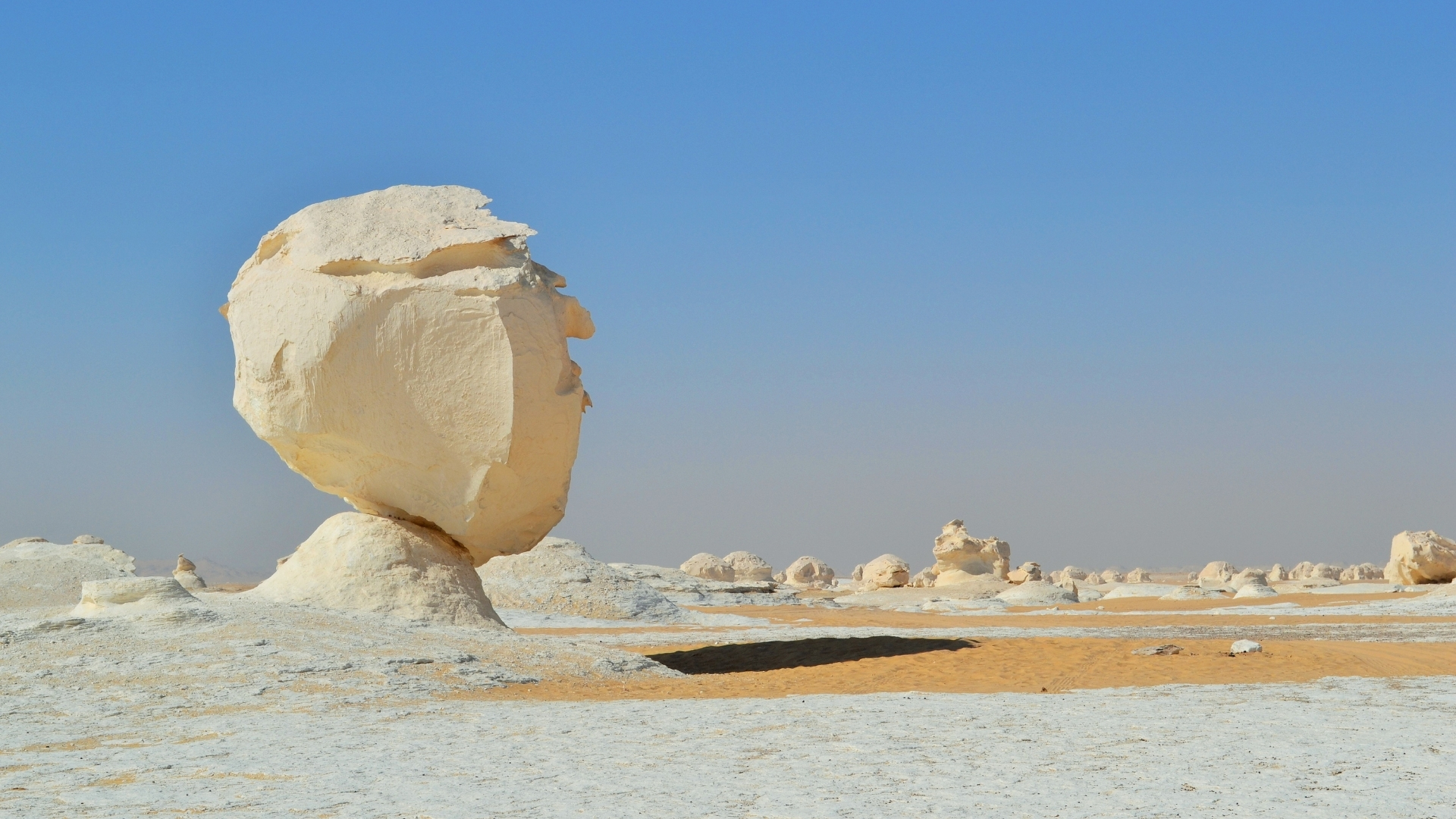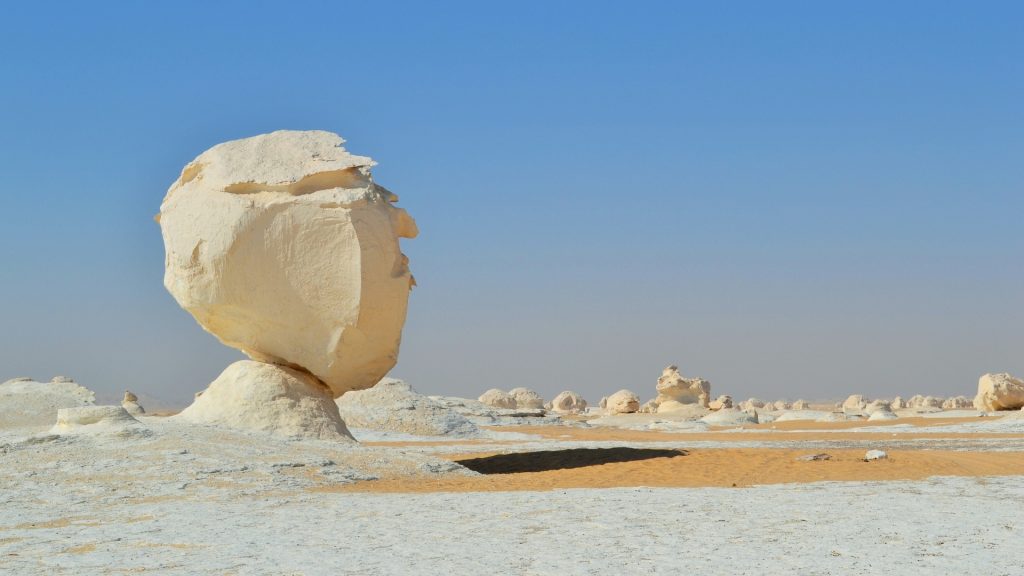 24.) The White Desert in Farafra
This vast desert starts at the western banks of the Nile and continues into Libya. There are magnificent rock formations that form from wind erosions, and the colors can change from the sun. It's really beautiful to see!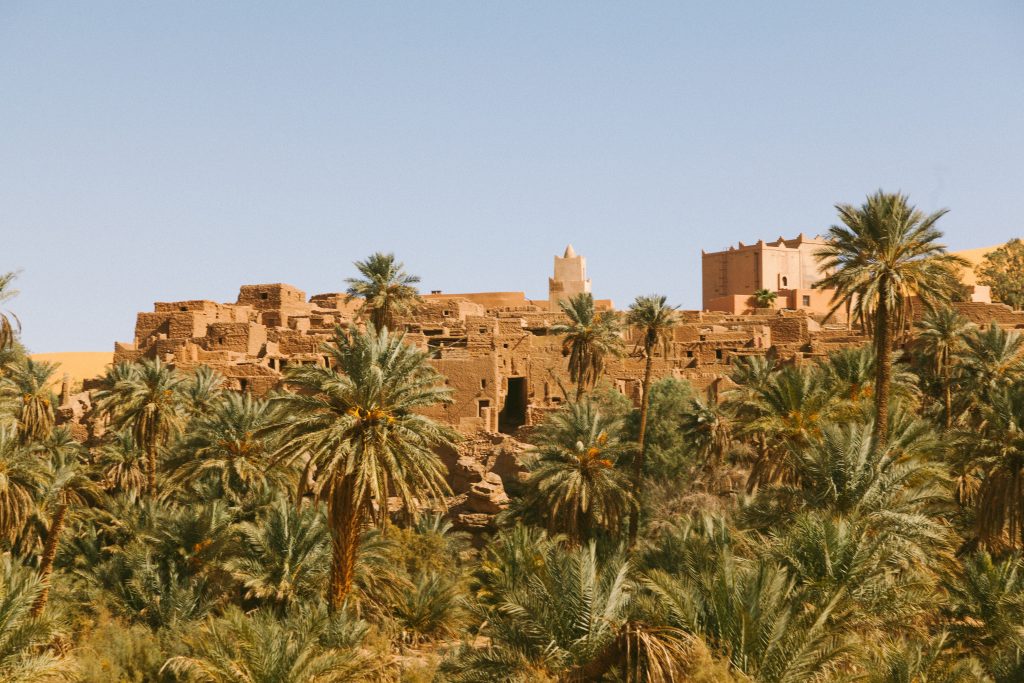 23.) Siwa Oasis
Siwa is located within the White Desert and is just 50 km from the Libyan border. This thriving oasis is brimming with olive trees and palms – it's the stuff dreams are made! Scattered throughout the oasis are also crystal-clear springs.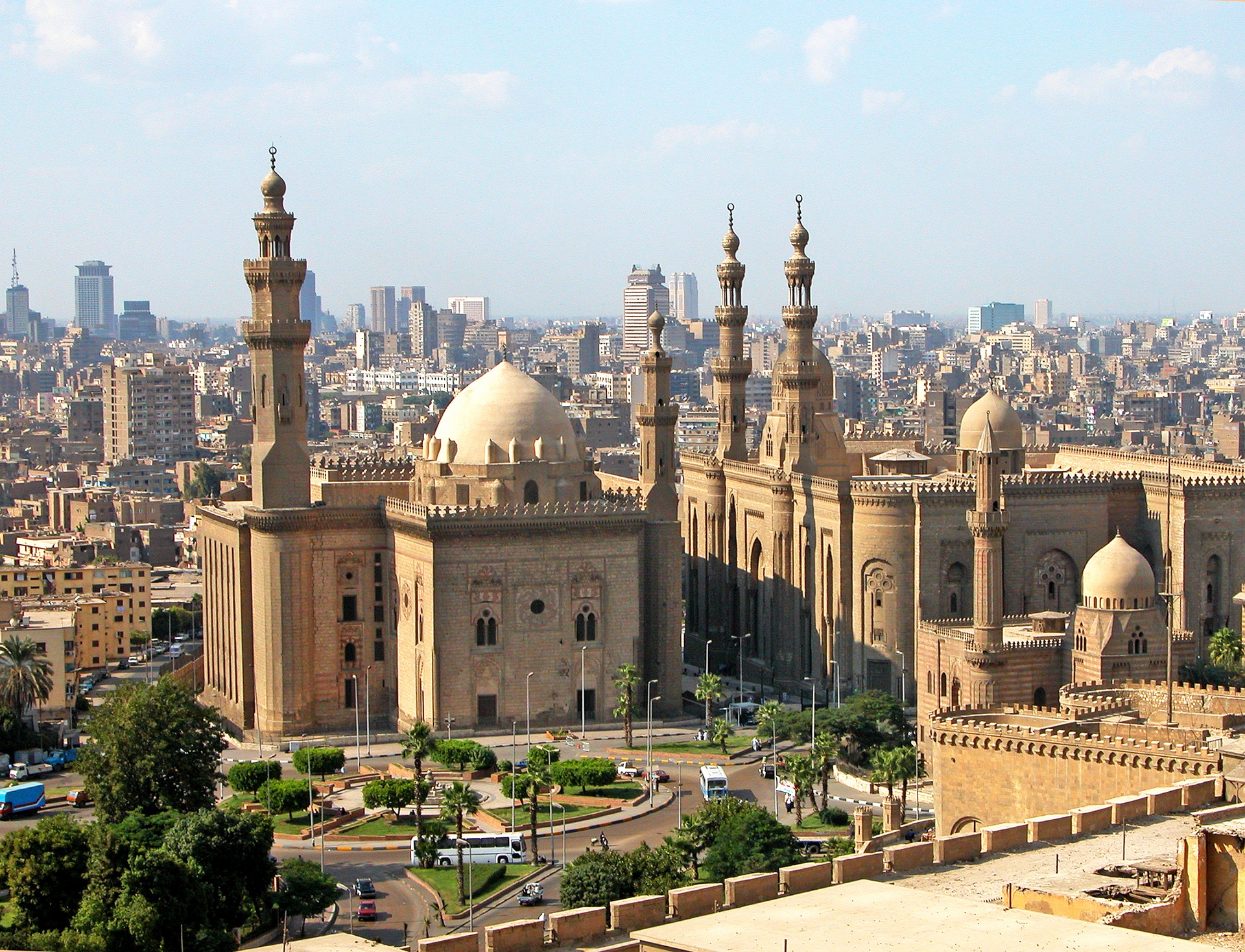 22.) Islamic Cairo
Islamic Cairo is a must for architecture fans and anyone with an interest in Islamic art. A journey into Islamic Cairo is a journey into the city's past, from Fustat, Egypt's first Muslim capital, to the 1,000-year-old walled city, the Cairo Citadel, founded by 12th-century leader Saladin, and beyond. Mosques are a centerpiece of any visit to Islamic Cairo, from Ibn Tulun Mosque, built more than 1,000 years ago, to Alabaster Mosque, atop the Citadel. You can also enjoy fountains, ancient Islamic schools, ornate city gates, bustling markets, and more.
Note: Women should wear loose clothing that covers shoulders, arms, and legs. Read my guide for what to pack as a woman traveling to Egypt.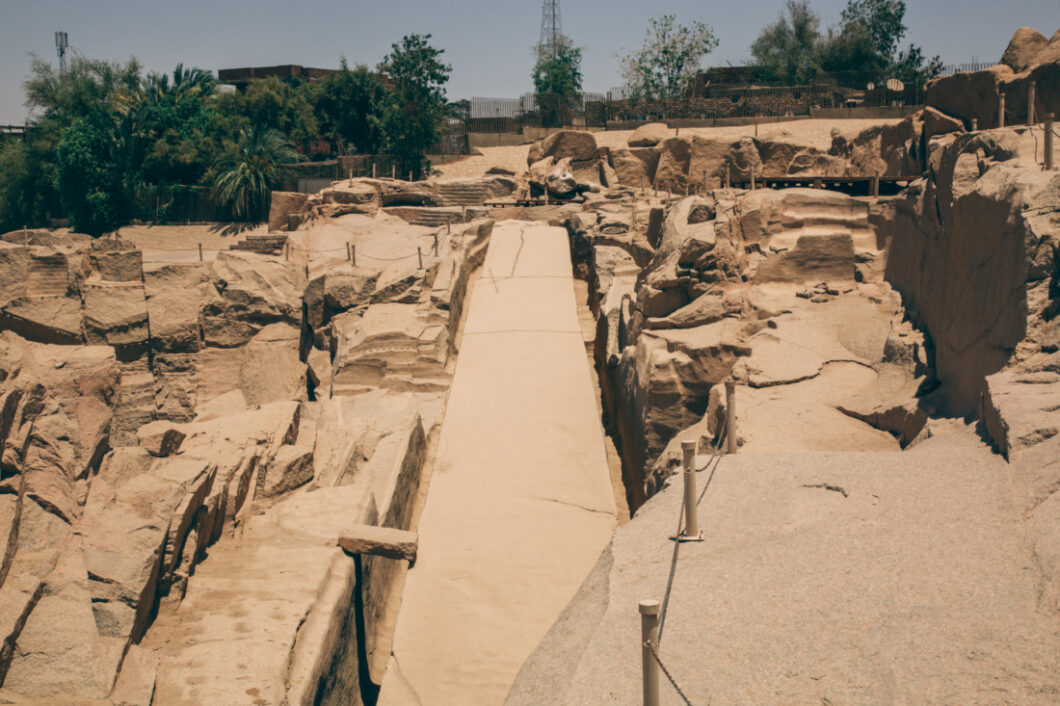 21.) The Unfinished Obelisk in Aswan
The unfinished obelisk is the largest known ancient obelisk! Its creation was ordered by Queen Hatshepsut (she's a badass lady Pharoah you can learn more about in this post). The obelisk was carved directly out of bedrock, but the granite cracked. So, they left the obelisk where it was, and now you can see how the Egyptians made their obelisks. It's really cool to see!
Read more: 5 Cool Things to Do in Aswan, Egypt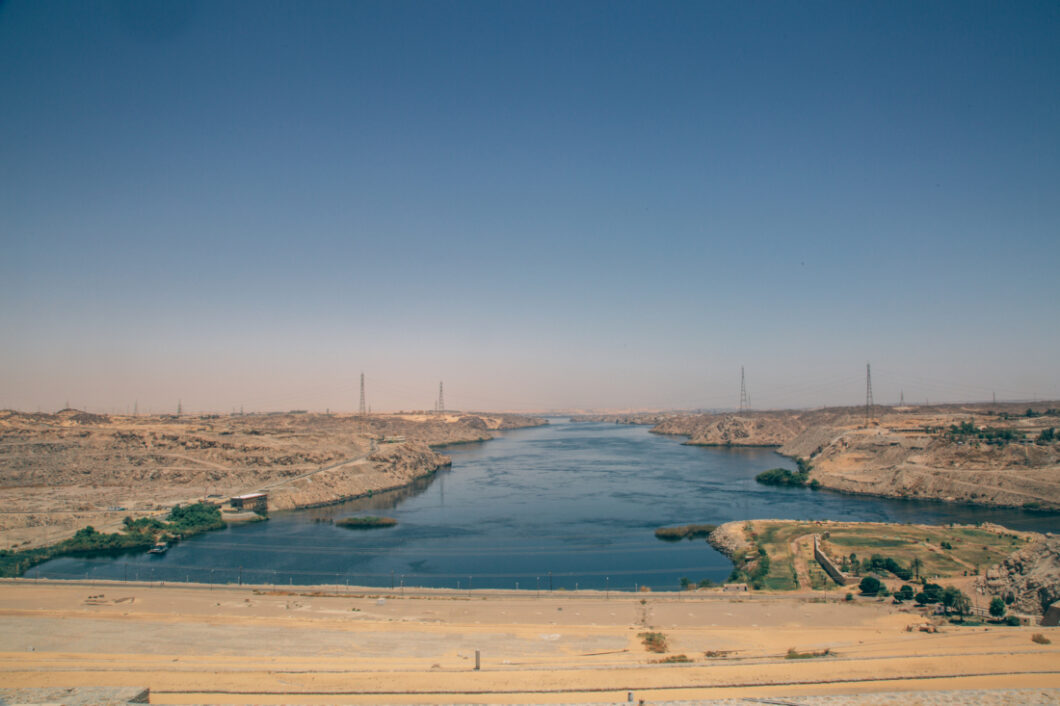 20.) Aswan High Dam
The Aswan High Dam is 364 feet high and is fed by the Nile River. Its reservoir has formed Lake Nasser. You can see some great views of both Lake Nasser and the Nile when visiting. (There are also cruises that take you around the sites of Lake Nasser.)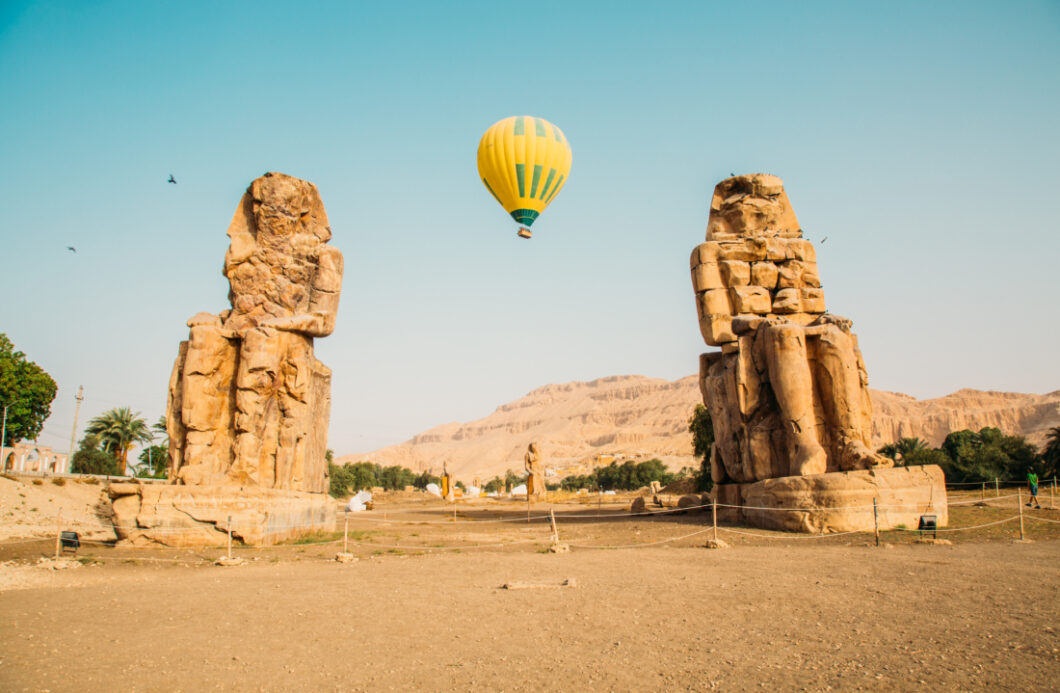 19.) The Colossi of Memnon in Luxor
The Colossi of Memnon are massive stone statues of the Pharaoh Amenhotep III. They have stood here for the past 3,400 years! They can be a quick stop on your way back to Luxor from the Valley of the Kings (more on that a little later in the post). There are also hot air balloon tours that will take you above Luxor and offer a birds-eye view of them!
Read more: How to Spend 2 Days in Luxor, Egypt
18.) Sharm el-Sheikh
Sharm el-Sheikh is an Egyptian resort town between the desert of the Sinai Peninsula and the Red Sea. It's known for its sheltered sandy beaches, clear waters and coral reefs. Naama Bay has a palm tree-lined promenade and is filled with bars and restaurants. Ras Muhammad National Park is a major diving destination, with marine life around the Shark and Yolanda reefs and the Thistlegorm wreck.
17.) Alexandria
Alexandria is a Mediterranean port city in Egypt. During the Hellenistic period, it was home to a lighthouse that ranked among the Seven Wonders of the Ancient World as well as a storied library. Today the library is reincarnated in the disc-shaped, ultramodern Bibliotheca Alexandrina. The city also has Greco-Roman landmarks, old-world cafes and sandy beaches. Its 15th-century seafront Qaitbay Citadel is also a museum.
16.) Hurghada
Hurghada is another beach resort town that stretches along Egypt's Red Sea coast. It's most-known for scuba diving, and has numerous dive shops and schools. There are also many restaurants, bars and nightclubs. The old town, El Dahar, is home to traditional Egyptian coffee shops and souks. Hurghada's long stretch of sandy beach is lined with beautiful resort hotels.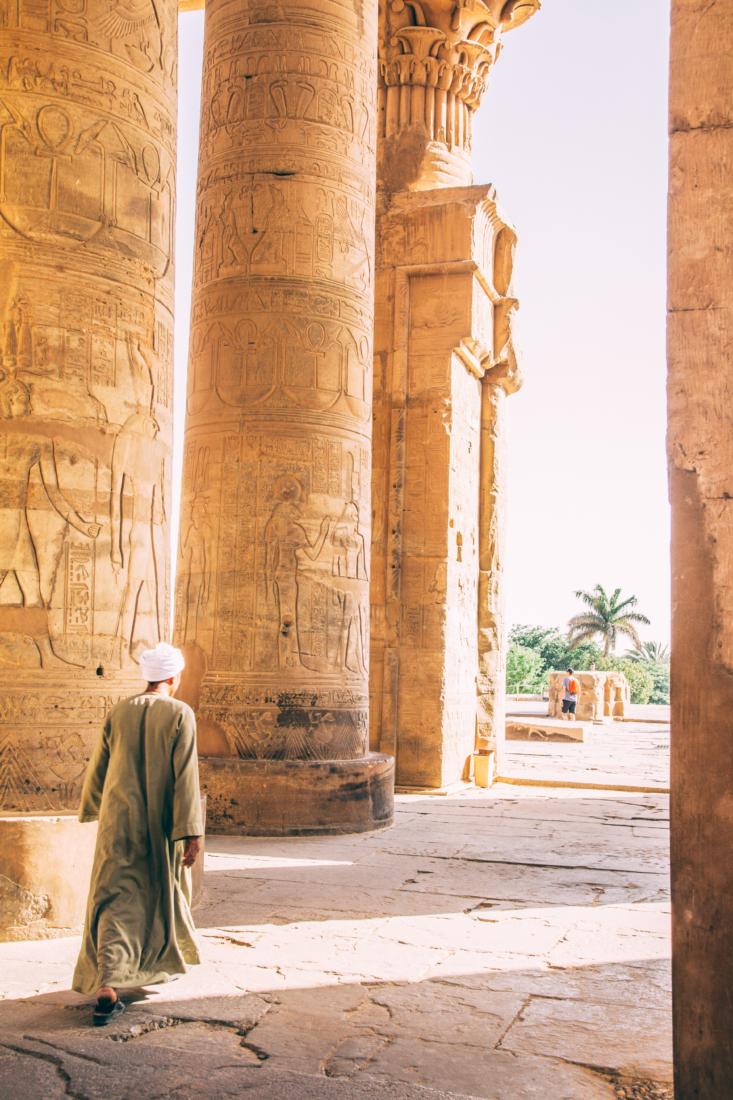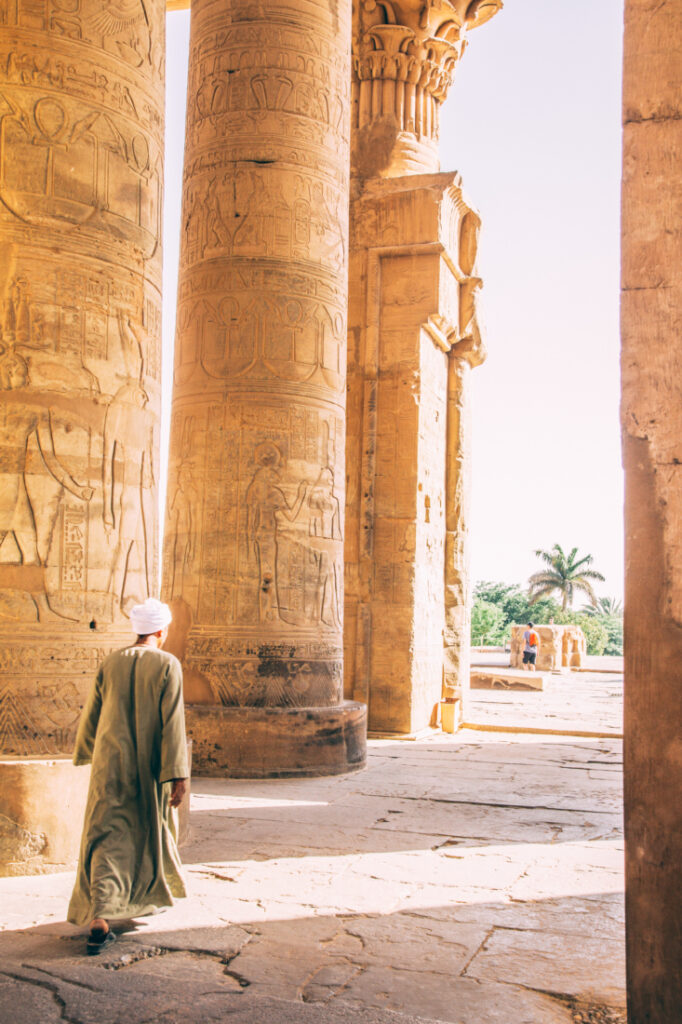 15.) The Temple of Kom Ombo in Kom Ombo
The Temple of Kom Ombo is unique because it is dedicated to two gods – Horus the Elder and Sobek (he's a crocodile god). This temple was constructed during the Ptolemaic dynasty between 180–47 BC. There is also a mummified Crocodile Museum in Kom Ombu! There are tons of crocodiles inside that have been mummified for thousands and thousands of years! It's really interesting to see, in my opinion. There are quite a few different curiosities to see at this temple (more on that here), and I highly recommend booking a guide before touring it.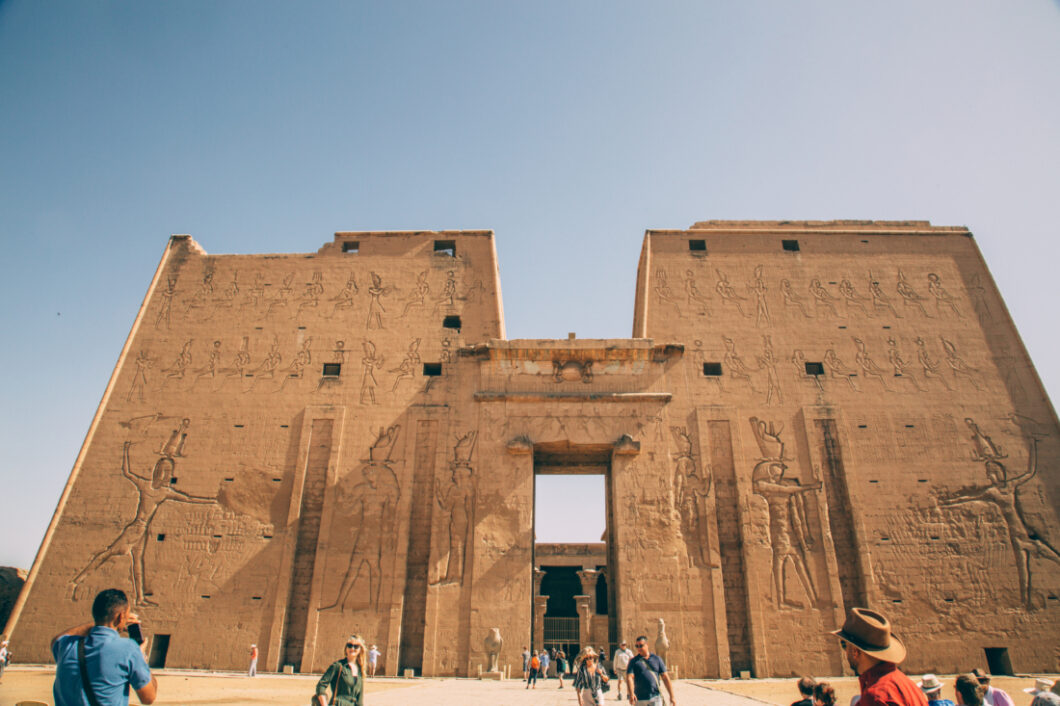 14.) Temple of Horus at Edfu
Now, the main reason you would visit Edfu is to see the Temple of Horus. This is a Ptolemaic temple, that was built between 237 and 57 BC. It is one of the best-preserved ancient monuments in all of Egypt. It's dedicated to the god Horus.
The temple is said to have been built to represent how a falcon flies. There are two staircases inside, one is a spiral staircase and the other is straight. This is because a falcon flies up in a spiral, but flies down to the ground in a direct path. Pretty interesting, eh?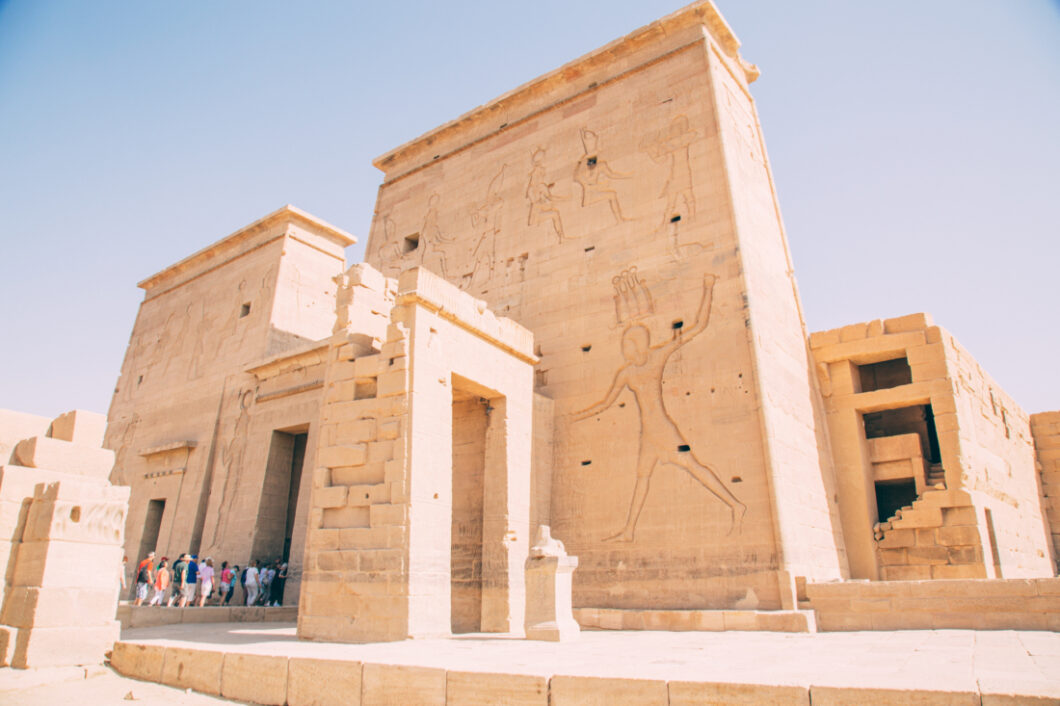 13.) Philae Temple (Temple of Isis) in Aswan
The Temple of Isis is actually located on an island. It was built to honor the goddess Isis back in 690 BC. It's incredibly beautiful and well-preserved. Interesting enough, this is not the island where the temple was originally built either. Before the Aswan High Dam was built back in the 1960s, a massive UNESCO project moved the temple to higher ground. It would have been completely underwater, otherwise, once the dam was completed!
Read more: 5 Cool Things to Do in Aswan, Egypt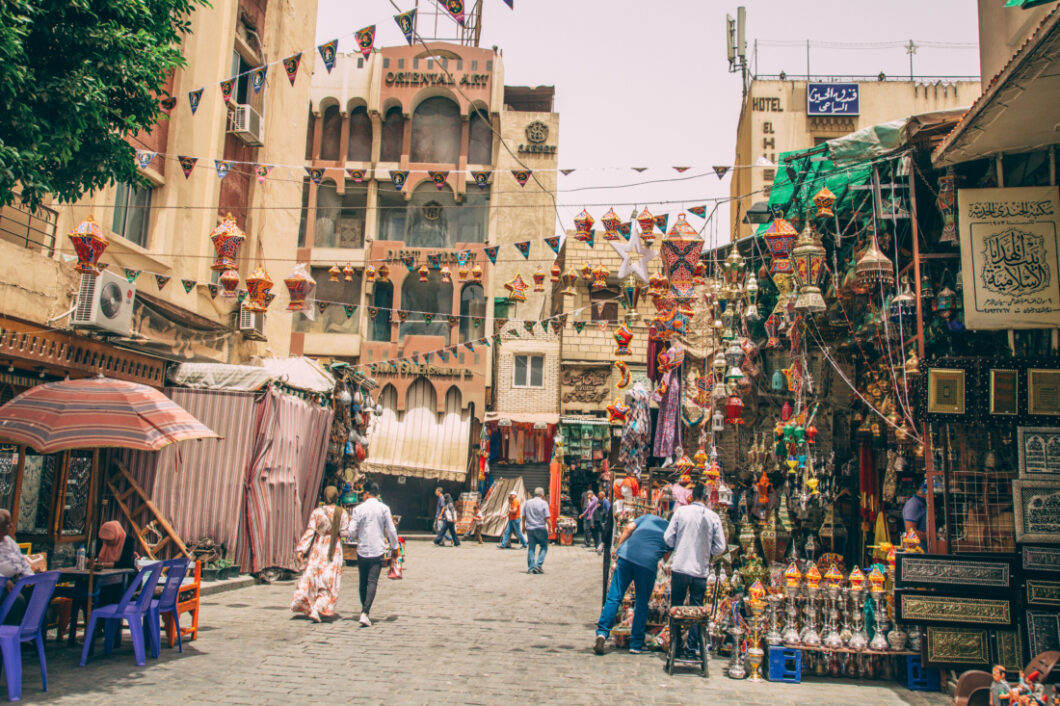 12.) Khan El-Khalili Bazaar in Cairo
Khan el-Khalili is a famous bazaar and souq in the historic center of Cairo, Egypt. There are many historic cafes and things to buy here. It's easy enough to get a taxi here and many tours to the Egyptian Museum will also take you there after visiting the museum.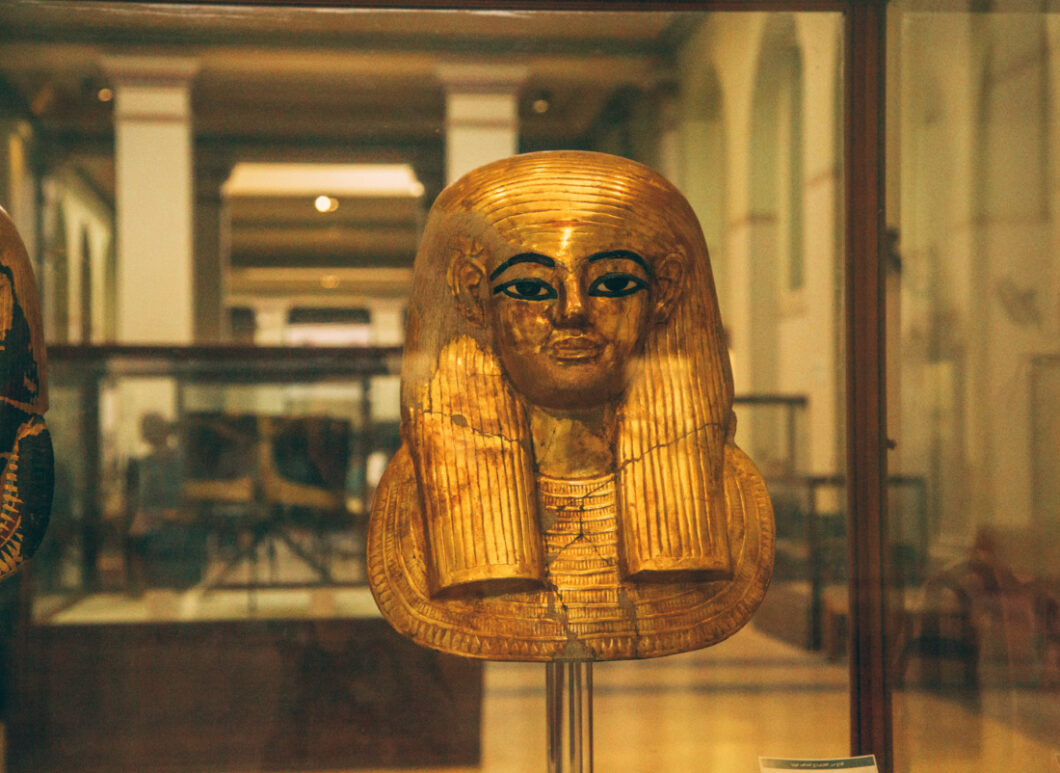 11.) The Egyptian Museum in Cairo
The Egyptian Museum in Cairo (a.k.a. The Museum of Egyptian Antiquities), is home to more than 120,000 artifacts from Ancient Egypt (seriously)! They have so many, they're honestly running out of room. Visiting this incredible museum is a must for any trip to Egypt. It's located in the city of Cairo with many tours operating daily. (Or you can buy your tickets yourself when you get there.)
Read more: 12 Things to Know Before Touring the Egyptian Museum in Cairo
Note: There is a new museum being built! It's called the "Grand Egyptian Museum," and it's right next to the pyramids. It was supposed to have opened in 2018, but it sounds like it's more likely it won't be open until 2021 (there is no set date when it will be opened yet).
10.) Dahshur
Dahshur is an ancient pyramid site that is less than an hour away from Cairo. It's home to some of Egypt's best-preserved pyramids. The royal necropolis at Dahshur comprises a two-mile field of pyramids that date back between the fourth and 12th dynasties, and although 11 structures once dotted the landscape, only two remain – the Red Pyramid and the Bent Pyramid. Nearly identical in size, these two pyramids are the third-largest in the country after the two biggest at Giza.
9.) Ancient City of Memphis (near Cairo)
Memphis was one of the oldest and most important cities in ancient Egypt. It is located at the entrance to the Nile River Valley near the Giza plateau. It served as the capital of ancient Egypt. It's about a 15-mile drive from Cairo. One of the coolest things to see in Memphis is the massive statue of Ramesses II that was uncovered here, measuring over 30 feet tall! (That's the picture above.)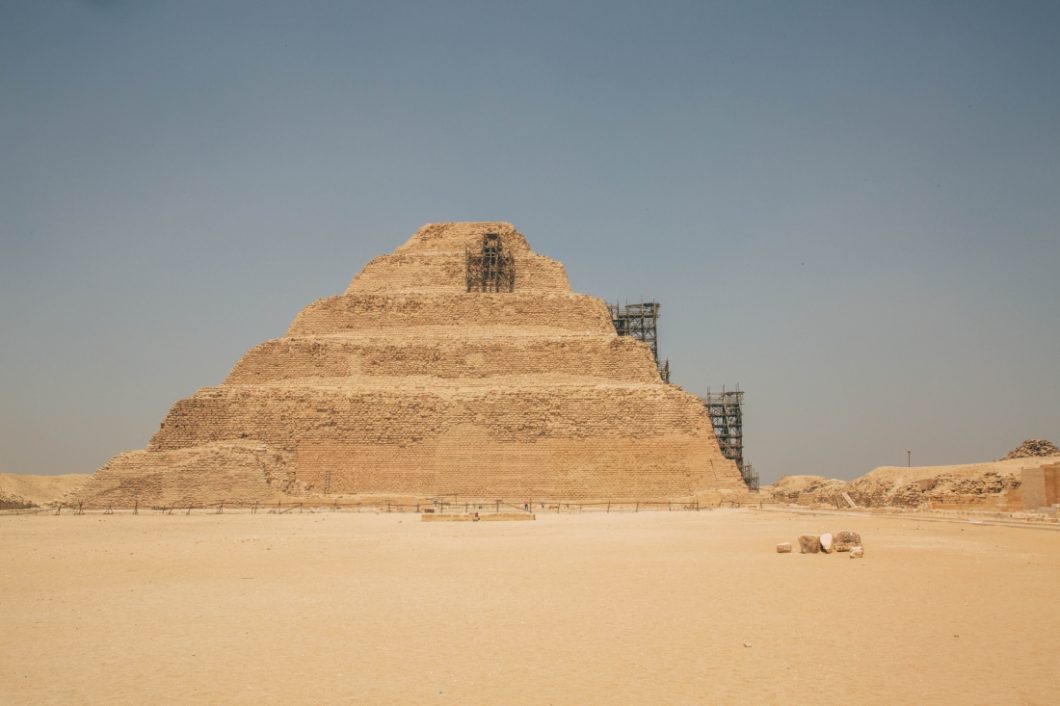 8.) Saqqara (near Cairo)
Saqqara is a big, ancient burial ground in Egypt. There are over 10 other pyramids here! (It's about a 45-minute drive from Giza and is quite close to Memphis and Dahshur.) Djoser's Step Pyramid is the most famous of these pyramids because it is actually the world's first successfully built pyramid! Djoser's pyramid was the first to use multiple mastabas (rectangular tomb structures) stacked on top of one another to form a step pyramid. It was built around 2630–2610 BC during the Third Dynasty.
Read more: More Pyramids Near Cairo – Saqqara (Djoser's Step Pyramid) + Ancient City of Memphis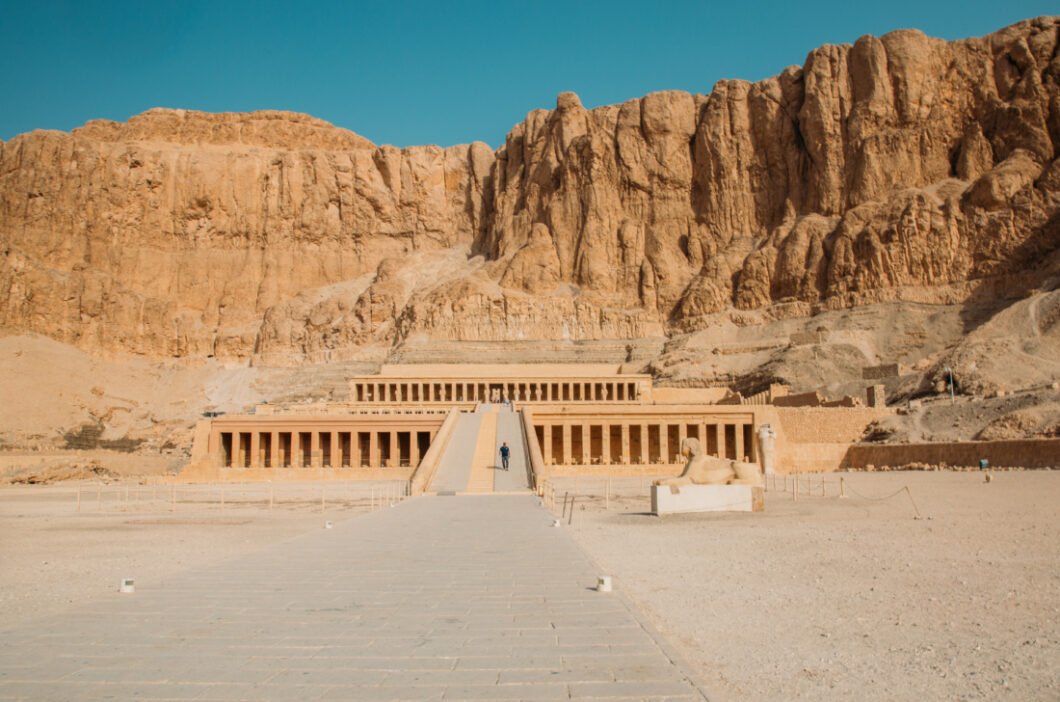 7.) The Valley of the Queens in Luxor
The Valley of the Queens is a site in Egypt, where the wives of pharaohs were buried in ancient times. It was known then as Ta-Set-Neferu, meaning "the place of beauty". It was most famous for being the burial site of many wives of Pharaohs. (Pharaohs themselves were buried in the Valley of the Kings.) The most famous tomb here is Queen Nefetari's. The tomb of Nefertari has been completely restored but is, unfortunately, closed to visitors more often than not.
6.) The Valley of the Kings in Luxor
The Valley of the Kings is where for nearly 500 years (from the 16th to 11th century BC) the tombs for the pharaohs and nobles were made. They are all located underground in this valley so they would be hidden from looters. And now, you can tour them!
There are 63 tombs here (that we know of) and only a handful of them are open to the public (and they rotate which are open). This is due to renovations happening to certain tombs, and also to prevent damage to the tombs. This is also where you can see King Tut's tomb and his mummy. All of his treasure, however, is located inside the Egyptian Museum in Cairo.
Read more: 11 Things to Know Before Going to the Valley of the Kings in Egypt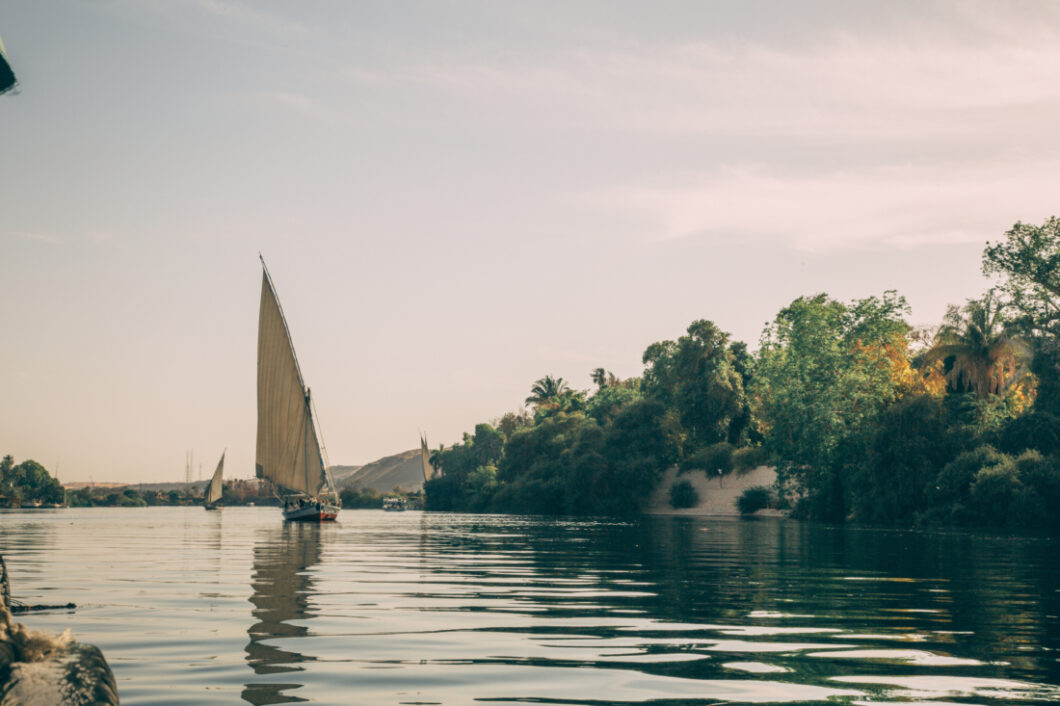 5.) The Nile River
You can't come to Egypt and not visit the famous Nile River at some point! I highly recommend taking a cruise along the Nile River. Even if you're not a fan of cruises, this is a completely different experience (read more about that here). Cairo and Aswan are great spots to experience the Nile River – whether you just want to admire it, or you can take motorboat rides and felucca rides along it!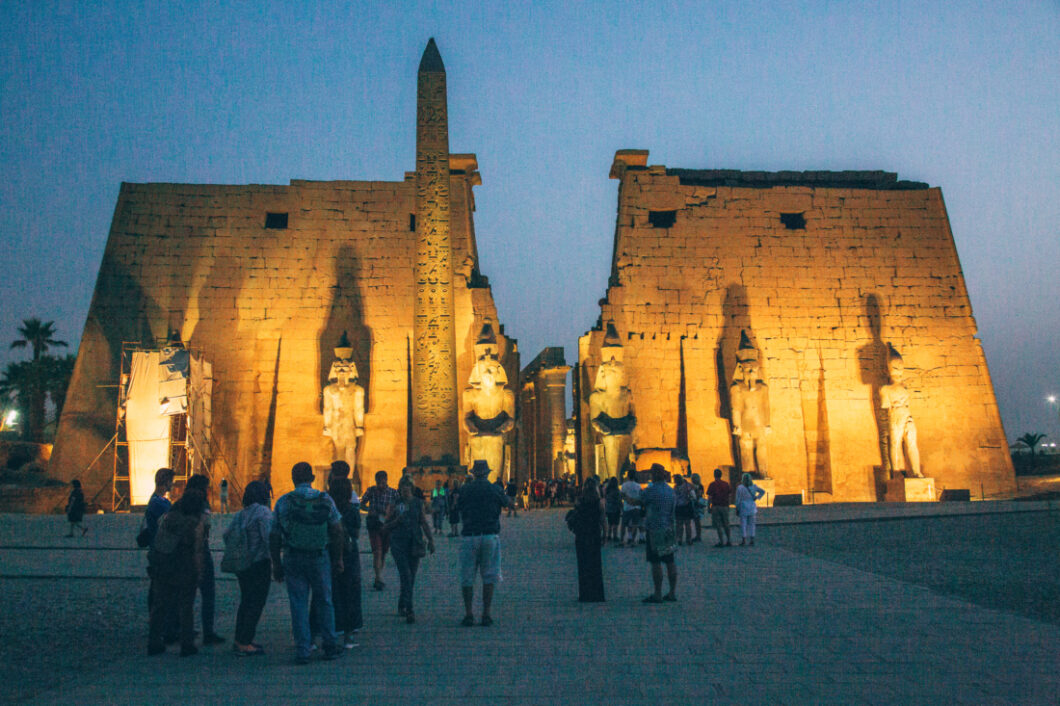 4.) Luxor Temple in Luxor
Luxor Temple is located within the modern city of Luxor. It was originally built by Amenhotep III, one of the great builders of ancient Egypt, from about 1390 to 1352 BC. Interestingly enough, though, the Romans also added their own touches to it later (you'll see a church inside and frescoes painted over the hieroglyphics), and there is a mosque built on top of it as you enter. The mosque was built in the 13th century and was built when much of Luxor Temple was buried beneath the sand. You'll see doors that lead to nowhere, now, and marks of where the sand used to be when you look up to the mosque. It's very interesting to see!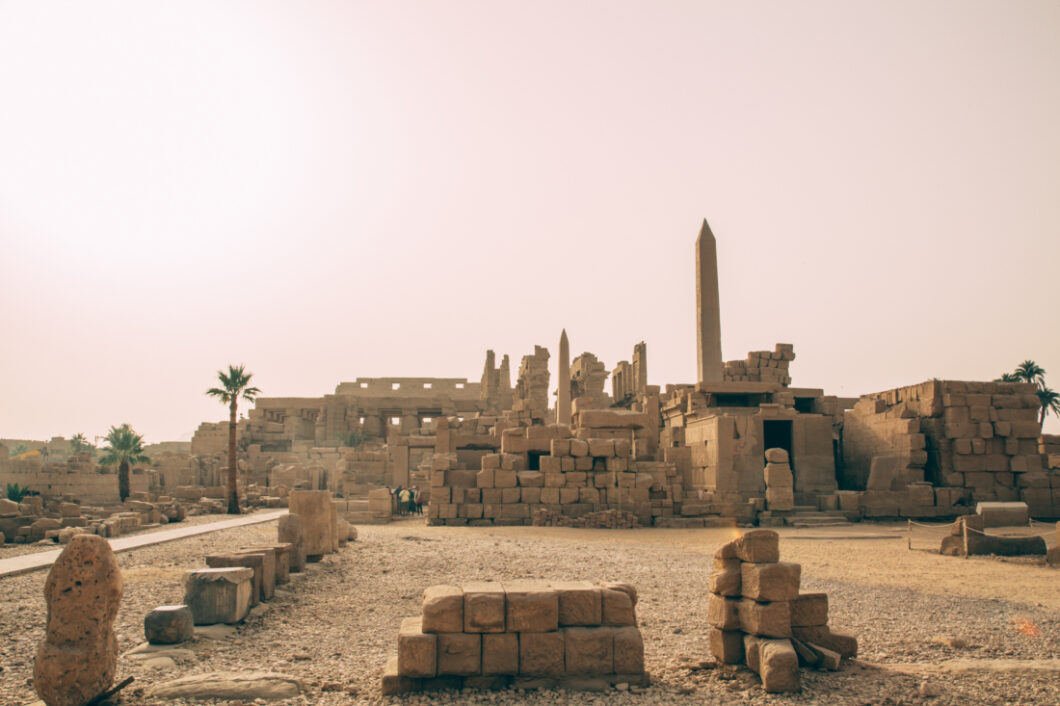 3.) Karnak Temple in Luxor
Karnak Temple is actually the 2nd most visited site in Egypt, second only to the pyramids in Giza! It's the largest religious complex ever constructed and was developed over 1,500 years (starting around 2,000 BC). It's dedicated to Amun, Mut and Khonsu.
Read more: Visiting Karnak Temple & Luxor Temple – Must-See Places in Luxor, Egypt
2.) Pyramids of Giza
I mean, you can make a list of the top places to visit in Egypt and NOT include the Pyramids of Giza – right? The pyramids of Giza were royal tombs built for three different pharaohs. They are the most famous landmark in all of Egypt, and arguably the most famous landmark in the entire world. Many hotels in Giza will also have spectacular views of the pyramids. (This is the one I stayed at.)
Read more: Visiting the Pyramids of Giza – 10 Tips to Know Before You Go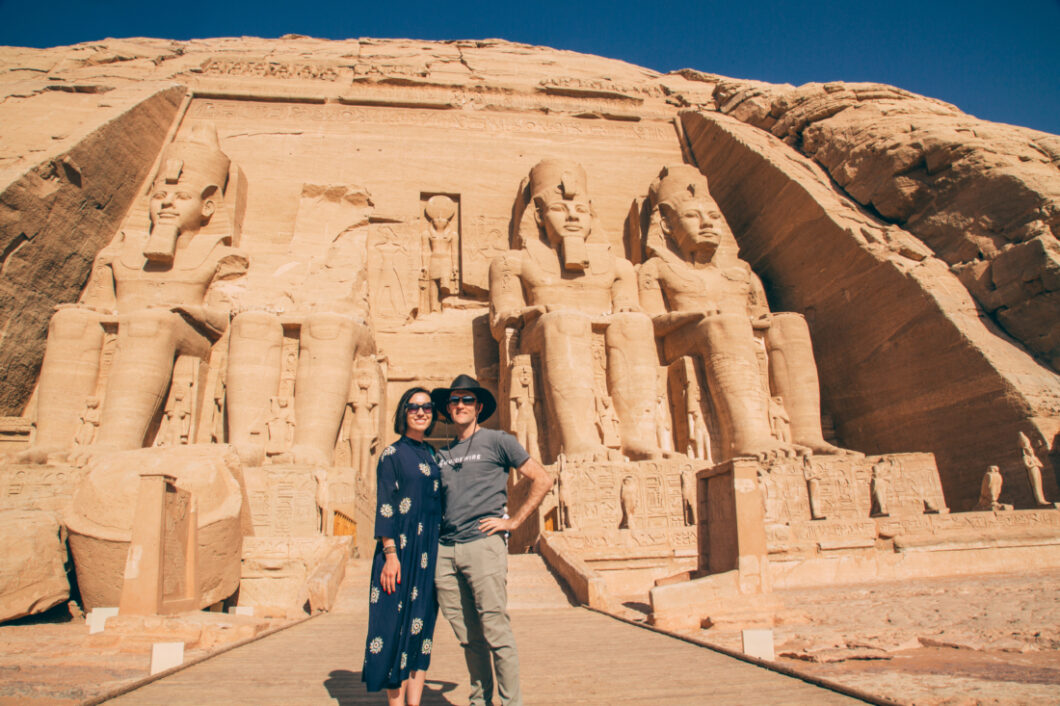 1.) Abu Simbel
Drum roll, please! The coolest place to visit in Egypt, in my opinion, is Abu Simbel. This was honestly cooler for me than seeing the pyramids, and I have been dreaming about visiting the pyramids since I was 8. (That's how incredible Abu Simbel is!)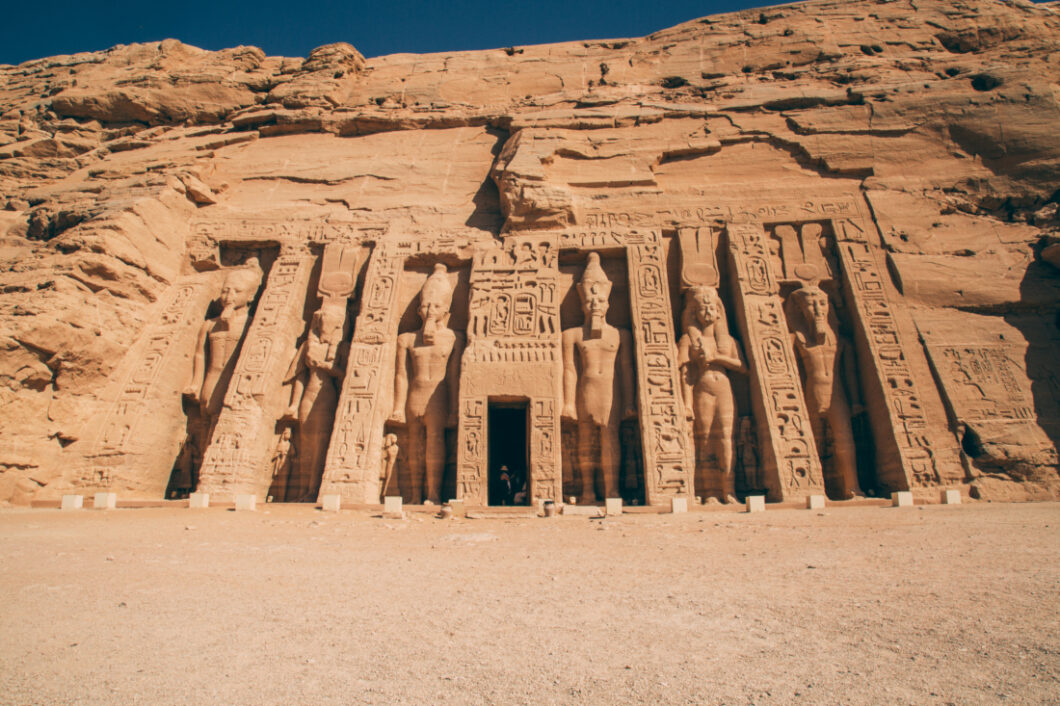 Abu Simbel is a village in Southern Egypt, near the border of Sudan. It is home to two massive rock-cut temples one for the great Egyptian ruler Ramses II and one for his chief wife, Queen Nefertari.
Read more: Abu Simbel is an Egypt Must Do – Here are 10 Things to Know Before You Go
How to Get Around Egypt
I highly recommend booking your transportation through a tour agency. Even for seasoned travelers, Egypt is best visited with a tour company. You can read about the company I personally used, here.
G Adventures is holding a cyber sale where group tour packages are up to 20% off total cost!
Visa Requirements
To check if your country requires a Visa for traveling to Egypt, click here.
Travel Insurance
Squaremouth is the only site that currently lets you filter travel insurance policies for COVID-19 coverage. I, personally, use Squaremouth for finding the best insurance policies for my travels. They're also recommended by Forbes! You can click here to get your free travel insurance quote
I am happy to answer any questions anyone has about visiting Egypt in the comments at the end of this post. Thank you for reading!
*Disclosure: some of these links are affiliate links. Meaning, if you click a link and make a purchase, Have Clothes, Will Travel gets a very small commission at no extra cost to you. Thank you for supporting the brands that make this blog possible! I am also a participant in the Amazon Services LLC Associates Program, an affiliate advertising program designed to provide a means for us to earn fees by linking to Amazon.com and affiliated sites.