How to Spend 2 Days in Luxor, Egypt
Spending 2 days in Luxor, Egypt is just the right amount of time to see the highlights, in my opinion. This will include visiting both the East and West bank (you can actually do that all in one day if you fancy)! I'll give a couple of different suggestions of how you can break this itinerary up to meet your schedule, and how we spent our 2 days in Luxor.
How to Spend 2 Days in Luxor, Egypt – Itinerary
G Adventures is holding a cyber sale where group tour packages are up to $400 off.
Day 1 Arrive in Luxor // Explore Karnak & Luxor Temples (Depending on Your Flight or Train Arrival Time)
Flights from Cairo to Luxor take about 1 hour and are generally less than $100. (Click here to check the latest flight prices.) We had booked an 8 am flight out of Cairo, which meant we had an entire afternoon to explore Luxor at a leisurely pace.
Karnak Temple
Our adventure in Luxor started with visiting Karnak Temple, it's only about a 10-minute drive from most hotels in the city. Karnak Temple is actually the 2nd most visited site in Egypt, second only to the pyramids in Giza! It's the largest religious complex ever constructed and was developed over 1,500 years (starting around 2,000 BC). It's dedicated to Amun, Mut and Khonsu.
We spent a couple of hours here, but you could easily spend an entire day if you wanted – Karnak Temple is HUGE! (Click here for more information.)
*They also offer a light show here at night if that's something you're interested in. (Personally, I'm not a big fan of light shows, though. So, we did not do this.)
Luxor Temple
Luxor Temple was originally built by Amenhotep III, one of the great builders of ancient Egypt, from about 1390 to 1352 BC. It's located right in the city and is less than around a 5-minute drive from most hotels in the city.
We spent about 1 1/2 hours here – but again, if you enjoy taking photos and admiring such an incredible amount of history, you could easily spend a longer amount of time.
Day 2 – Valley of the Kings (West Bank)
Getting to the West Bank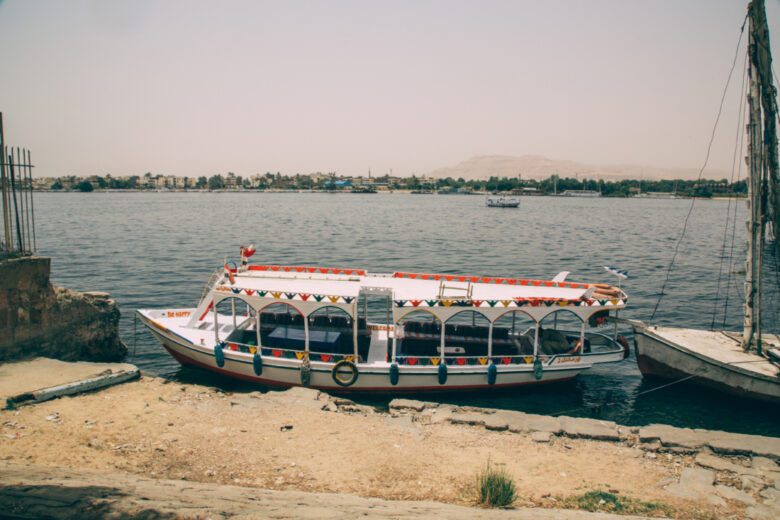 Your hotel will likely be on the East Bank. To cross the Nile River and get to the West Bank you'll have to take the public ferry or hire a motorboat (pictured above). The ferry costs 5 LE and a motorboat will also cost 5 LE (or 1 LE per person if you're in a group of 5 or more). If you're in a time crunch, it's better to take one of the motorboats, as they will leave immediately. (And the ferry will wait until it's sufficiently full.)
*Option: Pre-Dawn Hot Air Balloon Flight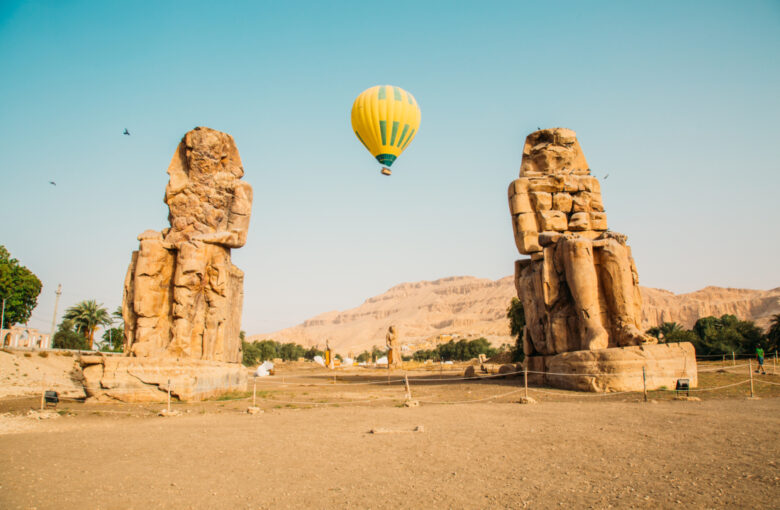 Luxor is quite known for its hot air balloon flights. Seeing the ruins from above can be an interesting sight! We didn't do this, as we had just been in Cappadocia, Turkey not long ago and had had enough of hot air balloons! However, our friends did do this and said it a lovely experience. They hadn't previously been on a hot air balloon, so they were very excited to try it out. They also said they were very happy they took the earliest flight possible, as they were able to watch the sunrise and beat the heat. (Being on the later balloon flight that morning would have been way too hot!) Click here to book the pre-dawn balloon flight.
Valley of the Kings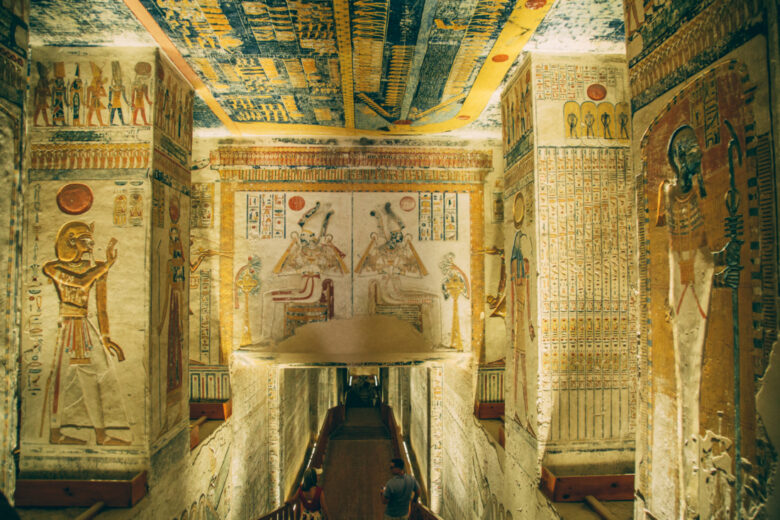 This is where for nearly 500 years (from the 16th to 11th century BC) the tombs for the pharaohs and nobles were made. They are all located underground in this valley so they would be hidden from looters. (A pyramid is a pretty big target for a looter, and they knew that by this period.)
There are 63 tombs (that we know of) inside the Valley of the Kings. However, only a handful of them are open to the public (and they rotate which are open). (Click here to read more about visiting the Valley of the Kings.)
*We spent a couple hours in here and visited 5 tombs total.
Temple of Hatshepsut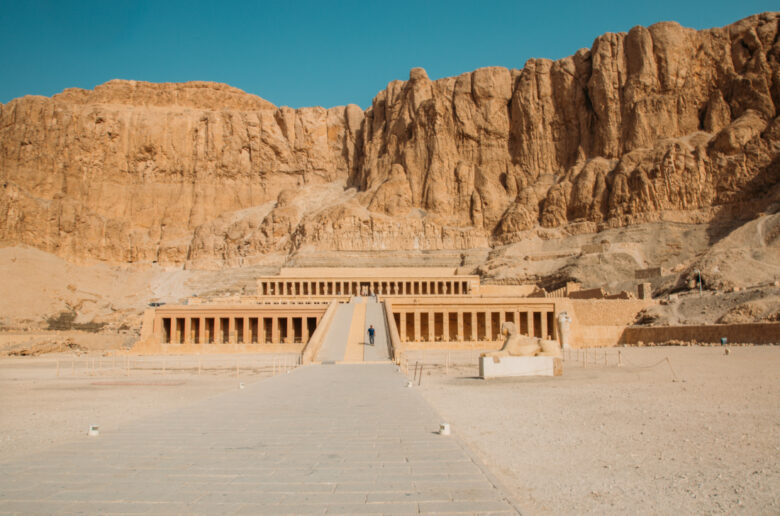 The Temple of Hatshepsut (badass lady pharaoh!) is about a 10-minute drive away from the visitor's center at the Valley of the Kings. This is still technically the Valley of the Kings (she's the only female who was buried here), but with the way the entrance is set up, it's quite a hike to get to it (so, driving is your best bet). (Click here for more info.)
*We spent just about an hour in here. (Part of this was getting snacks and refreshments at the visitor's center too.)
The Colossi of Memnon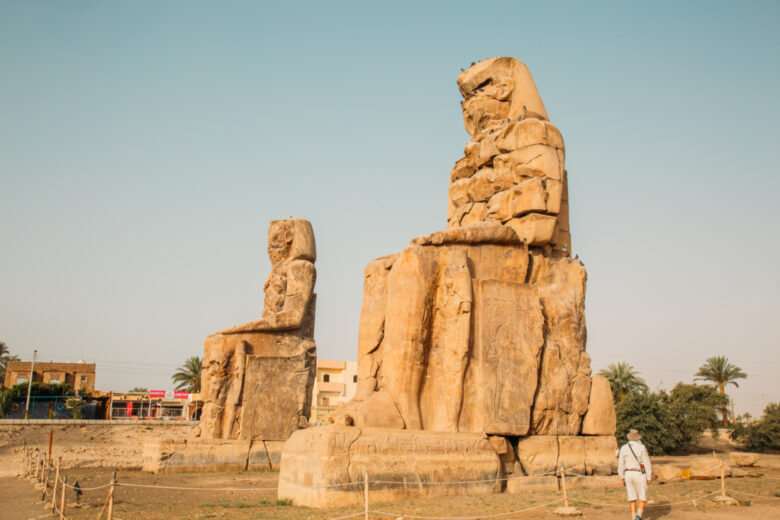 These are massive stone statues of the Pharaoh Amenhotep III. They have stood here for the past 3,400 years! They're a quick stop on your way back to Luxor and are a quick photo op. (10-15 minutes tops.)
*Catch your flight out of Luxor or train or Nile River Cruise!
Suggestions for Altering This Itinerary
This is by no means the best or the only way to see Luxor! This is just what we did and it worked out nicely. (We had to depart at 1 pm the second day to catch our Nile River Cruise.) Here are some suggestions if you have more or less time to play with.
Option 1.) Do this all in one day! Depending on when you arrive in Luxor, you might not have time to visit anything that afternoon. However, you could easily do all of this mentioned above in one day. There are even tours that have all of these stops included in 1 day (like this one). *You would obviously have to leave Luxor quite late that evening, though, or plan for another night here.
Option 2.) If you have extra time, you can spend a half day visiting The Valley of the Queens and Ramesseum and Habu Temples too! (Click here to see a tour offering this option.)
Tips for How to Dress in Luxor, Egypt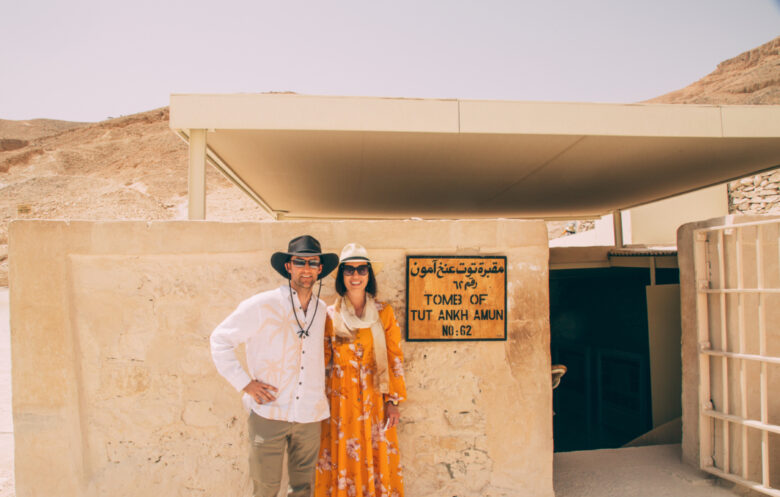 Luxor, Egypt is going to be very hot no matter what time of year you visit! I've outlined all of my tips for dressing comfortably in this blog post. (Or click here for the comfy outfit post featured below.)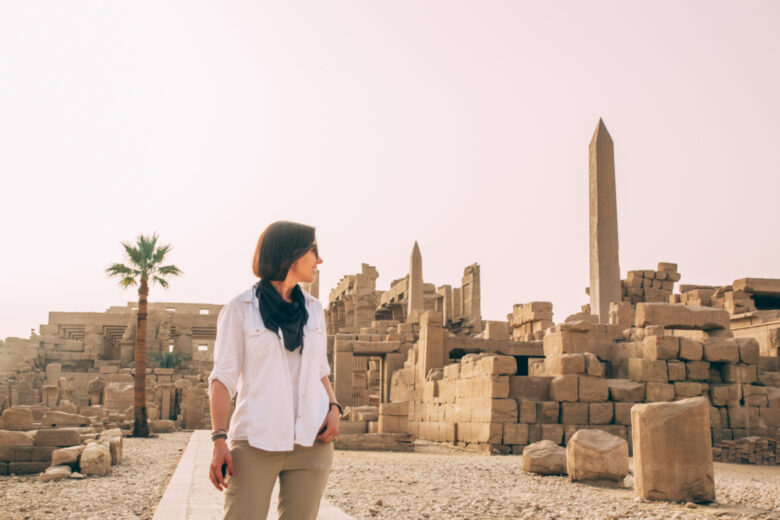 Transport in Luxor
You have a few different options for how to get around Luxor.
*You can book a tour, which does have its benefits, despite getting you to all of these places efficiently…it's also a plus to book a tour so the locals will not bother you and try to "show you around" these places and harass you for tips. (Any time we went anywhere on our own, we were constantly getting bothered by someone trying to "help" or sell us something.) However, I do understand not everyone enjoys tours either. (We booked through Memphis Tours.)
*Rent a bike from your hotel. If you're a biker, many hotels do offer bikes for rent. However, it is really hot in Luxor, so please plan accordingly for the heat.
*Ask your hotel to arrange a taxi for you. This is likely the easiest way to go about this if you aren't a fan of tours. Having someone drive you to these sights and enjoy them at your own pace!
*There are buses in Luxor that can transport you to some of these places, ask your hotel for more info. (Sorry, we didn't take the bus here and I don't want to give you wrong info!)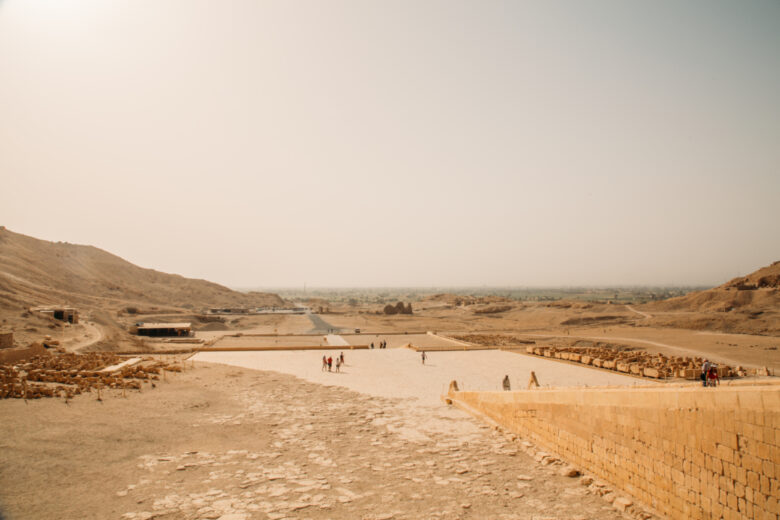 Where to Stay in Luxor
Luxury: The Hilton Luxor Resort is one of the highest-rated hotels in Luxor. (And frankly, for what you get and what we're used to paying in the US, I don't think the prices are all that bad.)
Middle of the Road: Aracan Eatabe Luxor Hotel is in a great location and is generally running very affordable prices.
Budget: Located on the West Bank, Luxor Palace has some fantastic prices and views. These are also not hotel rooms – they're full-on apartments!
*Click here to see all of my posts from Egypt.
*You can also check out my entire packing list for Egypt as a woman.
*Also see my itinerary for how to spend 7 days in Egypt!
Click here to see on sale G Adventures tour packages for Egypt.
Travel Insurance
It's a good idea, no matter where your adventure takes you, to have travel insurance. You never know what might happen! Whether you get sick before your trip and can't go, or you become sick or injured while on your adventure – being covered with travel insurance is a must. Some credit card companies do provide this service (check with yours), or you can get a quote from companies such as Squaremouth to find the best plan for you and your adventure. (This is the company I, personally, use. They are even recommended by Forbes!) To get a free quote, click here.
Visa Requirements
To check if your country requires a Visa for traveling to Egypt, click here.
*Disclosure: some of these links are affiliate links. Meaning, if you click a link and make a purchase, Have Clothes, Will Travel gets a very small commission at no extra cost to you. Thank you for supporting the brands that make this blog possible! I am also a participant in the Amazon Services LLC Associates Program, an affiliate advertising program designed to provide a means for us to earn fees by linking to Amazon.com and affiliated sites.