5 Affordable Things To Do In Buenos Aires
Guest post by Rebecca Hoffmann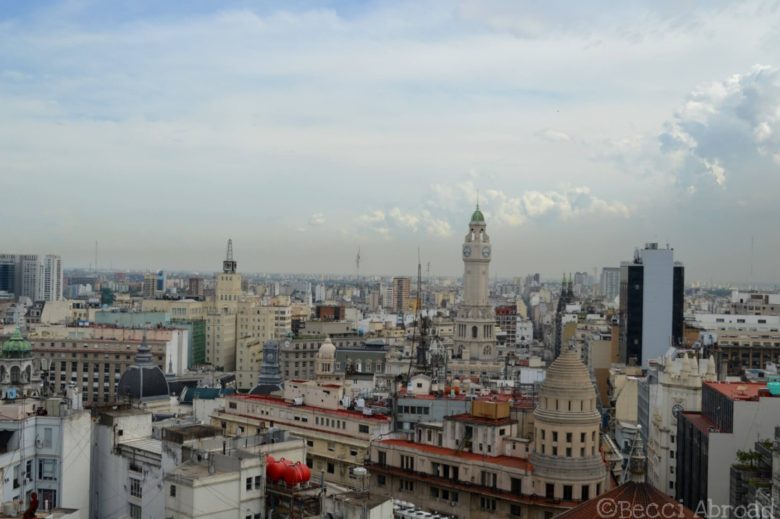 Oh, Buenos Aires… This name which embeds mysterious elegant women in tango dresses with handsome men by their side, buildings with astonishing architecture, and the stories and rumors of the famous Evita Peron who grew from poverty to become Argentina's First Lady.
Yes, Buenos Aires… But wait, wait, when you start planning your trip to this gorgeous city, the dollars start falling out of your pockets! Buenos Aires is expensive.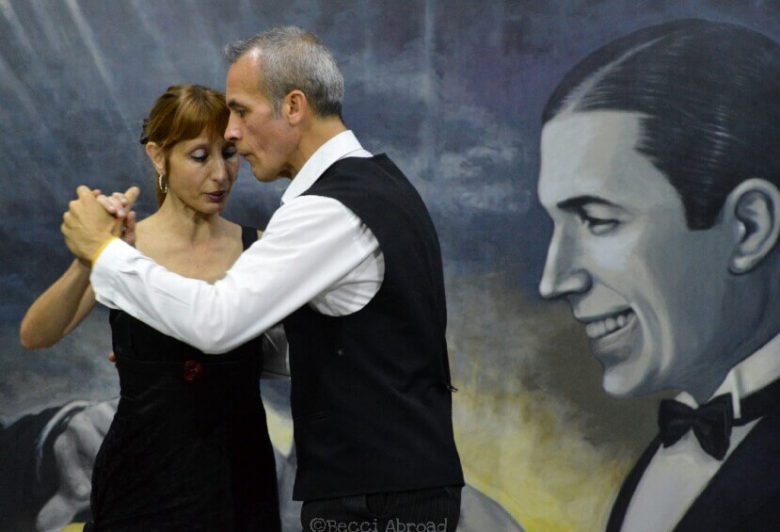 However, I'm here to help you out! Because it is possible to enjoy Buenos Aires without completely ruining your budget! I have put together this list of 5 affordable things to do in Buenos Aires to help you out.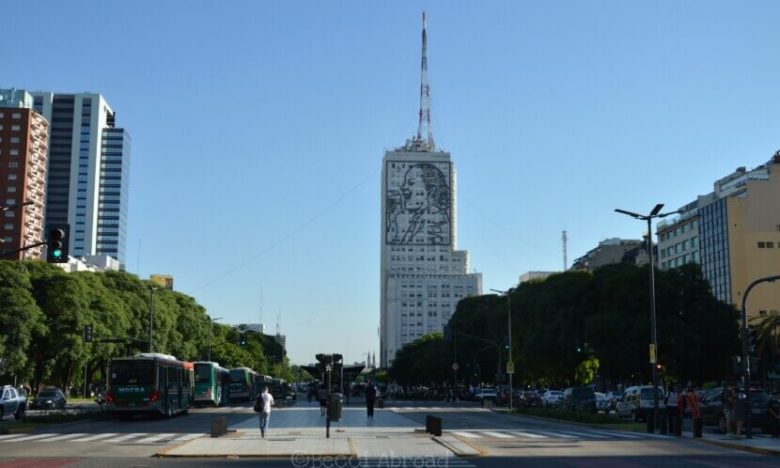 5 Affordable Things To Do In Buenos Aires
1) The viewpoint of Galeria Güemes
Who doesn't like viewpoints? There is something special about seeing over the roofs of a city and watching toy-sized cars and people stressing around below, while you stand there with the wind in your hair.
Mirador de Galería Güemes is one of such amazing places in Buenos Aires. Located on the roof of the 14th floor of the small shopping arcade Galería de Güemes on Florida Street in Central Buenos Aires, you will find it. Enter the arcade and take the first elevator on your right hand's side up to the 14th.. After paying for your ticket for the decent amount of 50 pesos argentinos (2,5 USD), you will be lead further up some stair to the viewpoint.
However, keep in mind, that Mirador de Galería Güemes is only open on afternoons from 3 pm to 5:40 pm. Check out the schedule here.
Price: 50 pesos argentinos (2,5 USD)
Address: Florida 165
Subway station nearby: Florida (B line) and Catedral (D line)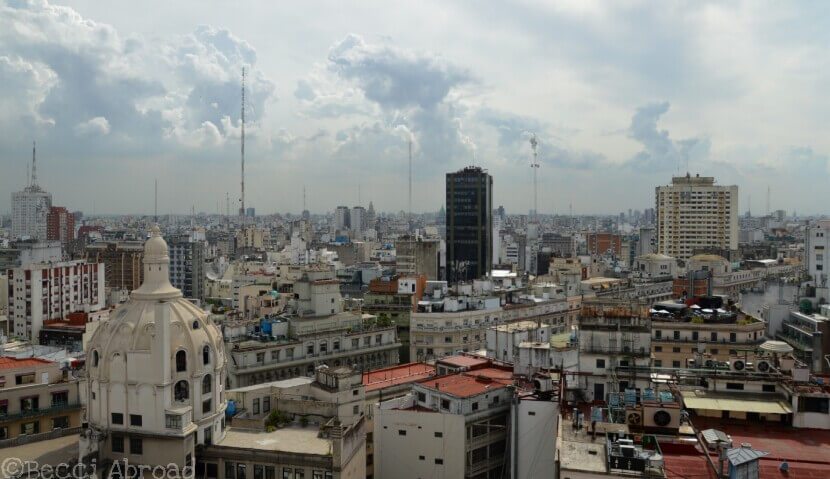 2) Free guided tour in Casa Rosada
The Pink House – or Casa Rosada in Spanish – is one of the most well-known landmarks in Buenos Aires, and most people pass by to take their pictures with this colorful presidential house. However, did you know that you can get inside this historic palace? And actually, completely for free!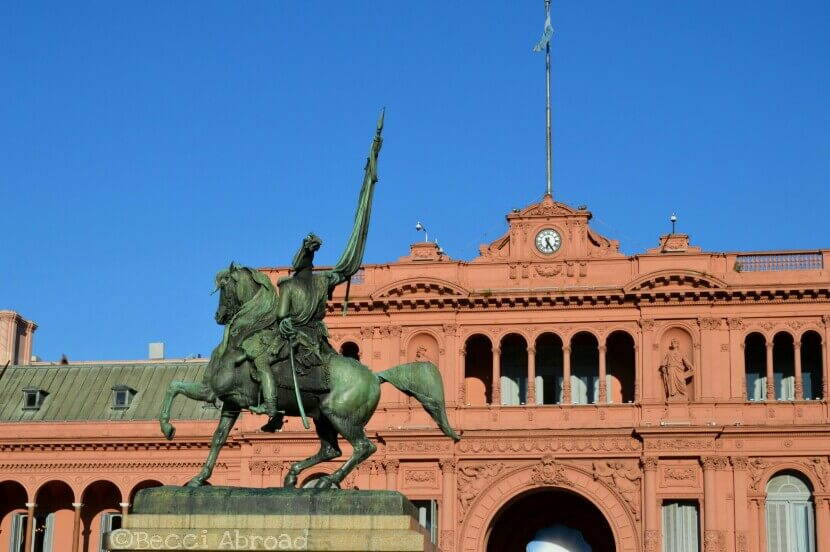 Free guided tours to Casa Rosada are offered on weekends and public holidays. Well, basically the times where the president isn't working there. Registration is mandatory and can be done here. Tours in English take place at 12.30 pm and 2.30 pm.
For more photos and info about visiting Casa Rosada, click here.
Price: Free
Address: Balcarce 50 or Plaza de Mayo
Subway station nearby: Catedral (D line), Bolívar (E line) and Plaza de Mayo (A line)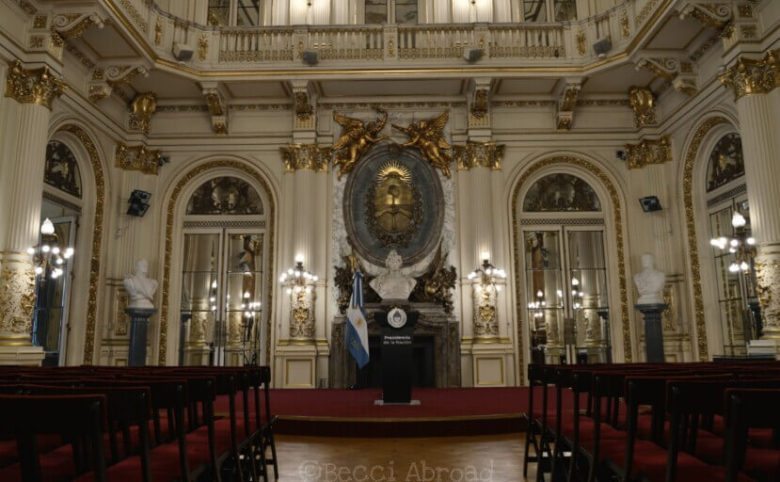 3) Parrilla Los amigos de Juan
Let's face it; we're all looking to try some of the great Argentine steaks! Buenos Aires is filled with parrilla (e.g. steakhouses), however, the quality and price vary a lot.
If you are looking for a budget-friendly, but still authentic place with high-quality meat, then head to Los Amigos de Juan. This place has some of the best meat I have ever tried – and I'm pretty hard to impress when it comes to meat!
Los Amigos de Juan is located at two places in Buenos Aires. One in the center nearby Tribunales (the courts), which is a bigger place with tables, and one in Belgrano which is my favorite. It is just a narrow narrow passage with a bar desk for the costumers and the parrilla just in front of you.
The place is full most of the time and attracts all kind of locals. And then it is so reasonable in price – go for one of their promotions with vacio or bife de chorizo. Click here for more or to order online for take away or delivery if you opt for a night in.
Price: 120 – 350 pesos argentinos (6 USD – 17,5 USD)
Address: Talcahuano 884 (Tribunales) or Ciudad de la Paz 2009 (Belgrano)
Subway stations nearby: Tribunales (D line) and Uruguay (B line) for the parrilla in the center or Juramento (D line) for the parrilla in Belgrano.
4) Teatro Colon
Located right on the central Avendia 9 de Julio, the majestic building housing Teatro Colon (e.g. Colon Theater) is hard to miss. A guided visit through huge theater normally costs 300 pesos (15 USD) which, well, for sure is a fine tour. However, why not check out the theater in action?
With a bit of good luck and flexibility, you can catch a ticket for as low as 200 pesos (10 USD) for a play, a concert or whatever is going on in. Even though, (depending on your Spanish) you might have trouble following along on a play, but the experience is, for sure, different to experience a theater during a daytime tour.
The Teatro Colon website can from time to time be a bit of a battle, so to save you from the trouble click here to see the upcoming plays online, or you can simply head to the ticket office at the Teatro Colon and ask for any available cheap tickets.
Price: 200 pesos argentinos (10 USD)
Address: Cerrito 628
Subway stations nearby: Tribunales (D line) and Uruguay (B line)
5) Coffee and books at Ateneo Gran Splenid
Ateneo Gran Splenid is one of the most beautiful bookshops, I have ever seen! No doubt! The former theater was turned into a bookshop while keeping the features of a theater, and the result is truly an amazing place.
It is completely free to visit Ateneo Gran Splenid. However, it is recommendable to drop by the cafe which is located on the old stage. This gives the perfect feel of taking part of a play while drinking your coffee. Read more about Ateneo Gran Splenid and other free activities to do in Buenos Aires here.
Price: Free
Address: Avenida Santa Fe 1860
Subway station nearby: Callao (D line)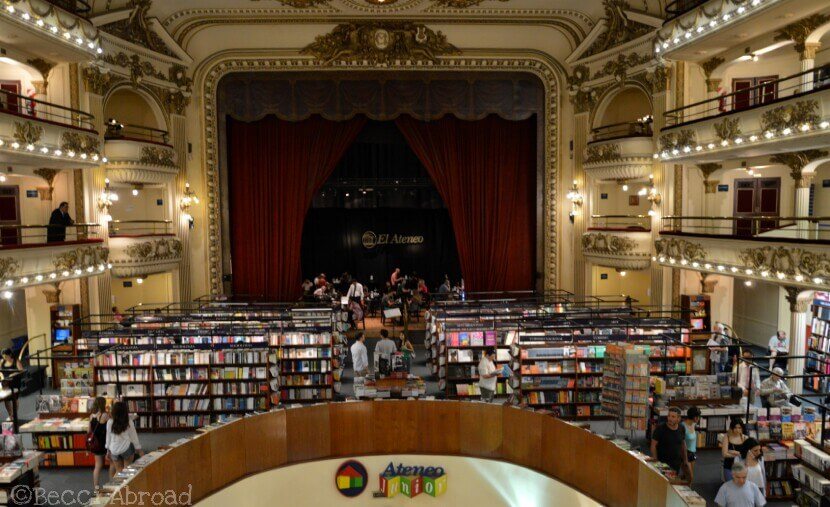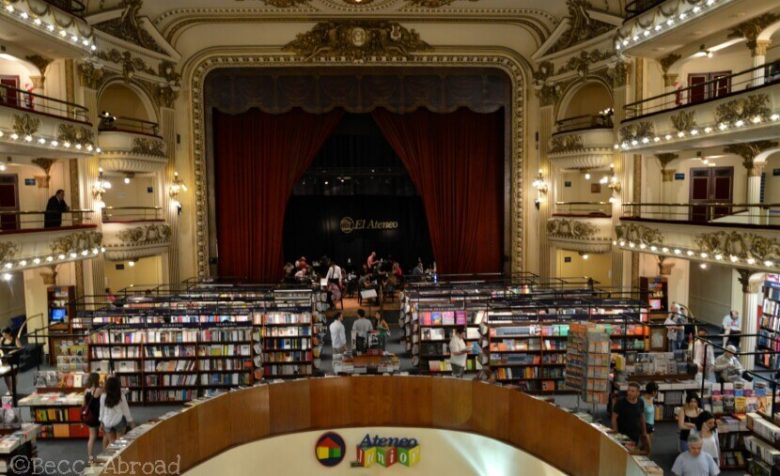 This was some of my tips on how to enjoy Buenos Aires while still staying within a decent budget. I hope that you have enjoyed reading along.
If you want to do Buenos Aires even more budget-friendly, remember that the city has excellent public transportation in form of a subway system – or Subte as the Argentines call it – but also buses and trains. To find out more about how to use the public transportation, check out my beginner guide to public transportation in Buenos Aires.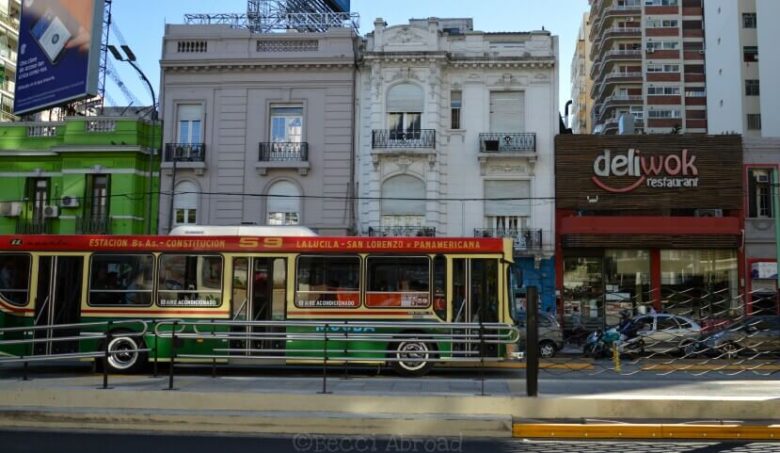 Have you visited Buenos Aires? Or would you like to? Share your thoughts in the comments below!
If you liked this post, it is now available as a self-guided walking tour via GPSmyCITY. Click here to download it.
Author Bio

Rebecca is the creator of the blog, "Becci Abroad." Becci Abroad is solely focused on Becci's travels in Latin America. She is currently living in Buenos Aires, Argentina and is originally from Copenhagen. You can learn more about Becci and her travels abroad by clicking here.