What to Wear on a Safari – Practical Outfit Ideas for Women & Men
Trying to figure out what to wear on a safari? My husband & I are sharing our favorite safari outfit ideas + a FREE safari packing printable for the traveler who wants to be comfortable and be able to use their clothing for future travel adventures. We're all about versatility and practicality around here these days!
Get your FREE safari packing list printable at the end of this post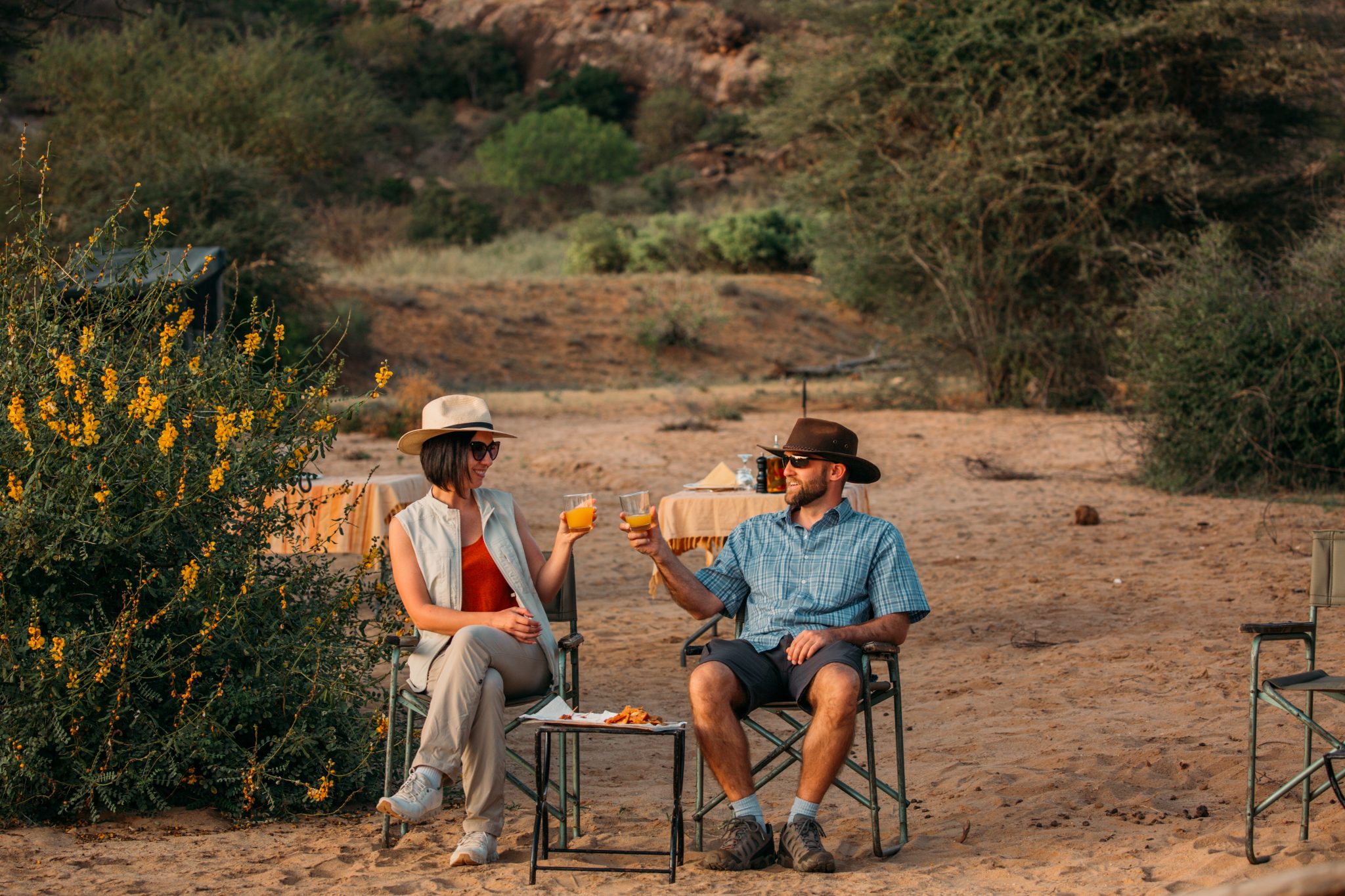 When I was researching what to wear on safari for my recent trip to Kenya, I was amazed at the number of packing lists that included fancy dresses, jumpsuits, and heeled boots. I am not above having a fashion show while I'm traveling (did you see the array of dresses I packed for my Egypt trip?), but you're likely going to be very limited on the number of things you can pack for an African safari.
This is because most of the lodges you will travel to require a small plane (that will have a weight limit & likely only let you pack 15 kg total – that includes your personal item + carryon). So, I wasn't about to pack a variety of outfits just for a photo op. Many of the lodges will also have laundry services for you, so you can get your clothing washed (and pack less!), but it's recommended to NOT bring clothing that is delicate or has special washing instructions.
So, if you're hoping for a safari packing list that looks like a Vogue photo shoot, this isn't the post for you. However, if you're looking for a safari packing guide that will ensure you stay comfortable and the clothing suggested can be used for a variety of travel adventures – then continue forth!
*Disclosure: some of these links are affiliate links. Meaning, if you click a link and make a purchase, Have Clothes, Will Travel gets a very small commission at no extra cost to you. Thank you for supporting the brands that make this blog possible!
What to Wear on a Safari for Women + Outfit Ideas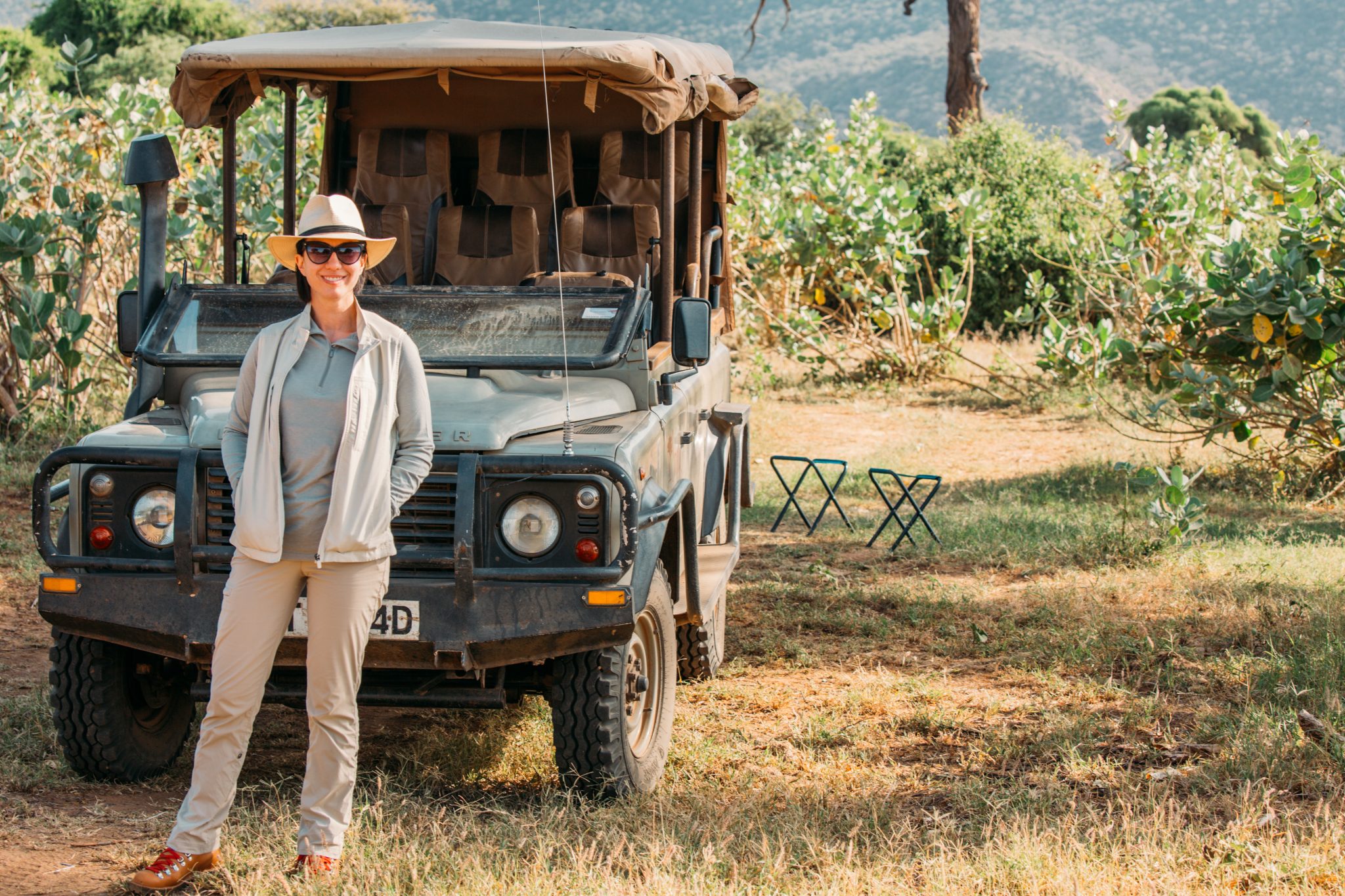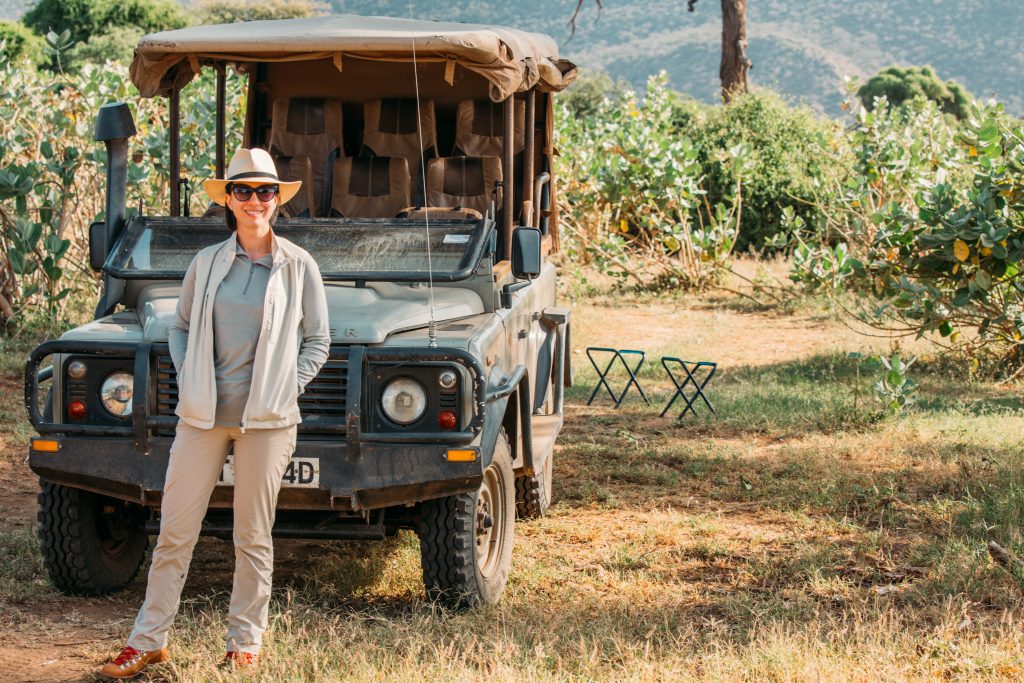 Comfortable Safari Bottoms
In my opinion, the most important thing you can pack for an African safari is a comfortable pair of pants. This is because you are going to be doing quite a lot of sitting while on safari! The majority of game drives will take you out in the early morning and late afternoon for a few hours, and you will be sitting in a safari vehicle for the duration.
While I did do on-foot rhino tracking as well, even this required driving and sitting for long periods to get to where we were hiking/tracking. A good pair of hiking pants was perfect for this experience!
I, personally, prefer wearing breathable pants while on safari. This is because they protect me from bugs, the sun, and brush, and they aren't riding up in any uncomfortable areas like shorts tend to do!
My favorite hiking/travel pants that I bring on safari (and really anywhere I travel) are from Eddie Bauer and Anatomie. (I only brought 2 pairs of pants along, and that was plenty.)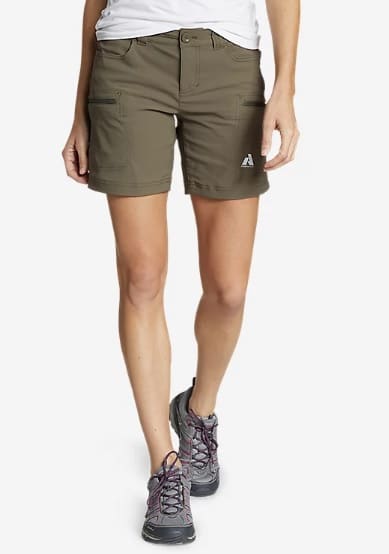 Can you wear shorts on a safari?
That said, if you are more comfortable in shorts, you could wear them on a safari drive. Just check what the average temperature is where/when you are going on safari! It was nearly 100 degrees Fahrenheit for every safari I did in Samburu, but just a few days later, when I was in the Masai Mara, the temps would be around 50 degrees Fahrenheit in the morning and then warm up to the 60s and 70s. (My husband wore his shorts most of the time he was on safari in Samburu and was perfectly comfortable.)
Safari Shirts
You're going to want to dress in layers with your shirts, as mornings will likely start out chilly but temps can get quite warm by afternoon.
I would start with a tank top, a long-sleeved button-down shirt (or this pullover long sleeve), and a vest most mornings. I also like to just wear my Eddie Bauer button-downs when I'm traveling (anywhere). They breathe well, protect me from the sun and the bugs and work in a variety of climates.
Wearing shirts (and pants) that are neutral-colored is important if you are doing walking safaris or tracking sessions. (When we were tracking rhinos on foot, I messed up a tracking session by wearing a bright white shirt and scaring away a couple of rhinos.) The green shirt below became my favorite tracking/safari shirt.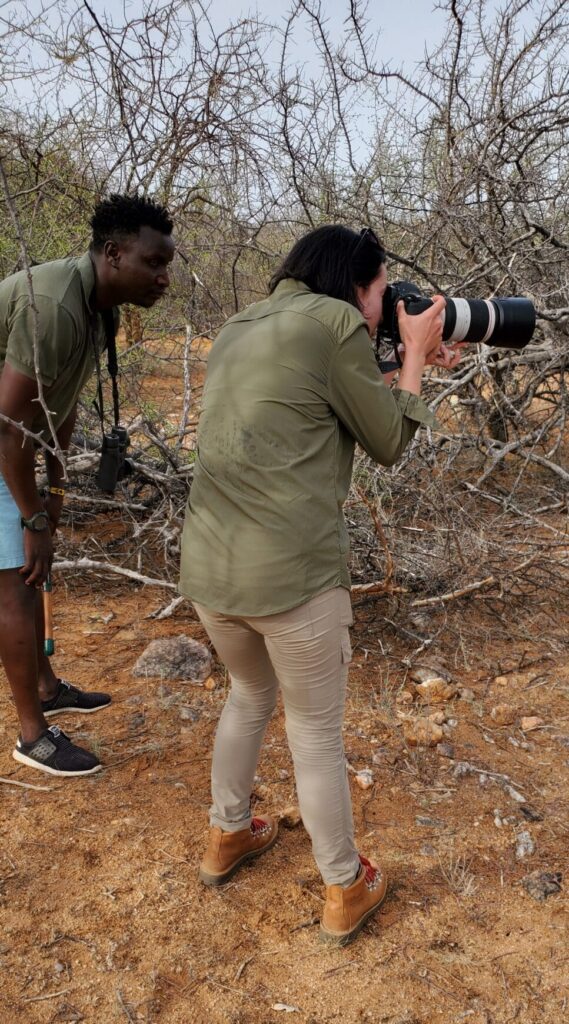 However, if you are staying in a safari vehicle for the duration of your trip and doing game drives, the color/pattern of your shirt really is not that important. The animals will be more startled by the sound of the vehicle than the color of your shirt. Plus, our guides were typically wearing their traditional dress, which is brightly colored… and we never had any issues finding animals.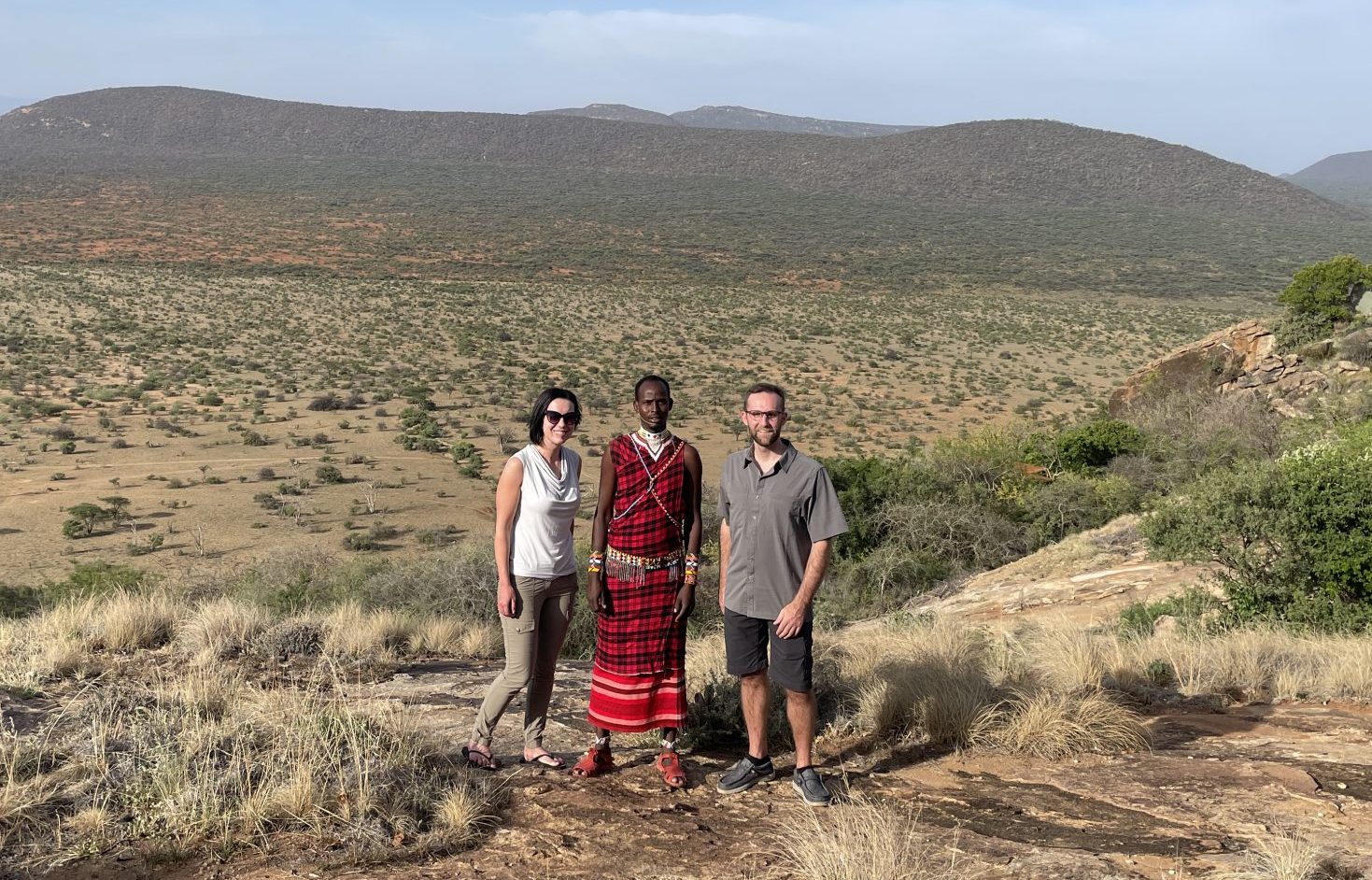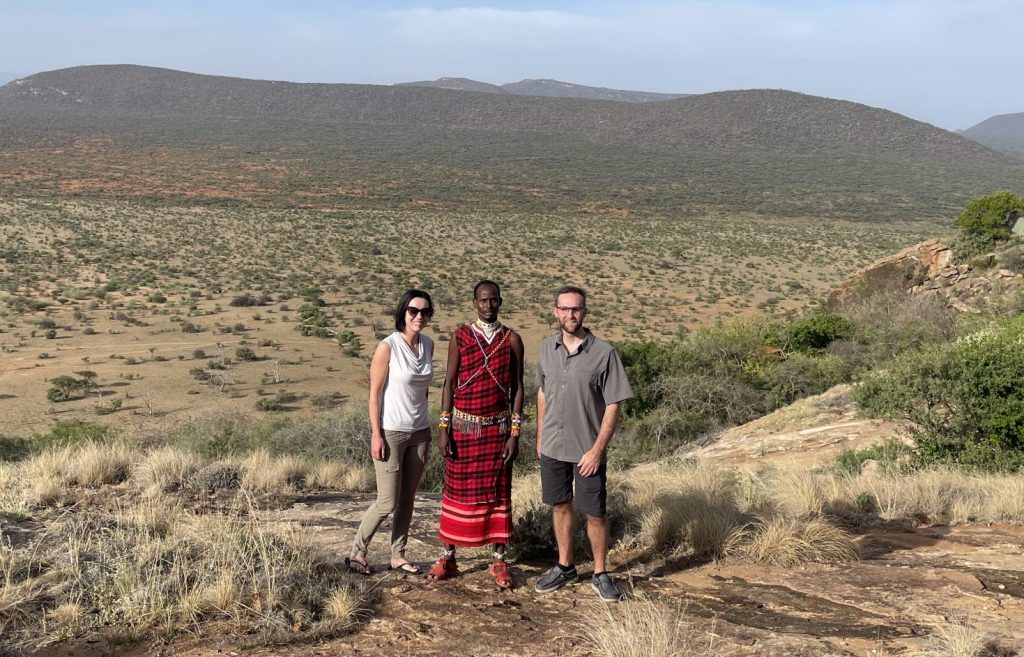 Undergarments – Low or medium-impact sports bra
When it comes to bras, I think it's a good idea to wear a bra that has decent support (game drives can get bumpy at times) but is still something that you can comfortably wear for an entire day. I like these Under Armour medium impact bras when I'm traveling and hiking. They provide a decent amount of support, and I can comfortably wear/sweat in them all day.
*Bring LOTS of underwear*
If there's one thing to overpack on for a safari, I recommend overpacking underwear (at least as a woman). Most lodges (at least in Kenya) will not wash women's underwear. Of course, you can wash your own in the sink, but I didn't really want to spend my time washing my underwear. So I packed enough to have 2 pairs per day when I was on safari.
Comfortable Shoes
Do as I say, not as I do. I thought I was going to need hiking boots for a safari. I thought this because of the on-foot rhino tracking I was doing, and I had a couple of other walking safaris booked at the other lodges I was staying.
However, even though I was going beyond typical game drives and was going to be out walking and hiking – sneakers were ALL that I needed. Boots were clunky and not necessary at all for a safari. A comfortable pair of sneakers would have more than sufficed. (I had brought along both boots and sneakers, and was far more comfortable in sneakers.)
If you do plan to do walking safaris, though, I would also suggest bringing high-cut athletic socks to protect your ankles. These also come in handy as an extra layer of bug protection.
Safari Vest
I had my big camera and lens along for game drives, and I really didn't want to have to carry another bag. So, I opted for a travel vest that had plenty of pockets to carry things like sunscreen, chapstick, a water bottle, a phone, etc.
I personally used the SCOTTeVEST featherweight vest and loved it. It wasn't too heavy, it was breathable, I like that it had side slits so I could comfortably hike and sit in it. I also thought it looked pretty nice (yet practical) for a safari too!
Travel Jacket
This will depend, again, on where you are and what time of year it is. It can be darn right chilly in the mornings and evenings and you'll absolutely want a jacket. I had my trusty Columbia windbreaker along for brisk mornings (wore it over my vest for extra warmth) – and that more than sufficed for me. (I'm from Wisconsin, though, so my idea of "cold" is a little different.)
However, if you're someone who gets cold easily, you may want a thicker fleece or a packable down jacket. Some safari mornings can be rainy or have temps as low as 50 degrees Fahrenheit.
Scarf
I liked having a scarf along for the mornings (pictured above). It also was a nice option for sun protection.
Sunglasses
Sunglasses that are lightweight and stay snuggly on your head are a must. (My husband and I both like using these.) They also replaced makeup for me on this trip, haha. I refused to pack a ton of toiletries, so sunglasses made me look a little more presentable in photos.
Gloves
There were a couple of mornings I would have liked to have a pair of gloves, especially when I was waiting to get the perfect shot of a cheetah family… and putting my hands in my pockets was not an option!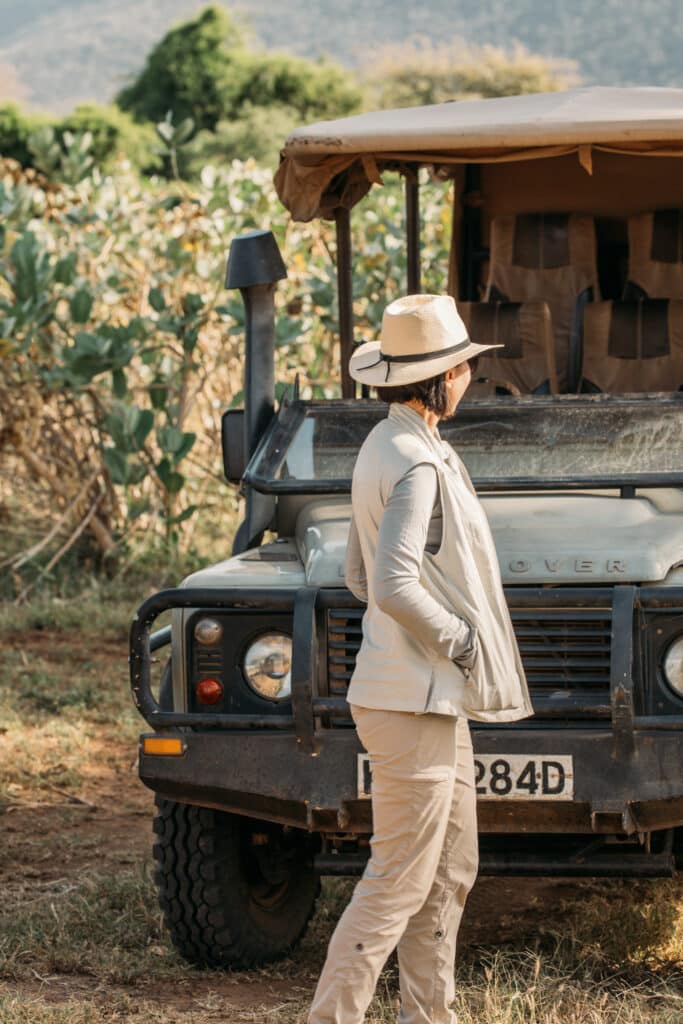 Safari Hat
Having a hat for sun protection is a REALLY good idea. However, the reason I used a hat for the majority of my time on safari… was because my hair was an absolute disaster, and a hat hides this well!
I bought my fedora years ago, and I like the way it looks and how it fits me. However, a hat with straps would be a wiser choice, as there have been enough wind gusts that have nearly taken this hat from me! A baseball cap would also be a good option. A lot of folks wore baseball caps and looked very comfortable.
Note: if you get cold easily, a beanie is a good idea for morning game drives. Again, it can get quite chilly!
Safari Dresses
I packed one dress (my SCOTTeVEST Dorothy dress), that I ended up using some nights at dinner (when it was hot) and also as a swimsuit cover-up. However, for game drives, I would have been more than fine wearing a dress. I do actually wish I had packed another one for game drives in Samburu, where every day was HOT.
Banana Republic has some fantastic options for cute, yet practical safari dresses.
Note: depending on what parts of Africa you are in, though, black and dark blue clothing items are NOT a good idea. This is because the tsetse fly is attracted to these colors, and you don't want to be attracting tsetse flies while on safari!
What to Wear at Your Safari Lodge for Women (Afternoon & Evening)
Now, I can't speak for every safari lodge in Africa, but the ones I stayed in ranged from full-blown luxury to more middle-of-the-road, in terms of price, and everyone would just wear what they felt most comfortable in when they were at the lodge in the afternoon and at night.
Some ladies would change into jeans and a cozy sweater or cardigan for the evening at the lodge. In warmer climates, some ladies would wear linen pants, a tank, and a shawl or a sundress.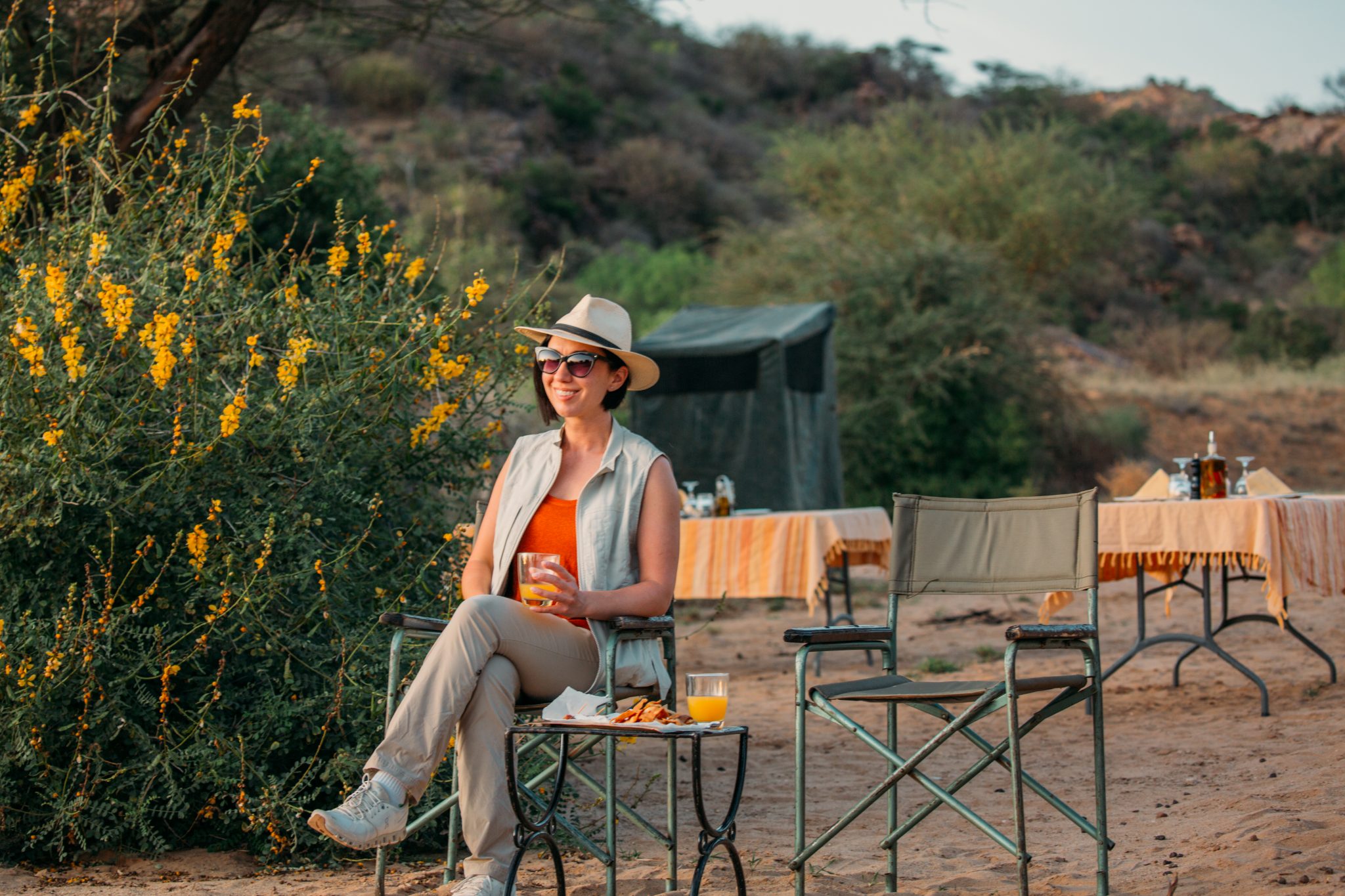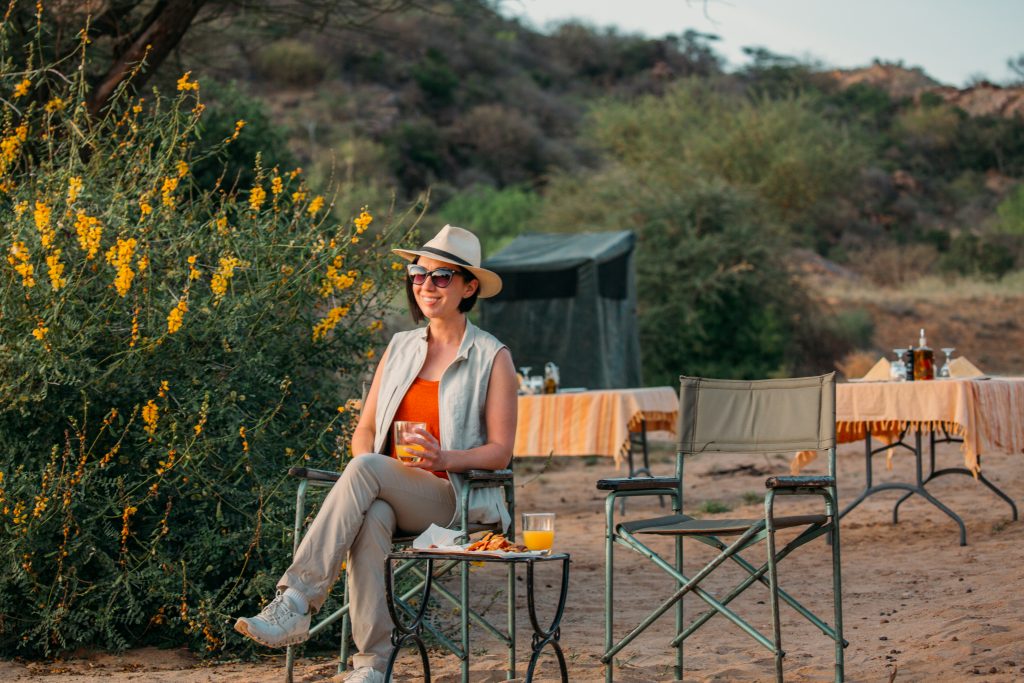 Most of us would just wear some variation of what we had worn for our safaris, though. I would not say you would need a special outfit to wear at night unless you wanted to wear something different at your dinners.
Swimsuit!
A lot of safari lodges have pools. Be sure to put a swimsuit in your bag!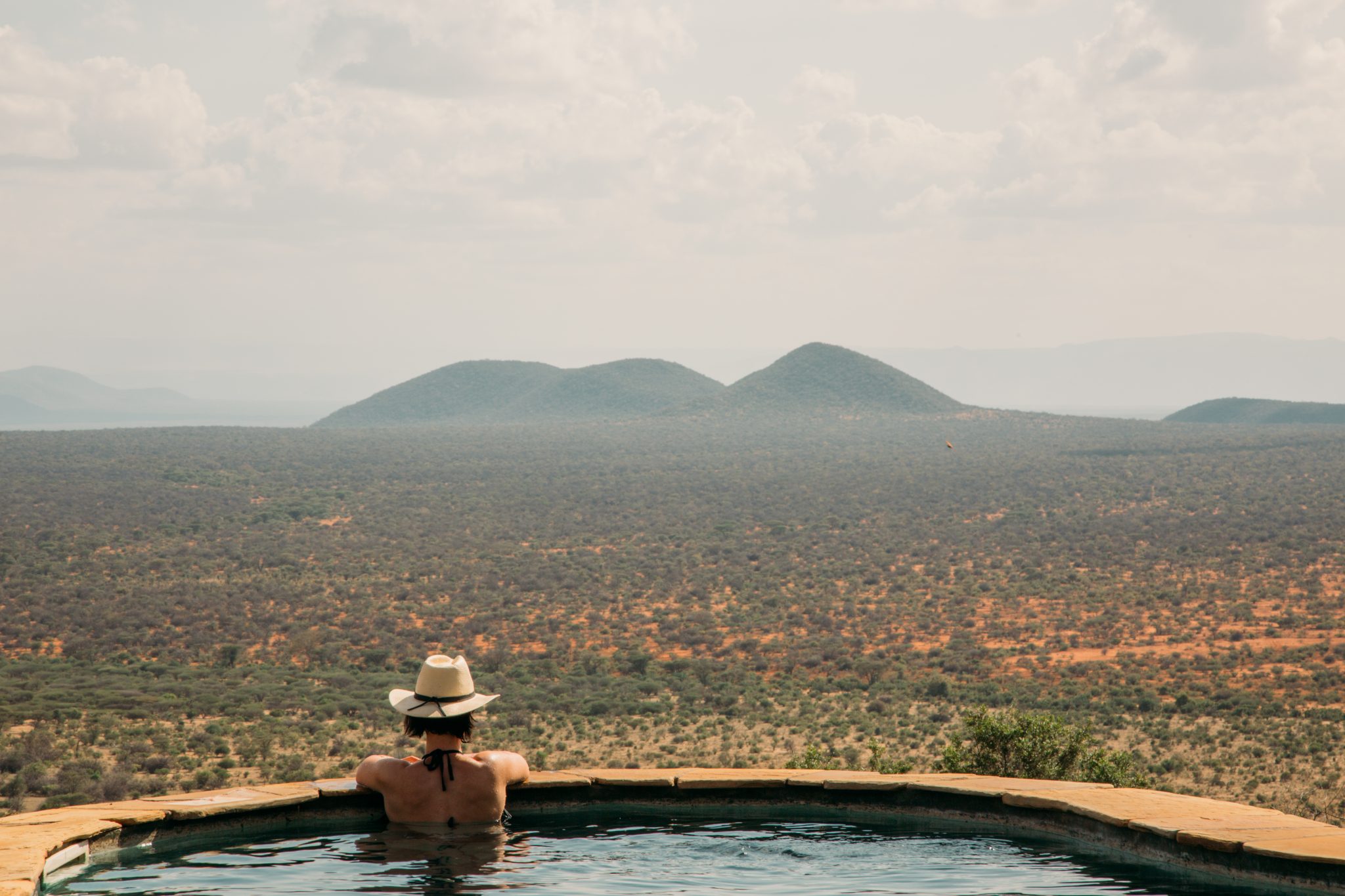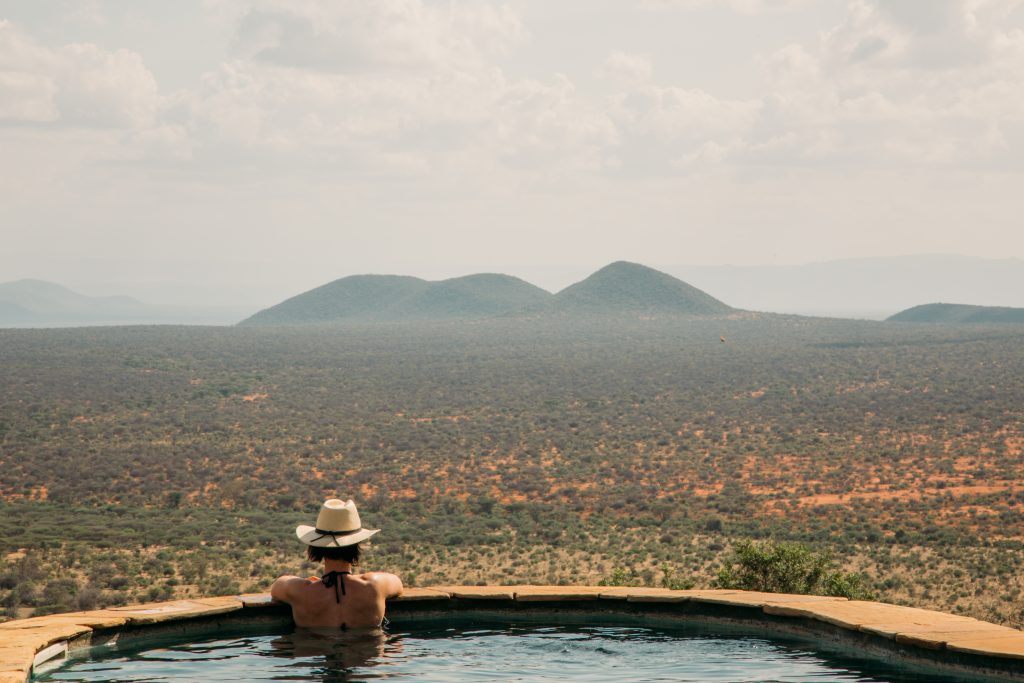 Flip flops or comfy slip-on shoes
A lightweight pair of shoes that you can wear to the pool and around your tent is a good idea. I brought along a cheap pair of flip-flops and was glad I did. It was nice to take my boots/sneakers off and wear something lighter when I was at the lodge or at the pool.
Swimsuit coverup
I used my SCOTTeVEST dress as a swimsuit coverup, and if it got smelly or covered in sunscreen, I would just wash it in the sink with a detergent packet. It dries very fast, and I would have it ready to go for dinner at night.
Read next: Best Travel Dresses for Every Season by a Frequent Traveler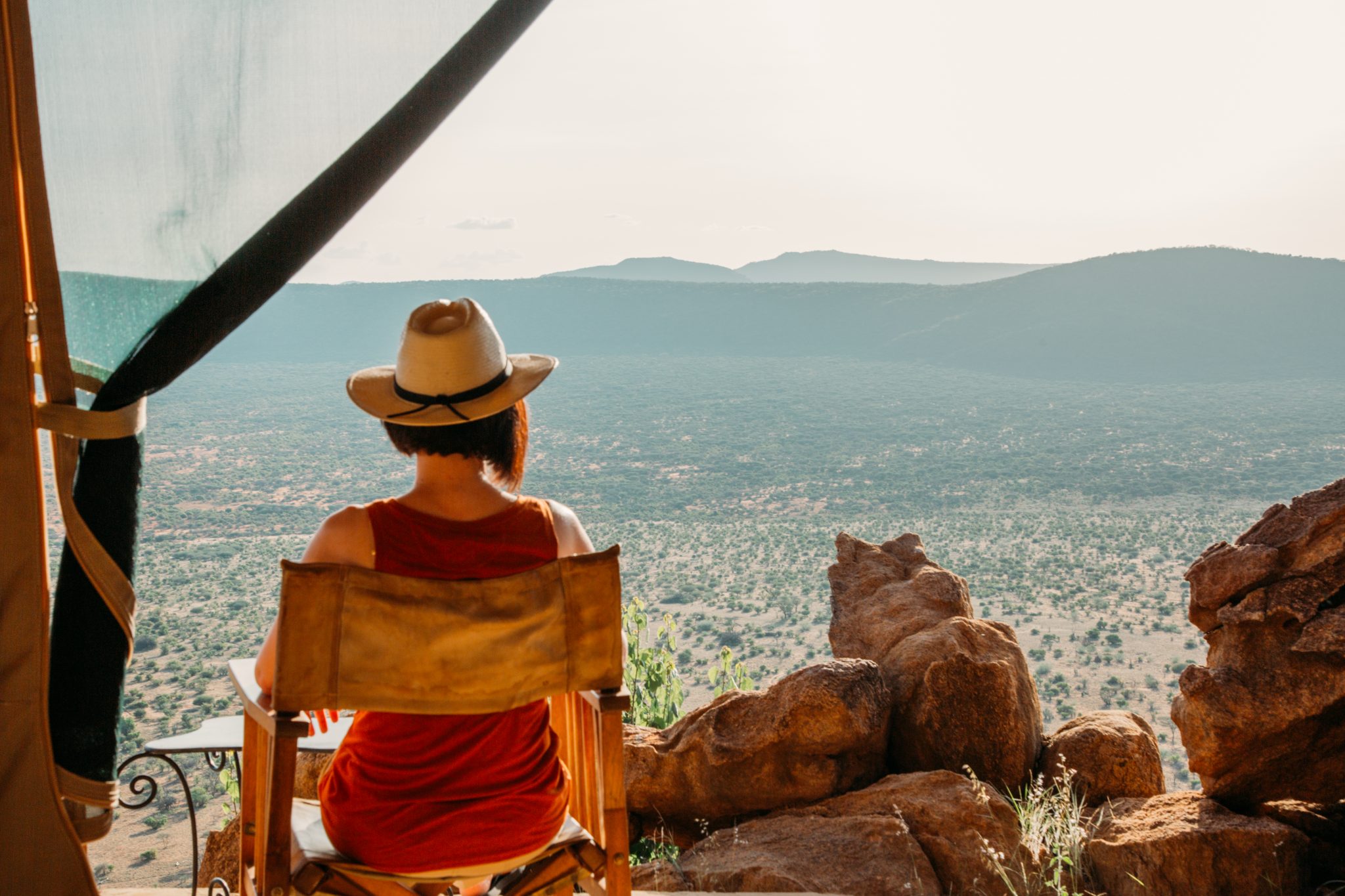 Loungewear
I had packed a comfy tank and a pair of athletic shorts as my sleepwear, this also doubled as my lounging around in between game drives attire.
What to Wear on a Safari for Men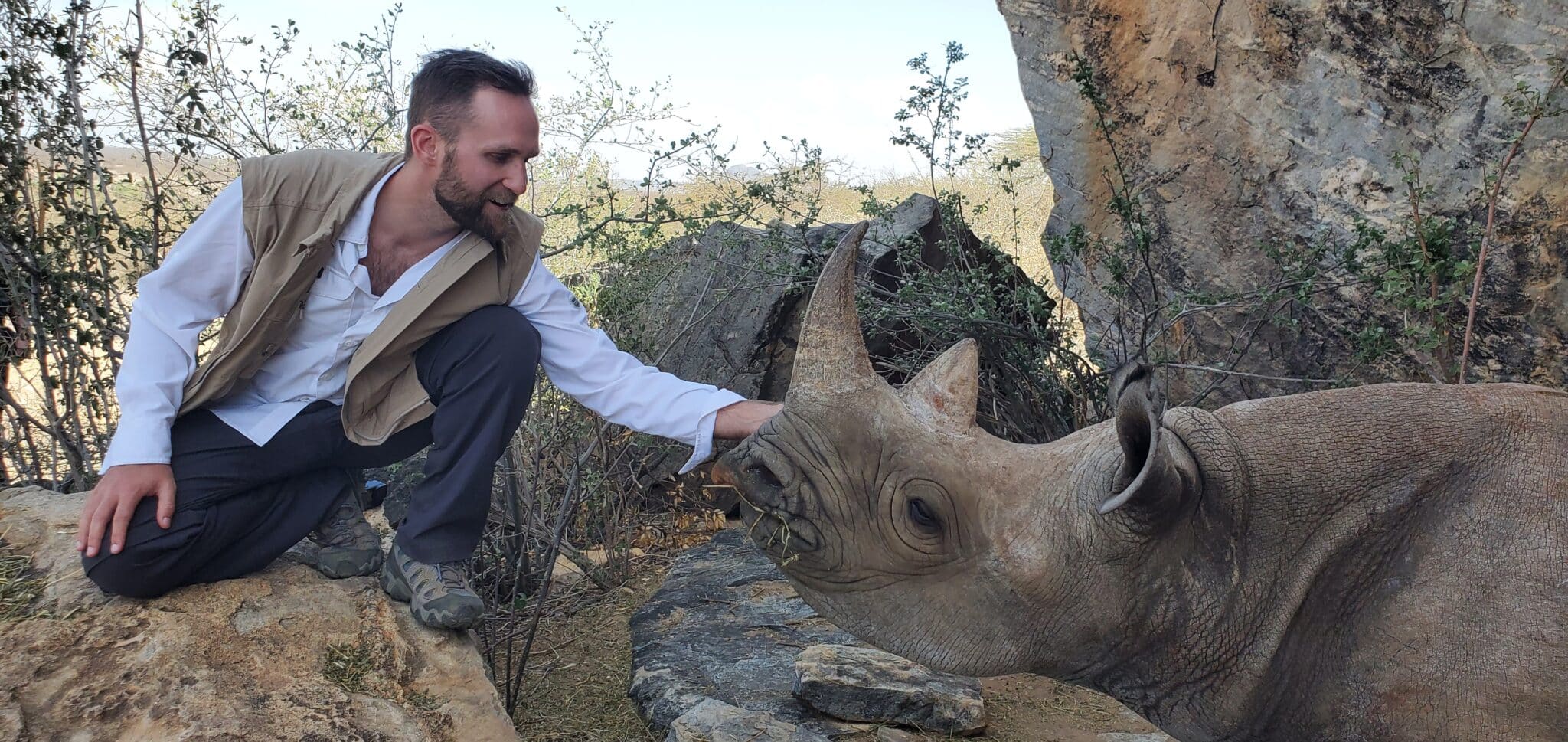 Comfortable Safari Bottoms
My husband brought along 1 pair of SCOTTeVest shorts and 1 pair of zip-off prAna hiking pants, and that was all he said he needed. He was perfectly comfortable with these options. He wore shorts for the majority of the safari or would have the bottoms of his pants zipped off by 9 am.
Again, you are going to be doing quite a lot of sitting while on safari! The majority of game drives will take you out in the early morning and late afternoon for a few hours, and you will be sitting in a safari vehicle for the duration.
We did also do on-foot rhino tracking, and a couple of other walking safaris, and my husband wore shorts for these experiences too (and didn't regret it).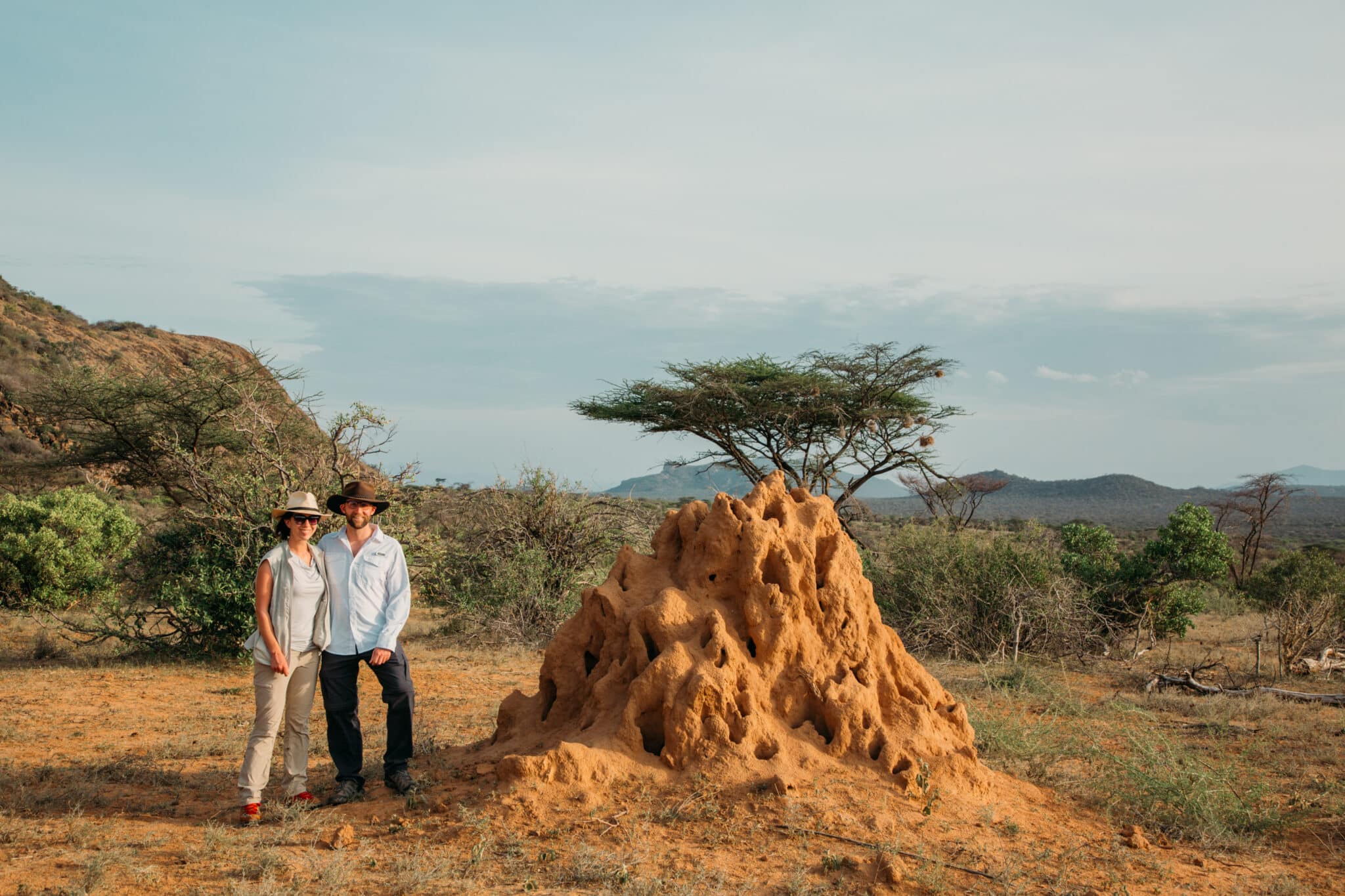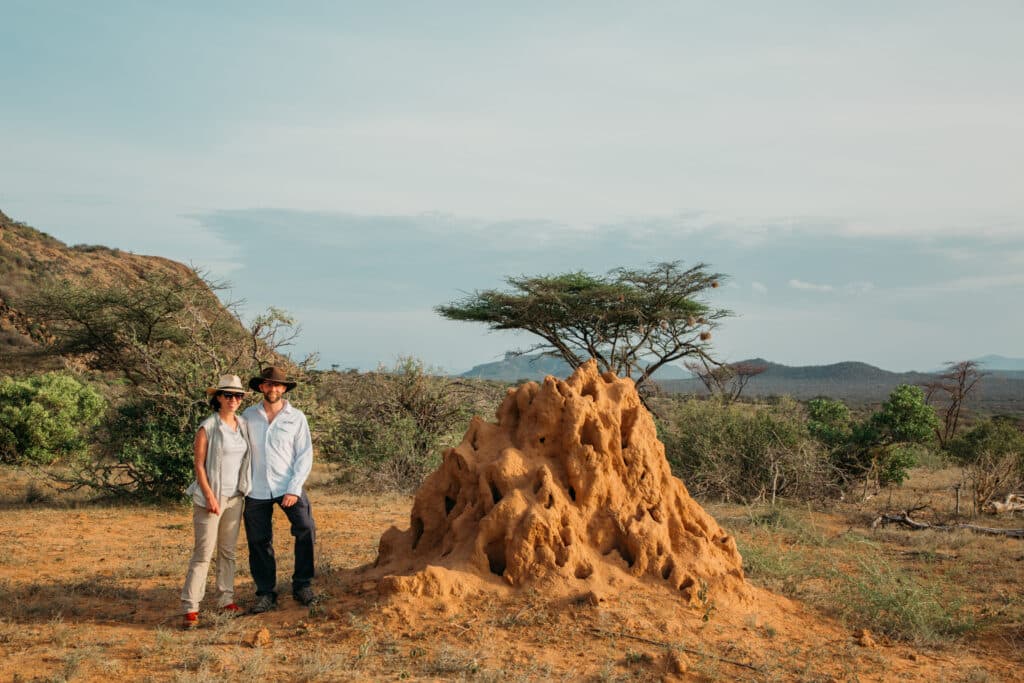 Safari Shirts
My husband would typically wear a long sleeve shirt for some sun protection during the day. He alternated between this SCOTTeVEST long-sleeve, and an Eddie Bauer button-up (we both love these shirts for traveling).
He also brought along and additional t-shirt and short-sleeve button-up. Again, he said this was more than enough for shirts.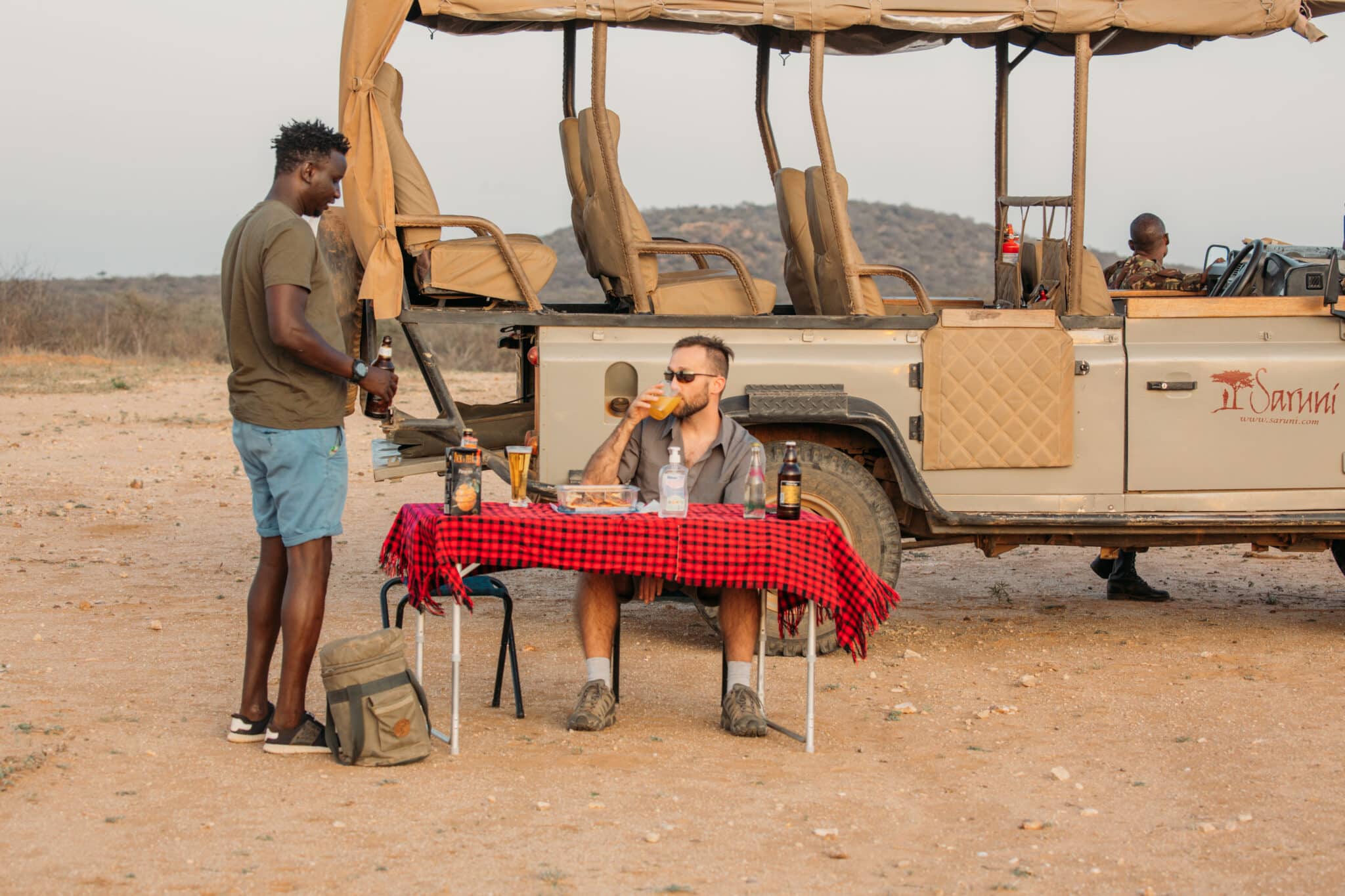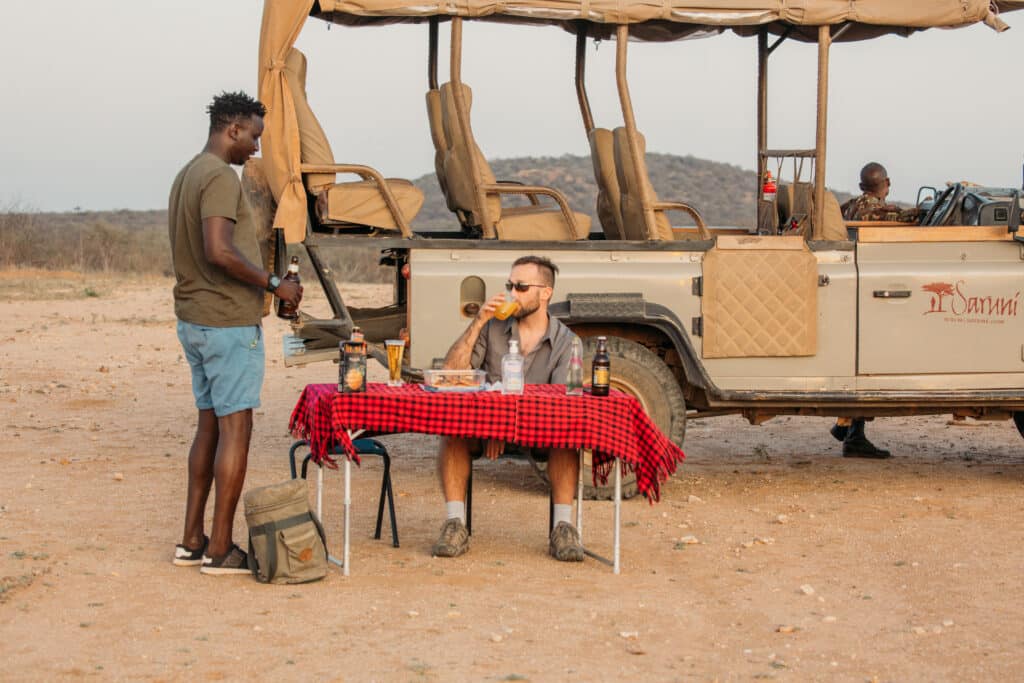 Comfortable Shoes
My husband had used a pair of lightweight hiking shoes from Oboz. While they are comfortable, he also says a pair of sneakers would have been all that he needed for this type of trip.
High hiking socks were something that he was glad he had along for this trip, though. He was mainly in shorts, and these kept his ankles protected.
Undergarments
To each their own, but my husband says, "Why bother with this?" Especially if you are trying to pack light!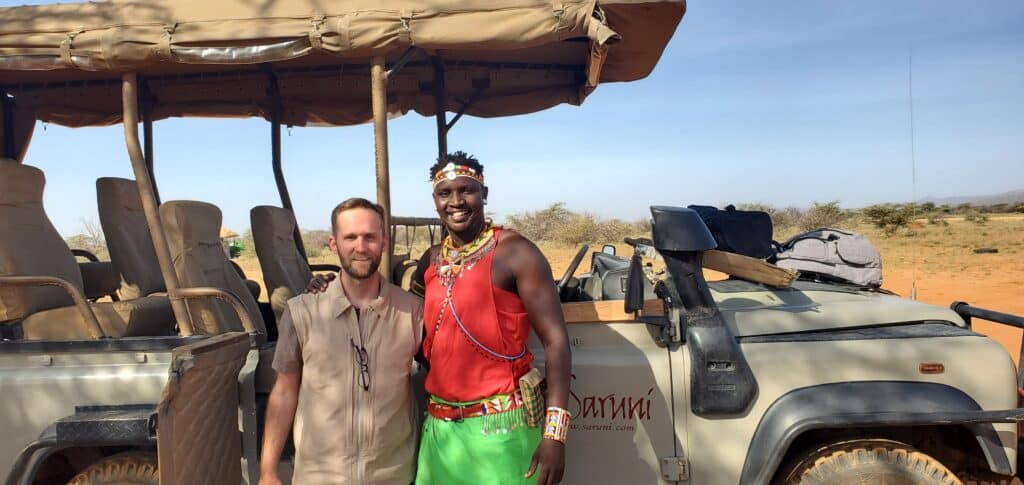 Safari Vest + Jacket
This safari vest is the item he was most excited to use on the trip. His safari vest doubles as a jacket, it actually has sleeves that zip off and on (like his pants). His vest is a little thicker than mine, but he said he didn't mind it, even on hot days.
He was obsessed with all the different pockets and features this vest has. He has also been using it as a jacket at home now (and anytime anyone asks about it, he gives them a presentation of all the crazy things this jacket/vest has).
Neck Gaiter
Instead of scarves, my husband is a fan of neck gaiters to keep himself warm and to keep the sun + bugs off his neck and face.
Sunglasses
You're definitely going to want to bring comfortable sunglasses that stay on your head. He's had these Maui Jim ones for nearly a decade and swears by them. I actually like these sunglasses so well (they are SO comfortable), I ordered myself a pair for our next trip.
Safari Hat
This oilskin hat is one my husband had also bought years ago and is in love with it. It looks great, it's super comfortable, plus, it stay on his head (it does also have a chin strap). He's used it on the majority of our trips over the last 5 years (and for daily use, ya know – like yardwork, mowing lawn, etc.). It was perfect for a safari!
Note: if you get cold easily, a beanie is a good idea for morning game drives. Again, it can get quite chilly!
Gloves
Gloves were the biggest regret of things my husband did not pack. There were a couple of mornings his hands were also cold and gloves would have certainly been nice to have!
What to Wear at Your Safari Lodge for Men
Now, we can't speak for every safari lodge in Africa, but the ones we stayed in ranged from full-blown luxury to more middle-of-the-road, in terms of price, and everyone would just wear what they felt most comfortable in when they were at the lodge in the afternoon and at night.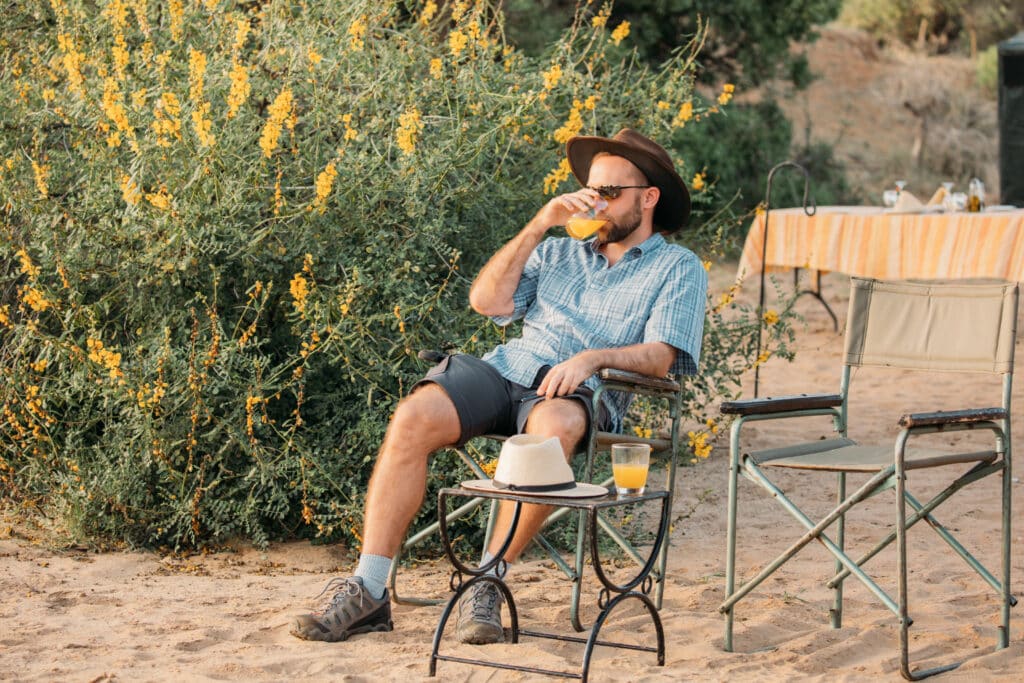 Some guys would change into jeans or hiking pants and a cozy sweater. In warmer climates, most guys would just change into a pair of shorts and a button-down. (This is typically what my husband did.)
Again, most of us would just wear some variation of what we would wear on safari.
Swimsuit!
Guys, don't forget your swim trunks! Many of the safari lodges do have pools for you to relax in between your game drives.
Flip-flops or comfy slip-on shoes
My husband packed a pair of Hey Dudes to wear around the lodge as well as a pair of flip-flops for the pool. However, he says a pair of flip-flops would have sufficed.
Loungewear
Like undergarments, my husband says this is not necessary if you are trying to pack light. However, a pair of comfy athletic shorts wouldn't have been a bad idea to have along either.
Miscellaneous Toiletries & Items to Bring on Safari
Toiletries that are a good idea to bring along
Misc. items
Binoculars (You will regret not bringing these!)
A power outlet adapter – plug points are type G (3-pronged rectangular pins in a triangular configuration).
Extra camera batteries + memory cards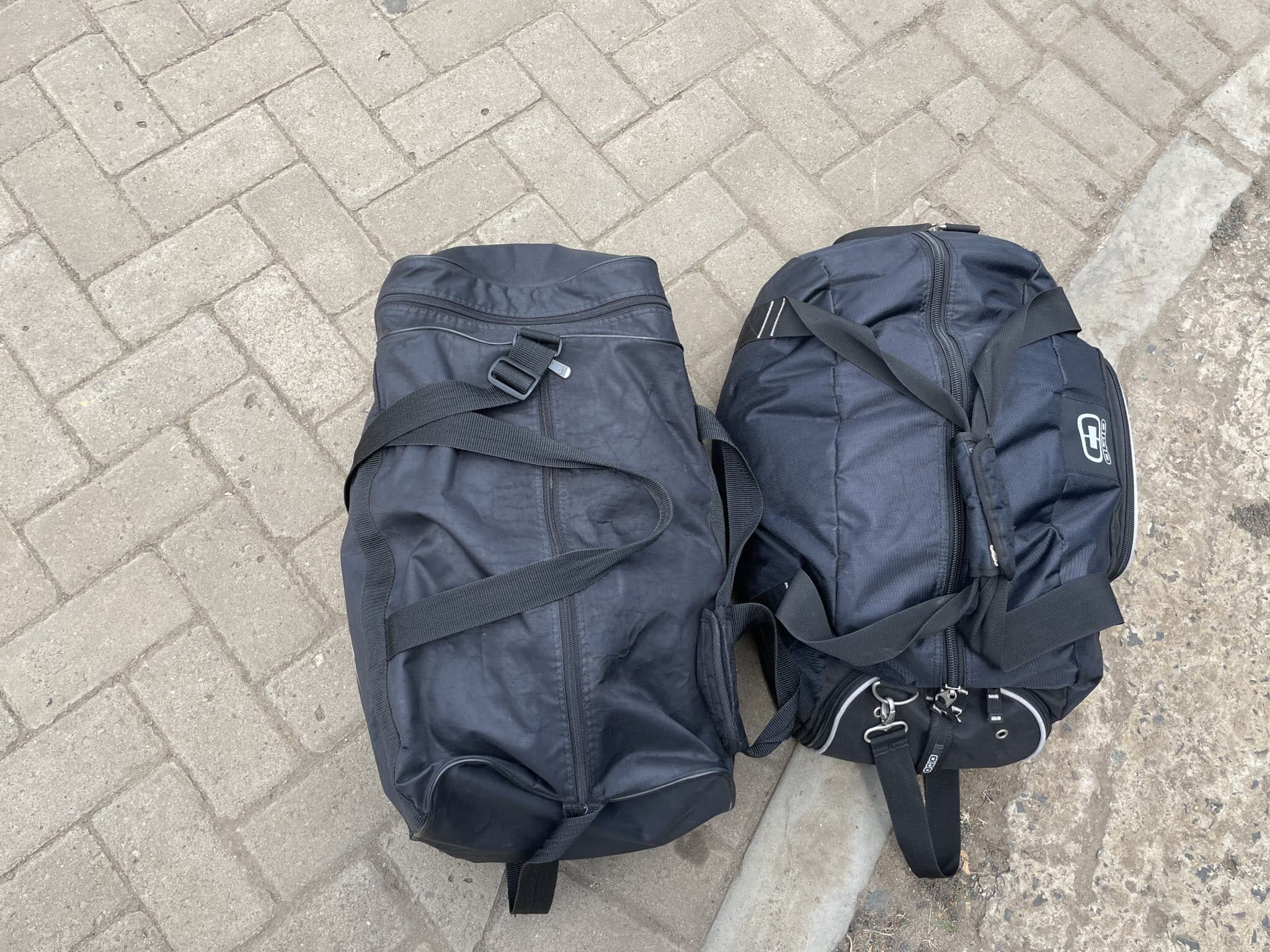 Luggage – Use a Duffle Bag
Most small safari planes will not allow you to bring a suitcase that is not crushable. You're going to want to bring a lightweight duffle bag to pack your things in. I used this old Nike bag (seriously over 20 years old now, haha) and it was perfect. I also had along a backpack for my camera gear.
What NOT to Bring on a Safari
The list below of things you really do not need to bring with you and some things you absolutely should not bring with you.
Perfume, any scented cosmetics (this can scare away animals)
Blowdryers (your lodge will likely not have the power to handle this)
Makeup (short of a little powder, I didn't wear makeup on safari – and I hardly noticed anyone else wearing it.)
Black or dark blue clothing (again, this can attract insects)
Camouflage clothing (Military-inspired clothing is prohibited in some southern African countries)
Any type of clothing that could be considered "delicate" (Someone else is likely going to be doing your laundry and you are in the wilderness where clothing can get easily damaged)
Ziploc bags (At least in Kenya in Rwanda, plastic bags have been banned)
My thoughts on jumpsuits and rompers…
A LOT of safari packing lists and what-to-wear guides will say to pack a cute jumpsuit and romper. And while I do agree, they look SUPER cute… I really don't think this is a good idea for a safari.
This is because most mornings we were on safari for several hours at a time (it was AMAZING). And this means that I was using the great outdoors as my restroom. Having to strip down naked to pee behind the truck would not have been ideal!
So, in my opinion, don't wear jumpsuits or rompers… unless you have a really good bladder!
FREE Safari Packing List Printable