Safari Outfits for Both Women and Men: Practical Tips and Inspiration
Your safari package is booked, and you can't wait to travel, but what are you supposed to wear on safari? Don't worry, you have come to the right place. In this post we are going to talk about the best and most comfortable safari outfits for men and women.
Safari clothes need to be durable, comfortable, and easy to wash. Most safari lodges and resorts have a weight limit for each person usually 15 kg (33 lbs) which means you are limited as to how much clothing you can bring. (This is because you are likely flying in on a small bush plane that can't handle much weight.) Fortunately, safari clothing is versatile and most can be laundered at your lodge safely, so you have nothing to worry about.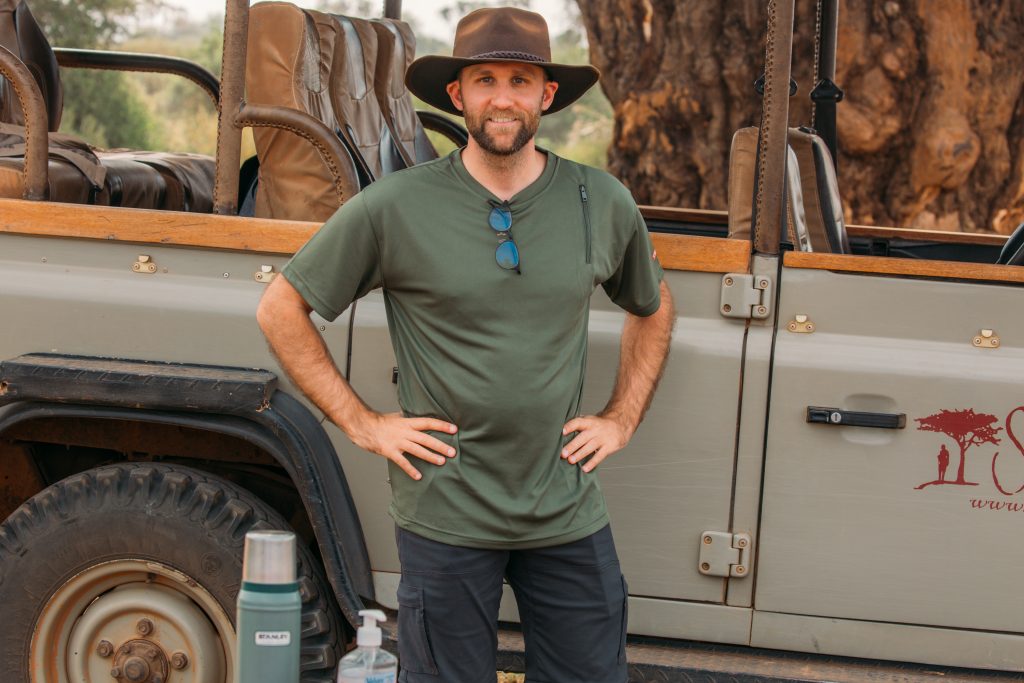 One quick note about clothing colors that you want to avoid for your trip, avoid packing black, navy, or dark blue clothing to wear on safari. The tsetse fly is common in Africa and it is attracted to those clothing colors.
The tsetse fly will bite through these clothing colors, and the fly can carry African sleeping sickness so you want to avoid being bitten. You will also want to avoid clothing that is camouflaged because camouflage clothing is forbidden in some African countries for anyone but soldiers.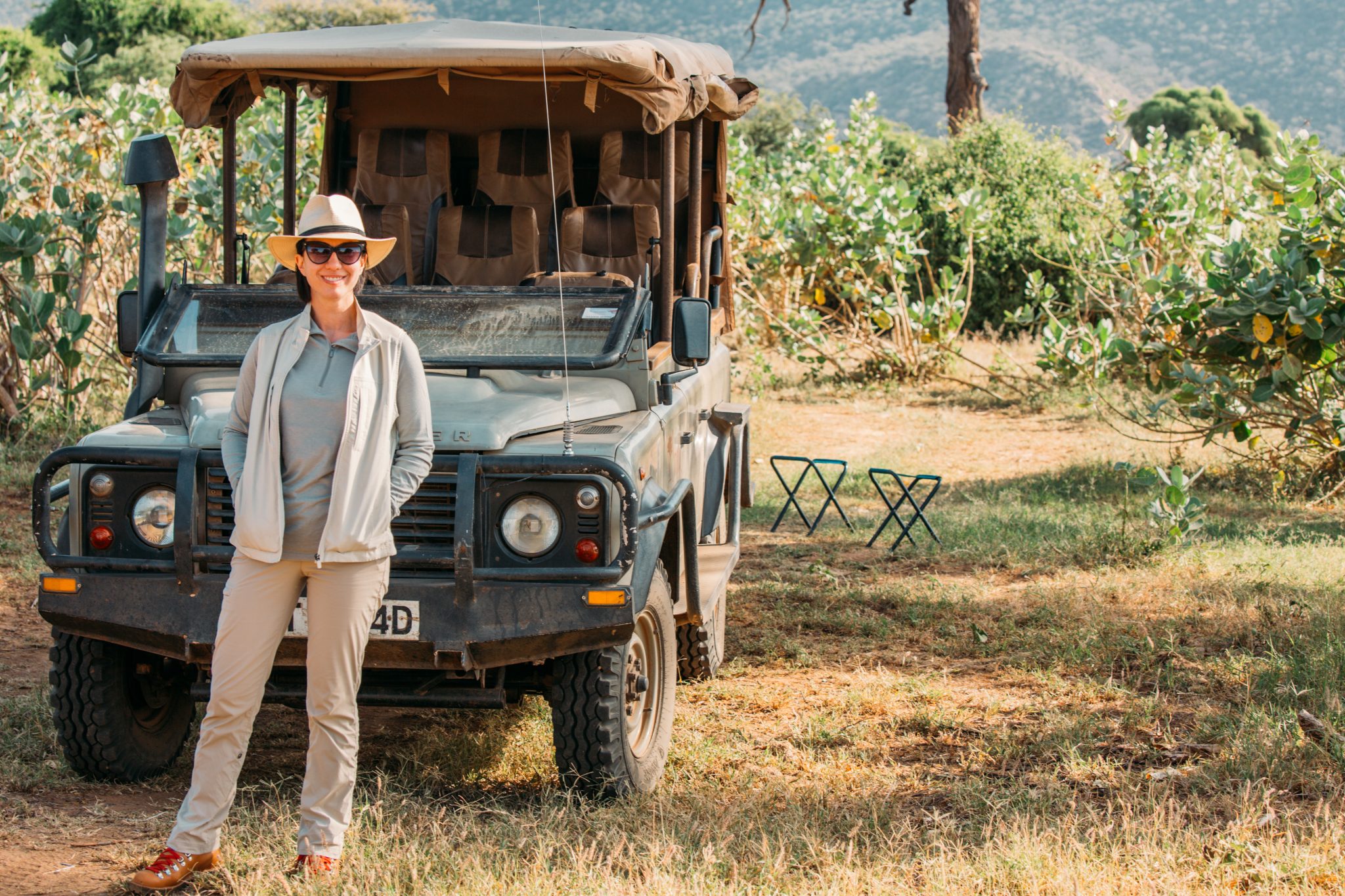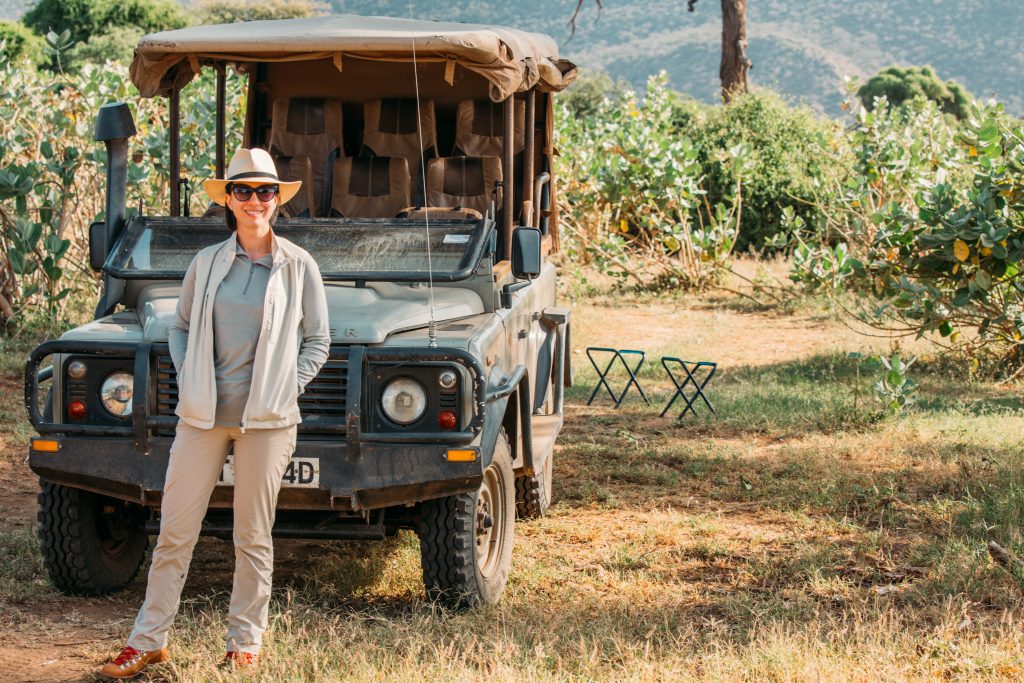 Now, let's take a look at some different safari outfits, that are practical and functional. We're starting with the ladies and ending with the gentleman.
Safari Outfit Ideas for Women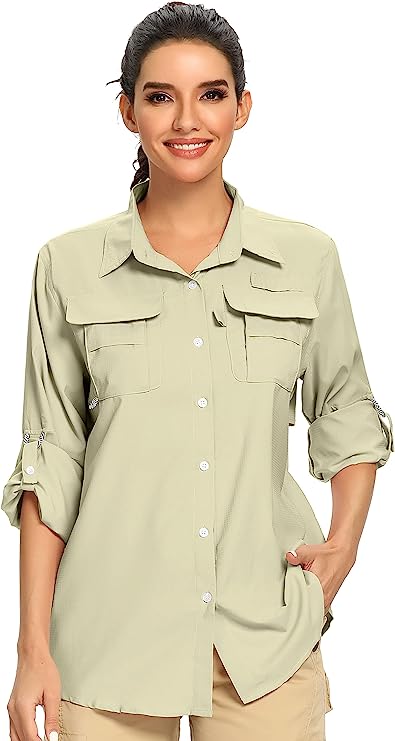 Guide Pro Pants and Safari Shirt
These Guide Pro pants from Eddie Bauer in pumice are perfect for wearing on safari. They are comfortable, and stretchy, have built-in SPF 50 protection, and have a storm repel finish so that water rolls off and doesn't leave you soaking wet.
Pair the pants with this safari shirt in army green, the shirt has UPF 50 sun protection built-in and dries quickly. There are two pockets, a loop for your sunglasses or water bottle, and roll-tab sleeves, so you can go from long sleeves to short sleeves in seconds.
Don't forget to include a tank top or T-shirt underneath your safari shirt, in case you find yourself getting too warm during the day. Pull on your most comfortable sneakers and you are ready for a day out on safari.
Vista Trekking Pants, Guide Long-Sleeve Shirt, and Vest
L.L. Bean Vista Trekking pants will keep you comfortable and protected from the sun while on safari. They are treated with UPF 50, wick away moisture, and are quick-drying to keep you cool. The roll-tab hems make the length adjustable and the pockets have zippers to keep your belongings secure.
Pair the pants with this Guide Long-Sleeve Shirt. The long sleeves and UPF 50 material converts to short sleeves and it comes in beautiful colors. Make sure you pick a few neutral ones for your safari.
Wear a Trekker Vest as your outer layer. This lightweight, water-repellent vest has lots of pockets for all of your belongings. It has a nice relaxed fit and is comfortable to wear even while sitting for long periods of time on a safari ride.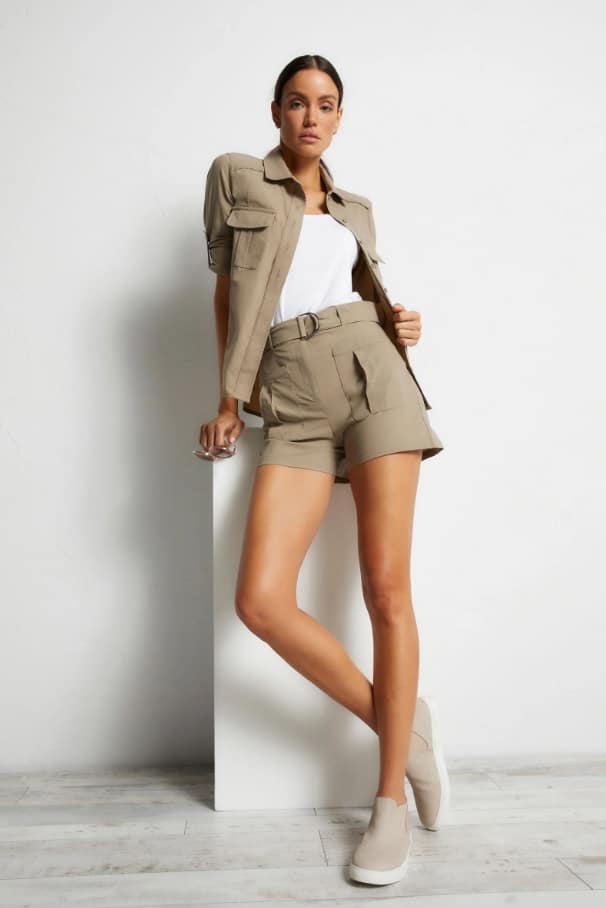 Anatomie Button Down + Kaylyn Short
For a stylish yet comfortable safari outfit option, look no further than Anatomie. They're the epitome of luxury safari clothing, and they're the type of clothing that looks great for daily wear once you return from your safari.
This classically styled button-up is one of the brand's most versatile pieces with a hidden bottom placket to smoothly tuck into pants and shorts. The Kaylyn shorts give you all the ease and freedom you want for touring around in warmer climates, and for sitting for long periods in a vehicle.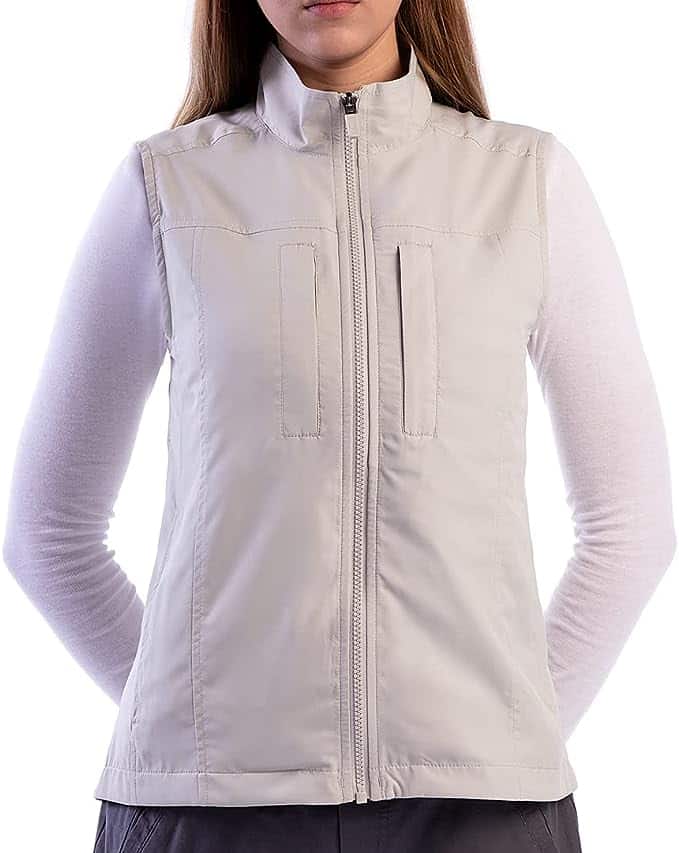 Guide Pro Shorts, T-shirt, and SCOTTeVEST Featherweight Vest
These Guide Pro shorts are stretchy and comfortable for long periods of sitting. They are made with UPF 50 material and have a Storm Repel finish to keep you protected from the sun and dry.
Pair these shorts with a comfortable, stretchy, soft T-shirt. These lightweight tees come in some great neutral colors for safari, and they hold their shape all day long.
If you don't want to carry a backpack for all of your gear while you are out on safari a vest like this one can really come in handy. This feather-weight vest has 16 pockets, some of which are hidden which makes it perfect for traveling in general and for safaris too.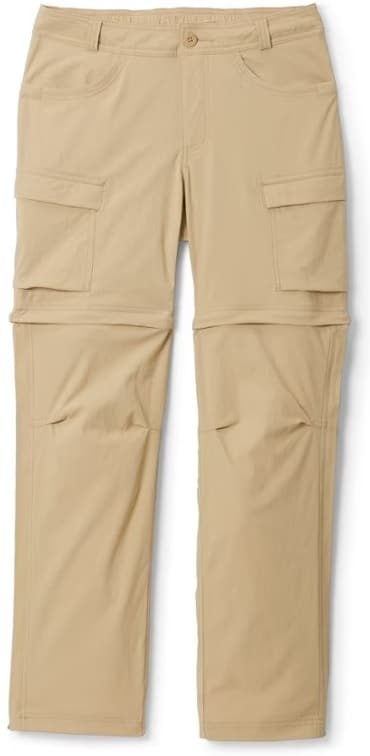 REI Sahara Convertible Pants, and Safari Shirt
Can't decide if you should wear shorts or pants on your safari? You don't have to decide with these convertible pants. Wear them as pants in the mornings when it is cooler, and as the day warms up you can zip off the bottoms and wear them as shorts. The zippers are color-coded to make reattaching the bottoms quick and easy.
This safari shirt is also convertible, lightweight, and quick drying so that you can start the day with long sleeves, and roll them up when the temperatures rise. The shirt is made with SPF 50 sun protection for an extra layer of protection from harmful UV rays, and it has pockets for your sunglasses and sunscreen.
Utility Skort and SCOTTeVEST Cowl Neck
Not really into pants or shorts for your safari, or maybe you just want to pack some variety? Then how about this skort from SCOTTeVEST? This super-comfortable and stretchy skort would be perfectly appropriate for a safari drive or a nice dinner at the lodge.
The SCOTTeVEST Kayla cowl neck is a wrinkle-resistant, soft, and comfortable shirt that has a hidden pocket on the left side perfect for stashing your small necessities.
Romper Outfits for Safari
A romper can be a fun and fashionable item to wear while you are on safari, however, let it be noted that going to the restroom with a romper can be a little more challenging than some other clothing options! You might want to save the rompers for around the lodge or when you are traveling.
Here are two different rompers that you might love to wear while traveling on safari. Pair them with your favorite sneakers or a pair of sandals or flip-flops around the lodge.

The Fleetwith Romper from Patagonia is made from stretchy and comfortable, recycled polyester and spandex. The fabric is water-repellant, with a drawstring waist for a custom fit. There are two side pockets and one hidden pocket with a zipper.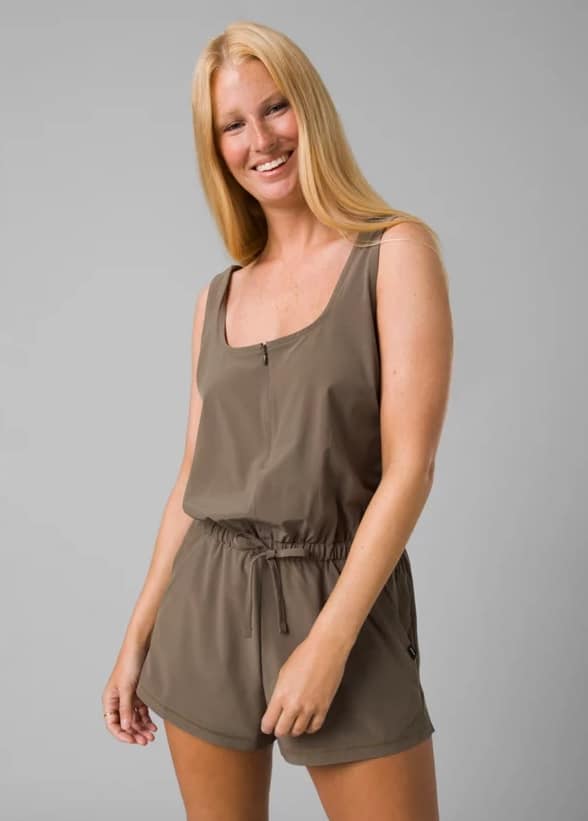 This Railay Romper in slate green from prAna is cute and comfortable, it is sleeveless with short sleeves and perfect for the heat of an African safari. The material is treated with UPF 50 + to protect you from the sun, and it is moisture-wicking to keep you cool and dry all day long.
Safari Dresses
Dresses are also a perfectly acceptable outfit for wearing on safari. They are also cool, cute, and comfortable for wearing around the lodge, or into town. You could even wear them as a swimsuit coverup at the lodge.
Mallory Belted Dress
Taking the safari look a step further, the Mallory dress features the look's classic design elements like flap, besom pockets, and a D-ring belt. The fabric it's made from is lightweight, wrinkle-resistant, and easy to care for. This dress is so cool and comfortable you will wear it when you aren't on safari too!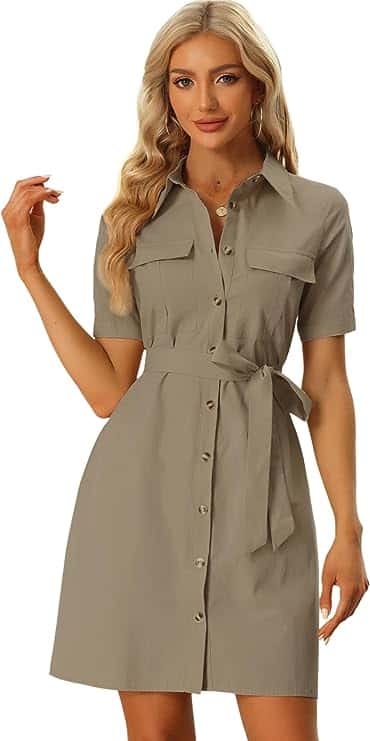 Safari Button-Down Shirt Dress
This button-down safari shirt dress in tan, khaki, or army green is collared with a belted waist. There are several pockets to hold your personal items, and the cotton fabric will keep you cool in the heat.
L.L. Bean Camp Shirt Dress
You might also like this camp shirt dress from L.L. Bean in olive-gray. The shirt dress is slightly fitted so you don't have to worry about it fitting like a sack. There are pockets on the chest and sides, and the roll-tab sleeves make it perfect for wearing all day on safari.
Safari Outfit Ideas for Men
Now let's talk about some outfits for men to wear while on safari. Again, just as with the outfits for ladies, layering is key since the temperatures in Africa can change quite a bit throughout the day.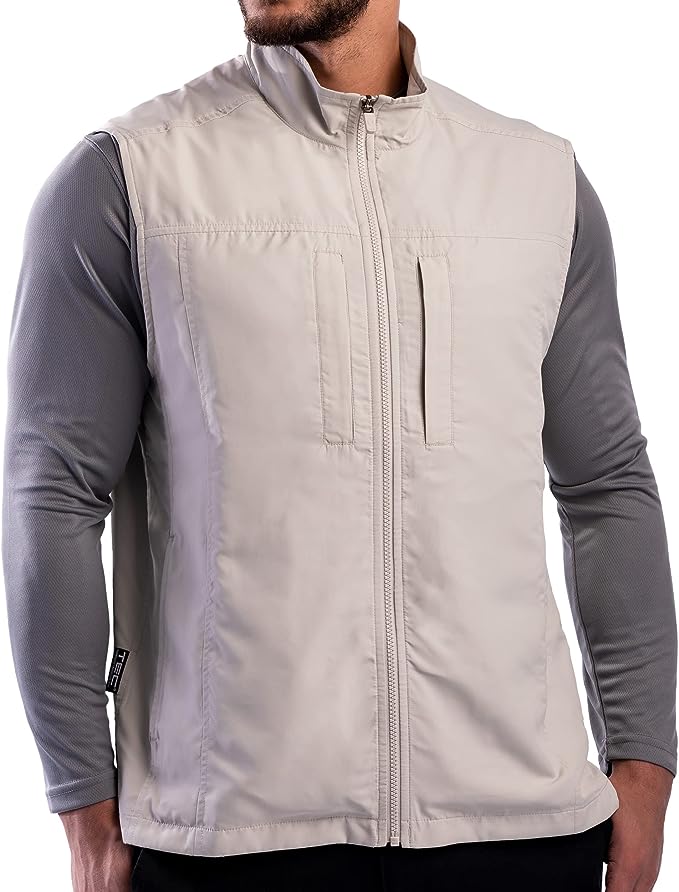 prAna Double Peak Slim Pants, Atlas Exploration Shirt, and Safari Vest
These pants are perfect for safari rides and walks. They have a comfortable fit and are made with moisture-wicking fabric that is UPF50 treated. There are plenty of safari-appropriate colors to choose from and lots of pockets including a hidden one for all of your gear.
This Eddie Bauer flex shirt made from recycled, lightweight, moisture-wicking material will keep you cool even when the temperatures are hot. This button-down shirt can be converted from long sleeve to short in seconds so you are ready for cool mornings and warm afternoons.
Wearing a safari vest like this one can mean that you don't need to carry a backpack during your outings, still have room for all of your gear, and can have your hands free for taking pictures. This lightweight vest has a zippered front with 16 pockets for stowing your gear.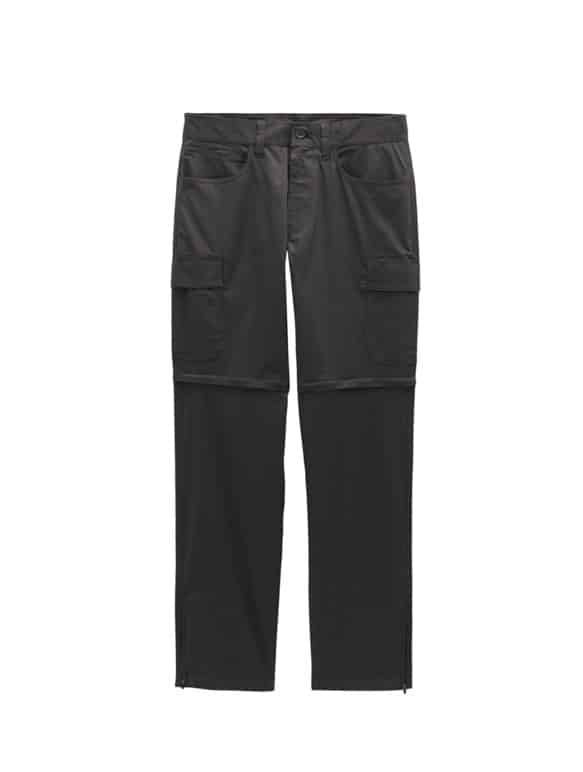 Double Peak Convertible Pants, T-shirt, and Docksider Shirt
Convertible pants are the answer if you can't decide if you want to wear shorts or pants. These are perfect for cool mornings and warmer afternoons with plenty of pockets, moisture-wicking, stretchy fabric with UPF 50 protection.
Pair the pants with one of these lightweight, quick-drying t-shirts. They come in a lot of neutral safari colors and make a great base layer for your safari outfits.
This lightweight shirt is super comfortable even for a long day of traveling or riding on safari. There are five pockets, perfect for stowing your gear while out on safari, and the wrinkle-resistant button-down shirt would look nice for dinners at the lodge too.
Tanzania Men's Safari Jacket + Alessandro Men's Cargo Pant
The Tanzania Tailored Men's Safari Jacket is the perfect essential to wear on a safari. This bold slim fit safari jacket features an eye-catching high neckline with meticulous seaming throughout for a dynamic feel. Full-length sleeves pair perfectly with safari-style patch pockets at the hips for a wear-anywhere aesthetic. Pair with the stylish yet comfortable Alessandro Men's Cargo Pant.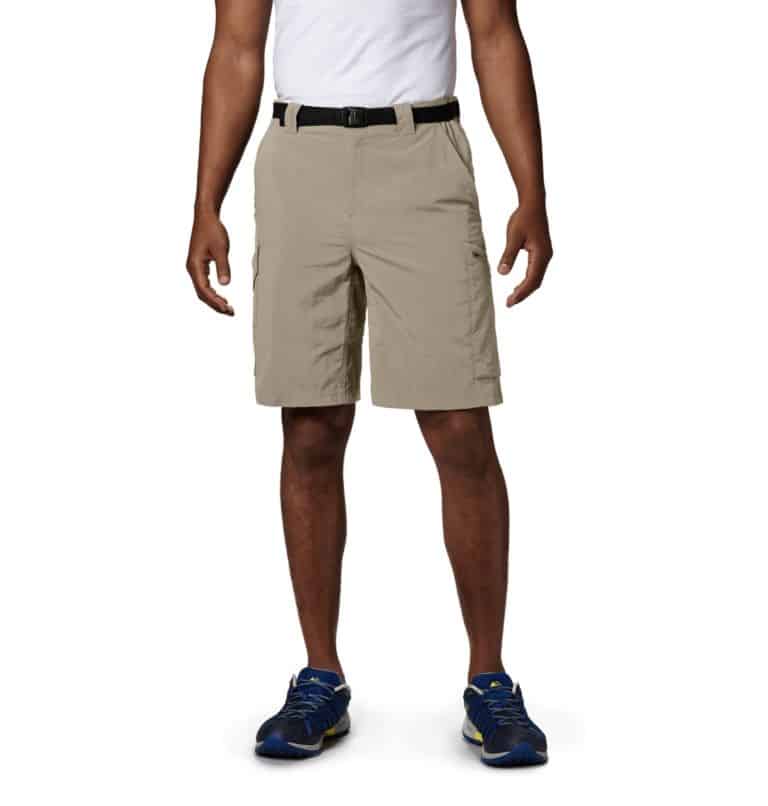 Silver Ridge Cargo Shorts and SCOTTeVEST Performance T-shirt
These Columbia Silver Ridge cargo shorts are made of lightweight, quick-drying material with Omni Shade sun protection, and six pockets for your stuff. Wear these shorts with a SCOTTeVEST performance t-shirt, that comes in long sleeves, and short sleeves with a couple of hidden pockets that are perfect for traveling.
SCOTTeVEST Cargo Shorts and Short Sleeve Shirt
These SCOTTeVEST shorts are made with stain and wrinkle-resistant fabric and they are breathable with an adjustable waistband for comfort. There are eight pockets so you have plenty of room for anything you need to carry with you. Pair these shorts with this short sleeve button-down shirt, made with UPF-protected quick-drying material.
Safari Accessories
Don't forget your favorite safari accessories. Not only can they compliment your safari outfits they can help to keep you comfortable too. You are going to want to take a hat to keep the sun out of your eyes and off of your head. You might also want a scarf or a gaiter, this can help with the sun and the dust from bumpy trail rides. Don't forget your favorite pair of sunglasses too!
One of the best things about safari clothes is that they can be mixed and matched to create multiple outfits. Any of the tops can be paired with any of the bottoms. You can wear the safari vests on top of a safari dress, or with a skirt. This means that for both the ladies and the men you can create a lot of different, comfortable, and fashionable safari outfits with just a few items in your luggage.
If you need more ideas for packing for a safari or what to wear on a safari, make sure that you check out my other safari blog posts!