What I Wore to The Giraffe Manor in Nairobi, Kenya + Outfit Tips
I knew what I was going to wear to the Giraffe Manor in Nairobi, Kenya before I even booked the trip. That famous breakfast with the giraffes poking their heads through the windows is something I have been dreaming about for more than 10 years. You better believe I had my outfit all picked out for that!
However, the only reason you would need to worry about what to wear to Giraffe Manor is if you want to wear a certain outfit for photo purposes. There is technically no dress code at Giraffe Manor. The staff just asks that you keep your attire modest. (No underwear, swimwear, pajamas, or bathrobes as outfits, please).
Beyond the obvious, though, no one is going to care what you wear. I can promise you the staff has seen every type of outfit under the sun, and the other guests are going to be rocking whatever they want for their photos too – and there will be a wide variety of outfits.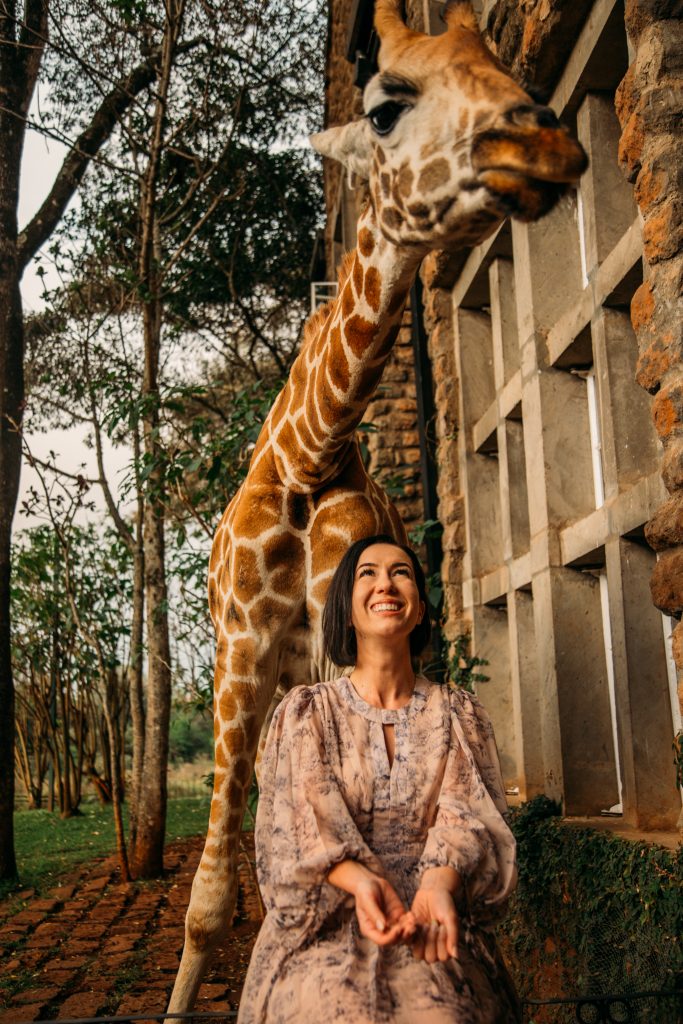 I know that makes it sound like Giraffe Manor is just one big Instagram photo op – but I promise this experience is SO much more. I wrote in great detail in my Giraffe Manor Review about all the cool things you can do at the Manor and the whole experience; be sure to check it out!
Now, if you landed on this post, it's probably because you are looking for some outfit inspiration for your Giraffe Manor photos as well. So, I'm sharing what both my husband and I wore and some tips for how to dress here. Below are a few quick tips to help you with your packing list (I'll explain them as well)…
What to Wear to Giraffe Manor: Quick Tips
Avoid loud prints – the giraffes have enough print going on as it is! 😉
Wear something you're ok with potentially getting giraffe slobber on!
Maxi skirts and maxi dresses (especially chiffon) photograph well and give a very romantic look to your photos.
Pack 2 outfits for photos (if you want) – you're going to have 2 days of photo opportunities!
The white robes are NOT always available (so don't bank on them for photos).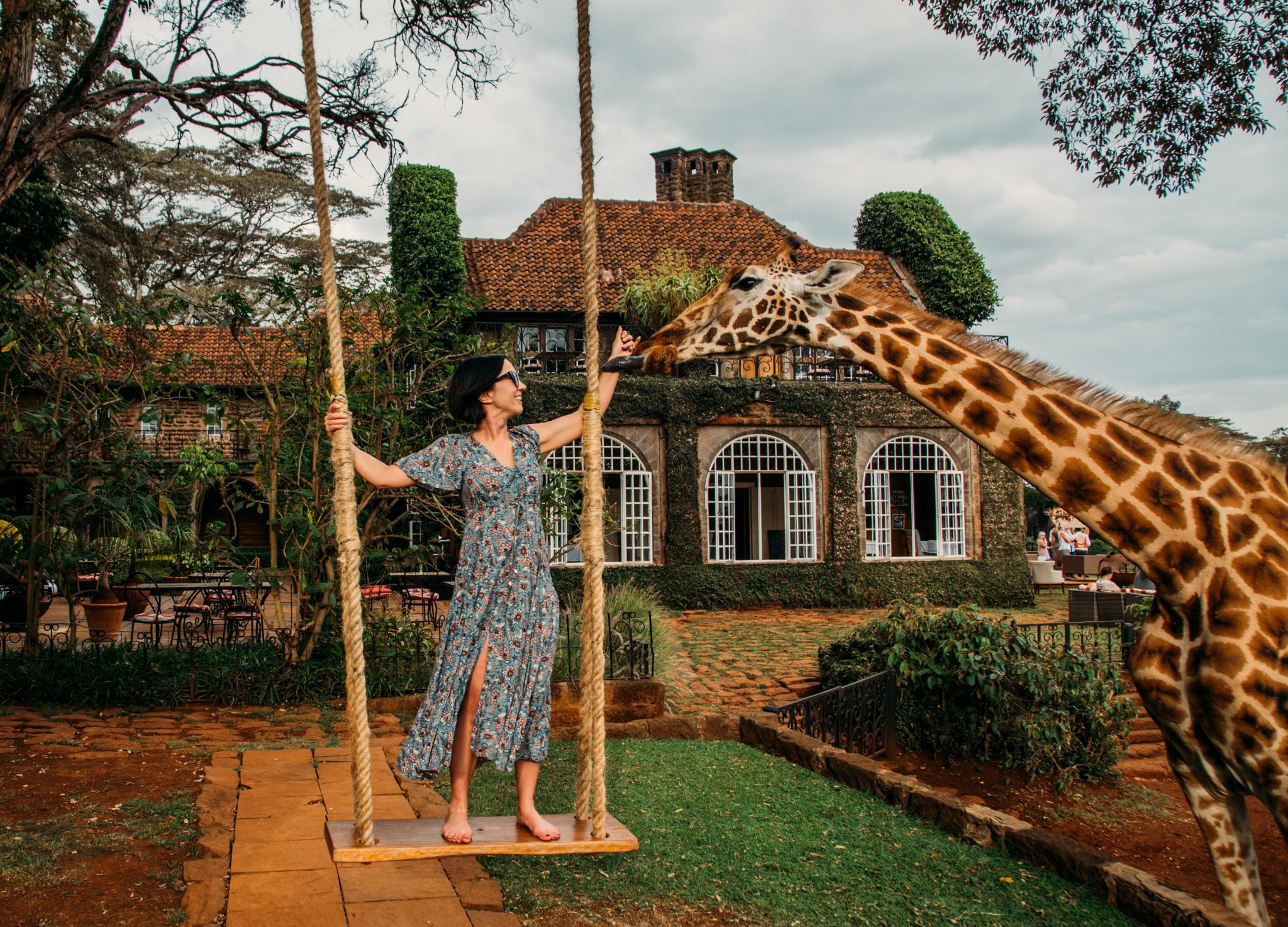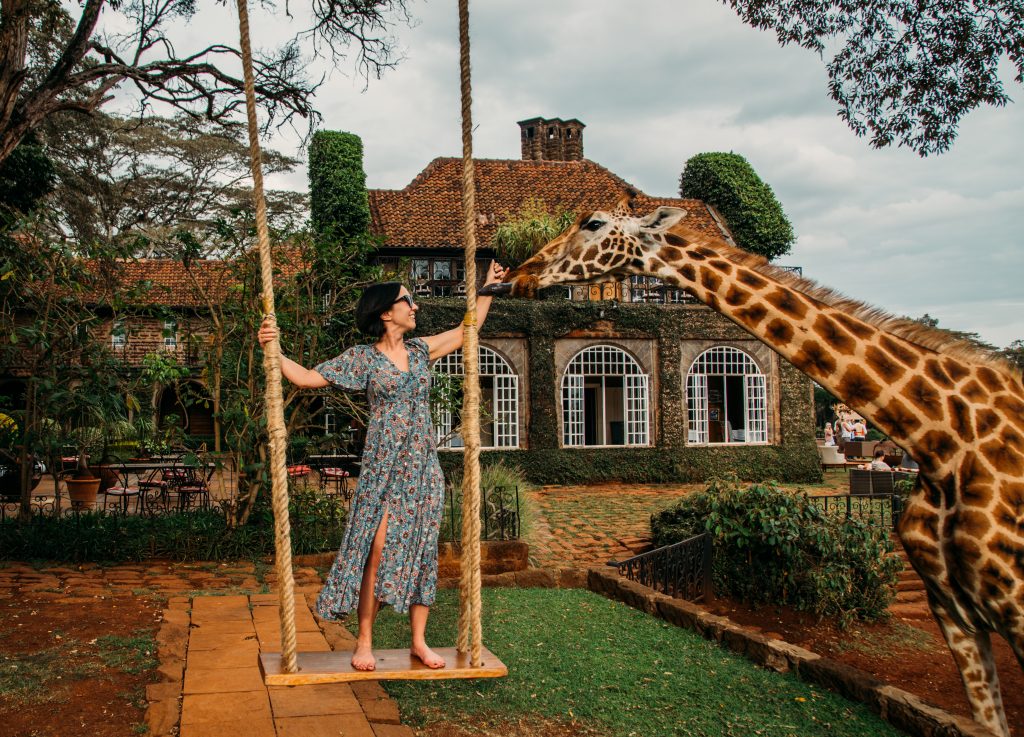 Best Shoes to Wear at Giraffe Manor
As you can see in the photo above, wearing stilettos is not a good idea. You're walking around on the grass while you're at Giraffe Manor, and at one point, you'll be standing on a swing. Flats or sandals are what you want to be wearing. Sandals with some grip would be a good idea too! My sandals (below) are comfortable, but they don't have much for grip.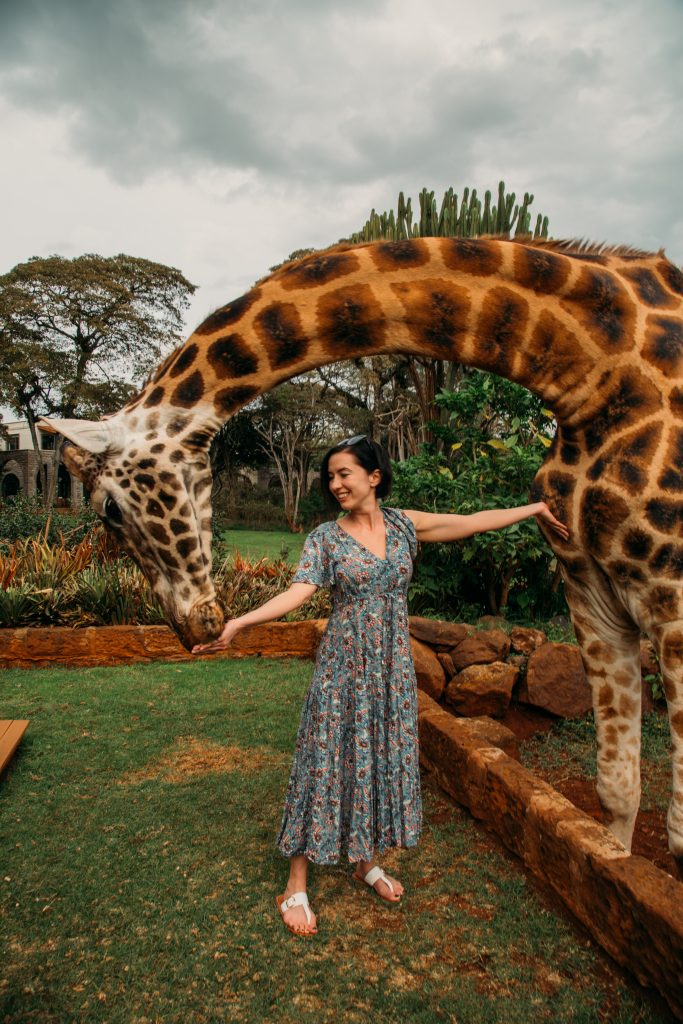 Avoid Loud Prints
I hadn't realized "tea time" also entailed all kinds of crazy photos with the giraffes! I love my Salty Crush dress above, but if I would have realized this… I would have opted for a dress that had a more subdued print or none at all. Letting the giraffes print stand out is going to look better in photos.
Wear something you're ok with potentially getting giraffe slobber on!
You are going to be getting up close and VERY personal with the giraffes. You will likely get giraffe slobber on you and your outfit at one point or another. Be sure you're OK with this!
Long flowy dresses & skirts make for fun photos.
This is true no matter where you are taking photos. Long flowy skirts and dresses will make for fun photos, even if you don't have Giraffe Manor as your backdrop. Chicwish and Marchesa Notte are two of my favorite brands for these types of dresses and skirts.
You're going to have 2 days of photo opportunities!
As I mentioned above, I hadn't really packed, thinking that I would be taking photos beyond that famous breakfast. However, you are going to have A LOT of photo opportunities at Giraffe Manor. Of course, you can wear the same outfit 2 days in a row – no one is going to care or likely notice. It's all in what you want for your photos.
Also, you may have seen people wearing white hotel robes to breakfast. The time I stayed at Giraffe Manor, they did NOT have these robes (and some guests were upset about this – as they were banking on them for photos, which is why I'm mentioning this). DON'T BANK ON HAVING THESE ROBES. They may or may not be available!
What about men? What should men wear to Giraffe Manor?
Again, there is no strict dress code – so you can wear whatever the heck you want (as long as it's not just your underwear or pajamas). Most men were in shorts, sandals, and some sort of button-down or T-shirt. My husband (above) wore his prAna hiking clothes as this is what he was also going to wear on our safari – and he refused to pack a special outfit just for Giraffe Manor. I thought he looked nice, and his button-down + shorts looked nice for photos and was comfortable when we were on our safari.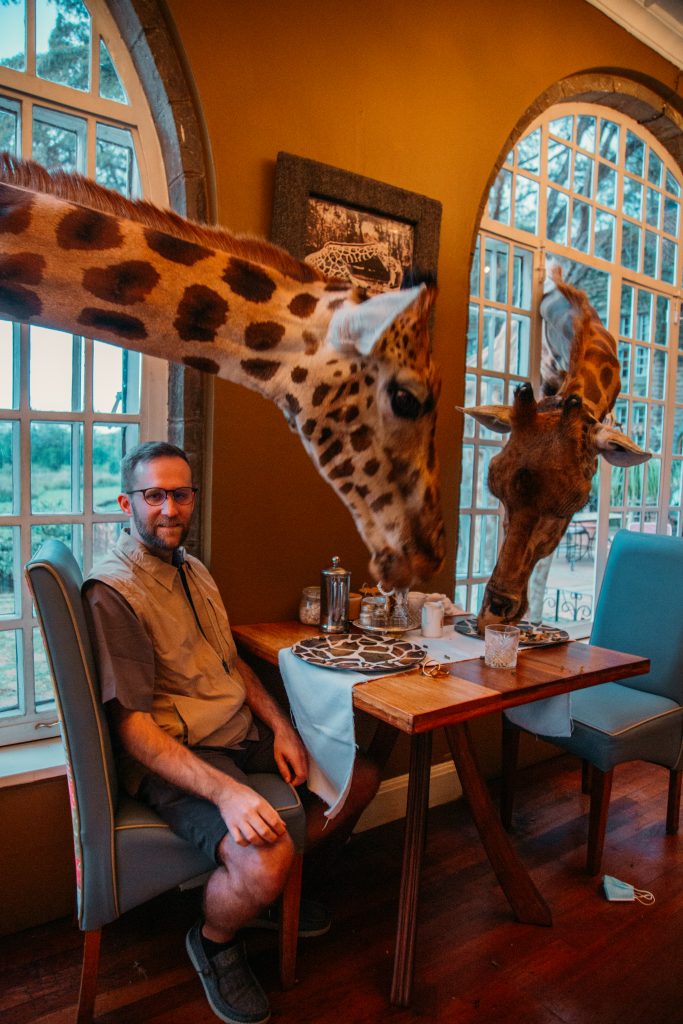 What should you wear to dinner at Giraffe Manor?
Most people changed into long pants and long sleeves or put on a cardigan/wrap, as it gets a little cooler at night. I would call the attire for dinner more business casual, but again, there isn't actually a dress code – just wear what you are comfortable in.
I wore the exact same dress I wore to tea time, and my husband changed into pants and a long sleeve shirt because he was chilled.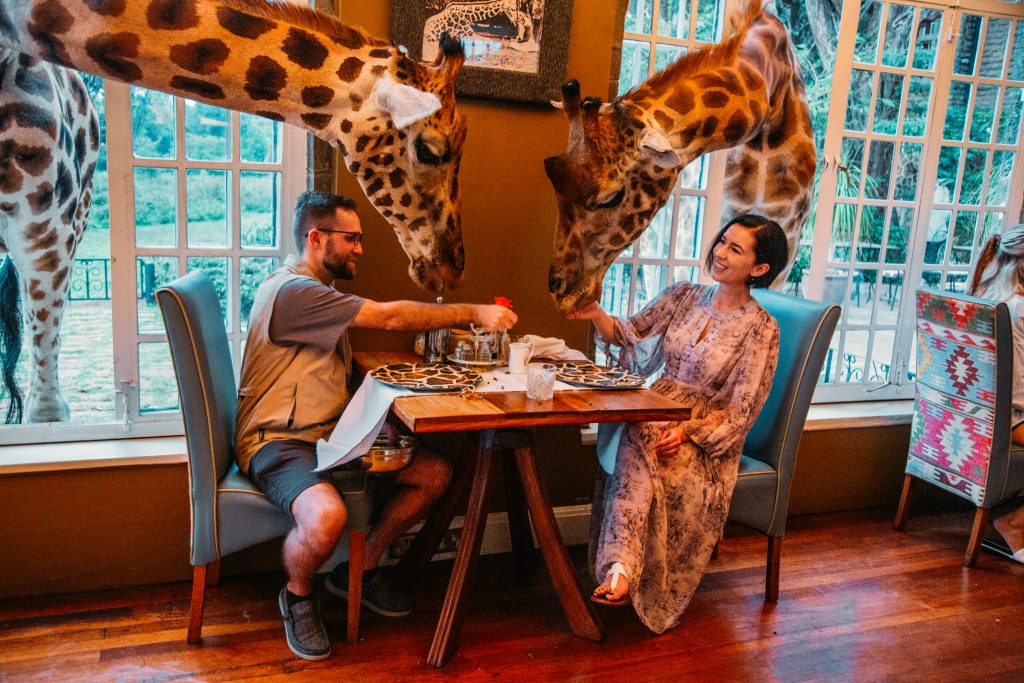 Thank you so much for reading! If anyone has any questions at all about what to wear to Giraffe Manor – please feel free to reach out in the comments section at the end of this post.
Read next: My Honest Review of Giraffe Manor – Everything You Need to Know About Booking & Staying Here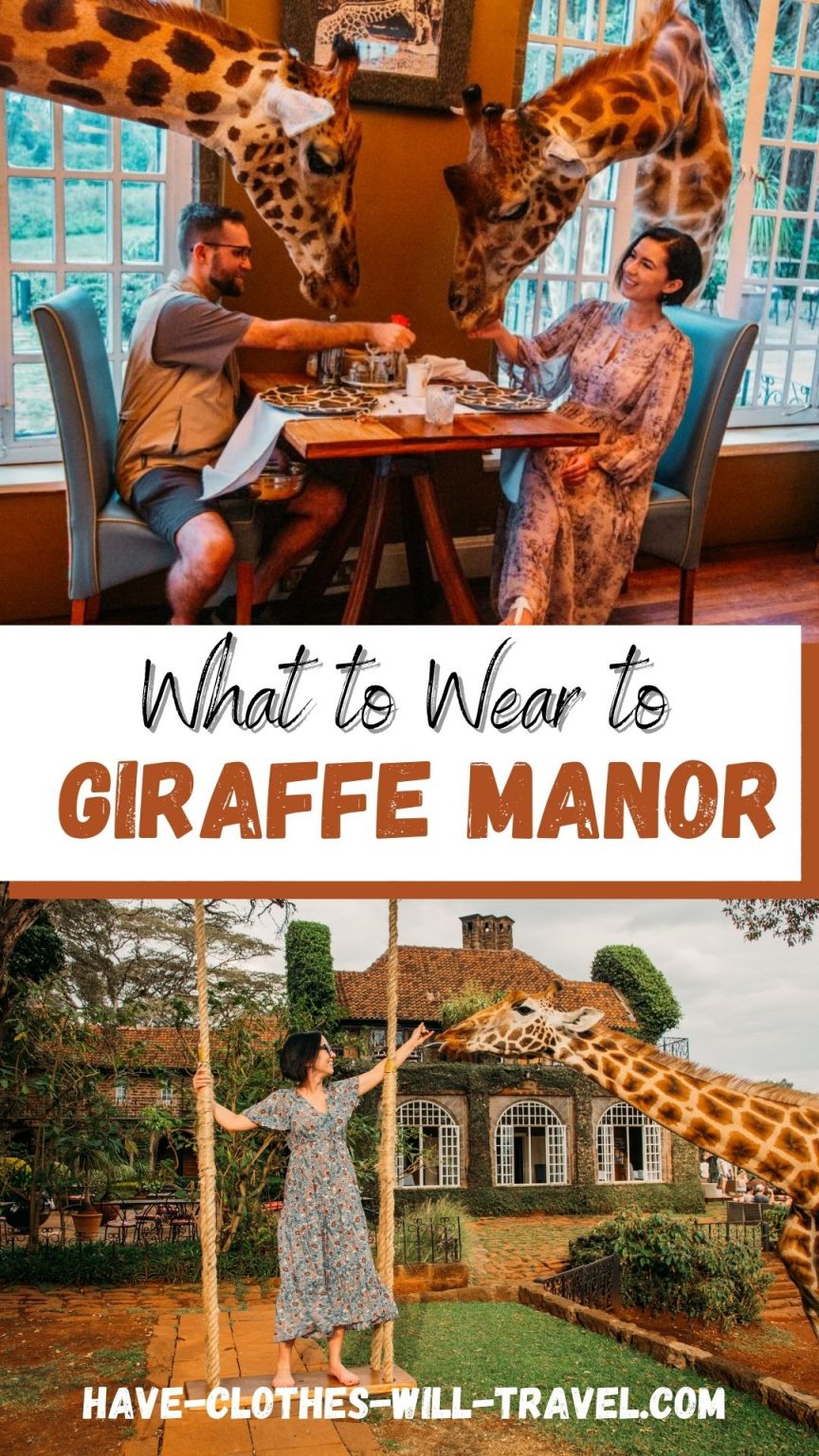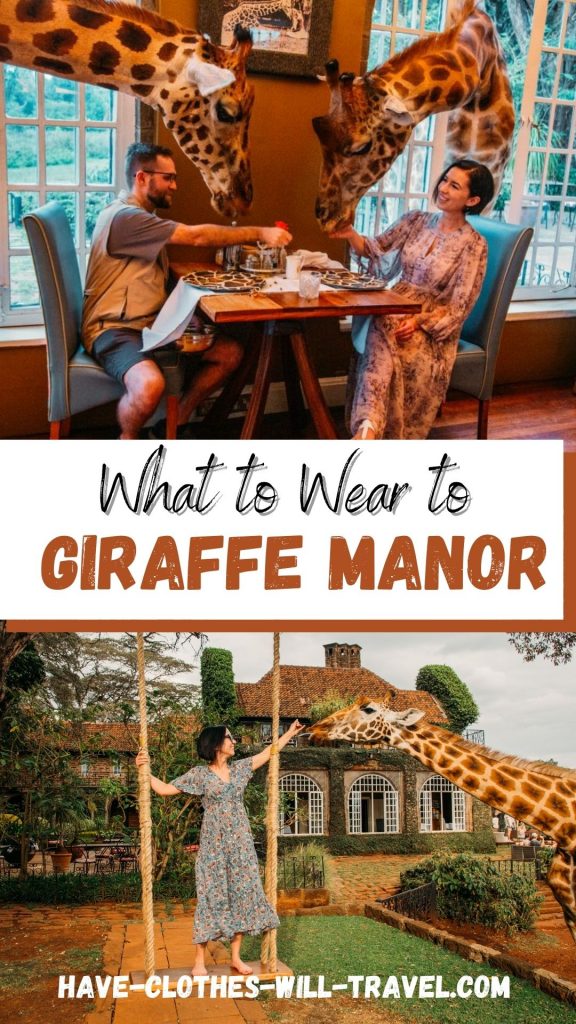 *Disclosure: some of these links are affiliate links. Meaning, if you click a link and make a purchase, Have Clothes, Will Travel gets a very small commission at no extra cost to you. Thank you for supporting the brands that make this blog possible!