SCOTTeVEST $150 Gift Card Giveaway + Coupon Code
"It's not rocket science. It's pocket science!" This is the SCOTTeVEST tagline, and I absolutely love it. This US-based company creates comfortable, functional clothing that features a myriad of pockets. Even their masks/neck gaiters have pockets!
This post is sharing some of the awesome products my husband and I wear from SCOTTeVEST and briefly explains their different features. I will be doing an in-depth review of our SCOTTeVEST products in 2022, once we get some more traveling in with the clothing, to really put it to the test. This post is going to be an introduction to the brand & a $150 SCOTTeVEST GIFT CARD GIVEAWAY. Plus, you can get 15% off your SCOTTeVEST order with coupon code: HCWT.
*Disclosure: some of these links are affiliate links. Meaning, if you click a link and make a purchase, Have Clothes, Will Travel gets a very small commission at no extra cost to you. Thank you for supporting the brands that make this blog possible!
I Started Wearing SCOTTeVEST 2 Years Ago
SCOTTeVEST clothing is great for daily wear, but it's especially useful as travel clothing. They feature everything from cute tops and shirts to jackets that convert to vests and even skirts and dresses. If you've been following my blog for a couple of years, you may have already seen my DOROTHY dress from SCOTTeVEST featured. (I featured it in my best travel dresses post a couple of years ago, and recently in my Turks and Caicos packing list.)
I love this dress for traveling to tropical locations. It's easy to dress up with accessories but is also comfy and breathable enough to wear as a beach coverup. In Turks and Caicos I was able to wear it multiple times as a dress and also a beach coverup. Anytime it got smelly, I was able to wash it in the sink with these soap packets and hang it to dry. It took no time at all to dry! This dress has been an awesome addition to my travel wardrobe.
Wearing SCOTTeVEST Clothing in 2021
Now, this is all the fun SCOTTeVEST stuff my husband and I have both been testing out this fall!

The SCOTTeMASK is a comfortable mask/neck gaiter that has an adjustable nose bridge and adjustable bungee, so it fits all sizes. It also has 3 pockets that fit earbuds, an ID, and a chapstick. I can fit more in this mask than I can in some of my womens' pants! I also like this mask because, if a time comes when we don't need masks whilst traveling, it still works great as a neck gaiter for sun protection and wind protection while hiking and fishing.
Even SCOTTeVEST's tops have pockets. I love my top, as it's breathable and it's easy to dress up and down. However, I don't really use the pockets on this one as it just isn't that comfy or practical to me. But it's a nice option to have.
My husband has the Beachcomber SCOTTeVEST shirt and he likes how breathable this shirt is – it's great for warm weather! It also has 7 different pockets. He likes how deep the breast pockets are (pictured below). That said he also wants to note the fit is boxy and doesn't look the greatest for tucking in pants.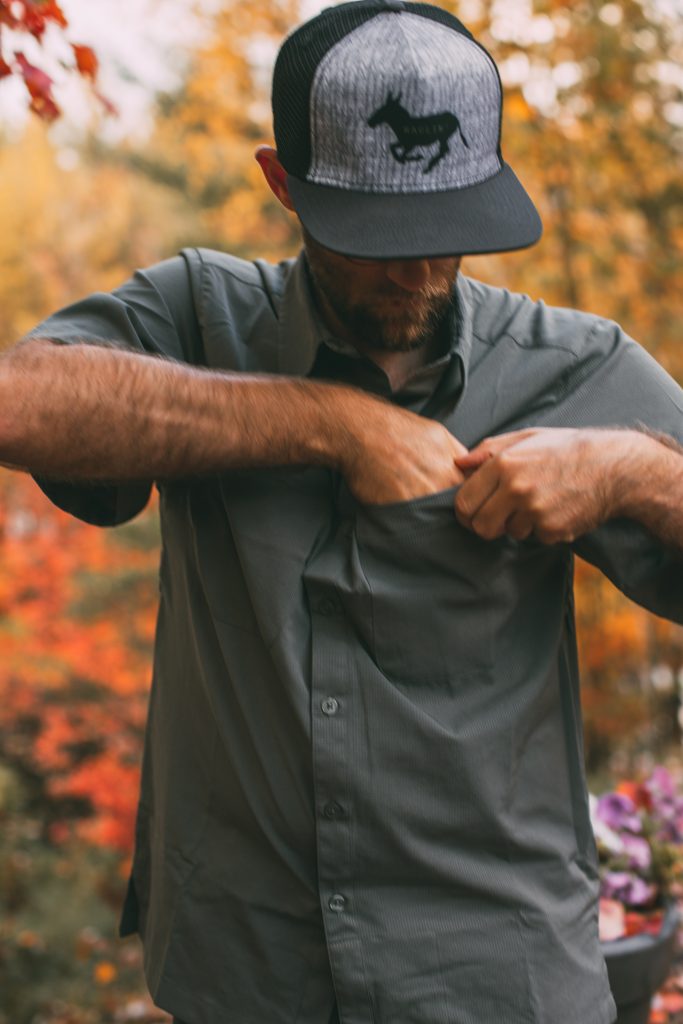 The SCOTTeVEST Essential Jacket 2.0 (pictured below) has 24 pockets to organize your things + it even has handy little labels on the pockets so you know what goes where. It's great for fall and spring weather.
What I think is cool about this jacket, though, is that I can unzip the sleeves, and it turns into a vest. I've always wanted a travel vest as they look SO convenient.
I also appreciate that the sleeves are labeled "left" and "right" so you don't have to guess when zipping it back into a jacket.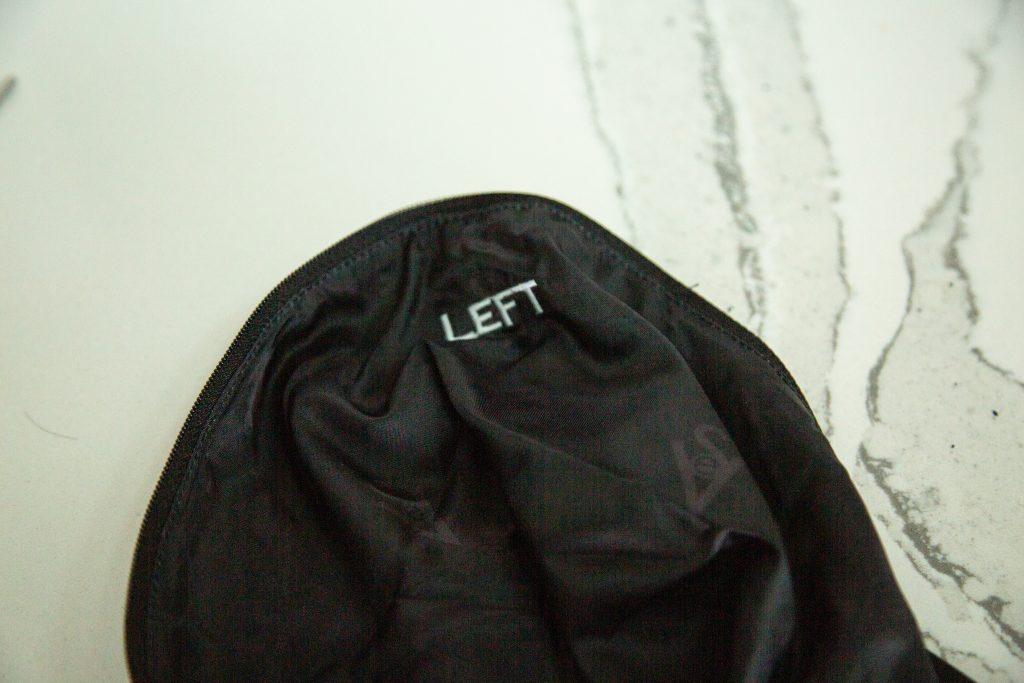 My husband has the Tropiformer Men's Convertible Jacket which is just as cool as my jacket, but his also has a hood hidden in the collar. He is THRILLED about all of the pockets this has. He can't wait to use it for going through airport security next week.
While the sleeves on my jacket zip-off, his are held together by magnets. It's pretty neat. His sleeves are very easy to take on and off in a hurry!
The Tropiformer Jacket is the SCOTTeVEST item my husband is most excited about. He can't stop talking about all the different pockets and what he can fit in them.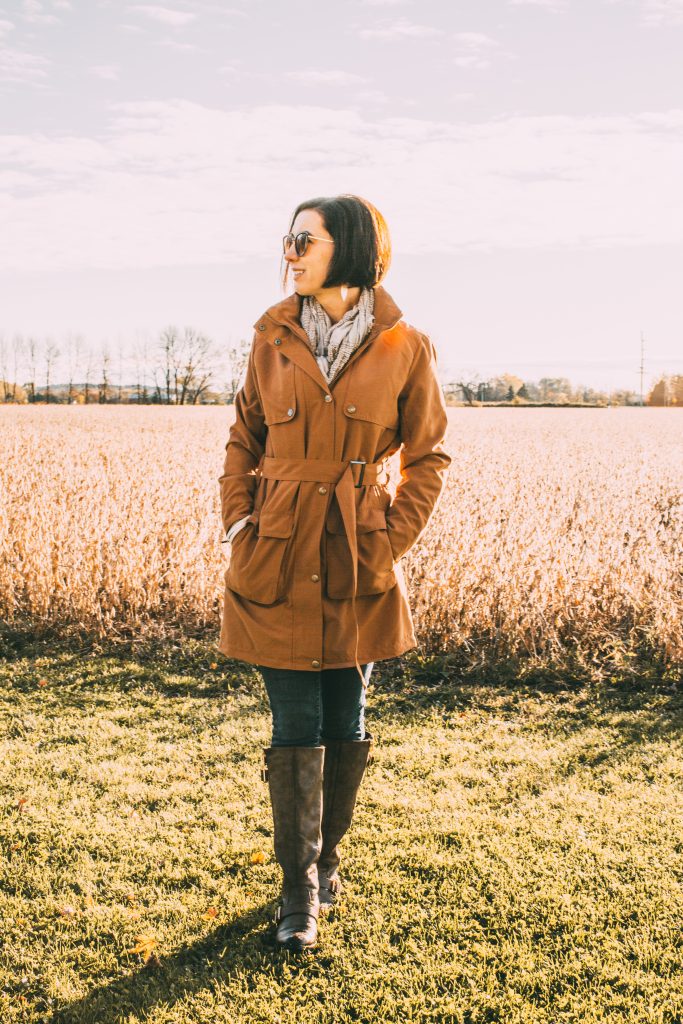 The star of this post for me, though, is The Rhonda Jacket. This jacket is AMAZING. It is everything I want in a jacket. It's stylish, cozy yet breathable, has a ton of pockets, and has an adjustable belt for a flattering fit.
I was bummed when I first got it, though, because I thought it was absolutely perfect, but it needed a hood. I hate wearing hats and use my hoods when it gets chilly. However, after watching the video below, I realized it did indeed have a hood! It's hidden in the collar! It's genius.
This jacket is beautiful, and it features 20 pockets. The material is light yet warm. It's great for fall right now, but I anticipate I will still be using it in winter just layered with a thick sweater.
The Rhonda Jacket is by far my favorite SCOTTeVEST item I own at this time. I cannot wait to travel with it more this fall and winter. This is one of the few travel clothing items I have that really combines style and functionality perfectly.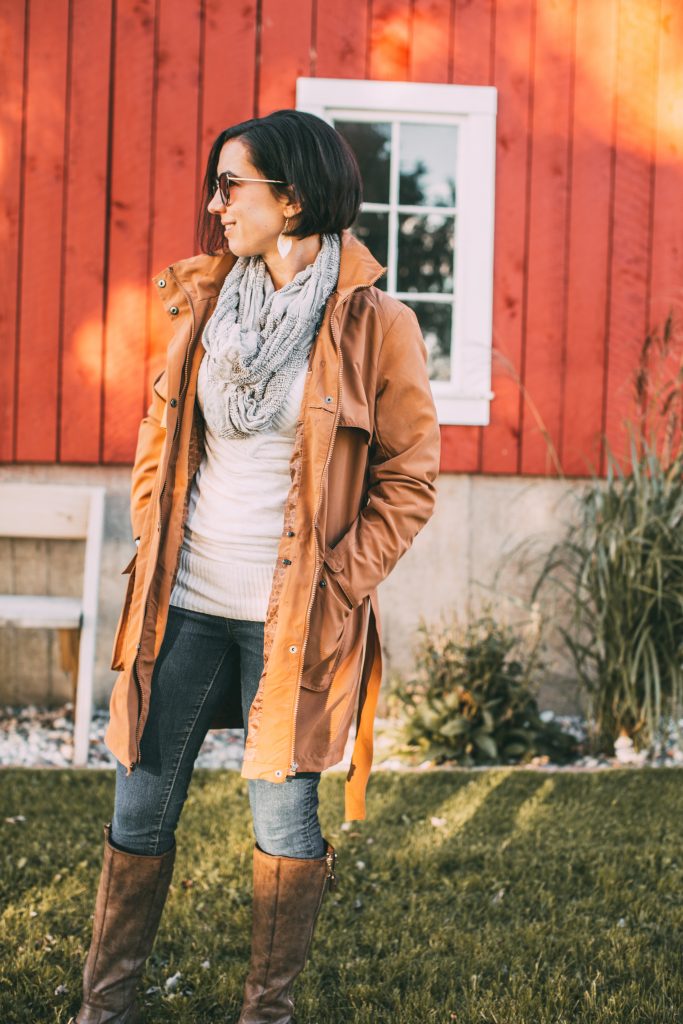 My husband and I were so excited about our new SCOTTeVEST jackets, we wore them for family photos this past weekend. This was the first time we met our new nephew, Colson, too! Isn't he adorable?! (He was a little trooper through the family pics too!)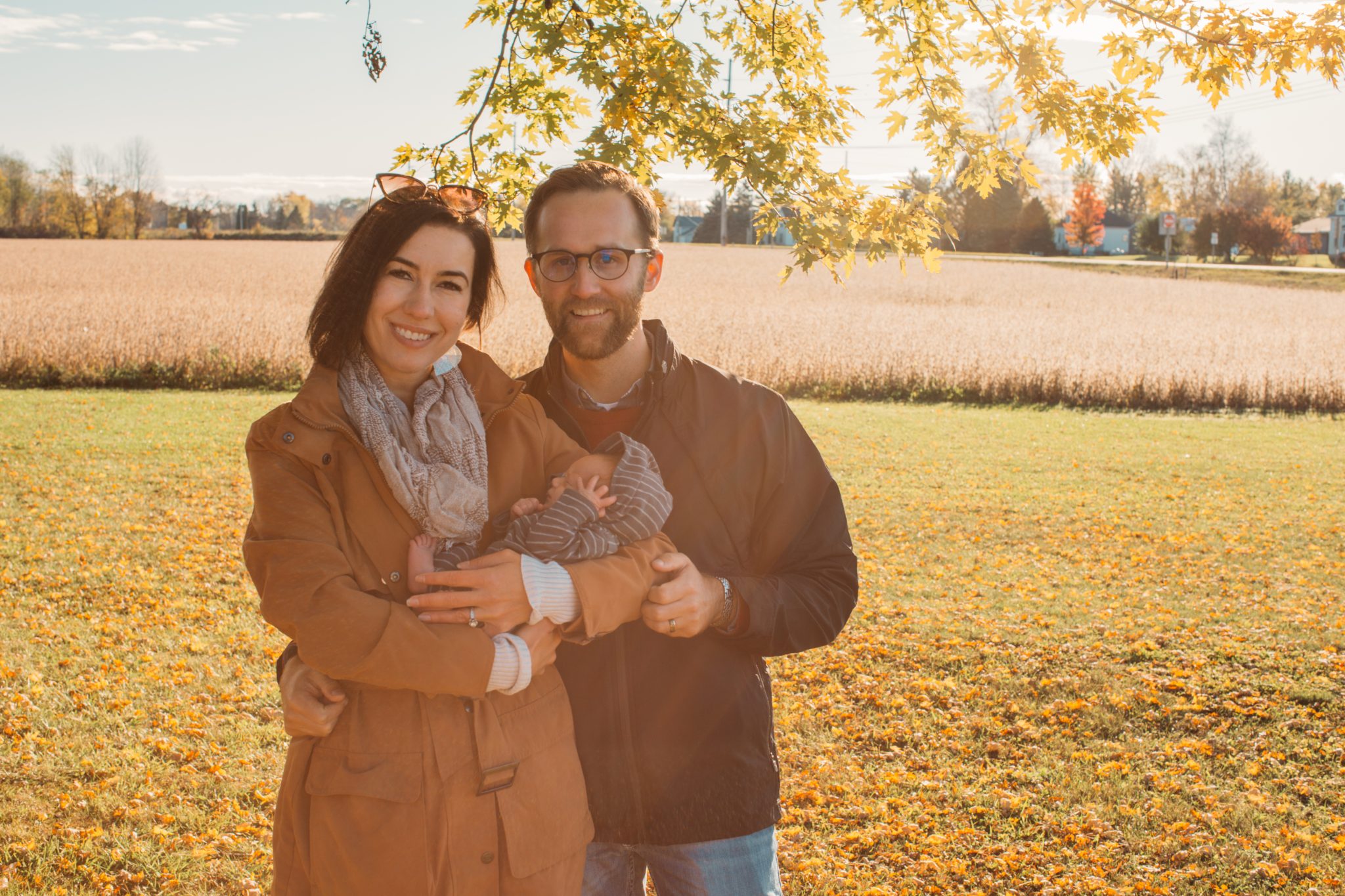 So, now that you have seen some of the cool items you can choose from on the SCOTTeVEST website (and this isn't even everything), it's the most exciting moment of the post! The giveaway portion!
$150 SCOTTeVEST Gift Card Giveaway
Please enter in the widget below. One lucky Have Clothes, Will Travel reader gets the gift card, you just have to enter in the widget below. There are 11 ways to enter to win.
Note: this is way easier to do on a desktop vs mobile device.
$150 SCOTTeVEST Gift Card Giveaway

The giveaway closes on Nov. 8, 2021, at 12 pm PT.
*Thank you to SCOTTeVEST for partnering with me for this giveaway. As always, all opinions are my own, and I am never compensated for a positive review.